Maybe the Greek island of Naxos is too big to be seen in just one day. However, if you're island-hopping in Greece, it might be useful to have plans for just a day. This itinerary won't show you all the things you can do on Naxos, but it will give you a good insight into the top places you must see if you visit the island. So let's set the rules for one day in Naxos:
Wake up very early
Wear a smile and a nice attitude
Follow this 1-day itinerary on the island of Naxos!
---
Disclaimer: Posts include affiliate links to products or services. I might earn a commission if you make a purchase, at no extra cost.
---
Best Things to Do in Naxos in One Day
Last-minute plans for Greece?
– Use Ferryhopper to book your tickets.
– Find accommodation deals on Booking.com.
– Compare car rental prices with Discover Cars.
– Visit popular places with GetYourGuide.
Before you go to Naxos…
Basic Info About Naxos
The island of Naxos is the largest island of the Cycladic cluster and it's located in a fairly central position in the Aegean sea.
The island's landscape includes imposing mountains, fertile valleys, and some of the prettiest beaches in Greece… And there is a lot to do, even in just one day!
How to Reach Naxos, Greece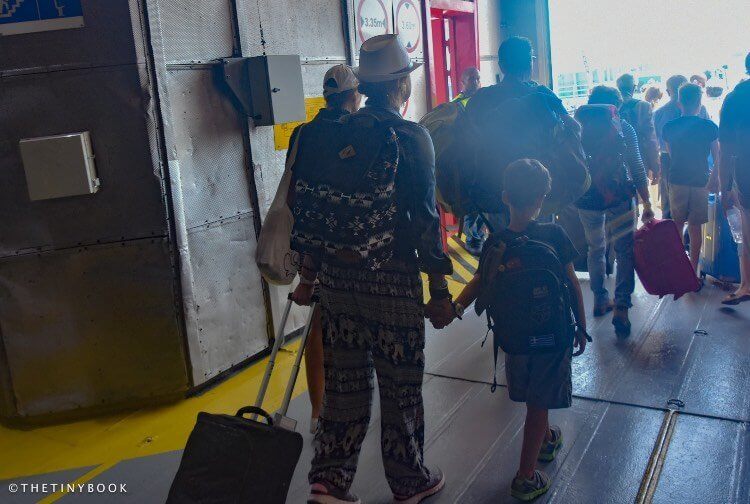 It's not difficult to reach the island of Naxos by sea. In fact, Naxos is one of the ferry hubs in the Aegean sea. It has a well-served port and once you disembark, you just need to walk a few steps to find yourself in the center of town.
Getting to Naxos by Boat
You can travel to Naxos using a high-speed catamaran (faster but very sensitive to weather conditions) or by the traditional ferry. You can book your tickets directly online.
To book our tickets in Greece, I use Ferryhopper. Check them often as they are known for sales, discounts, and special offers, even during the high season!
You might also want to read: How to Get to Naxos.
A normal trip by boat from Athens (port of Piraeus) takes 5 to 6 hours. A high-speed boat takes you to Naxos in 3.5-4 hours.
In any case, either if Naxos is one of the many stops on your Greek island itinerary or if you will visit only Naxos, take some time to learn the basics about island hopping in Greece. It's not complex, but some planning is always needed.
Check ferry tickets to Greece here!
Get to Naxos by Plane
You can also reach Naxos by plane, flights arrive regularly from Athens (International Airport Eleftherios Venizelos). Direct flights are operated by Aegean Airlines-Olympic Air.
Consider that if you're staying in the center of Athens, you need at least one hour to reach the airport (sometimes more), you won't always be saving on time. The flight Athens-Naxos is about an hour.
One Day in Naxos: Top Things to Do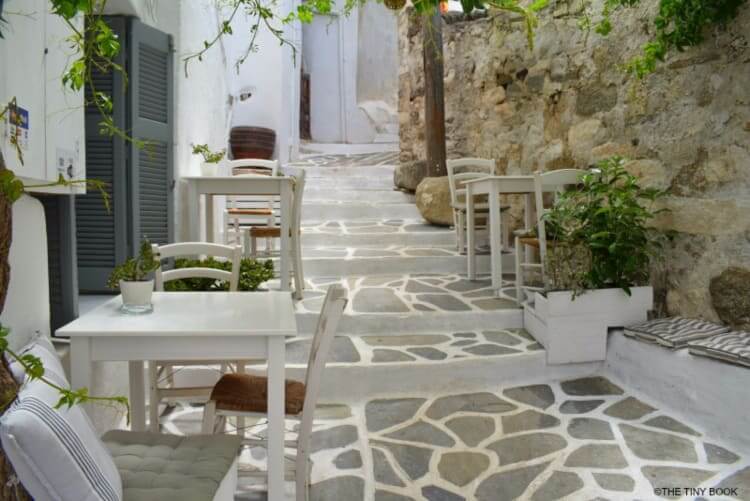 IMPORTANT: We spent a total of four days on the island of Naxos to be able to cover it in depth. However, I've decided to write itineraries for different lengths of stay for different readers. This particular itinerary is the one we followed on our second day on the island. It took us only one day to see all of the following.
Our day on the island was hot but it was also cloudy and windy. It was not good enough to spend it on the beach, so we took our rental car, and decided it was better to explore the island, and we saw a lot!
Why do I tell you this? Because it is real proof that this, even if tight, is a possible itinerary that can be done in one day (we did it with two small kids).
The itinerary was not planned but decided as we went, and since we were always hoping for the sun to come back, there's even some time left for a last-minute trip to the beach (in case the weather is better for you than it was with us).
First Stop: Exploring the Chora, Naxos Old Town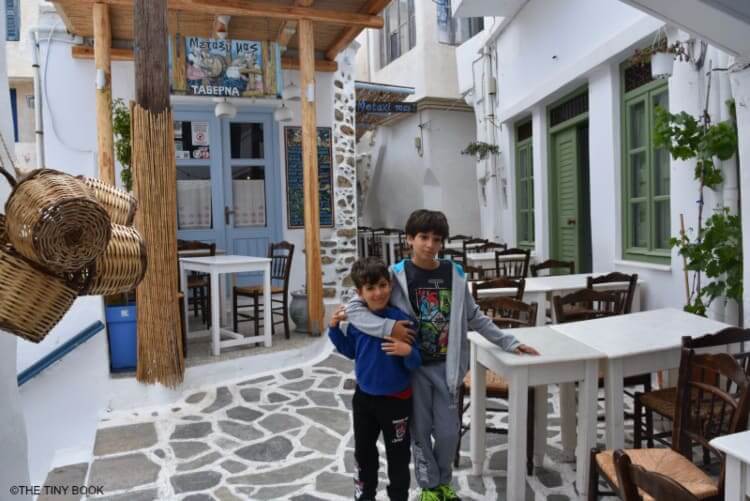 We headed from our villa to the center of the city, parked near the old town, and walked for a few hours to see what old Naxos was about.
The old chora of Naxos is probably one of the most beautiful towns I've seen on a Greek island. It might not be as elegant as the Chora of Patmos, nor as refined as the town of Oia in Santorini. But for me, it is truly picturesque, with a lot of opportunities for stunning pictures.
The chora of Naxos is located right by the sea, a few meters from the port. It's pretty big if compared with other old towns on the Greek islands. It's mostly made of several alleys, some of them covered giving the idea of narrow passages.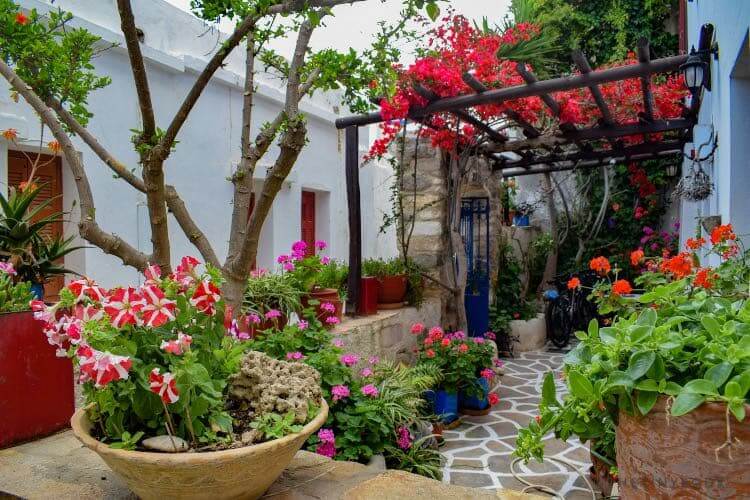 Other little streets are adorned with patios, balconies, stairs, lots of flowers, and plants. It's a magnificent and intricate maze.
You might also want to read: Best vacation homes in Naxos, Greece.
This architecture explains how the former inhabitants were determined to protect themselves ad their island. The streets lead to the sea, but they also take you to the doors of the Kastro of Sanoudo, Naxos imposing castle, dating back to around 1207.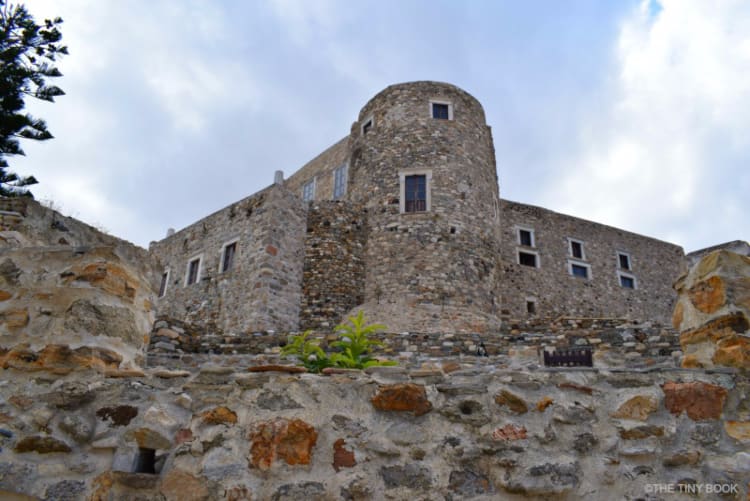 Glezos or also Krispi is the only tower still standing of the twelve different towers that this fortress used to have in the past.
When you explore Naxos' Old Town, you enter a Venetian world (accessible either through the southern door or Paraporti; or the northern door, Trani Porta). There are distinctive traits of Venetian architecture, domes, and palazzi, some of them hosting art galleries and museums.
Take some time to look up! There are many beautiful domes and all churches all over the old town of Naxos, some of them incredibly old and traditional.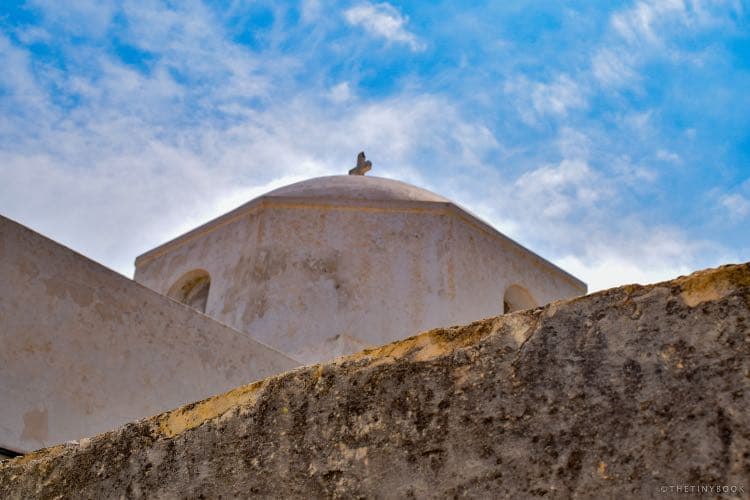 In the old town, you can visit the Archaeological Museum of Naxos to know more about the past of the island. It features archaeological findings and a collection of Cycladic art, such as vases, figures, and jewelry with abundant use of marble and clay.
All objects come from a necropolis on the island, and they were inside the tombs to accompany the dead on their final journey.
Find cheap flights with Skyscanner.
Three More Stops: Mountain Villages of Naxos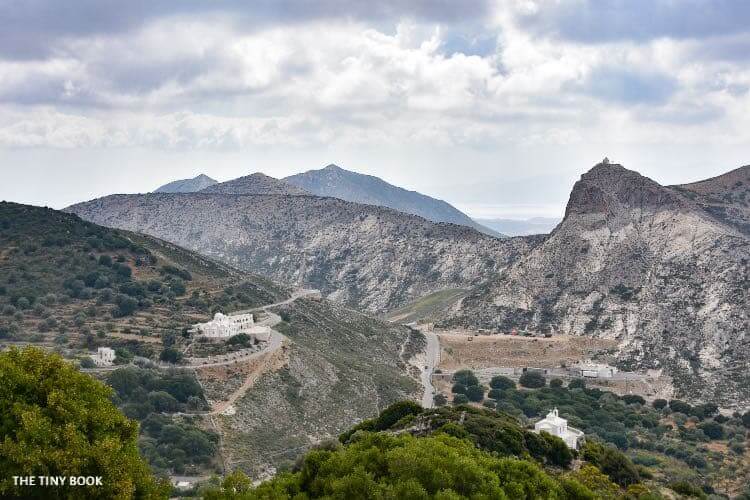 After a couple of hours of walking around the old town (without including the Portara which we left for the sunset), we stopped for a coffee along the seaside and took our car again to explore the villages.
Take the road that from the Chora of Naxos takes you up to the mountain villages, and follow the sign that reads "Xorio". Drive for about twenty minutes to reach the first of the villages we are seeing today. Probably one of the most beautiful traditional towns in the Aegean: Is Halki.
If you Have Only One Day in Naxos, Don't Miss Halki!
One of the closest villages to the center of Naxos is Halki, (about 30 minutes by car). Halki is easy to visit on foot, and there are plenty of things to see.
Halki is a very picturesque mountain town and it's also the home of one of the main traditions of Naxos, the kitron.
The kitron of Naxos is a strong liquor made from the leaves of the citron tree.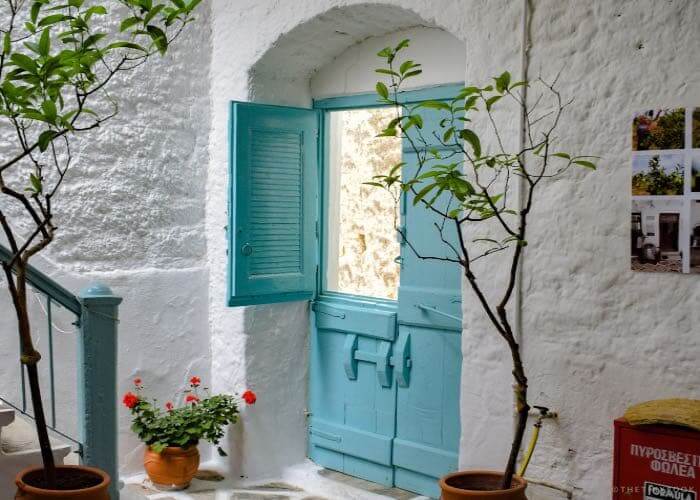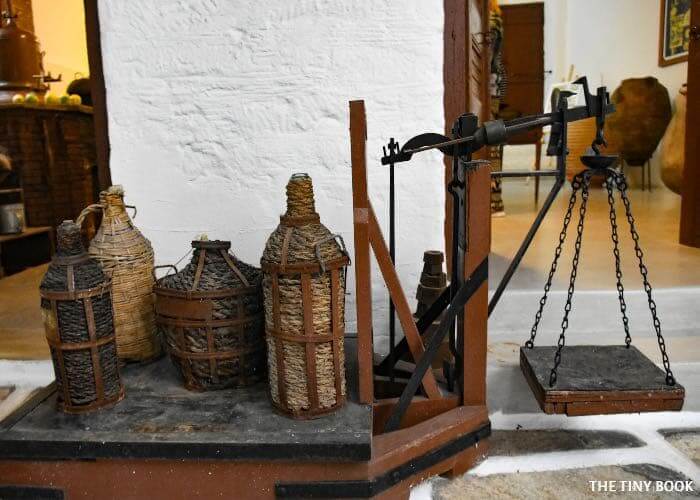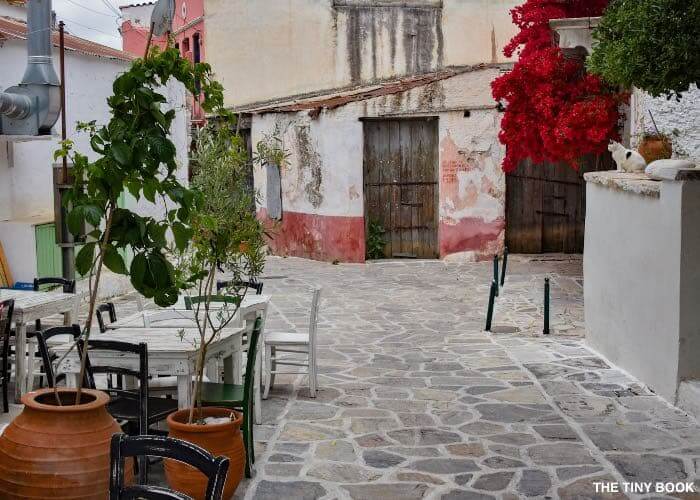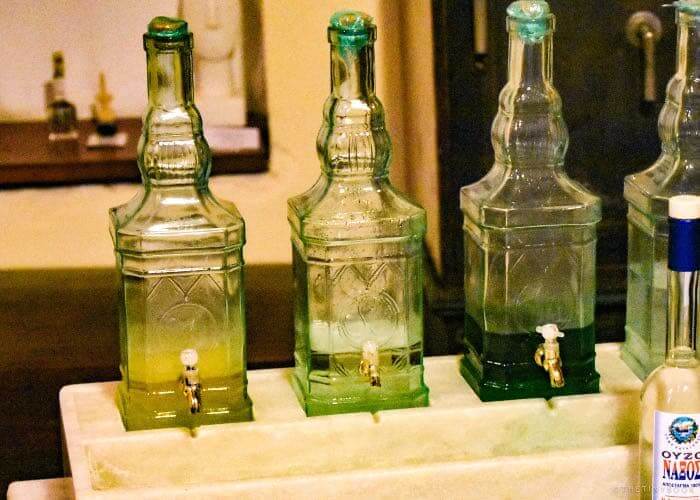 It used to be exported to several countries around the world but now it is mostly consumed locally. A visit to the traditional distillery Vallindras is a great opportunity to taste the different types of spirits they produce.
The village has some remarkable Neoclassical houses, most of them adorned with colorful bougainvillea and tall trees. Not far from Vallindras, we stopped to visit a local jam workshop, Era.
Here, Mr. Giannis Mandenakis has been producing homemade spoon sweets and jams since 2003. We tried different flavors, and we took home a pot of oranges and another one of cherries. It was truly delicious.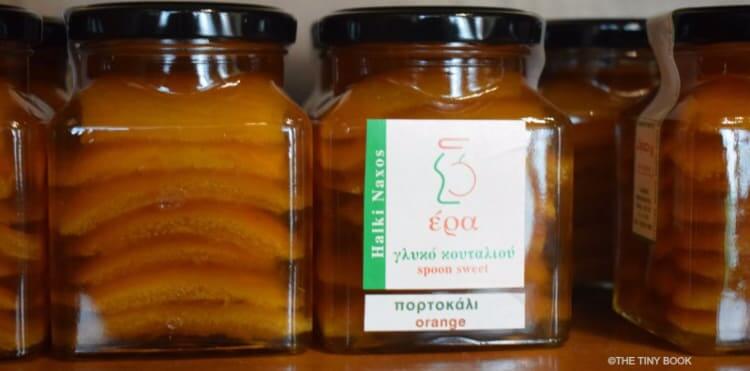 At this point, it was already time for lunch, so we found a place to eat before following our itinerary.
On Halki's main road, we entered a very traditional taverna located on a corner. It's the perfect example of old times Naxos. To Spitiko Galaktoboureko (which means the homemade galaktoboureko) serves delicious food that has gained a well-deserved reputation.
It's all very simple and fresh, made in an open kitchen, right in front of you. They have also great sweets, when you visit Halki, don't miss it!
Another Great Naxos Village: Filoti
Our next mountain village was Filoti, we didn't stay long, but we certainly loved the scene of the mountains from the square.
You reach Filoti 15 minutes after leaving Halki, driving up the mountain on the same road. Most guide books describe it as a must-see when on Naxos and it's a very picturesque place.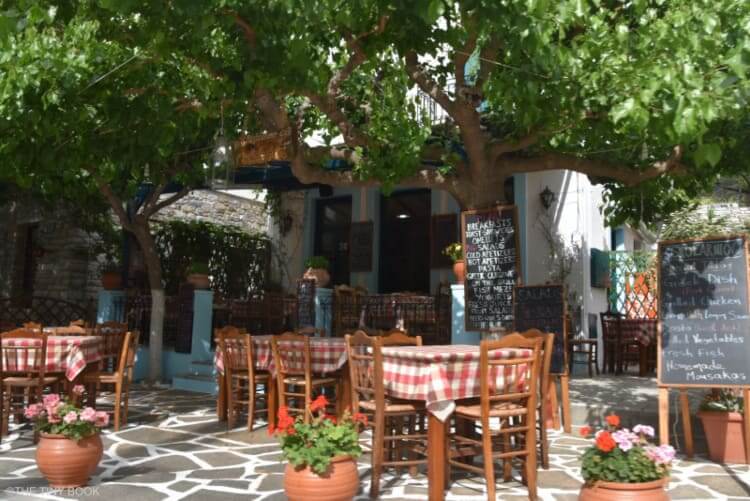 There are several small traditional houses on the slopes of the mountain. The alleys and passages are adorned with fruit trees and flowers.
On the main road, there are several bars and tavernas where locals engage in long conversations and board games such as cards and tavli (or backgammon).
From the village of Filoti starts one of the paths to reach the Cave of Zas (or Cave of Zeus), about 600 meters above sea level.
According to mythology, God Zeus found shelter in the cave while he was being chased by his father.
The cave boasts an impressive interior while on the outside a spectacular green landscape softly descends to meet the blue shades of the sea.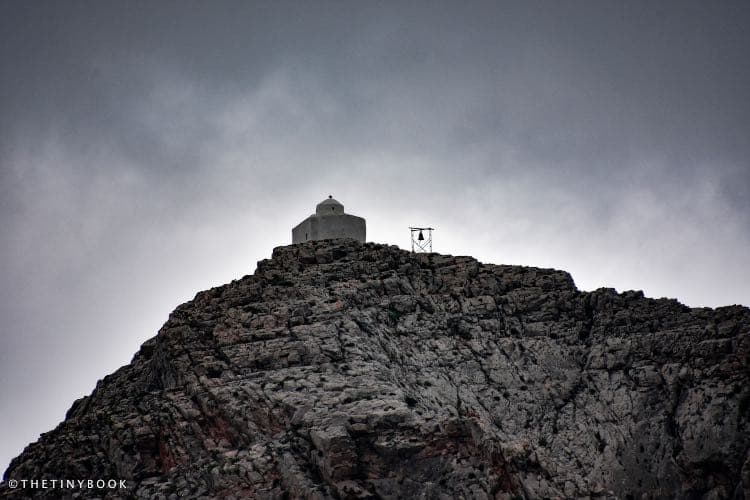 We didn't include a visit to the cave in our itinerary because it would have cut our afternoon (we wanted to see the village of Apeirtanthos) and at that point, it had also started to rain.
However, if you want to walk the Filoti-Zas trail, check this site with updated information to hike Mount Zas.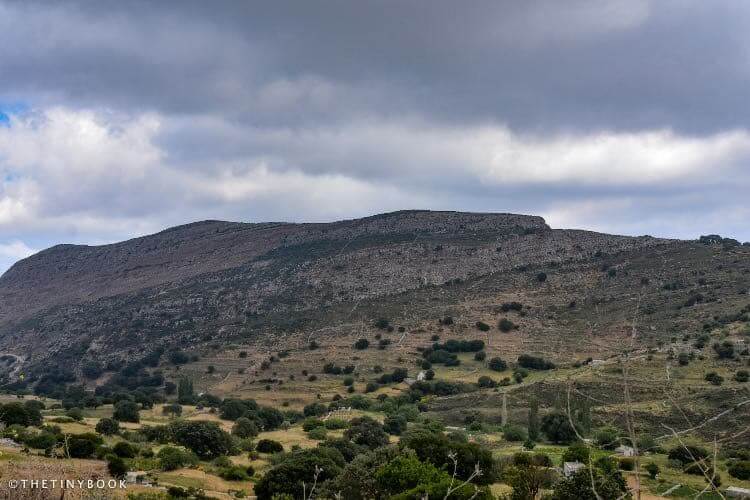 Apeiranthos, The Marble Village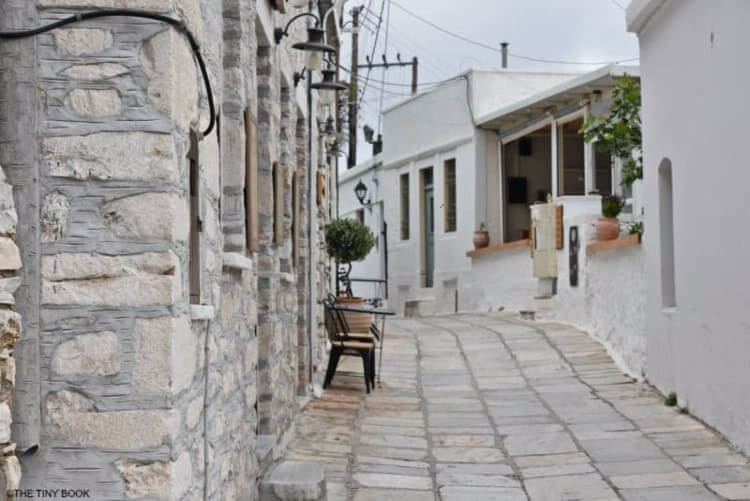 After a short visit to Filoti, we got on the road again and drove for about 8 km to reach a village known for its marble walls, stairs, and buildings, Apeiranthos.
This small mountain town is laid-back and collected. It has impressive medieval architecture and a very proud character. Of all the villages we visited during our itinerary, it was the only one full of tourists.
The suburban landscape of the village is made of stone and white marble in every building: houses, towers, and beautiful flocks of stairs. Both the narrow alleys and the tight mule tracks are all paved in white blocks.
There are four museums worth a visit in the village too.
Archaeological Museum of Apeiranthos
Museum of Folk Art
Geological Museum
Museum of Natural History
Apeiranthos also has a long-time textile tradition of hand-woven fabric and embroidery, crafted with local looms known as krevataria.
Back to the Coast: Best Beaches in Naxos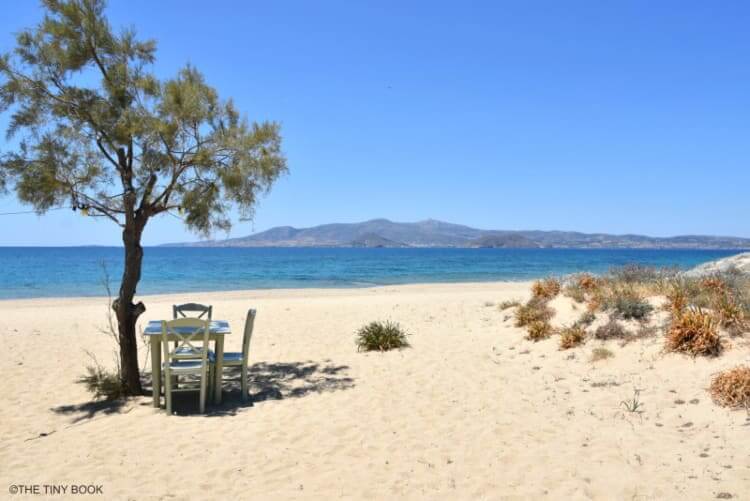 The weather didn't allow us to go to the beach on that day, even though we had some extra time available. We went for a cup of coffee and cake in the old town, but if it's hot enough you can go to the beach.
On our next day, we woke up with a radiant sun and hot temperatures. We took advantage to visit many beaches in one day, you can read about those in this article and add them to your itinerary. Here are a few tips for you to choose from.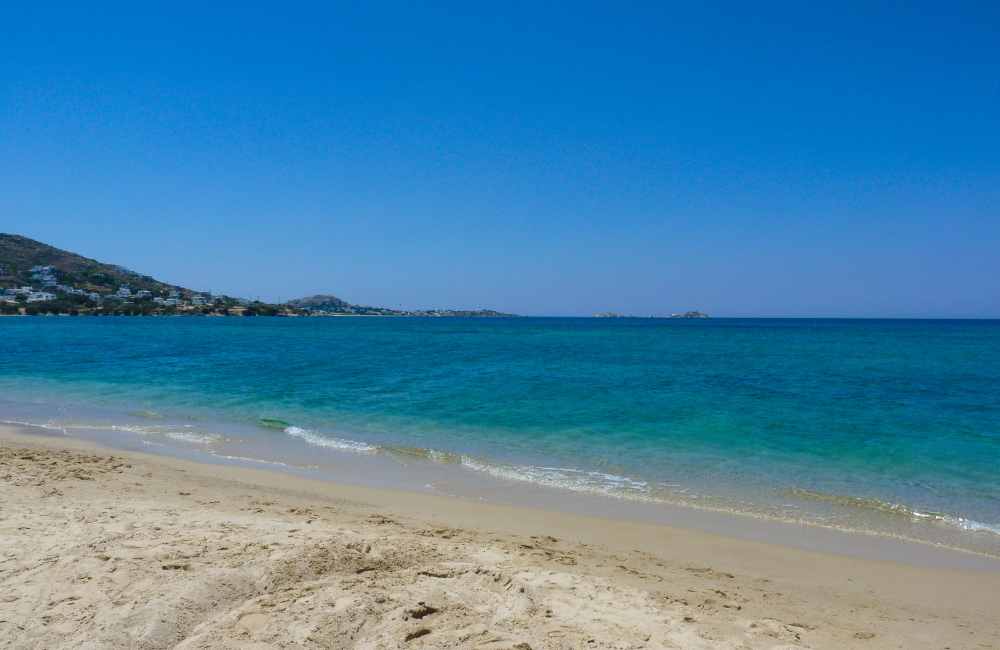 Considering that this is a one-day itinerary and that you might be short of time, choose a beach that's not too far away from the center, or that's close to the port.
My favorite beach ticking those boxes are Maragas and Plaka. They are next to each other and offer Several kilometers of white sand and turquoise water that will allow you to find a quiet spot to spend the last of your afternoon.
Enjoy a swim or even a cold coffee in one of the many bars in front of the beach. But don't overdo relaxing, you still have the best to come.
Sunset Time in Naxos: Head to the Portara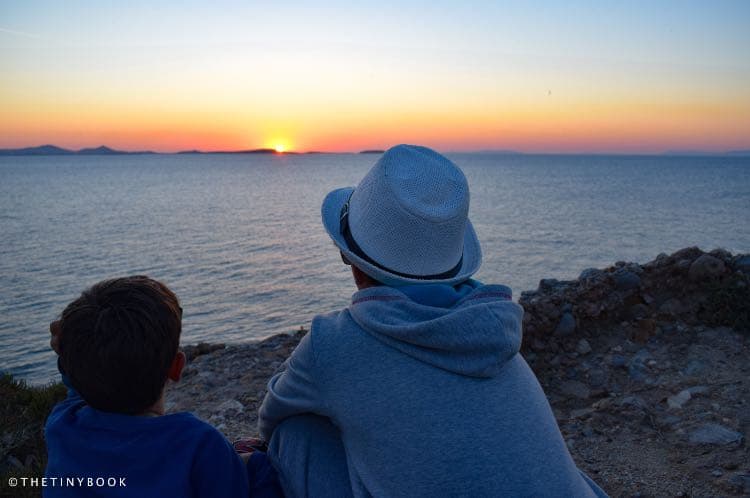 It's time to change your clothes and go back to town. There's an appointment that won't wait. Sunsets in Greece are a landmark tradition.
No matter where: The old castle of Oia (in Santorini), the windmills of Mykonos, or the beach of Falasarna (in Crete). Sunsets are always special and have a place of their own. When in Naxos, that place is the Portara.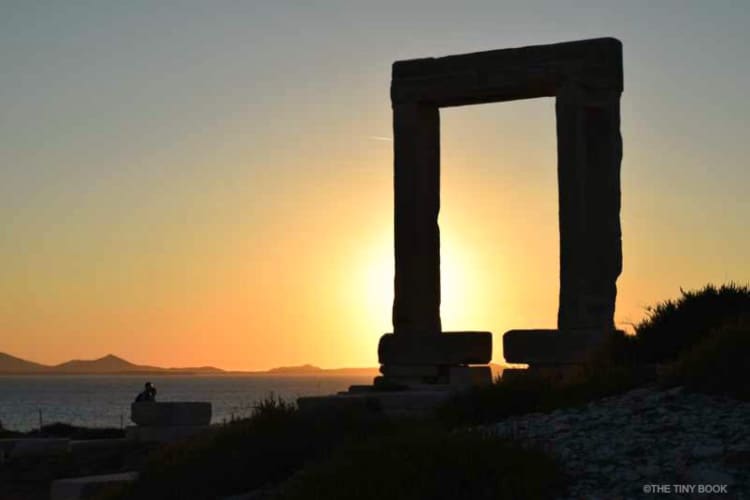 We deliberately skipped this visit in the morning, knowing that the area is at its best when the sun goes down. Check on your weather app what time the sun sets, and walk to the area at least 15 minutes ahead of time.
>> Check out the old Chora of Naxos and the sunset at the Portara with this Naxos Castle Walking Tour and Sunset at the Portara.
As with every sunset hotspot, be patient. Chances are the place is already full.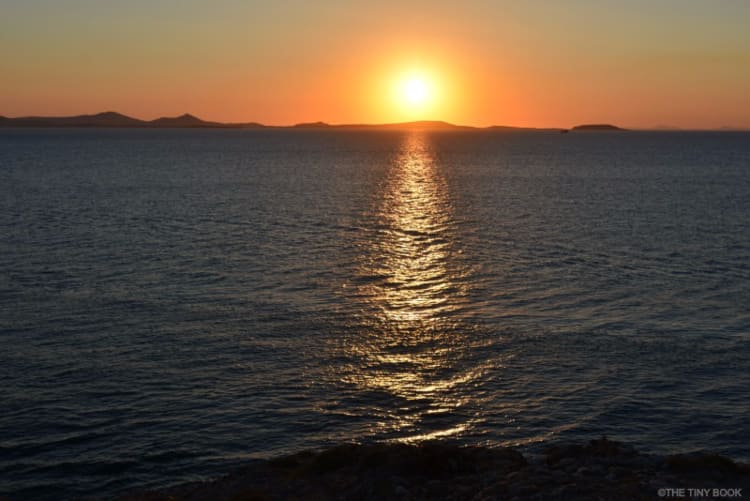 Two are the options for the best sunset view. Either you wait in front of the monument for the sun to be right inside its frame. Or you go a little bit further, go past the Portara and sit on the rocks facing the sea.
The sun won't be going through the big door, but the landscape will be equally fantastic.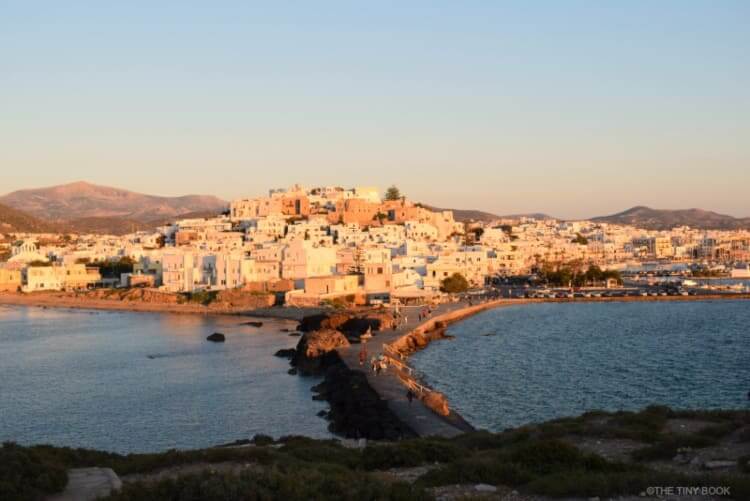 When the last rays of the sun are still visible, don't forget to turn your head back to the Chora. All those whitewashed houses bathed in a warm shade of orange are a memory worth taking with you.
If you Still Have Time: Have Dinner in Chora and Enjoy a Kitron Cocktail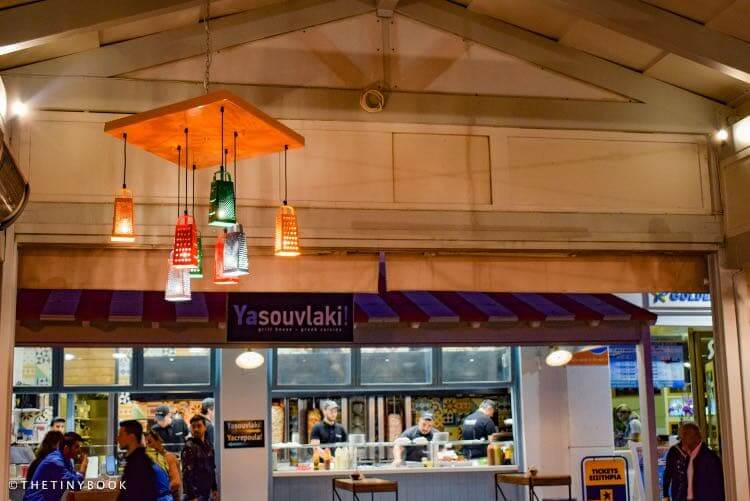 While on Naxos I enjoyed the food in two different places in the city (without counting Halki). They are both on the main promenade facing the sea. And they were so good that never checked other places, we just returned there. One of them soon became the kid's favorite.
Children's paradise was Yasouvlaki. It's almost at the end of the main road, coming from the Portara. They offer very creative choices of souvlaki, the local fast food, which kids adore.
There is also a nice selection of dishes for those who prefer more serious food. Prices are extremely convenient; the atmosphere is pleasant and the food… oh, so good!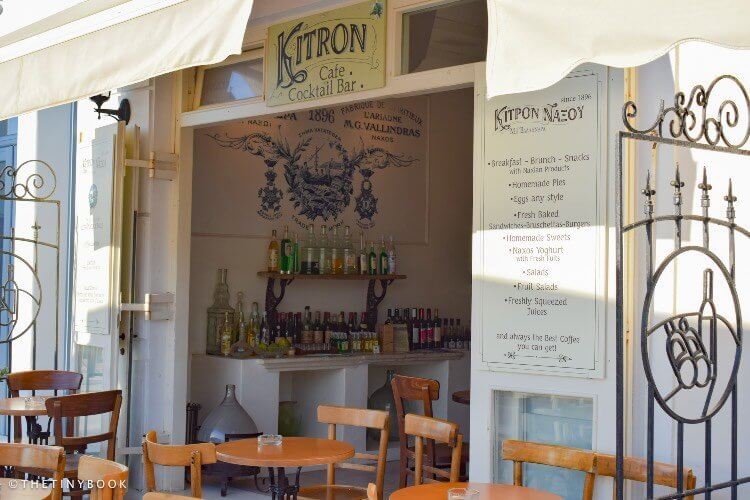 For a different option, made of assorted appetizers, succulent and fresh salads, or delicious fish courses, try Meze Meze, also in front of the marina. They specialize in seafood. Their octopus salad was mouth-watering.
To end the night with a local drink, visit the Kitron Cocktail Bar, and enjoy some creative variations of your favorite drink, only prepared with kitron, rigorously served with fresh fruit and nice music.
Sit under the stairs, looking at the white yachts being lulled by the soft waves and breathing the salty air coming from the sea.
It will be the perfect way to end your one-day itinerary on the island of Naxos.
Changed Your Mind and Want to Stay in Naxos Overnight…?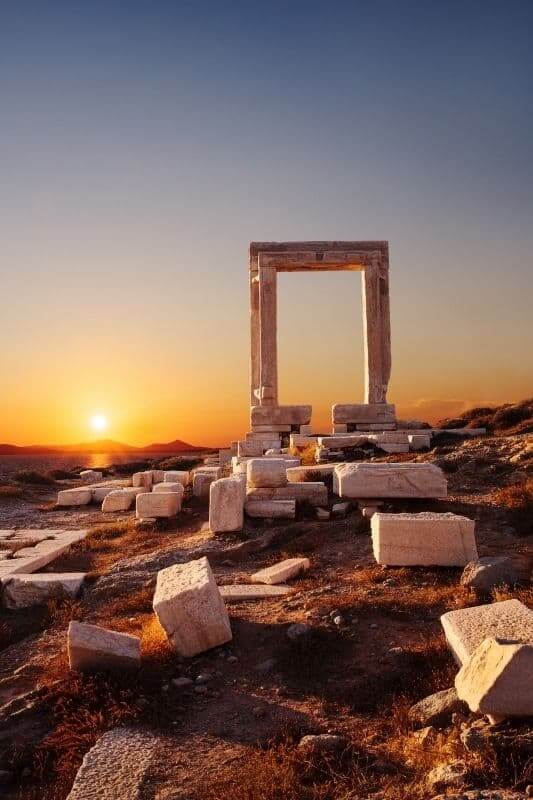 Naxos is an island with a lot of things to do, not just during the Summer, but all year long. I often say that if for any reason, I hadn't moved to Crete, my second island of choice would have been Naxos.
If you have more time to stay, a flexible itinerary, or simply decide last minute that you want to spend more days in Naxos, you will be able to visit at a slower pace. Check museums and art galleries or visit interesting archaeological sites.
You can spend the night in the old town or a villa. We stayed here and we loved it. But there're more budget-friendly options that you can check, you can see some of them down below.
Where to Stay in Naxos
These are some of the most convenient places to stay in Naxos for one night:
You can also check out the properties in the box below
Have you been to Naxos?
Let me know in the comments below!
Pin this Guide to the Best Things to Do in Naxos for your Next Trip to Greece!
You might also want to read about these other Greek islands:
About the author of this blog: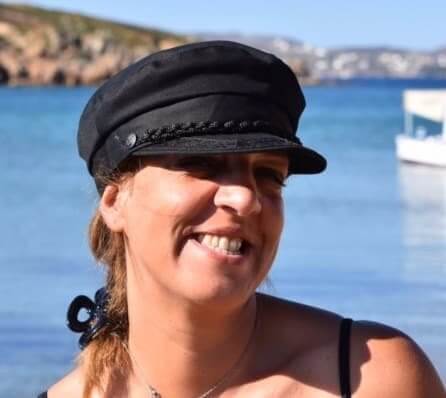 Gabi has been living in Crete for the last six years. On the island, she juggles being a solo mom, hosting culinary tours in summer, translating, and freelance writing for several travel blogs.
She's written for Greek Reporter, published several travel guides about Greece, and had more glasses of frappe than any regular person could ever handle.
Our trip to Naxos, Paros & Antiparos was possible thanks to the support of the South Aegen Region,
the local municipalities, and local companies. As usual, every opinion expressed is my own.
Our trip and some of the articles about Naxos were covered also by the local press.
You can check this article on Naxos Post.