Probably my favorite Greek island after Crete, Naxos is a stunning holiday destination to enjoy with the whole family. A peaceful atmosphere, endless green fields, stunning peaks, hiking trails, delicious food, and some truly breathtaking pictures will be just a few of the ingredients of a fun-packed vacation. Read on and discover all the amazing things you can do on the island to enjoy Naxos with kids!
---
Disclaimer: Posts include affiliate links to products or services. I might earn a commission if you make a purchase.
---
Things to Do in Naxos with Kids
Naxos is the largest of the Cyclades islands and it has the safest and most gorgeous beaches that kids could ask for. Yet, the island is, somehow, still relatively undeveloped as a holiday destination. And we can take advantage of that!
Naxos is a very quiet island so is perfect for families. Besides, we were able to test that the islanders really adore kids, so you will always find a warm welcome for them!
Furthermore, it's interesting to discover that children of all ages really enjoy eating the delicious traditional Greek dishes served in the island's tavernas!
Trust me, if you are thinking about a family holiday in Naxos, you and the kids are in for a treat!
How to Get to Naxos, Greece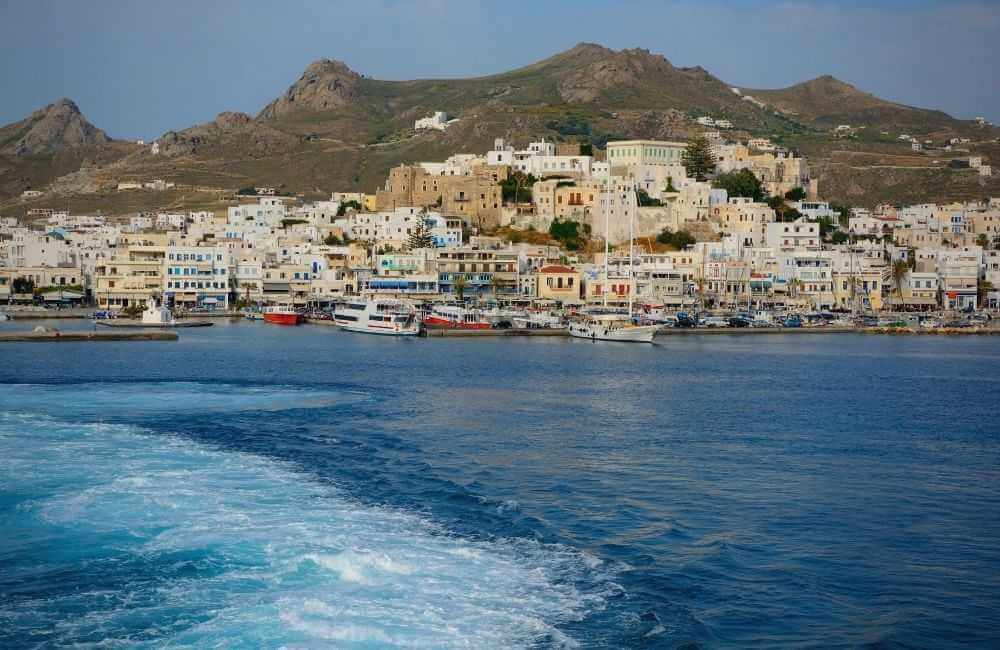 If you're planning to visit Naxos, start by learning how to get to Naxos from Athens, which is the capital of Greece and the place where you'll get to if you're coming from out of the country.
There are direct flights from the EU and the rest of the world to Athens, and from here, you can either fly to Naxos (a flying time of about 30 minutes, available daily in from May to September), or you can travel by ferry.
Naxos Airport is about 10 minutes from the center of Naxos Town and a bus connects the city to the airport, the ride is about €12 (including the luggage). Taxis are also available at the arrivals area.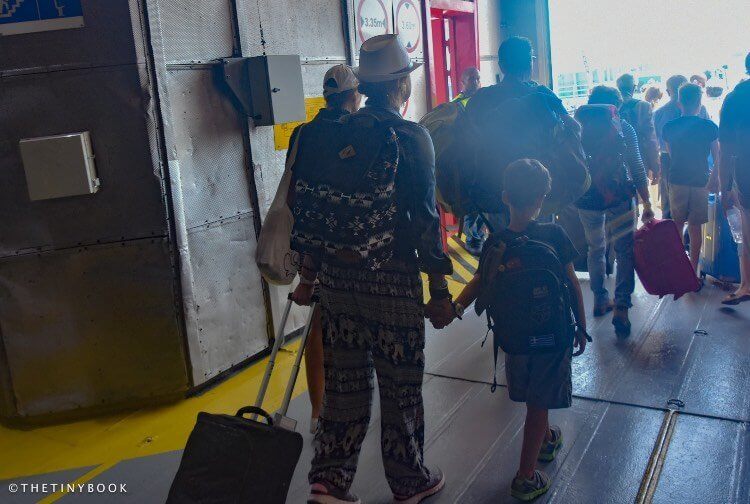 If you travel by boat, it's good to know that up to five daily ferries depart every day from the Port of Piraeus (from 4 to 6 hours, depending on the type of ferry and weather conditions).
There are also ferries departing from the Port of Rafina (4 daily departures, with a travel time of 3 to 5 hours).
Naxos is well connected to more Greek islands, you can find all the info in my article that explains how to get to Naxos.
⛴️ Check out ferry ticket fees and schedules
Moving Around in Naxos
As the island is quite large, the easiest way to explore is with a hire car. In fact, this is what we did and we had a blast.
On a cloudy day, we ventured into the mountains to explore small and picturesque villages, checked out a few archaeological sites and ruins, and enjoyed the landscape a lot. During the sunny days, instead, the car gave us the freedom to move around and visit some incredible beaches that were not so close to our hotel.
Having a car also allowed us to go out for dinner at night in the center, or stop at the supermarket for a snack refuel during a day trip.
Parking on the island was not difficult and we avoided wasting time waiting for buses (and saved on taxi fees). If I had to do it again, I'd definitely rent a car in Naxos, roads are safe, driving is relaxing, and you can certainly explore more!
Which car rental service is the best to choose?
If you want to rent a car for your trip and look for the best service, I am here to help you! Consider choosing Discover Cars, an international car rental booking service present worldwide. This way, you will find the best car for your trip wherever you are!
Of course, if driving in a different country makes you nervous (which on Naxos it shouldn't!), you can rely on the local bus service from the main town that visits several of the popular beaches and some villages. Organized tours with transport to different areas of the island are also available.
How Many Days in Naxos?
Instinctively, I'd say a lifetime (yes, that's really how much I love the island!), however, you can get a good grip on the island and discover different beautiful areas if you stay for 4 to 7 weeks, although I'd say a full week is ideal.
Best Family Beaches in Naxos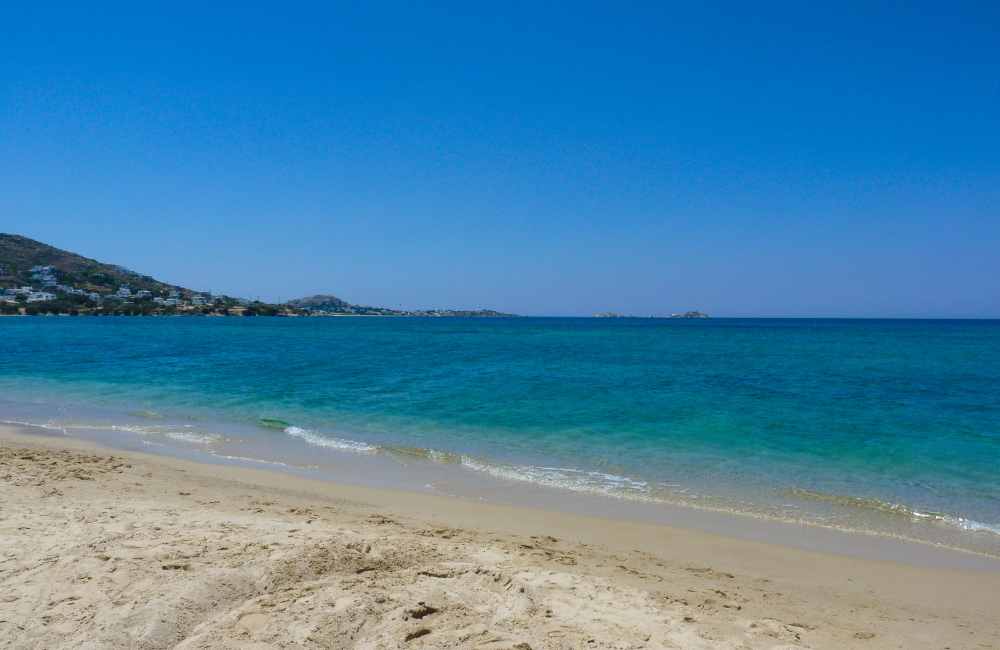 If you're reading this post thinking about your summer vacation in Naxos, you'll be certainly interested in learning about the beaches. Well, Naxos won't disappoint!
Naxos has a number of shallow sandy beaches that kids find safe and entertaining. Agios Georgios, Agios Prokopios, and Agia Anna are all relatively close to the center of town (Chora) but that makes them also quite popular and often overcrowded.
Known also as a windy island, Naxos offers windsurfing activities with international standards so if you have small children, it is well worth asking checking the most sheltered beaches, including Mikri Viglia and Agios Giorgos, perfect to build castles on the soft, fine sand.
Plaka is my absolute favorite beach on the island, it's wide and extremely long and it never feels crowded, besides there are a few areas without organization (if you prefer that kind of experience) as well as organized structures offering showers, bathrooms, restaurants, and everything you need to spend a day with small kids.
Older kids can enjoy different water sports on many beaches as well while parents can rent sunbeds and parasols and spend some time stretching out with a good book!
Explore Chora
Chora – or Naxos Old Town – is the island's pretty capital easy to wander and free of traffic, therefore extremely safe to explore with the kids.
This is a typically Cycladic town with snowy white cube-shaped houses with bright colorful front doors and pots of vibrant flowers.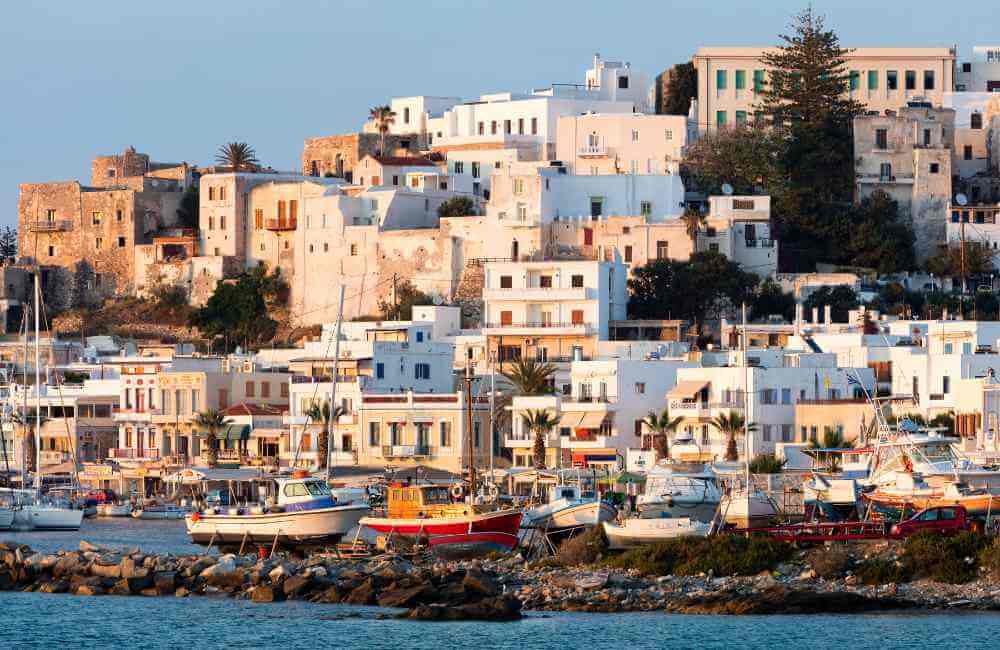 It is the perfect place to head to if you want to discover the local archaeologic or folklore museums, the Aelia craft gallery, and numerous little shops to purchase local crafts and souvenirs.
Around Chora, there are family-run tavernas to enjoy good island cooking or some fresh fish brought ashore by the fisherman early in the morning.
If you want to enjoy the very best view of the town and across the water to the other islands, the Kastro perched at the top of the town is the place to go.
The walk to reach the Kastro is up through narrow alleys followed by a steep pathway but the view from the top is really worth the effort!
Unearth Some History and Tradition
The island's archaeological museum is housed in a 17th-century building that was once a Jesuit school. Inside, you will find a good collection of Bronze Age artifacts that reveal the island's history.
And since the museum is not too large, it is ideal for children of all ages so that they can explore it without getting bored.
Check Out the Portara at Sunset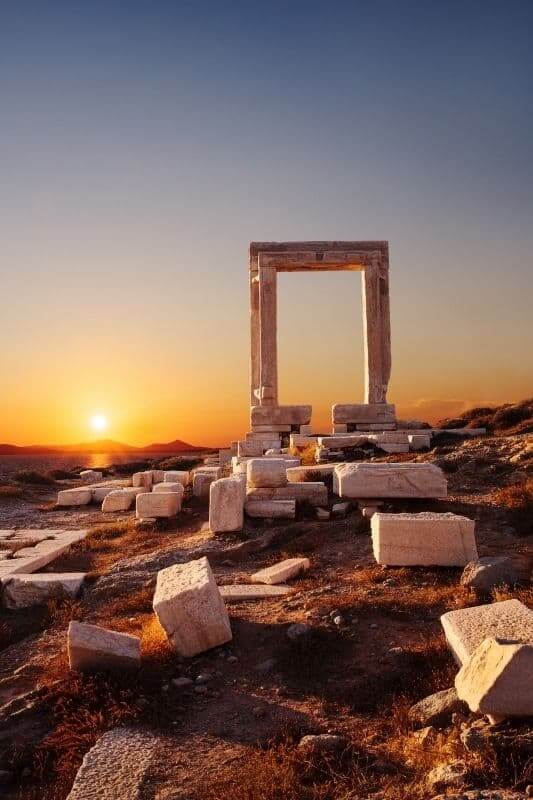 The Temple of Apollo is just a short walk from the town across a narrow strip of land. The temple was never completed because of a war with the neighboring Samos Island.
Today, only its huge doorway (known as the Portara) and six Doric columns remain. The doorway is perfect for selfies and it is certainly impressive as each of its four sections weigh about 20 tons!
Admire the Old Ruins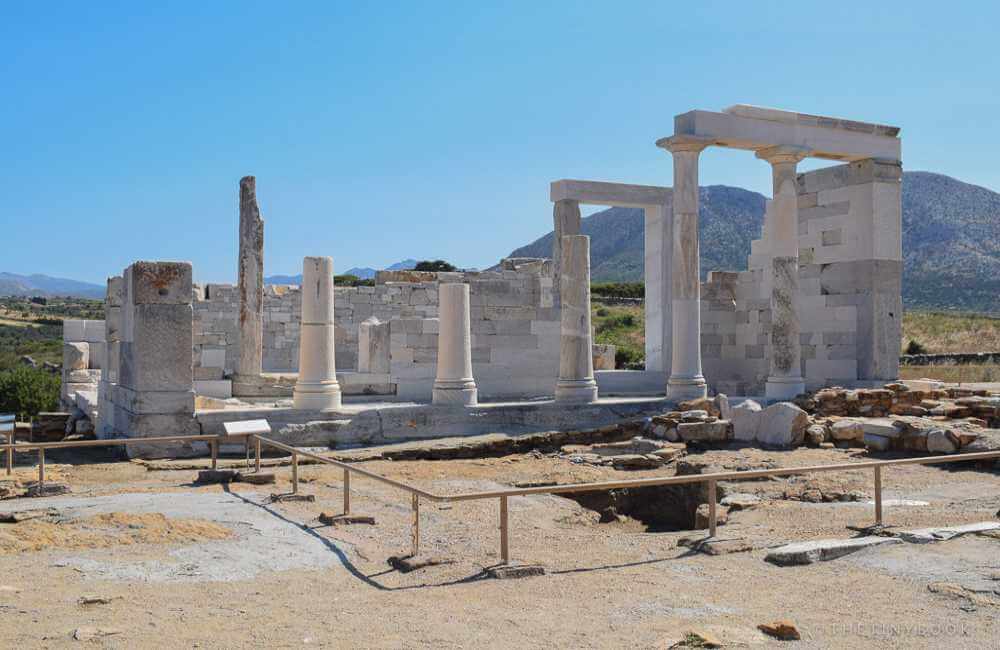 If you are exploring the island, the ruins of another temple can be seen near the village of Sangri. Built in 530- 520 BC, the temple was dedicated to the Greek goddess Demeter and it is said that the Parthenon in Athens was modeled after this square-plant building.
Both in the village of Melanes and in the village of Apollonas (on the island's north coast), you can check out a few unfinished giant sculptures, known as Kouros which are over 10 meters long.
Visit the Olive Oil Press
Do you want some more? No problem! Naxos has 90 olive mills and the Eggares olive press (and museums) holds the oldest one. The mill dates from the 19th century and it's the perfect way for kids to learn how olive oil is made.
The press reveals the importance of olive oil production in the everyday lives of the islanders. Over here, you can taste olives and freshly pressed olive oil and buy some great souvenirs. Check out the official website for more information.
Have Fun at a Water Park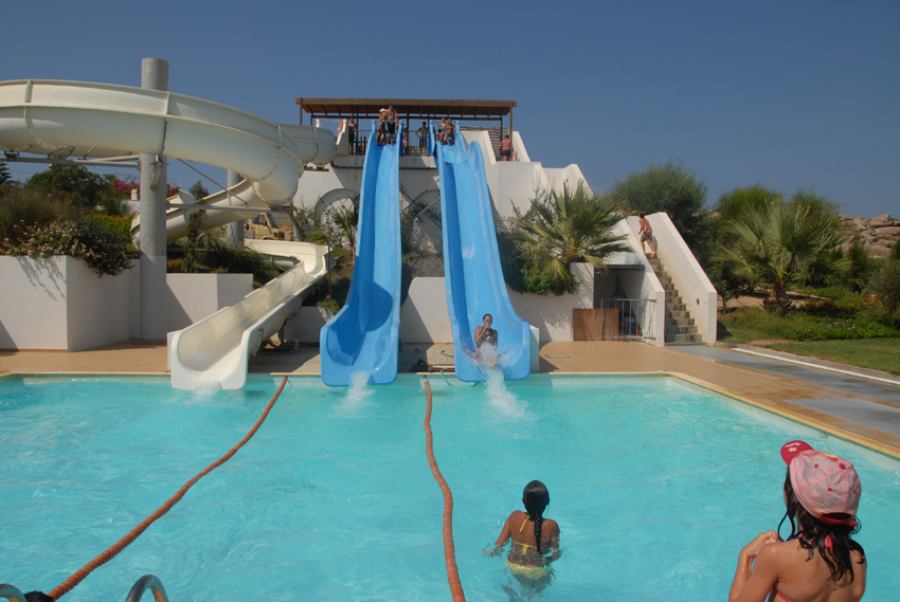 The Aqua Fun Water Park can be a fun place to visit for all the family. The park features pools that are suitable for different ages, multi-slides, and many other fun attractions.
In the park, there are plenty of shaded chairs for simply relaxing out of the sun which is also a real bonus.
There is also a Fish Spa center that moms can enjoy and a volleyball court which is popular with teenagers. More details can be found at the official site.
Hop on a Boat
Naxos is the perfect location for enjoying a boat trip. In the harbor, you will find a variety of trips available, including boat excursions and catamaran trips available during the day and at sunset.
If you are experienced, you can charter your own boat easily as well.
If you have older children and want to try some island hopping, there are ferries available to Santorini, Mykonos, Paros, and the Small Cyclades, a picturesque group of tiny nearby islands.
You just need to head to the waterfront promenade or book in advance if you're traveling in the peak of the season (August).
Explore Naxos Villages
If you haven't already, it is possible to rent a car just for the day to explore the villages. Start by heading to Chalki (or Halki), a small settlement with houses built around the main square and narrow cobbled streets to explore.
The Barozzi Grazia Tower can be climbed and has several intriguing stories attached to it.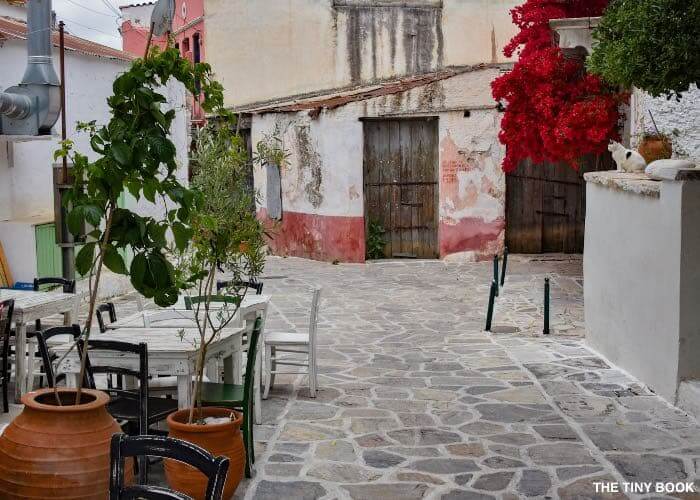 There is a shop selling a delicious array of homemade jams and marmalades right opposite the super famous Vallindra Distillery, a place that will reveal the delights of the local liqueur Kitron to you- but not your children!
Damalas is another village worth exploring as it has two pottery workshops run by brothers that sell fantastic local souvenirs.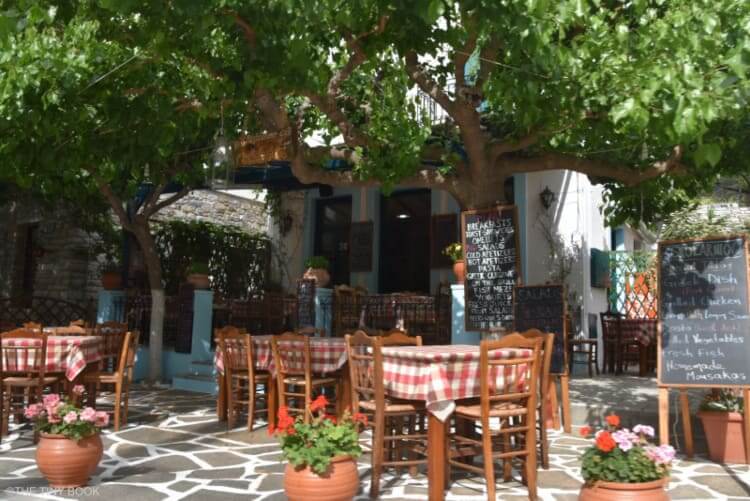 Filoti, instead, is one of the prettiest villages on the island and is situated at the foot of Zas Mountain. This is the perfect place to sample some of the island's cheeses and the delicious village sausage in one of the tavernas in the square.
Apeiranthos is the town known as Naxos' marble village. Over here, all the Venetian buildings are made of beautiful white marble.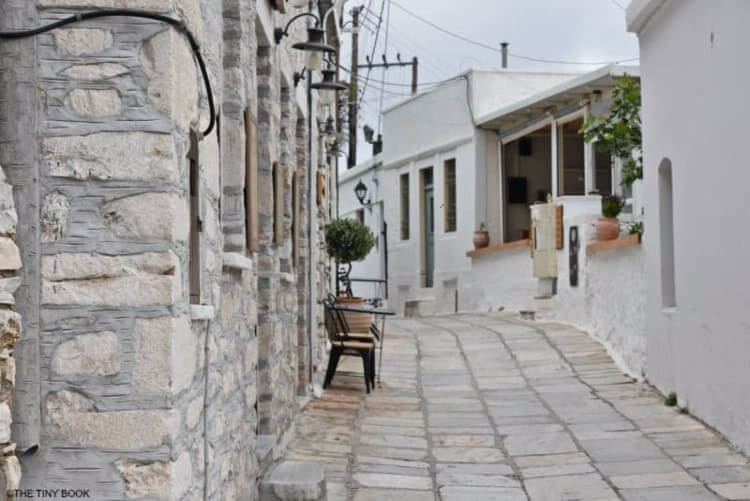 There is the scenic Venetian Zevgoli Tower to climb and delicious restaurants and taverns. Over here, do not miss a bowl of Greek yogurt with nuts and honey!
If you visit the village of Vivlos, watch out for the ruins of three 19th-century windmills known as 'Tripodes' on Stroumpoulos Hill – they are a great photo opportunity!
Go On a Riding Hack
There are several stables on the island where kids can have fun during two and three-hour hacks. These include riding through bamboo groves and along the shoreline- if you time things right, you can watch the sunset from the saddle too.
The hacks are escorted and the staff and horses are both used to all levels of riding ability. Check out Naxos Horse Club in Plaka for more details.
Naxos With Teens in Mind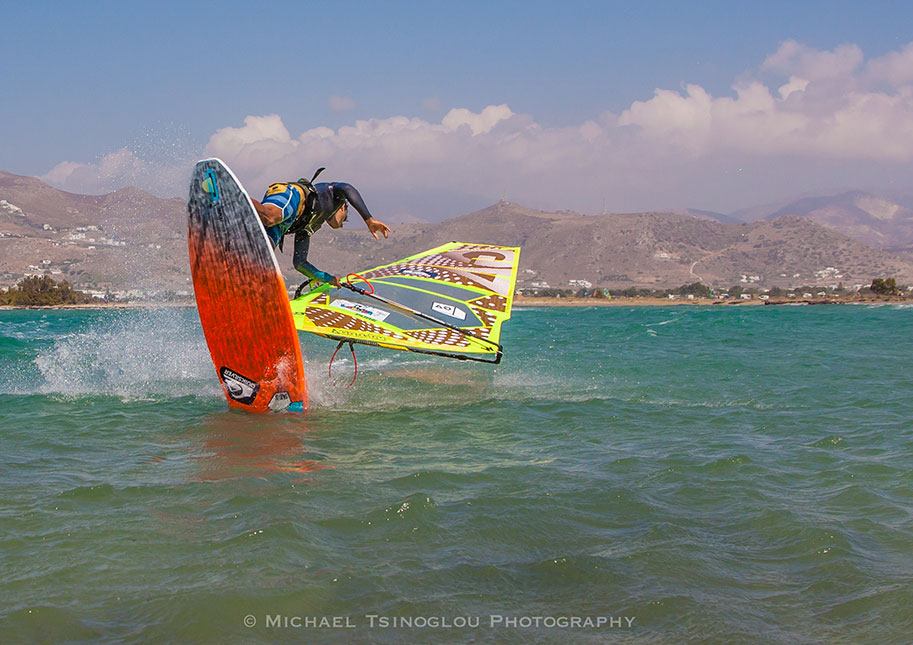 Naxos is world-famous for its windsurfing and the sport is based at Laguna Beach Park on the island's west coast, in Stelida village.
Over here, there is the opportunity to join a workshop and be taught to windsurf by professionals. On Plaka Beach, there is also a windsurfing kite surfing school. Naxos is also a great place for snorkeling and tuition is available in several places.
Naxos Family Hotels: Best Places to Stay in Naxos with Kids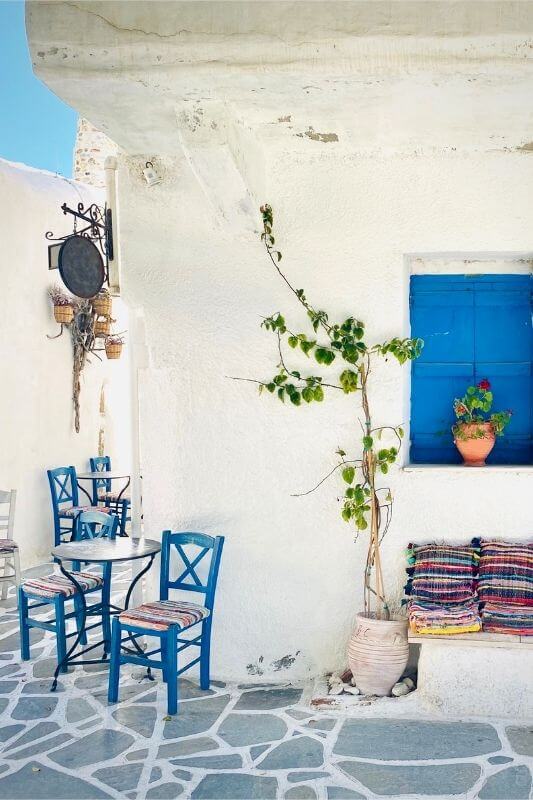 Naxos is a big island and the offer when it comes to accommodation is huge. There are different areas to stay in Naxos, and these are the ones I recommend:
Chora
A stay in Chora, or close to Naxos' Marina is a great solution if you are staying on the island for a few days only or if you do not plan to rent a car. This location makes it easy to reach some of the beaches nearer to the center, and be close to museums, tavernas, restaurants, and bars in town.
Korali Palace Hotel – One of my favorite places in the old town of Naxos is Korali, recently renovated and super comfortable, with great prices for a budget stay.
Click here for more information and to get the latest prices.
Mystique of Naxos – This beautiful hotel is located in the center of town, fairly close to Agios Giorgos beach. It has a fantastic pool, a hot tub, and a delicious à la carte breakfast is served every morning.
Click here for more information and to get the latest prices.
Agios Prokopios
Not far from the center of town, Agios Prokopios is a small seaside village reached by frequent buses from Chora. In the evening you can walk along the seaside promenade or stop for dinner in one of the popular tavernas opposite the sea. Agios Prokopios is home to one of the nicest beaches on the island.
Akrogiali Agios Prokopios – This is a budget place to stay in the most central area of Agios Prokopios. It is a favorite among guests for its convenient fees, top position close to the bus stop and and relaxing atmosphere. Since this place is often hard to find available, don't let it escape and book early!
Click here for more information and to get the latest prices.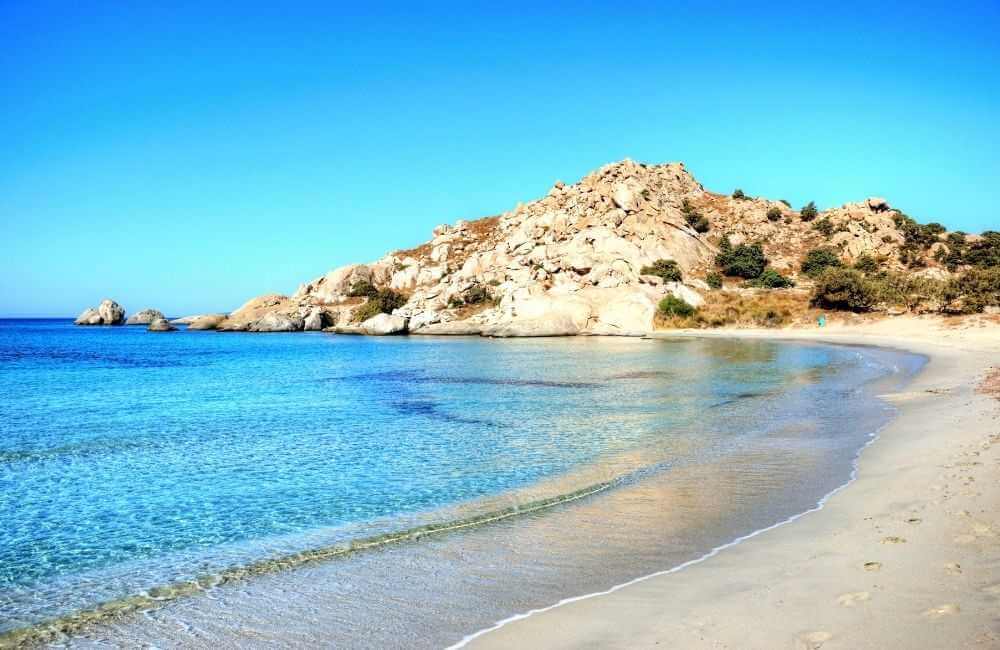 Agia Anna
Another quite central position, close to a beautiful beach and easy to reach from Chora, Agia Anna is a great place for a quite stay very close to the sea.
Angel Suites – Another great mid-range place to stay in Agia Anna is Angel Suites. This is a beachfront venue, featuring Cycladic-style rooms with panoramic sea views.
Click here for more information and to get the latest prices.
Santo Concept Luxury Villas – Looking to splurge in a Cycladic villa? Check Santo Concept! The villas are located only 500 meters from Agia Anna Beach. They feature a beautiful patio, hot tub, and a comfortable sitting area. Shuttles for the port and the airport can be arranged at the property. Click here for more information and to get the latest prices.
Plaka
A great place to stay in Naxos if you have rented a car, this area will offer access to the best beach on the island and it will be about 20 minutes from the center of Naxos Town (Chora).
Studios Athina Plaka – Sunny and roomy studios with the Aegean Sea and a great outdoor pool surrounded by a lush garden, the comfortable Studios Athina Plaka are right on the sandy beach of Plaka.
Click here for more information and to get the latest prices.
As you can see, Naxos is a top family-friendly destination with a lot of things to do the who family. Easy to reach from Athens, but also Paros, Crete, Mykonos and Santorini, the island will be a pleasant surprise and a place you will certainly might want to go back to soon!
---
Are you planning a family holiday in Naxos, Greece?
Let me know in the comments below!
You might also want to read these Naxos travel blogs useful for the family!
---
Pin this Guide to the Best Things to Do in Naxos with Kids for an Amazing Family Holiday in Greece!
About my blog: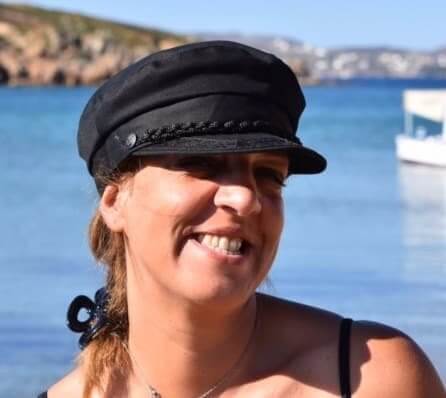 I moved to Crete in 2016. During these years, I learned much about the island.
In Crete, I juggle being a solo mom, hosting culinary tours, and writing for several travel blogs.
I've written for Greek Reporter, published travel guides about Greece, and had more glasses of frappe than any regular person could ever handle.