Planning to spend the summer in the Ionian with the family? Boasting incredible beaches, breathtaking landscapes, and some fantastic attractions to visit, this area in Greece is always a good idea, especially if you're traveling with your family. In this post, I bring you the top things to do in Kefalonia with kids and super helpful tips for an unforgettable holiday!
---
Disclaimer: Posts include affiliate links to products or services. I might earn a commission if you make a purchase, at no extra cost.
---
Kefalonia with Kids: Top Things to Do
Kefalonia (also written Cephalonia) is the largest of the Greek islands in the Ionian group situated just west of the Greek mainland.
The island is lovely and is often featured in advertisements and films – including Captain Corelli's Mandolin. When visiting Kefalonia with kids, you will be happy to find a welcoming and hospitable island with a unique vibe that will certainly conquer you.
Kefalonia has beautiful landscapes, stunning white sand beaches, mysterious caves, and pretty fishing harbors.
There is plenty to see and do on the island, making it a good choice for families, and getting around is relatively easy by bus or – even better – with a rental car.
General Information about Kefalonia
Lesser known and often overlooked when compared to other islands in the Ionian, such as Corfu or Zakynthos, Kefalonia is, exactly for that reason, a very relaxing destination for family holidays especially if you have small kids or toddlers (rather than more active teens).
Best Time to Visit Kefalonia
As with most Greek islands on the Ionian, where winters tend to be wet and rainy, the best months to visit are between June and early September.
Although the crowds can increase in the central months of summer, Kefalonia is not as popular as other Greek islands and it won't be difficult to remain a bit off track if that's what you like.
If you're kids still don't go to school, a visit in late September can guarantee better prices in accommodation and relatively pleasant weather with warm seas.
How Long to Stay in Kefalonia
Kefalonia is a lot bigger than other more popular Greek islands, thus offering quite a lot to see and do. If you want to discover more and visit different areas, staying in Kefalonia for 5 days to a full week can be a good idea.
To make the most of your time on the island, it's a good idea to rent a car and move around without depending on public transport schedules for more flexibility.
Kefalonia boasts a coastline that's over 230 kilometers long, for that reason, having a vehicle to move around can make the difference between seeing some Kefalonia versus truly exploring the island.
Which car rental service is the best to choose?
If you want to rent a car for your trip and look for the best service, then I am here to help you! Consider choosing Discover Cars, an international car rental booking service present all over the world. This way, you will definitely find the best car for your trip wherever you are!
How To Get to Kefalonia
The most convenient way to get to Kefalonia is by plane. There are direct flights from some cities in Greece, including Athens and Thessaloniki while several charter flights connect important European cities with Kefalonia in summer.
Find cheap flights with Skyscanner.
Travel by ferry is also possible, although you cannot reach Kefalonia from the port of Piraeus, in Athens. However, it's easy to get to Kefalonia by sea from Bari (Italy). There are also boats available from the nearby islands of Corfu, Lefkada, and Zakynthos.
Being such a big island, you will find several ports available including Fiscardo (receiving ferries from Ithaca and Lefkada), Poros (which you should not confuse with the Saronic island of the same name and that receives ferries also from Zakynthos).
Ferries from Patra, on the mainland, and Bari, in Italy, arrive at the port of Sami, while the port of Lixouri receives ferries from Killini. Keep these ports in mind when booking your hotel in Kefalonia.
Check ferry tickets to Greece here!
Let's now explore all the best things to do in Kefalonia with the family!
Melissani Cave: An Unmissable Place to Visit in Kefalonia
Melissani underwater lake is one of the most breathtaking natural wonders in Greece, and of course, worth exploring with the whole family.
Located near Sami, the place is not difficult to reach on your own, although many people prefer to book a tour and explore the place with a local guide.
This unique lake stands inside a cave with an opening at the top from where the sunlight enters the cave creating impressive shades of turquoise on the surface of the water.
When you visit with a boat, it heads into a cave that all of a sudden reveals the beauty of the lake with its bright blue waters. In certain months of the year, at noon, the sun is directly overhead and the cave is filled with light.
It's believed that the lake is about 30 meters deep. It's named after the nymph Melissani, who is said to have thrown herself into the lake because she could not win the love of the god Pan. Small rowing boats can be hired to explore the lake.
The sailboat experience lasts about an hour and there are long waiting for lines in summer, therefore booking in advance is never a bad idea.
Melissani, however, is not the only cava you will find on the island. In fact, it's also a good idea to check out Drogarati Cave.
Experts estimate that this cave is 150 million years old and that its deepest part is nearly 100 meters below the ground.
Several of the chambers are filled with stalactites and stalagmites and one has a small lake. Drogarati Cave is about 4 km from Sami and both caves can be seen on the same day.
This tour includes a visit to both Melissani and Drogarati Caves in Kefalonia.
Click here for more details and to get the latest prices.
Explore Argostoli
Argostoli is the island's main town and it is fun to wander. One of the most entertaining places to explore is the farmer's and fisher's market in Argostoli Harbor.
Small kids enjoy trying to spot Loggerhead (Caretta Caretta) turtles as well as Green Sea turtles in Argostoli harbor and feeding fish from the shoreline. It is best to go early in the morning because the turtles like to wait for the fishermen to return with their fresh catch!
For extra fun, there is a glass bottom boat that takes regular trips from the harbor perfect for kids curious about the sea bed… and there's always a chance to spot an octopus too!
There is a promenade by the waterfront and at the lower end of the port, you will find the former Drapano Bridge, now known as the De Bosset Bridge. This is a stone bridge built in 1813 over the bay that's considered the longest stone bridge in the world measuring 689.9 meters and which separates the harbor from the lagoon.
Near Argostoli stands the iconic Lighthouse of Saint Theodoroi, which was built 200 years ago to warn ships of the rocks near the harbor entrance. Children love to weave in and out of its pillars and look for marine life in the rock pools.
In the town center, there are the two main squares which are the perfect place to stop for refreshments! Close by stands the Focas Kosmetatos Foundation which is a small museum that tells the history of the island including the terrible earthquake that back in 1953 destroyed much of the settlement. There is also an interesting archaeological museum that families can visit too.
It's also a good idea to join a walking tour of Argostoli and the port that also includes food tasting for children to sample the most traditional flavors of Kefalonia!
Visit Kefalonia's Picturesque Villages
There are several villages to explore on the island. Fiskardo is a picture-postcard fishing harbor. It is the perfect place for photos of the colorful Venetian buildings that dot the coastline of the settlement. From here, there are also great views of the nearby island of Ithaca too.
Another pretty fishing village to visit is Agia Effimia, incredibly picturesque and quite off the beaten track.
Assos is also worth visiting as it has a small sandy beach and a castle that stands overlooking the bay. This is a lovely place for lunch with waterfront tavernas serving fresh fish.
Although there are not many things to do in town, the area is a beautiful and peaceful place for a walk in the early afternoon.
Get Pedaling!
Older children enjoy renting a pedalo at Argostoli Lagoon as it is a nature reserve or you can bicycles to follow the path around the lagoon, passing through eucalyptus and pine trees.
There are information boards giving details of the many different birds you are likely to spot.
Check out Argostolis Lagoon activities here.
Enjoy Horse Riding
If your children are aged six years or over, they enjoy horse riding at the stables in Sami where there are four smaller horses, especially for younger riders.
For older children, there are several other stables organizing escorted hacks. Check out more details at Bavarian Horse Riding Stables Kefalonia.
Great Playtime
Procris Park is situated in Argostoli and is a fun place for adults and children.
The children's games and activities are ideal for 1-12-year-olds and include inflatables, toy cars, and electric go-carts on a specially designed track.
More info on their Facebook Page.
Learn the Story of Honey
Dias Beekeeping in Svoronata offers a really interesting bee tour for children. You can find details about their organized visits here.
The tour explains the history of bee-keeping and how bees produce honey and at the end of the tour there I a honey-tasting session which is always popular!
Kefalonia With Teenagers in Mind
If you have teenagers who enjoy snorkeling, there are many little coves on Kefalonia that are ideal and these include Atheras Beach on the island's northwest coast as it has clear waters that are home to really beautiful fish. Agia Effimia on the northeast coast is equally as good.
There are boat trips from Agostoli that head out to sea in search of dolphins and marine turtles on their way to White Rocks Beach for a swim in the crystal clear water before heading for Mania Beach or to Vardiani Island for a lunchtime barbecue or a round of appetizers at sunset.
It is fun to take a boat trip to one of the other islands with the chance to enjoy some different beaches. There are regular trips to Zakynthos to visit its famous shipwreck beach – Navagio – and there are other day trips to Ithaka (from Agia Effimia) which is known for its lovely little coves.
If your teens enjoy hiking, then don't miss a day trip to Mount Ainos which at 1,628 meters, is the highest peak in the Ionian.
From the top of the peak. you can admire the surrounding landscapes and see the skyline of the beautiful nearby islands of Lefkada, Zakynthos, Ithaka, and Lefkada
Best Beaches in Kefalonia
Kefalonia is well known for its stunning beaches – there are over 35 fantastic beaches around the island.
Avithos is one of the best for young children as it has soft sand and lovely shallow water. Xi Beach, on the other hand, is fun as the sand is reddish gold in color and has a gently shelving seabed so is ideal for paddling and less confident swimmers.
For older children, Makris Gialos is ideal as there is a choice of water sports. However, the most famous beach in Kefalonia is Myrtos Beach, also considered one of the best in Greece and was one of the filming locations for Captain Correlli's Mandolin.
The beach has stunning views but Myrtos is affected by winds and currents it's not very safe, especially for children.
Although paying a visit can be fun for the views, we suggest visiting some of the tavernas close to the beach for lunch or enjoying the magnetic views of the sunset from the top of the cliffs behind the beach.
This Myrtos day trip includes stops in Fiskardo and Assos.
Kefalonia is one of the Greek Islands that has marine turtle nesting sites on some of its beaches along its southern coast.
There are several beaches including Lefkas and Koroni where the female Loggerhead Turtles (Caretta Caretta) dig their nests. To protect the turtles, the beaches are cleared before sunset. By volunteers from Wildlife Sense.
If you have young children who want to learn to snorkel, the beach of Agios Thomas on the south coast has lovely warm water that is shallow and crystal clear and there are plenty of small fish to see in the seagrass, making it ideal.
Petani Beach is another beautiful pebbled shore with deep blue waters. It has organized facilities and good fish taverns. The sea is deep blue.
Check Out Saint Gerasimos Monastery
Agios Gerasimos is Kefalonia's patron saint and protector, and as such, there's a gorgeous monastery you can visit where the intact relics of the saint are sheltered.
Following the devastating quake that in1953 destroyed more than ninety percent of the island, islanders claimed to have seen the saint Gerasimos caring for the injured, therefore it's also considered the protector of the ill and of those who suffer.
Where to Stay in Kefalonia with Kids
As mentioned above, the island is quite big, and choosing the right area is key to making the most of your time.
When picking a place to stay, take into account how you're traveling to the island, which ferry port are you arriving at/leaving from, if staying close to the airport is important, whether you'd like to book a beachfront hotel, or if you prefer to stay in a big town with restaurants, shops, and pleasant walks to enjoy after a long day on the beach.
If this is your first time on the island, you might want to consider the most important settlements:
Argostolis
Since this is the main town and capital of the island, it's the best place to stay if you want to move around with public transport, stay close to the main attractions, and enjoy a somewhat more urban vibe. There are some interesting museums, restaurants, Greek taverns, and shops, and the port receives cruise ships and other vessels. The port of Lixouri is opposite the capital.
I recommend checking out Summertime Villas in Argostoli, a fantastic family-friendly property with family rooms and an outdoor pool that can host families with up to 6 members.
Click here for more information and to get the latest prices.
Sami
Located close to one of the most visited spots on the island, the Melissani Cave, Sami is a coastal town and port city in Kefalonia with plenty of good hotels however, the best beaches need to be reached by car. Sami is also very close to Ithaka Island, making it a great base for those who want to visit more than just Kefalonia.
Fiskardo
On the tip of the island, Fiscarod is a picturesque coastal town in Kefalonia, about 50 km north of Argostolis, with a very relaxed atmosphere and incredible beaches around the area.
Lassi
A good alternative for places to stay in Kefalonia is Lassi, it's also quite close to Argostolis, and there is a good choice for accommodation, shops, restaurants, and family-friendly beaches as well.
---
Are you visiting Kefalonia with your kids soon?
Let me know in the comments below!
You might also want to read these posts to prepare for a great holiday in Greece with the family!
---
Pin this Guide to the Best Things to Do in Kefalonia with Kids for Your Upcoming Family Holidays!
About the author of this blog: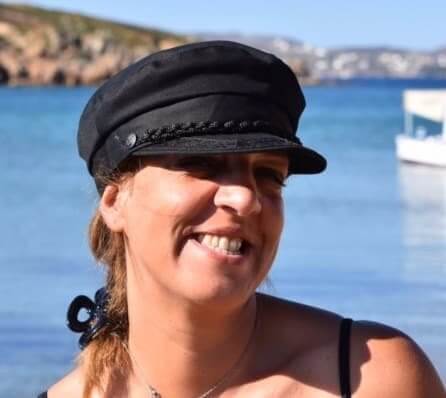 Gabi has been living in Crete for the last six years. On the island, she juggles being a solo mom, hosting culinary tours in summer, translating, and freelance writing for several travel blogs.
She's written for Greek Reporter, published several travel guides about Greece, and had more glasses of frappe than any regular person could ever handle.