Greece is more than a Mediterranean summer recipe for success: Sun, sea, and sand. It's a country that is ever so diverse, with a historical significance that spans thousands of centuries. From the ancient times that put Greece on the civilization map, lighting the way for others to follow; through the Medieval times. A period that saw Greece as the center of conquest. A never-ending story until we reach modern times, attracting many tourists eager for a fantastic climate and gorgeous landscapes.
---
This site contains affiliate links to products and services. I may receive a commission for purchases made through these links.
---
This is a pin-pin situation!
Don't get lost in Greece! Use this map to book your stay!
Medieval Greece
The ancient heritage is largely known, but the Greek Medieval era is less so. Not many know that Greece has numerous fortresses and castles.
These, combined with their island setting, are in fact attractions worth visiting on your next Greek island escape. Here are some suggestions including the best examples of Medieval Greece.
Medieval Greece on Crete: Venetian Walls (Heraklion)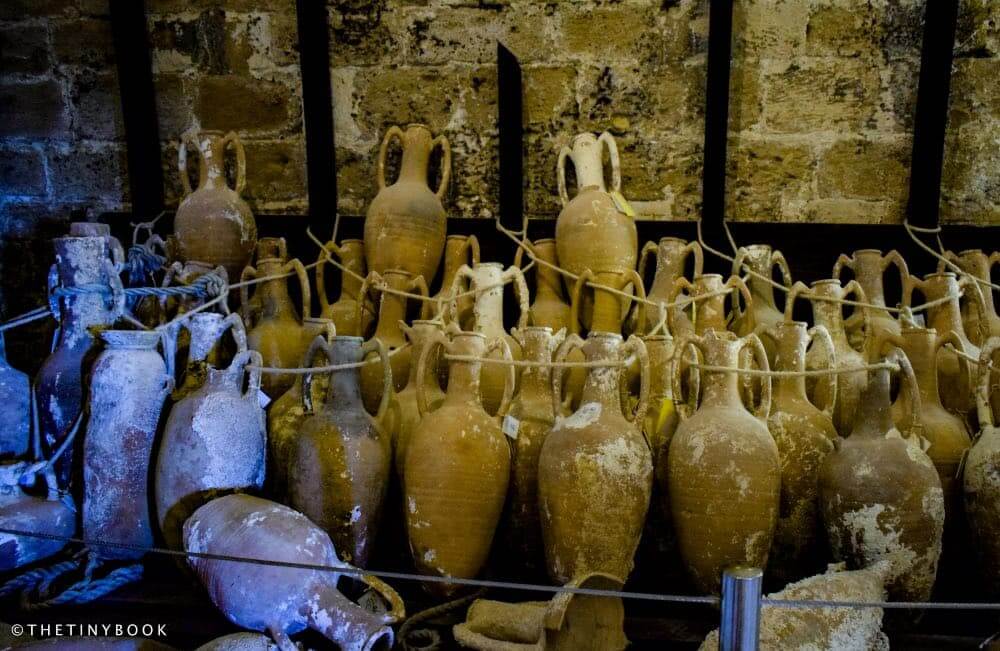 Crete's capital, Heraklion, is essentially a coastal city encased by a series of Venetian Walls. These walls create a fortification around the port, making it a wonderful and unique scene for visitors. Due to these walls, Heraklion is considered one of the largest cities enclosed by such fortified walls.
During the Venetian period around the 13th century, the walls were used to protect it from sieges but today they stand in amazing condition, towering over the city, offering popular walking routes coupled with beautiful scenic views. You can discover them all, leading down to the most impressive monument, the Koules fortress by the sea, on your next visit to Crete.
Visiting Heraklion for a couple of days only?
>>Check this short itinerary <<
A very convenient choice for accommodation in Heraklion is staying in a city location that also guarantees peace and quiet from all the city's hustle and bustle. We personally love this hotel, and it's one of our best memories in the city.
>>Check The Tiny Book's Accommodation Guide to Heraklion<<
Medieval Corfu: Fortresses & Castles
Corfu is another island that has been in the midst of Medieval conquest and came under Venetian rule between the 14th century until the 18th century. Four hundred years of Venetian influence left their mark on the island in the form of some stunning fortresses and castles that are the main attractions for many visitors to admire.
Specifically, the Old Venetian Fortress and the New Fortress in Corfu Town are the main highlights.
They are part of the culture of Corfu and garrisons of the charm of the island.
Corfu is also home to some gorgeous castles such as Angelokastro and Kassiopi castles of the Byzantine era. Paying them a visit will fill you with awe and will surely create within you visual memories to last a lifetime, with the incredible views that come with them.
>>Read more about Corfu in this post<<
Choose a family seaside resort in Corfu for your stay, and plan a day to explore the aforementioned landmarks from there!
The Fortified Kastro of Folegandros
Folegandros is a striking island destination in many ways. It provides a refreshing alternative for holidays in the Cyclades with wild natural beauty and a quiet atmosphere. A dramatic island with clifftops and sharp peaks that will leave you utterly amazed.
The Kastro (which means castle in Greek) integrates all the natural characteristics of the place, even when the area is not really medieval… nor a proper castle in itself. But, come on! Who really cares?
Folegandros is one of those islands well worth a visit.
In Folegandros, the Kastro is in the Chora and is right on the edge of an astonishing cliff. Once there, sauntering around its alleyways of cobblestone streets you will not feel the same adrenaline, rather, this settlement creates a sense that it is very enclosed and protected from the elements.
As this is mostly a local settlement, with small Cycladic houses that retain their traditional character, a design, seaview hotel in Folegandros, can offer you totally relaxing holiday.
>>Check the best places to stay in Folegandros here<<
---
Are you planning your next holidays in Crete, Corfu or Folegandros?
Let me know in the comments below!
---
Travel Plans for Greece?
More Resources to Organize Your Trip!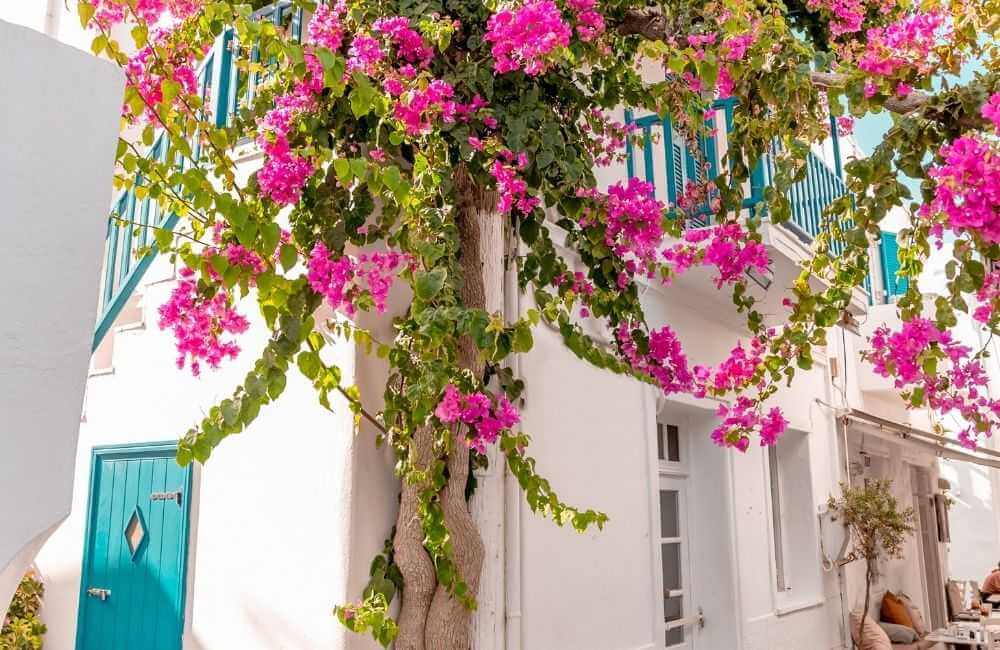 Start by heading right to my Greece travel guide for in-depth details you need to know about Greece. You can also check my post to plan a trip to Greece with children!
Get in touch if you need extra help to plan your trip. If you want to tour West Crete, check my guide. Want more? Join my Private Facebook Group to connect with like-minded travelers who love Crete as much as you do!
Make Sure You've Got Everything For a Hassle-Free Vacation!
Without my Osprey backpack, I never move around the islands…it's a sturdy but light travel partner I just love. For short trips, I carry this crossbody bag. If I drive, I pack my Nikon D7200 and a good travel guide! Lonely Planet's Best of Greece & the Greek Islands.
When it comes to plane tickets, compare prices with a powerful search engine. However, nothing beats traveling by sea in Greece. With Ferry Hopper, you can book in advance at the lowest price.
For accommodation, I use Booking.com.
Traveling to remote places is easier with Discover Cars. Other times, I join organized tours with GetYourGuide, which features anything from cooking lessons to airport transfer!
Are you coming to Crete any time soon?
Get in touch and let me know!
Read more:
Travel the Greek Islands: How to Get to Naxos
Awesome Airbnbs in Corfu That are Perfect for Your Holidays
Trip to Crete in October: Top Things to Do in Crete in Fall
Day Trip to Chrissi Island, Crete: Super Guide to Visit
Beyond Stunning Airbnbs in Santorini to Check Before your Trip
This is a pin-pin situation!
Pin this Guide to Medieval Fortresses and Castles in Greece For Your Next Adventures!
About the author of this blog: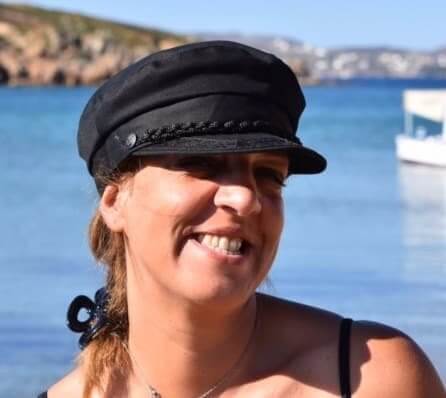 Gabi has been living in Crete for the last five years. Here, she juggles being a solo mom, hosting culinary tours in the summer, translating, and working as a tech advisor.
She's written for Greek Reporter, published two travel guides about Greece, and had more glasses of frappe than any regular person would be able to handle.
---
You might also want to read:
---