October is one of my favorite months to discover Crete, while the weather is mild and the extreme heat subsides, the sea is still fairly warm for your swim, and crowds of tourists definitely stop being a problem.
In this article, I will tell you why you should visit Crete in October and what are the best things to do in Crete during the Fall.
---
Disclaimer: Posts include affiliate links to products or services. I might earn a commission if you make a purchase.
---
Everything You Need to Know about Visiting Crete in October
Why You Should Book a Trip to Crete in October
Crete is located quite south in the Mediterranean, meaning that when most parts of Europe are getting ready to take their sweaters out from the closet, on the island we're still rocking our bikinis and heading to the beach on a daily basis.
The best thing of all, however, is the drastic reduction in the number of tourists visiting the island.
This translates into emptier beaches and venues, less time wasted waiting in lines, and — of course — cheaper fees for food and accommodation.
What's the Weather Like in Crete in October
Due to its favorable geographical position, south off the coast of mainland Greece, quite close to the northern African coastline, Crete enjoys incredibly mild temperatures also during October.
There might be some more abundant rains during some days in the month, but not as many as you would expect in other parts of Europe.
Beach days are plenty, and the high summer temperatures get more bearable, ideal for all kinds of activities in the open.
Don't just assume that because it might rain, the sun won't shine at all…
On the contrary. It's really common to spend some unforgettable days at the beach!
Indeed, it's October the month when locals get to enjoy uncrowded shores and some peaceful time driving around the island to visit off-the-beaten-track corners.
It might be cloudy on occasion, but the sun still shines and gives you plenty of opportunities to get a suntan.
⛴️ Check out ferry ticket fees and schedules
Don't forget it and always pack your high-protection lotion, your hat, and a refillable water bottle too!
Temperatures tend to be lower early in the morning and in the evenings. So do pack a cardigan, a sweater, or a fleece. Do add a raincoat too.
Crete Weather in October
In October, temperatures don't usually go over 25°C (77°F), a fairly pleasant average for locals. And while you might or might not encounter rain in September, you will definitely experience some rain in Crete in October.
October is when the Fall begins on the island. However, that does not translate into bad weather.
By the end of October, most gorges are close to the public, both because the rains in November get heavier and because there are not so many tourists around.
Therefore, October is the perfect month to trek places like Samaria, usually crowded in summer.
The weather is just perfect to face a 5 to 7-hour trek. Just check the forecast a day in advance to avoid encountering any rain.
Don't forget: Temperatures are lower in the mountains. On the other hand, the southern coast can be the smartest place to stay if you're looking for warmer temperatures.
This area is affected by the North African climate, so it's quite hot and dry.
You can check the average temperatures in Crete in October here
Does it Rain in Crete in October?
Yes, we said it, it does rain in Crete in October, and sometimes these showers can be pretty heavy.
However, temperatures remain warm and there are at least 7 hours of sunshine almost every day. The sea temperature is still quite high too, about 22°C (71°F).
Crete Holidays in October
Another reason why Crete is a top destination for warm holidays by the sea is its fantastic weather and long hot season.
It's also true that during the months of July and August, the island gets really overpopulated, so nothing better than a quieter month such as October to explore Crete.
October is also a good month to travel on a budget. Prices decrease substantially for food, accommodation, and attractions too.
Tours see fees reduced, and practical things such as parking fees, car rental, or renting an umbrella on the beach are also cheaper.
It's also quite easy to get hold of a discounted package holiday.
Flights to Crete tend to be less frequent but most companies (even low-cost ones) travel to Crete regularly well into October.
✈️ Search for cheap flights with CheapOAir.
Basic Info About Crete
Crete is a Greek island located in the southern part of the Aegean Sea. It's Greece's largest and the fifth-biggest island in the Mediterranean.
The northern coast faces the Sea of Crete while the southern side of the island is bathed by the Libyan Sea.
What's the Landscape Like in Crete?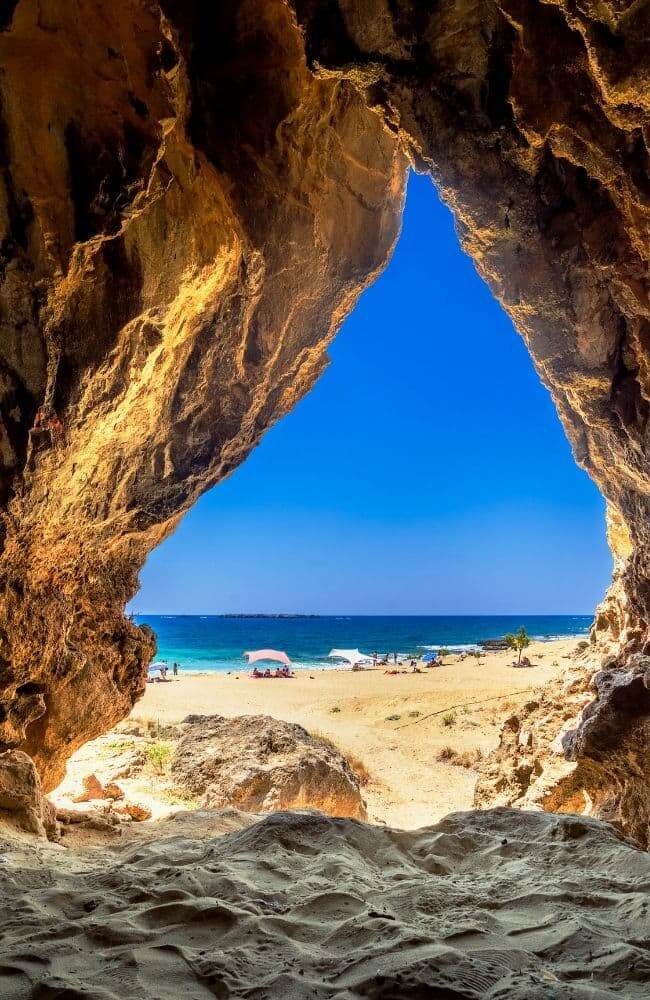 A large part of Crete's landscape is made of high mountains, deep and long gorges, plateaus, and caves, but also soft valleys, rivers, lakes, and some of the most spectacular beaches in the Mediterranean.
Crete is divided into four different regions, from east to west, they are Lasithi, Heraklion, Rethymno, and Chania. The capital is Heraklion, followed in importance by the cities of Chania, Rethymno, and Agios Nikolaos.
Several mountain ranges divide Crete into two very different areas, the more developed north, and the lonely southern coast.
What to Pack for Crete in October
Temperatures are still high in October, yet mornings and evenings are cooler. Dressing in layers is the answer!
Pack all your beach stuff, including bikinis, a couple of swimming suits, flip-flops, sunscreen, and a hat. Swimming shoes turn out useful when visiting pebbled beaches.
If you plan to do outdoor sports or activities, try to include clothes that can be great for hot days but that can also keep you warm if the temperatures drop.
I'm obsessed with these pants which double as shorts. My kids love them too! I also carry with me this ultra-lightweight jacket but any raincoat can work.
Don't forget a good pair of hiking shoes and a comfortable backpack for day trips.
Finally, remember to include a sarong which can double up as a cover-up for the beach as well as to visit churches and monasteries.
Be ready for your trip! Check this Crete Packing Guide perfect for any month of the year.
Best Things to Do in October in Crete
In no particular order, these are some of the things I recommend visitors to do in Crete in October…
Exploring the Mountains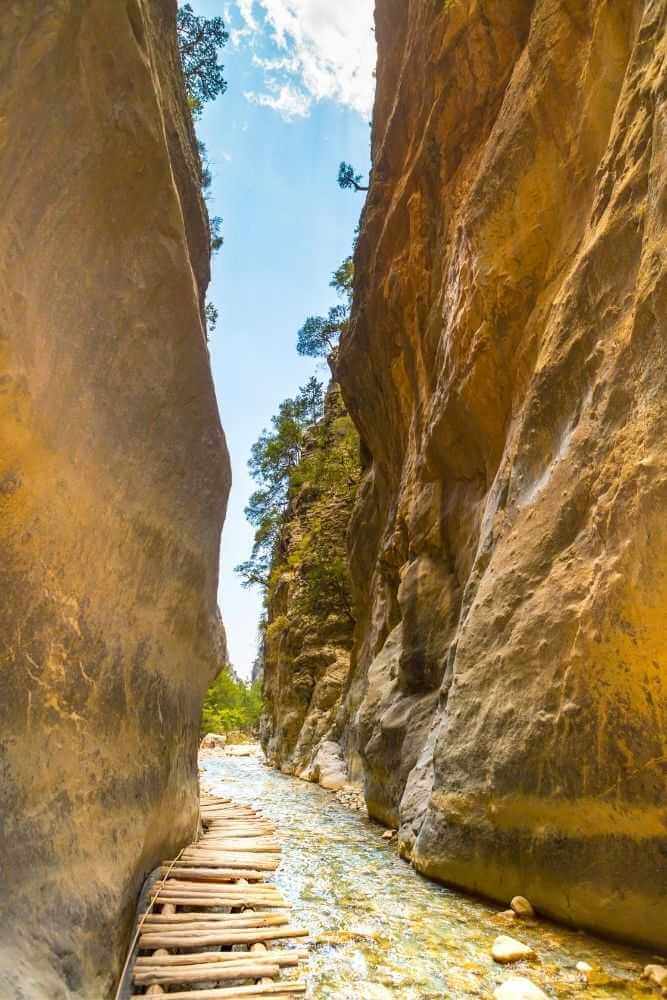 October is a great month to explore the vast landscape of Crete, especially the mountains.
The temperatures are not as high as in summer which means that you can enjoy much longer walks in great comfort and without melting under the sun.
If you're visiting the eastern region of Lasithi, it's a great idea to take a trip around the Lasithi Plateau, either by driving or by bike.
In the area, you can spot the first apples on apple trees, enjoy the views of the remaining windmills, or even visit the Psychro cave. Do carry a jacket with you as it can get windy at the highest points of the plateau.
Hiking the highest peak in Crete, Mount Psiloritis is the perfect mountain activity for those staying in the Rethymnon region.
There are several gorges that are easy to hike and perfect for those who are not really used to outdoor activities.
Those interested in more intense mountain hikes can try their hiking skills in the imposing Samaria Gorge, which usually closes to the public at the end of October.
Other less populated but equally beautiful gorges in the region of Chania include Imbros, Agia Irini, and Topolia, on the way to Elafonisi Beach.
Going to the Beach
During October, even the most popular beaches in Crete are much more enjoyable since they are not overcrowded and the water is still fairly warm.
This month is also a great month to visit beaches that have difficult access, as hiking down with milder temperatures is always welcome!
Try going to Balos, it's definitely less crowded than during August.
Hike all the way down to Preveli in Rethymnon, or explore the caves and beach of Matala in the region of Heraklion.
Finding accommodation es even easier and more convenient, especially in the small and isolated villages in the south of Crete.
Shopping until Dropping
Most shops in the tourist areas are getting ready to close for the season and many of them will reduce the prices on different items and even offer incredible bargains.
Souvenir shops and fashion stores have sales and promotions in October.
So, you're likely to find beautiful and unique pieces at discounted prices, including local leather products such as bags and jackets.
Markets are also getting ready to go back to their winter routine. Therefore it's also possible to get better prices for products such as olive oil, wine, herbs, or cheese.
Finally, regular fashion stores in bigger cities, such as Chania or Heraklion, usually offer discounted sales in October too.
Having a Great Time at a Rakokazana
The last weeks of October and the first weeks in November mark a special moment in everyday life on Crete.
It's the time when the locals start producing their landmark drink, raki or tsikoudia.
The rakokazana is a heartfelt moment in every village.
After a few weeks of fermenting under the sun, the rest of the grapes that were used to produce wine is put to ferment in a special cauldron to distillate raki.
Attending a rakokazana involves also eating tons of mouthwatering local food, dancing, singing, and of course, sampling the first raki batch of the year.
Joining the Locals in Festivals
Several festivals and celebrations take place in Crete during October.
My favorite one is the Chestnut Festival in the village of Elos, in the south of Chania. The village is not far from the city of Kissamos and quite close to Elafonisi. Elos and the surrounding area are populated by chestnut trees.
The chestnut harvest is celebrated in the village with dance, food exhibitions, and other activities. Locals from all over the island usually attend too.
It's also a good idea to spend the night in the village, almost every taverna has available rooms to let.
At the end of the month, don't miss the Oxi Day Parade, (which takes place all over Greece). October 28th is a national holiday and one of the most important days in the local calendar.
Oxi (sometimes spelled Ochi) means no and it commemorates the moment when Greek General Metaxas said no to Mussolini's request to allow the Italian troops in the country.
Driving on Crete from Coast to Coast
Convenient car rental fees, no summer traffic, and the ideal temperatures combine for you to enjoy one of the best activities you can experience on Crete: A road trip!
Traveling from the West to the East at your own pace and stopping to enjoy the landscape and the traditions is my absolute favorite way to move around the island.
Taking Advantage of Discounted Tours in Crete
Not only fashion stores and souvenir shops run sales during the end of the season. Many local tour companies do so too.
For the reasons mentioned above, driving on the island is one of the top things to do in October in Crete.
However, if you're not really in the mood for driving, or if you are a fan of safaris or off-road experiences, don't hesitate to get in touch with me. I can point you in the right direction and suggest the best safari trips in Crete.
I also suggest discovering the local wineries, right after the harvest most of them are frantically working to produce their best wine.
Therefore, a winery tour in October in Crete will give you every chance to learn about winemaking… And to sample the best local production.
Planning to travel earlier? Check out the best things to do in Crete in September.
No Waiting in Line for Museums and Archaeological Sites
Nothing like Crete to explore the history of Ancient Civilizations.
During October you can be certain to find no waiting lines in different archaeological sites and museums.
Check out Knossos, Phaistos, and Malia in Heraklion, or drive east to explore the ancient Minoan Palace of Zakros and the Gorge of the Dead, less visited but equally intriguing as any other archaeological site on the island.
The same applies to museums and other sites of historical interest, some of them are more likely to be empty during autumn, and others, such as the island of Spinalonga, are easier to visit without the crowds.
Soaking in the Stunning Views
After the hot summer months and once the tourist hordes abandon the island, nature seems to find its balance once again.
Simple walks along the beach, a hike along the coastal paths of the southern coast, or even a drive around sleepy and forgotten villages can provide unique opportunities to enjoy the views.
If you're a photography fan or just want to look at Crete and its landscape from a different perspective, then a holiday in October is nothing but a must-do!
Splurging on a 5-Star Holiday at Bargain Prices!
Are you a sucker for unique resorts with stunning views, right by the sea, offering superb service and top-class treatment? Yes, I know you are. But this type of holiday is more often than not quite expensive.
Well, if you book such a holiday in October, prices are likely to be more affordable!
Besides, the hotel staff will be less overwhelmed, and it will be easier for you to get unexpected upgrades.
For a boutique hotel experience, check out the stunning suites of Pepi Boutique Hotel in the old town of Rethymnon.
On the East Coast, instead, you can splurge and feel like a celebrity staying in the fantastic Royal Marmin, or renting a whole villa with a chef, a stunning pool, and some of the best views on the island!
Read more about Crete
🛌 Suggested Accommodation in Crete:
🗺️ More resources to book your trip to Crete
Hey! Don't Leave without Pinning! Pin these Unique Things to Do in Crete in October for Your Next Trip!
---
You might also want to read these posts about Crete's regions:
---
About my blog: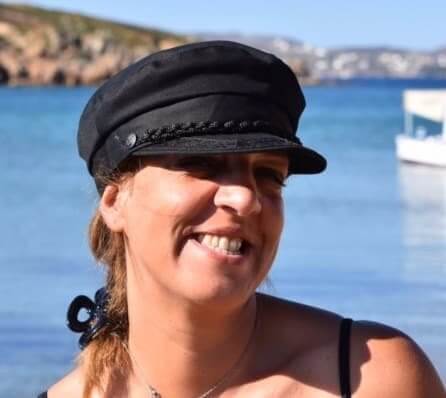 I moved to Crete in 2016. During these years, I learned much about the island.
In Crete, I juggle being a solo mom, hosting culinary tours, and writing for several travel media.
I've written for Greek Reporter, published travel guides about Greece, co-authored DK Eyewitness Top 10 Crete, and had more glasses of frappe than any regular person could ever handle.