Want to take the roads? If you are in Crete, you are in luck. The island is a hidden paradise for road trips. No matter your taste, there are road trips in Crete that will leave you in awe. Keep reading to discover some of the best drives in Crete. Then prepare for a journey you will remember for a lifetime.
---
Disclaimer: Posts include affiliate links to products or services. I might earn a commission if you make a purchase.
---
Best Road Trips in Crete
If you've been following this blog, then you've already read how enthusiastic I am about driving on the island.
Crete is a perfect destination to pack a backpack and toss it in your back seat, and just drive anywhere the road takes you. Read on and discover some of my favorite drives on Crete!
The Most Famous Road Trip in Crete: from Kaliviani to Balos Beach
The journey from Kaliviani to Balos Beach is hands down the most famous road trip in Chania, if not the whole of Crete.
It takes about half an hour to cross this 8-kilometer-long dirt road and reach the photogenic beach of Balos.
And I say photogenic because your Instagram will love this entire trip. Not only will you shoot amazing photos on the way to the beach, but the destination is equally, if not more, rewarding.
The views from everywhere in this small peninsula are jaw-dropping. You cannot know until you see it yourself.
When you attempt this road trip, take it slow. Driving here is not easy, and you need to be careful. Many decide to skip this trip and take the boat to Balos Beach instead.
If that's your case, you might miss a fun ride, after all, Balos Beach and the surrounding area offer the best views from above.
On the other hand, most car rentals will warn you that the insurance does not cover accidents or road issues on the way to Balos. Discuss this with your rental car provider before making a decision. It's also true that expenses to be towed from the area can be sky-high… so this one is up to you.
In any case, as long as you use common sense and do not speed (the roads are not in good shape), there shouldn't be any problem.
Kallikratis-Kapsodasos: The Most Dangerous Drive in Crete
Famous destinations are not for everyone. If you are looking for an off-the-beaten-path road trip, consider driving from Kapsodasos to Kallikratis in southwestern Crete.
This 11-kilometer-long road is one of the most dangerous paved roads you can find in Crete… and in the world! The closer you get to the mountainous village of Kallikratis, the narrower and scarier the road becomes.
The turns become steep, the elevation increases, and bumps are more frequent. Not to mention that there are no crash barriers, you're just next to the cliffs, at least over 500 meters altitude.
It sounds attractive, doesn't it?
Of course, the adventurous ones who dare to drive this road will enjoy some of the most spectacular views of the Libyan Sea.
You decide if this is a good enough reward. One thing is certain: Get ready for some adrenaline rush!
Want an Impressive Drive? Head to Skinakas Mountain, the Highest Paved Road on Crete
1.752 meters above sea level lies one of the most impressive roads in Crete. Skinakas Mountain, in the center of the island, is home to the highest paved road in Crete.
It takes half an hour and 17 kilometers to reach the top from Anogia, the closest settlement in the area.
Once you reach the summit, you can enjoy a 360-degree panoramic view of the entire island. If you are lucky and the air is clear enough, you can observe both the Sea of Crete (on the north coast) and the Lybian Sea in the south.
It is no coincidence that the summit hosts a modern observatory. Researchers and astronomy students use it to collect data about the stars.
No matter the time of your visit, summer seems to evade this area. The wind is usually strong and the temperature is low enough for you to wear a jacket, even during hot summer nights on the coast.
In winter, the roads are usually full of snow. It hence makes sense to visit Skinakas Mountain in summer.
Traditional Drive: from Vamos around the Villages of Apokoronas
If you prefer a more relaxed and traditional road trip, the region around Vamos can be an ideal destination.
While you drive around the area, you will come across secluded chapels, medieval buildings, wild nature, and spectacular viewpoints.
Most importantly, you will have the freedom to choose your own itinerary. This road trip is not a journey from point A to B.
Rather, you are free to explore an area at your own pace. Wherever you go around Vamos, you will have a reason to stop and embrace the surroundings.
Whether it is a small but breathtaking gorge, a lonely monastery, or a picturesque village, you will fall in love with it all. Prepare to discover the hidden gems and surprises of Apokoronas on a road trip you will long remember.
>> You can also discover the traditional villages of Apokoronas with an organized tour if you're not driving during your vacation. Alternatives include this popular minibus tour and this thrilling off-road experience.
Panoramic Road Trip from Chora Sfakion to Anopolis
Although the island is full of spectacular viewpoints, nothing is so unique as the road from Chora Sfakion to Anopolis in southern Crete.
Driving up here will reward you with unprecedented views of the coast and the surrounding mountains.
The length of the road may be only 12 kilometers, but it can take more than half an hour to drive it. There are many sharp and tight turns, so you need to be careful.
If you enjoy driving, this is the place to go. And even if you don't so much, trust me, once up there the views will make up for it.
From Plakias to Frangokastello: No Man's Land
The island of Crete has many faces and is full of contradictions. The road trip from Plakias to Frangokastelo is one such example.
Although this coastal road connects two of the most famous sites in South Crete, you will find only a few locals living between its 27 kilometers.
As a result, you have the chance to complete one of the most deserted, yet amazing, road trips in Crete (and yes, probably one of my favorite ones!).
The area is blessed with breathtaking landscapes, gorges, sandy beaches, and crystal-clear waters.
And between this natural beauty lie two of the most picturesque and traditional villages in Crete: Kato Rodakino and Pano Rodakino.
Those suffering from road vertigo will be happy to know that this is not a very winding road and the heights are bearable.
Standing on the mountain slopes, both villages offer panoramic views of the Lybian Sea in the south.
Looking for a Scenic Drive? Check the Road from Vrisses to Chora Sfakia
Who said you can only hike through a gorge in Crete? Of course, you can most appreciate nature if you are on foot, but driving through a gorge can be equally rewarding. And less tiring!
Thankfully, Crete can offer you such an experience. To be specific, you can drive through Imbros Gorge, in southern Crete. You can start at Vrisses and reach Chora Sfakion in a little more than an hour.
There is no doubt that driving those 37 kilometers will be a highlight of your trip to Crete.
Although you need to be careful as always, you will have your chance to enjoy the epic scenery as you drive through the gorge.
The local authorities take good care of the road but some things cannot be avoided, such as a good dose of goats in the middle of the road.
Remember to keep your attention level high and make a few stops to embrace the scenery.
The last part of the drive, as you start to descend toward Chora Sfakion, offers countless opportunities for stunning pictures!
From Chania to Elafonisi (along Topolia Gorge): Breathtaking Drive on Crete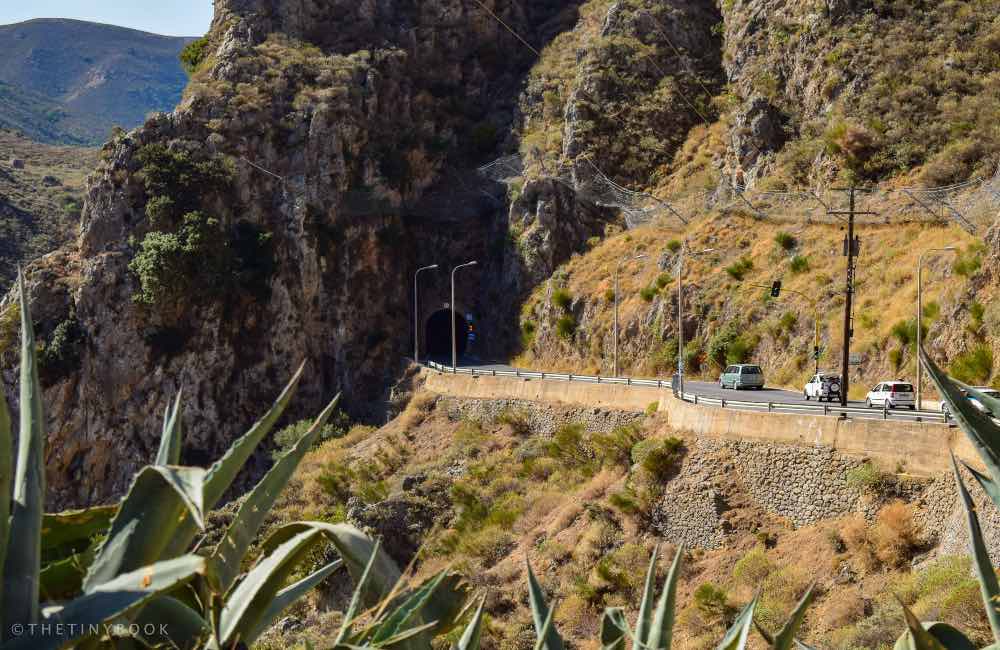 Another breathtaking Cretan road trip is the drive from Chania to Elafonisi Beach in western Crete. This road takes you through the Topolia Gorge along a super narrow road right next to the gorge and its lush vegetation.
Simply put, you will fall in love with the majestic landscape and the incredible scenery you will notice along the way.
You can make the entire trip in under one and a half hours, or you can stop over for a coffee in the village of Elos, known for its chestnut trees.
Two things are certain. Not only will you enjoy the journey, but the destination is equally rewarding. Elafonisi Beach is one of the most popular and wild beaches in Crete.
Grab this opportunity to relax on your sunbed and swim in crystal-clear waters after passing through Topolia. This road trip is described here as well.
Charming Drive from Chania up to Omalos Plateau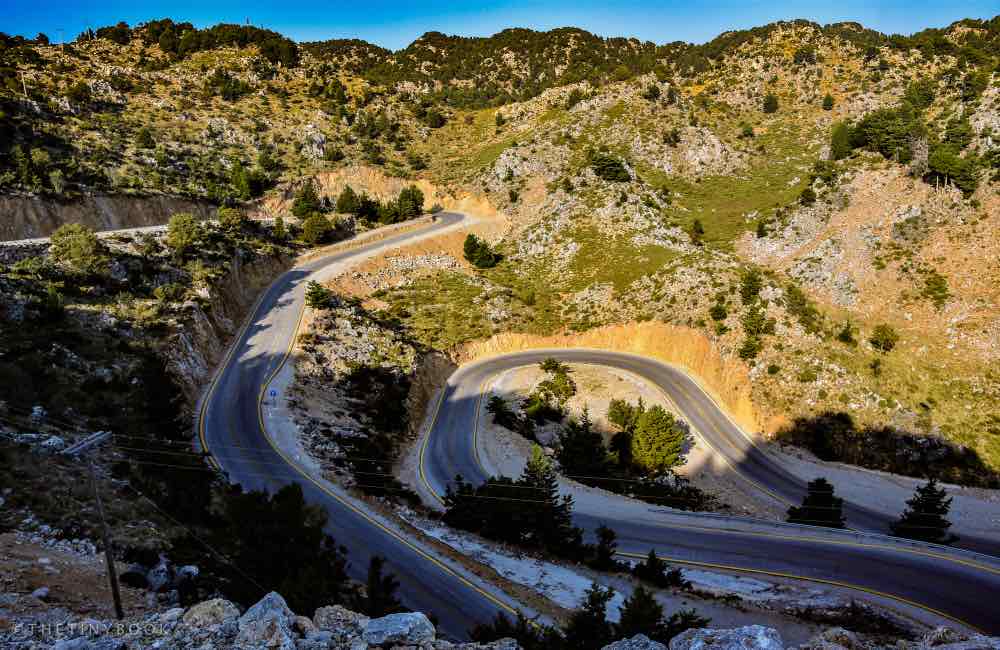 If you are near staying in Chania, chances are you will anyways travel from Chania to Omalos Plateau.
Why? Because it is the gateway to the famous Samaria Gorge, the largest canyon in Europe, and the most popular in Crete.
Most visitors forget to pay attention to the charming surroundings as they drive their way to Samaria.
This is a pity because the area is unique. Olive groves, chestnut forests, traditional windmills, and picturesque villages create an ideal destination to explore, either by car or on foot.
You do not want to miss this opportunity to embrace the beauty of the area.
At the very least, keep an eye out of the windows as you make your way to Samaria. You won't regret it.
The Windy Road: From Rethymnon to Preveli through Kourtaliotiko Gorge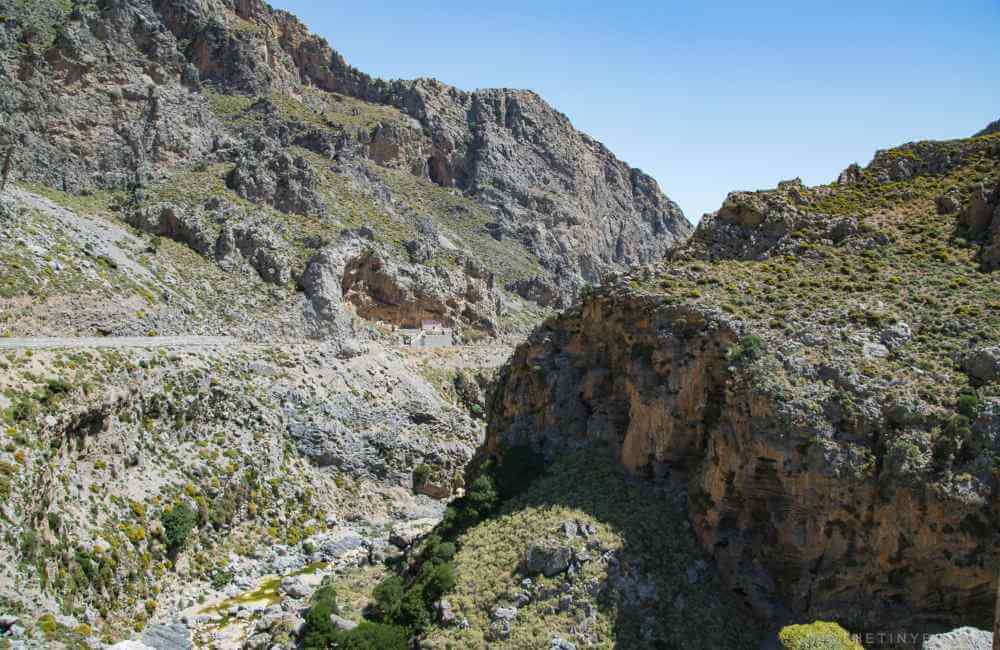 When driving from Rethymno to Preveli Beach and making a few stops along the way, you will find it surprisingly windy up there.
Okay, this is not the real reason to embark on that journey, but it does give a unique flavor to the road trip.
If you need any persuading to choose that road trip over another, it is wise to mention the gorge of Kourtaliotikos: on the final part of your trip, you will get to drive through the dramatic landscapes of the Kourtaliotiko Gorge.
Finally, the road will take you to the palm beach of Preveli, where you can relax and enjoy the aura of the Libyan Sea.
If you are up for an adventure, feel free to hike your way up to Kourtaliotikos Waterfall, a magnificent water curtain on the narrowest part of the gorge.
>> Did you know that you can also explore the gorge of Kourtaliotikos without needing to drive? This incredible trekking tour through the canyon allows you to explore the springs of the Kourtaliotiko River, rappel down the waterfall, and enjoy exciting jumps into the crystal waters.
Drives Along the Traditions of Crete: From Rethymnon to Anogia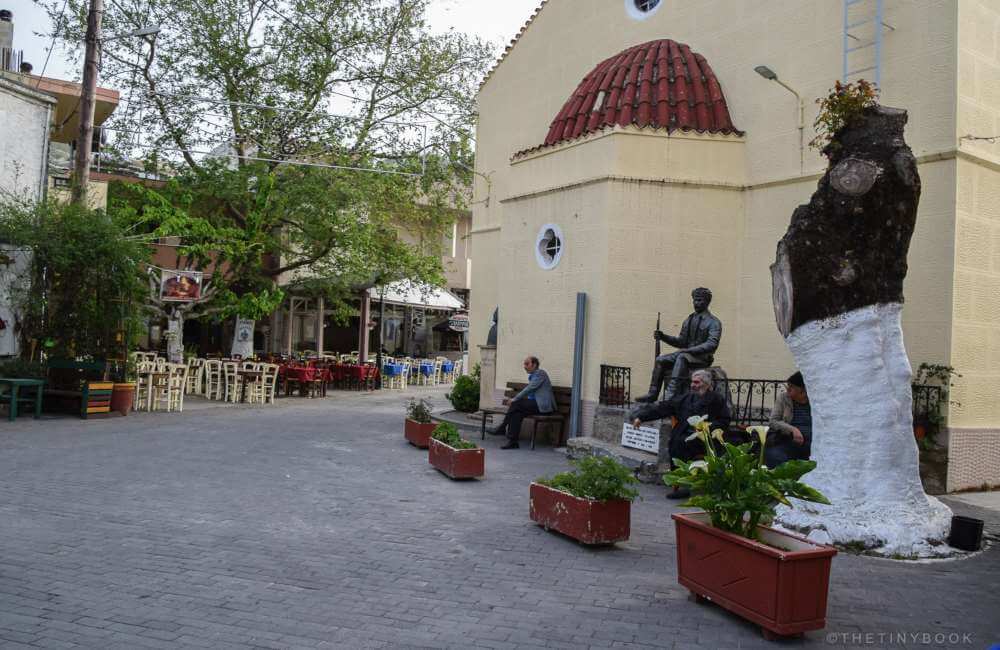 To discover some of the unique traditions of Crete, consider a road trip from Rethymnon to the picturesque mountain village of Anogia.
The whole journey takes a bit more than an hour and passes through roads adorned with lush vegetation and some other very traditional villages, including Axos or Zoniana.
A popular stop on this road trip is no other than the Sfendoni Cave in Zoniana. This cave is the largest in Crete and is well-maintained by the local authorities.
Once you reach Anogia, you will stand in awe at the beauty and authenticity of the village.
The locals follow all Cretan customs, continue wearing traditional costumes, cook delicious grilled meat, and still speak the old Cretan dialect. You will feel that time has frozen here.
Want Your Road Trip to Last Forever? Drive from Ierapetra to Matala
If you feel like being on the road for more than a couple of hours, the journey from Ierapetra to Matala can be an ideal choice.
You will be driving more than 120 kilometers along the southern coast of Crete… but mind you, speeding is not an option, so it might even take up to 3 hours!
Of course, your trip will come with its rewards too. This part of the island is full of secluded beaches, quiet villages, and small gorges.
However, what you will appreciate the most are the driving conditions. The traffic is non-existent, and the roads are well maintained (except for some short parts of the road).
If you are a fan of driving, or you want to explore the less touristy parts of the island, then this road trip is just for you.
Short but Intense: From Elounda to Kolokitha
Not every road in Crete is asphalt. At the same time, there are spectacular places you cannot easily reach by car. One such destination is the beach of Kolokitha (or Kolokytha).
Although just 3 kilometers long, the road from Elounda to Kolokitha Beach is intense. You may need up to half an hour to cross it if there's traffic coming the opposite way.
However, once you pass by all the bumps and constant turns of the dirt road, you will come across one of the most scenic beaches in Lasithi.
Kolokitha Beach is the ideal place to relax after this short but intense journey. Take it easy, enjoy the waters, and soak in the beautiful surroundings.
Relaxing Circuit: Lasithi Plateau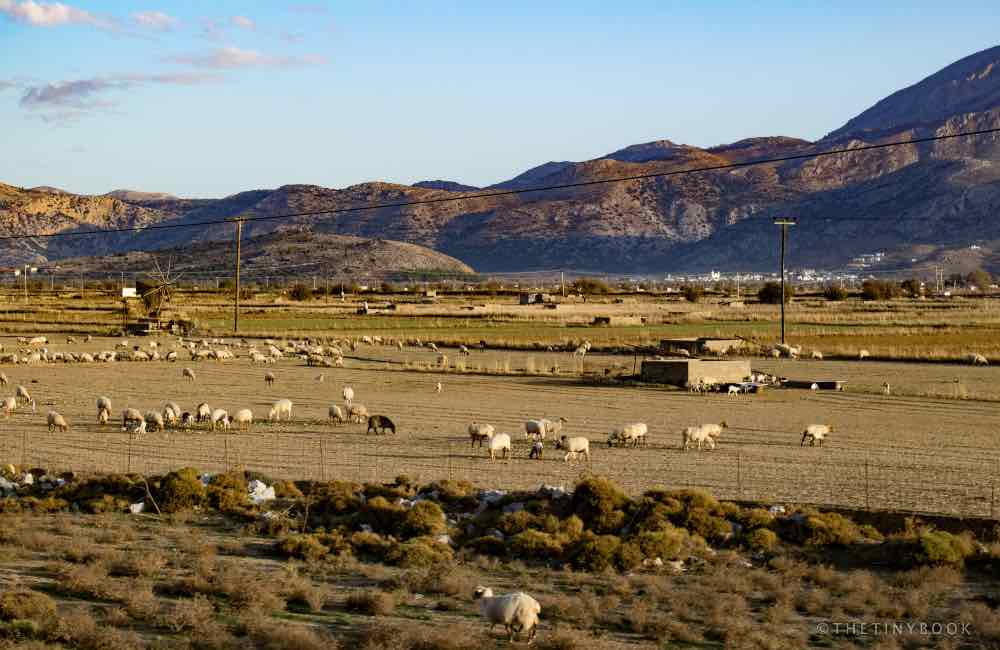 For those of you looking for a relaxing road trip in Crete, consider driving around the Lasithi plateau.
The road is truly in good condition and quiet enough to offer you a peaceful time on the wheels.
Although at high altitudes, there is a vast area of flat land surrounded by mountains. While you drive around the plateau, remember to appreciate the natural landscape and the views from above.
Do stop in some of the villages for a close-up look at this hideaway of Cretan traditions.
A Scenic Drive only Minutes from Chania: Driving through Therisos Gorge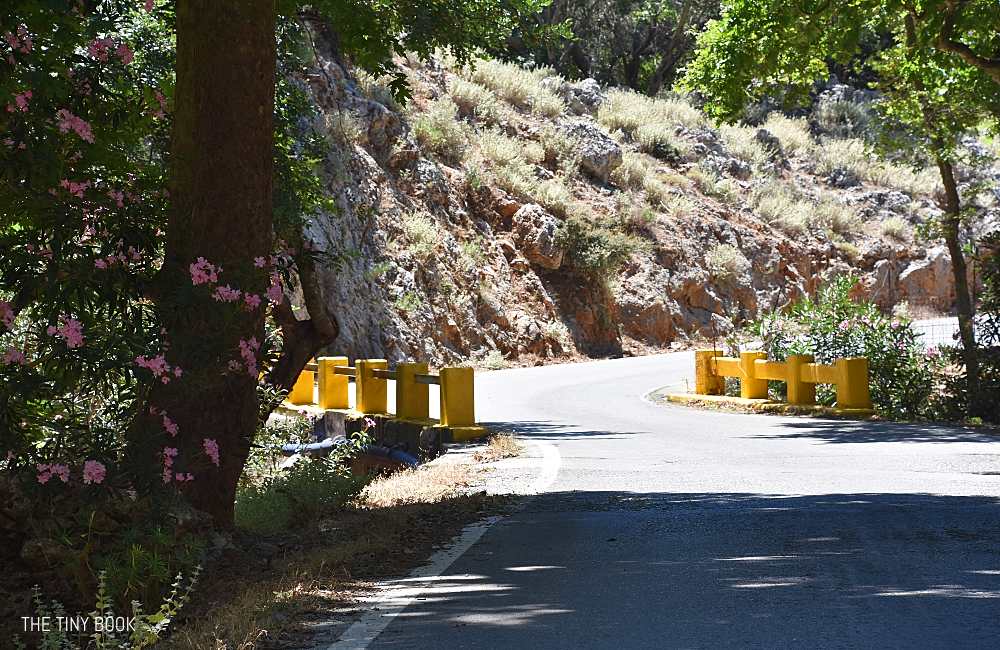 Also known as Theriso, Therisso, and Therissos, this small but beautiful gorge in Crete offers a great driving opportunity.
The drive is short, quite relaxed, and there are no major bends or narrow areas. It starts less than 20 minutes from the center of Chania and goes through beautiful landscapes with the walls of the gorge rising high up next to you.
All over the area, you will find lush landscapes, high trees, and dozens of goats along the way. As a plus, there are cooler temperatures so it can be a blessed day trip from Chania without much driving time.
As a reward, you can stop for a traditional grill in the village of Therisos and even check out some interesting museums related to Crete's battles for independence.
A Road at the End of The World, the Spectacular Drive from Sitia to Toplou Monastery and Vai Beach
Last on our list is – at least for me – the most spectacular road trip in Crete. There are no breathtaking hairpin turns, deep cliffs, or dreamy seas underneath…
And yet, this 24-kilometer drive from Sitia to Toplou and then Vai can be the highlight of your Cretan holidays. Do it at sunset, and it will add special magic to the atmosphere!
Next to the wild landscape and natural beauty of the area, you will also have the chance to visit one of the oldest monasteries in Crete.
The imposing monastery of Toplou is famous for its religious sights and ancient icons. Grab this chance to explore its interior for some time.
Even if you do not want to enter the monastery, the view from the outside is remarkable.
The final destination of your journey will be no other than the idyllic oasis of Vai Beach. According to experts, this is the only natural palm tree beach in Europe.
Whether this is true or not, one thing is sure about Vai Beach: you will fall in love with it all, just like you fall in love with Crete. Are you planning to drive around in Crete?
I'm certain these are just some of the few amazing road trips you can take on Crete.
The more I think of it, the more they come to my mind… such as the road to Seitan Limani, the coastal trip from Elafonisi to Falasarna, or from Paleochora to Sougia, and even the drive from Agios Nikolaos to Ierapetra. And I'm sure there are many, many more that I still have to discover…!
Read more about Crete
🛌 Suggested Accommodation in Crete:
🗺️ More resources to book your trip to Crete
Written by Dimitrios Tsevremes
Passionate about travel, spirituality, and sports, I have lived in 5 countries and traveled to more places than I have counted. Writing, for me, is a way to express myself and my creativity. Whether I write for my blog or a freelancing gig, I always fall in love with the process and often lose my sense of time. If you want, you can check out more about me and my work here.
Don't Leave Before You Pin This Guide to the Best Drives in Crete For Your Future Travels!
---
You might also want to read these posts about Crete's regions:
---
About my blog: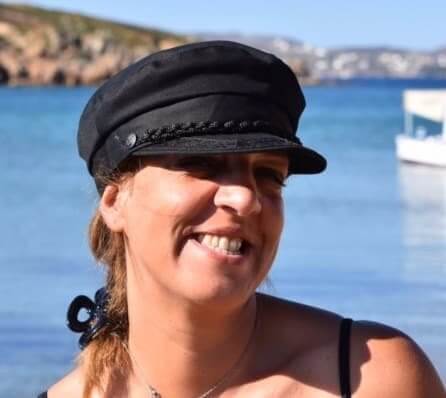 I moved to Crete in 2016. During these years, I learned much about the island.
In Crete, I juggle being a solo mom, hosting culinary tours, and writing for several travel blogs.
I've written for Greek Reporter, published travel guides about Greece, and had more glasses of frappe than any regular person could ever handle.