Have you ever dreamed of getting married in an exotic location? Or maybe you want to celebrate your special day in a way you will never forget. Either way, Crete has everything you ever wished for your dream wedding day!
Here is a complete guide to planning a wedding in Crete!
So if you want to know:
– What is a wedding like in Crete
– The best wedding venues in Crete
– What to do before and after your wedding on the island
…Then, you'll love this complete guide about getting married in Crete.
Let's get started!
---
Disclaimer: Posts include affiliate links to products or services. I might earn a commission if you make a purchase.
---
Crete Wedding Guide
How to Plan a Wedding in Crete
What about a Wedding in Crete?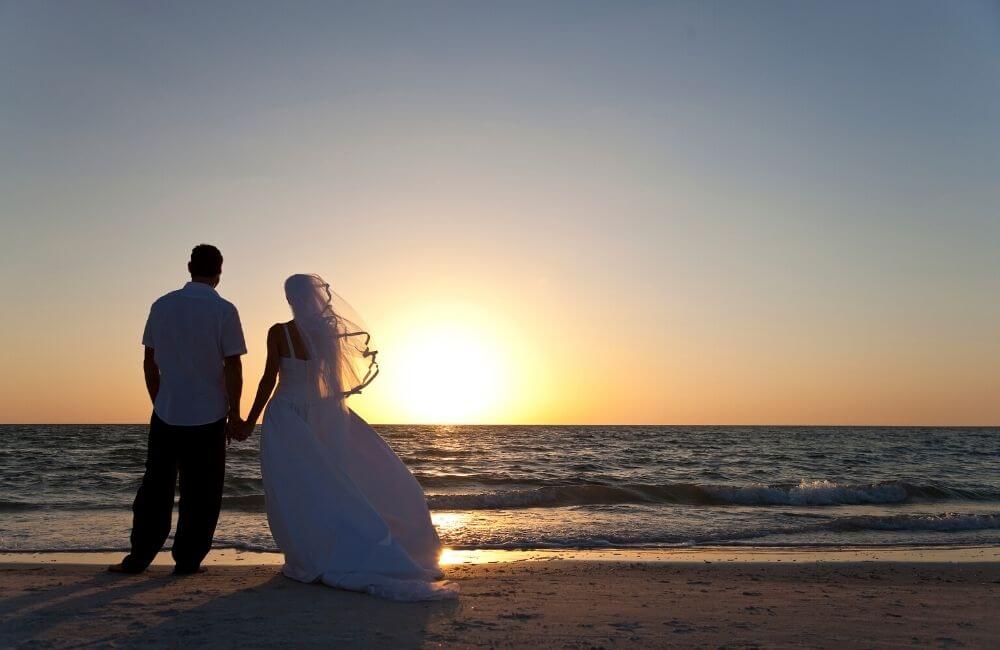 Whether you want to get married by the beach, in a luxurious resort, or in a picturesque chapel, Crete has you covered.
Imagine waking up under the Greek sun and then preparing for the day of your life. You don't even need to plan for a honeymoon. You are already there!
Not only will your wedding stay in your memory forever, but your guests will thank you for a lifetime.
And if you factor in all the Cretan wedding traditions, you know that you are at the right place. Curious to learn more about those cultural twists that you will come across during your wedding? Here are three interesting ones:
The wedding bread (Gamokoulouro) and the wedding pilaf (Gamopilafo) are two traditional Cretan wedding foods that will find their way to your special day in one way or another.
Everyone wears a white scarf on the head or around the neck. That's a thing for any marriage in Crete Greece.
Your wedding party will close with a mantinada, a form of Cretan song that is often improvised yet always fun to hear – at least if you know a bit of Greek.
… and if you or your partners are Cretan, there will probably be at least 800 people at the party… Yes, Cretans love to do things big. For instance, a "small wedding" would be a wedding with about 300 guests… no kidding!
Crete Beach Wedding
There is no way you haven't thought of getting married by the beach, as in those movies in Hollywood. But wait. You are at the exact right place to make your dreams come true.
A Cretan beach wedding will make you fall in love with your partner and the island even further.
One site you want to consider for your beach wedding is no other than Out of the Blue Capsis Resort in Agia Pelagia, Heraklion.
Not only can you organize a civil wedding on their private beach, but you can also get married in the traditional Saint Athanasios Chapel in the middle of the resort.
And that brings us to the two types of weddings you can choose in Greece: civil or religious.
Although both types are popular in Crete, you need to be in a chapel or church to have a religious wedding. Hence, you can marry on the beach only if you choose a civil marriage.
Yet, no matter your preferred type, you can always organize the wedding party wherever you want, beaches included. So nothing stops you from making that dream of yours into a reality.
The only brain teaser you would have is getting to choose the wedding venue! The choices will spoil you.
Read more: The Best Honeymoon Hotels in Crete
Crete Wedding Venues
If you are looking for wedding venues in Crete, Greece, you are at the right place. Here is a list you will love.
Chania Wedding Venues
Although you can find spectacular wedding venues all around Crete, no city or village can compare with the charm and vibe of Chania.
That's why this part of Crete is a perfect destination to make your big day feel even more special. Here are some of the best Chania wedding venues you can find.
Crete Wedding Planner
To help plan and organize your wedding in Crete, a wedding planner can go a long way to ensure your special day will be extraordinary.
That's why you should make it a priority to hire a wedding planner. Crete has too many choices and services to pick from on your own, and luckily for you, these guys already know everything.
Not only can they help you select and customize a wedding package, but you also have a guarantee that in case something unexpected happens, there will be someone to sort everything out for you. That peace of mind you get from a wedding planner is priceless.
No matter your preferred wedding venue, there will be at least one wedding planner available who knows every detail of the region. Contact them, and you will have taken a crucial step toward making your dreams come true.
✈️ Find cheap flights with Skyscanner.
Crete Wedding Packages
One of the first things you will discuss with your wedding planner would be Crete wedding packages.
Although in no way do they limit what you can do, they work as a starting point to help you tailor your dream wedding. Once you figure out the basics, the sky's the limit.
Church weddings in Crete are one of the most popular ways to get married on the island. That is also the way locals plan their marriages since religion plays a vital role in Cretan and Greek culture.
You will first visit the church or chapel where a priest will facilitate the marriage.
After that, you invite all guests to the wedding celebration, usually to a wedding venue or other resort.
If you dream of getting married in an exotic location, such as on the shores of a sandy beach, then a civil wedding can be your best alternative.
A legal representative can visit the site of your preference and make your marriage official.
The best thing about a civil wedding is that you don't need to move elsewhere to celebrate; you can arrange everything at the same site. That's convenient for both you and your guests.
Deciding between a religious and civil marriage is only the beginning. You then have to determine the scope of the marriage and look at the respective packages.
You can organize a wedding with as low as 30 people or take the extra mile and invite a thousand or more guests. Cretans tend to do the latter. But you don't have to.
You can even select a package that is just you and your partner. After all, this day is about you and your spouse or wife.
It's no wonder some new couples decide to have a romantic ceremony and treat themselves to the best possible services and facilities, all by themselves.
Although many consider the above options mainstream, they are just the tip of the iceberg regarding what you can do with your marriage.
Recently, a couple decided to get married in an olive grove! How does that sound?
Even if you are already married, nothing stops you from organizing a spectacular vow renewal ceremony and celebration.
And you can even decide to keep everything as a surprise to your partner. Since wedding planners also organize romantic proposals, they have the know-how to make it happen.
Finally, same-sex wedding ceremonies are also on the rise in Crete. Although the Greek state does not fully recognize same-sex civil unions, nothing stops you from organizing a symbolic non-binding marriage.
And more often than not, those wedding celebrations are nothing short of a spectacular Greek wedding.
Wedding in Crete Prices
If there is one thing that varies the most in a Crete wedding panning, that would be the pricing. You could never be too confident of the final cheque, but that's why a wedding planner is a critical factor in your planning.
You will agree on a wedding package, and they will tell you the bill based on the budget you have set.
There are packages for wedding celebrations that start from as low as a couple of thousand euros for a few guests.
But with the proper research and some compromises, you can go even lower. On the other hand, if budget is not an issue, the sky's the limit.
Note that a religious marriage may cost more than a civil wedding because of all the paperwork and church fees.
The documentation and translation services you will need can sum up to €600 or more. And that is without counting all the essential fees for the venues, accommodation, photographer, guest transportation, and food cost.
If you want your special day to be perfect, you may also want to hire professional help from a designer, florist, videographer, caterer, dance show, DJ, or pastry chef.
Let alone that you may need a professional makeup artist or hairdresser. And what about a children's entertainer or even a firework expert?
Although the costs for your wedding can quickly skyrocket, a qualified and local wedding planner can save you from the hustle of having to find everything on your own. Let alone that a local may be able to negotiate a lower price for a specific service on your behalf.
Things to Do Before the Wedding
Even with the help of a wedding planner, there are tons of things you need to do before the wedding. Here is a list of the most important ones:
You need to present the necessary documentation
Although the wedding planner will tell you precisely what you need to show, expect to go document hunting for a while, especially if you plan to have a religious wedding.
Decide on the style and budget of the wedding
Once you have the paperwork sorted, you need to set a budget for yourself and agree on a style with your partner. Will you invite hundreds of friends and family members, or do you prefer a more private gathering?
Let your guests know at least a year beforehand
Attending a wedding abroad is no easy feat, and your guests may need to make arrangements well in advance. Present it as an opportunity for a vacation in Greece to increase the turnup rate.
You may even consider creating a wedding website to help your guests with all the planning.
Book your vendors and wedding venues as soon as possible
Don't wait until the last moment to get any possible last-minute deal because you probably won't. At least not at the sites or services you hoped for.
For example, famous ceremony and reception venues get booked as early as a year in advance. So plan ahead, and book everything as soon as possible.
Prepare for the wedding photography
Booking a professional photographer is an essential step towards remembering and showcasing your marriage.
You will take photos at the ceremony, at the venue, and in the accommodation, as you prepare and dress up for the wedding.
However, the most creative photo shooting session takes place after the wedding day on a site of your preference.
That is a long-held tradition that produces photos that your future selves and kids will look back with awe.
Where to Go in Crete for the Honeymoon
One of the best things about getting married in Crete is that you are already at your honeymoon destination!
Although there are hundreds of romantic places to visit with your partner and celebrate your new life as a couple, here are some suggestions you will love:
Feel the Romantic Vibe in Chania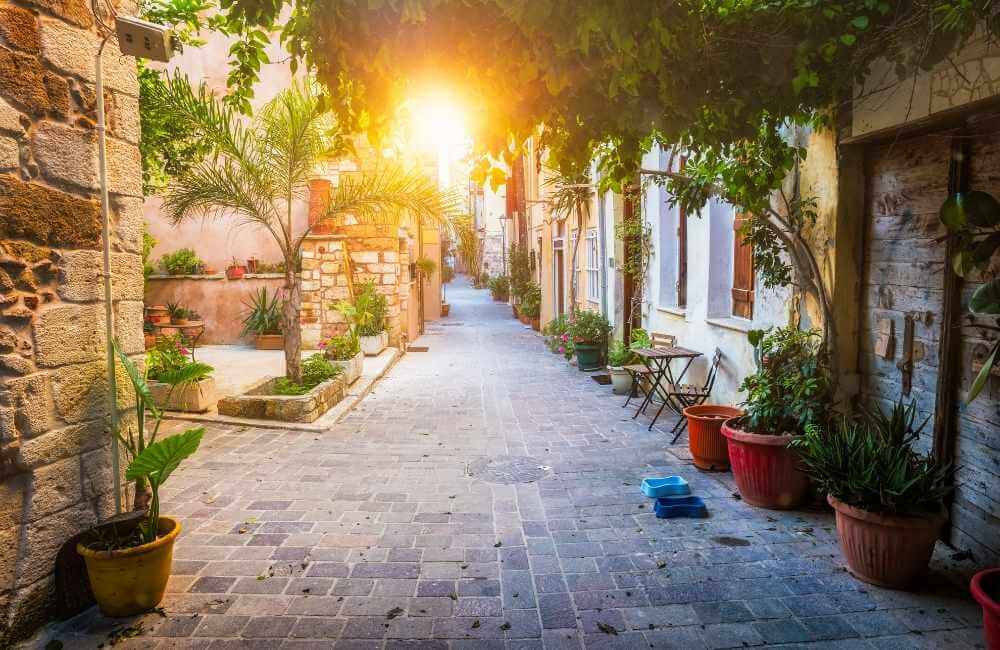 If there is one Cretan city that stands out for its romantic and picturesque setting, that would be no other than Chania.
There is nothing like walking in the tiny alleys of the old city and exploring the local food culture. Chania is the ultimate honeymoon destination that needs to find its way into your itinerary.
Take in the Scenery of Balos Beach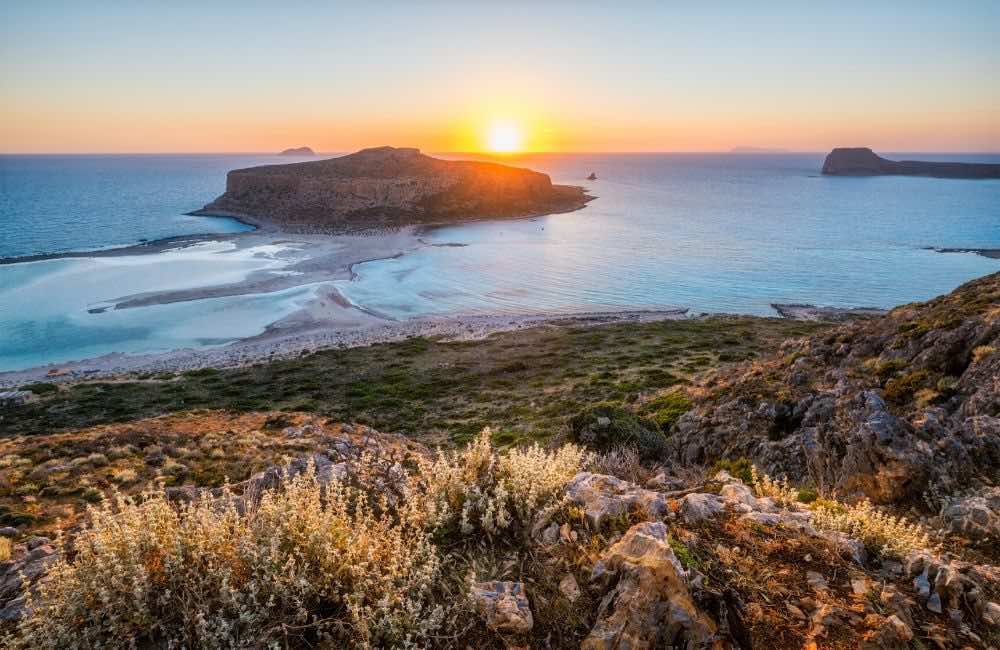 Although you may want to avoid any crowded tourist attractions for obvious reasons, there is no way you would miss a trip to arguably one of the most spectacular beaches in Crete.
Balos Beach seems like it comes out of a postcard, with turquoise waters engulfing from either side a narrow strip of sand that connects to a rocky peninsula.
Swim at Elafonisi Beach
Like Balos, Elafonisi Beach is a popular beach destination famous for its pink sand. When you first enter this tropical lagoon, you understand why it makes a perfect fit for your honeymoon itinerary.
To enjoy some privacy away from the crowds, cross the lagoon and head to the island. A calmer beach awaits you there to create memories that will last a lifetime.
Lose the Sense of Time in Mount Ida
At the legendary birthplace of Mount Ida, everything seems to move at a slower pace, just like everywhere in the Cretan mountains.
That is an excellent opportunity to relax, release all the wedding-related stress, and connect with nature.
Although you'll have to do without some luxury amenities you may have enjoyed during your wedding, you'll be with your partner, which is all that matters.
Spend Some Quality Time in Agios Nikolaos
Perhaps the destination with the perfect balance between amenities and natural beauty, Agios Nikolaos is a brilliant honeymoon gateway that will satisfy even the most demanding couples.
Whether you are on the lookout for idyllic private sandy beaches, or you feel like an adventure in natural landscapes steeped with history and mythology, Agios Nikolaos is your match.
FAQ about Getting Married in Crete
I hope you enjoyed this ultimate guide to getting married in Crete.
No matter your style and budget, you can find the perfect solution for marriage in Crete.
To help you with everything and take some stress away, remember to hire a wedding planner and get a step closer to making your dream marriage a reality.
So, are you ready for your special day? I ask because Crete is!
Read more about Crete
Pin this Useful Guide to Saying I do in Crete!
---
You might also want to read these posts about Crete's regions:
---