Have you ever dreamed of getting married in an exotic location? Or maybe you want to celebrate your special day in a way you will never forget. Either way, Crete has everything you ever wished for your dream wedding day!
Here is a complete guide to planning a wedding in Crete!
So if you want to know:
– What is a wedding like in Crete
– The best wedding venues in Crete
– What to do before and after your wedding on the island
…Then, you'll love this complete guide about getting married in Crete.
Let's get started!
---
Disclaimer: Posts include affiliate links to products or services. I might earn a commission if you make a purchase, at no extra cost to you.
---
Crete Wedding Guide
How to Plan a Wedding in Crete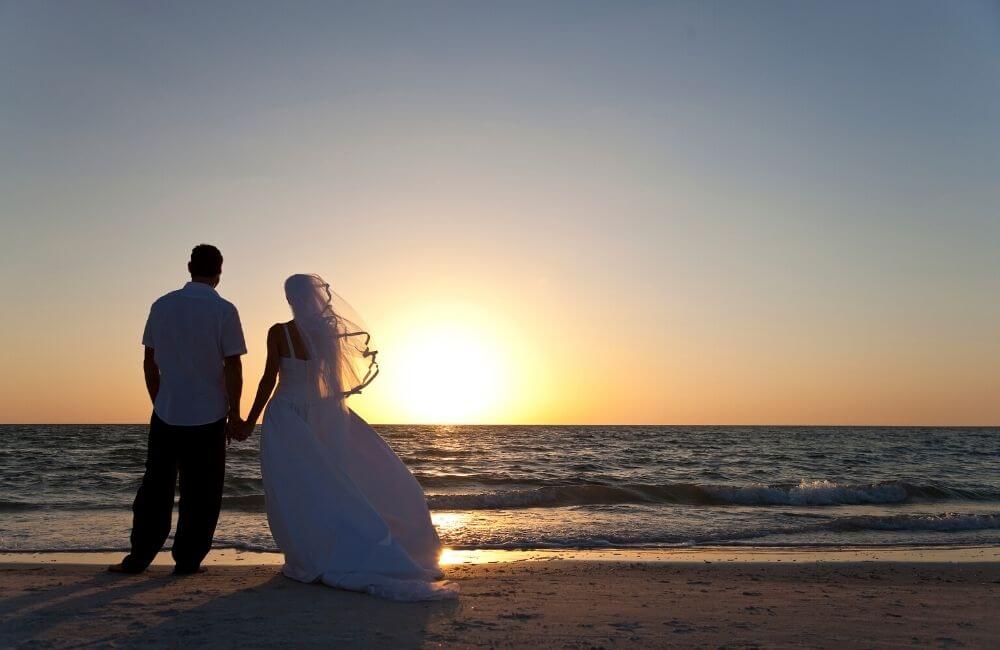 What about a Wedding in Crete?
Whether you want to get married by the beach, in a luxurious resort, or a picturesque chapel, Crete has you covered. Imagine waking up under the Greek sun and then preparing for the day of your life.
You don't even need to plan for a honeymoon. You are already there!
Not only will your wedding stay in your memory forever, but your guests will thank you for a lifetime.
And if you factor in all the Cretan wedding traditions, you know that you are at the right place. Curious to learn more about those cultural twists that you will come across during your wedding? Here are three interesting ones:
The wedding bread (Gamokoulouro) and the wedding pilaf (Gamopilafo) are two traditional Cretan wedding foods that will find their way to your special day in one way or another.
Everyone wears a white scarf on the head or around the neck. That's a thing for any marriage in Crete Greece
Your wedding party will close with a mantinada, a form of Cretan song that is often improvised yet always fun to hear – at least if you know a bit of Greek.
… and if you or your partners are Cretan, there will probably be at least 800 people at the party… Yes, Cretans love to do things big. For instance, a "small wedding" would be a wedding with about 300 guests… no kidding!
Crete Beach Wedding
There is no way you haven't thought of getting married by the beach, as in those movies in Hollywood. But wait. You are at the exact right place to make your dreams come true.
A Cretan beach wedding will make you fall in love with your partner and the island even further.
One site you want to consider for your beach wedding is no other than Out of the Blue Capsis Resort in Agia Pelagia, Heraklion.
Not only can you organize a civil wedding on their private beach, but you can also get married in the traditional Saint Athanasios Chapel in the middle of the resort.
And that brings us to the two types of weddings you can choose in Greece: civil or religious.
Although both types are popular in Crete, you need to be in a chapel or church to have a religious wedding. Hence, you can marry on the beach only if you choose a civil marriage.
Yet, no matter your preferred type, you can always organize the wedding party wherever you want, beaches included. So nothing stops you from making that dream of yours into a reality.
The only brain teaser you would have is getting to choose the wedding venue! The choices will spoil you.
Read more: The Best Honeymoon Hotels in Crete
Crete Wedding Venues
If you are looking for wedding venues in Crete, Greece, you are at the right place. Here is a list you will love.
Stella Island Luxury Resort
Stella Palace Crete weddings will leave you speechless. It is about an adult-only 5-star luxury resort that leaves no wedding arrangement to chance. Not only can you choose between two picturesque chapels as your marriage site, but you will also have access to the spectacular facilities of the resort.
Wedding info here.
Creta Palace
Creta Palace is a beachside resort with a modern minimalist and marble decor. Once you factor in the divine furnishing, the fantastic pools, the mature greenery, and the sandy beach, you understand you are as close you can get to your dream marriage. And we did not even mention the unique culture of the resort, which aims to promote local and organic cuisine in the most traditional way. This cuisine philosophy and approach is perfect for impressing your guests at the dinner table!
Wedding info here.
White Palace Luxury Resort
Would you like to marry in a resort where everything around you has shades of white and blue? If that sounds like your ideal marriage, then a White Palace Crete wedding is what you have in mind. The stunning views of the Aegean, the beautiful sandy beach, and the minimalistic modern architecture of the resort offer you the complete marriage package!
Wedding info here.
Minos Beach Art Hotel
If you would like to save on your budget but still ensure the highest standards and amenities for your wedding, then consider the small boutique-style hotel of Minos beach. Overlooking the Mediterranean Sea, the hotel has a private deck reaching the crystal sea. And the best part? You can book the whole place just for you and your guests!
Wedding info here.
Amirandes Grecotel
If you plan on organizing a massive wedding with hundreds or even thousands of guests, you need to find a wedding venue that can deliver its promises. And Amirandes Grecotel near Gouves is one such hotel sitting in a romantic spot overlooking the Aegean. Just look up the number of on-site restaurants in this resort to understand its scale. Spoiler alert: it's a double-digit. If that is not enough, you can choose to marry at the bedside venue, in the private villas, or even in the traditional chapel inside the facilities.
Wedding info here.
Church of Agios Titos
How would you feel if someone offered you a marriage package tailored to the traditions of Crete, Greece? Wedding venues on the island may often be spectacular, but what usually counts the most for some is tradition. After all, you don't visit another country just to marry in a luxury resort. That's why marrying in a traditional church like Agios Titos can be a decision for which you will long be grateful!
Crete for Love offers info on religious weddings in Crete here.
Caramel Grecotel Boutique
Imagine getting married on a golden beach that stretches out for miles while you face a turquoise sea in front and decorations all around. Delicate flowers, votive candles, bouquets, buttonholes, even live music, you name it. And to top it all, you can even organize fireworks for your special day! That's just a short description of what a marriage looks like in Caramel Grecotel Boutique, only a few kilometers from the historic center of Rethymno.
Wedding info here.
Domes Elounda Autograph Crete
To make your big day feel even more unique, why not hold your ceremony on a natural pier with panoramic views of the crystal Mediterranean Sea? If you like the idea, then the 5-star resort Domes of Elounda Autograph is your best bet. The only caveat? It can host only up to 30 guests. But is that really a thing to worry about? At the very least, you will have the entire beautiful bay of Mirabelle just for yourself.
More info here.
Wyndham Grand Mirabello
Sometimes, all you need to make your day is a view of the ocean. And that is the least of what you get at Wyndham Grand Mirabello in Agios Nikolaos. Here, the sea view terrace is an ideal spot to organize your wedding celebrations. And you can even get married in the hotel chapel terrace, which you can find tucked away within the grounds of the luxury resort. It is a haven of paradise like no other!
Wedding info here.
St Nicolas Bay Resort
Hidden away in a secluded location in Crete, St. Nicolas Bay Resort is an ultimate choice for a memorable and intimate wedding by the ocean. Pick 20 of your best friends and family members, and prepare for the ceremony of your lifetime. The unprecedented privacy, top-end services, cerulean sea, Greek blue skies, and luscious green hills create the perfect setting for your dream wedding!
Wedding info here.
Chania Wedding Venues
Although you can find spectacular wedding venues all around Crete, no city or village can compare with the charm and vibe of Chania. That's why this part of Crete is a perfect destination to make your big day feel even more special. Here are some of the best Chania wedding venues you can find.
Panorama Hotel
If you wish to celebrate your wedding in a five-star hotel in Chania, then Panorama Hotel may be your best choice. You will be sitting on a terrace with incredible sea views, staying in luxury suites with private pools, and enjoying the quality service from its staff. Let alone the adult-only wing! Everything is at your fingertips, and all you have to do is ask and let the vibe of the place transport you and your guests into another dimension.
Wedding info here.
En Kipo Sea View
What is better than getting married with a view of Aegean? Few things. One of them is having the same view over sunset. And that is what you get if you decide to get married in En Kipo Sea View. The breathtaking panoramic view of the Cretan Sea, the lush landscape of the hill you stand, and the fresh Aegean breeze will be the perfect partners for your special day, after your soon-to-be spouse or wife, of course.
Wedding info here.
Cambos Estate
Another wedding venue in Chania worth considering is Cambos Estate, lying on the outskirts of Chania close to the picturesque village of Apokoronas. What makes this property stand out is how the family owners bring harmony between luxury and the lush local landscape. Olive trees, oranges, and cypresses show just a speck of the immense beauty of Cambos Estate!
Wedding info here.
Ktima Reveli
What would a wedding be without quality wine? Some would argue it wouldn't be a wedding in the first place. So, what's a better way to celebrate your marriage than organizing everything in a modern vineyard? Krima Reveli is one such venue that has everything you would ever need for your dream wedding. Apart from its five thousand square meters of grapes and all the perfumes that come from it, you will also enjoy a stunning view of the Aegean! In a short word? Paradise!
Wedding info here.
Adeste Villas
Although not a wedding venue per se, Adeste Villas can host your wedding celebration as no other property can. It is about a complex of fourteen unique rooms and villas with luxurious interiors and dramatic sunset views. You can even rent the entire property for your guests and enjoy unparalleled privacy and unrestricted access to all facilities, even during late hours. In other words? Prepare to dance your way until morning!
Wedding info here.
Dourakis Winery
Specializing in rustic weddings with a clear Cretan accent, refined dining, and a stunning wine selection, getting married at a winery is an original idea, don't you think! A wedding at Dourakis Winery implies a fantastic location surrounded by a lush, beautiful garden, a lavish Cretan table, with plenty of local delicacies… nothing but an unforgettable experience!
Wedding info here.
Crete Wedding Planner
To help plan and organize your wedding in Crete, a wedding planner can go a long way to ensure your special day will be extraordinary. That's why you should make it a priority to hire a wedding planner. Crete has too many choices and services to pick from on your own, and luckily for you, these guys already know everything.
Not only can they help you select and customize a wedding package, but you also have a guarantee that in case something unexpected happens, there will be someone to sort everything out for you. That peace of mind you get from a wedding planner is priceless.
No matter your preferred wedding venue, there will be at least one wedding planner available who knows every detail of the region. Contact them, and you will have taken a crucial step towards making your dreams come true.
Find cheap flights with Skyscanner.
Crete Wedding Packages
One of the first things you will discuss with your wedding planner would be Crete wedding packages. Although in no way do they limit what you can do, they work as a starting point to help you tailor your dream wedding. Once you figure out the basics, the sky's the limit.
Church weddings in Crete are one of the most popular ways to get married on the island. That is also the way locals plan their marriages since religion plays a vital role in Cretan and Greek culture. You will first visit the church or chapel where a priest will facilitate the marriage. After that, you invite all guests to the wedding celebration, usually to a wedding venue or other resort.
If you dream of getting married in an exotic location, such as on the shores of a sandy beach, then a civil wedding can be your best alternative. A legal representative can visit the site of your preference and make your marriage official. The best thing about a civil wedding is that you don't need to move elsewhere to celebrate; you can arrange everything at the same site. That's convenient for both you and your guests.
Deciding between a religious and civil marriage is only the beginning. You then have to determine the scope of the marriage and look at the respective packages. You can organize a wedding with as low as 30 people or take the extra mile and invite a thousand or more guests. Cretans tend to do the latter. But you don't have to.
You can even select a package that is just you and your partner. After all, this day is about you and your spouse or wife. It's no wonder some new couples decide to have a romantic ceremony and treat themselves to the best possible services and facilities, all by themselves.
Although many consider the above options mainstream, they are just the tip of the iceberg regarding what you can do with your marriage. Recently, a couple decided to get married in an olive grove! How does that sound?
Even if you are already married, nothing stops you from organizing a spectacular vow renewal ceremony and celebration. And you can even decide to keep everything as a surprise to your partner. Since wedding planners also organize romantic proposals, they have the know-how to make it happen.
Finally, same-sex wedding ceremonies are also on the rise in Crete. Although the Greek state does not fully recognize same-sex civil unions, nothing stops you from organizing a symbolic non-binding marriage. And more often than not, those wedding celebrations are nothing short of a spectacular Greek wedding.
Wedding in Crete Prices
If there is one thing that varies the most in a Crete wedding panning, that would be the pricing. You could never be too confident of the final cheque, but that's why a wedding planner is a critical factor in your planning. You will agree on a wedding package, and they will tell you the bill based on the budget you have set.
There are packages for wedding celebrations that start from as low as a couple of thousand euros for a few guests. But with the proper research and some compromises, you can go even lower. On the other hand, if budget is not an issue, the sky's the limit.
Note that a religious marriage may cost more than a civil wedding because of all the paperwork and church fees. The documentation and translation services you will need can sum up to €600 or more. And that is without counting all the essential fees about the venues, accommodation, photographer, guest transportation, and food cost.
If you want your special day to be perfect, you may also want to hire professional help from a designer, florist, videographer, cater, dance show, DJ, or pastry chef. Let alone that you may need a professional makeup artist or hairdresser. And what about a children entertainer or even a firework expert?
Although the costs for your wedding can quickly skyrocket, a qualified and local wedding planner can save you from the hustle of having to find everything on your own. Let alone that a local may be able to negotiate a lower price for a specific service on your behalf.
Things to Do Before the Wedding
Even with the help of a wedding planner, there are tons of things you need to do before the wedding. Here is a list of the most important ones:
You need to present the necessary documentation
Although the wedding planner will tell you precisely what you need to show, expect to go document hunting for a while, especially if you plan to have a religious wedding.
Decide on the style and budget of the wedding
Once you have the paperwork sorted, you need to set a budget for yourself and agree on a style with your partner. Will you invite hundreds of friends and family members, or do you prefer a more private gathering?
Let your guests know at least a year beforehand
Attending a wedding abroad is no easy feat, and your guests may need to make arrangements well in advance. Present it as an opportunity for a vacation in Greece to increase the turnup rate. You may even consider creating a wedding website to help your guests with all the planning.
Book your vendors and wedding venues as soon as possible
Don't wait until the last moment to get any possible last-minute deal because you probably won't. At least not at the sites or services you hoped. For example, famous ceremony and reception venues get booked as early as a year in advance. So plan ahead, and book everything as soon as possible.
Prepare for the wedding photography
Booking a professional photographer is an essential step towards remembering and showcasing your marriage. You will take photos at the ceremony, at the venue, and in the accommodation as you prepare and dress up for the wedding.
However, the most creative photo shooting session takes place after the wedding day on a site of your preference. That is a long-held tradition that produces photos that your future selves and kids will look back with awe.
Where to Go in Crete for the Honeymoon
One of the best things about getting married in Crete is that you are already at your honeymoon destination! Although there are hundreds of romantic places to visit with your partner and celebrate your new life as a couple, here are some suggestions you will love:
Feel the Romantic Vibe in Chania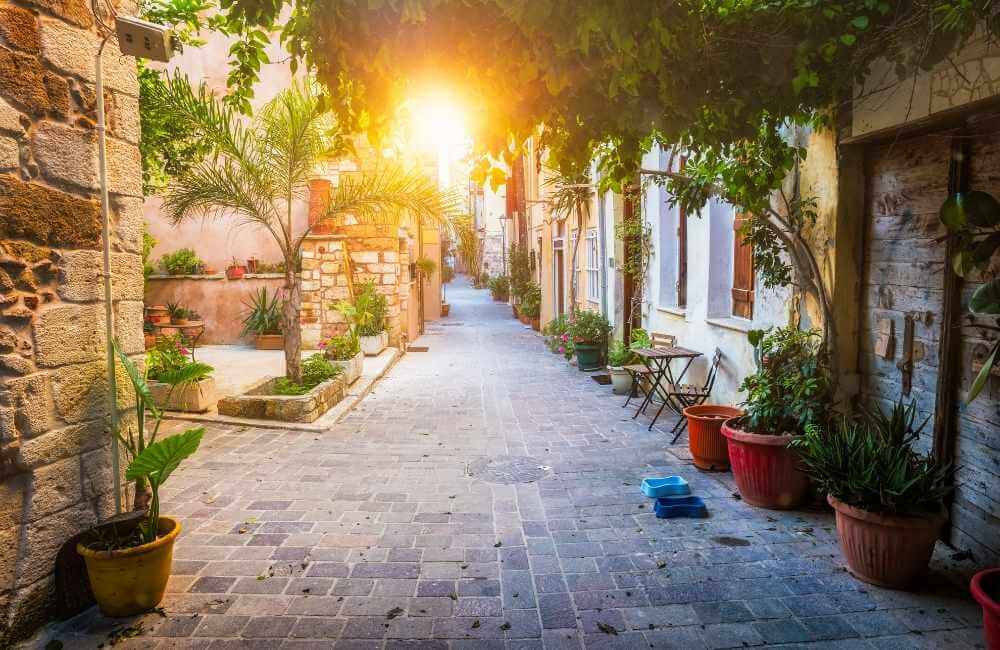 If there is one Cretan city that stands out for its romantic and picturesque setting, that would be no other than Chania. There is nothing like walking in the tiny alleys of the old city and exploring the local food culture. Chania is the ultimate honeymoon destination that needs to find its way to your itinerary.
Take in the Scenery of Balos Beach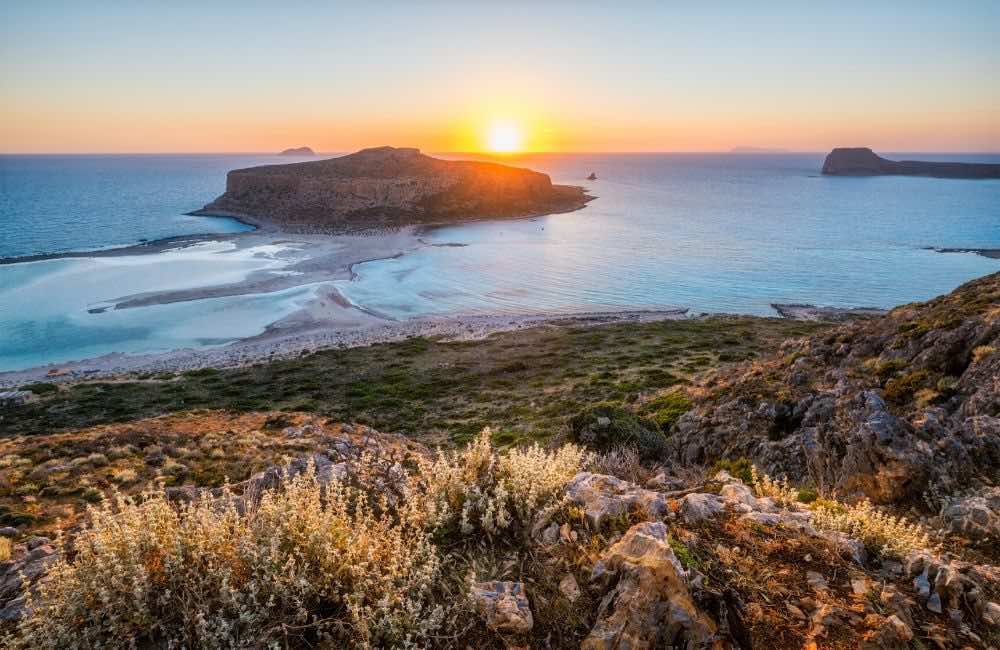 Although you may want to avoid any crowded tourist attractions for obvious reasons, there is no way you would miss a trip to arguably one of the most spectacular beaches in Crete. Balos Beach seems like it comes out of a postcard, with turquoise waters engulfing from either side a narrow strip of sand that connects to a rocky peninsula.
Swim in Elafonisi Beach
Like Balos, Elafonisi Beach is a popular beach destination famous for its pink sand. When you first enter this tropical lagoon, you understand why it makes a perfect fit for your honeymoon itinerary. To enjoy some privacy away from the crowds, cross the lagoon and head to the island. A calmer beach awaits you there to create memories that will last a lifetime.
Lose the Sense of Time in Mount Ida
At the legendary birthplace of Mount Ida, everything seems to move at a slower pace, just like everywhere in the Cretan mountains. That is an excellent opportunity to relax, release all the wedding-related stress, and connect with nature. Although you'll have to do without some luxury amenities you may have enjoyed during your wedding, you'll be with your partner, which is all that matters.
Spend Some Quality Time in Agios Nikolaos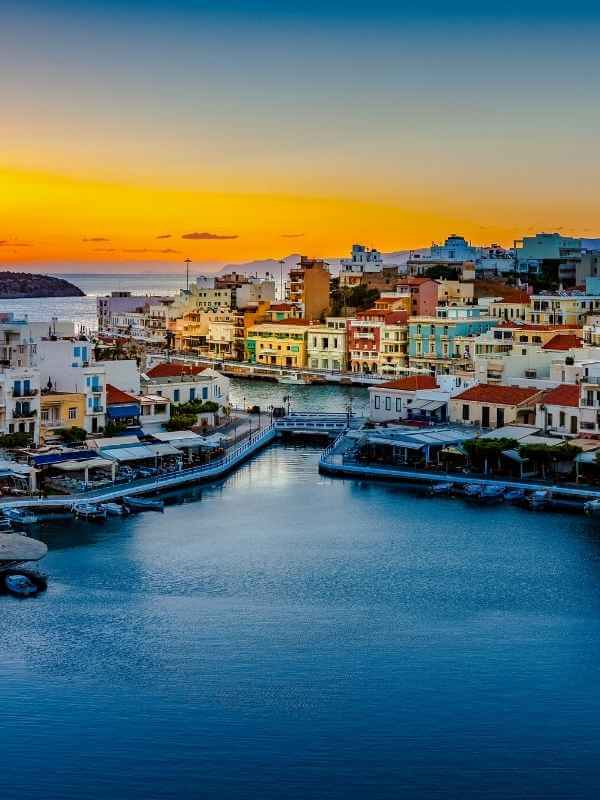 Perhaps the destination with the perfect balance between amenities and natural beauty, Agios Nikolaos is a brilliant honeymoon gateway that will satisfy even the most demanding couples. Whether you are on the lookout for idyllic private sandy beaches, or you feel like an adventure in natural landscapes steeped with history and mythology, Agios Nikolaos is your match.
FAQ about Getting Married in Crete
How much does a wedding in Crete cost?
The cost associated with only the wedding in Crete will be something between €1,500 to €3,000, depending on the wedding venue you choose. Although this includes the fee for the priest or civil servant, it does not account for the paperwork, which can amount to an extra €600.
How much does it cost to get married in Greece?
Expect to pay on average anything between €15,000 to €20,000 to cover all expenses associated with getting married in Greece. However, that cost is only indicative, and it all boils down to your requirements and your wedding planner recommendations.
How many days do you need to be in Greece before getting married?
To get married in Greece, you officially need to be in the country for at least eight days before the big day. Of course, the wedding preparations will start at least a year in advance since you will need to go through a waiting period between your marriage application and your wedding day. Although a civil marriage license can be issued within seven days, approval for a religious wedding may need a few months.
Can foreigners get married in Greece?
Yes, foreigners can get married in Greece as long as they are above 18. However, if you are lucky –or unlucky– enough to marry a Greek citizen, make sure they have a valid residence permit.
I hope you enjoyed this ultimate guide to getting married in Crete.
No matter your style and budget, you can find the perfect solution for marriage in Crete.
To help you with everything and take some stress away, remember to hire a wedding planner and get a step closer to making your dream marriage a reality.
So, are you ready for your special day? I ask because Crete is!
---
Have you ever thought about organizing your wedding in Crete?
Let me know in the comments below!
You might also want to read these articles about Crete:
– The most romantic things to do in Crete
– The best beach resorts in Crete
– The most beautiful beaches in West Crete
– 5 Greek islands to visit from Crete
Let's Start by Getting Ready for Crete!
RESOURCES TO BOOK YOUR TRIP:
Book your flight: I use Skyscanner to compare prices before booking a plane ticket.
Book your ferry: When ferries are more convenient than air travel, I use Ferryhopper.
Book your accommodation: I've tried many different platforms for accommodation, but none of them beats the advantages of Booking.com.
Book your car: The best way to find an affordable car to rent is to use a powerful search engine that compares all the rental companies in the market. I use Discover Cars.
Book your tours: Live unforgettable adventures and cultural experiences with Get Your Guide. For instance, you can Visit Elafonisi, discover Balos Beach, hike Samaria, or explore Knossos.
Don't forget travel insurance: Things can go wrong at times, but travel insurance will protect you against illness, injury, theft, and cancellations. I recommend Safety Wing for peace of mind.
A quick guide to the best hotels in Crete
Budget: So Young Hostel in Heraklio, Cocoon City Hostel in Chania, Matthias Hotel Apartments in Rethymnon, and Villa Galini in Agios Nikolaos.
Mid-range: Capsis Astoria Heraklion in Heraklion, Porto Antico in Chania, Archipelagos Hotel in Rethymnon, or Hotel Port 7 in Agios Nikolaos.
Luxury: Galaxy Iraklio Hotel in Heraklion, Hotel OFF in Chania, Avli Lounge in Rethymnon, or Minos Beach Art Hotel in Agios Nikolaos.
Check more: Where to stay in Crete.
Pin this Useful Guide to Saying I do in Crete!
Written by Dimitrios Tsevremes
Passionate about travel, spirituality, and sports, I have lived in 5 countries and traveled to more places than I have counted. Writing for me is a way to express myself and my creativity. Whether I write for my blog or a freelancing gig, I always fall in love with the process and often lose my sense of time. If you want, you can check out more about me and my work here.
About the author of this blog: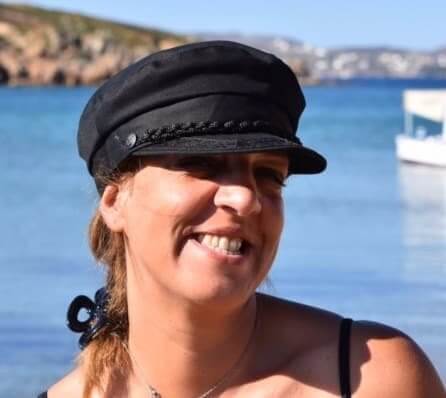 Gabi has been living in Crete for the last five years. On the island, she juggles being a solo mom, hosting culinary tours in summer, translating, and freelance writing.
She's written for Greek Reporter, published several travel guides about Greece, and had more glasses of frappe than any regular person would be able to handle.
COMING TO CRETE SOON?
Get in touch and let me know!