Considered one of the most amazing Honeymoon destinations in Greece, Crete is a fantastic place for a romantic holiday, to relax after preparing for your wedding, and to start building memories together as a married couple. If you still don't know where you'd like to stay, read on. I've prepared this guide to the best honeymoon hotels in Crete and I'm sure it will help find just the right spot!
---
Disclaimer: Posts include affiliate links to products or services. I might earn a commission if you make a purchase, at no extra cost to you.
---
Fantastic Crete Honeymoon Hotels
Whether you choose Crete as your sole destination for a honeymoon or you combine a visit to the island with a stay on other romantic Greek destinations, such as Santorini or Paros, finding the right honeymoon hotel is key to living an amazing experience.
Crete is the perfect place to relax by the sea, admire incredible landscapes, enjoy adventures together, and marvel at incredibly romantic sunsets.
Where to Stay in Crete for a Honeymoon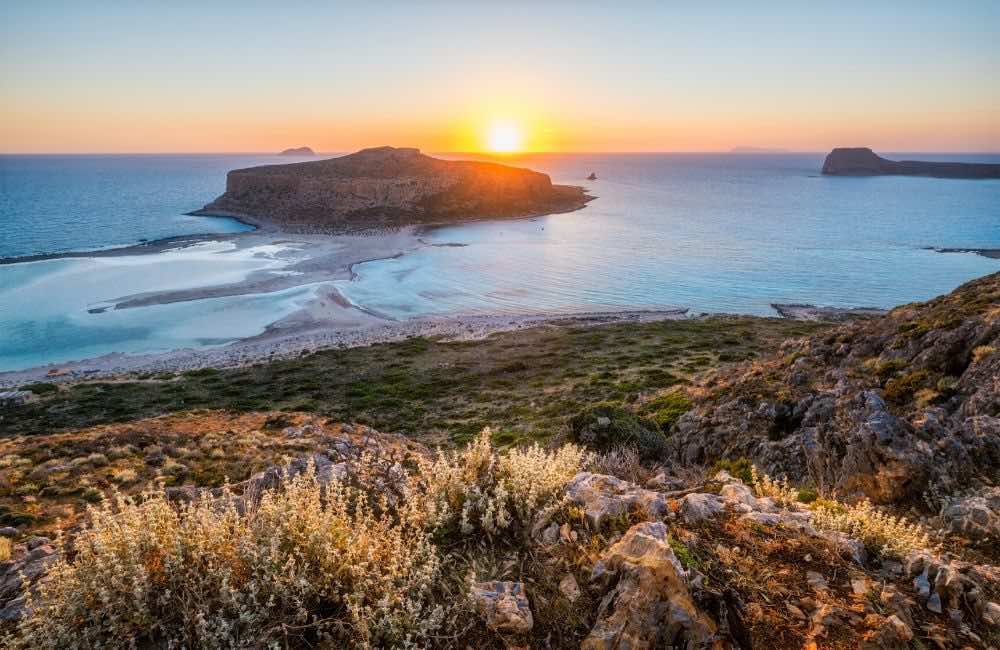 You can divide your time between the seaside and the mountains, discover fantastic old towns with a glorious past, and be pampered in a beautiful honeymoon hotel that specializes in romantic packages for couples.
The city of Chania, in west Crete, is an ideal area to stay if you're keen on beach life. The region counts some of the most beautiful beaches in Crete. Yet, that's not all. The region of Chania is perfect for adventurous experiences, including trekking, hiking, biking, and lots of water sports.
Moreover, Chania's Old Town is a picturesque place with gorgeous alleys, shops, restaurants, and dozens of incredibly romantic boutique hotels.
Choosing Rethymnon, instead, is also a great idea. Home to a charming Venetian harbor, cobblestoned alleys, and dozens of refined restaurants, the city is a super romantic destination in Crete.
And if you rent a car, you can explore the mountain villages and the southern coast of the region. Two of the best things to do in Rethymnon.
In the region of Heraklion, you and your partner will be up for a treat when it comes to incredible archaeological sites, unique wines, and intense nightlife.
The capital is also a good place to stay if you don't want to drive and prefer to rely on public transportation since Heraklion is virtually connected to every important city, town, or settlement in Crete.
Finally, Agios Nikolaos, the capital of the Lasithi region, promises an authentic and relaxing vacation for two and a fantastic base for day trips in the mountains, visits to mysterious caves, or picturesque settlements in one of the most stunning plateaus in Europe.
You can enjoy a very romantic stay at the seaside resorts in Elounda or venture south and explore the uninhabited Chrissi Island, one of the most beautiful places in Crete.
Honeymoon Hotels in Crete that You Want to Check Out
So, without any further ado, let's dive into this guide to the best honeymoon hotels in Crete for you to choose the most romantic place!
Boasting impressive views over the old Venetian harbor from the Akrotiri peninsula, this is a 5-star, adult-only property ideal for a honeymoon. It's in a very quiet setting and still super close to the best shops, restaurants, and attractions in the city center.
Featuring gorgeous rooms with views and impeccable decor, the property also has a fitness center, a bar, and a garden.
This inspiring accommodation complex is set amidst delightful palm tree gardens only meters from the beach.
You and your partner will have access to a private beach area with sun loungers and umbrellas, relax at the swimming pool area or enjoy a delicious cocktail at the hotel's snack bar.
They offer well-appointed rooms with plenty of space and private balconies with stunning views as well.
For a perfect honeymoon, why not check out their Exclusive Palm Suite With Hot Tub? It comes with extra long beds, a private entrance, and a gorgeous (as well as super romantic) outdoor dining area.
Click here for more information and to get the latest prices.
This idyllic mountain retreat features a seasonal outdoor swimming pool, free private parking, a garden, and a terrace.
The hotel also has a restaurant, rooms with a desk, a coffee machine, a fridge, and a minibar. The hotel has ravishing reviews from several honeymooners for the setting and the facilities.
Guests love their choice between à la carte or continental breakfast, their sauna and spa facilities, or venture along the coast to discover the magnificent southern beaches in Crete during their stay.
Perfect spot for the most romantic honeymoon, this adults-only resort blends together all the ingredients for a relaxing holiday, including a beachside location close enough to the center of the capital of the region.
On this site, you can both relax by the swimming pool or rest by the lapping waves of the hotel's private beach. Water sports are also possible if you like adrenaline and fun adventures.
Alternatively, choose a relaxing moment at the spa or unwind with a gentle stroll through the gardens before dinner.
Arguably among the top honeymoon Crete hotels, Domes of Elounda is a 5-star property offering luxurious accommodation with a spa bath overlooking the island of Spinalonga and its Venetian castle.
There are 4 on-site fine restaurants with sea views, a state-of-the-art gym, an interior seawater pool, a sauna, and a steam room
This hotel is situated on a Blue Flag beach at the end of the Rethymno promenade overlooking the Cretan Sea and it provides stylish rooms, 3 pools, and 2 gourmet restaurants.
Kavos Hotels and Suites
Location: Stavros (Chania region) – more details
Located in the magnificent Akrotiri Peninsula, less than 20 minutes from the center of Chania, this modern hotel is ideal for a relaxing honeymoon in Crete.
Set in a quiet location, Kavos Hotel & Suites offers well-designed accommodation and a large outdoor pool with a sun terrace, surrounded by landscaped gardens.
Accommodations are mainly apartments and studios with spacious balconies or terraces. There's also a poolside bar with romantic sea views, spectacular at sunset.
For active couples, the hotel organizes diving courses and provides diving equipment to its guests free of charge.
Set in a historic building from 1925 the GDM Megaron overlooks the old Venetian port and offers the perfect environment for a romantic stay in the capital of the island.
Among the features, guests can enjoy perks such as fine dining, a health club, and a rooftop plunge pool. Driving in Crete? No problem, free parking is also provided.
The hotel features an all-day indoor café ideal for a cup of coffee overlooking the old port. The rooftop restaurant offers the city's most stunning views of the old Venetian port and the Aegean Sea.
Their Presidential Double Suite with Sea View is the perfect space for a romantic escape in Heraklion!
Click here for more information and to get the latest prices.
You and your partner will also love the indoor pool and sauna as well as evening entertainment for those who are too lazy to drive to the center of town.
The hotel features the exclusive Anassa Spa offering unique treatments such as relaxing massages with techniques designed to release tension and restore body and mind to a natural state of harmony.
There you have it, some of the best Crete honeymoon hotels for your romantic trip to the island, which is the one you liked the most?
---
---
Pin this Guide to Crete's Honeymoon Hotels for an Incredibly Romantic Experience!
COMING TO CRETE SOON?
Get in touch and let me know!