Crete is not only about beaches, friendly people, and tasty food. The landscape is also unique. And there is nothing more spectacular than its gorges. Crete is full of breathtaking natural canyons where you can hike while enjoying the scenery and spectacular views. In this article, we explore 13 of the most stunning gorges in Crete, Mother Nature at its best!
---
Disclaimer: Posts include affiliate links leading you to products or services, I might earn a small commission if you make a purchase. This has no extra cost to you but allows me to continue writing articles that are helpful for your travels. I only recommend things I use myself or that I believe will deliver value to you. 
---
The Most Stunning Gorges in Crete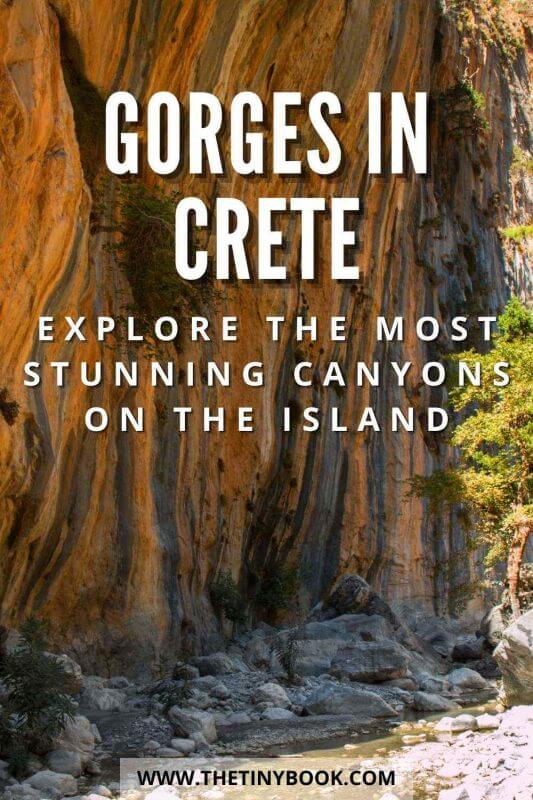 Crete is an island where everything can be done, forget about just going to the beach, there's a lot to do and much of it has to do with adventures. If you love exploring or hiking, then you won't be short of choices on the island.
Crete is home to hundreds of canyons and gorges of all kinds, from hard and difficult to explore, some even considered extremely dangerous, to others that are simple to explore and discover.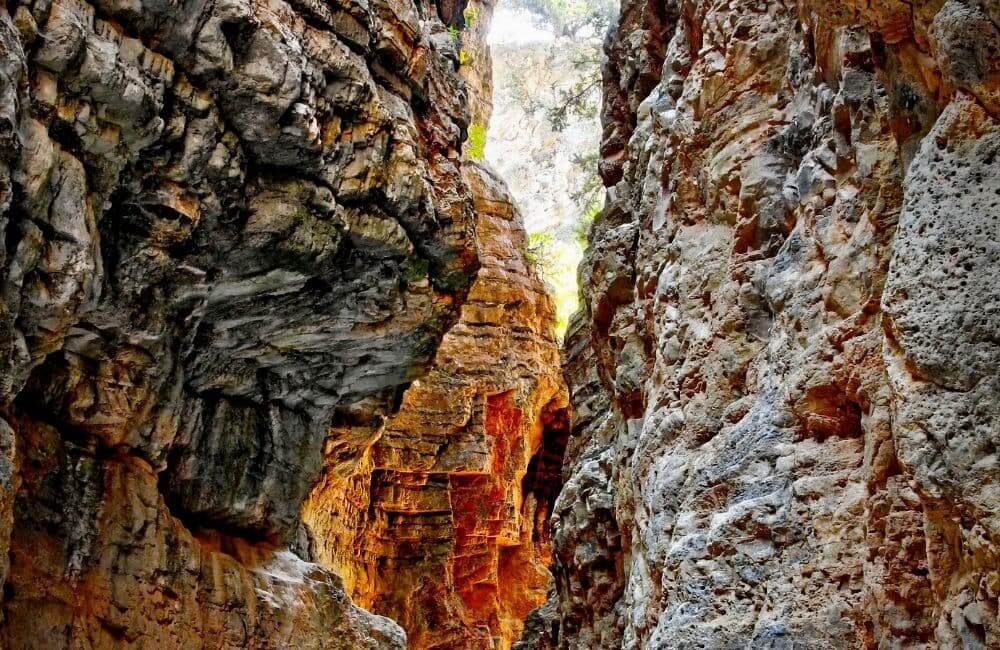 There are mountain hikes for families, for adventures, and even for those who first approach trekking. There are gorges that you can explore even without leaving your car if that's your style!
Here is a list of some of the better-known gorges in Crete. Wherever you go in Crete, you will find a gorge no more than a 1-hour drive away.
These natural miracles form as rivers, creeks, and springs remove rock layers over hundreds of years to leave behind a deep narrow valley that is often walkable. 
So wear your hiking shoes and prepare yourself for some of the most thrilling adventures in Crete!
LAST-MINUTE PLANS FOR CRETE?
– Use Ferryhopper and Skyscanner for the best ticket rates.
– Find great accommodation deals on Booking.com.
– Compare car rental prices with Discover Cars.
– Check the best tours with GetYourGuide.
– Visit Elafonisi, discover Balos Beach, hike Samaria, or explore Knossos.
– Pack the Lonely Planet Guide to Crete or get my digital guide to Chania.
Great Gorges in Chania
Here are some of the gorges you cannot miss if you're holidaying in the region of Chania. Star gorge of the island, Samaria, included… take a look!
Samaria
The Most Spectacular Gorge in Crete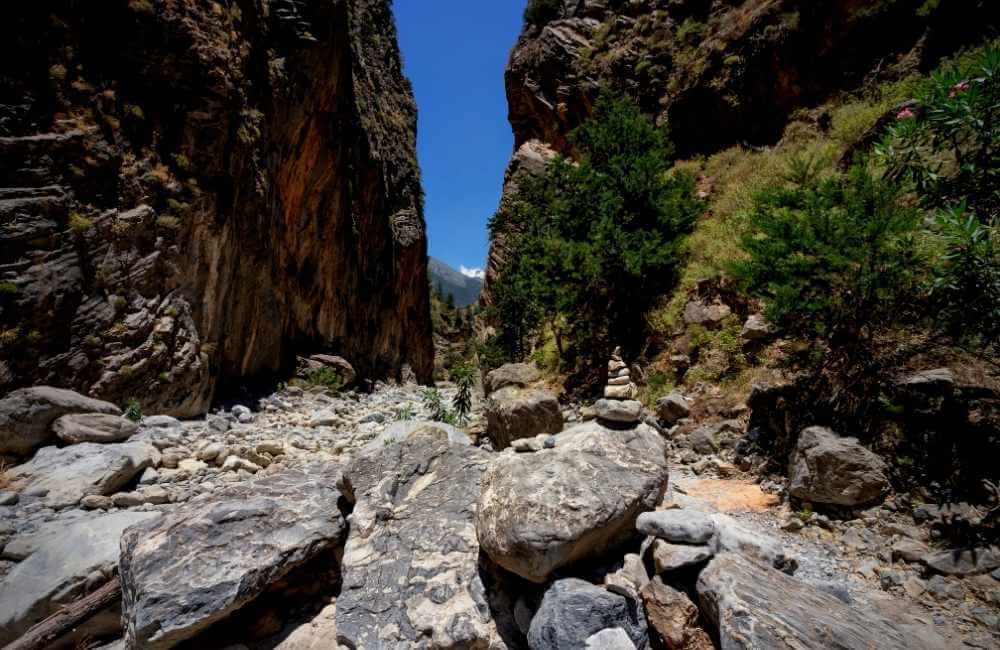 The gorge of Samaria is the most visited canyon in Crete, if not in all of Greece. Thousands of tourists and locals visit it every week from early May to October.
You might also want to read: Guide to Hiking in Crete.
It is usually crowded even during the shoulder season. But this hype happens for a good reason. Samaria Gorge is one of the greatest masterpieces of Mother Nature, as it truly has it all.
Mountains, trees, rivers full of clear and drinkable water, plenty of sunlight, and a pebble beach for those brave enough to finish the 6-8h trail.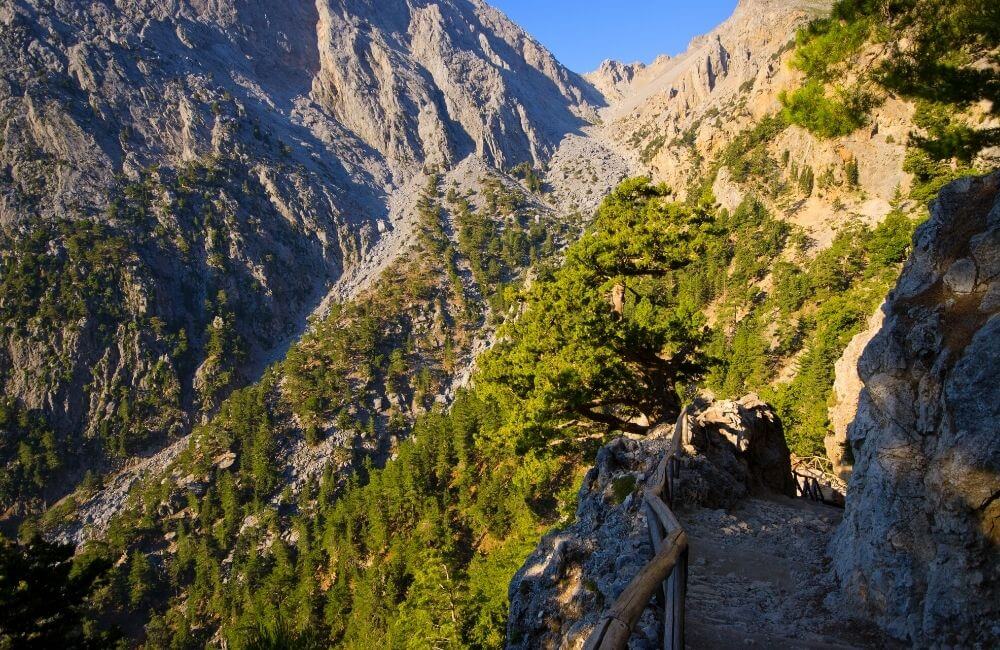 The various terrain that you go through and the scenery are magical. You feel the power of nature. You will often want to stop and enjoy the view. Just be careful and pay attention to the path in front of you as the rocks can be slippery at times.
On the other hand, you don't need to worry about water or toilets. Along your way, you can find several washrooms and natural springs where you can fill your water bottle.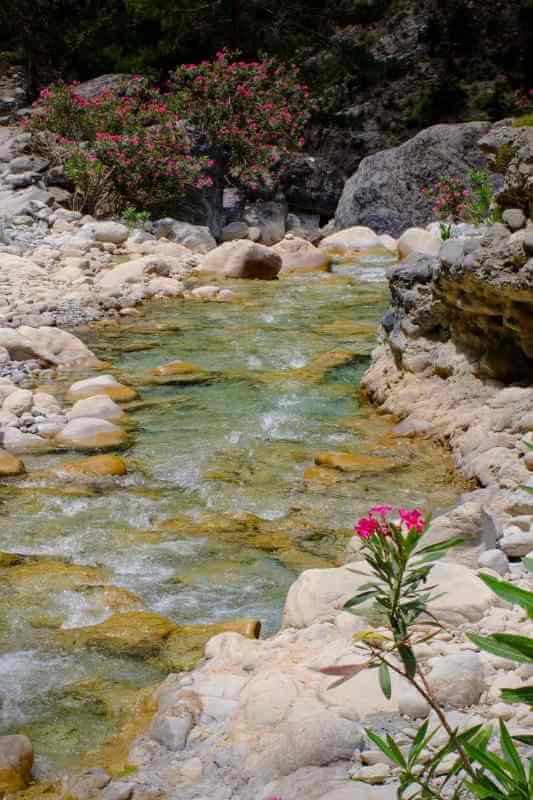 Although the longest gorge in Europe, Samaria is not particularly tiring. It is all downhill after all. With the right shoes, a refilling water bottle, and a positive attitude, everyone fit enough can make it to the end.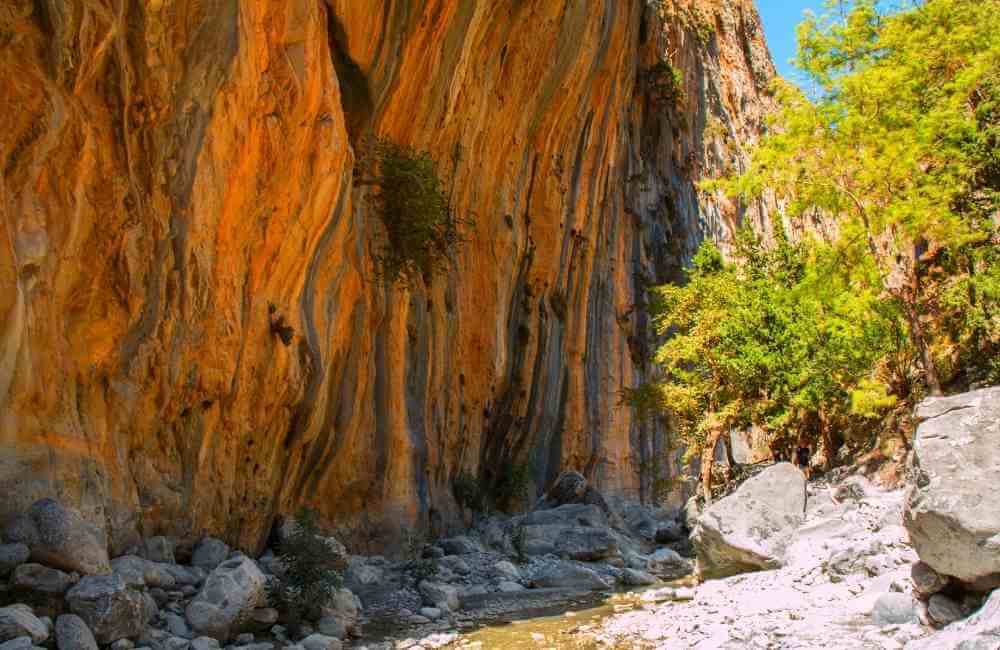 Once you reach Agia Roumeli you can either refresh at the beach with a relaxing swim or choose to spend the night in the small seaside village.
This is probably the smartest thing to do, spend the night in Agia Roumeli, and then sail back to Chora Sfakia the next morning. Your tired feet will appreciate it!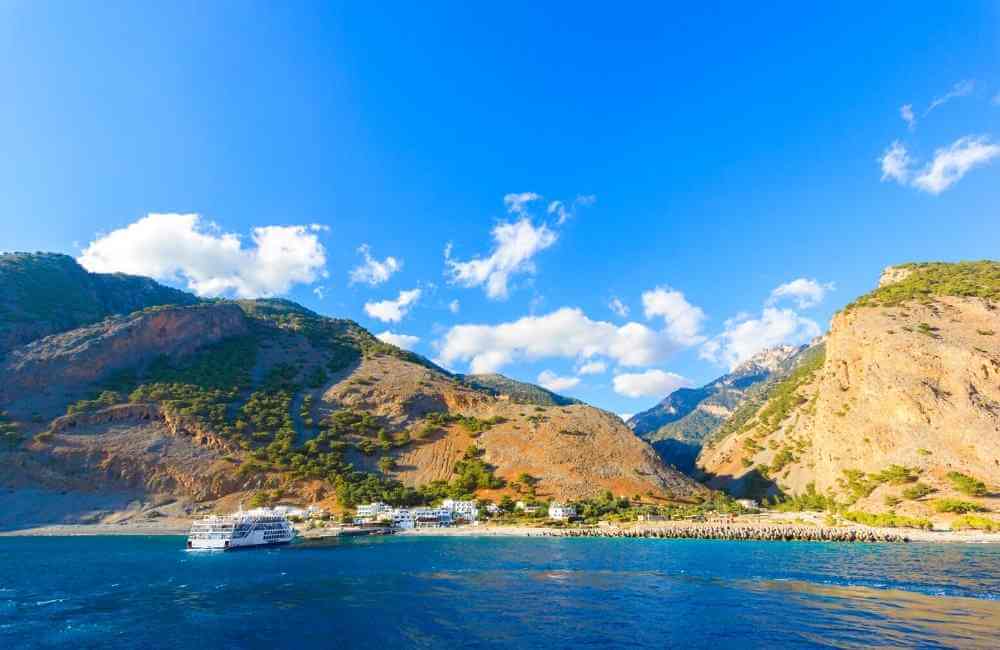 Or you can rush and take the 5 pm boat back to the nearest villages, either Chora Sfakia, Sougia, or Paleochora, and from there a bus or taxi can bring you to your starting point or hotel.
Click here to find out where to spend the night in Agia Roumeli
Imbros Gorge
Family Friendly Gorge in Crete
If Samaria seems too long and tiring for you, or you prefer a less crowded hike, then the gorge of Imbros is the next best choice around Chania. It can take around 2 hours for the whole hike which is fairly easy, ideal for families and those who want to enjoy the natural beauty of a Cretan canyon without sore legs the next day.
The main reason hikers prefer Imbros to Samaria is no other than the serenity and freedom of movement you will have in this not-so-popular alternative.
There are almost no people since everyone prefers the neighboring Samaria. It is the ideal gorge to soak in the natural beauty and enjoy the breathtaking views while crossing narrow paths between large rock formations. 
The route is pretty easy to follow so you don't need to worry about getting lost. Just be aware that it can get too hot at times, especially if you visit later through the day.
If you have time, remember to stop by the village of Imbros, and have a drink or bite in an idyllic traditional setting. It truly is one of Crete's hidden gems, a place where time stands still.
Aradaina Gorge
The Heart of Sfakia Region
South of mount Pachnes (the highest summit of the White Mountains, 2453 meters), in the western half of the island, lies Aradaina (or also Aradena), a 7-kilometer-long gorge ideal for those who want to avoid the crowds of Samaria, 4 kilometers away.
Aradaina is a wild hike but with a well-maintained path surrounded by a few oaks and olive trees in an otherwise mostly barren landscape. The gorge of Aradaina can be a great adventure too. Occasionally, you may jump over small rock formations or even slide down through steep cliffs.
Ideally, plan for 3 to 4 hours depending on how fast you are and how much time you spend taking pictures and admiring the views. Just remember to bring with you plenty of water, at least 2 liters per person, and proper hiking boots.
At the end of the gorge, you will reach the pebbled beach of Marmara where you can enjoy a great swim in deep blue clean water.
Just next to the beach, you will find a local tavern where you can taste their fresh seafood while you enjoy the marvelous view over the bay. Fuel up, go for a swim, and relax for a bit.
Agia Eirini Gorge
The Perfect Hike to Avoid Crowds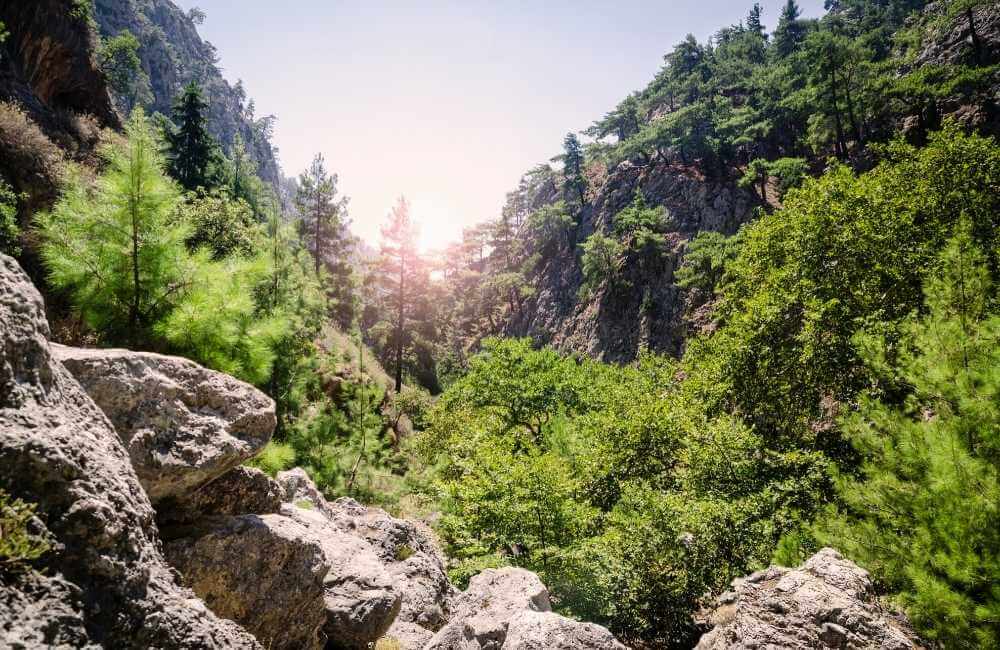 Agia Eirini is another lesser-known gorge in Chania. It is a good alternative to Samaria if you prefer a more quiet hike with fewer crowds on the way. It is a four-hour walk through lush vegetation and an ever-changing landscape.
Often, you will walk on pebbles while other times you be jumping over big rocks or crossing little bridges. There are also plenty of wooden stairs scattered along the way.
The whole path is clearly signed so don't worry about losing your way. Just make sure you wear good shoes as there will be lots of ups and downs. It is certainly not a walk for the faint-hearted but can be a worthwhile experience.
The gorge is full of trees so finding shade won't be an issue. Even if you get tired, there are plenty of small resting spots with benches throughout the path.
At the end of your walk, you'll find a cafe where you can have a drink or even take your launch. For the way back, you can always call a taxi if you don't feel like walking back.
The cost can vary but if you want, you can ask the cafe owner or the staff to help you out with arranging everything and calling a taxi driver. 
Gorges in Rethymnon
There are some great gorges you can discover in the region of Rethymnon too! Remember that the area is also home to Crete's highest peak, Mount Psiloritis! Check these gorges in Rethymnon and pick your favorite trail!
Patsos Gorge
Kid-Friendly Gorge in Crete
If you are looking for an adventure, a hike through Patsos Gorge is a must. Although just 1.5 kilometers in length, walking the full path will certainly feel longer.
And it is not only the walking part; depending on the trail you choose, you might also need to climb using ropes and ladders that are readily available in the right spots.
The three kilometers of active movement through the rugged terrain are not as hard as they might seem. However, it is a good workout if you think you spend too much time on the beach.
Just remember to get the right sporting shoes with you with enough traction. As a side note, kids love this gorge and you do not need to cover the whole length of it either!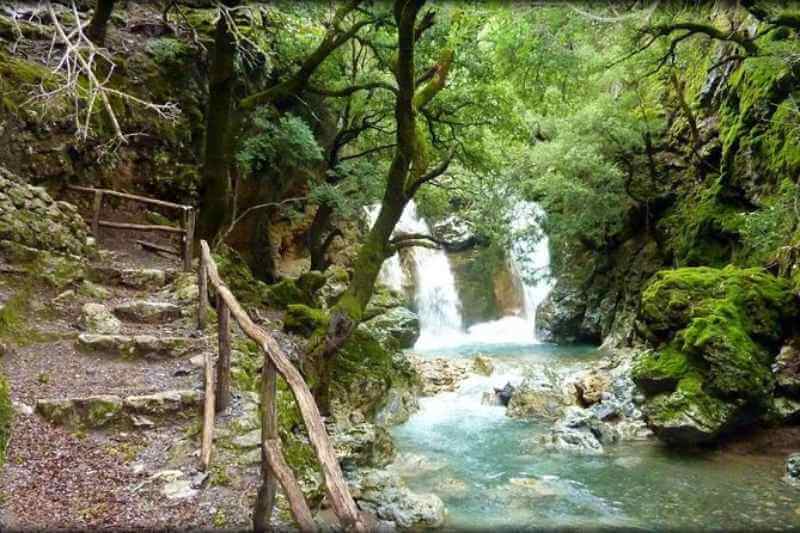 Once you decide to go on the adventure, the natural beauty and landscape will not let you down. It is a beautiful hike with dramatic cliffs, rocks, streams, waterfall, and fall-colored leaves spread all around the path.
Once you come back, the reward can be a great lunch at the local tavern located at the gorge entrance.
Kourtaliotiko Gorge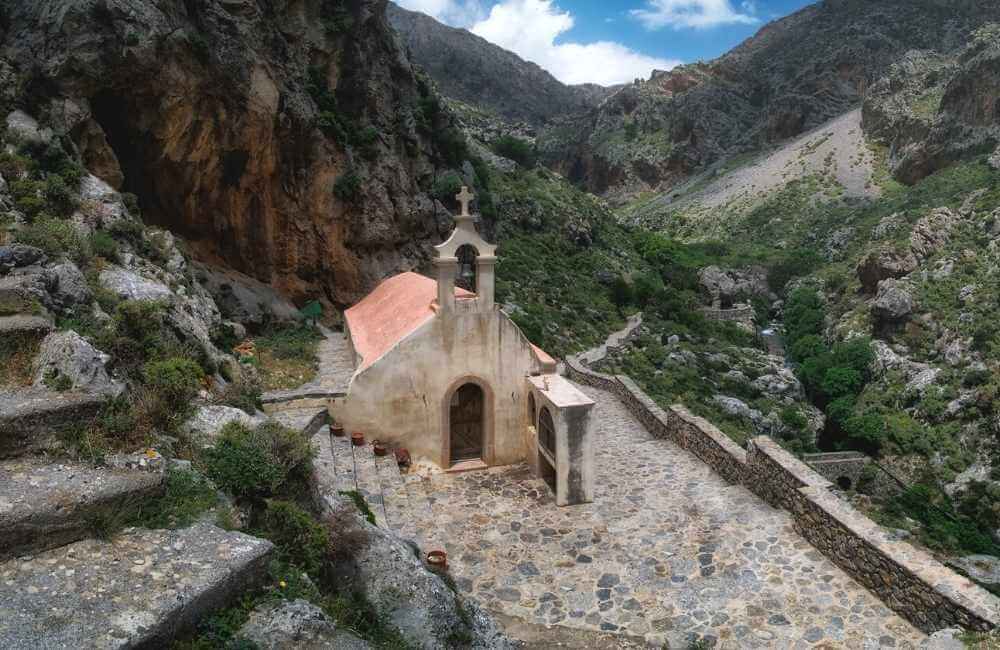 Kourtaliotiko is a spectacular gorge located south of Rethymnon. Surrounded by craggy cliffs and trees, the gorge runs from north to south, alongside the road to Plakias and Preveli monastery.
The breathtaking scenery, waterfalls, fountains, old chapels, and monasteries create the perfect condition for a long and pleasant walk along the gorge. 
Although there is a cement road to drive through the gorge, it is best to stop and take a closer look. To do so, you can walk down the stone steps to the bottom of the gorge.
You will find those steps about halfway down the road of the canyon. Once at the bottom, you will appreciate the true scale of the canyon.
If you walk all the way to the Preveli beach, you will come across one of the most authentic beaches in Crete. This is the area of the cheerful Lammergeiers birds as well as some smaller raptors and pigeons.
These birds prefer to stick to the base of the gorge.
Kollita Gorges
The Twin Ravines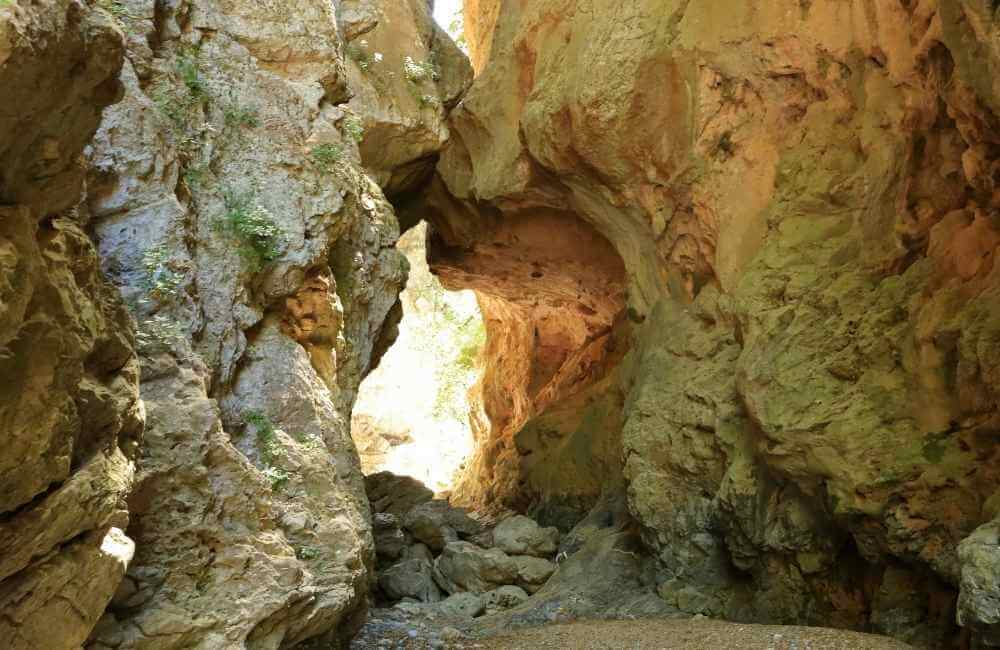 Kollita Gorges are actually two parallel gorges that connect to each other through a circular path. That's why the name: Kollita in Greek means "right next to each other".
Located southwest of Rethymno, the gorges start before the village of Vilandredo and end in the Kato Poros. Along its 2.5 kilometers, you will find lots of plane trees, oaks, colored caves, and rock shelters. 
The Kollita gorges are ideal for a small hike. There are almost no ups and downs while the path is well-shaped. As a result, you can enjoy the view and nature without worrying too much about where you should place your feet.
It is an easy and short walk too. And you can always take the other route back for a change of scenery. 
Admittingly, the most beautiful part of the canyon is not other than its top. There, the two tall sides of each gorge almost touch each other, leaving a very narrow passage in between.
There, the slopes of the gorge are overgrown with fig trees and kermes oaks. A truly unique sight in which words give no justice. 
You might also want to read: Guide to Hiking to the Red Beach, Matala.
Gorges in the Region of Heraklion
There's an interesting range of natural landscapes to discover if you're spending time near the capital of the island. These are some of the gorges worth exploring in the region of Heraklion…
Agiofarago Gorge
One of Crete's Most Beautiful Canyons
On the southern coast of Crete lies Agiofarago or as the locals call it: "the gorge of the Saints". Although the drive to the main car park can be bumpy and tiring, the short walk towards the beach through the gorge can really pay off.
It takes less than an hour to cross the whole gorge following its two water streams at either side of the path.
The view is breathtaking. Rocks, birds, oleander bushes, and olive trees make a perfect atmosphere to enjoy nature in its purest form.
And the best part is that you will have the whole path for yourself as the place is not really known and hence never gets busy. Great spot for people who don't want to be around other tourists!
At the end of the path, you will find the secluded beach of Agiofaragos. If you feel like spending some time there, swimming in the crystal clear water, or simply sunbathing, then make sure you bring enough water with you.
If you want, you can also get some drinks such as coffee or juice from the canteen located at the parking to the gorge entrance.
You might also want to read: The best beaches in Heraklion.
Rouvas Gorge
One of the most challenging gorges hikes in Crete is no other than Rouvas.
Located south of the capital of Crete, this gorge can take up to 3 or 4 hours to get from one end to the other. If you decide to walk it all the way, make sure you bring enough food and drinks with you. 
The path has an interesting mix of terrain, fauna, and flora but one needs to be fit enough to complete it. Because it can get steep at some points, make sure that you bring the necessary gear, including good hiking shoes.
And don't forget that you have to walk back the same way as there are no alternative means of transport once you reach the end.
The trail is well marked with red markers and signs. Staying on the path will be easy… and rewarding. On the walkway, especially in the higher parts of the gorge, there are spectacular views of mainland Crete.
While you enjoy the view, you can feel the fresh oxygen in your lungs. The area is full of olive trees. Sometimes, it will feel like you walk in a forest. It is one of the wildest places on the island.
Kounaviano Gorge
If you are looking for a relatively unknown but still beautiful gorge, Kounaviano is a good option. This gorge is the richest canyon in vegetation in the eastern half of Crete.
Although you can walk from one end to another within only 2 hours, the path is full of sights and breathtaking viewpoints.
Plane trees, kermes oaks, willows, and fig trees provide shade all the way through the path. Its lush vegetation allows you to visit Kounaviano any time throughout the day, even during noon when the temperature is the highest.
Also, you don't need to worry about carrying water as there are several clean water sources and springs along the way.
The hike is a relatively easy task thanks to minor altitude differences and clear marks that guide you from start to finish.
In the area, you'll bump into lovely wooden bridges, old windmills, fruit gardens, and a few small waterfalls. If you feel like discovering a relatively unknown gorge in Crete, then Kounaviano is your best bet.
Gorges in Lasithi
There are some unique gorges you can hike in the region of Lasithi, home of the Dikti Mountains. Check these great trails to hike when visiting east Crete!
Zakros Gorge
Valley of the Dead
If you stay in the eastern half of Crete, in the area of Lasithi, make sure you visit the incredible Gorge of Zakros. You can walk the whole path in under an hour, surrounded by low bushes and a handful of oak trees.
The narrow valley has steep, rocky walls that lead to the village of Kato Zakros and its stunning beach.
Because of the barren landscape, you won't easily find shade. This means you will be exposed to the sun for quite some time during your walk.
So make sure you bring a hat and some sunscreen to protect yourself. Also, carry enough water with you as you won't find any source in the path, apart from the two ends.
Overall, it is a pleasant and relatively easy hike. Well marked and possible to do with kids with some hiking experience. The path leads down into Kato Zakros where you can find many local taverns offering drinks, lunch, or ice cream.
Feel free to reward yourself with a swim for a while in the clear waters of Kato Zakros, before heading back to the starting point.
Did you know? The gorge is also known by the alternative names of Gorge of the Dead, Caves of the Dead, or Valley of the Dead… but fear not! It does not make any reference to the gorge being fatally dangerous, but to the fact that in the imposing high walls of this gorge there are big caves where archaeologists found tombs dating back to the Minoan era.
Mylonas Gorge
Mylona is another gorge in the area of Lassithi. Contrary to Zakros, Mylonas is full of trees and lush vegetation.
The deserted houses, stunning landscape, well-maintained hiking track, and lovely views create the perfect setting for a short 30-minute walk one-way.  
Old ruined mill buildings and tiny chapels make the walk interesting and surprising. You will also come across small waterfalls, open natural pools, and wooden bridges.
Occasionally, the landslides in the area may cause some damage to the bridges. As a result, you may need to find a way around the creek… but only if you don't want to get wet!
The hike is only 3km but can be extended to 9km if you have the time and guts to go all the way until the end. In any case, when you come back to the starting point, you can treat yourself to a snack or drink at the local tavern there.
You can enjoy your meal sitting on their terrace which overlooks the gorge that you just walked. It is a feeling like no other. 
Sarakina Gorge
One of the Prettiest Gorges in Crete
South of mount Spathi lies the hidden paradise of the Sarakina gorge. This place is rich in vegetation and small lakes formed over the years near the rock formations.
This hike is not for the faint-hearted and is best if you are sportive enough. Very often, you have to jump over rocks and use stepping stones. You may also occasionally need to help each other with a push or a hand.
Actually, most of the walk is moderate even though there are several spots where you need to clamber, scramble, climb ropes, use tree branches as a bridge, and generally have a good time being a child on a climbing frame again.
Just make sure you wear sturdy waterproof shoes with good traction. The rocks are slippery especially if you are wet and it is hard not to get wet.
When you need to cross the running water, you can use the rocks as a make-shift ladder. Regardless, your feet may submerge often.
The whole path takes around 2 hours to compete at a low pace.
On the way back down again, there is an alternative path that runs along the edge of the gorge before making a steep descent to rejoin the lower trail. It's worth taking the alternate path for the views.
Visiting Crete's Gorges by Car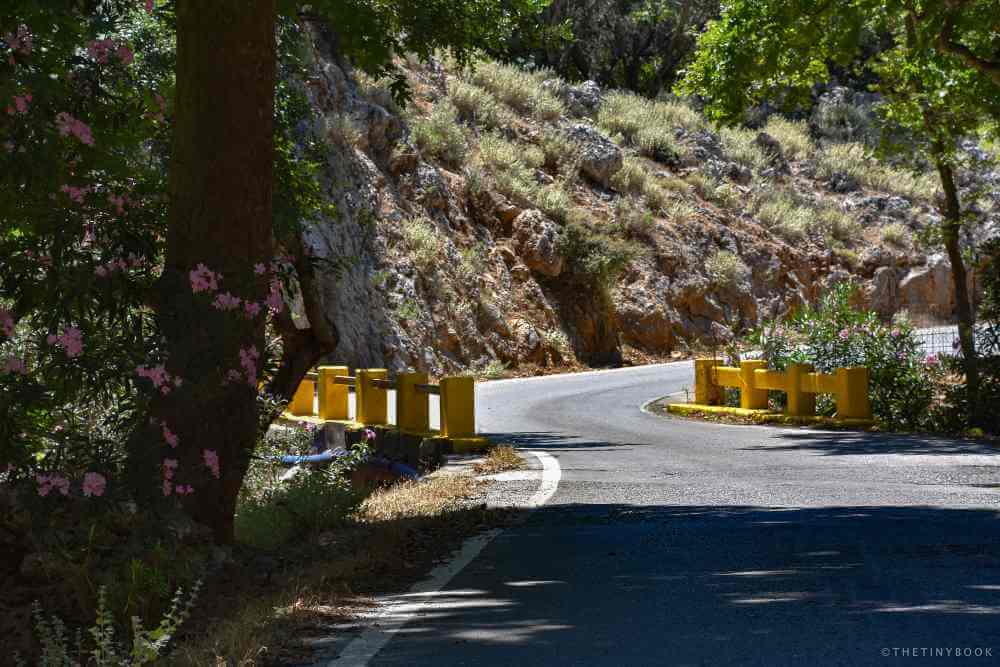 Got you! Not the athletic type but still want to marvel at the imposing nature in Crete? Many gorges can be seen from the comfort of your car while driving around or crossing the mountains.
The experience is certainly not the same, but you will be amazed at the imposing and breathtaking beauty of these ravines.
You can drive next to Imbros (Chania) as well as Kourtaliotiko (Rethymnon) gorges, or you can choose to drive over the Gorge of Topolia (Chania) if you're driving south to visit Elafonisi Beach.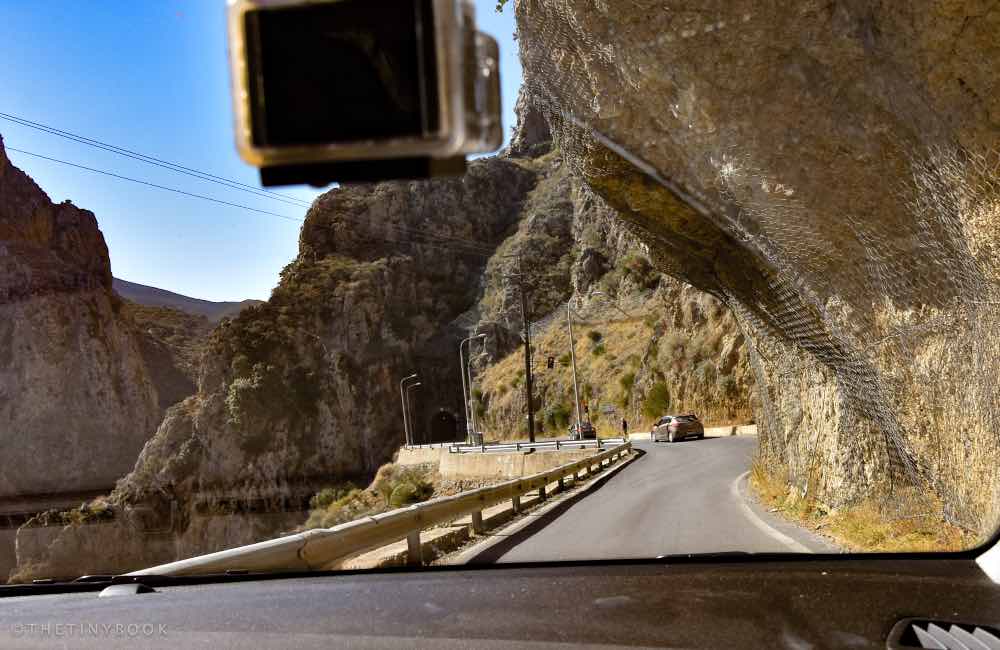 Another amazing gorge you can visit by car is Therisso, also in the region of Chania, where I'd suggest you stop and try some of the most delicious grilled meat on the island!
---
Adventure holidays in Crete? What are your plans so far?
Let me know in the comments below!
A quick guide to the best hotels in Crete
Budget: So Young Hostel in Heraklio, Cocoon City Hostel in Chania, Matthias Hotel Apartments in Rethymnon, and Villa Galini in Agios Nikolaos.
Mid-range: Capsis Astoria Heraklion in Heraklion, Porto Antico in Chania, Archipelagos Hotel in Rethymnon, or Hotel Port 7 in Agios Nikolaos.
Luxury:  Galaxy Iraklio Hotel in Heraklion, Hotel OFF in Chania, Avli Lounge in Rethymnon, or Minos Beach Art Hotel in Agios Nikolaos.
Check more: Where to stay in Crete.
Pin these Useful Guide to the Best Gorges in Crete For Your Next Adventure in Greece!
Written by Dimitrios Tsevremes
Passionate about travel, spirituality, and sports, I have lived in 5 countries and traveled to more places than I have counted. Writing for me is a way to express myself and my creativity. Whether I write for my blog or a freelancing gig, I always fall in love with the process and often lose my sense of time. If you want, you can check out more about me and my work here.
---
You might also want to read:
---
About the author of this blog: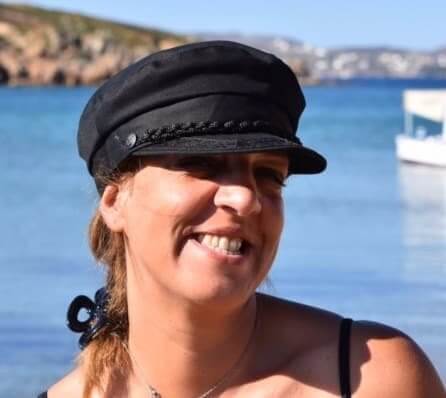 Gabi has been living in Crete for the last five years. Here, she juggles being a solo mom, hosting culinary tours in the summer, translating, and writing for The Tiny Book and her other blogs.
She's written for Greek Reporter, published three travel guides about Greece, and had more glasses of frappe than any regular person would be able to handle.
COMING TO CRETE SOON?
Get in touch and let me know!