Crete is a perfect destination to go walking in the mountains. Hiking in Crete is a popular activity, thousands of tourists visit every year to discover the most beautiful natural landmarks, the Cretan gorges, and some of the best hikes in Crete.
No matter the difficulty of your path, whether you're hiking Mount Ida, following the E4 hiking trail, hiking the Samaria Gorge, or simply having fun with the Preveli hike, this complete guide to the most amazing hikes in Crete has all the answers you need. Get ready to walk the paths of Crete!
---
Disclaimer: Posts include affiliate links to products or services. I might earn a commission if you make a purchase at no extra cost.
---
Complete Guide to Hiking in Crete
A perfect destination for those who love to be in touch with nature, Crete is a paradise for those into outdoor experiences.
Home to dozens of beautiful walking trails, hikes, and natural paths of any difficulty level, you will certainly find the right hiking trail in Crete for you!
Getting Ready for Hiking in Crete
The most important thing when facing a new hiking trail is to be ready for the adventure you're about to face. If it is your first hike ever, you'll be better off starting by walking a path with a low difficulty level.
And if that is your case, it's a good idea to read the intro to this guide with important answers to many of your questions.
The article also offers suggestions regarding hiking gear, most of them coming from experienced hikers and local Alpine guides.
Planning your Hike in Crete
This is the first and most important step to enjoying the whole experience. Decide what you want to see and what to enjoy before even considering a hike.
Waterfalls and springs? Coastal paths? Mountains and gorges? Down here, there are a few ideas, but do your internet research or contact an experienced team that can help you plan the perfect hike and will inform you much better than me, a simple occasional hiker just in love with the island.
I personally trust my hikes to Sophia, from Evenos Travel, she always knows exactly where I should go for the best sights in Chania, she is the best! The following unique trails have been suggested by her and her team.
If you're more of an independent hiker, there are a few websites that gather basic information about the hikes as well as reviews from actual hikers, I often use the info in AllTrails to plan simple walks. Always check the two most important details, distance and elevation gain.
REMEMBER: Hiking and walking are two very different things, and if you've never hiked before, remember that hiking is slower and more tiring than simple walking, especially with significant elevation gain. These factors change also according to other details, such as your fitness level, the terrain, and the trail condition you'll be walking on, the weather and season, and how high (or low) you will start your path.
AllTrails helps you by marking the paths as easy, moderate, or difficult. And even when this information can be subjective, don't overlook ratings if you're a beginner.
Respect the environment and live by this essential hiking principle: Leave No Trace.
Whatever you bring into the place where you're hiking, take it back out with you, garbage and biodegradable stuff included, ALWAYS.
Unique Trails: Hikes in Crete That You Will Love
Chora Sfakion – Glyka Nera (Sweet Water) Beach – Loutro (Chania Region)
Good to know: This is a one-way hike, return with the ferry to Chora Sfakion.
Hiking time: about 4 hours + stops
Distance: 7.2 km
Elevation difference: 0 m – 65 m – 0 m – 25 m – 0 m
This is a popular hike on the southern coast of Crete that takes you to the gorgeous village of Loutro where you can spend some time by the sea before making your way back to Chora Sfakion and, eventually, Chania.
The walk starts at the coastal village of Chora Sfakion, following the road in the direction of Anopoli. After approximately 5 kilometers, the well-marked E4 footpath leaves the road towards Glyka Nera beach, also known as Sweetwater.
Glyka Nera gets its name from the freshwater springs that come up on the beach only meters from the shoreline.
The melted snow water comes up in springs on the beach and in the sea, making a swim here quite "refreshing" (yes, swimming here is cold!), especially in the spring!
The landscape is gorgeous, especially the turquoise blue water all along the way which makes the hike simply breathtaking!
The footpath then heads along toward the picturesque fishing village of Loutro, another unique and tiny settlement on the southern coast of the Chania region.
The village is none more of the several southern coastal towns that are only accessible on foot or by boat! At the end of the hike, you will return to Chora Sfakion on the regular ferry.
Click here to ask for a quote and get more information about this hike.
Zourva – Tromarissa Springs (Chania Region)
Good to know: The hike up takes about 2.5 hours, and the way back is along the same path.
Hiking time: about 5 hours
Distance: 7 km
Elevation difference: 550 m – 1100 m – 550 m
The Zourva-Tromarissa hike begins on the northern side of Zourva, a traditional mountain village in Chania at 550 meters, located about 45 minutes from the center of town (by car).
The area is home to an impressive wood known as Paradisos, filled with cypresses, typical of the White Mountains.
The hike follows an old trail that climbs to reach Tromarissa Springs.
The well-marked path is a steady climb uphill (about 2 hours) through the pine and cypress forest. As the path leads you higher, it passes an ancient peak sanctuary with stunning views of Crete's northern coast.
The hike follows the old kalderimi, an ancient cobblestone-paved road built for hoofed traffic to the springs. The Tromarissa gorge that starts from here is a technical gorge (there are 47 rappels to go down).
In the spring, you will find several ancient plane trees. According to an old legend, this was the place where fairies dwelled 'scaring' away evil spirits.
The name of the springs comes from the Greek word for "scare" ('τρομάζω' -> Τρομάρισσα).
Click here to ask for a quote and get more information about this hike.
Margarites – Eleftherna (Rethymnon Region)
Good to know: Circular hike, once back in Margarites, a famous pottery village, you can visit the local ceramics shops or even go for a pottery class.
Hiking time: about 5 hours + stops
Distance: 14.5 km
Elevation difference: 250 m – 380 m – 200 m -250 m
This hike combines culture, history, nature, and Cretan traditions… all of them blended into one unforgettable hike.
This is a fairly easy hike with the path starting at the well-known pottery village of Margarites.
It goes along old cobbled paths and small dirt roads that will take you< over the hills toward the extended archaeological site of Eleftherna where vast (and ongoing) excavations reveal the impressive history of the area.
This is a perfect trail for spring if you enjoy the local flora. Beautiful wildflowers decorate the path, while the views toward Mount Psiloritis (the highest peak in Crete at 2,456 meters) are nothing but inspiring…. any time of the year!
Click here to ask for a quote and to find out more about this unique hiking trail.
Gious Kambous – Agia Fotia Gorge (Rethymnon Region)
Good to know: This is a one-way hike with a return by taxi.
Hiking time: about 3.5 hours + stops
Distance: 4.8 km
Elevation difference: 760 m – 900 m – 470 m
This hike starts from the plain of Gious Kambous above the village of Spili. It is arguably one of the best hikes in spring, when numerous species of wild orchids grow on the fertile plain of Gious Kambous, as does a rare species of red Cretan Tulip, the Tulipa doefleri.
This is, by all means, the best hike if you enjoy nature!
The gorge starts from the plateau Gious Kambos (at an altitude of 760 meters) ending at the springs located at an altitude of 470 meters.
From the plain, you will head westwards taking in the stunning views and colors of the surrounding area, and then follow the path down the short gorge of Agia Fotia – this part is not very well-marked, so it is a good idea to contact a local guide).
Right after, you will descend surrounded by large plane trees and wild herbs to reach the main road that takes you to Spili.
Click here to find out more about this hike.
Zaros Gorge – Rouvas Forest (Heraklion Region)
Good to know: This is a hike starting at Zaros Gorge, also known as Agios Nikolaos Gorge and the way back is along the same path.
Hiking time: about 5.5 hours (2.5 hours one-way)
Distance: 10 km total (5 km each way)
Elevation difference: 425 m – 930 m – 425 m
The hike starts behind the mountain village of Zaros. Here, you will take the well-marked path towards Agios Nikolaos church and the gorge behind.
This is an extremely beautiful path that leads uphill in the spectacular lush gorge. There are impressive cliffs on both sides of the gorge that offer ideal nesting areas for Griffon vultures (Gyps fulvus).
As you gradually get higher, you will access a thickly wooded area: a dense forest of oaks, pines, cypresses, holm oaks, acers, planes, and wild pear trees that continue up to the small plateau.
A great place to enjoy a traditional picnic in the mountains! After a short (and well-deserved) break, you will take the same path back to Zaros.
Click here to find out more about this hike.
Agios Ioannis – Agios Antonios – Moni Koudouma (Heraklion Region)
Good to know: This is a hike in the area of the stunning Asterusia Mountain Range, part of the E4 hiking trail and the way back is along the same hiking path.
Hiking time: about 5.5 hours (2.5 hours one-way)
Distance: 9.8 km total (4.9 km each way)
Elevation difference: 40 m – 130 m – 0 m – 130 m – 40 m
This is the way to go if you're looking for a beautiful coastal hike. You'll be starting in the secluded and very far-away-from-civilization hamlet of Agios Ioannis (Kapetanianon), on the southern side of the Asteroussia mountain range, in Heraklio.
The well-marked trail is part of the long-distance E4 hiking trail and it takes you along to the huge cave of Agios Antonios that shelters a small, picturesque chapel.
There are 7 natural rock basins at the back of the cave, collecting natural water that is considered holy. From here the path continues through pine trees along, towards the impressive monastery of Koudouma where there is also a beautiful pebble beach.
The return is made by walking along the same path to Agios Ioannis.
Click here to find out more about this hike.
Kato Zakros – Gorge of the Dead – Ano Zakros (Lasithi Region)
Good to know: This is a one-way or return hike.
Hiking time: about 3 hours (one-way, up)
Distance: 6.5 km (one way)
Elevation difference: 0 m – 230 m (one way)
One of the most popular hikes in the Lasithi region, this path heads inland towards the mysterious Gorge of the Dead (also known as Faragi Nekron or Kato Zakros Gorge), near the Minoan Palace of Kato Zakros.
This is the first (or last!) part of the E4 long-distance hiking path, ending at the beautiful beach of Kato Zakros.
The gorge features huge, impressive cliffs where archaeologists have found ancient Minoan tombs. The area, of spectacular natural beauty, is the natural habit of Griffon vultures which you can often spot flying overhead.
The well-marked path takes you up to Ano Zakros village.
Here, you can take a break and enjoy a cup of traditional Greek coffee in one of the few kafeneia in the village square to get a close-up insight into the local's way of life.
Since the village has been restored respecting the traditional way, it's a good idea to go for a stroll around the alleyways where you can check out many interesting buildings as well as the gorgeous springs of Ano Zakros which explains why you'll encounter many water mills and hydro-used buildings that still stand strong dotting the picturesque little alleys.
Click here to find out more about this hike.
Selakano Dikti – Limnakaro – Lasithi Plateau (Lastihi Region)
Good to know: This is a long, hugely satisfying, and beautiful hike. It should NOT be done in a strong (northerly) wind.
Hiking time: about 6 hours + stops
Distance: 18 km (one way)
Elevation difference: 885 m – 1976 m – 825 m
Please note that there is no water available along the hike!
The starting point of this hike is at the small, forgotten mountain settlement of Selakano. It follows the E4 path that takes you up through the vast pine Selekano forest, a place known for the quality of local honey.
Here, many beekeepers bring their beehives since the many pine trees provide enough food for the bees. The Selekano wonderful pine honey is the primary local produce.
The path ascends steeply up a valley, on rocky terrain, into the high Dikti Mountains. Once up there, you will learn that not much survives the cold winters and the long, hot summers.
As a consequence, you will see mostly low vegetation, shrubs, and many bare rocks that complete the scene: quite a stunning contrast very typical of the Cretan landscape.
This part of the E4 path ascends to Skali and from here down towards the Lassithi Plain, a trail that offers stunning views all along the way.
Click here to find out more about this hike.
Three More Stunning Gorges That You Can Hike in Crete
If you're more of a traditional hiker and want to come to Crete to visit the spectacular gorges that populate the whole island, then check out these hikes. They will be key to building up incredible memories of Crete.
You can check this useful guide to the most beautiful gorges in Crete or read on to find essential details about the most popular gorge hikes on the island.
Samaria Gorge – Agia Roumeli at the Samaria Gorge National Park (Chania Region)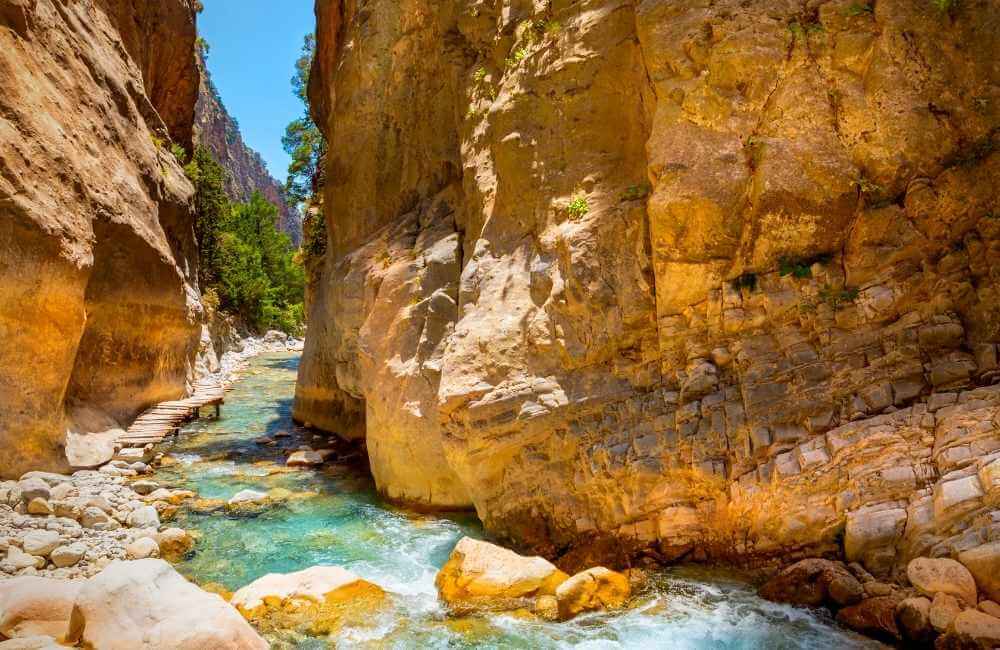 Essential info: The total distance of the gorge (the gorge only) is 14.3 km, with an elevation difference of +/-1200-0 meters, and it is a point-to-point hike, getting back to Chania by boat and bus. The Samaria Gorge is also a UNESCO World Heritage Site.
This epic trail is among the most famous walking experiences in Greece, attracting thousands of visitors from all over the world from May to October every year.
Although mostly downhill the route is strenuous and challenging, especially because it requires long hours to pass.
The trail begins at the Omalos Plateau, located 38 km south of Chania at an altitude ranging from 1,040 to 1,250 meters. This is the steepest, downhill part of the trail which extends for about 2 km.
The end of the hike is at the coastal village of Agia Roumeli, from here you can take a ferry to the south coast ports of Chora Sfakia (one-hour) or Sougia where you will catch the bus that drives you back to Chania.
This is a wonderful hike that can be done on a two-day stunning hiking experience.
Imbros Gorge – Komitades (Chania Region)
Essential info: Imbros – Komitades is a 6.6 km, point-to-point trail that has always been considered easy enough for first-time hikers. It takes an average of 2.5-3 hours to complete.
The main reason hikers prefer Imbros is that being less popular makes it less crowded. besides, Imbros is usually open all year round. You will also be rewarded with breathtaking views while crossing narrow paths between large rock formations.
Imbros has always been a very important place on the island, dear in the heart of locals as it was an escape route for the allied soldiers during WWII.
Imbros is also part of the European path E4. The gorge is relatively easy to descend, it features an initial part that is quite open (the so-called Porofarago), while it narrows along the way with higher walls on both sides.
The most impressive point of the Gorge is Stenada (the narrowest point with walls that are only 1.5 meters apart.
The exit of the gorge is in the village of Komitades, here you can take a taxi back to Imbros (or Chania) or reach Chora Sfakion for a boat trip (or more hiking) to any of the different beaches on the southern coast, such as Marmara or Glyka Nera
Click here for more details about this hike, from Imbros to Marmara Beach here.
Agia Irini Gorge (Chania Region)
Essential info: This is an out-and-back trail about 13 km long (round trail – 6.5 one-way) near Agia Irini, in the Chania region. It is a moderately difficult hike that can be completed in about 5 hours.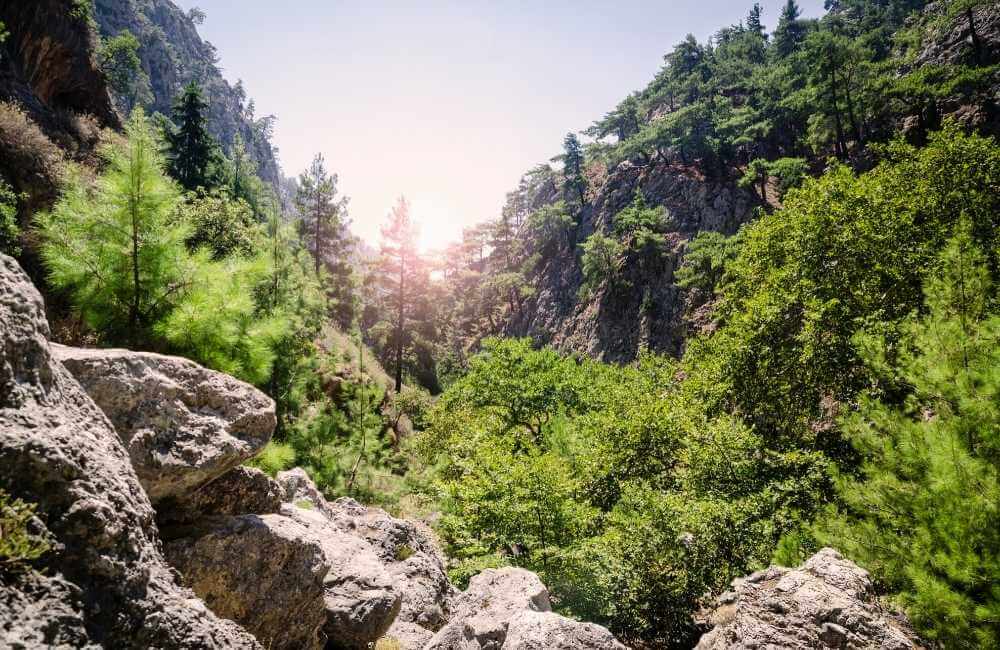 The whole path is clearly signed so don't worry about losing your way. The gorge features impressive high slopes and unique cliffs as well as an impressive diversity when it comes to flora and fauna.
The trail starts at an elevation of 560 meters and leads to the beautiful beach of Sougia on the southern coast of Crete.
At the end of the trail (6.5 km), you can choose to either hike back to the entrance of the gorge or reach Sougia for the bus ride back to Chania.
Looking for more hikes in Crete? Check these other gorges in the 4 regions of the island.
A Word on Hiking Clothes and Equipment for Crete: For those who're just starting… and for experienced hikers!
Don't go on a shopping spree just now! It's not necessary to have a whole new set of hiking clothes if you're just starting. And if you hike regularly, you certainly already have all you need!
If this is your first attempt at hiking, don't go crazy purchasing stuff. For short walks along well-marked trails, you will only need a pair of long comfortable pants (shorts in summer), a T-shirt, and good pair of sneakers or hiking boots.
Add a light backpack, a sunhat, and some sunscreen, and you're all set.
However, although this outfit will go a long way for short hikes when trails get longer and more complex, you will need to invest in upgrading at least some of your gear.
More technical and challenging walks mean that you're already into hiking (or that you've become addicted to your new hobby).
Hiking in Crete can be incredibly rewarding and chances are that you might want to do it every year!
If that's your case, specialized gear will pay off and will make it easier to hike more comfortably to truly enjoy every step of the way.
Remember, when it comes to hiking, choosing good and resistant clothes and boots can sound expensive, but they last long. I've used (and still do) that same hiking boots for about 6 years, quite a good investment.
The same goes for my backpack. I've just upgraded my hiking shorts, they've lasted long and could have lasted more if I hadn't put on some winter weight!
Basic Clothes for Hiking in Crete
It doesn't matter if you're hiking in Crete or somewhere else… or where exactly you will be hiking, repeat this as a mantra: weather conditions change rapidly, and they do, especially in the mountains.
This is not actual weather, like a summer shower or unexpected winter snow, but also temperature excursions from morning and evening, or hiking under the sun or protected by the shade of trees.
These conditions can mean that the temperature your body perceives can change in minutes, making you feel cold or very hot from one minute to the other.
Having the right gear will prevent you from walking in uncomfortable conditions, or even getting sick. The key to enjoying your Crete hike is to be comfortable all the time, all the way.
So how do you achieve that ideal comfort? Keep your grandma's advice in mind: layers! Layering is the answer for you to adjust to any changing weather conditions.
Basic Layer
Starting with garments closest to your skin, base layers for Crete in summer will always be a good short-sleeve t-shirt.
Materials vary according to your budget, cotton is the obvious choice and the cheapest, but if you're a regular hiker you already know that when you sweat, cotton won't dry.
Alternatives are merino wool and quick-dry garments (often known as performance blend fabric), which are the best solutions.
I use Decathlon's quick-dry apparel, garments are cheap, resistant, and performant. The in-house brands Quechua, Arpenaz, and Forclaz are pretty good. Not-One-Regret here!
No Decathlon in your town? Buy online (US – UK – CA – AU – GR) or check Amazon's alternatives for convenient quick-dry t-shirts. There are also long-sleeve versions for winter.
Hiking Pants
Most experienced hikers will agree on this: No matter the weather, long pants are often better. However, there are great short pants or convertible hiking pants (those models with a zipper that turn into shorts on the fly).
Longer pants will be great to protect you from scratches (bushes, rocks, branches) and bugs, especially mosquitoes.
No matter whether it's short or long trousers when checking for hiking pants, try to find something that is light (especially for summer), breathable, and a bit stretchy for more freedom of movement.
Again both Decathlon and Amazon offer a great variety of quick-dry, hiking pants.
Shoes
I've hiked with tennis shoes on a few easy trails and I've never had a problem, my go-to sneakers have always been Sketchers and I love them because they are light and breathable.
I've used them for ages on my city walking tours too and I just can't complain. However, I wouldn't dream of facing a more strenuous walk, like Samaria or Imbros, for instance, with tennis shoes where ankle support is key for comfort but, most importantly, to prevent turning any misstep into a serious injury.
Go for light, water-proof hiking boots for summer, and warm, snow, hiking boots in winter. I've worn a very basic Decathlon pair for ages. If you can splurge, choose well-known brands like Columbia, Merrell, or Keen.
Now that the basics have been sorted out, it's time to check other important accessories.
Outerwear
Yes, even in Crete during summer you will need something to cover you. Either a light fleece, a raincoat, or a feather-down jacket can make all the difference during early morning hikes (often kind of chilly) or sudden temperature drops.
I have a Uniqlo ultralight packable down jacket that has traveled the world with me and that is perfect to keep at the bottom of your backpack.
I also have a winter Karrimor fleece that was given to me as a Christmas present (probably the wisest Xmas present ever!). I wear it during the whole cold season and not just to hike.
Socks
Don't overlook the socks, they are key to success when hiking long trails, if chosen wisely they will absorb moisture and help prevent blisters.
I suggest avoiding cotton (but also wool for summer), and finding a blended fabric with some wool that is breathable and keeps moisture away (the first ingredient for painful blisters and uncomfortable rubbing).
Light Backpack
Unless you're going for a long, multi-day hike, just any comfortable backpack will do for the occasional hiker.
It will keep sunglasses, sunscreen, water, snacks, any map, phone, money, and a camera, to mention a few items. Always go for comfortable shoulder straps.
More experienced hikers will enjoy a more technical backpack with a breathable back panel (mersh or similar), where you can even attach walking poles or other essential items.
Serious hikers can even opt for a hiking backpack with a Camelbak water pouch that can hold several liters of water.
Not for me, and often not needed in Crete where there are tons of mountain springs to refill. For short, occasional hikes, these are good, budget-friendly options.
And Don't Overlook…
Sunglasses, a hat (wool for winter, but breathable and light for summer), and sunscreen, something that'ss often forgotten and even more often regretted!
Frequently Asked Questions About Hiking in Crete
When is the best time to go hiking in Crete?
To enjoy pleasant weather and fewer crowds plan your hike from April to June or from September to early November.
Are hiking poles essential?
For some hikes you will certainly appreciate having hiking poles, the descent in Samaria, for instance, is much easier to face if you carry walking poles with you.
Can I hike on my own?
It is always a good idea to get in touch with a certified alpine guide when choosing off-the-beaten-path roads. Some popular hikes, such as Samaria, can easily be done on your own (in a just-follow-along-with-the-crowds, sort of way), professional guides will offer guidance, information, and experience, essential especially for first-time hikers.
What hiking equipment do I need?
The key piece of garment you'll need is a pair of good hiking boots. You can rent hiking poles in different places around the island.
Are you ready to walk your way around the island? Trust me, you will love it! Have you ever experienced any of these Hikes in Crete?
🛌 Suggested Accommodation in Crete:
🗺️ More resources to book your trip to Crete
Pin this Guide For a Unique Experience Hiking in Crete!
---
You might also want to read these posts about Crete's regions:
---
About my blog: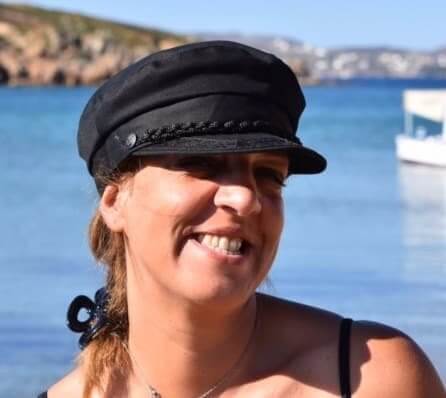 I moved to Crete in 2016. During these years, I learned much about the island.
In Crete, I juggle being a solo mom, hosting culinary tours, and writing for several travel blogs.
I've written for Greek Reporter, published travel guides about Greece, and had more glasses of frappe than any regular person could ever handle.