Crete is huge! So, if you want to make the most of your visit to the island, renting a car is the wisest decision you can take. The reasons? Plenty! But to put it shortly, exploring Crete by car is an experience you will long remember. Keep reading to discover more and uncover the best places to visit in Crete by car.
---
Disclaimer: Posts include affiliate links to products or services. I might earn a commission if you make a purchase, at no extra cost to you.
---
Best Places to Visit in Crete by Car
Let's Start by Getting Ready for Crete!
RESOURCES TO BOOK YOUR TRIP:
Book your flight: I use Skyscanner to compare prices before booking a plane ticket.
Book your ferry: When ferries are more convenient than air travel, I use Ferryhopper.
Book your accommodation: I've tried many different platforms for accommodation, but none of them beats the advantages of Booking.com.
Book your car: The best way to find an affordable car to rent is to use a powerful search engine that compares all the rental companies in the market. I use Discover Cars.
Book your tours: Live unforgettable adventures and cultural experiences with Get Your Guide. For instance, you can Visit Elafonisi, discover Balos Beach, hike Samaria, or explore Knossos.
Don't forget travel insurance: Things can go wrong at times, but travel insurance will protect you against illness, injury, theft, and cancellations. I recommend Safety Wing for peace of mind.
---
A quick guide to the best hotels in Crete
Budget: So Young Hostel in Heraklio, Cocoon City Hostel in Chania, Matthias Hotel Apartments in Rethymnon, and Villa Galini in Agios Nikolaos.
Mid-range: Capsis Astoria Heraklion in Heraklion, Porto Antico in Chania, Archipelagos Hotel in Rethymnon, or Hotel Port 7 in Agios Nikolaos.
Luxury: Galaxy Iraklio Hotel in Heraklion, Hotel OFF in Chania, Avli Lounge in Rethymnon, or Minos Beach Art Hotel in Agios Nikolaos.
Check more: Where to stay in Crete.
---
What Places you Should Visit in Crete
There are tons of places that I could recommend you to visit in Crete with your car, many of them I discovered by chance, just wandering around on the island while driving on any given Sunday afternoon.
And there's always a pleasant surprise on the road, always a hidden gem. Don't believe me? Take a look…
Villages and Towns for Every Taste
Whether you are looking for a cosmopolitan setting, a picturesque resort, or a traditional village, Crete has you covered!
Towns such as Chania and Agios Nikolaos redefine what you may think of Greek cities.
At the same time, villages such as Sfaka or Anogia can travel you back in time within seconds of your arrival.
Exotic Beaches as if They Come Out of a Card Postal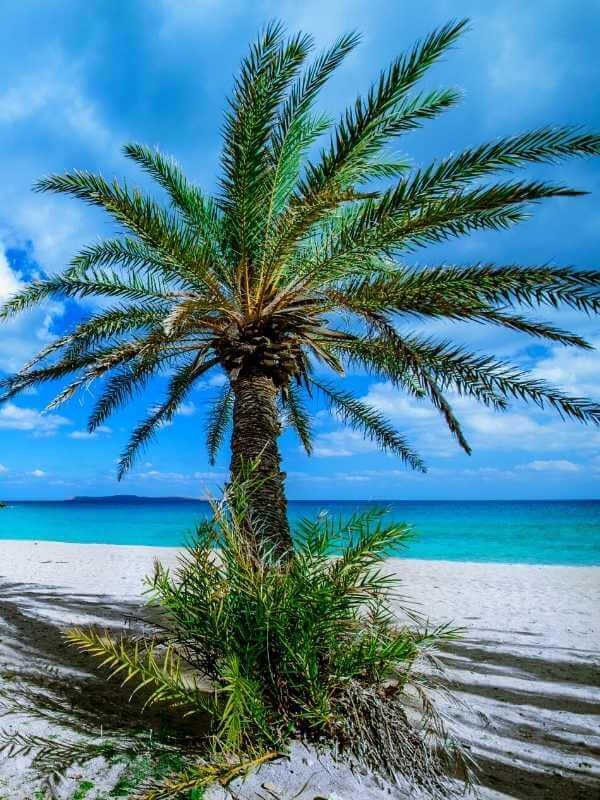 Crete may not be tropical, but it is a paradise on Earth. And its spectacular beaches are enough to make you fall head over heels for the island.
Out-of-this-world beaches such as Elafonisi and Balos Lagoon may be the highlight of Crete, but these are just the tip of the iceberg!
A Lush Landscape That Will Leave You Breathless
Crete is an island blessed with such a natural beauty that will never cease to surprise you. In every corner, there is something new to discover, and keep falling in love with this majestic corner of Greece.
And the highlight in this dance of Mother Nature is no other than the Cretan gorges. Samaria gorge may be the most popular of them all, but remember it is just one of the many!
Enormous Mountains That Will Put You in Awe of Your Surroundings
You may visit Crete for its beaches and culture, but you will see mountains wherever you turn your head. And it was in those mountains that many Greek villages and old civilizations thrived.
Above all, the Cretan mountains offer some of the most breathtaking views you can have on your road trip!
So, since you plan to drive around Crete, make sure to explore its mountains.
You might also want to read: How Many Days in Crete? Discover How Much Time You *Really* Need on the Island!
Best Towns in Crete That You Must Visit
There are several cities and small towns worth your time, in every region of Crete. Don't miss them!
The Picturesque Town of Chania
If you have to visit only one town in Crete, that should be no other than Chania. Imagine a small charming settlement full of life and fantastic architecture.
Its lovely harbor, the old city, and its lively market are only a portion of what Chania can offer.
Above all, the food here will be the main reason you'll want to extend your stay in the town!
The Cosmopolitan City of Heraklion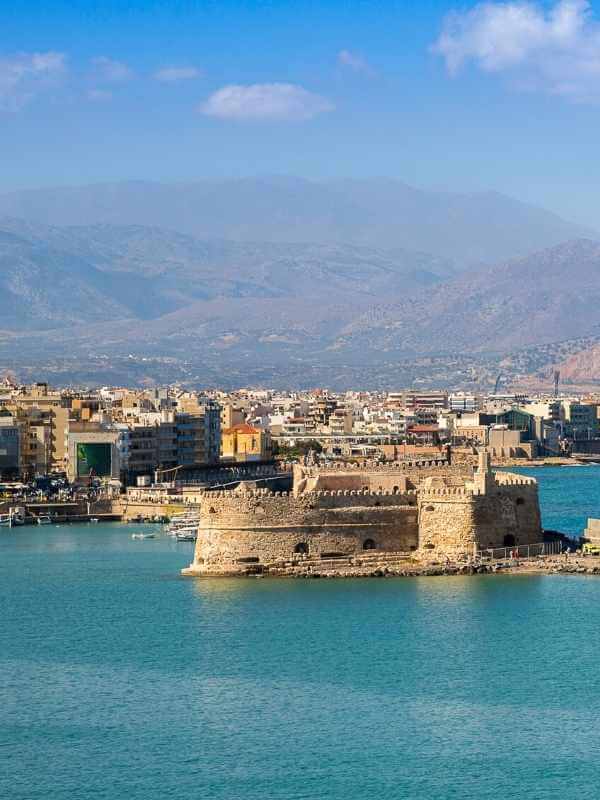 The capital of Crete is the third biggest city in Greece. In other words, it has everything, from renowned museums, cathedrals, and picturesque old towns to bars, restaurants, and shops of every kind.
That is enough reason to visit Heraklion while you drive around Crete! Yet, if you want to give the city justice, take it slow and explore its well-hidden yet beautiful corners.
The Medieval Town of Rethymnon
If driving the distance between Chania and Heraklion sounds too much, go halfway until reaching Rethymno.
Not only will this medieval city captivate you with its sheer beauty and vibes, but you will also have the chance to explore terrific ancient sites.
The Lively Town of Agios Nikolaos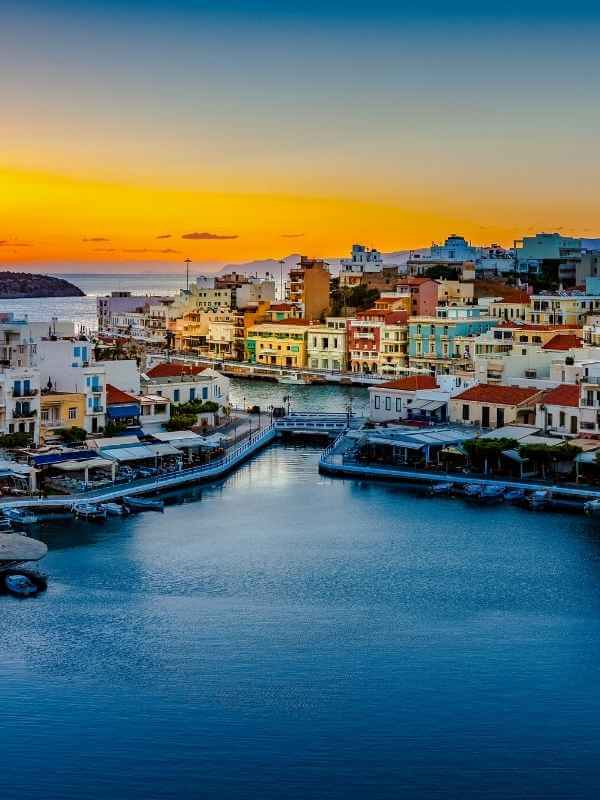 The seaside settlement of Agios Nikolaos has all you ever wished for from a holiday destination.
Spectacular beaches, mild climate all year long, buzzing nightlife, and souvenir shops for every taste.
Let alone the delicious local gastronomy that includes a blend of traditional and modern Greek cuisine!
The Holiday Resort of Elounda
Although it used to be a quiet fishing village, Elounda has transformed into an all-out summer resort that offers the ultimate holiday experience.
Spectacular coastline, crystal clear water, archaeological sites, shaded beaches, and the island of Spinalonga are only some of the reasons you will fall in love with Elounda.
Above all, it remains a relatively quiet and serene destination, thanks to the area's spacious resorts, hotels, and villas.
Places to Visit in Crete by Car
Nothing wiser than renting a car when arriving in Crete to see and enjoy the best of this big Greek island.
Driving in Crete isn't as hard as you may think, so get behind the wheel and discover some unforgettable places, think of historical monuments such as Phaistos, Gortys, or Agia Triada, to name only a few.
You might also want to read: Guide to Driving in Crete: Everything You Need to Know + Tips for Car Rental!
Knossos: the Symbol of Minoan Civilization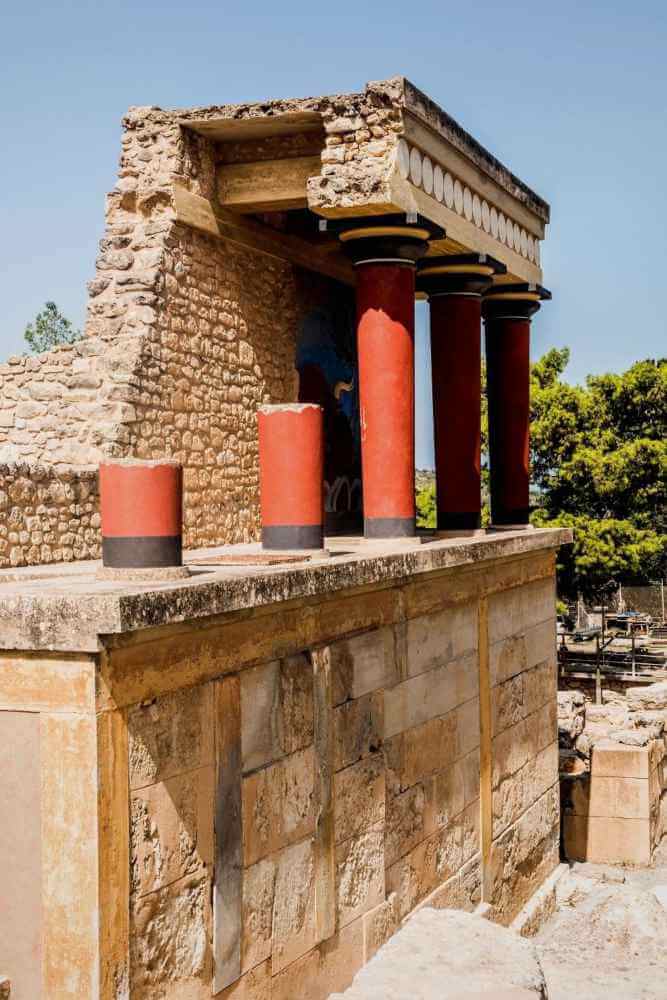 Perhaps one of Greece's most important archaeological monuments, Knossos Palace, deserves a visit while driving around Crete.
Imagine walking on a four-thousand-year-old structure that emits history in every corner or sign of ruin.
If you like what you see, make sure to also visit the Archaeological Museum of Heraklion, where many findings from Knossos have moved.
Arkadi Monastery
A few kilometers south of Rethymno, you will come across one of Crete's most prestigious and historical monasteries.
Arkadi Monastery was a sight of martyrdom when sieged Greeks decided to bomb themselves after being surrounded by Ottomans during the Cretan Revolution in 1866.
Today, the site is a national sanctuary worth visiting to discover more of its intimate history.
You might also want to read: Complete guide to visit Arkadi Monastery.
Falasarna Beach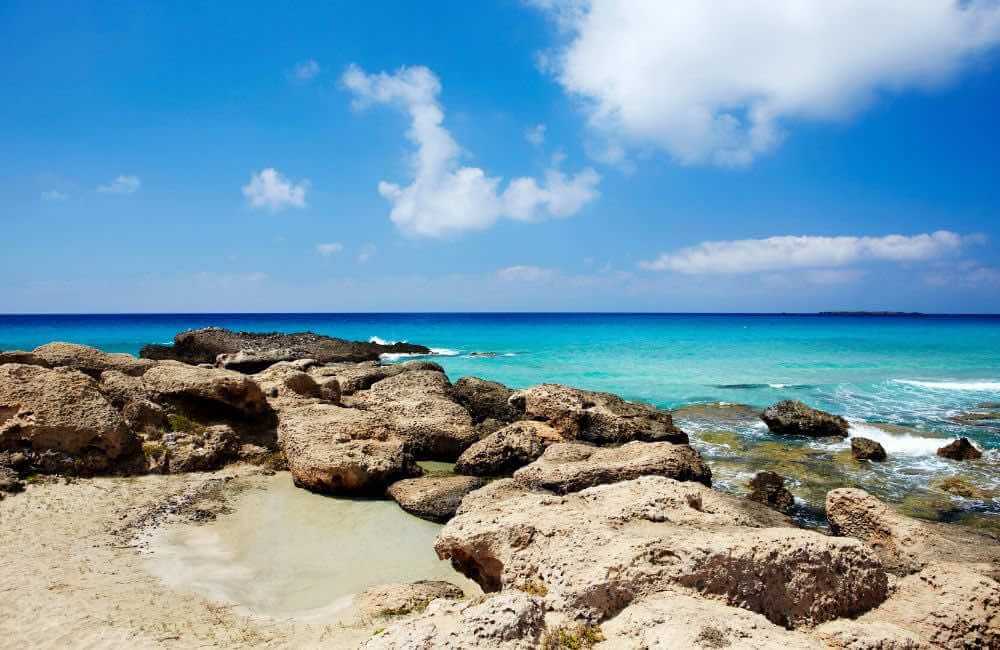 Considered by many the best beach in Crete, Falsalarma Beach has all you ever dreamed of from a Greek beach.
You will be swimming in crystal clear waters, walking in golden sand, and enjoying ecstatic views of the surrounding mountains.
And if you feel one beach is not enough for you, the bay is home to five different beaches that all come by the name of Falassarna.
You might also want to read: Best places to stay in Falasarna (Family hotels and Lux villas).
Malia's Minoan Palace
No matter which stone you move in Crete, a great deal of history hides beneath it. And that is what happens around the modern resort of Malia, east of Heraklion.
Here lies Crete's third-largest Minoan Palace, home to prehistoric houses, streets, theaters, workshops, and royal tombs.
All you have to do is drive to the site and explore its 7500 square meters at your own pace. You will love the whole experience!
Holy Trinity Monastery (Agia Triada)
Traveling Crete by car means that you have the opportunity to explore every hidden corner of the island.
As you do that, sooner or later, you will come across hidden gems that will make you wonder why they are so peaceful and free of tourists.
Holy Trinity Monastery is one such gem that lies 15 kilometers north of Chania, in the Akrotiri Peninsula. It is about a 17th-century Byzantine monastery, which also houses a museum of rare religious work.
Find cheap flights with Skyscanner.
Road Trip Ideas in Crete
Getting on the road in Crete can be a very rewarding experience, driving surrounded by an ever-changing majestic landscape is one of the perks of taking a road trip in Crete.
In the section below you will find some fantastic road trip ideas to have a great time when visiting Crete!
Which car rental service is the best to choose?
If you want to rent a car for your trip and look for the best service, then I am here to help you! Consider choosing Discover Cars for your aims. Discover Cars is an international car rental booking service that is present all over the world. So, you may be sure that you will definitely find the best car for your trip wherever you are!
From Heraklion to Matala
Drive 70 kilometers from Rethymno towards Matala on the southern side of Crete, and prepare for a route full of history and archaeological monuments.
Gortys archaeological site, the Temple of Apollo, Agia Triada, and the Minoan Palace of Phaistos will all be on your way!
Although the ride is full of historical sites, expect to explore natural wonders such as the Labyrinth Cave or Nymphs Waterfall and monasteries like those of St. George Gorgolaini or Panagia Kaliviani.
Above all, make sure to stop over at the picturesque mountain village of Zaros, where you can also spend the night.
If you do, that's a handy opportunity to explore the nearby lake and gorge early in the morning.
And when you reach the end of your route at Matala, remember to head to Matala beach and cool down in its calm waters.
If you still feel like discovering and seeing new things, go to the north of the beach, where you will find a selection of beautiful caves carved out back in the Neolithic Age.
You might also want to read: Red Beach Matala – Guide to Visit.
From Chania to Rethymnon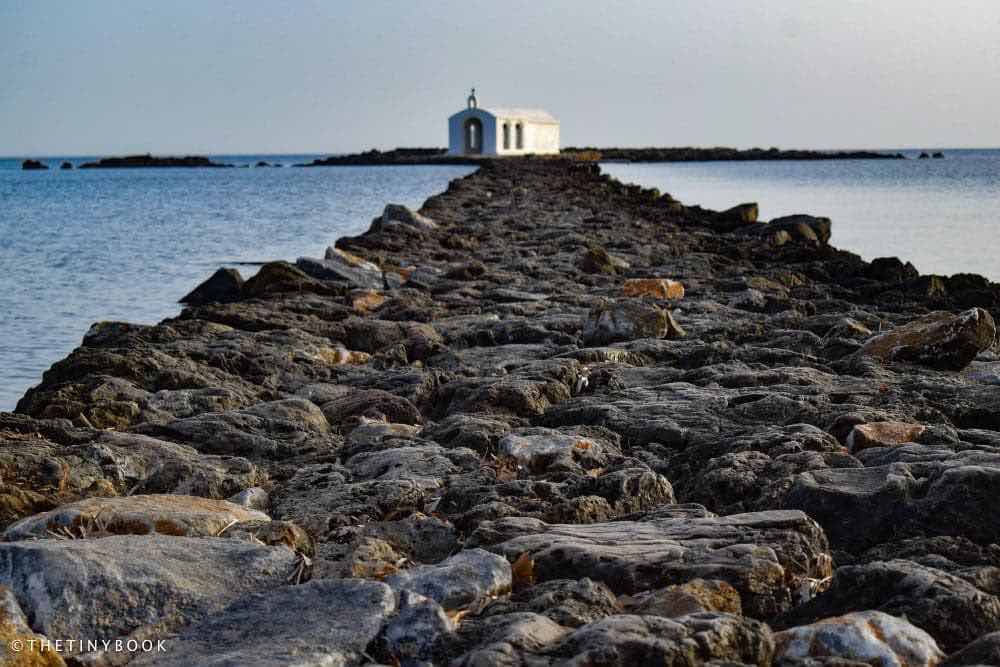 One of the most famous road trips you can take in Crete is no other than from Chania to Rethymnon.
Although you can do the same route on a bus for around €7, nothing beats the fun and freedom of driving your own car.
Let alone that you want to be able to visit the attractions along the way.
Think of beaches like Episkopi, fishing villages such as Kalives and Georgioupoli, and picturesque churches like that of Agios Fanourios near Metohi. And all that in less than 70 kilometers!
If you want to spend a night somewhere between Chania and Rethymno, consider staying near lake Kourna.
There is nothing like waking up and walking around this small yet lovely enclave of water in the shadow of Mount Asfendou and its forest.
You might also want to read: 1-2-3 Days in Rethymnon – Best Things to Do.
From Rethymnon to Plakias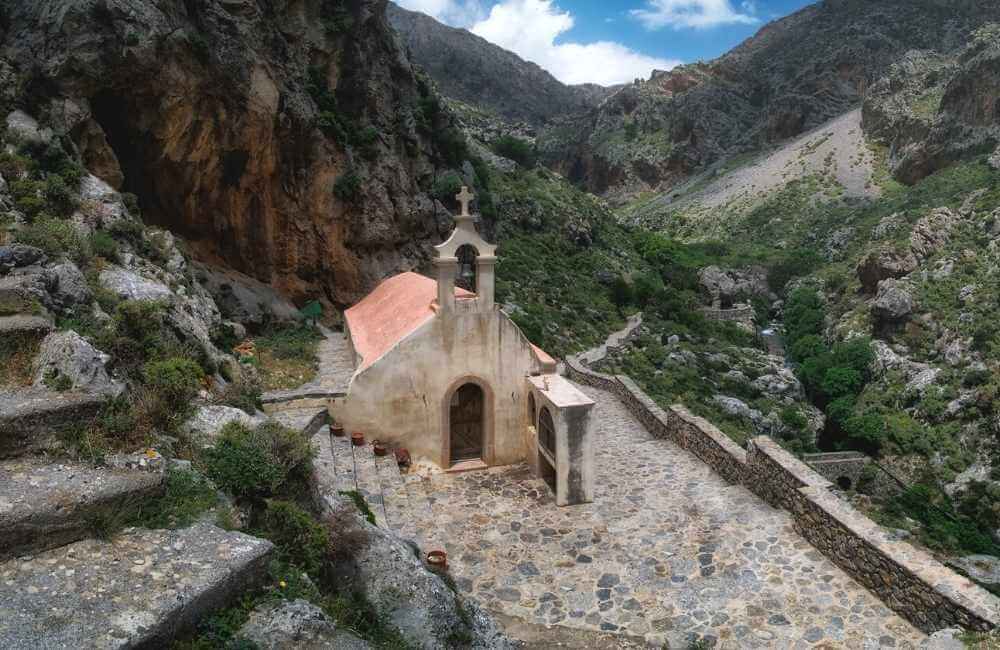 If you are in Rethymno, a must-route you have to take goes through Preveli in the south and then Plakias in the west.
Although there is a fast road from Rethymno to Plakias, you want to take the longer, more scenic path through the mountains around Preveli.
That way, you will have the chance to explore the breathtaking local scenery and visit Kourtaliotiko Gorge! For many, this gorge is as beautiful, if not more, as the more popular Samaria Gorge in the west.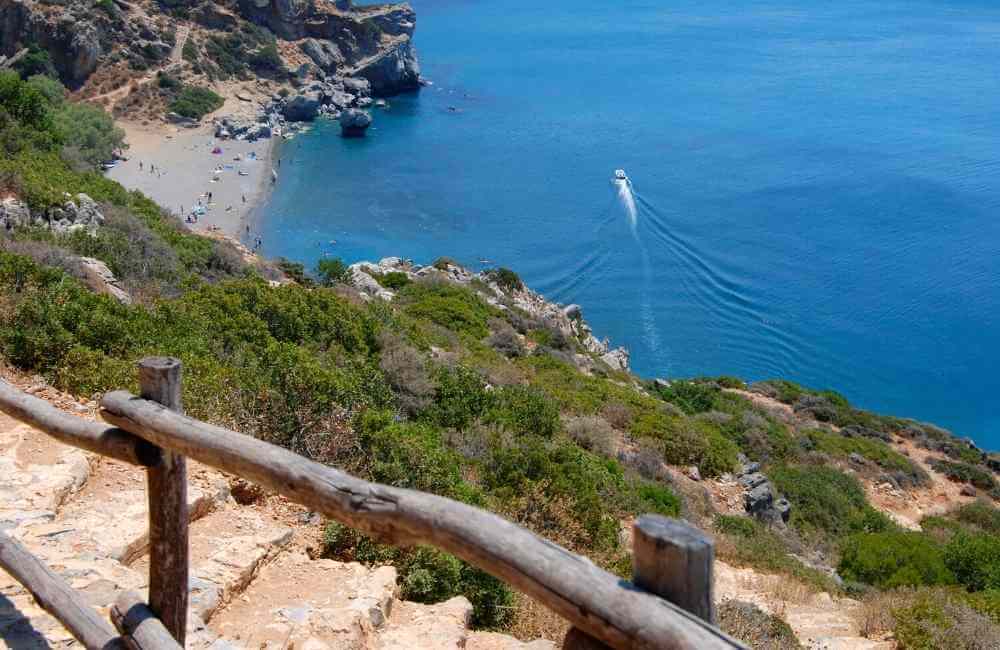 And once you have admired Preveli's lush landscape and mountains, head toward its beach, which is also the endpoint of the Kourtaliotiko gorge.
Relax and take in the exotic scenery all around. This beach is the crossroad between the ocean's blue, the forest's green, and the brown of the mountains. In other words? A nature's canvas like no other!
Finally, your end stop Plakias does not fall far behind in natural beauty. You will have the Libyan sea in your footsteps and the tall Cretan mountains on your back.
And in the middle of it all, Plakias settlement, with its beachfront restaurants and cafes, will be your playground for a holiday experience you will never forget.
You might also want to read: Best Beaches in South Crete.
From Agios Nikolaos to Vai Beach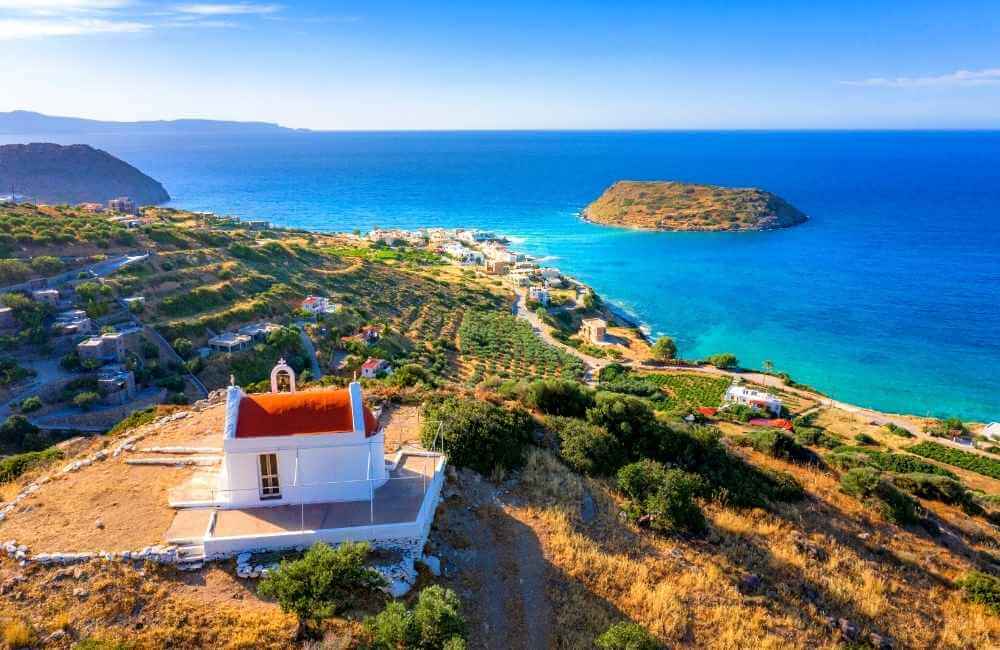 If you want to go a bit off the beaten path, consider driving from Agios Nikolaos to Vai Beach in the eastern corner of Crete.
It is about a 90-kilometer route that follows the northern coastline of Crete and travels you through ever-changing scenery.
Expect to stop by the spectacular Richtis gorge, the seaside settlement of Mochlos, the archaeological site of Gourna, and tens of beaches along the way.
Because there are so many things to see, it might be good to spend a night at Sitia and explore this picturesque little town and its delicious cuisine.
Then, prepare to drive uphill and stop by Toplou Monastery before you descend again towards Vai Beach.
There awaits the highlight of your trip! Imagine a tropical-like beach with palm trees reaching the golden sand and the turquoise waters.
In the end, you will wonder why you did not visit that part of Crete before!
You might also want to read: How to Visit Vai Palm Beach.
From Sitia to Ierapetra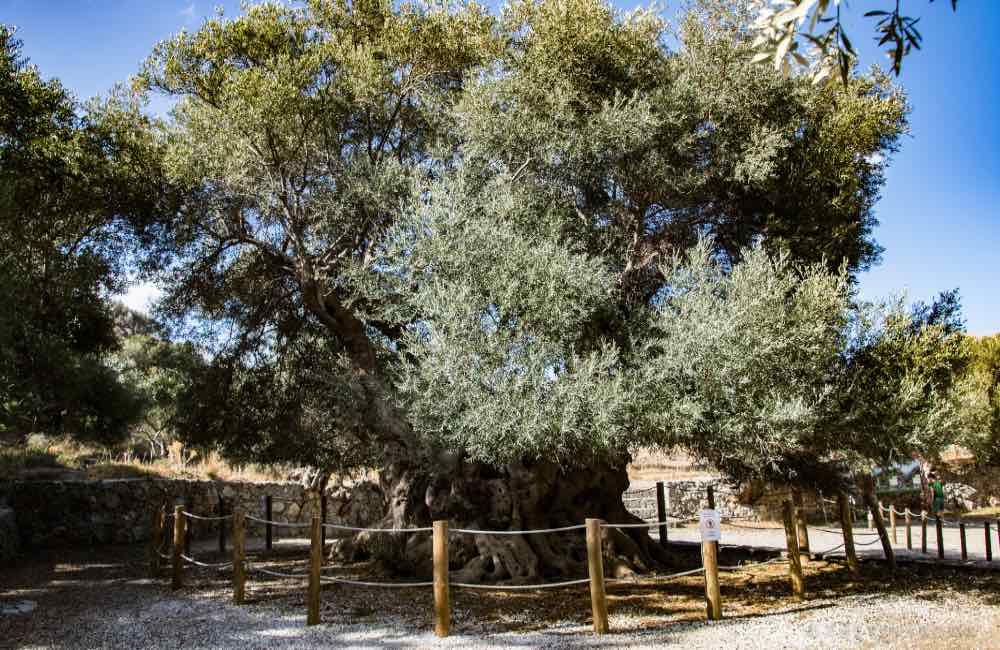 Again in the more secluded eastern part of Crete, a road trip from Sitia to Ierapetra can offer memories that will last a lifetime.
The attractions in the area in between are so many that the biggest dilemma you'll have is which specific route you shall take.
If you follow the northern coastline and take the inland road, you will be driving through scenic routes and in between tall, imposing mountains.
Apart from the must-visit to the spectacular Richtis Gorge, include in your itinerary stops in the traditional mountain villages of Exo Mouliana and Kavousi.
If you instead take the southern route from Sitia to Ierapetra, you will be visiting beautiful coastal beaches and locals seaside settlements.
Think of beaches like Diaskari or Makrigialos and fishing villages such as Makry Gialos, not to mention the amazing Mylonas Gorge and Waterfall.
No matter which route you take, you will not regret the decision. And at the end of your road trip, you will be in the most southerly town in Europe, Ierapetra, famous for its endless sunlight throughout the year!
You might also want to read: Things to Do in Sitia.
From Ierapetra to Matala
If you want to explore a somewhat forgotten part of Crete, a road trip from Ierapetra to Matala will show you a different side of Crete. Although you will be driving along the southern coastline of Crete, more than half of the route is through mountainous terrain.
The first 60 kilometers are flat and pass through the seaside settlement of Myrtos and the region of Viannos.
Here, you will find most of the sandy beaches of this road trip. So, remember to take advantage of them before entering the rocky southern part of Archanes-Asterousia municipality.
Although you can skip all the difficult driving by taking the highway in the north, the fun and the memories pass through the south.
In other words, if you decide to take the challenging yet scenic route, you will come across little traditional villages such as Kaloi Limenes, secluded pebble beaches like Trypiti, and gorges such as Koumos canyon.
This road trip is the one with the most surprises and one that can set you apart from your holiday itinerary. The reason? You'll soon want to extend your stay in this quiet yet spectacular part of Crete!
You might also want to read: Things to Do in Ierapetra.
Are You Ready to Visit Crete by Car?
All in all, driving around Crete is the most efficient way to explore its wonders.
Not only will you have the chance to see popular attractions and take them off of your bucket list, but you will also come across pleasant surprises and sites you have never considered visiting.
Perhaps the most memorable experience of your time in Crete hides somewhere in the remote parts of the island. So, what are you waiting for? Rent a car and go make those memories!
---
Have you made your list of places to visit in Crete by car?
Let me know in the comments below!
You might also want to read these articles about Crete:
Pin this Guide to the Best Places to Visit in Crete by Car!
Written by Dimitrios Tsevremes
Passionate about travel, spirituality, and sports, I have lived in 5 countries and traveled to more places than I have counted. Writing for me is a way to express myself and my creativity. Whether I write for my blog or a freelancing gig, I always fall in love with the process and often lose my sense of time. If you want, you can check out more about me and my work here.
About the author of this blog: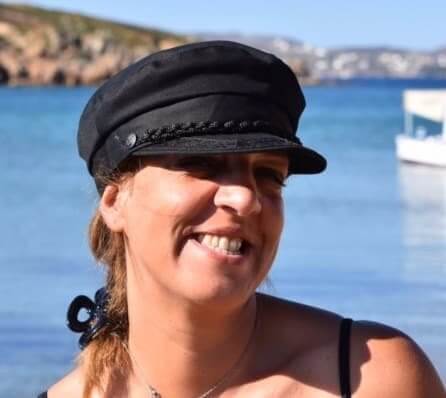 Gabi has been living in Crete for the last five years. On the island, she juggles being a solo mom, hosting culinary tours in summer, translating, and freelance writing.
She's written for Greek Reporter, published several travel guides about Greece, and had more glasses of frappe than any regular person would be able to handle.