How Many Days in Crete… Are you wondering how many days to stay in Crete? Or maybe you are looking for itineraries on this majestic Greek island. Either way, this article is just for you. Keep reading and get closer to turning your Crete holidays into unforgettable memories!
---
Disclaimer: Posts include affiliate links to products or services. I might earn a commission if you make a purchase, at no extra cost to you.
---
Let's Start by Getting Ready for Crete!
RESOURCES TO BOOK YOUR TRIP:
Book your flight: I use Skyscanner to compare prices before booking a plane ticket.
Book your ferry: When ferries are more convenient than air travel, I use Ferryhopper.
Book your accommodation: I've tried many different platforms for accommodation, but none of them beats the advantages of Booking.com.
Book your car: The best way to find an affordable car to rent is to use a powerful search engine that compares all the rental companies in the market. I use Discover Cars.
Book your tours: Live unforgettable adventures and cultural experiences with Get Your Guide. For instance, you can Visit Elafonisi, discover Balos Beach, hike Samaria, or explore Knossos.
Don't forget travel insurance: Things can go wrong at times, but travel insurance will protect you against illness, injury, theft, and cancellations. I recommend Safety Wing for peace of mind.
How Many Days in Crete
How Many Days Do You Need in Crete?
As I have written many times, the island is truly big. So, the short answer is that you need at least five days in Crete to see a good bulk of the island. And if you have set your eyes on visiting every major attraction, think of two weeks at least. Let alone if you want to see all the island can offer.
In an ideal world, you would spend at least a month in Crete. But I guess your boss or work schedule is not yet in that kind of universe, so you may need to compromise a bit.
So, "what about two days in Crete?" you may wonder.
Well, you've compromised more than what is humanly possible. Two days in Crete will feel like going to Disneyland and you have only two hours to see the place. Mission impossible!
But if you insist, feel free to rent a car for two days and start hopping from one major attraction to another.
Remember that your allowance is 5 minutes on each if you want to see everything. Maybe you should leave the engine on.
The bottom line is that you should forget any thoughts of spending two days in Crete if you want to give the island the minimum justice it deserves.
After all, by the time you come and go, you would spend almost an entire day getting in and out of the island, whether you choose to take a ferry or fly to Crete.
You might also want to read: Greek Islands to Visit From Crete – 5 Beautiful Islands Near Crete for a Fun Escape.
Now, planning three days in Crete sounds more reasonable, but still, you may need to rush a lot.
However, if you land in a port city such as Chania or Heraklion, three days are enough to explore an entire town. Just don't hope to go to all the beaches in the area.
If you want to spend at least a day being lazy on a Greek beach while still seeing a few attractions, four days in Crete will do the trick!
You could plan two days in a major center like Elounda and two days for day trips from your base.
Finally, spending five days in Crete probably offers the best balance between quantity and quality.
Sure, you could rush things and go for an intense road trip like this five-day itinerary, but there is undoubtedly room for both relaxation and discovery if you have five full days.
Of course, the more days you stay in Crete, the better your holidays can be, and the more you will love the island.
However, there is a sweet spot and a balance between the number of dates and the fun you will have.
So, if you are still wondering how many days to spend in Crete, the correct answer is it depends on what you want to do and see. In other words, first, choose which places to visit on the island, and the ideal number of days to stay in Crete will reveal itself.
And if you are like most people, you will want to visit more places than what you can fit in your holidays. In that case, you have your answer: stay in Crete as long as you can… or take a second trip to Crete!
When you are unsure what to visit first, make a priority list, group attractions next to each other, and don't plan for more than five activities on the same date.
Best Places to See in Crete
This list can be endless, but let's briefly go through Crete's most important locations and attractions.
Your way to Crete will most probably start in one of the three biggest cities. Heraklion is the capital of Crete and the home of its famous Archaeological Museum.
Rethymno and Chania are smaller towns but have a more charming and picturesque vibe than Heraklion.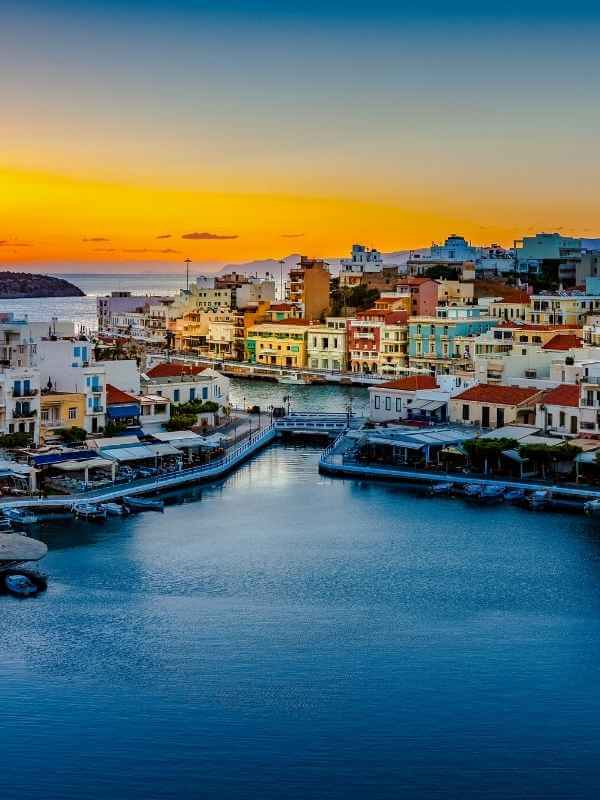 Apart from its main hubs, Crete is full of smaller towns and villages worth visiting or spending a few nights in.
Agios Nikolaos with its scenic Voulismeni lake and the cosmopolitan center of Elounda, are two such settlements worth exploring in the Lasithi region.
Similarly, Ierapetra in the south of Crete makes a perfect base to explore remote beaches and gorges in the area.
You might also want to read: Prices in Crete – Budget Guide for a Convenient Vacation in Crete!
However, if there is one type of settlement that Crete really shines in, it is no other than the small hidden villages, either right by the sea or in the mountains.
Think of places such as mountainous Archanes or seaside Myrtos.
The best way to visit such villages is to rent a car. And when you do, you have unrestricted access to every attraction on the island.
Most importantly, you are free to visit the scenic beaches in Crete! And yes, there are many of them!
The most famous ones are the pink-sandy Elafonisi Beach and Balos Lagoon known for their scenic locations.
Still, these are just the tip of the iceberg of what Crete can offer in terms of raw beach beauty. Falasarna Beach on the west and Vai Palm Beach on the extreme east coast are two places you want to see in Crete!
And then, there are hundreds of other smaller yet equally captivating beaches all over the island.
Southern Crete is especially suited to exploring unique beaches like Preveli, Matala, and Ferma or more unknown ones like Xerocampos and those near picturesque fishing villages.
As much as you'll love spending time on the island's beaches, Crete offers much more than that. First of all, it is an island with a tremendous history that dates all the way from the Minoan times to the Second World War and beyond.
It is no wonder that Crete is full of museums of any kind, whether they are about pure history like the Natural History Museum of Crete, or more pioneering subjects such as the Museum of Ancient Greek Technology.
And don't forget interactive theme parks such as the Cretaquarium or Dinosauria Park, yes… Heraklion can be great for families with kids as well!
However, the most important and monumental historical attraction in Crete is no other than Knossos, the heart of the Minoan civilization.
And if you like what you see, remember Crete is also home to the palaces of Phaistos and Malia, which, although smaller, can captivate you just as quickly.
You might also want to read: 20 Rookie Mistakes to Avoid in Crete – Travel to Crete Like a Pro!
And then, there are the beautiful Cretan monasteries, which are everywhere! Apart from their raw beauty as historic buildings, they have also played an essential role in the life of Cretans for centuries.
In other words, they are great hubs to learn more about local history. Monasteries such as Arkadi, Toplou, and Preveli are worth checking out.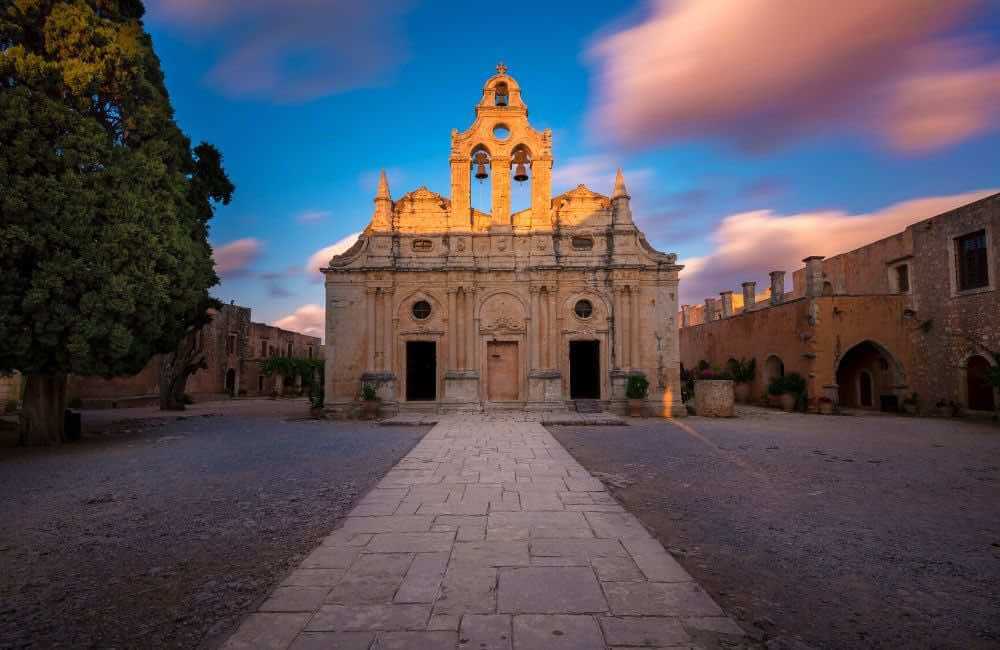 Many lesser-known monasteries hide inside mountains and valleys in remote corners of Crete. When you are in such places, nature will leave you in awe of your surroundings.
Gorges such as Samaria, Imbros, or Kourtaliotiko are places that any nature lover or hiker cannot leave out from their itinerary in Crete.
Honestly, if you want to explore the breathtaking landscape of Crete, a month is not enough. High mountains, valleys, plateaus, lakes, rivers, and waterfalls come together to create a natural paradise second to none!
Do you think that's enough? Well, it probably is, but there's more to it! The island of Crete has its own tiny islands you can explore in a single day!
The two small islands of Koufonisi and Chrissi in the south feature remote beaches and a lush landscape. And so does Gavdos, which is Europe's southernmost point!
In the north, you can visit islands such as Dia near Heraklion or Imeri Gramvousa, close to the scenic beach of Balos.
Finally, the island of Spinalonga opposite Elounda may not be ideal for a day on the beach but is undoubtedly worth a visit for its history as a leper colony.
How Many Days in Crete: Itinerary Ideas for 1-5 Days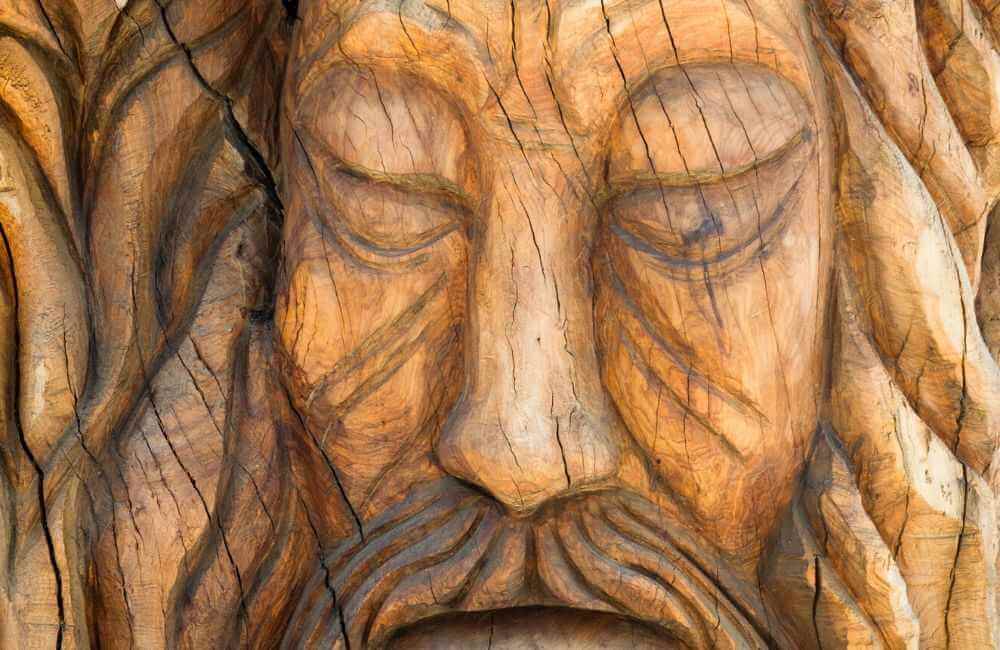 Although the ideal holiday plan depends on your personal preferences and scope of holidays, here are a few itinerary suggestions you may look for inspiration.
Their goal is precisely that: inspiration.
After all, deviating from the plan often offers the most thrilling and memorable experiences on a holiday.
One Day Itinerary in Crete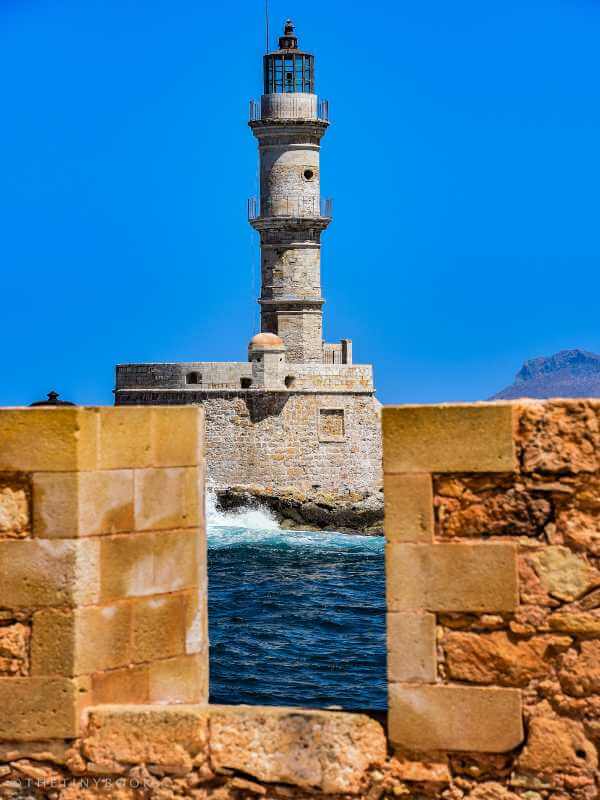 One day in Crete sounds like a joke, but if you insist, Chania is the place to be. You will fall in love with the city's vibe, and a few hours in the historic center will feel you with a good amount of the Cretan charm.
Still, one day? Really? I think we agreed two days already sounded off. You better have a private jet to get you in and out of the island to have some time for sightseeing in between.
So for those few hours you are on the largest island in Greece, plan to visit Chania's old town, watch the colorful Turkish and Italian houses, and take in the views from the Venetian harbor.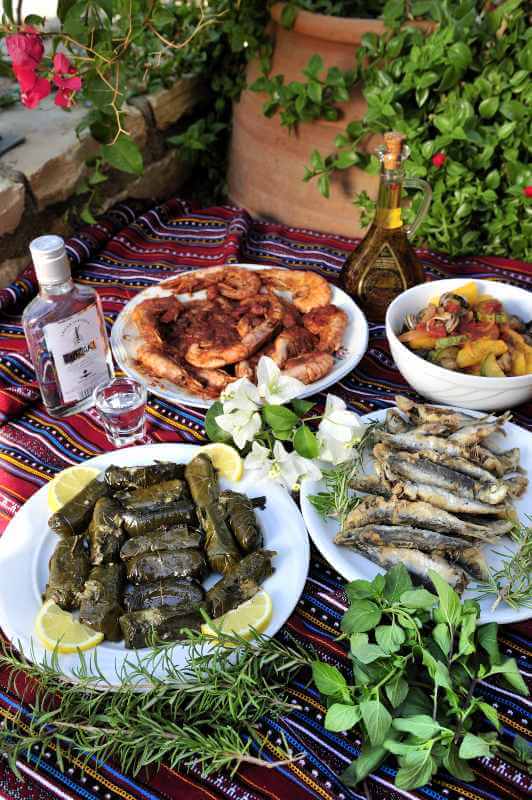 Finally, walk as far as the Egyptian Lighthouse and around the romantic port before you dine in one of the local taverns.
And before your dessert arrives, look for your pilot or the helicopter; you don't want to miss your flight, although you won't regret it if you do.
Two Days Itinerary in Crete
Going back to normal levels of insanity, two days in Crete means you have time to see an entire city! Well, figuratively speaking, at least.
Apart from the obvious choice of Chania, which you explored in the previous one-day itinerary (no, you didn't), Rethymno makes a great alternative, especially since you have only two days.
Spend the first day sightseeing at the historic center and taking in the marvel of Rethymno.
Visit the Old Venetian Harbor with its Lighthouse, head to the Fortress, and see the picturesque Rimondi Fountain.
As you do that, remember to embrace the experience of walking around the ancient alleys of Rethymno's Old Town.
You might also want to read: Chania or Rethymnon – Which Cretan City Should Visit?
Reserve the second day to visit the Church of the Four Martyrs and walk around the local market in the area.
You will enjoy meeting local artisans and connecting with them while you also get that souvenir to remember your holidays, as short as they may be.
If you feel like you have the time, it is worth taking a car or a quick taxi drive to the nearby village of Asteri, only 15 kilometers away.
You will love this historic village for its tranquility and scenic location. You can spend a few hours there and enjoy a drink in a local cafe before heading back to Rethymno.
Three Days Itinerary in Crete
If you have only three days to spend in Crete, you are probably already on a tight schedule, and you would appreciate some relaxing time with some but not much sightseeing.
For such types of holidays, Elounda is the perfect destination in Crete.
It is about a cosmopolitan village with modern and luxurious accommodation options that surround the small and calm beach of Elounda.
Yet, if you stay in one of the exclusive hotels in the area, you will enjoy private access to your own beach!
In other words, allow for two days of relaxation in your resort. After all, you already pay for quality services, so it makes sense to enjoy them.
So stay on the beach, sunbathe, relish in the local cuisine, and blend with other guests who do the same.
It might be a good idea for the third day to take a private boat trip in the area. Not only can you explore and learn the history of Spinalonga island in the area, but you will also get to visit remote beaches that will leave you breathless.
A quick guide to the best hotels in Crete
Budget: So Young Hostel in Heraklio, Cocoon City Hostel in Chania, Matthias Hotel Apartments in Rethymnon, and Villa Galini in Agios Nikolaos.
Mid-range: Capsis Astoria Heraklion in Heraklion, Porto Antico in Chania, Archipelagos Hotel in Rethymnon, or Hotel Port 7 in Agios Nikolaos.
Luxury: Galaxy Iraklio Hotel in Heraklion, Hotel OFF in Chania, Avli Lounge in Rethymnon, or Minos Beach Art Hotel in Agios Nikolaos.
Check more: Where to stay in Crete.
Four Days Itinerary in Crete
Land in Chania, and spend the first day exploring one of the most picturesque towns in Crete. You will love walking the Venetian harbor during the evening and seeing the light-lit city in the foreground.
After you dine, follow the music and visit one of the local bars for a romantic experience in the heart of Chania.
The next day, join an organized hike and descent the Samaria gorge, the longest canyon in Europe.
It will make for one of the most memorable experiences of your holiday, thanks to the exotic landscape and spectacular views you will enjoy along the way.
Just remember to bring with you enough water, a good pair of hiking shoes, and some swimming suits if you want to dive into the water at the end of the hike.
You might also want to read: Camping in Crete – Where to Camp in Crete + 3 Tips To Have Outdoor Fun!
You will be a bit tired or sore on the third day, so grab that chance and call it a lazy day on the beach.
Agia Marina is a beach close enough to Chania, but if you want to make the most of the day, prepare to drive a few extra kilometers to reach the spectacular shore of Balos Lagoon.
Even a single selfie or photo will make up for the one-and-a-half-hour trip from Chania. If you notice the beach is too busy to stay more than a couple of hours, head to the sandy beach of Falasarna a bit further south.
Reserve the fourth day for a longer day trip to Elafonisi beach in the south. The location will leave you in awe from the first second until the moment you leave.
There's nothing like walking in pink sand with stunning shallow waters.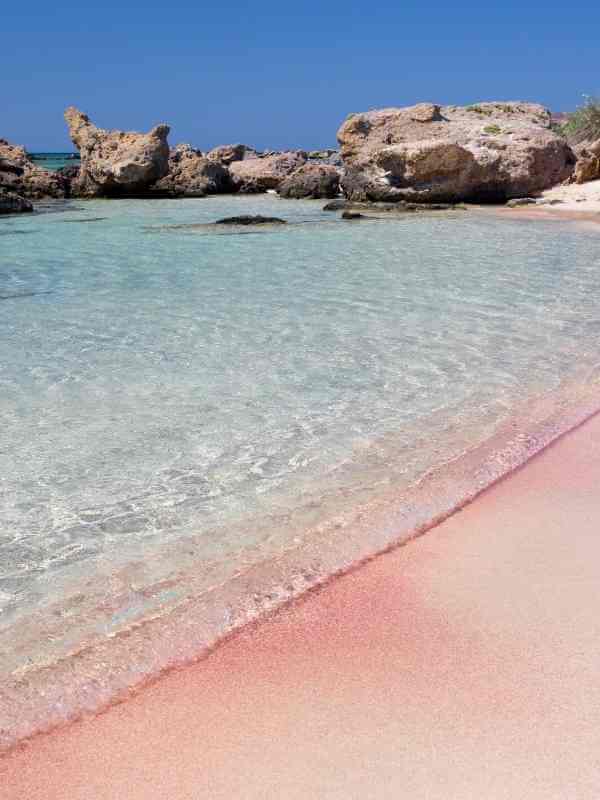 Thankfully, the way from Chania to Elafonisi beach is equally scenic and worth exploring in its own right.
To make the most of it, first, follow the inland route through a picturesque ravine, and on the way back, choose the coastal road, which is even more magnificent at sunset.
Five Days Itinerary in Crete
Although this 5-day itinerary covers a good bulk of the west and central Crete, there is still much more to see on the island. And East Crete, as unpopular or unvisited as it may be, is equally worth exploring for five days or more.
Start your journey in Heraklion. First, walk through the main attraction in the capital, such as Loggia and the fantastic Lion's Fountain.
Then head straight into the Archaeological Museum of Heraklion, where you will also witness the notorious disk of Phaistos, an unprecedented archaeological mystery like no other.
Equipped with the knowledge from the museum, drive to the nearby Minoan Palace of Knossos, which is second in visits only to the Acropolis.
And that is for a reason. The site carries a fascinating history that dates back thousands of years and is still partially standing.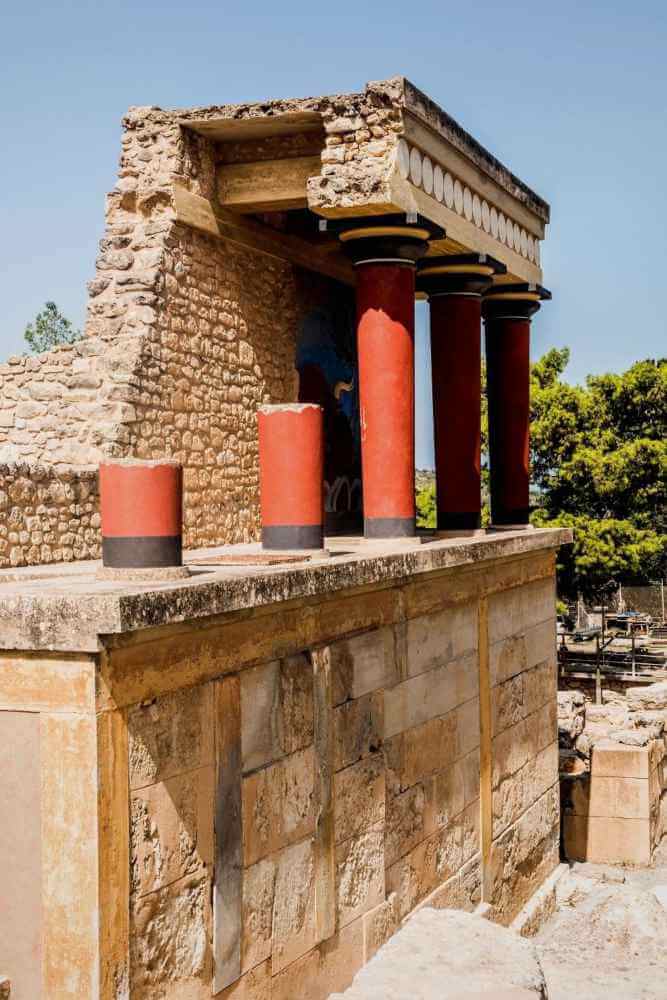 On the second day, head towards Ierapetra, which will be your base to explore southeast Crete. On the way there, pass through the popular Hersonissos resort to have breakfast by the beach or swim in these famous waters.
After, plan for at least a couple of hours in Agios Nikolaos. You will love walking around the village and taking in the views from the local lake.
Then, have a Greek lunch in the square while you overlook locals and tourists come and go.
Finally, the end destination for the day is Ierapetra, which although not the capital of any region, is the fourth most important city in Crete.
Once you have checked in your room, head toward the Venetian Fortress and explore the former mosque with its lovely fountain in the courtyard.
For the third day, plan something special and leave the car at your hotel. Instead, join a boat trip and visit Chrissi island in the south! It will take about one hour to get there, but the island will reward you for every second!
Chrissi is full of remote beaches and fractures with unique topography. No wonder it is a protected reserve rich in both flora and fauna. Every nature lover will find their true calling here!
Plus, once you need a break from all the exploring, relax on the main beach of this uninhabited island, where you will find sunbeds and umbrellas from a beach bar!
You might also want to read: Best Resorts and Spa Hotels in Crete for a Relaxing Getaway.
For the fourth date, plan for a day trip to the exotic Vai Palm Tree beach in the extreme east of the island.
Often ranked among the top beaches in Crete, Vai will captivate you with its calm sea, sandy bay, and unique setting its pine trees provide.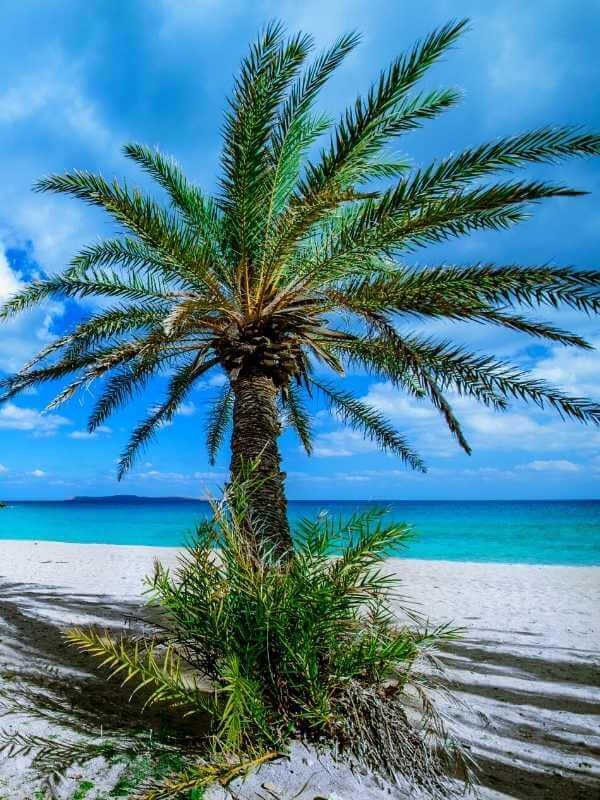 However, like always in Crete, the journey can be even more fascinating than the destination.
For that reason, grab this chance to visit the seaside town of Sitia and the Holy Monastery of Toplou along the way. In the latter, you can even try wine tasting next to all the sightseeing and photos you will take.
Finally, save the fifth and final day of your itinerary in Crete for exploring the lesser-known beaches and coastline of South Crete around Ierapetra.
Whether you go east or west along the south coast, it won't be long until you come across a virgin beach you can have all for yourself!
For example, Xerokampos is one region east of Ierapetra full of deserted beaches with crystal clear waters that you'll love exploring.
After that day in Crete, you'll wish you had more time to see more of this spectacular island!
7 Tips for Your Itinerary in Crete
Planning an itinerary in Crete is no easy feat, as you may have noticed already. There is so much worth seeing that can make it hard to choose.
Here are seven tips that can help you in the process and elevate your Crete holidays!
1. Renting a car is the best way to get around Crete
No matter how many days you want to stay in Crete, renting a car can help you see more things in less time.
Crete is too big and too awesome to only stay in one place unless, of course, you visit the island for one or two days.
2. Choose an area and stick to it
Crete has four central regions, and each is worth your attention. However, if you want to make the most of your holidays, you are better off choosing one area and sticking with it.
That way, you will experience a lot more than if you would attempt to sightsee the entire island.
3. Don't overlook the small towns and villages
Much of Crete's beauty hides in smaller towns and unknown villages in the countryside.
Those places are cheaper, and they also give you a feel for what life in Crete looks like outside of the main tourist hubs. For that reason, don't skip a settlement only because it is not popular.
4. Make sure you walk
As much as a car in Crete is necessary for your Crete holidays, being prepared to walk is equally important. After all, the car is just an end to a means.
Once you arrive at your destination or a random attraction you stumble upon, leave the car, and walk around! That is the best way to experience the raw beauty of Crete, especially when it comes to nature.
5. Visit a local winery
Crete is full of vineyards, and that is for a reason. Cretan grapes and wine are so good that you would love to try them from the source.
Not only will you get to taste different types of wines, but you will also learn a lot about how locals produce this delicious drink.
Find cheap flights with Skyscanner.
6. Plan for some flexibility
Whereas you may not be able to extend your stay in Crete, prepare to alter your schedule if something fun comes up.
Maybe you like a place too much, and you want to stay a bit longer. Or you meet some people, and you want to join them for a while. No matter your plan, allow for some flexibility.
7. If you don't have fun, you're doing something wrong
You are spending your holidays in Crete because you want to have some time off, relax, and see a few new places.
Holidays are not supposed to be anxious about whether you will manage to view all attractions in your area. In the end, remember your priority is to have fun, not to honor your itinerary.
So… Have You Decided How Many Days in Crete?
I hope this guide helped you choose how many days to stay in Crete. If you think that a longer stay would suit you better, check this 3-week itinerary that can easily be made into a 2-week trip.
Again, an ideal number would be at least five days, but you can bring it down or up if you wish. As you have seen, there is so much to see and do in Crete that even a month won't be enough.
In short, you have every reason to come back to Crete when you can. But I don't need to tell you that. You will most probably dream about your return to the island on your way home!
How many days are you planning to spend in Crete?
Let me know in the comments below!
You might also want to read these articles about Crete:
– Water Sports in Crete – A Guide to the Best Sea Activities on the Island.
– Best Places to Stay in Crete – An Insider's Guide to Where to Stay on the Island (2022 Update).
– Spectacular Places to Visit in Crete by Car and Road Trip Ideas! – Itineraries to See Crete with a Car.
– Where to Stay in Crete For Beaches – A Guide to the Best Places and Hotels in Each Region.
– Frequently Asked Questions About Crete – All You Need to Know About the Island.
How Many Days in Crete… Pin This Guide to Read it Again!
Written by Dimitrios Tsevremes
Passionate about travel, spirituality, and sports, I have lived in 5 countries and traveled to more places than I have counted. Writing for me is a way to express myself and my creativity. Whether I write for my blog or a freelancing gig, I always fall in love with the process and often lose my sense of time. If you want, you can check out more about me and my work here.
About the author of this blog: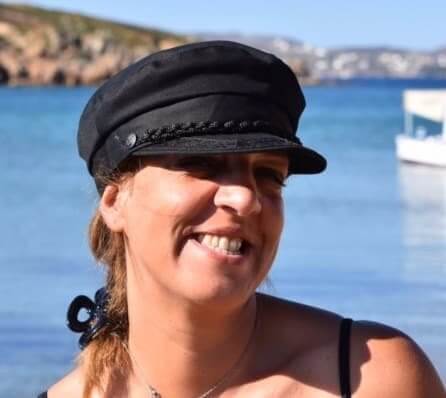 Gabi has been living in Crete for the last five years. On the island, she juggles being a solo mom, hosting culinary tours in summer, translating, and freelance writing.
She's written for Greek Reporter, published several travel guides about Greece, and had more glasses of frappe than any regular person would be able to handle.
COMING TO CRETE SOON?
Get in touch and let me know!