Are you looking for the best things to do in Heraklion with children? Do you simply want to know if Heraklion is a great place to visit with the family? No matter what your answer is, here we tell you everything you need to know if you're planning to visit Heraklion with children… because the capital of Crete is a super family-friendly destination.
---
Disclaimer: Posts include affiliate links to products or services. I might earn a commission if you make a purchase, at no extra cost.
---
Fantastic Things to Do in Heraklion with Children
The capital of Crete is one of those places that you need to visit when discovering the island, no matter if you'll do it for just a couple of days or a whole week… Heraklion must be part of your Crete itinerary!
Even more so, if you're traveling with kids!
There is a lot to for in Heraklion for children, including fascinating archaeological sites, educational activities, fantastic theme parks, and countless adventurous activities.
If you're wondering what to do in Heraklion with kids, these are the best answers. In no particular order, as usual, where to go in Heraklion for kids to have tons of fun!
Explore the Palace of Knossos with the Kids
The Palace of Knossos fascinates kids and adults alike, it is a marvelous journey in the past of the island and the whole western civilization that will ignite your child's curiosity.
I always recommend parents to prepare the kids for what they are about to witness, many with the right books or even by first visiting Labyrinth Park, near the town of Heraklion.
It is also a good idea to book a tour that is completely geared for families so that kids feel involved and can not only have fun but also take advantage of an educational experience.
This tour, for instance, is focused on myths and legends. It's a family-friendly shared tour for kids interested in or fond of Greek Mythology, describing the heroic deeds of mythical heroes and more.
More details of this family-friendly tour of Knossos:
– A guide takes you through the Palace of Knossos with its numerous chambers unraveling the Greek Myth of the Labyrinth of Knossos and its Minotaur.
– You'll see the throne of King Minos, the beautiful dolphin apartment of Queen Pasiphae, and the road taken by Theseus upon arrival to Crete from Ancient Athens.
– You'll have the opportunity to touch, feel, see the legends and myths of Ancient Greece and Minoan Crete!
– You'll explore with a tablet which, through a special app, can see a representation of the site as it was in the past.
Check more details of the tour here.
You might enjoy: Best Tours of Knossos for Every Budget and Travel Style!
If you want to get prepared before visiting the premises, you can also read everything about the things you'll see during a visit to Knossos, and get even more reading checking what's the best outfit to wear in an archaeological site for everyone in the family to enjoy a comfortable visit.
Marvel at the Submarine World in CretAquarium
One more interesting place to visit in Heraklion is CretAquarium, the only aquarium on the island. It is not super big, and it can be seen in about 2 hours.
The aquarium oftentimes programs special activities, so checking their website for more details before the visit is always a good idea.
The venue is located about a 15-minute drive east of Heraklion, in the village of Gournes.
Kids 0-4: free entrance
Adults and kids 5-17: €6
Winter opening times: Nov. 11 – March 31 – 9:30 am – 4:00 pm daily
Summer opening times: April 4 – Oct. 31 – 9:30 am – 7:00 pm daily
Take the Kids to Pay a Visit to the Best Museums in Heraklion
One of the places we've visited more than once in Heraklio is the Archaeological Museum.
It is one of the most important museums in Europe, covering over 5500 years of Crete's history, spanning from the Neolithic period (7000 BC) to the Roman times (200 AD).
There are interesting exhibitions with many objects belonging to the Minoan era.
The visit can be perfectly paired with a day at the Palace of Knossos for the children to learn even more and understand how advanced this civilization used to be.
To plan the visit and know exactly what to expect, head to this visit guide that I prepared for families, which includes ticket prices and visiting hours as well.
The city of Heraklion has many other museums that are perfect for a family visit. Children visiting Heraklion always enjoy spending time at the Museum of Natural History.
The exhibition features dedicated areas for kids, with activities that provide entertainment and learning opportunities.
Children can learn and discover interesting facts spanning from dinosaurs, caves, boats, and wildlife in the Mediterranean to holograms and physics experiments.
The thing that my kids always enjoy is the earthquake simulator, fun and educational for the whole family.
Have Fun in Heraklio's Theme Parks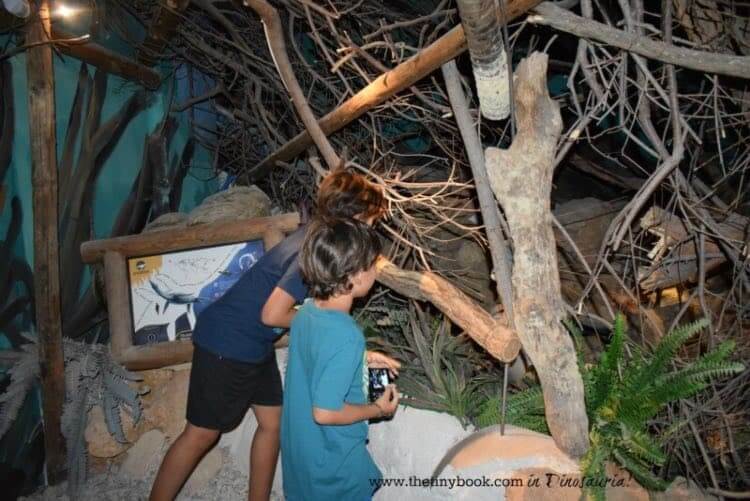 Another place that kids enjoyed a lot during one of our several visits to the capital is Dinosauria Park, a theme park with dinosaur replicas and animatronics, which also features a fossil museum, interactive games, and even 5D cinema. I've reviewed our visit here.
The place is located in the same area where CretAquarium is, both sites are no more than 5 minutes apart by car, so both could be seen on a day.
Visit the official website
Labyrinth Park is another great theme park in Heraklion where children will be able to discover a lot of information regarding the Minoan civilization and the culture on the island.
On the premises, there are several labyrinths to enjoy, as well as a farm, a fantastic laser maze, archery and pottery lessons, a mini-golf, and a lot more.
The place is perfect for a whole afternoon, ideal when it is cloudy and there's no opportunity to visit the beach.
You might enjoy: Best Things to Do in Heraklion with Kids: The Labyrinth Park.
Watersports in the Beaches on the Northern Coast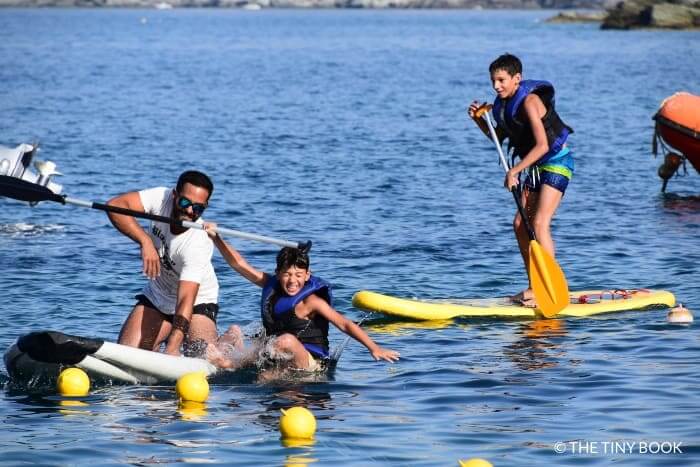 The northern coast of Heraklion is a good place to have your kids give a try at all the water sports that they can enjoy on the island.
If you have small kids, it is better to head to small and protected bays, such as Ligaria or Agia Pelagia.
In the area of Agia Pelagia, the small cove Psaromoura Beach offers different water-related activities that are perfect for kids of all ages.
In this article, I describe all the best beaches in Heraklion, Agia Pelagia is also included.
While kids have fun, parents can join their kids in different boat rides, including SUP and canoeing, they can also go snorkeling o scuba diving, or simply relax under the sun or have a refreshing glass of iced coffee.
Explore the Koules, the Fortress by the Sea
Back in the city of Heraklion, children will love to spend time in the imposing Koules, a Venetian Fortress located in the old port of Heraklion, right by the sea.
The visit allows the whole family to access the different chambers in the castle, check different remains and ammunition, and also access the roof of the fortress, for impressive views over the city landscape.
The details regarding the visiting hours and the entrance fee can be found on the website of the fortress. Please check prices before the visit on the official website.
VISIT TIP: I've seen a different fee (much lower) published on many "informational sites about Crete" that is completely different from the official entrance fee that you will see on the site. Always check the official information!
Relax with the Kids in Matala Beach
I might be biased, but I love Matala! It is one of our favorite places on the island for summer, really child friendly, and one of the nicest seaside resorts for those visiting Heraklion with children.
We've been to Matala several times and I find that Matala is also a fantastic destination for single parents.
The hippie coastal village offers plenty of opportunities to have fun on the colorful streets, in the ancient caves, and on the beach as well.
In the nearby area, the imposing Archaeological Site of Phaistos is a great place to visit for more info about the Minoan past of the island, and you can also take the children to visit the Archaeological Site of Gortyn (both described in this article).
You might enjoy: The Most Exciting Things to Do in Matala
Last summer, we also hiked to Red Beach, a wonderful shore that you can only access on foot.
It was an exciting experience and the kids loved the adventurous trail and the pristine sandy beach with clear waters, much more kid-friendly than the shore in Matala!
Also, during June, Matala hosts one of the most important summer music festivals in Greece, you can read about that and many other fun festivals in the Heraklion region in this post.
Take a look at the post because many of the festivals can offer excellent entertainment for the kids when you have no idea about what other things to do in Heraklion with children.
Take a Break in a Waterpark!
There are several water parks in the region of Heraklion, Watercity is in the village of Anopolis, about 20 minutes from Heraklion. The park offers a wide range of water entertainment for adults as well.
There're two pools and slides for kids, but also more than 15 other water games, some for older kids and adults. You can check an exhaustive list of water games here.
Watercity has special rates for kids, different food bars, and a mini-market. But most importantly, there're fully trained lifeguards for any emergency.
You might enjoy: Safest beaches in Crete for kids
There are other water parks to check when visiting Heraklion with children, Acqua Plus has water games, extreme slides for adults, and areas safer for small kids.
There's also a special place to relax. The park is a few minutes from the center of Hersonissos, between the villages of Stalis and Gouves, check the facilities here.
There're specially trained lifeguards, changing facilities, bars, and a restaurant.
Always in Heraklion, close to Ammoudara beach, Bravo Water Park is smaller than the previous two and with fewer options for adults. It's possible to check for fees and other services in this link.
Live the Minoan Experience!
Video courtesy of Minoan Theater – Minoiki Avli, The Minoan Experience.
Finally, another place to visit is the Minoan Theater, located in an Equestrian Club in the village of Karteros, a few minutes from Karteros Beach and Anissos Beach.
The area features cultural activities, including a Minoan Theater where it is possible to get a close-up look at some of the few unveiled mysteries of this enigmatic civilization. If you feel like having some extra fun with your children, this is a great place for learning and entertainment.
On the premises, you can also learn about the authentic traditions of the local diet or gather more information about the horseback riding academy. On their website, there is information regarding entrance fees and opening hours.
Relax at an Isolated Beach
The beautiful beaches on southern Crete offer plenty of opportunities to leave the chaotic northern coast behind, and they are great for relaxing and games on the beach.
Not far from Matala, the beautiful beach of Kamilari is one great child-friendly beach that I always recommend to visitors to explore while spending time in Matala.
More details about this and other beaches on southern Crete here.
Have Fun Discovering the Street Art in Heraklion with Children
Kids love to visit those areas in town that are off the beaten track. In Heraklion, head to the district of Lakkos to have a fantastic street art experience that kids and parents alike will enjoy
The whole area has undergone a renewal project under the name Lakkos Project, a cultural work that saw local artists and the Heraklion Municipality working together to upgrade this old Heraklion district, aiming to bring back to life this fascinating, historical area.
Lakkos is in the center of Heraklion's old city. next to the new Cultural Centre. Many of the narrow streets feature beautiful murals, and there are several traditional cafeterias and taverns to stop for a snack.
This is a safe and super interesting neighborhood to visit with the family. The project is explained in more detail here.
So there you go, some of the most interesting and entertaining things to do in Heraklion with children of all ages, fun and educative for parents as well!
Best Hotels in Heraklion
Affordable: Candia Studios & Rooms or Rea Hotel in the city center.
Mid-range: Capsis Astoria and Veneziano Boutique Hotel in town.
Luxury: GDM Megaron H. M. Hotel or Galaxy Iraklio in the center.
Check also Heraklion Accommodation Guide and Best Places to Stay in Crete.
RESOURCES TO BOOK YOUR TRIP TO CRETE:
FLIGHTS: Use Skyscanner to compare prices before booking a plane ticket.
FERRIES: Check out Ferryhopper for convenient ferry tickets.
ACCOMMODATION: Look for hotels and rental homes on Booking.com.
PRIVATE TRANSFER: Welcome Pickups offers local English-speaking drivers, flight monitoring, and a very convenient (flat) pre-paid fee
CAR RENTAL: Use Discover Cars to find an affordable car to rent.
TOURS: Live unforgettable adventures and cultural experiences with Get Your Guide.
INSURANCE: If things go wrong, you'll get coverage against illness, injury, theft, and cancellations. I recommend Safety Wing for peace of mind.
After reading this post, which looks like your favorite thing to do in Heraklion with children?
Let me know in the comments below!
You might also want to read these other articles about Crete:
– Unmissable Things to Do in Crete – A guide with over 50 incredible things to do on the island.
– Fun Things to Do in Crete with Kids: Getting Ready for a Fantastic Family Vacation! – A guide to getting ready to visit Crete with the children.
– The Best Things to Do in Chania with Children for a Super Vacation in Crete! – A guide by all the kid-friendly activities in Chania.
– Cool Things to Do in Crete with Teens– A guide for families visiting Crete with teenagers and things for them to do on the island.
– Discover + 45 Most Gorgeous Beaches in Crete (A guide by an insider! – A thorough guide to visit the best beaches in Crete.
This Belongs to a Board! Pin This Guide to the Best Things to Do in Heraklion with Children!
About the author of this blog: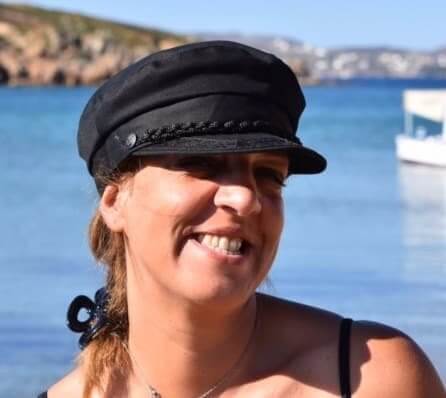 Gabi has been living in Crete for the last six years. On the island, she juggles being a solo mom, hosting culinary tours in summer, translating, and freelance writing for several travel blogs.
She's written for Greek Reporter, published several travel guides about Greece, and had more glasses of frappe than any regular person could ever handle.
COMING TO CRETE SOON?
Get in touch and let me know!
---