If you need a break from all the stunning beaches, refreshing swimming pools, and the unique archaeological sites of Crete, or if you're wondering what are the things you can do in Heraklion with kids, you should know that there's a theme park in Crete that might be what you're looking for, Dinosauria Park! In this article, I will tell you all about our visit to this prehistoric experience!
---
Disclaimer: Posts include affiliate links to products or services. I might earn a commission if you make a purchase, at no extra cost to you.
---
Dinosauria, an interactive theme park in Crete
One of the many activities that families can take advantage of, and that certainly our own family enjoyed on Crete was a visit to Dinosauria. Dinosauria is an interactive theme park, not far from the capital of the island, where kids and adults can learn all about dinosaurs; it's located in Gournes, just 15 km away from Heraklion.
The theme park features a fantastic museum, great fossil replicas, and animatronics. Besides, each stage of your visit includes very exhaustive information boards. The park displays the creatures along a natural trail within an accurate recreation of their environment.
Among the many replicas, kids loved the T-rex, the velociraptor and the triceratops. Other models include the oviraptor, the stegosaurus, the mosasaurs and mammoth, of course!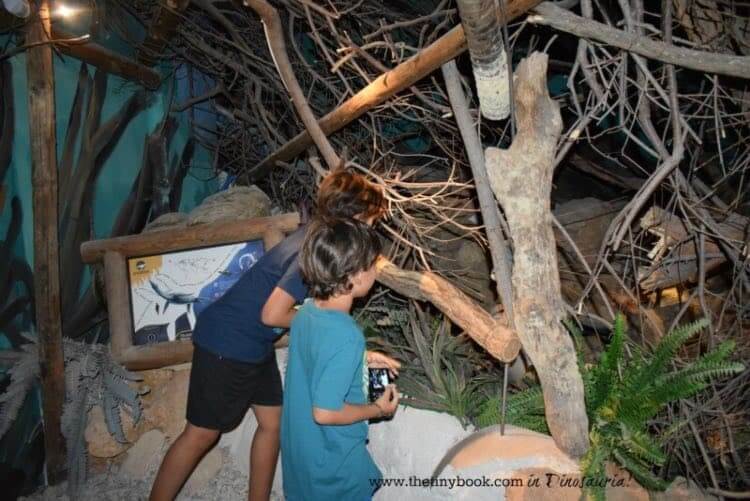 Dinosaur General Hospital
Next, you can find the Dinosaur General Hospital, a section inside the park were well-prepared staff explain kids differences about the species as well as show how life began for dinosaurs. Children will enjoy the hi-tech labs for dino egg hatchery, as well as the special treatment being given to newly born creatures and injured ones too!
Moreover, there are spaces specially devoted for creative activities, workshops and a sandbox for kids to pretend they're archaeologists discovering hidden bones and treasures.
Movie Theater
A 5D cinema features themed films (an extra fee applies) which kids enjoy after a long walk through the past in the dinosaur garden. Finally, at the end of the trail, a Dino Snack Bar will be waiting for parents to enjoy snacks and drinks while kids keep having fun in the playground.
A dinosaur gift shop has a variety of educational games at very convenient prices. Get your Archaeology Level One Diploma at the end of the tour head to the CretaAquarium, right after. This wonderful marine environment is just around the corner. Or even pay a visit to the magnificent archaeological site of Knossos. Anything you choose will be a great way to end your fun and different day on the island.
Therefore, remember, the weather is very hot during the Summer months, don't forget your hat and your water bottle wherever you might be going!
Planning a Visit to Dinosauria Theme Park
Dinosauria, International Exhibition Center
Gournes, Heraklion, Crete (+30) 2810 332089
Have you visited any theme park in Crete?
Let me know in the comments below!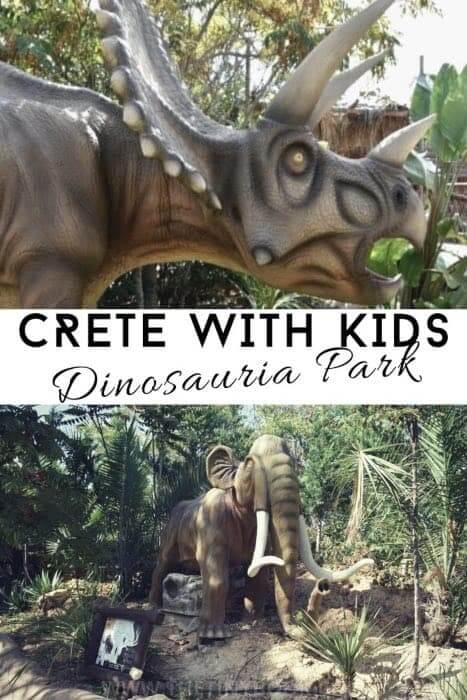 About the author of this blog: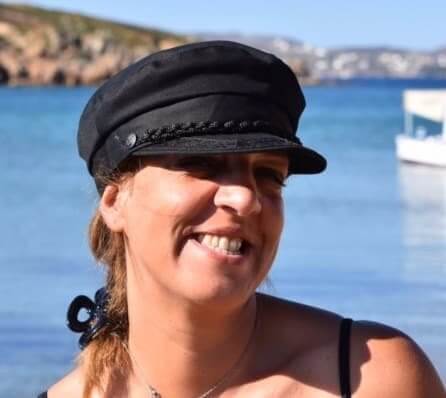 Gabi has been living in Crete for the last five years. On the island, she juggles being a solo mom, hosting culinary tours in summer, translating, and freelance writing.
She's written for Greek Reporter, published several travel guides about Greece, and had more glasses of frappe than any regular person would be able to handle.