Are you looking for the best things to do in Chania with children? Or want to know whether Chania is a family-friendly destination. Either way, this article is for you. Keep reading to discover the most unmissable things to do in Chania with your children, and see how fantastic your family holidays in Chania can be.
---
Disclaimer: Posts include affiliate links to products or services. I might earn a commission if you make a purchase, at no extra cost to you.
---
Let's Start by Getting Ready for Crete!
RESOURCES TO BOOK YOUR TRIP:
Book your flight: I use Skyscanner to compare prices before booking a plane ticket.
Book your ferry: When ferries are more convenient than air travel, I use Ferryhopper.
Book your accommodation: I've tried many different platforms for accommodation, but none of them beats the advantages of Booking.com.
Book your car: The best way to find an affordable car to rent is to use a powerful search engine that compares all the rental companies in the market. I use Discover Cars.
Book your tours: Live unforgettable adventures and cultural experiences with Get Your Guide. For instance, you can Visit Elafonisi, discover Balos Beach, hike Samaria, or explore Knossos.
Don't forget travel insurance: Things can go wrong at times, but travel insurance will protect you against illness, injury, theft, and cancellations. I recommend Safety Wing for peace of mind.
The Most Amazing Things to Do in Chania with Children
Kids will enjoy everything there is to do for them in Crete, but Chania will certainly be an unforgettable memory, if you're wondering what to do in Chania with kids, these are the best answers (no particular order!)
Stroll Around the Old Town
Exploring Chania Old Town on foot is very easy! Many monuments date back to Venetian, Ottoman, and Egyptian times.
The Venetian Port in the Old Town of Chania has been one of the most valuable economic headquarters of the Eastern Mediterranean Sea.
There you'll have the chance to admire the charming Egyptian lighthouse, built by Venetians and then modified by Egyptians in 1839. This is worth a visit for you and your family.
Opposite the beautiful lighthouse, you'll see the impressive Fortress of Firkas.
From there, you can enjoy a breathtaking view of the Harbor, the old town, and the White Mountains, which take their name for the white limestone terrain that glows under the Cretan bright sunshine.
If you want to see the first mosque built by the Ottomans in Crete, you can't discard the Giali Tzamisi on your tour of Chania. Your kids will love to dive into the past!
This is an example of Muslim architecture that today serves as a venue for diverse exhibitions.
Take a Glass-Bottom Boat Ride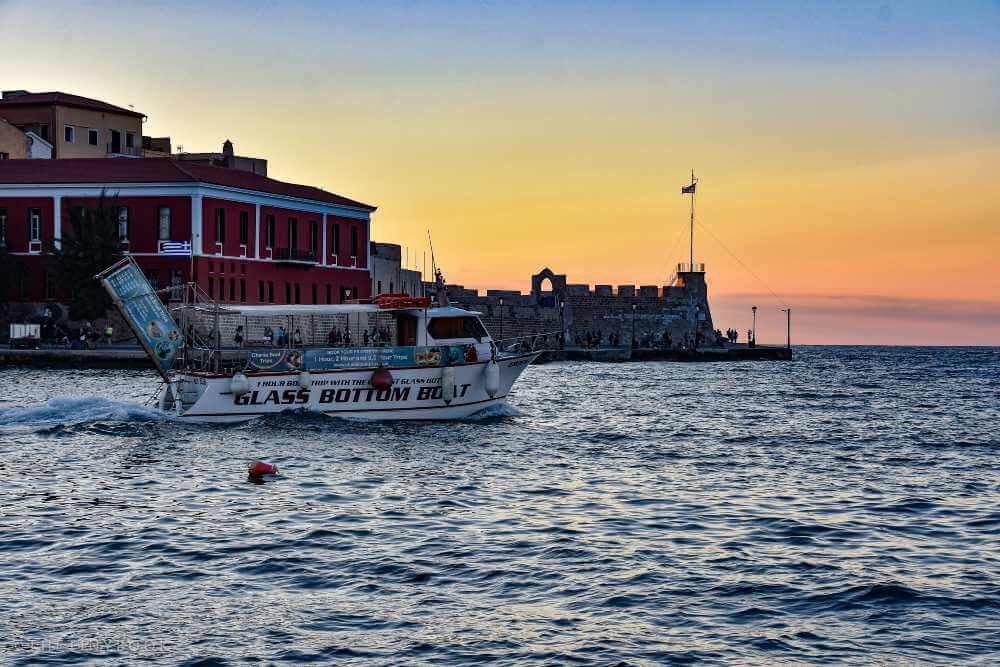 In the corner of the Venetian Harbor of Chania, you can find various glass-bottom boats to take a ride out of the Harbor.
These boats have glass panels showing fish under the boat, which is fun for your children. After checking if the weather and sea conditions are on your side for a boat trip, you can choose to take the shorter or longer route.
According to your choice, you'll manage to visit Lazaretta and other small islands near Chania such as Theodorou (from afar).
They will love every moment of the trip. And on the way back, your kids can have the chance to see a sea turtle in the Harbor. They'll remember this magical sea trip!
Visit Various Types of Museums
Do your kids love football? Then it could be a good idea to visit the Greek national football museum which includes over 1000 exhibits, including balls from World Cup and Euro games, various photos, and official shirts.
This is a must-see for the Greek national team supporters and all football fans.
Don't forget that outsider Greece did the unthinkable in 2004 and won their first-ever Euro Soccer competition.
Now imagine experiencing something like never before! In Chania, there is Europe's first 3D Museum and 9D Cinema: the Minoan's world, the 9D Experience. It combines a 3D non-archaeological museum with life-like silicon statues and a 9D cinema.
If you've never heard of the 9D Experience, it is a fully immersive experience characterized by special effects such as air blasts, rain, snow, bubbles, and smoke.
Watching the 9D movie about Minoans with those special effects will transport you back in time. Your kids will learn everything about Minoan culture while having the time of their lives!
Prepare to Eat like the Greeks
It's time to eat after all the fun with the activities. What's better than tasting some authentic Greek food directly from the city producers?
That's why, when in Chania, a stop at the Municipal Market is a must. It's in the heart of the city, and it's been a protected monument since 1980.
Locals know: The Municipal Market of Chania will be closed for renovations until December 2023.
As an alternative, taste, and shop for local delicacies in the several shops located in the alleys of the Old Town. Or even better, try a child-friendly cooking class in the nearby White Mountains.
And if you want to experience a family lunch or dinner in a traditional Cretan atmosphere, you should try out a traditional Greek tavern to eat authentic food.
Their tasty cooking will win over even the most reluctant child!
You may also want to read: Fun Things to Do in Crete with Kids: Getting Ready for a Fantastic Family Vacation!.
Walk to Nea Chora Beach
About a 10-minute walk distance from Chania Old Town, there is Nea Chora Beach. Here, no matter the season, you can spend some quality time with your children.
You can lay out on the beach, sunbathe, and let your children play in the sand.
And, of course, during summer you can take a dip in the sea.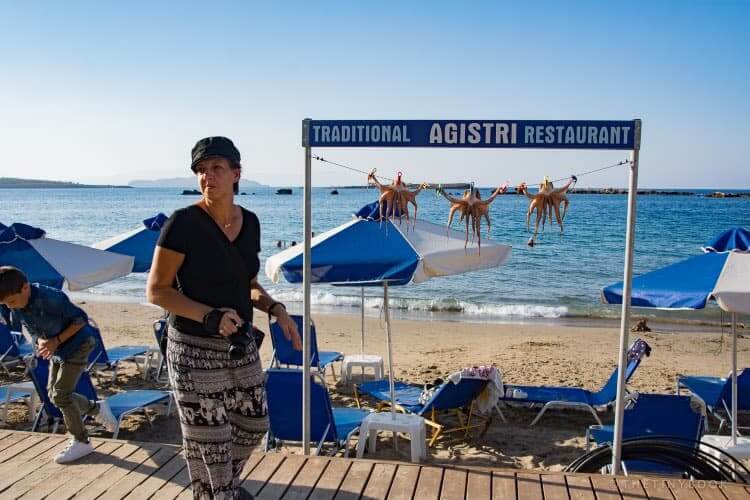 Nearby you can even find many tavernas where you can have lunch or return to have dinner.
Make sure to stick around until it's time for the sun to go down, this is a great sunset spot in the area. So, what's a better occasion than taking a memorable family photo?
If you're looking for a different way to spend an afternoon, far from the busy Harbor and Chania town center, then walking to Nea Chora beach could be a perfect compromise for you and your children.
Your kids will enjoy it!
Best Hotels in Chania
Affordable: Aelia Apartments or Polixeny's Suites in the old town.
Mid-range: Elia Estia in the old town and Civitel Akali Hotel in the new town.
Luxury: Casa Delfino in the old town or Domes Noruz by the sea.
Check also Chania Accommodation Guide and Boutique Hotels in Chania.
Stop by Lake Kournas
Crete's largest freshwater lake awaits you not so far from Chania! You'll be surprised to know that in Crete you can not only relax by the sea but also sunbathe by the lake.
If this idea aroused your curiosity, you should stop by Lake Kournas.
You may also want to read: Things to do in Crete with Teens!
It is about a lake supplied by natural deep wellsprings from the Lefka Ori mountains (The White Mountains). Under the Greek sun, the enchanting lake's turquoise color shines for a view you will long remember.
If that sounds exciting, wait until you see the sunsets featured by a unique, vibrant orange.
What better occasion to shoot some magic photos with your children?
And if you're still in the mood to enjoy the lake view but your kids would like something to get their teeth into, here is a solution for you.
You only have to walk a few meters to enjoy a traditional Cretan meal at a reasonable price.
Discover Olive Oil Production
Apart from its pristine beaches and unique history, what's another Cretan symbol? The olive tree, of course! And you'll surely spot many such trees around Chania.
These trees produce some of the most refined olive oil in the world. It is not a coincidence Ancient Greeks called it the nectar of the Gods.
An excellent opportunity for your children to witness olive oil production firsthand could be to visit an olive oil factory.
Here, you can tour the machinery to learn more about how the olives are transformed into olive oil. Your children will love the whole experience!
You may also want to read: Safest beaches in Crete for kids.
You can bump into many factories near Chania, like Anoskeli, and learn everything you need about olive oil. A guide will lead you to old families' olive mills and local farmers.
During the tour, you will taste the renowned extra virgin Cretan olive oil while discovering organic cultivation methods. And you will also learn how locals build cosmetics based on olive oil.
You may also want to read: Cool Things to Do in Crete with Teens.
Visit the Waterpark in Chania with Kids!
Do you feel like having some extra fun with your children? One of the most famous Cretan waterparks is Limnoupolis, only 7 kilometers away from Chania.
It's a perfect destination for family relaxation and entertainment. Here, you can find anything from swimming pools to water games for kids and adults alike.
And if you want to relax in a quiet environment, you can go to a separate area equipped with comfortable sunbeds, where you can enjoy drinks and snacks from the bar.
Meanwhile, your children will be busy enjoying the exciting and colorful waterslides. Or they will just swim around the kid's pool, where the lazy river waits for them!
Therefore, none will feel any boredom in Limnoupolis!
Explore Crete's Marine Life
Playing above or in the water can be fun, but nothing beats the excitement of meeting the majestic creatures that live underwater.
And there is no more exciting way to do that other than scuba diving. You can join one of the regular diving classes and see the beauty of marine life close by.
Not only will you meet unique fish and sea creatures, but the instructors will also teach you a lot about Cretan and Mediterranean marine species.
The other alternative to scuba diving is snorkeling.
Although you may not see as much, you'll still have the fun of being in the water and observing marine life. And you can also join organized snorkeling excursions if you wish.
Take your Children Horseback Riding
Do you want to experience the natural wilderness of the Chania region? I suggest you do it on the back of a horse!
Near Chania, you'll find a lot of horse riding centers ready to welcome you and your children to live this memorable and bonding family experience!
The horse riding centers will offer riding tours and horses suitable for beginners or experienced riders. In other words, safety for you and your children will be a guarantee!
Now, imagine being on horseback and sharing the excitement of the moment with your children. The sunshine caresses your skin, and you're soaking in the gorgeous scenery of the Cretan landscape!
You're just happy, your children are happy, and that's what makes the difference in a holiday! Welcome to Crete and Chania!
So here you are. These are some of the best things to do in Chania with children. No matter how big or small your family is, or how young or old your children are, you can always find something to do in Chania.
You only need to visit to discover its beauty from close by. And in the end, you and your children will remember your holidays together for a long time. It won't be long till you all decide to come back.
This Belongs to a Board! Pin This Guide to the Best Things to Do in Chania with Children!
Written by Dimitrios Tsevremes
Passionate about travel, spirituality, and sports, I have lived in 5 countries and traveled to more places than I have counted. Writing for me is a way to express myself and my creativity. Whether I write for my blog or a freelancing gig, I always fall in love with the process and often lose my sense of time. If you want, you can check out more about me and my work here.
---
About the author of this blog: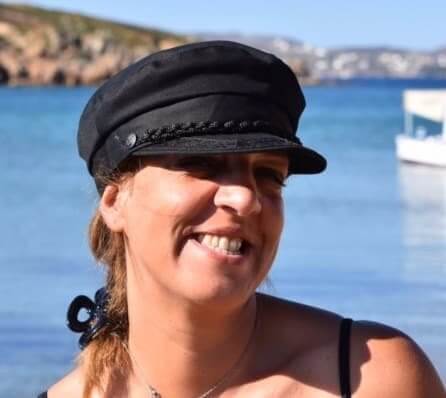 Gabi has been living in Crete for the last five years. On the island, she juggles being a solo mom, hosting culinary tours in summer, translating, and freelance writing.
She's written for Greek Reporter, published several travel guides about Greece, and had more glasses of frappe than any regular person would be able to handle.
COMING TO CRETE SOON?
Get in touch and let me know!