I've always said that exploring Crete at a slow pace is the best thing to do when visiting the island. However, there are times when we want to do more in a day, or we do not have enough days to spend in Crete or enjoy a more active kind of vacation.
If that's your case, then you will enjoy this article telling you how to visit three of the top beaches in Crete: Quiet Aspri Limni, dreamy Kedrodasos Beach, and the popular pink sand beach of Elafonisi. Read on!
---
Disclaimer: Posts include affiliate links to products or services. I might earn a commission if you make a purchase at no extra cost.
---
How to Visit Aspri Limni, Elafonisi and Kedrodasos Beach in a Day
Of course, traveling slowly and visiting one place at a time is arguably the best way to check out the stunning landscapes that Crete has to offer.
I always suggest readers take their time in order to appreciate how the island can be.
Many people, however, love to devote just a couple of hours to each place and get back on the road soon to reach their next destination, especially those enjoying road trips in Crete.
There are some areas on the island that allow doing so easily. In this one-day beach itinerary, I want to present to you three beaches located on the southern coast that you can visit on a day trip from Chania (or also Rethymnon). All you will need is some organization and your own rental car.
This itinerary needs a car! It is impossible to do all three beaches counting on public transport!
If you're traveling in the peak season (July-August-September), the best you can do is book a car online well before the departure: this gets you much better fees.
If you book in advance you can get more compact (and cheaper) models while if you wait until the last minute, you'll only find bigger and more expensive cars.
If you travel to Crete in the shoulder months (May, June, or October), it's easier to find a car even upon arrival, but booking in advance will still be more convenient.
I always recommend Discover Cars to compare fees and find cheap rentals among hundreds of local and international car rental agencies on the island. Click here to find the car that will drive you around Crete!
Keeps this guide to driving in Crete at hand too!
For this day trip, we will be heading south, following the road to Elafonisi, all three beaches that we will be checking on this day are located on the Libyan Sea (southern coast), only minutes from the pink sand beach.
So get on the road to Elafonisi, either via the gorge of Topolia or driving along the westernmost coastal road from Falasarna.
Or, even better, start by checking this article on how to get to Elafonisi and get on the road.
Once you're on the coastal road to get to Elafonisi, pay attention to the few road signs and be ready to make a detour. Our first stop is a few minutes before reaching Elafonisi Beach, just meters after Chrysoskalitisa Monastery.
First Stop: Aspri Limni
Coordinates: Latitude N 35.309292 – Longitude E 23.525102
Also known as White Lake or Sea Lake, Aspri Limni literally means white lake and it is located in the village of Chrysoskalitisa, just under a kilometer after the important monastery that faces the Libyan Sea.
The monastery is an imposing building located atop a 35-meter-high rock, so you won't miss it. This seventeenth-century building offers spectacular views of the surrounding area and the sea.
Once you've passed the monastery, in the next meters, you'll find the following road sign, turn and slow down, the road is bumpy and winding, and some parts of it are dirt track, so roll up your windows, and enjoy the 5 to 10-minute ride to this unique, tropical oasis.
One of the lesser-known beaches along the coastal road that leads to Elafonisi Beach is the small but amazing Aspri Limni. This super quiet pool-like portion of the sea is not much visited, quite lonely, and virtually unknown.
Once you get there, you'll find a small sandy beach with just 2 or 3 umbrellas, and a spectacular, tranquil lake surrounded by rocks that protect it from mixing with the sea.
The area, surrounded by sharp rocks, features a sandy bottom mixed with rocks that might be slippery at certain points.
Since the area is isolated and quite hard to access, not many tourists visit the sea lake.
There are no organized facilities (do pack some drinks), while the landscape features a few samples of Cretan palm trees that give the area a soft tropical touch.
Characteristics: Just like Elafonisi, this is a Natura 2000 Protected Area since it is the westernmost point on the island where the famous Cretan Palm Trees grow (this is the tree that has made Vai Beach famous) grows.
You will find super fine white sand and no natural shade. The water is calm, with tones of green and blue, and it is a perfect spot for snorkeling.
Tips to visit: Arrive as early as you can, unpack your beach bag, and spend a couple of hours here before heading to the next beach on our itinerary.
You might also want to read about the best beaches in South Crete.
Second Stop: Kedrodasos Beach
Coordinates: Latitude N 35.268669 – Longitude E 23.563073
Probably one of the most beautiful shores on the island, Kedrodasos Beach is situated 15 minutes by car from Aspri Limni (6.5 kilometers), driving along a partially-dirt road that leads to a fairly wide parking space from where you need to hike down to the beach.
The hike from the parking area to the coast is exactly 10 minutes.
This is also a beach that lacks organization (although it seems this is about to change as there are plans for a small roadside canteen to open in the upcoming months).
Once you've hiked down along the rocky path, surrounded by wild thyme bushes, you will reach the white sand beach that is crossed by the E4 path, home to spectacular turquoise waters, and a gorgeous forest of cedar trees and ancient junipers.
The species in the area are also protected (you guessed right, this is another Natura 2000 Protected beach), so, if you're planning to spend the night with your own tent, as many travelers do, avoid damaging the trees that grow on the sand.
Remember, Kedrodasos in Greek means cedar forest, so respect nature if you choose to camp in the area!
Also, pack enough fresh fruit and water, light snacks are a much better option in summer when the temperatures soar on the southern coast of the island.
If you have packed fresh fruits or a light lunch, you can spend here the next few hours, bathing in the crystal clear (and often coldish) waters, admiring the impressive landscape of Kedrodasos Beach, or simply enjoying a restoring siesta under the shade of the junipers.
Tips to visit: Pack drinks and enough food because there are no organized facilities (but mostly because you might not want to leave!).
Carry an umbrella or arrive early to find shade under the trees.
Final Stop: Elafonisi Beach
Coordinates to the parking area: Latitude N 35.272614 – Longitude E 23.543473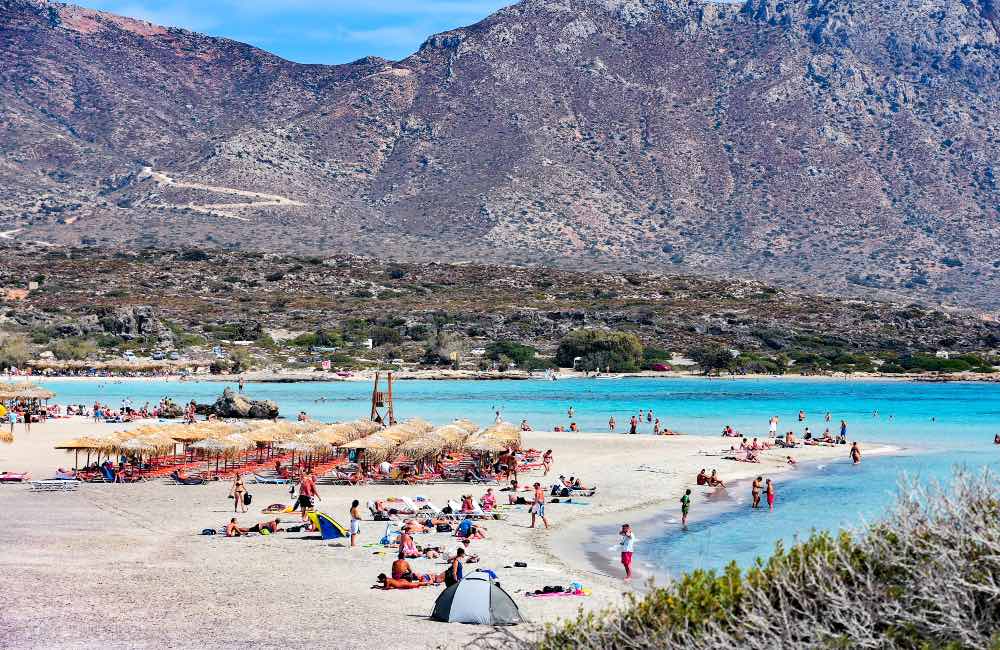 The three beaches are quite close to each other, however, since Elafonisi is the most popular beach on the island getting there at the end of the day is a better idea… most tourists return to Chania early.
The best thing to do to to get to Elafonisi a couple of hours before sunset, that way, you will enjoy the beach once all the tourist buses have left (departure time for buses is normally set at around 4 pm).
This will be a winning recipe if you want to avoid at least some of the crowds that, every day, travel from the northern coast of Chania to get there.
If you haven't packed a big lunch or all the swimming has made you hungry, you will find enough facilities and canteens on the beach to get yourself a salad, pies, or sandwiches.
Soft drinks, beers, ice cream, and a variety of hot and cold coffees are also available.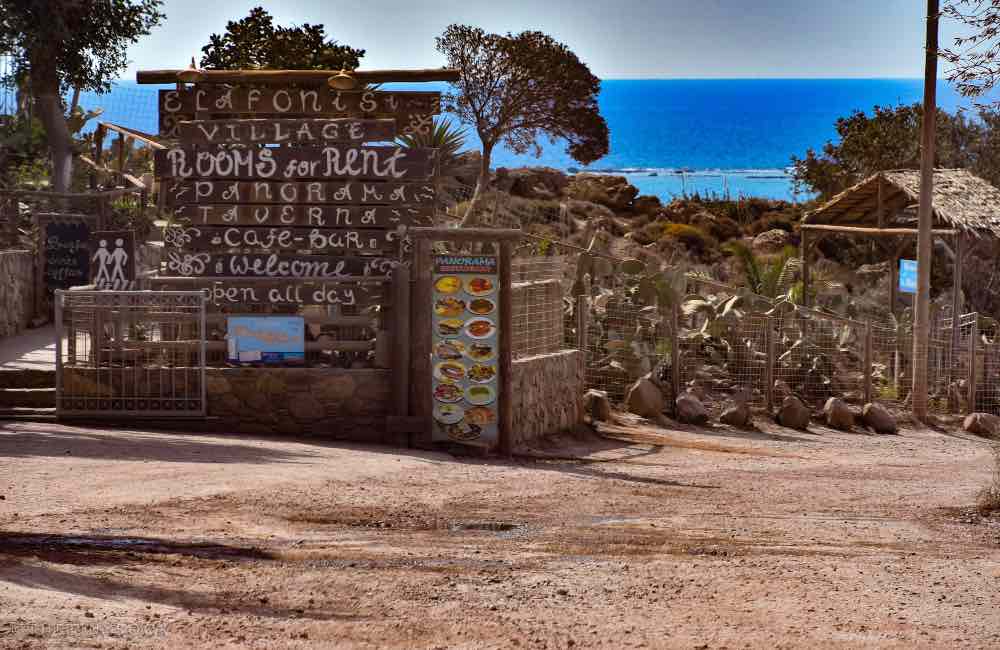 Elafonisi is a great beach for water sports (usually kite surfing), but also good for snorkeling, relaxing swimming in the shallow waters, and stunning photos of the dunes.
On the beach, you will find different protected species (yes, this is another Natura 2000 Protected area), such as the gorgeous sea daffodils.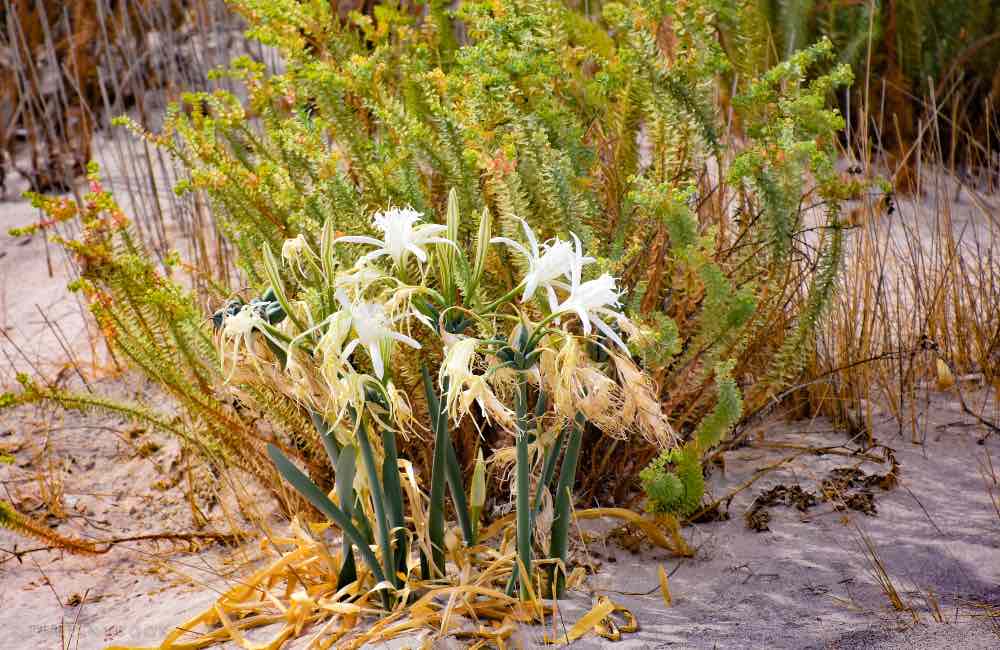 If you want to learn more about the characteristics of the beach, when to visit, the local nature, the most remarkable details about the area, and all the truth about the pink sand, then this article is simply a must.
A day visit to these three beaches is not hard to do. You can stay in Elafonisi until the sun sets, and then slowly make your way back to Chania while there is still some daylight in order to tackle the mountain road through Topolia Gorge in safety.
Alternatively, you can spend the night in the area, either check these rental homes or click here to check the latest prices at Elafonisi Resort Kalomirakis Family, one of the few hotels in the area.
As you can see, visiting these three amazing beaches in a day is possible and easy to do with your rental car, the three spots are quite close to each other, which makes navigating from one shore to the other quite simple.
If you are not ready to drive, you can visit Elafonisi by joining a private tour like this one or this affordable day trip by bus.
Remember to drive slowly, as you will drive along several dirt roads, pack plenty of drinks, and wear a hat and abundant sunscreen, especially in the central months of summer.
Are you ready to discover the solitary Aspri Limni, the gorgeous Kedrodasos Beach, and the super-famous Elafonisi?
Read more about Crete
🏖️ Please, help us protect the beaches in Crete. Respect the environment and don't leave any trash behind.
🛌 Suggested Accommodation in Chania
🗺️ More resources to book your trip to Crete
Pin this Guide to Aspri Limni, Kedrodaos Beach, and Elafonisi, for your next adventures in Crete!
---
You might also want to read these posts about Crete's regions:
---
About my blog: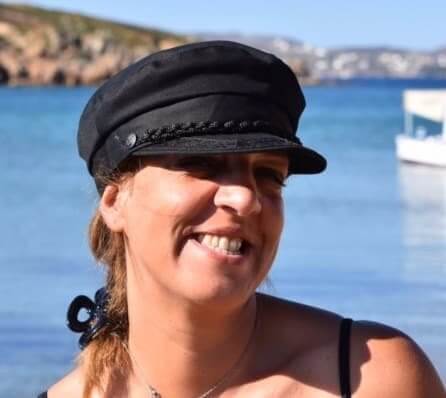 I moved to Crete in 2016. During these years, I learned much about the island.
In Crete, I juggle being a solo mom, hosting culinary tours, and writing for several travel blogs.
I've written for Greek Reporter, published travel guides about Greece, and had more glasses of frappe than any regular person could ever handle.