Probably the most popular beach on Crete island is Elafonisi. A beautiful pink sand beach shore that everyone makes a point to visit when coming to the island. However, Elafonisi is quite off the beaten track. The seaside resort is about 70 kilometers from Chania and more than 200 km from Heraklion… that's a three-hour drive! In this article, we will make things easier for you. In fact, if you decide to stay in the area you will be able to enjoy wonderful days by the beach cutting on driving times. These are some of the best holiday homes in Elafonisi, Crete, choose the one where you'd like to stay!
---
Disclaimer: Posts include affiliate links to products or services. I might earn a commission if you make a purchase, at no extra cost to you.
---
Where to Stay in Crete: Best Airbnbs in Elafonisi
If you don't have the time to choose a rental home in Elafonisi or you'd rather stay at a hotel, check these two great places that we have personally used many times.
Elafonisi Resort Kalomirakis is located right at the entrance of the beach, where the paved road ends. Prices are fair and the bungalows are really cute, among olive groves, lemon trees, and the views are super pretty.
The breakfast options were abundant, but that's usually not included in the price of the room. It's definitely a quiet place, with a nice garden for children. Rooms include a comfortable kitchenette and air conditioning.
Glykeria is another popular place, it's located on the main road of the village, a few hundred meters from the beach. The place has a magnificent view of the sea and is often fully booked early in the season.
They also have a pretty interesting restaurant worth a dinner. We've also visited many times, both at sunset for a drink and later for dinner too.
You might also want to read: Aspri Limni, Kedrodasos Beach, Elafonisi: Three Beaches in a Day!
Most Beautiful Vacation Homes & Airbnbs in Elafonisi to Stay This Season
Boundless extensions of soft pink sand, crystal clear sea, and a solitary landscape are three of the main characteristics of Elafonisi, one of Crete's most popular beaches. It's not easy to reach the area if you're not an experienced driver or if you're not really comfortable driving through the mountains.
Oftentimes, visitors to Elafonisi complain that they are forced to leave early so as not to drive those mountain roads after dark… they not only miss the spectacular sunsets on Elafonisi but also the experience of staying in one of the most tranquil villages in Crete.
Want to know how to get there? Check this guide to learn How to Get to Elafonisi Beach.
Because, yes… Elafonisi is indeed a popular beach that tends to get crowded, but once the hordes of tourists are gone, the place turns into a peaceful oasis home to one of the most majestic landscapes on the island!
One of the best ways to solve this issue is to stay close by. However, given its isolated nature, there are not many hotels in the area. No worries! Home rental opportunities come to the rescue. Here I've listed the most beautiful and convenient Airbnbs in Elafonisi. Take a look and book a stay in heaven!
You might enjoy reading: Falassarna Beach, Crete: Complete Insider's Guide.
Villa Evenos, Chrisoskalithissa, Elafonisi
Why you should stay: This is a beautiful villa with traditional Cretan traits, such as the stone walls, and the wooden roofs. It's big and comfortable, and the views are stunning.
Location: When you open your windows every morning, you can admire the views of the sea, and the imposing Chrisoskalithissa Monastery in the distance. Villa Evenos is conveniently close to Elafonisi, and it's also great for those who want to explore other beaches such as Kedrodasos and Aspri Limni, all of them close to the property.
Facilities: The house is big with all the needed comforts for a family stay or for a group of friends. There's also a nice swimming pool you can enjoy on your way back from the beach. Elafonisi is easy to reach by car (only 5 km from the Airbnb), and there are also good tavernas and other shops in the area.
Sleeps: up to 7 guests.
Pets allowed: yes.
White Lake Villa Holiday House
(Close to Aspri Limni and Elafonisi)
Why you should stay:

This is a perfect place to stay for a tranquil holiday with an amazing garden with pool and every comfort you need.

Location:

White Lake Villa is only 4 km from Elafonisi beach, and it's a fantastic place to stay, ideal for families with kids, for a group of friends, or for two couples.

Facilities:

In this property, you'll be able to enjoy a roomy living room with a comfortable kitchen as well as two bedrooms and two bathrooms. A sofa converts into a bed to host one more traveler. The private pool is a nice touch which makes the whole stay even more relaxing and enjoyable.

Sleeps:

up to 6 guests.
Dermitzogianni Elafonisi Holiday Home
Why you should stay:

To enjoy life the local way surrounded by all the comforts you could imagine… and as a plus, great views!

Location:

Dermitzogianni Elafonisi Holiday Home is very close to the pink sand beach, about 2.7 mi from Elafonisι.

Facilities:

For guests to enjoy at the property there is a fully equipped kitchen with all the facilities you need for a stress-free vacation.The villa features a master bedroom is located in a loft with a bathroom, as well as a single bed in a separate room. On the ground floor, there is another bed and a large bathroom. Having dinner at night in their veranda is nothing short of amazing!

Sleeps:

up to 6 guests.
Xasteria, Chrisoskalitissa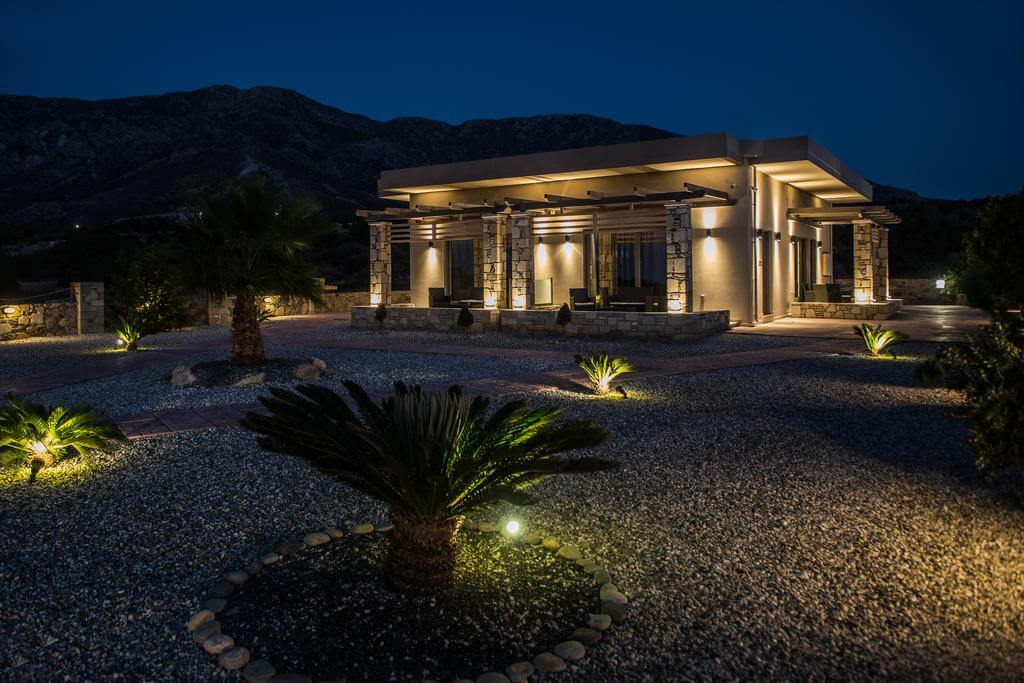 Why you should stay:

To take advantage of a well-located accommodation, beautifully designed, comfortable and with great sea views.

Location:

A very pleasant complex to stay just minutes from Elafonisi pink sand beach. Recently renovated, with modern furniture and new appliances. The super helpful host adds to the experience as well.

Facilities:

There's a gorgeous outdoor area for sitting and soaking in the views. There are great tavernas and shops not far from the property. As a plus, accessible, free parking for guests.

Sleeps:

up to 2 guests.
You might enjoy reading: Elafonisi Beach Crete: The Best Beach on the Island.
Anny's Homes
Why you should stay:

Because who wouldn't want to enjoy a swimming pool in full privacy?

Location:

Perfectly located, no more than 2 minutes from several other beaches in the area, other than Elafonisi. The position is quiet, comfortable to visit Elafonisi, Aspri Limni, and Voulolimni beaches as well as to explore the Chrisoskalithissa Monastery.

Facilities:

The newly-built homes boast modern and comfortable furniture, a relaxing garden, a pool area, fantastic views and direct access to the lagoon.

Details:

Guests love the freshly baked pastries every other day, salads from their own garden, and many more details that can transform a regular stay into an unforgettable experience. There are a few good local restaurants nearby as well as a couple of convenience stores.

Sleeps:

three villas accommodate up to 5 people each.
Elafonisi Villa Above the Beach
Why you should stay:

Discover the most authentic landscapes of the legendary southern coast of Crete staying at this gorgeous place right above the beach.

Location:

Simple and yet super comfortable, with a unique veranda offering 360° views of the beautiful coast and the Cretan mountains, this villa is only minutes from the fantastic pink sand beach of Elafonisi, and from the magnificent Kedrodasos beach.

Facilities:

The sun terrace features a nice tub, a barbecue and wooden oven, and a wonderful space to sit and rest surrounded by great garden views. There's private parking and available activities in the area include hiking, diving, and fishing. The air-conditioned villa consists of 2 bedrooms, a kitchen with a dining area, while for added convenience, the property can provide towels and bed linen for an extra charge.

Sleeps: up

to 6 guests.
You might also want to read: The most spectacular beaches in the region of Chania.
Iliovasilema Apartments
Why you should stay:

This is a great place, with stunning views, comfortable facilities, a top location, and super friendly hosts.
Location: The flats are located very close to the beach of Elafonisi, Aspri Limni, and Kedrodasos. There are also several traditional tavernas in the area.

Facilities:

This apartment is praised for being super comfortable, clean, and with all amenities, you could wish for. Hospitable hosts will make your stay really incredible. For your comfort, the fully-equipped kitchen even features an espresso machine!|
This is one of the best rental homes in Elafonisi!
Sea Lake Holiday House
Why you should stay:

To enjoy a unique, relaxing environment just minutes from some of the best beaches in Crete!

Facilities:

The place is very well equipped with everything you need for a self-catering stay not far from the most secluded beaches in the south. The villa features great outdoor living with plenty of space and is perfect for families with kids too. Fantastic outdoor spaces, with comfortable sitting and dining areas, to enjoy from sunrise to sunset.

Sleeps:

up to 5 guests.
Please, help us protect the beaches in Crete. Respect the environment and don't leave any trash on the beach.
Looking for another type of accommodation, check these:
A quick guide to the best hotels in Crete
Budget: So Young Hostel in Heraklio, Cocoon City Hostel in Chania, Matthias Hotel Apartments in Rethymnon, and Villa Galini in Agios Nikolaos.
Mid-range: Capsis Astoria Heraklion in Heraklion, Porto Antico in Chania, Archipelagos Hotel in Rethymnon, or Hotel Port 7 in Agios Nikolaos.
Luxury: Galaxy Iraklio Hotel in Heraklion, Hotel OFF in Chania, Avli Lounge in Rethymnon, or Minos Beach Art Hotel in Agios Nikolaos.
Check more: Where to stay in Crete.

Which are your favorite Airbnbs in Elafonisi?
Let me know in the comments below!
You might also enjoy reading these posts about Crete:
– Top Nudist Beaches in Crete: Complete Insider's Guide – A guide to all the beaches where you can sunbathe without clothes!
– The Most Beautiful Beaches in West Crete – A guide to all the beaches in the Chania region.
– Elafonisi Beach Crete: The Best Beach on the Island – A complete guide to visit Elafonisi.
– The Most Exciting Things to Do in Matala, Crete – A visit guide to Matala in South Crete.
– Crete Travel: What to Pack in your Beach Bag – A useful guide with all the things you need to have in your beach bag.
Let's Start by Getting Ready for Crete!
RESOURCES TO BOOK YOUR TRIP:
Book your flight: I use Skyscanner to compare prices before booking a plane ticket.
Book your ferry: When ferries are more convenient than air travel, I use Ferryhopper.
Book your accommodation: I've tried many different platforms for accommodation, but none of them beats the advantages of Booking.com.
Book your car: The best way to find an affordable car to rent is to use a powerful search engine that compares all the rental companies in the market. I use Discover Cars.
Book your tours: Live unforgettable adventures and cultural experiences with Get Your Guide. For instance, you can Visit Elafonisi, discover Balos Beach, hike Samaria, or explore Knossos.
Don't forget travel insurance: Things can go wrong at times, but travel insurance will protect you against illness, injury, theft, and cancellations. I recommend Safety Wing for peace of mind.
Pin this Top Guide to Book the Best Rental Home in Elafonisi for Your Next Crete Adventure!
About the author of this blog: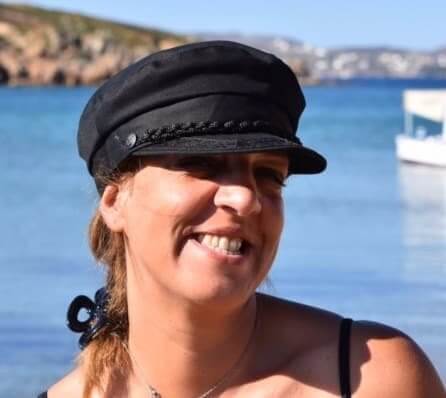 Gabi has been living in Crete for the last five years. On the island, she juggles being a solo mom, hosting culinary tours in summer, translating, and freelance writing.
She's written for Greek Reporter, published several travel guides about Greece, and had more glasses of frappe than any regular person would be able to handle.
COMING TO CRETE SOON?
Get in touch and let me know!