Probably the most popular beach on Crete island is Elafonisi. A beautiful pink sand beach shore that everyone makes a point to visit when coming to the island. However, Elafonisi is quite off the beaten track. The seaside resort is about 70 kilometers from Chania and more than 200 km from Heraklion… that's a three-hour drive! In this article, we will make things easier for you. In fact, if you decide to stay in the area you will be able to enjoy wonderful days by the beach cutting on driving times. These are some of the best Airbnbs in Elafonisi, Crete, choose the one where you'd like to stay!
Where to stay in Elafonisi, Crete
This article may have affiliate links to products and services that I use. If you make a purchase through these links, I might earn a small commission at no extra cost to you. Some of the articles in this blog have affiliate links to properties and services provided by Airbnb. As an Airbnb Associate, I might earn a small commission – at no extra cost to you – if you book through one of these links.
Most beautiful Airbnbs in Elafonisi to stay this season
Boundless extensions of soft pink sand, crystal clear sea, and a solitary landscape are three of the main characteristics of Elafonisi, one of Crete's most popular beaches. It's not easy to reach the area if you're not an experienced driver or if you're not really comfortable driving through the mountains.
Oftentimes, visitors to Elafonisi complain that they are forced to leave early so as not to drive those mountain roads after dark… they not only miss the spectacular sunsets on Elafonisi but also the experience of staying in one of the most tranquil villages in Crete.
Because, yes… Elafonisi is indeed a popular beach that tends to get crowded, but once the hordes of tourists are gone, the place turns into a peaceful oasis home to one of the most majestic landscapes on the island!
One of the best ways to solve this issue is to stay close-by. However, given its isolated nature, there are not many hotels in the area. No worries! Home rental opportunities come to the rescue. Here I've listed the most beautiful and convenient Airbnbs in Elafonisi. Take a look and book a stay in heaven!
Villa Evenos, Chrisoskalithissa, Elafonisi
Why you should stay: This is a beautiful villa with traditional Cretan traits, such as the stone walls, and the wooden roofs. It's big and comfortable, and the views are stunning.
Sleeps: 7
Minimum stay: 1 Nights
Pets allowed: Yes
When you open your windows every morning, you can admire the views of the sea, and the imposing Chrisoskalithissa Monastery in the distance. Villa Evenos is conveniently close to Elafonisi, and it's also great for those who want to explore other beaches such as Kedrodasos and Aspri Limni, all of them close to the property.
The house is big with all the needed comforts for a family stay or for a group of friends. There's also a nice swimming pool you can enjoy on your way back from the beach. Elafonisi is easy to reach by car (only 5 km from the Airbnb), and there are also good tavernas and other shops in the area.
>> Check all the things to do in Elafonisi Beach and the most stunning places nearby <<
White Lake Villa, close to Aspri Limni and Elafonisi Beach
Why you should stay: This is a perfect place to stay for a tranquil holiday with an amazing garden with pool and every comfort you need.
Sleeps: 5-6
Minimum stay: 1 Night
Pets allowed: No
White Lake Villa is only 4 km from Elafonisi beach, and it's a fantastic place to stay, ideal for families with kids, for a group of friends, or for two couples.
In this property, you'll be able to enjoy a roomy living room with a comfortable kitchen as well as two bedrooms and two bathrooms. A sofa converts into a bed to host one more traveler.
The private pool is a nice touch which makes the whole stay even more relaxing and enjoyable.
Old Cretan House with a Treehouse, near Paleochora and Elafonisi
Why you should stay: To enjoy life the local way. The beautiful house has been recently renovated and the treehouse is a feature that kids of all ages will love!
Sleeps: 6
Minimum stay: 5 Nights
Pets allowed: Ask at the property
Check this old Cretan house for a different experience. The property is nothing but luxurious or sophisticated but reflects the way locals live in the mountains. Simple furniture and essential facilities for you to soak into the most authentic Cretan lifestyle.
This home is part of a larger traditional farm house. It has three bedrooms and a large kitchen-dining room. The terrace has a breathtaking view of the mountains. Next to the house, there's a big private garden with ancient olive trees and vines and a cozy fireplace too.
>> This is a simple home, one of the most traditional and authentic Airbnbs in Elafonisi.
Elafonisi Vacation Green Studio
Why you should stay: This is a convenient opportunity if you're looking for a simple place to stay because you intend to spend more time on the beach than at home (something we should always keep in mind when booking an Airbnb home).
Sleeps: 2
Minimum stay:

4 Night

s
Pets allowed: No
Elafonisi Green Studio is a basic but very pleasant place to stay, ideal for a couple, with every needed facility and with a relaxing garden for you to enjoy breakfast or a cup of coffee after a day spent at the beach.
The apartment is a modern, small studio located quite close to Chrisoskalithissa Monastery among the mountains, olive groves, and pine trees. It's a comfortable structure with a full five-star rating on the Airbnb platform.
Aspri Limni House, near Elafonisi and the unknown Aspri Limni Beach
Why you should stay: Traditional stone walls, modern decor, and every comfort you need just minutes from the best beach in Crete.
Sleeps: 4
Minimum stay:

2 Night

s
Pets allowed: Yes
This is a top-rated home and one of the nicest Airbnbs in Elafonisi. Aspri Limni House is often rated as super clean and tidy while hosts are very hospitable too. The house is very cozy and plenty of nice details while there's a close-by taverna if you're not really in the mood to cook.
The position is quiet, comfortable to visit Elafonisi, Aspri Limni, and Voulolimni beaches as well as to explore the Chrisoskalithissa Monastery.
Mamma Vasso, Elafonisi
Why you should stay: Discover the most authentic traits of the legendary Cretan hospitality staying at Mamma Vasso's, a compact but super comfy home.
Sleeps: 4
Minimum stay:

3 Night

s
Pets allowed: No
Mamma Vasso's stone house is located in the historical village of Vathi, just 7 minutes from the fantastic pink sand beach of Elafonisi, and only 6 minutes from the magnificent Kedrodasos beach.
The rental home can host from 2 to 4 guests, which makes it perfect for a couple as well as for a family with two kids.
In the property, there's also large yard with gorgeous views, endless fresh herbs ideal for cooking, and lush trees. This fantastic house dates back to the years of the Venetian rule, featuring the original stonework on the high walls of the building. Fully renovated, the house offers every modern comfort you need.
>> Discover everything about other spectacular beaches in the region of Chania <<
Ellafos Traditional Living, Perivolia, near Elafonisi
Why you should stay: To take advantage of its position and tranquil surroundings. The house is only 15 minutes from Elafonisi beach.
Sleeps: 3
Minimum stay:

1 Night

Pets allowed: Yes
in case you were wondering… This host committed to a rigorous cleaning protocol developed with leading health and hospitality experts
This traditional home is part of a unique complex of four different traditional houses in classic Cretan style, perfect for an unforgettable holiday.
The houses are located very close to the beach of Elafonisi. It's a fantastic mountain hideaway and every home features stylish and comfortable characteristics. The place is clean, and roomy and it even has a washing machine, a great thing for those traveling from one place to the other on the island!
If you stay in any of these houses, you can even reach the beach on foot and make use of the beautiful swimming pool. And if you're not in the mood for cooking, for a small fee you can even be served breakfast in the morning.
The House of Olympia, Elafonisi
Why you should stay: To experience the traditional way also Cretans live!
Sleeps: 4
Minimum stay:

2 Night

s
Pets allowed: Yes
The House of Olympia is a traditional home owned by a Cretan family with a unique atmosphere. As the owners say, it's a place for dreamers to reset, reflect and create. They've tried to keep this house as traditional as possible without taking away from comfort.
The house is in Vathi village, about one hour from the center of Chania, just 10 minutes from Elafonisi beach. A convenience store close to the property lets you buy all the things you need to cook your own meals if you want to. There are two bedrooms, a main area living room and also a kitchen completely renovated and fully equipped. There is a big garden with a wonderful and romantic view.
>> This is one of the best Airbnbs in Elafonisi!
---
What's your favorite rental home in Elafonisi?
Let me know in the comments below!
---
Travel plans for Crete?
These resources will help you organize the trip!
Start by reading these helpful tips to plan a trip to Crete or check family holidays in Crete if you travel with kids. To visit Crete's heavenly beaches, check my guide to the best beaches. Discover what region is best to stay in or check what to do in Crete.
Get in touch if you need extra help to plan your trip. If you want to tour West Crete, check my guide. Want more? Join my Private Facebook Group to connect with like-minded travelers who love Crete as much as you do!
Make sure you've got everything for a hassle-free trip!
I never move around Crete without my Osprey backpack, a sturdy but light travel partner I just love. For short trips, I carry this little crossbody bag. If I'm driving around, I pack my Michelin map and my Nikon.
When it comes to plane tickets, compare prices with a powerful search engine. However, nothing beats traveling by sea in Greece. With Ferry Hopper, you can book in advance at the lowest price.
For accommodation, I personally use Booking.com and Airbnb.
Traveling to remote places is easier with Discover Cars. Other times, I join organized tours with GetYourGuide, which features anything from cooking lessons to airport transfer!
Are you coming to Crete any time soon?
Get in touch and let me know!
Read more:
Top Nudist Beaches in Crete: Complete Insider's Guide
The Most Beautiful Beaches in West Crete
Elafonisi Beach Crete: The Best Beach on the Island
The Most Exciting Things to Do in Matala, Crete
Crete Travel: What to Pack in your Beach Bag
Pin this article and read it later!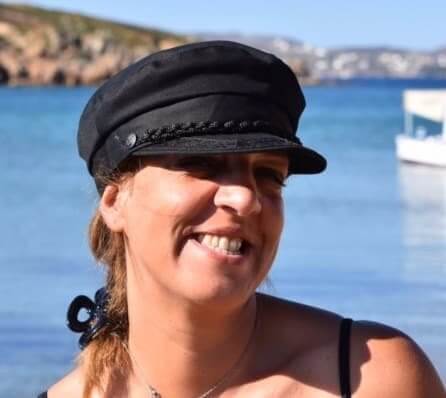 About the Author
Hola! I'm Gabi. Welcome to The Tiny Book – Crete Travel Blog! I moved to Crete to explore the island all year round. I love taking pictures and driving on the mountain roads of Crete. I'm a beach freak and on this island I've found heaven on earth!
---
You might also want to read:
---