We've all seen, at some point, amazing photos of Elafonisi Beach, Crete. It's alluring, yes. However, I don't want just to tell you how wonderful Elafonisi is, how pink the sand, or how turquoise the sea. My intention is to offer you a thorough guide that you can trust. I want to tell you also about the state of the roads to get there, the crowds you don't see in the pictures, the crazy prices for a coffee, and the windy days that make it impossible to stay on the beach. This is a complete insider's guide, and as such it will show you the nice, the bad, and the ugly. Get ready to experience the most beautiful beach of Crete, being aware of everything you can expect.
---
This site contains affiliate links to products and services. I may receive a commission for purchases made through these links.
---
This is a pin-pin situation!
STAY IN ELAFONISI: It's a good idea to stay in the village to make the most of your time. I've written a guide to the best places to stay in Elafonisi for you to check before your visit.
Elafonisi Beach, the Best Beach on Crete
Since I moved to Crete, Elafonisi is one of the places I've visited the most. The family loves it and it's always exciting to go back.
According to my GPS, I live exactly 88.4 km from Elafonisi, and it takes us 1.48 hours to get there. As you see, it's one of my navigator's favorite too.
Elafonisi Beach is one of those places that everyone wants to visit, it's a hit on Instagram, and ranks in every travel site among the top 10 beaches in the world. Well, it really is.
However, it's stopped being a secret gem years ago.
Every summer, especially in August, long lines of cars populate the rather narrow and dangerous roads that lead to Elafonisi.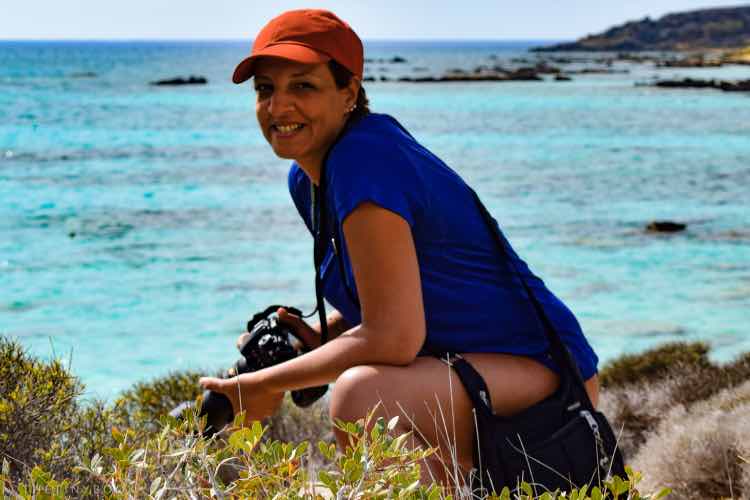 Elafonisi Beach, is it Really a Must?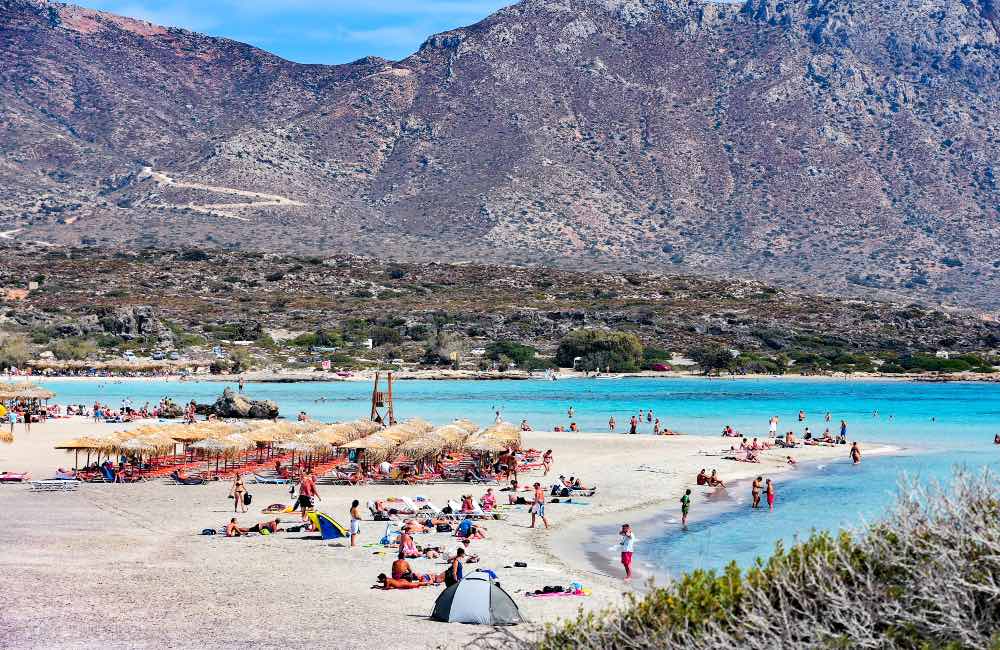 In the last few years, I've noticed this tendency among tourists: If they don't see Elafonisi, they feel they've seen nothing. It sometimes seems that people come to Crete carrying a supermarket list of things to do, and that means:
All three places are definitely worth the visit, of course, but my humble advice would be to slow down a little bit.
Tourists rent their cars and drive like crazy around the island, from point A to B with only one of these in mind: "I've got to see Balos", "I must see Knossos" "I must go to Elafonisi".
As a consequence, they're stressed, tired and, honestly… they see virtually nothing!
Please, relax! There are equally beautiful places to see on the island minus the hustle and the crowds.
It's not a competition, and if you come short of time, don't rush around like it's the end of the world if you don't see those places.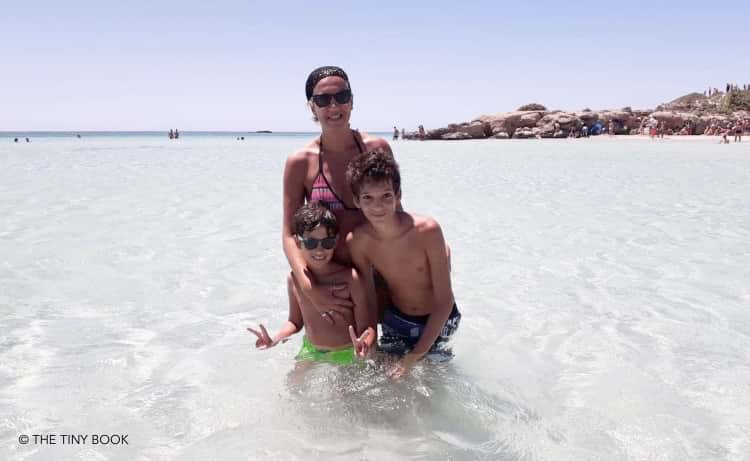 Besides… I still have to know a person who has been to Crete and has not made up his mind to return. Trust me, you probably will. And you can always catch up next time.
>>Check the best rental homes and villas near Elafonisi, Crete<<
The Roads to Elafonisi Beach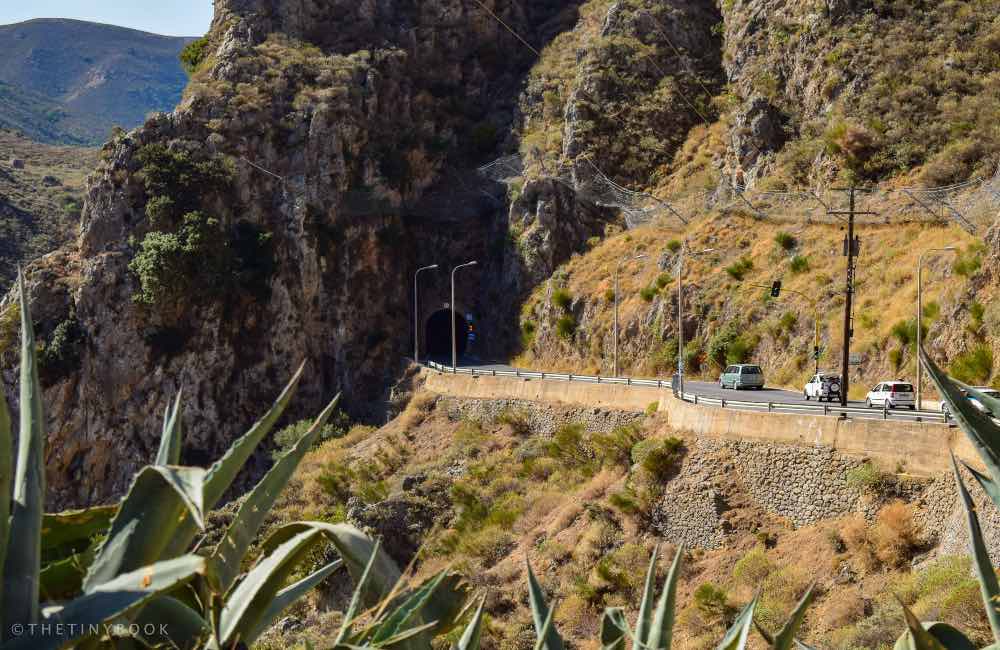 Living in the prefecture of Chania has given me the possibility to visit Elafonisi many, really many, times.
I always enjoy taking the kids in May or in September, but I've also taken friends at the peak of the season.
Last year I drove there even on August 15th! I do know what crowds mean in Elafonisi. I've been to Elafonisi in the era of paper maps and the era of Siri.
I've been there on sunny days, windy days, and extremely windy days. I've seen Elafonisi with rain, with clouds, and even in winter.
And as far as getting there is concerned, I was driven there, drove there myself, and even took the bus.
I've tried all the possible roads according to Michelin and Google maps. In conclusion, one thing has to be said immediately, the roads to Elafonisi are not easy, that's why this is how I begin this guide, discussing how to get to Elafonisi.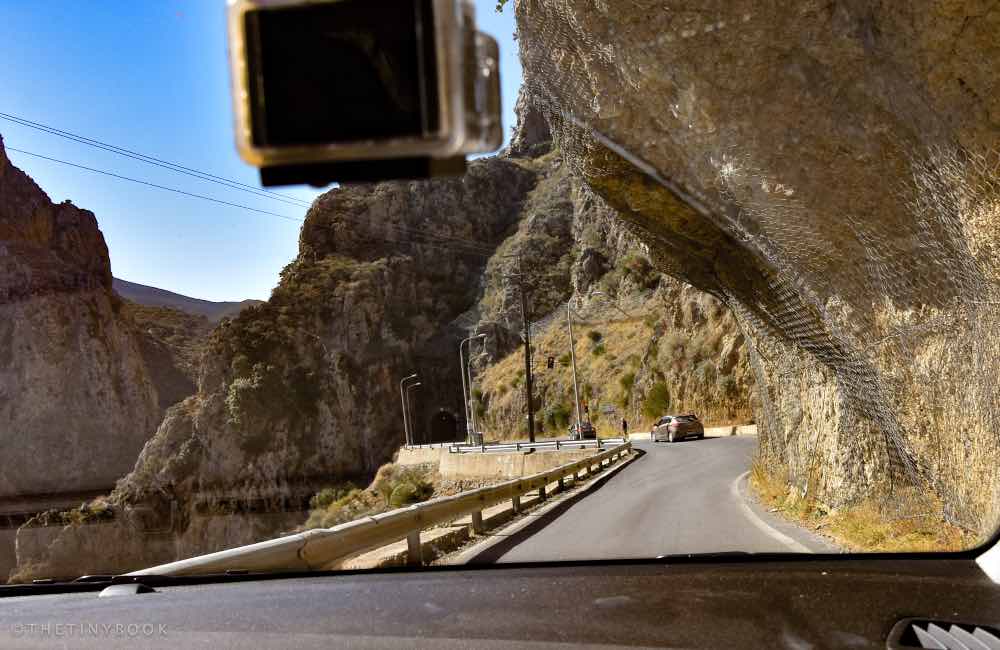 >> Check what to pack to spend a day in Elafonisi Beach, Crete <<
>>Before getting on the road, check this step-by-step guide to rent a car and travel on Crete<<
The Mountain Road: Going to Elafonisi Beach through Topolia (Map 1)
If you depart from Chania, this road will take you to Elafonisi in a little bit more than an hour.
In August, that might be double, so avoid getting on the road after 10 am, if you can. There will be less traffic.
First of all and as a general rule, don't expect, in any of these roads, to speed. It's rather impossible and not just for the traffic, they are all mountain roads, narrow, slippery, with blind hairpin turns, and distressing ravines.
In any case, the road to Elafonisi that passes through Topolia is one of the most breathtaking road trips in the Regional Unit of Chania, with plenty of opportunities for unique captures of the local nature, the mountains, and the small villages around.
The canyon of Topolia starts near the village of Stroules, about 450 meters a.s.l., to finish in the village of Topolia, where the rock walls are high and very steep.
This place is home to several wild birds, such as vultures and eagles. The canyon is crossed by the river Tyflos. Its whole length is 3 km, it takes about 1.5 to 2 hours to hike, and there's water until Spring.
According to the legend, the gorge of Topolia hosted fairies and the Minoan goddess Vitromartis.
And it was also in Topolia where the legendary Talos would stop and enjoy the music of the fairies.
If you are interested in stopping in places such as Potamida or Millia Mountain Resort, this is the way you have to choose. You can read about these nearby places at the end of the post.
As a personal note: I suffer from extreme vertigo in the mountains, but I've found that if instead of being a front-seat passenger I'm sitting at the back or -even better- I'm driving, I can go through Topolia in a breeze.
I've spoken with many visitors with the same condition, and all seem to confirm that these recipes help.
The Bendy Road: Going to Elafonisi Beach from Elos (Map 2)
For the sake of precision, I included the middle map road too. You can take that road arriving either from Chania or from Kissamos but it's not in very good condition, and very bendy at times. It's also rather narrow in some parts.
Once you reach Platanos, you keep driving until the village of Elos, and at the sign turn to Elafonisi.
You're better avoiding this road although it allows exploring some picturesque and lonely villages worth a stop or two…
So basically, there are two good possible roads that take you to Elafonisi, both of them long and arduous, the one through Topolia mentioned above and the following from Sifnari.
The Coastal Road: Going to Elafonisi Beach from Sfinari (Map 3)
This is a beautiful scenery road, that might take a little longer but definitely worth it due to the spectacular scenes. It's rather bendy too, and it's the common way to go to Elafonisi if you are staying in Falasarna.
The sea is part of the landscape as well as the pebbles and rocks falling from the mountains, and the dozens of goats and sheep blocking the road at times. Be careful… and patient!
Personally, I find that this road is stunning for photography but tends to feel really long because bends do force you to slow down a lot.
When I've got time to spare, I like to combine the first road on the way to Elafonisi and to leave this one for the way back, especially if I return during sunset, the views are fantastic.
For the sake of precision, Elafonisi can also be reached by boat from Paleochora, certainly more relaxing than driving, but a bit more expensive.
In general, the roads are doable with due care, you must be precautious because parts of the roads might not have safety barriers or signposts indicating danger.
One important suggestion though, when you reach Elafonisi by car, it's a good idea to either spend the night in the village or to leave at about 5 pm, before the sunset, it's always better to avoid these roads at night.
>> Check what to do in and near Sfinari in this Balos Beach guide <<
Elafonisi Beach, a Top Destination in Crete
The beach of Elafonisi is a remarkable sandy beach located on the Southwest coast of the Chania prefecture, about 74 km from the city, and 211 km from Heraklion (3 to 4 hours).
If you are staying in Heraklion and want to visit Elafonisi in a day, think it over!
Families with kids usually target the area in search of shallow and warm waters, but it's also popular among young couples looking for a romantic landscape.
Elafonisi is a favorite of backpackers many of which camp in the nearby Kedrodasos.
The beach is magnificent. Crystal clear, warm waters with an infinite palette of blue. A blue that is the most distinctive trait of the sea on the whole southern coast of Crete, the Lybian sea.
The tones change from lighter greenish-blue close to the shore; to shiny, almost sparkling neon turquoise, to deep blue in the distance.
The Geography of Elafonisi
Elafonisi is more than just a beach, it's actually an island but not everyone notices so. It's separated from the mainland by a very shallow lagoon and a strip of sand usually below sea level, from 50 cm to a meter depending on the tides and the moment of the day.
Sometimes you can cross it easily, sometimes you have to put your beach bag on top of your head.
Other times there are currents too, not dangerous, but they can knock a small kid down. Don't freak out, he won't go anywhere, but just know you can avoid a useless shock.
Once you reach the large parking space and you've left your car, you will have to walks for about 5 minutes to get to the seafront.
There are hundreds of umbrellas on the beach and on the strip of land that's never underwater.
If you don't arrive early in the peak season, don't even dream of getting a free spot. Under the Summer Cretan sun, you will need it, pack a hat.
In theory, other than the "official ones", chairs and umbrellas are not allowed because Elafonisi is a protected area. But you will find umbrellas, chairs, tents, mini-fridges… you name it.
The Islet of Elafonisi
On the islet, and towards the extreme west of the beach, after you pass a few sand dunes and rock formations. The islet is a Natura 2000 reserve, internationally recognized.
It's a great place to take a walk or to spend the day. Many even camp too, though it's forbidden.
The area presents unique coves and ponds with green, transparent water, but there's no umbrella available. It's more isolated than the main part as well, therefore popular among nudists too. It's a good spot for snorkeling.
Needless to say, most visitors are there just for the day. If what you want is a wild beach visit in early May or October. In both months you will find quiet beaches, desert roads, and warm water.
Many years ago, the beach was less crowded (and the kids were actually small, but that's another story!).
This picture is previous to Elafonisi being designed as one of the world's top 25 beaches on TripAdvisor in 2014.
It was really heavenly back then.
The Truth About the Pink Sand
The sand in Elafonisi is not pink. It's a wonderful and unique kind of pinkish color, at times. It depends on the tides, the light, the wind, and the moment of the day.
You've probably seen stunning pink sand photoshopped pictures. In full honesty, the color of the sea is even more stunning than the color of the sand.
The truth is that the sand has some tints of pinkish tones at times and in some spots. But the key is in its composition.
The sand in Elafonisi is made out of millions of microscopic pink shellfish that mix with the white, powdery sand. So the color also will have to do with what these creatures eat.
And it's not exclusive of Elafonisi either. It's possible to spot pink sand in Balos, Falasarna, and sometimes even in Stavros, in the Akrotiri peninsula.
In any case, on the days that Elafonisi beach looks pink, the color is really intense, mostly close to the lagoon.
Sometimes it forms colored strips close to the shoreline, but if you get a few meters away from the sea, the sand tends to go back to white.
Here, in the first picture, you can see the usual color with some very, very subtle tones of pink (I did not write "Gabi", I found the heart there and so I took the pic!).
The second photo is the darkest shade of pink I was ever able to find.
The picture is about 5 years old, taken in late September at about 2 pm. I did not use Photoshop or filters in any of them. Same camera, probably similar if not the same settings, manual mode.
Natural Landscape
Elafonisi is a Nature protected reserve, so visitors should respect the following rules. In Elafonisi it's forbidden to:
Start fires
Camp
Collect or take sand with you
Cut and pick flowers
Litter
Use beach umbrellas
Elafonisi is home to over a hundred atypical plants. Among them, sea daffodils, pretty white flowers with the shape of a trumpet, quite unique but not exclusive from Elafonisi.
They can also be seen on other beaches of Crete. I've taken pictures of sea daffodils in Tersanas, Agii Apostoli, and Stavros (all beaches in the Regional Unit of Chania).
Another very uncommon plant is the winter flower called Androcymbium rechingeri which grows only in two places in the world, Crete and Lybia.
This goes without saying, but taking away fauna or flora from the island is forbidden as well as punishable. And fines are high.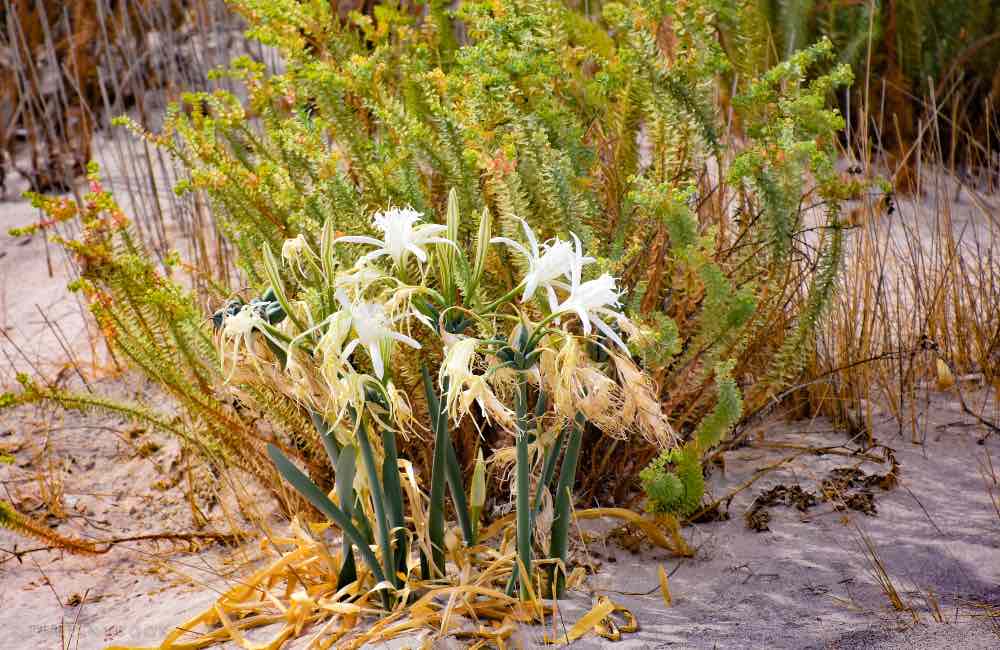 Not many are aware, but the lagoon is also the place of choice of loggerhead sea turtles, also known as Caretta Caretta, a rare and protected species very hard to spot.
This sea turtle is classified as a vulnerable species by the International Union for the Conservation of Nature.
Those who know better say they usually hid because they are shy, and it might as well be true because after years and years of visiting
I've never seen one in Elafonisi. However, I've spotted the Caretta Caretta several times in the Old Port of Chania!
Facilities on Elafonisi Beach, Crete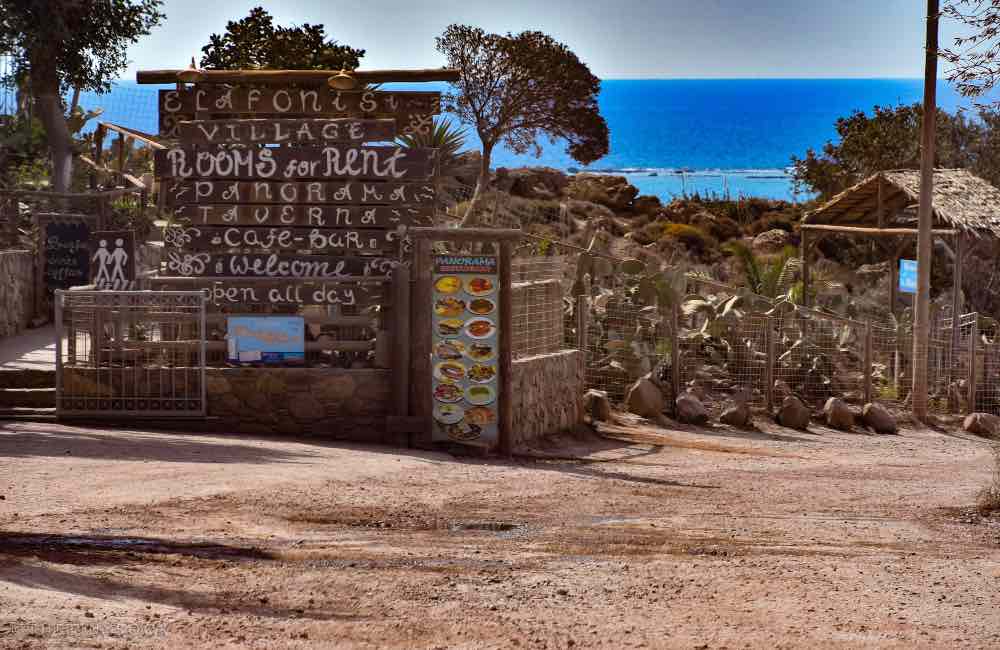 Sports in Elafonisi
This place is excellent to practice my favorite sport ever: do nothing on a beach. However, if you're not a relaxed type of person, snorkeling is very popular in Elafonisi.
The area is often hit by very strong winds which, paired with a lagoon protected from the waves, have transformed this spot into a sanctuary for kite surfing.
>>Check more beaches in West Crete<<
Where to Eat in Elafonisi
There are no good places to eat on the beach, there's just one tavern at the very entrance of the parking spot, and then two different beach bars with an assortment of fresh drinks and beer, ice cream, coffees, and pies or sandwiches.
It's always safe to pack your own lunch, some fruit, and plenty of water.
Prices usually go up a lot in August if compared to Greek standards, especially for cold drinks.
It's always a better idea to bring food from home or stop at any of the markets on the main road before the beach. They usually sell frozen bottles of water that last cold until late in the afternoon.
If you pack your own lunch, please leave no memories on the beach, there are many well-marked containers for rubbish everywhere. Use them!
Other Details about Elafonisi Beach
As you saw in the pictures above, Elafonisi has an offer of sunbeds and umbrellas (from 7 to 12 € depending on the month and sometimes on the hour of the day too).
There are also toilets on the beach, you have to pay a very small fee to use them.
The earlier you go in the day, the cleaner you'll find them, it's a matter of basic maths.
Essential Things you Should Pack to Visit Elafonisi
Elafonisi is popular, more popular every year that goes by. It's common to arrive and find that there are no umbrellas or spots in the shade.
So, remember to bring with you a big hat and loads of sunscreen with high UV protection.
Take special care of children, provide special sunscreen for them too, as well as a hat, even a T-shirt or cover-up and loads of fresh water. That's also a reason why you'll see so many tents around on the beach.
In case you forget any of the essentials, there're a few markets on the main road before reaching the beach. There you will find bread, fruit, snacks and iced drinks.
It's also possible to get magazines, sunscreen, beach toys, towels, and hats.
>>Check the best Naturist Beaches in Crete<<
Spend the Night: Elafonisi Beach Hotels
Spending the night in Elafonisi is an excellent idea if you come from further places such as Rethymno (132 km) or Heraklion (211 km).
If you are staying in the west part of Crete, a day trip is bearable. We spent the night a few times and it's something that I would definitely advise.
The village is really quiet and gets very lonely at night when at about 5 pm, most tourists start their way back to the north.
There's a small range of accommodation choices, so you will need to book in advance if you visit in July and August, but we've always managed to find accommodation without booking in late September.
One of the nicest places where we've stayed is Elafonisi Resort Kalomirakis, it's located right at the entrance of the beach, where the paved road ends.
Prices are fair and the bungalows are really nice, among olive groves, lemon trees, and pretty views.
The breakfast options were abundant, but it's usually not included in the price of the room. It's definitely a quiet place, with a nice garden for children.
>>Check the best Airbnbs in Elafonisi, Crete<<
The rooms are basic and very clean, with a kitchenette and air conditioning. We stayed many times and we've always liked it.
Another popular place to stay is Glykeria, located on the main road of the village, a few hundred meters from the beach. The place has a magnificent view of the sea and is often fully booked early in the season.
They also have a pretty interesting restaurant worth a dinner. We've also visited many times, both at sunset for a drink and later for dinner too.
Pro tip: Open your eyes! We managed to spot deers crossing the main road at night twice!
When is the Best Month to Visit Elafonisi Beach
If you are visiting for the same reason that 90% of people go there, aka the beach, then you must visit sometime between late May and early October for warm temperatures.
July and especially August are very busy, crowded, and hot.
Winds are not uncommon at all, in any month, but there's not a precise factor as to why. You need a bit of luck.
The Wind in Elafonisi Beach
Once you've made it all the way there and you find heavy wind, reach the island on foot and place your beach towel on the wet sand to avoid a painful experience, very painful if the wind is extreme.
Also, you can find a protected place to stay near the coves.
That's about all you can do. Or simply get in the sea and swim until it gets better.
Elafonisi Beach in the Cold Season
If you're just looking for some peace, a lonely place to spend some time, maybe resting, taking photos or just reading a good book, it's possible to visit any time of the year.
Please take extra care when driving in winter, as temperatures in the mountains drop and ice formations are not rare.
Also, accommodation might be close to impossible to find and floods are not uncommon. You might need to drive all the way to Kissamos to spend the night.
Remember that the sun sets earlier in winter, leave with plenty of daylight ahead to drive through the mountains.
Other Ways to Get to Elafonisi
Check also these alternatives to travel to Elafonisi…
Traveling to Elafonisi by Bus
It's not hard at all to reach Elafonisi by bus from Chania's Central Bus Station. The timetable is usually at the station or on the KTEL bus company website. The bus service is very limited during winter.
The ticket is 11 € and the journey there is about 2 hours.
Getting to Elafonisi by Boat
The only place with boat trips to Elafonisi is Paleochora. Another south village that is rather hard to reach as far as roads are concerned, so this service is only worthy if you are already staying there.
Boats usually leave at about 10 am, but it's always better to confirm with the local boatmen.
Bear in mind that there is no port in Elafonisi, the boat will leave you at a nearby docking area, about a 10-minute walk from the beach.
Check prices with several boatmen before buying your ticket.
>>Check more beaches in Akrotiri, Chania<<
Best Places to See Near Elafonisi Beach, in Crete
If you're driving all the way to Elafonisi, take it easy and stop on your trip to check the following places…
Komolithi Formations, Potamida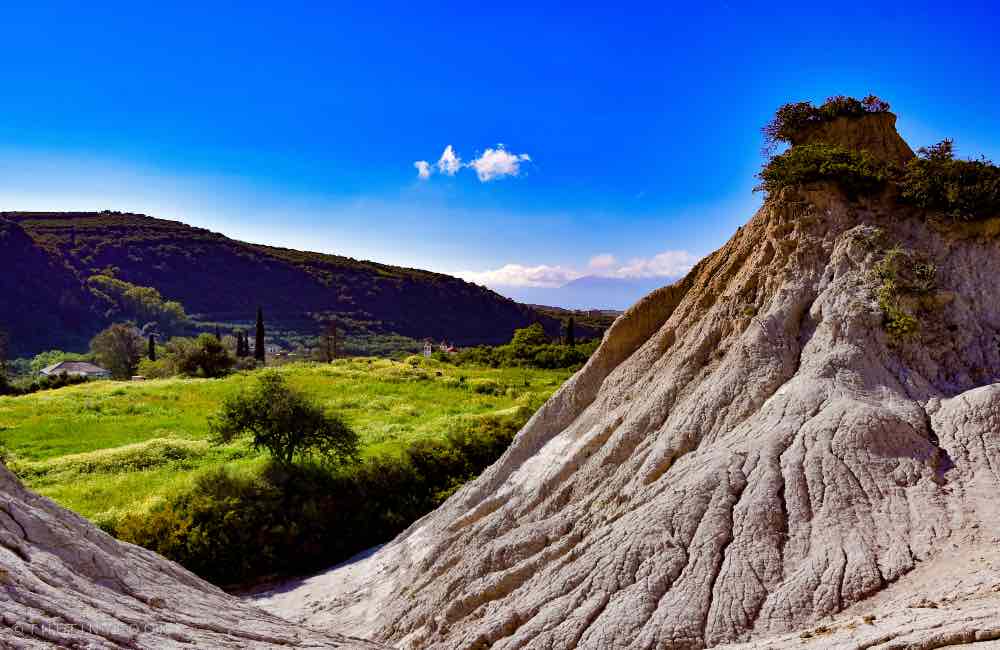 If there's a place worth stopping while you're on the way to Elafonisi, this is definitely the one. You do not want to miss a visit if you are a lover of nature, photography, or if you travel with kids.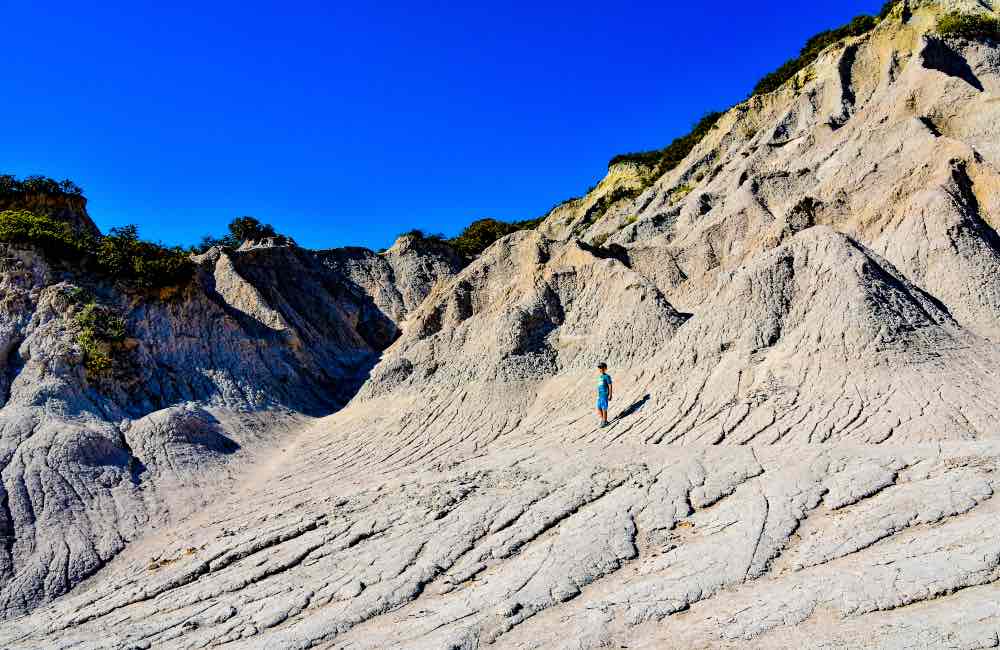 Komolithi is located in the village of Potamida, in Kissamos, in the valley of river Tyflos. If you are coming from Chania, it's no more than 15 minutes after you take the detour to Elafonisi.
Look out because there is just one small sign.
This bizarre landscape is made of very soft clay hills, grey, and rather low.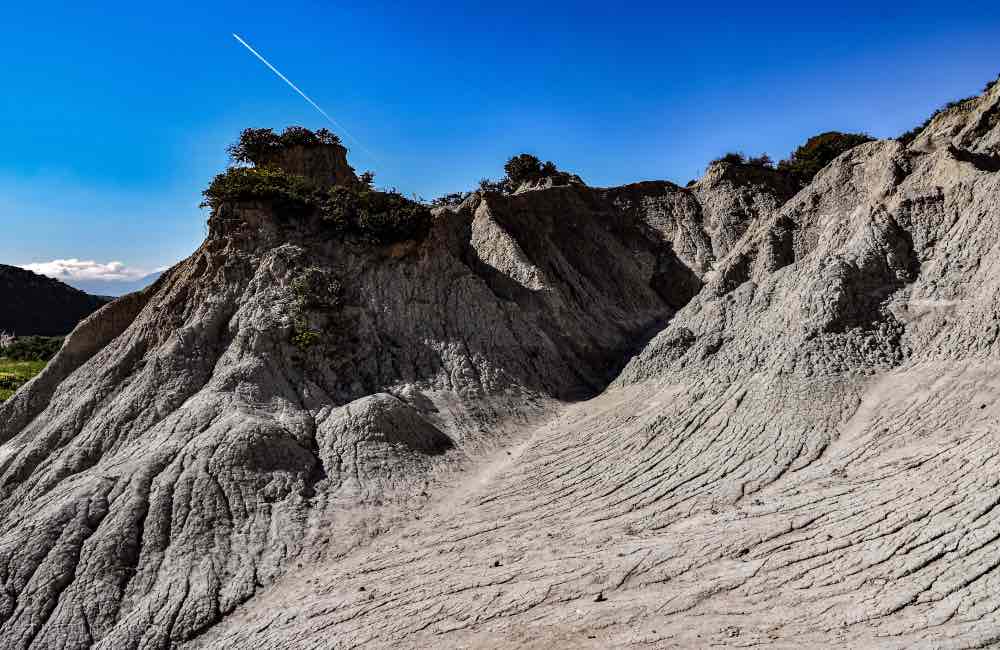 The erosion has sculpted their unique conical shape, and many of the formations have vegetation on the top.
There's only one place in Crete with similar formations, on the opposite extreme of the island (in the islet of Koufounisi, in Sitia).
They are fairly easy to climb and being the place rather unknown and solitary, the landscape helps to produce quite unique pictures.
Cave of Agia Sophia
Right after you've passed the tunnel of Topolia, there's a wonderful place that deserves a stop, the Cave of Agia Sophia.
After quite a breathtaking steep climb of over 150 steps, you will reach the imposing entrance of this unique cave, at about 285 meters a.s.l.
Inside, it's possible to admire a tiny church, which has the same name as the cave, as well as huge stalactites and stalagmites.
The main chamber is known as The Cathedral due to its dimensions, about 20 meters high and 70 in width.
Humidity increases the further you venture inside the cave, wear comfortable shoes to climb and to walk inside, avoid flip flops at all costs.
The place is famous for the alga, but also for the number of pigeons flying inside. Inside the cave, there is a variety of spiders, known as Phoicus Creticus, that only live here, nowhere else in Crete… or in the world!
According to a legend, Saint George's horse left an imprint of his hoof on the walls of the cave.
After the visit, stop while you climb down, for a refreshing orange juice in the local taverna.
Milia Mountain Retreat
Milia is a private mountain resort in the center of Kissamos, and it's in a zone belonging to the network Natura of protected areas.
The facilities used to be an abandoned village from the 15th century, above the gorge of Topolia gorge, at the foothills of the White Mountains.
Thanks to accurate restoration work, it's now a cozy hostel with an organic farm on the premises.
This settlement has become very popular during the last years and many locals choose it as a Winter retreat. It's also popular among young Cretans as an alternative to spending Christmas at home, they come here with friends or with a partner.
The complex is amidst a breathtaking mountainous landscape, in a valley surrounded by mountains Kefali and Psilo (about 550 meters a.s.l.).
You can obtain more information about the accommodation, the landscape, and the activities, such as cooking lessons or hiking outdoors if you check their website. It's definitely a place to keep in mind for a long stay in the mountains.
Chrysoskalitissa Monastery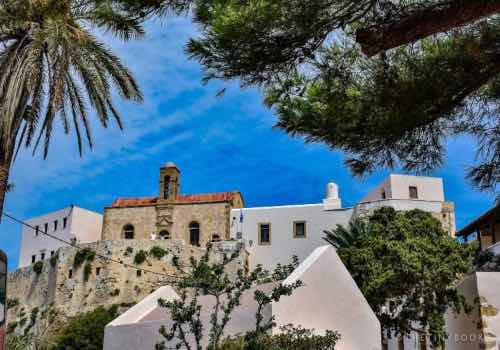 About 5 km from Elafonisi, the Monastery of Panagia Chrisoskalithisa (sometimes spelled Chrysoskalithissa) (17th century) is on top of a rock (less than 40 meters high), which offers spectacular views of the surrounding area and the sea.
>> Read more about Chrisoskalithissa and other Cretan monasteries <<
This is a fortified construction with a very interesting name. As a matter of fact, Chrisoskalithisa comes from the Greek chrisa skalopathia meaning golden steps.
According to the legend, one of the 98 steps leading up to the monastery was made of gold.
Still, there's another version explaining that the sanctuary sold the valuable staircase during the Ottoman rule to alleviate its economic burdens.
Very close to the monastery, archaeologists have found a little fishing village dating back to the Minoan era.
Village of Elos
This small and quiet village is about 60 km from Chania, rather close to the beach, it's a great stop for food after the visit to Elafonisi.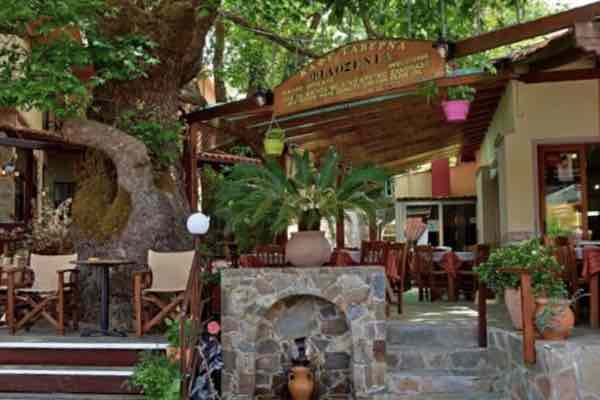 The village is surrounded by green scenery made of chestnut forests, olive groves, and plane trees, as well as a few streams flowing from the mountains.
Every year, by the end of October, the arrival of Fall is celebrated by the chestnut festival, which attracts visitors from different corners of the island.
If you stop in the village of Elos, I strongly recommend you to taste the homemade dishes of Philoxenia Taverna, you will never forget a meal there.
Kedrodasos Beach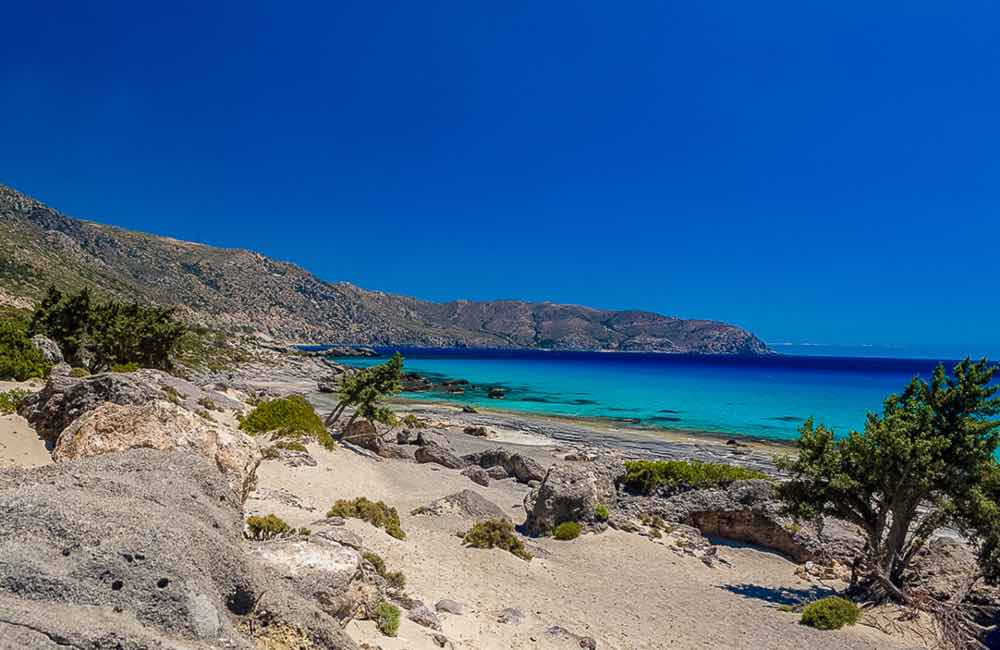 Kedrodasos is only one km from Elafonisi, towards the east and it's a bit hard to reach as you will have either to hike or to drive along a very rough path, an off-road vehicle is the best way to go.
The name of the beach means cedar forest, but the tree that populates the area is, in fact, the juniper, a very delicate and protected species.
The area is totally secluded, and there is no accommodation around, many people choose the place as a camping spot, though the Greek law forbids it.
There's more information about Kedrodasos in my article 10 Best Beaches of South Crete.
The best way to discover Crete is by planning your own road trip and itinerary, here are some practical links that will make the planning phase of your trip much easier.
---
Have you ever been to a pink sand beach?
Let me know in the comments below!
---
Travel Plans for Crete?
More Resources to Organize Your Trip!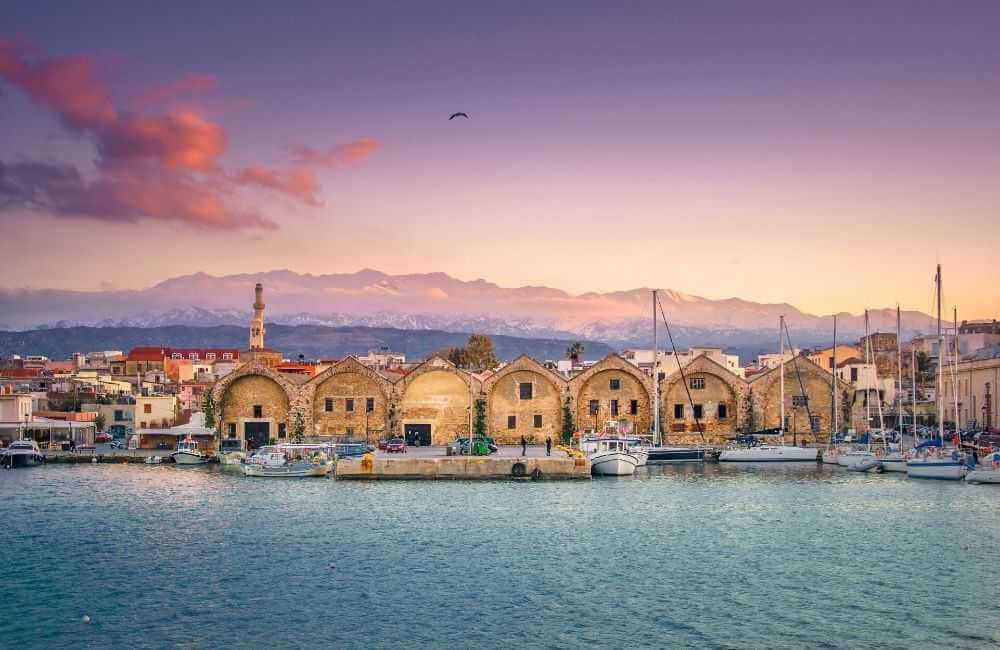 Start by heading right to my tips to plan a trip to Crete for in-depth details you need to know about Greece. You can also check my post to better know what to pack for a trip to the island or read this info to visit Crete with children!
Get in touch if you need extra help to plan your trip. If you want to tour West Crete, check my guide. Want more? Join my Private Facebook Group to connect with like-minded travelers who love Crete as much as you do!
Make Sure You've Got Everything For a Hassle-Free Vacation!
I never move around the islands without my Osprey backpack, a sturdy but light travel partner that I love. For short trips, I carry this little crossbody bag. If I drive, I pack my Nikon D7200 and a good travel guide: Lonely Planet's Best of Greece & the Greek Islands.
When it comes to plane tickets, compare prices with a powerful search engine. However, nothing beats traveling by sea in Greece. With Ferry Hopper, you can book in advance at the lowest price.
For accommodation, I use Booking.com. Traveling to remote places is easier with Discover Cars. Other times, I join organized tours with GetYourGuide, which features anything from cooking lessons to airport transfer!
Are you coming to Crete any time soon?
Get in touch and let me know!
Read more:
How to Get from Heraklion to Chania: Practical Guide by a Local
Balos Beach Crete: Complete Insider's Guide
Extraordinary Things to Do in Crete in Winter
Discover + 45 Most Gorgeous Beaches in Crete (A guide by an insider!)
Trip to Crete in October: Top Things to Do in Crete in Fall
This is a pin-pin situation!
Pin it Now! Pin This Guide With All The Secretes About Elafonisi Beach in Crete
About the author of this blog: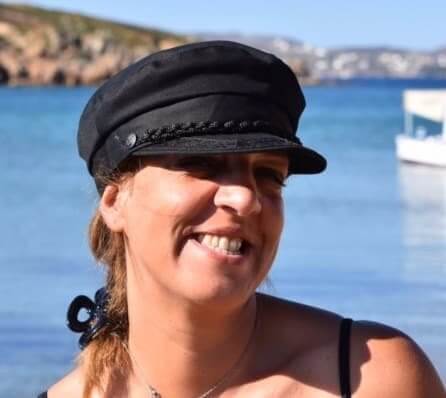 Gabi has been living in Crete for the last five years. Here, she juggles being a solo mom, hosting culinary tours in the summer, translating, and working as a tech advisor.
She's written for Greek Reporter, published two travel guides about Greece, and had more glasses of frappe than any regular person would be able to handle.
---
You might also want to read:
---