Why You Should Visit the Beaches in West Crete
The westernmost region of Crete, Chania, is home to the three best-known beaches of the island, Falassarna, Balos, and the pink sand beach of Elafonisi.
This makes Chania an interesting destination for tourists from all over the world who visit Crete in Summer to discover these three ravishing coasts. Yet, since they're so popular, they tend to be overcrowded.
The intention of this guide is to shed light on some of the lesser-known beaches of West Crete. This way, you'll have more alternatives. And you won't leave the island without seeing other spectacular beaches that populate the region of Chania.
Map of Chania
North Coast – West Crete
In contrast to the solitary South coast of Crete, bathed by the Libyan Sea, the northern coast of the island is densely populated.
This implies the presence of numerous resorts and hotels, and a massive number of tourists from May to October, roughly the warmest months on Crete.
While many people believe that the magic of the southern coast is unbeatable, and there is indeed an amazing selection of shores to enjoy, many others go for a holiday close to more commercial centers, with loads of activities and things to do at night.
If you're among these travelers, these are some of the beaches you can visit when staying on the northern coast of Chania.
Beaches Northeast of Chania
Beach of Kalyves
Latitude: N 35.451826
Longitude: E 24.172109
Distance from Chania town: 23 km
Characteristics: Organized sandy beach. Crystal clear, shallow sea, popular among tourists who visit Crete every year.
The village of Kalyves is in the area of Apokoronas, rather close to the center of Chania, and it's extremely popular among tourists, many of which have bought houses in the area and have become either permanent residents or frequent visitors.
The beach area, also known as Kalyves, is very well organized. There're umbrellas, tavernas, and it's also possible to play different sports. The main beach of Kalyves is divided into two main shores by a rocky formation.
In general, it's a calm beach, good for families, but it's rather exposed to the northern winds and tends to be very wavy on some days. Close to the area, there's a river running to the sea (River Xydas), so the water is not as warm.
If you're driving to Kalyves from Chania, about a kilometer before the beach, you can enjoy the coast known as "Côte d'Azur" or Kyani Akti, quiet and not really populated even in the high season.
If you move towards the east, and before reaching Almyrida, there's the lesser-known Kera Beach, quite isolated and unorganized.
Almyrida
Latitude: N 35.448847
Longitude: E 24.201322
Distance from Chania town: 25 km
Characteristics: Sandy beach close to Kalyves Beach, organized, exposed to northern winds.
Another very popular beach in the area is Almyrida (also spelled Almirida), located in the village bearing the same name. There are two sandy beaches separated by a pier with a picturesque church standing at its tip.
Alyirida is a shallow beach, waveless unless the northern winds hit the area, in which case it's a good idea to get on your car and drive to the opposite coast, on the Akrotiri Peninsula. If you enjoy windsurfing and other water sports, then don't go anywhere else!
The beach is well organized, with a lot of beach bars, tavernas, and restaurants along the shoreline. The small island of Karga stands opposite the beach.
You can visit Karga if you rent a boat at the pier. The islet is popular among fishermen and better known for the shelters left behind by the Germans after WWII.
Koutalas Beach
Latitude: N 35.466793
Longitude: E 24.232162
Distance from Chania town: 32.5 km
Characteristics: Pebbled beach with no organization several rocks and caves. Crystal emerald sea.
The beach of Koutalas or also Koutalis is a fantastic, rather unknown, rocky beach, hidden in the proximity of Cape Drepanos.
This shore is known among those into scuba diving since there's a collection of sea caves, many of them worth exploring. I've written about the magnificent Elephant's Cave here.
The beach lies at the exit of a small but harsh gorge, and it's possible to reach the area from the nearby village of Kokkino Chorio, taking the roar that takes north to the Drepanos Peninsula.
Remember that you'll need to take everything you need to spend a day in Koutalas, and tennis or hiking shoes are also a good idea to visit the area.
About 4 km before reaching Koutalas to the west, there's another hidden cove in the area known as Zeus Bay. It's Vraskos Beach, a magnificent and extremely narrow shore, at the exit of a tiny gorge.
To reach the area you will need to hike since there's no official road leading to the beach.
About 4 km before reaching Koutalas to the west, there's the hidden cove of Zeus Bay. Here lies Vraskos Beach, a magnificent and extremely narrow shore, at the exit of a tiny gorge.
To reach it you'll need to hike since there's no official road leading to the beach.
Georgioupolis
Latitude: N 35.361922
Longitude: E 24.261377
Distance from Chania town: 43.2 km
Characteristics: Organized sandy beach, popular in the high season. There's another nearby beach good for scuba diving.
Located in the region of Apokoronas, right before Rethymnon, the small village of Georgioupolis has a main well-organized beach and a few other solitary shores.
The numerous tavernas and cafes of the village gather around the main square and along the coast. Georgioupolis attracts many visitors from all over Europe during the Summer.
The main beach of Georgioupolis is a rather long — at times narrow — sandy strand with very shallow waters, safe and ideal for families with children.
The beach is better known for the small chapel of Agios Nikolaos, located at the end of a long pier, giving the illusion of being in the middle of the sea.
Close to the pier, there's also a harbor with small, picturesque fishing boats, at the exit of River Almyros.
Up north of Almyros River, there's a more solitary sandy beach, ending at the mouth of the incredibly clear River Perastikos, which ends at the sea. It's locally known as Perastikos Beach.
The river mixing with the sea provokes a bizarre hot-cold effect when you are in the water. In this part of the beach, there's a popular diving center. The river is crossed by a small bridge from where small kids love to jump!
Beaches Northwest of Chania
Starting from the super famous Balos Beach and Lagoon, but also including the beaches closer to Chania, such as the resorts of Platanias, Agia Marina, and Agii Apostoli, home to numerous all-inclusive hotels.
The beaches on the north coast of Chania towards the west of the region are the most visited ones. These last three shores are one of Crete's top destinations for package holidays.
Balos Beach & Lagoon
Latitude: N 35.581696
Longitude: E 23.591223
Distance from Chania town: 52 km
Characteristics: Organized sandy beach with an exotic atmosphere, access can be difficult as hiking is required. It's also possible to visit by boat.
There's not much left to be said or written about the famed Balos Beach and Lagoon, on the tip of Cape Gramvousa.
The beach and the opposite Cape Tigani form a shallow lagoon with turquoise waters and white sand, a perfect-picture landscape that has become a symbol of the beaches of Crete.
Balos is located on the uninhabited peninsula of Gramvousa, and to visit you will need to travel off-road for over half an hour and then hike down to the beach for at least 20 more minutes.
Under the sea, there are different colorful algae and seaweed, both making it a great spot for snorkeling.
The beach is shallow and usually calm, two characteristics that make Balos good for families with kids. If you're traveling with very small children, though, you might want to consider a day trip by boat in order to avoid hiking the rocky path.
Falassarna
Latitude: N 35.501621
Longitude: E 23.579582
Distance from Chania town: 54 km
Characteristics: There are both organized and unorganized beaches on the bay of Falassarna, most of them sandy. It's usually hit by strong winds, but when the weather is calm, the beach is perfect for swimming.
Falassarna is one of the beaches in West Crete that both my kids prefer, and I like it a lot too, to be honest.
Despite its popularity, it never really gives you the impression of being overcrowded as the shores are very wide and the bay extends for a few kilometers.
There are a few different smaller beaches you can visit, the Small Beach is rather isolated, there are a few high rocks and coves by the sea, and it's a favorite by those who enjoy a beach with no organization.
The Big Beach (Pachia Ammos), is a popular organized shore where visitors can practice a wide variety of sea sports.
Sfinari
Latitude: N 35.419737
Longitude: E 23.563874
Distance from Chania town: 58.3 km
Characteristics: Quiet sandy beach with small pebbles, partially organized in the high season.
Sfinari Beach is located in the homonymous seaside village, about 14 km south of Falassarna. It's still quite rather off-the-beaten path. The area is surrounded by a beautiful lush landscape of tamarisk trees and olive groves.
The beach is sandy with fine pebbles, and the sea can, at times be windy, but not as much as it gets in the open bay of Falassarna. The landscape is rather green with mountains standing at the back of the beach.
Platanakia
Latitude: N 35.175322
Longitude: E 24.414093
Distance from Chania town: 65 km
Characteristics: Platanakia is a small beach quite protected, with coarse pebbles and a few sandy areas. The beach is rather hard to access (hiking) and there's no organization.
Platanakia is a tiny shore, quite unknown to massive tourism, on the western coast of Crete, a few kilometers from Falassarna Beach. It's also very close to the beach of Sfinari.
The beach can be accessed by hiking for about 2 hours along the gorge of Kambos. The cove is surrounded by cliffs which make it secluded.
Kissamos
Latitude: N 35.498209
Longitude: E 23.658208
Distance from Chania town: 39 km
Characteristics: There are several beaches located on the Gulf of Kissamos, most of them are pebbled beaches or sandy with pebbles. The sea is often hit by northern winds. Some of the beaches are organized.
Kissamos is a rather developed center located halfway between Chania and the beautiful Balos Beach. It's a popular place for tourists, who usually stay here to reach the westernmost beaches of Falassarna and Elafonisi, or who depart from the port of Kavousi to visit Balos Lagoon on a day trip.
However, there are a few beaches on the coast you could visit. To be honest, these are not my favorite beaches of West Crete, I don't really enjoy the coast of the Gulf of Kissamos, nor the area of Drapanias, yet they are worth including on this list since many tourists love them.
Besides, there are great hotels in the area as well as interesting things to do in Kissamos too.
Korfalonas (also known as Drapanias) is a beach near the village of Drapanias, it has rather big pebbles and there's some organization.
On the coast, there are beautiful views both of Cape Gramvousa as well as of the Rodopou peninsula, and the opposite beach of Ravdouxa.
Telonio Beach is Kissamos' most popular beach. It's in the center of the village, opposite a lively seaside promenade with bars, taverns, and hotels.
Telonio is a sandy shore with coarse pebbles. From its central position, it's possible to enjoy privileged views of the whole gulf and the peninsulas.
It's a rather windy beach, with high waves, not the best or safest option for families.
Kolymbari & the Beaches of Rodopou Peninsula
Latitude: N 35.545643
Longitude: E 23.779106
Distance from Kolymbari to Chania town: 25 km
Characteristics: There are several beaches along Cape Rodopou, many with pebbles and a few sandy ones. Some have good organization.
The small village of Kolymbari is an important tourist center and a small port at the end of the Bay of Chania, right at the point where the Rodopou Peninsula begins.
There is a fairly developed hotel area, as well as a long sandy beach with small pebbles and shallow waters.
The beaches further north of Kolymbari are probably the prettiest, with some beautiful rocky coves close to the fortified Gonia Monastery.
If you keep driving north along the coastal road that from Kolymbari takes you into the Rodopou Peninsula, after about 6-7 kilometers, you reach the impressive but small bay of Afrata, at the end of a green gorge.
Afrata is a rather unknown pebble beach on the eastern side of Cape Rodopou. Crystal-clear waters and colorful stones underwater make it a beautiful place to enjoy snorkeling and fishing.
Many private boats anchor near Afrata on their way to Menies.
There's a small taverna and some basic organization on the beach, while in the main village of Afrata, there's also the possibility to find places to eat and accommodation.
The local hospitality, the amazing food (do try the taverna Kali Kardia, in the village!), the impressive roads and the pristine beach make Afrata one of my preferred beaches on West Crete.
I really enjoy Afrata even if I'm not a big fan of pebbles.
After a visit to Afrata Beach, you have two possibilities:
You can drive off-road for about an hour (24 km on a dirt road) to the north of the peninsula and explore the stunning beach of Menies, here is some detailed information for those who want to visit.
Otherwise, you can drive to the west of Cape Rodopou, and pass through the villages of Rodopou and Aspra Nera to reach the western beaches of Ravdouxa. The trip is about 25 minutes.
There are two beaches in the area of Ravdouxa (or Ravdoucha), both with the same name. They're mostly pebbled and it's difficult to find tourists in the area, while locals seem to like it a lot.
On one of the beaches, there's a taverna by the sea and almost no organization.
A few meters away, there's another small cove, with very dark sand and rocks, quite lonely and unimpressive. However, the sea has a stunning rock bottom which makes it ideal for snorkeling. There's also a rocky pier great for fishing.
Platanias, Agia Marina, and Agii Apostoli
Latitude: N 35.516889
Longitude: E 23.910166
Distance from Platanias to Chania Town: 16 km
Characteristics: Sandy beaches, completely organized, shallow waters but exposed to the northern winds like most beaches on the northern coast.
Platanias is a fairly big beach and seaside resort that extends all the way to the next beach of Agia Marina. Both villages have grown so much during the last few years that they now form a virtually unique long beach.
Most of the resorts in the area are devoted to hosting package holiday tourists, many of which (sadly enough!) never leave the facilities to explore the rest of the island.
The beaches are sandy and very clean, yet, they can be largely affected by the winds. When this happens, the sea is rough, wavy, and dangerous at times.
For a more authentic experience, still remaining in the area, it's my suggestion to forget both Platanias and Agia Marina to focus on the smaller bays located in the area of Agii Apostoli (less than 6 km from Chania).
Here, there are three different bays worth a visit. The public beach of Agii Apostoli (also spelled Agioi Apostoli) is a protected sandy beach, with tavernas, beach lounges, and umbrellas. The bay is quiet, protected from winds, and very shallow.
Another favorite of mine in this area is Iguana Beach, the second small beach of Agii Apostoli. Unfortunately, it can get very crowded during the high season, but it's well-protected from the wind, and perfect for kids.
There's a nice canteen on the beach selling great sandwiches and delicious fruit juices. Outside of the beach, there's a huge public parking area and many restaurants too.
Finally, the last shore you can visit is Glaros Beach, another sandy beach also very well organized, larger than the previous two, and mostly used by the guests staying in the hotels in front of the beach.
City Beaches in Chania
I was never really a fan of city beaches, I usually find them overcrowded and pretty chaotic, often noisy, and sometimes dirty as well.
However, I was surprised to discover that the beaches located close to the center of Chania were not that bad after all. Let's check them here.
Nea Chora
Latitude: N 35.514215
Longitude: E 24.006994
Distance from Chania town: 1.5 km
Characteristics: Shallow sandy beach, organized, located within walking distance from the Old Venetian Harbor of Chania.
The long sandy beach of Nea Chora extends immediately towards the west of the Old Town. It's a favorite among locals and tourists too.
Ideal for small children, the beach is shallow and safe. Opposite the beach lies the small islet of Lazareta.
This tiny island has a pretty sandy beach that you can only visit with a private boat.
At the small fishing port of Nea Chora, it's possible to eat great fresh fish and it's a pleasant place for a walk during the Summer nights. Along the coast, a pedestrian street hosts several restaurants and small studios for rent.
Nea Chora has become extremely popular during the last few years, with a growing Airbnb offer that keeps attracting visitors.
The area is conveniently close to the Old Town with fairly lower price tags than the hotels in town.
At the end of the bay, towards the west, there's the popular city beach of Chrissi Akti (Golden Beach), very well organized with lounges, umbrellas, and several hotels and tavernas. Chrissi Akti is 2.5 km from the center of Chania.
Koum Kapi
Latitude: N 35.516142
Longitude: E 24.029677
Distance from Chania town: About 900 m from the Old Venetian Harbor
Characteristics: Sandy, shallow beach, not organized, a few meters from the center of Chania's Old Town.
Located by Porta Sabbionara, the eastern entrance to the Old Town of Chania, on Akti Miaouli is the beach of Kum Kapi. The beach is the closest one to the city center. It's good for a quick swim when you're staying in tow.
Koum Kapi is a very shallow, sandy coast, sometimes hit by the northern winds. It's very popular among locals and tourists staying in the area.
Along the beach, there are several bars and tavernas, crowded at all hours of the day. Here, locals gather for a drink and some music at night to escape from the more crowded bars in the New Marina and the Old Harbor.
Tabakaria (Kouloura Beach)
Latitude: N 35.521696
Longitude: E 24.040992
Distance from Chania town: 2.5 km
Characteristics: Rocky beach, with access by steep stairs, with no sand, and not organized.
Tabakaria, the tanneries, is a rather abandoned neighborhood in Chania. It was an active center for leather processing back between the First and the Second World Wars.
The neighborhood is peaceful and residential, although some requalification works are transforming many of the abandoned factories into hotels and fancy holiday homes.
There is a small pool-like beach in Tabakaria known as Kouloura. This name is due to the rocks that create a circle (resembling a koulouri) protected from the waves.
Here, people don't normally swim, but just rest and enjoy the slightly higher temperatures of the water inside the rocky circle.
Top Beaches in the Akrotiri Peninsula, Chania Region
If you're staying in the Akrotiri Peninsula during your holiday in Crete, you'll certainly find this guide to the beaches of Akrotiri extremely helpful as it includes all the beaches you can visit.
As I've written there, I live on the peninsula, and I'm a big fan of the beaches of Akrotiri, and down below you'll find the most remarkable of them.
Seitan Limania Beach
One of the top beaches in Chania!
Latitude: N 35.551902
Longitude: E 24.193404
Distance from Chania town: 21 km
Characteristics: Unorganized beach, sandy shore mixed with pebbles. Rather difficult access.
Locally known as Stefanou Beach, Seitan Limania is one of the most popular beaches on the peninsula, although it was practically unknown until recently.
The beach became famous thanks to the spectacular shades of blue, from deep navy to turquoise, filling the lightning-bolt-shaped cove in striking contrast with the orange walls of the surrounding cliffs.
There's absolutely no organization, so you need to be prepared for a visit, pack your own food and drinks, and everything you might need for the day.
Since the access is rather difficult and hiking is required, it's a great idea to face the descent wearing comfortable walking shoes or tennis.
Stavros Beach
Latitude: N 35.591
Longitude: E 24.0957
Distance from Chania town: 15.4 km
Characteristics: Small, organized sandy shore, with clear green waters, virtually waveless, and protected from the winds.
One of my absolute favorite shores on Crete is Stavros. Many friends have often asked me if I really like the beach, as it's mostly organized and crowded in Summer.
Still, what I love about Stavros is not the beach in itself, but the experience of swimming there.
In Stavros, the sea is shallow close to the coast but gets deeper as you reach the mountain in the background. The water is perfectly transparent, and you can easily spot fish and shades of pink sand at times.
As the beach is almost completely closed to the open sea, there are no waves and the water usually has warmer temperatures during the hot months.
…And what I like the most about Stavros, is that when the north coast of Chania receives strong northern winds and going to the beach is pretty much impossible, Stavros is still calm and quiet.
A favorite among kids and families, this is one of West Crete's beaches worth discovering.
Marathi Beach
Latitude: N 35.505203
Longitude: E 24.173665
Distance from Chania town: 17.5 km
Characteristics: Organized sandy beach with shallow waters. There's also a small harbor and the possibility of practicing watersports.
Marathi Beach stands on the eastern side of the Akrotiri peninsula, right in front of Souda Bay, Chania's main port.
The beach is narrow but very clean, a key point to making Marathi ideal for kids. It's shallow, safe, and mostly protected from strong winds.
To find a good spot on the beach it's better to visit in the morning or to arrive as early as you can. On the seaside walk, there are several restaurants, popular both among locals and tourists.
Kalathas Beach
Latitude: N 35.5543
Longitude: E 24.0872
Distance from Chania town: 9.2 km
Characteristics: Wide organized bay, with a few trees for shadow. The beach is mostly sandy.
The beach of Kalathas lies on a large picturesque bay, opposite a small islet. The beach is very wide and spacious, and it has lately been discovered by tourists that come all the way from Chania to spend the day (usually by taxi).
Kalathas is a great place for swimming, snorkeling, and kayaking. On the beach, there are both a bar and a taverna. It's possible to hire boats and canoes, as well as practice SUP surfing.
Other Beaches in Cape Akrotiri, Chania
Forme, Akrotiri is the peninsula that hides some of the top beaches in Chania. There are at least three more beaches that you should visit in the area of Cape Akrotiri, that add to the previous ones.
Tersanas Beach is a shallow, sandy bay ideal for families with kids or for people who cannot swim. Loutraki Beach, close to Marathi, is a perfect place for young adults.
South Coast – West Crete
Despite living on the northern coast of Chania, I simply love the south of Crete. I believe the best beaches on the island are bathed by the Libyan sea.
The water is cleaner (and in some places, colder), the atmosphere authentic and relaxing. It's a common understanding that the best beaches in Chania are in the south.
I'm always eager to cross the different gorges of the White Mountains to visit the south and add a new beach each season to my most popular article on the blog so far.
If you want to discover the prettiest side of Crete, check these southern beaches.
Elafonisi Pink Sand Beach
Latitude: N 35.272627
Longitude: E 23.541815
Distance from Chania town: 73 km
Characteristics: Spectacular sandy beach with turquoise waters, shallow shores, and organized.
There's not much I can add about Elafonisi to what I've already described in the practical guide to visit Elafonisi as well as in the guide to the best beaches of South Crete. And other than the guides, I'm a big fan of this beach. In any case, I'll try to describe the basics of the well-known beach in the paragraphs below.
The fantastic beach of Elafonisi was rightfully added to the list of the world's most beautiful beaches back in 2014. Since then, tourists have kept coming to Crete with the intention of seeing its pink sand and swimming in the striking blue waters.
Elafonisi is a completely organized beach in one of Crete's most uninhabited areas. There's a limited choice of accommodation, so it's a good idea to book in advance if you plan to spend a few days (you should!).
Paleochora
Latitude: N 35.231045
Longitude: E 23.681817
Distance from Chania town: 77 km
Characteristics: In Paleochora there are sandy as well as pebbled beaches. Some of them are organized, and close to the village. Others are more distant, and a few, are completely unorganized.
A bit more than 75 km from Chania liest the village of Paleochora, it's one of Crete's preferred places for relaxing holidays surrounded by a friendly and authentic atmosphere. The village has some of the most beautiful beaches in the South, with a high number of visitors going back year after year.
The main beach is the one opposite the village, Pachia Ammos, also known as Paleochora's long beach since it's over 500 m long.
This gives it a feeling of never being crowded, super appealing to tourists. Since it's shallow and it has fine sand, kids love Pachia Ammos, however, if it's windy (south or west winds), the sea can be wavy and a bit dangerous.
The beach is completely organized and you'll find every facility you need.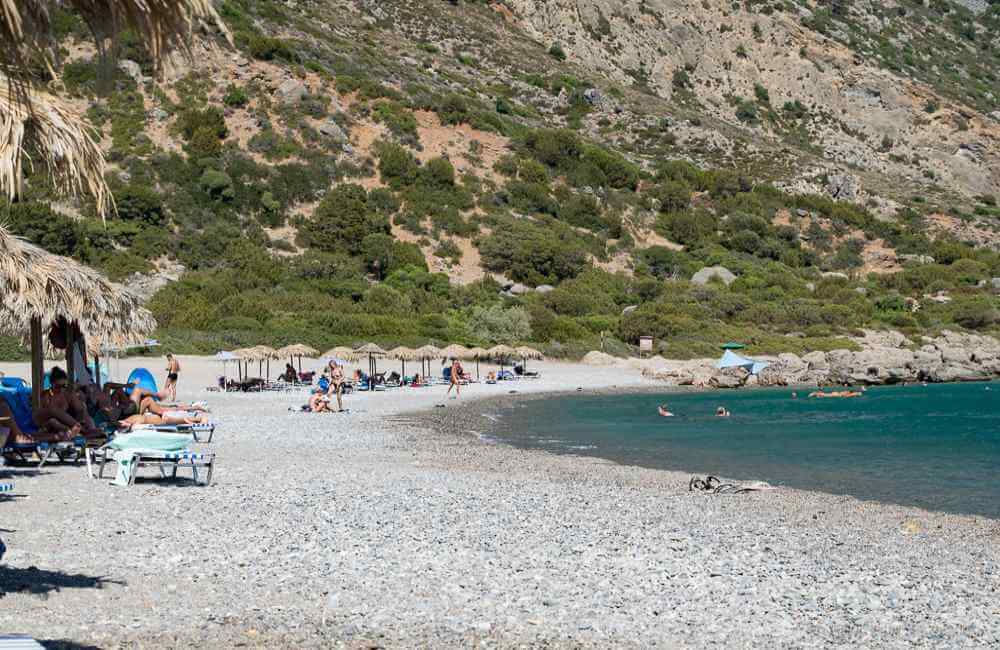 There are several other beaches you can enjoy in Paleochora, Gialiskari (also known as Anidri) is about 4 km from the village, and it's arguably one of the most beautiful southern beaches on Crete.
Keratidis is another great beach, just 1 km from Paleochora, it has more pebbles than sand, and it's fairly easy to find it empty.
Karavopetra is a series of coves by the sea a bit more than 1 km west of Paleochora. Every cove is usually considered a separate beach, each of them very picturesque, with stunningly clear waters and bizarre rocky formations.
Marmara, Loutro, and Glyka Nera
Latitude: N 35.19919
Longitude: E 24.07828
Distance from Chania town to Loutro: 96 km
Characteristics: Loutro is a tiny village with a small pebbled beach, crystal clear waters, and well organized. The access is mainly by boat or hiking. Marmara and Glyka Nera can be reached in the same way.
Loutro is a wonderful little village on the southern coast of West Crete. You can get there by boat from Chora Sfakion, or by hiking the coastal path (from the west, starting in Agia Roumelin, or from the east, starting in Chora Sfakion).
If you're not in fairly good physical shape, I suggest you sail.
Loutro is a very quiet place, where there's not much to do other than swimming in its incredibly pristine waters or sunbathing on the pebbles.
The beach east of Loutro, about 2 hours walking on the coastal path (or just a few minutes away by boat) is Glyka Nera or Sweetwater Beach.
A wide bay, mostly pebbled, with clear deep waters. There's some organization and portions of the beach are devoted to nudism.
If you sail west of Loutro, instead, you'll find Marmara Beach. This is a remarkable pebbled beach, ideal for swimming, snorkeling, and exploring.
There're beautiful caves and impressive cliffs all around the area. There's some basic organization as well, and it's a favorite among those who holiday in Crete every year.
Chora Sfakion (Vrissi Beach) and Illingas
Latitude: 35.201331
Longitude: 24.136091
Distance from Chania town to Chora Sfakion: 72.5 km
Characteristics: Chora Sfakion beach is rather small, pebbled, and relatively shallow. Illingas is a hidden cove you can reach by boat.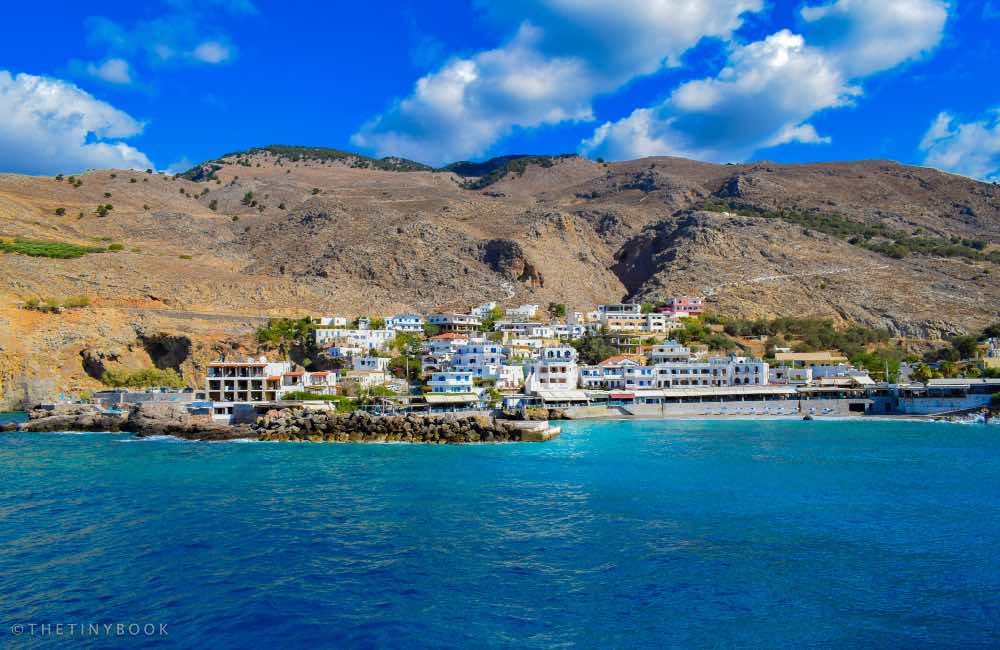 The small beach of Chora Sfakion is known as Vrissi Beach. It cannot compete with the stunning beaches on the rest of the beaches on the southern coast of Sfakia, however, it's quite popular when, for climatic reasons, boats don't sail to Loutro, Marmara, or Illingas.
It's organized and lies right next to the waterfront restaurants, fairly close to Chora Sfakion's old port.
Illingas (but also spelled Iligas and Illigas) is also known by the alternative name of Kavi Beach since it lies at the exit of the gorge of Kavi.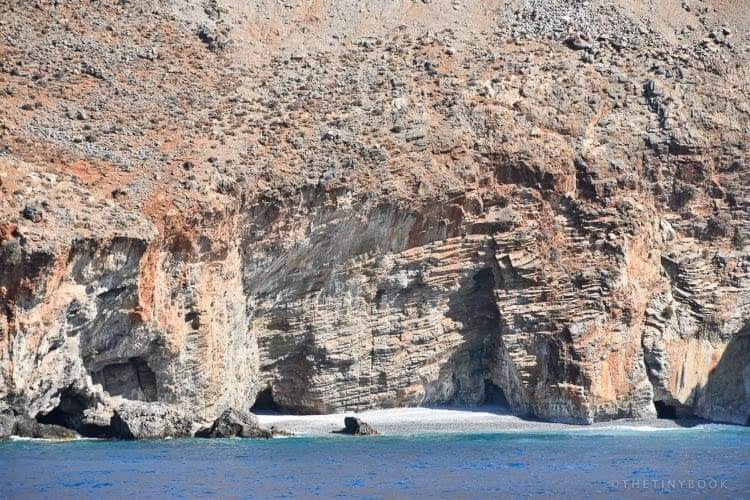 It's an amazing isolated beach about 1 km from Chora Sfakion, halfway between this town and the beach of Glyka Nera.
You can reach Illingas by boat or walking (from the Anopolis-Chora Sfakion main road, signposts are not easy to spot though).
The beach is made of one main shore and other few coves that you can only reach by swimming from the main beach.
There's a partial organization, including a taverna (that also rents rooms). The area is dotted with spectacular caves, and unique rocky formations contrasting with the bright aquamarine color of the sea. The beaches are mostly pebbled. Illingas is another favorite beach for nudism.
Aspri Limni
Latitude: 35.310751
Longitude: 23.524781
Distance from Chania town: 69.8 km
Characteristics: Small sandy beach, shallow and clear waters, and not organized.
Aspri Limni Beach is quite unknown to tourists but locals love the solitaire feel to this tiny beach close to Elafonisi.
The name means white lake and it clearly mirrors the shape of the shore, a kind of swimming pool enclosed by stones and high, sharp rocks, with very clear waters.
The beach and the area lack organization. Its isolated nature requires you to organize food and drinks before the visit.
There's no natural source of shade, so you either carry your own umbrella or avoid it during the hottest hours of the day.
This fine white sand beach is within easy walking distance from the monastery of Chrisoskalitisa (you can read about the monastery in my Elafonisi Beach post, in the "things to do near Elafonisi" section).
Once in the village, follow the signs to Phoenix theofrasti (the nearby tiny palm date forest). Most locals are reluctant to give you directions as they are rightfully trying to avoid mass tourism to overtake this hidden paradise.
Kedrodasos
Latitude: N 35.26903
Longitude: E 23.557351
Distance from Chania town: 73.8 km
Characteristics: Unorganized sandy beach, with rocky coves, and crystal, shallow waters.
In short, Kedrodasos is a magnificent white sand beach on a very shallow shore, with crystal clear waters in all shades of blue.
The beach is hard to access (off-road track) and solitaire, usually visited by a few backpackers and campers. To have a better idea about this beach, check this article.
Agia Roumeli
Latitude: 35.229731
Longitude: 23.958547
Distance from Chania town: 31.9 km, a trip to Agia Roumeli lasts longer since it's only accessible by boat either from Sougia or Chora Sfakion.
Characteristics: There are beaches with small or with coarse pebbles and rocky coves. Most of them are partially organized.
The small village of Agia Roumeli is mostly known and visited as it lies under 2 km away from the exit of the Samaria gorge.
Therefore, everyone exiting the gorge needs to hike to Agia Roumeli to take the ferry (either to Sougia or Chora Sfakion) and then get on the road to go back to Chania.
As it's the norm in the South, the village offers a limited range of things to do. There are a few tavernas and several simple hotels to spend the night.
The main beach is close to the harbor and is the most populated of all. It has pebbles and the water is rather deep and coldish.
The beach is a popular choice for naturists since there are several hidden coves of hard access. It's also a good spot for snorkeling ad exploring the rocky bottom of the sea.
Agia Roumeli is perfect for a quiet and isolated holiday.
Sougia
Latitude: N 35.249268
Longitude: E 23.8111
Distance from Chania town: 62.8 km
Characteristics: Sandy beach with pebbles, shallow bays. The beach is partially organized, the part of the beach lacking organization is popular with naturists.
The quiet atmosphere of South Crete is at its best in the seaside village of Sougia. In the area you can take long, relaxing walks along the extended coast to enjoy the views of the deep blue sea.
As we've previously mentioned in our list of top naturist beaches of Crete, a part of this shore completely lacks organization. Here, the high rocks and hidden coves are ideal for privacy and naturism.
The beach opposite the village, however, is well-organized. There's a nice beach bar and it's possible to rent lounges and umbrellas.
Frangokastello
Latitude: N 35.181586
Longitude: E 24.231458
Distance from Chania town: 84.4 km
Characteristics: Organized sandy beach, shallow sea, beautiful fortress by the beach open to the public.
Frangokastello is a wide sandy beach approximately 14 km east of Chora Sfakion. It's one of the few beaches in South Crete with fairly shallow waters, which makes it a great shore to enjoy with children.
The beach is well-organized but there are also several areas where you can place your beach towel without the need of renting an umbrella.
The main feature of the beach is the beautiful Venetian Castle located right opposite the sea.
The village is quiet and rather isolated, great for a relaxing holiday. If your ideal beach is wide, shallow, and with pristine seas, then this could rank as the best beach in Chania for you!
Gavdos Island
The small island of Gavdos is located off the southern coast of Crete, on the Libyan sea. Gavdos island is home to pristine beaches, some of them really off the beaten track.
If you are interested in planning a visit to the island, you should read this Gavdos' complete guide which includes tips on accommodation, boat travel, as well as all the beaches on the island.
Places to Stay in West Crete
If this will be your first time on the island, maybe you're still not certain about what are the best places to book accommodation, check this post to know more about where to stay in Crete while this article speaks exclusively about accommodation in South Crete.
Chania City Center
Not exactly in the city center, but in the top neighborhood of Halepa, Royal Sun is one of Chania's top-rated and best-selling hotels. It has a wonderful swimming pool and it's very close to the old town. Check reviews, pictures, and prices here.
Nea Chora is a popular neighborhood very near Chania's Old Town, more and more people are booking in the area as it's conveniently priced and at a walking distance from the old town. Sea & City Apartments is also close to the city beach of Nea Chora. Check the facilities here.
Chania's Old Town
If you're looking for a boutique hotel to stay in Chania, you can read my article reviewing some of the most prestigious historical buildings in the old town. Casa Delfino is one of my favorites.
Otherwise, you can choose the commodities of an apartment in the heart of Chania. No17 Pireos Street is usually fully booked, so if you manage to book in advance you won't regret it. Check this link to see if it's available.
If you want to enjoy my favorite quarter of the old town, discover the great and conveniently priced Splantzia Luxury Apartment, in the heart of the Turkish district. Check the beautiful photos and fees in this link.
Akrotiri Peninsula
Akrotiri Cape is a great place to stay when visiting Chania. You can book a stay in Kalathas Sunset Villa, rated 10 out of 10, and just a few meters from the quiet Kalathas Beach. Check the property here.
If you're traveling with kids and want to try a hotel especially thought for families, Paradisio Baby & Kinder Hotel offers activities and special areas dedicated to children. Check fees and book in this link.
South coast of Chania
No Problem Luxury Suite is a small apartment perfect for couples, just a few meters from the waterfront of Chora Sfakion.
Musagores Rooms is meters away from the pink sand beach of Elafonisi with unique views of the sea and the mountains.
In Paleochora, Manto Studios is one of the top-rated places to stay right in the center of the village.
The extreme west of Chania
Falassarna Bay is located very close to Falassarna Big Beach with open views of the spectacular bay of Falassarna. This place has excellent reviews, and you can book here.
A popular place to stay in Falassarna is Falassarna Beach. It is a family-run hotel where people like to come back every year, which makes it hard to find availability, so don't doubt to book if you find an available room. Check reviews and book here.
If you're looking for a place to stay near Balos, Seaside Villa Balos is a recently renewed huge villa, great for a group of friends or for a family with kids.
Apokoronas (Kalyves, Almyrida, Vamos, Georgioupolis)
For those families that want a stress-free holiday on a private beach, and with everything included, Kiani Beach Resort Family All Inclusive is on the beachfront of Kalyves, with convenient prices and top service. Check reviews and book in this link.
Georgioupolis is one of my favorite places to stay in the region of Chania. It's a tranquil village with a beautiful beach, If you want to experience the local atmosphere, check Georgioupolis Beach Hotel, on the beachfront of Georgioupolis. It features an airport shuttle for your convenience. Here you can read the reviews and take a look at the pictures.
Almirida is another top-rated area to stay in the Apokoronas region of Chania, Gianna Apartments is a budget accommodation in the area featuring all the necessary facilities for a comfortable holiday close to the beach. Check fees & reviews at this link.
🏖️ Please, help us protect the beaches in Crete. Respect the environment and don't leave any trash behind.
Read more about Crete
Pin Now and Read Later! Pin this Guide to Chania's Best Beaches For Your Next Trip to Crete!
---
You might also want to read these posts about Crete's regions:
---