Opposite the lonely Theodorou Island, inhabited only by wild goats and marine breeze, in the seaside town of Agia Marina, and just minutes from the center of town, you will find an oasis of relaxation and well-being. It's the Theodore Boutique Hotel. They call it the Sanctuary, discover why…
---
This site contains affiliate links to products and services. I may receive a commission for purchases made through these links.
---
The Theodore Boutique Hotel – The Concept
Created as a home away from home for everyone stepping inside, it's not difficult to fall in love with the atmosphere you breathe at The Theodore Boutique Hotel.
Evoking essential emotions such as inspiration, essence, and beauty, this place easily reflects an intimate relationship of love for Crete, its people, and its hospitality. As the owners like to put it, love for its ancient traditions and heritage, in a contemporary way.
However, details are not just what distinguishes the property, they are much more. During your stay, their focus remains on you— and your own personal journey to Crete. And it's easy to feel it.
The place brings a natural state of well-being and connection with yourself. Clear and neat spaces, bare and calm, everything asks you to pause, breath, and relax.
Everything calls for tranquility, from yoga mats to soothing earthy colors, from a smiling staff to delicious, healthy cuisine… made from traditional and fresh products from the island. What is there not to love about The Theodore?
The Stay
I stayed a total of three days and two nights at The Theodore… and I could have stayed a century! My room, Inspiration, had a privileged access to the beach with imposing views of Theodorou Island. Unique comfort and thoughtful details have been the trademark of my stay.
The Theodore allowed me to disconnect from frenetic city life and routine, it gifted me with unforgettable sunsets, delicious flavors, and top-class service, always with a heartfelt smile.
Truth must be said, the service is excellent, the staff among the warmest I've ever met. Hard to beat hospitality…!
The Premises & The Service
There are only 9 boutique suites at The Theodore, and they are simply magnificent. Beds are comfy with delicate linen and inviting pillows. Warm lights, quality toiletries and amenities, books, and gorgeous decor are just part of the deal.
The common spaces are modern, in natural tones, with extra comfortable lounging puffs, and cushions for a restoring nap under the sun or a delicious signature cocktail, like the Visit Crete, my favorite!
A small, cozy, and beautiful dining room wit a domed ceiling and a corner featuring unique gifts and souvenirs from the island.
And direct access to the beach, where a bottle of iced, pure water will be waiting for you after your swim or will be brought to your umbrella every few hours. A thoughtful blessing during the scorching summer days on the island.
The Gastronomy
A shout out to the chef and the kitchen staff at the Theodore Boutique Hotel. A simple yet refined selection of dishes including light salads, delicious wraps, and one of the most creative breakfasts menus I've seen in a long time.
A heavenly cheesecake and a mouthwatering, homemade strawberry jam I've eaten in ages. Really. Probably the best jam I've ever tried (kudos to Zoe, in the kitchen, every praise is not enough!).
A word to be spared on their wine list, essential but offering just the right labels for you to pair with your food. When it comes to cocktails, a variety of traditional proposals and some unique signature cocktails that you should definitely try.
The Details
Details are the keyword when it comes to your stay. You start noticing them little by little and ten, when you look at them as a whole, then – all of a sudden – they fit in place, they make sense, and the give a theme to your stay, or a frame. Rituals that give shape to the sanctuary.
Theo-sophy (TM) stands for Love + Wisdom, and every evening as part of The Theodore turn down service, you receive a practice ritual based in the core philosophy and elements that inspire the hotel. These rituals are nothing but are enriching ideas that invite you to reconnect with yourself, with your dreams, with your expectations for your trip to Crete.
They all come with a quote by Nikos Kazantzakis, Crete's famous writer, and they all make you pause and think before sleeping, something we tend to forget when we are all caught up in our daily routine.
These are some of the details that have created memories and that have made my stay unforgettable:
Fragrances: The subtle smell of fresh mint in my patio, which was surrounded by lovely herbs. Every day I woke up to the soothing aromas of thyme, lavender, oregano, sage. The comforting smell and softness of our beach towels, an aroma that made you feel at home…
Yoga mat: In every room, you will find all the elements you need to practice yoga.
Traditions: Beautiful elements from the traditions of the island are found reinvented and given a new purpose, like the vourgia, the woolen backpack carried by Cretan shepherds, now serving the purpose of keeping your hairdryer.
Books and cards with a meaning: There are interesting books waiting for you in your room. Some about the island, some about Greek Myths, and some that will surprise you.
Fresh water: Nourishing our body is something that The Theodore takes very seriously. Cold water is there right when you need it. I was surprised that I never had to ask for it. It was there and available when I needed it most: next to my sunbed after a swim, in my room after coming back…. everywhere.
These are details that put you in the center. These are some of the details that would make me choose The Theodore any time, again and again!
Why You Should Stay at The Theodore Boutique Hotel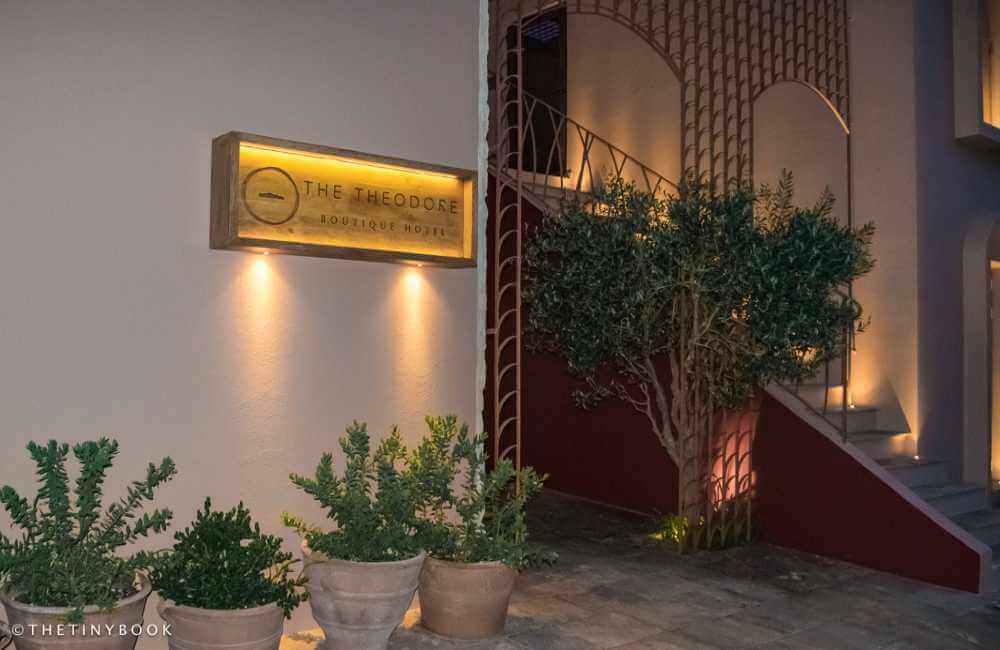 Well, maybe my enthusiasm gives you an idea, or maybe the pictures tell the story better than I do. But if you trust me, and my instinct (and your e-mails) tell me you do, a stay in The Theodore is worth it for more than a million reasons.
Because you will reconnect with yourself and with nature, while discovering a familiar place with heartwarming hospitality, because there are dozens of five-star hotels on the island, but not all of them will think of you as a five-star guest.
Yet, and mostly, because you will feel at home.
The Theodore Boutique Hotel is a beachfront hotel in Agia Marina.
Agia Marina 7, Agia Marina Nea Kydonias, 73014, Greece
Book your stay through the hotel website.
A heartfelt thank you to Bili, George, and all the staff for the amazing care and service.
This is a sponsored post.
I was a guest at The Theodore Boutique Hotels, yet all opinions remain, as usual, my own and unbiased.
---
Wouldn't you love to stay at The Theodore Boutique Hotel?
Let me know in the comments below!
---
Travel Plans for Crete?
More Resources to Organize Your Trip!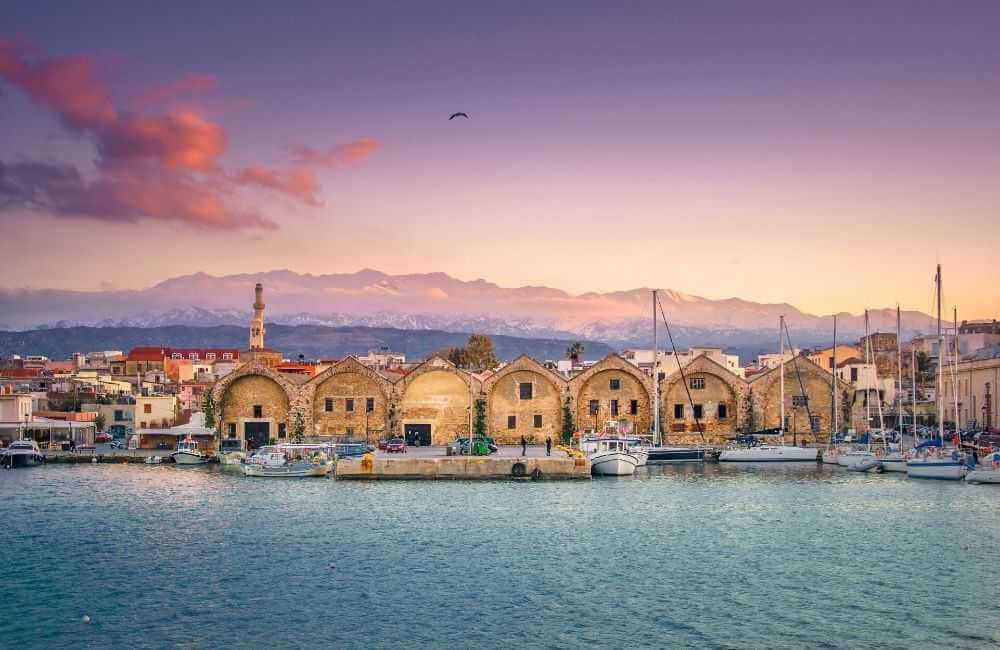 Start by heading right to my tips to plan a trip to Crete for in-depth details you need to know about Greece. You can also check my post to better know what to pack for a trip to the island or read this info to visit Crete with children!
Get in touch if you need extra help to plan your trip. If you want to tour West Crete, check my guide. Want more? Join my Private Facebook Group to connect with like-minded travelers who love Crete as much as you do!
Make Sure You've Got Everything For a Hassle-Free Vacation!
I never move around the islands without my Osprey backpack, a sturdy but light travel partner I just love. For short trips, I carry this little crossbody bag. If I drive, I pack my Nikon D7200 and a good travel guide: Lonely Planet's Best of Greece & the Greek Islands.
When it comes to plane tickets, compare prices with a powerful search engine. However, nothing beats traveling by sea in Greece. With Ferry Hopper, you can book in advance at the lowest price.
For accommodation, I use Booking.com. Traveling to remote places is easier with Discover Cars. Other times, I join organized tours with GetYourGuide, which features anything from cooking lessons to airport transfer!
Are you coming to Crete any time soon?
Get in touch and let me know!
Read more:
The Most Amazing Things to Do in Chania Old Town when Visiting Crete!
Tours in Chania: Top Day Trips from Chania, Crete
The Most Beautiful Beaches in West Crete
33 Chania Coffee Shops that You Shouldn't Miss During Your Stay in Crete
Your Insanely Helpful Guide to Balos Beach Crete! (Plus Great Insider Tips)
This Deserves a Pin!
Pin this Review to the Fabulous Theodore Boutique Hotel for Your Next Trip to Crete!
About the author of this blog: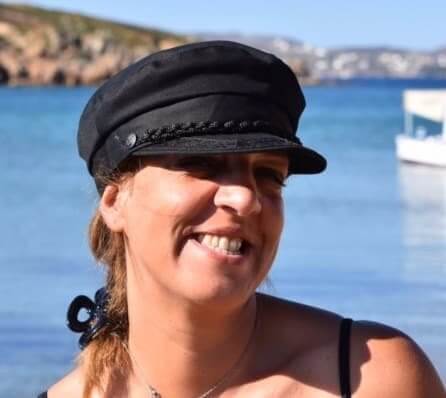 Gabi has been living in Crete for the last five years. Here, she juggles being a solo mom, hosting culinary tours in the summer, translating, and working as a tech advisor.
She's written for Greek Reporter, published two travel guides about Greece, and had more glasses of frappe than any regular person would be able to handle.
---
You might also want to read:
---