The unique seaside village of Paleochora, on the southern coast of the Chania region, is a favorite place to stay in Crete. The village has a relaxing, laid-back atmosphere hard to find anywhere else. When planning a stay in southern Crete, Paleochora can be a great idea. Close to some of Crete's most spectacular beaches, staying at Paleochora is a brilliant choice to discover the South. In this article, you can check some of the most beautiful Airbnbs in Paleochora for your next holiday in Crete.
---
This site contains affiliate links to products and services. I may receive a commission for purchases made through these links.
---
This is a pin-pin situation!
Where to Stay in Paleochora
If you don't have the time to choose a rental home in Paleochora or you'd rather stay at a hotel, check these two places for your next trip to south Crete. These are my favorite hotels in town…
Budget accommodation: Polydoros is a family-run accommodation recently renovated with excellent rates and unique hospitality.
Mid-range accommodation: If you have a somewhat more elastic budget, check the rooms at On the Rocks, just a few meters from the beach.
Luxury accommodation: Discover the beautiful Libyan Princess to upgrade your stay in town.
Quick Guide to Accommodation in Chania
Unique Rental Holiday Homes in Paleochora, Crete
Paleochora is one of my favorite towns in south Crete… well, it's one of the places I prefer all over the island. There are hundreds of amazing beaches, unique things to do in town, and so many day trips that you could have a hard time picking where to go.
Home to some unique shores and with a unique vibe, Paleochora has always been a favorite destination for a vacation on Crete.
Located only 77 km south of Chania, not far from Elafonisi, Falassarna, and Sougia, the village is a perfect place to stay to explore the mountain landscape of the South.
In my opinion, renting a car and exploring the wider region of Selino is the best way to get a real close-up view of the local traditions.
A holiday in Paleochora can be made of unforgettable hikes by the beach, fantastic swimming sessions in the Libyan sea, and that unique hospitality, typical of the Cretan village.
If you decide to stay in Paleochora, why not taking advantage of the beautiful homes available for rent? They have often been recently refurbished and feature all the comfort you want for your trip.
The list below features the most beautiful Airbnbs in Paleochora for an unforgettable holiday in South Crete!
Anma Villa
Why you should stay: To enjoy some time in a unique modern stone villa with a pool and stunning views of the Libyan Sea!
About 1 km from Chalikia Beach, the villa features a beautiful private pool, a garden, and the comfort of a private parking area.
There are 2 bedrooms as well as a comfortable sofa bed, an equipped kitchen that includes a dishwasher and a washing machine, and 3 bathrooms. There's also a beautiful terrace. As a plus, there's a paid airport shuttle for guests.
>>Check all the things to do in Paleochora and the fantastic beaches in the area<<
Athinais Villa
Why you should stay: To enjoy the unique views of Paleochora and the quiet environment!
Athinais Villa is simply stunning, not only for the spectacular views but also because the property is both ample and modern.
There's a wonderful garden with a swimming pool that guests just adore. The villa is well equipped, featuring every comfort you need. There are 2 bedrooms, a cozy garden a great kitchen with a dishwasher, a microwave, and a washing machine. For guests, there's free private parking as well as paid airport shuttle upon request.
>> CHECK REVIEWS AND BOOK HERE
Amphitheatre Suites
Why you should stay: Discover the pleasures of watching the sun setting from your private pool with great views of the sea.
Be blown away by the stunning views and comfortable facilities of these awesome units facing the Libyan Sea in Paleochora.
Amphitheatre Suites are located only 200 meters from Pachia Ammos and 500 meters from Halikia Beach. There are three units with a fully equipped kitchenette, a seating area with a sofa, and a private bathroom.
The apartment provides a terrace and while some units feature an infinity pool, others boast a romantic outdoor jacuzzi.
>> These are comfortable suites close to every place you need, one of the most convenient vacation homes in Paleochora.
Sleeps: up to 4 guests, depending on the property.
>> CHECK REVIEWS AND BOOK HERE
Bitsakis Family I – Paleochora Luxury House
Why you should stay: Because this is an ideal place for a comfortable family holiday. And because the property is rated 10/10 on Booking.com!
Set within 200 meters of Halikia Beach, this house offers accommodation with a beautiful garden, a patio with a barbecue, and every single comfort for a top stay.
There're 3 bedrooms, a perfect kitchen with a dishwasher and a microwave, a washing machine and a tumble dryer, and 2 bathrooms with a hot tub.
Car rental service is also available, or if you prefer, the property also offers a paid airport shuttle service.
According to the reviews, this house is often praised for its wow factor! Very modern, with every comfort, with very friendly hosts.
>> Don't miss this home! It's one of the best holiday homes in Paleochora.
>> CHECK REVIEWS AND BOOK YOUR STAY HERE
Villa Palaiochora
Why you should stay: Because this new and modern apartment is in a central position and features an almost private beach for guests to fall in love with the south coast.
This modern villa is comfortable and boasts a spacious sun terrace with panoramic sea views and just a few minutes on foot from Paleochora's most popular beaches.
Not far from the center of the village, there are restaurants, supermarkets, bakeries, and nice shops close by.
This beachfront property has 3 bedrooms, a great kitchen with microwave and washing machine, and 2 bathrooms. There's also access to a patio and free private parking.
Guests can also take advantage of the comfortable paid airport shuttle service.
>> CHECK REVIEWS AND BOOK HERE
Art Apartment
Why you should stay: Because this place offers every single comfort to enjoy the perfect home away from home ins a simple yet cozy atmosphere.
Check this comfy apartment with a small terrace, bold decorations, and uniquely comfortable features. Among other characteristics, there's private parking for guests (a blessing in Paleochora) and the place is just minutes from Halikia Beach.
The flats have a nice bedroom, a comfortable living room, a well-equipped kitchen, and garden views. There are a toaster, an electric kettle and a coffee machine for you to cook your breakfast!
>> CHECK REVIEWS AND BOOK YOUR STAY HERE
Aristea Apartments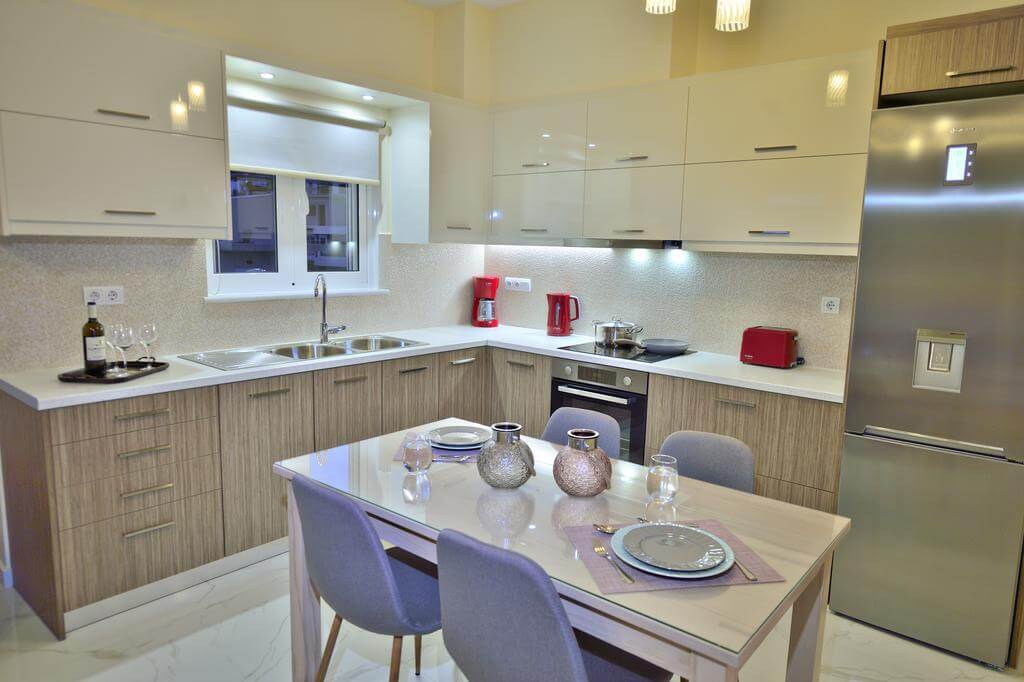 Why you should stay: To take advantage of the location and to enjoy a romantic or a family stay!
Recently renewed, the apartment is an ideal destination for couples, groups of friends, and families wishing to enjoy the Greek summer and the wonderful beaches on the Libyan Sea.
The property is located 700 meters from Halikia Beach and the units feature a private bathroom, a desk, a living room, an equipped kitchen, patio, and views over the garden and the Castle of Paleochora
>> CHECK REVIEWS AND BOOK HERE
Eden of Grameo
Why you should stay: Because it is one of the most comfortable apartments in town and it enjoys a spectacular view of Paleochora and the sea.
This place is situated less than 0.6 mi from Karavopetra Beach, the accommodation features a balcony with city and mountain views.
There is one bedroom, an equipped kitchenette with a fridge and an oven, a living room with a sofa bed, and a bathroom with a washing machine for your comfort.
>> CHECK REVIEWS AND BOOK HERE
Didn't find what you were looking for?
This post contains the most updated information regarding the best Vacation Home Rentals in Paleochora. So… Are you ready to explore Crete? It can be the trip of your lifetime!
---
What's your favorite Airbnb in Paleochora?
Let me know in the comments below!
---
Travel Plans for Crete?
More Resources to Organize Your Trip!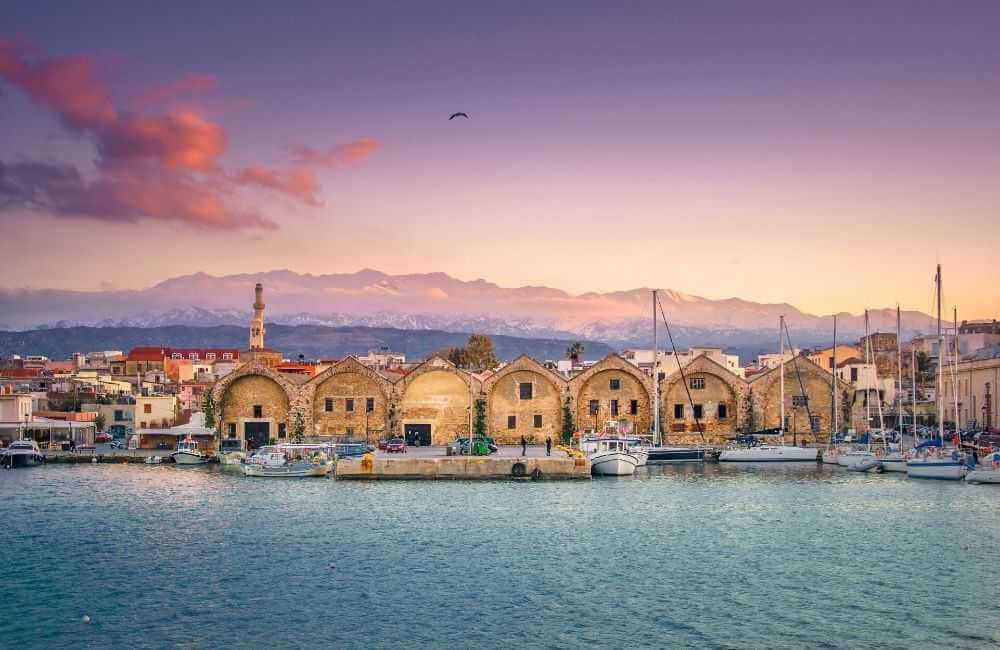 Start by heading right to my tips to plan a trip to Crete for in-depth details you need to know about Greece. You can also check my post to better know what to pack for a trip to the island or read this info to visit Crete with children!
Get in touch if you need extra help to plan your trip. If you want to tour West Crete, check my guide. Want more? Join my Private Facebook Group to connect with like-minded travelers who love Crete as much as you do!
Make Sure You've Got Everything For a Hassle-Free Vacation!
I never move around the islands without my Osprey backpack, a sturdy but light travel partner that I love. For short trips, I carry this little crossbody bag. If I drive, I pack my Nikon D7200 and a good travel guide: Lonely Planet's Best of Greece & the Greek Islands.
When it comes to plane tickets, compare prices with a powerful search engine. However, nothing beats traveling by sea in Greece. With Ferry Hopper, you can book in advance at the lowest price.
For accommodation, I use Booking.com. Traveling to remote places is easier with Discover Cars. Other times, I join organized tours with GetYourGuide, which features anything from cooking lessons to airport transfer!
Are you coming to Crete any time soon?
Get in touch and let me know!
Read more:
Magical Things to Do in Paleochora, Crete
Trip to Crete in September: Things to Do in Crete when the Summer Ends
Most Convenient and Pretty Rental Homes in Agios Nikolaos
Crete Travel: What to Pack in your Beach Bag
More than 35 Fun & Interesting Facts about Crete that will Surprise You!
This is a pin-pin situation!
Pin this Guide to the Best Airbnbs in Paleochora for Your Next Adventures in Crete!
About the author of this blog: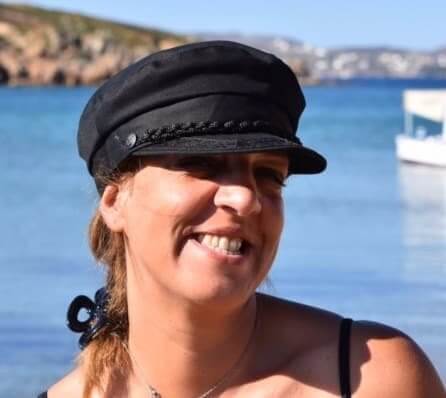 Gabi has been living in Crete for the last five years. Here, she juggles being a solo mom, hosting culinary tours in the summer, translating, and working as a tech advisor.
She's written for Greek Reporter, published two travel guides about Greece, and had more glasses of frappe than any regular person would be able to handle.
---
You might also want to read:
---