Falassarna, also written Falasarna, is on the Western coast of Crete, and it's known for having the most beautiful sunset on Crete. The atmosphere of the village is relaxed, and the background of the harsh Cretan mountains makes it all incredibly gorgeous. Here's a complete guide to Falassarna Beach, Crete, with a few tips to make the most of your days in this corner of West Crete.
---
Some of the links on this site are affiliate links of products and services that I like and use, so if you click on a link and make a purchase, I might get a small commission at no extra cost to you.
---
Essentials for your Adventures in Crete!
Getting to Crete: Nothing like sailing from one island to the other. Check Ferryhopper to book your ferry tickets in advance.
Where to stay on the island: It's always wise to compare, check Booking.com for the best accommodation deals.
Top-rated tours in Crete: If you're a fan of our beaches, then don't miss this Cruise to Balos or a Day Trip to Elafonisi. If you came to the island seeking adventure, then hike the Samaria Gorge. Finally, for those interested in Crete's past and history, don't miss a visit to Knossos Palace.
Explore Crete on wheels! I use Discover Cars to go where my old jalopy won't take me.
Show me the money! Need cash? Wise is the best online money transfer service with a debit card accepted all over Greece.
Always have with you: A daypack for excursions, the Lonely Planet Guide, or my West Crete digital guide!
My digital guide to West Crete is on sale this summer!
ONLY $5.99
Where to Stay in Falasarna, Crete
If you're coming to Crete to enjoy a relaxing summer vacation, beach life, and pristine seas, then Falasarna is the perfect destination. I've written a whole guide to the best places to stay in Falasarna, but you can also stay in Chania and visit Falasarna in a day.
Instead, if you don't have time to read the guides, check my favorite places to stay.
Small budget: I always recommend this no-frills, simple place for budget travelers. I've stayed Kalami Rooms and Apartments myself and love the home atmosphere of this family-run hotel. Check prices on Booking.com.
Mid-range accommodation: If you can spend a little more, Casa D'Irene is one of the newest properties in the area, and it's simply beautiful! Check prices on Booking.com.
Boutique places: For a more luxurious stay, why not discovering the private comfort of Villas Libra? Their private pool is great for a relaxing afternoon, besides, the views over the bay are priceless! Check prices on Booking.com.
General Info about Falasarna Beach, Crete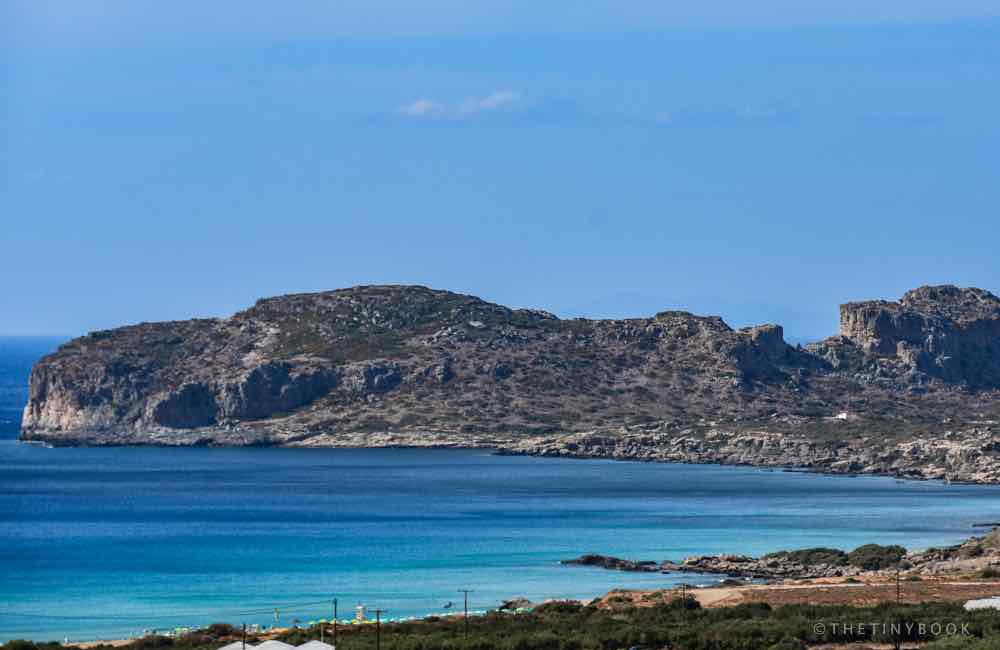 As you approach the bay and go down the road that leads to the coast, the shades of the sea go from deep dark navy blue to the most stunning turquoise. Visitors stop by the side of the road just to admire the colors.
The area is quite tranquil, there are a few places to stay, not many restaurants, one supermarket, and virtually no nightlife. Apart from water sports and beach life, the choice of activities is minimum.
Falasarna Beach is not just a place to stay when visiting the nearby Balos Beach. The village is second to none as far as landscapes. Many visitors stay late on the beach to witness one of the most fabulous sunsets in Crete.
Read Before you Go to Falasarna
Basic Information
Regional unit: Chania
Location: Northwestern Crete
GPS Coordinates – Latitude: N 35.501621 | Longitude: E 23.579582
Distances & Map of Falasarna
Distances to Falasarna from Crete's main cities:
From Agios Nikolaos: 250 km, 3 h 50 m
From Heraklion: 192 km, 3 h
From Rethymno: 116 km, 1 h 50 m
From Chania: 54 km, 1 h
How to Get to Falasarna Beach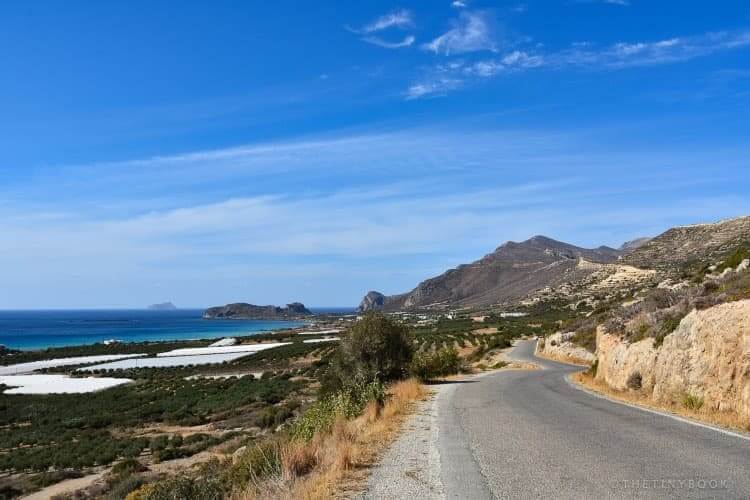 How to get to Falasarna by car: We are convinced that traveling by car is more convenient and cost-effective on Crete, plus it gives you a lot of flexibility. Besides, reaching Falasarna beach by car is fairly easy.
If you are traveling from Chania, take the National Road Chania – Kissamos. Pass through Kissamos-Kastelli, continue to Platanos, and follow the signs to Falasarna.
Once you are on the hill overlooking Falasarna beach, drive the bending road down the hill for about 3 km to get to the seaside.
Public transport: There are several daily buses from the Public Bus Station in Chania.
Route: Chania – Platanos – Falasarna / Falasarna – Platanos –  Chania. To check prices and schedules, visit the official website of Ktel Public Bus Services Chania.
Falasarna, Balos or Elafonisi: Which One to Choose?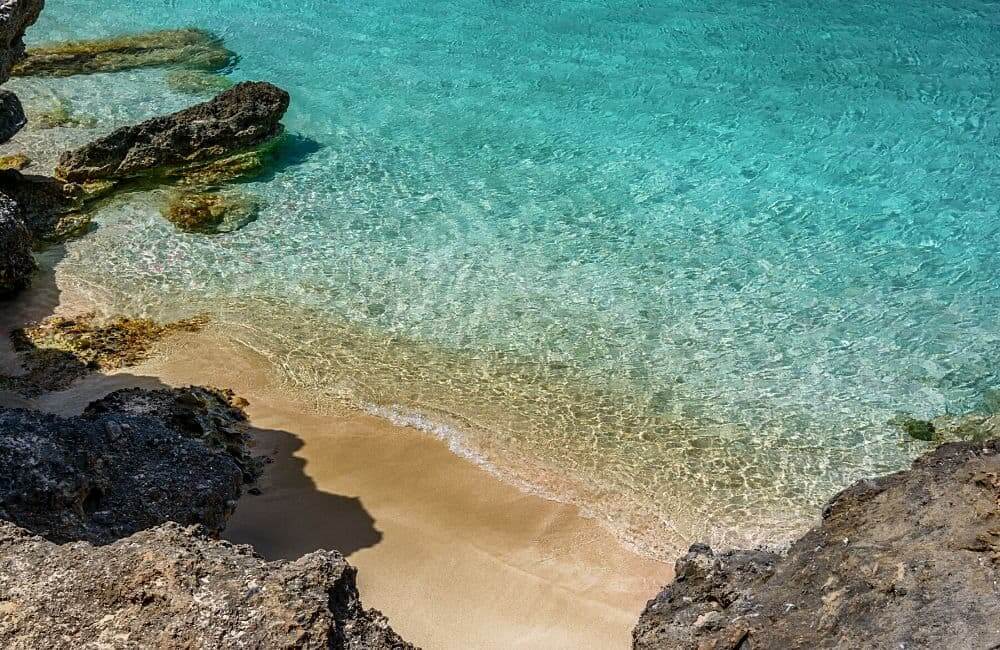 This is a question that I always get from the people that come to my gastronomic tours and are planning to visit the beaches of Chania during their holidays. I always say that it's a very personal decision and something we have often discussed here on the blog. However, if you have no idea which one to choose, these guides to Balos and Elafonisi can help you make up your mind.

Staying in Chania and planning to visit more beaches?
>>Check the best beaches in West Crete<<
Guide to Falasarna Beaches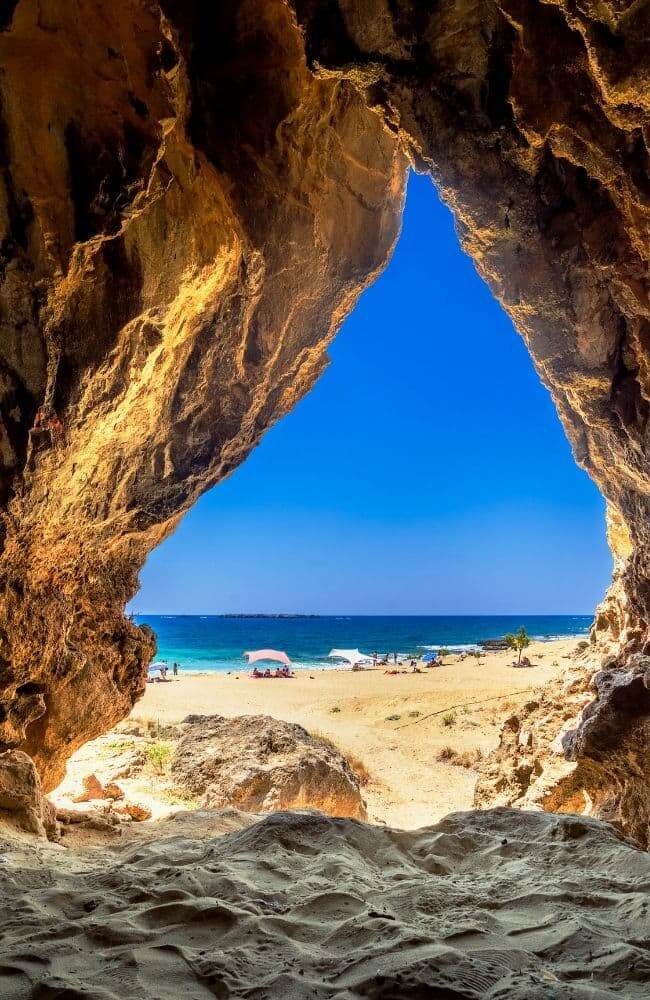 Falasarna beach can be considered as one big, wide bay. However, there are different beaches within this bay that you can choose according to the kind of place you enjoy the most. Let's see which are the beaches in Falasarna and what are their characteristics.
Falasarna, Small Beach
Falasarna Small Beach is located towards the north, and it's one of the smallest beaches in the area, about 400 km long, Some people also call this area Petalida, (in fact there's a small family-run hotel on top of this beach with that name).
This is the most secluded of all the beaches in the bay, with rocky formations on the fine sand beach that are popular among campers and naturists. For more information about nudist beaches in Crete, check this full insider's guide to naturism in Crete.
In the area, you can also spend the morning getting lost among the olive groves or hike incredible mountain trails. Either way is a recipe to discover unexpected sea views.
Falasarna Big Beach, Pachia Ammos
Usually known as Big Beach, the biggest shore of the coastline is Pachia Ammos, a beautiful long golden sand beach, with services including lounges and umbrellas, several beach bars, and the possibility to practice different water sports.
There are several parking spaces above the beach, usually free, be aware that you will need to hike back up to get to your car.
 It's easy to avoid the crowds in Falasarna. Therefore, despite being the area extremely popular among tourists during the whole season, you can always find a more secluded place to stay.
For instance, if you head towards the south of Pachia Ammos, you will find another long sandy beach, about 800 m long, that people tend to disregard because the sea has a fairly rocky bottom. If you keep going South, there is another secluded bay you can visit.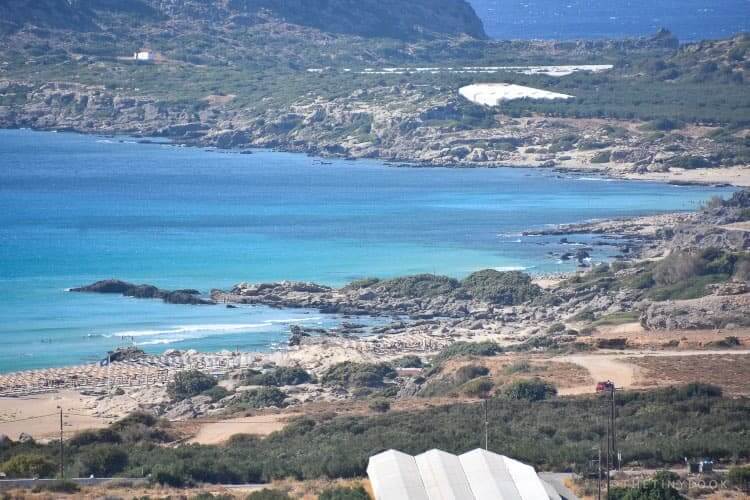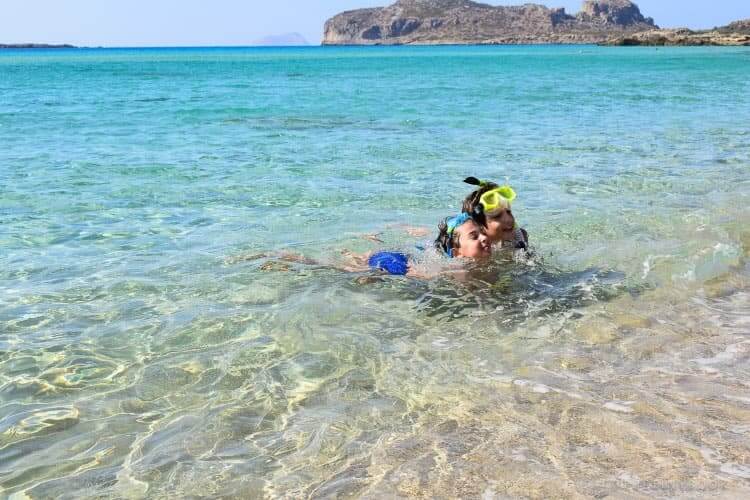 A (Simple) Stay in Falasarna
Forget about the sophisticated lifestyle of touristic resorts in Falasarna. The magic of the place requires you to choose simplicity. Closeness to nature and no-frills are a must.
Add to that the authentic character of the villagers: Few words but well spent and utter hospitality. Our place of choice is a quiet angle almost at the end of the (only) road.
During my different trips to Falasarna over the years, I've tried many different hotels and studios. I was never disappointed and I could recommend each of the following with equal enthusiasm. Find down here a list of the best places to stay in Falassarna.
Falasarna Bay is located very close to Falasarna Big Beach, about 100 m, and has recently renovated their rooms, with open views to the spectacular bay of Falasarna. Rooms also include a small kitchen where you can prepare your quick meals to go to the beach or fix a drink to enjoy on your balcony. This place has excellent reviews, and you can book here.
Another place we enjoyed staying at a few years ago is Kalami Rooms & Apartments, also facing the grat bay of Falasarna. What we enjoyed the most in this hotel is that despite having all the facilities of a studio type of accommodation, and therefore your own private kitchen, they also serve breakfast, so it's one thing less to worry about when you get up in the morning. Check the reviews and book here ...if you find availability!
Petalida is a family-run hotel with incredible views of the sea and the mountains. When you wake up in the morning and step out on the balcony you can see the blue sea and the first sun rays in the mountains. You can have breakfast on the terrace facing the Small Beach of Falasarna.
This is a family-run studio that offers legendary Cretan hospitality. Unfortunately, you cannot book online, so you can contact them by phone (+30  6945 027066) or risk and visit without a reservation. Be sure they'll be happy to welcome you to Falasarna.
>>Read more: Falasarna Accommodation Guide<<
Can't your mind about where to stay in Crete?
>>Check out this guide<<
Best Place to Eat in Falasarna
It's no secret that I am a big fan of Greek food, Cretan raki, and Hellenic hospitality. The place where I've learned the most about it all is Crete, specially Falassarna. My return proved me right. Every year, they welcome me like an old friend, with a hug, smiles and the (always unchanged) most incredible home-made dishes I have ever tasted in my life.
Besides and since I moved to Crete, we have made it our tradition to celebrate the 1st of May in this taverna opposite Falasarna Beach. On that day, every year we book our table and celebrate, dance to local music, and sing from midday until late in the evening.
Especially in Greece, the culture of welcoming guests is so rooted in the heart of the nation that it's quite hard not to find a wonderful place to eat. However, and even having eaten in different places in Falasarna, no place beats Taverna Spilios.
Taverna Spilios combines perfection in food with extreme care for customers, attention for kids, joy and a special extra something that is so hard to explain in a review and so easy to see from the looks of those who are receiving you.
Things to Do in Falasarna Beach, Crete
In no particular order, these are some of the my top choices when it comes to things to do in Falasarna!
Don't Miss the Sunset
The golden hour in Falassarna has often labeled as one of the most spectacular on the island. And I can't disagree. The open and direct view of the West, together with a clear atmosphere, free of smog and contamination, resulting in one of the most stunning sunset spots on Crete.
At around 8.30 pm (in mid-summer) people start gathering at strategic points of the beach with their photo cameras and phones ready to shoot the moment when the sun goes down on Falasarna.
If you prefer to dine early, choose a table in one of the many tavernas up the hill or make yourself a quick dinner to enjoy from the privacy of your balcony. The sunset in Falasarna is really unique.
Visit Ancient Falasarna
This ancient settlement was a major trading and important naval center, the only closed harbor in west Crete, built taking advantage of the local lagoon with a channel that connected it to the sea making it particularly safe. The city flourished during the 4th and 3rd centuries B.C.
An area inhabited since the early Minoan period with an ideal position and a direct connection with the Egyptian city of Alexandria.
Two reasons that made its prosperity possible. One of the activities that helped the economic rise of Falasarna was piracy, which made Romans invade and destroy the city in 69 B.C.
The real reason for the decline of Falasarna was, however, the great earthquake of 365 A.D. Its most important result implied the elevation of the west coast of Crete by about 6,6 meters.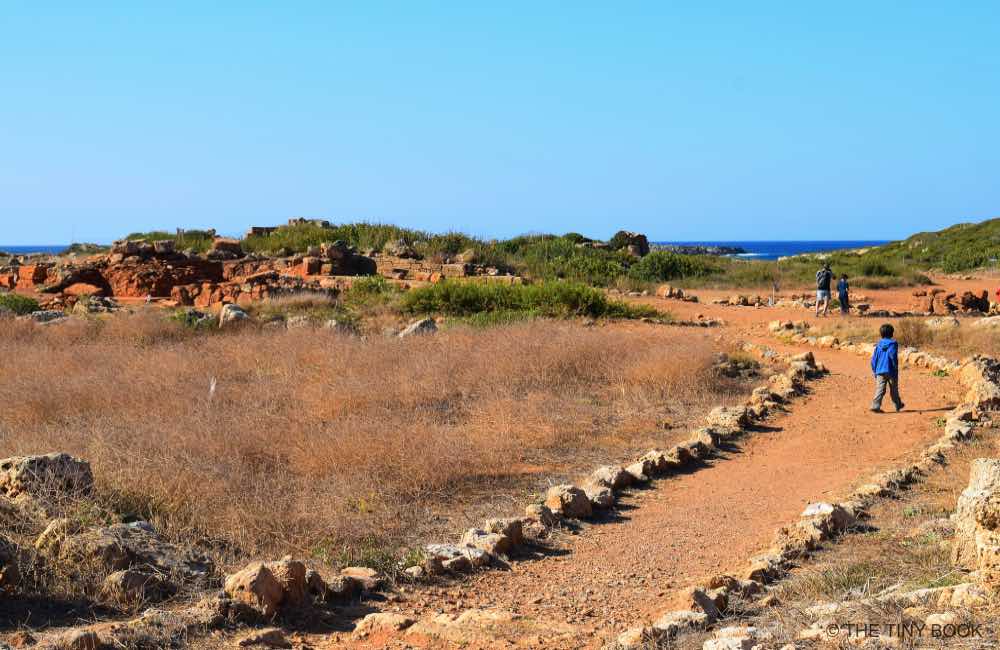 This is the real reason making the ruins of Ancient Falasarna extremely interesting: the harbor of the old city now lies more than a hundred meters from the sea!
Finding Ancient Falasarna: Follow the main road of the village until its very end, a little church, Agios Georgios, on the slope of the mountains, will be helpful to spot the area near the entrance. (Mondays closed. Entrance: free, donations accepted).
A few meters before the entrance it is also possible to visit the Throne of Falasarna, probably a podium used for public speeches.
Check the Archaeological Museum of Kissamos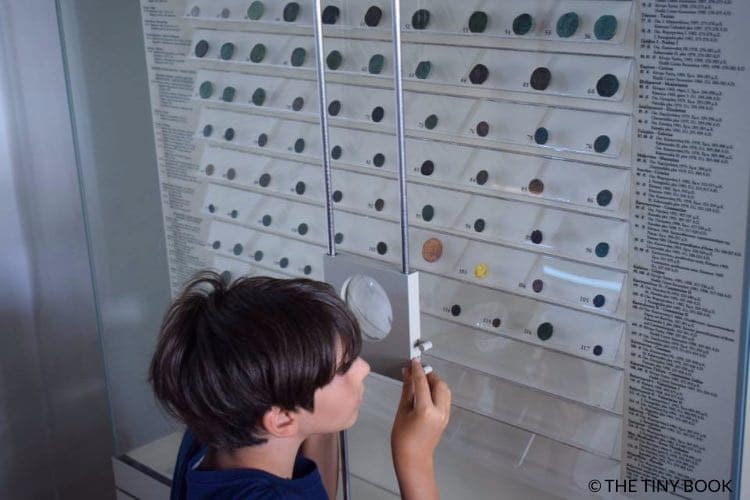 This museum comes in great for a better understanding of the ruins of Falasarna. It's a good idea to combine both visits on the same morning as they are not more than a few kilometers away from each other.
The museum is in a Venetian-Turkish building in the Venetian area of Kissamos. It shows the history of the district of Kissamos, from the Prehistoric period through Early Christianity. Even if you are not fond of museums, this one is easy to visit and appreciate, reasonably didactic for children and quite small too.
The ground floor presents artifacts belonging to different cities of Crete (Polyrrhenia, Ancient Phalassarna, Drapanias), while the upper floor is devoted to Kissamos, mostly during the Roman period, overshadowed by the Minoan era.
There are unique mosaic floors belonging to important urban villas. The biggest of them depicts an allegory of Dionysus, but there is a smallest one, incredibly well-preserved.
It features a unique combination of the four seasons with three female figures representing Summer, Winter, and Spring.
The collection of coins and jewelry is an impressive snapshot of the economic importance of the area.
If you're traveling to Falasarna and want to live a great experience, get in touch with…
– Petalida Rooms & Studios: +30  6945 027066
– Taverna Spilios: +30 28220 41010

Remember: Since Falasarna is so close to Balos Beach and Lagoon, you will find more information about things to do in the area if you read my article about Balos. In it, there's information about Polyrrinia, Sfinari Beach, and more.
If you want to explore the Southwestern coast, check Elafonisi Beach, but also Kedrodasos, Topolia, Elos, and Chrysoskalithissa Monastery in my article about Elafonisi.
---
Is Falasarna Beach in your travel plans?
Let me know in the comments below!
---
Travel Plans for Crete?
More Resources to Organize Your Trip!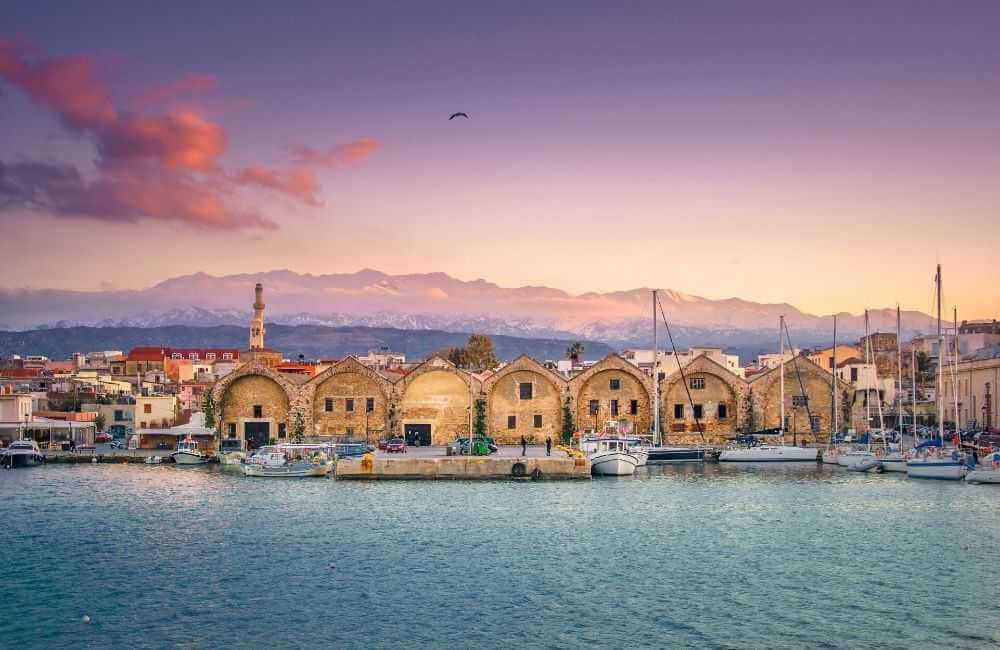 Start by heading right to my tips to plan a trip to Crete for in-depth details you need to know about Greece. You can also check my post to better know what to pack for a trip to the island or read this info to visit Crete with children!
Get in touch if you need extra help to plan your trip. If you want to tour West Crete, check my guide. Want more? Join my Private Facebook Group to connect with like-minded travelers who love Crete as much as you do!
Make Sure You've Got Everything For a Hassle-Free Vacation!
I never move around the islands without my Osprey backpack, a sturdy but light travel partner I just love. For short trips, I carry this little crossbody bag. If I drive, I pack my Nikon D7200 and a good travel guide: Lonely Planet's Best of Greece & the Greek Islands.
When it comes to plane tickets, compare prices with a powerful search engine. However, nothing beats traveling by sea in Greece. With Ferry Hopper, you can book in advance at the lowest price.
For accommodation, I use Booking.com. Traveling to remote places is easier with Discover Cars. Other times, I join organized tours with GetYourGuide, which features anything from cooking lessons to airport transfer!
Are you coming to Crete any time soon?
Get in touch and let me know!
Read more:
Discover + 45 Most Gorgeous Beaches in Crete (A guide by an insider!)
Caves of Crete: Zeus Cave, Lasithi
Crete Travel Blog: Fantastic Family Holidays in Crete
Discover the Most Stunning Archaeological Sites in Crete
Top Nudist Beaches in Crete: Complete Insider's Guide
This Belongs to a Board! Pin this Guide to Falasarna Beach For Your Next Crete Adventures!
About the author of this blog: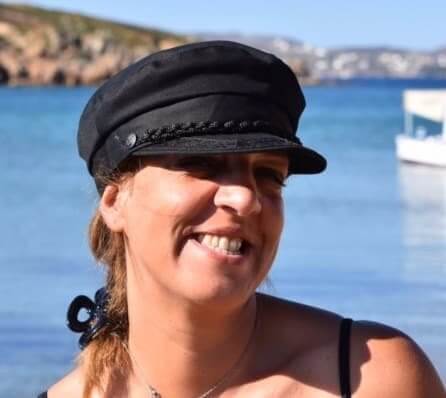 Gabi has been living in Crete for the last five years. Here, she juggles being a solo mom, hosting culinary tours in the summer, translating, and working as a tech advisor.
She's written for Greek Reporter, published two travel guides about Greece, and had more glasses of frappe than any regular person would be able to handle.
---
You might also want to read:
---