Matala is a popular destination on the rather solitary southern coast of Crete, in the region of Heraklion. The place shelters a unique hippie atmosphere, and even just one day spent in Matala is enough to feel its vibe and connect with the bohemian side of Crete.
So, let's discover how to get to Matala, what to do in the village, the surrounding area, and everything there is to know about Malata Beach, let me show you the best things to do in Matala during your holidays in Crete.
---
Disclaimer: Posts include affiliate links to products or services. I might earn a commission if you make a purchase, at no extra cost to you.
---
When planning a road trip to Matala, car rental is one of the first things to consider. Go ahead and use a powerful search engine that can compare different companies and get you the best price. Discover Cars usually makes it really easy.
The beach in Myrtos is sandy and with grey tones but good for kids because it's protected from the winds.
If you are not interested in going out at night or are looking for a relaxing holiday, this is a top destination for a peaceful vacation in South Crete.
You might also want to read: Travel Tips: How to Plan a Fabulous Road Trip in Crete.
Enjoy the Laid-Back Hippie Village
The town still lives on the fame gained during the sixties.
Back then, alternative rock singers such as Cat Stevens and Joni Mitchell lived in the caves for long periods, composing and enjoying this remote island still pretty much unknown to mass tourism.
Does the line under a starry dome…beneath the Matala Moon ring the bell? It's Carey, the song in which Joni Mitchell talked about the free life of flower children.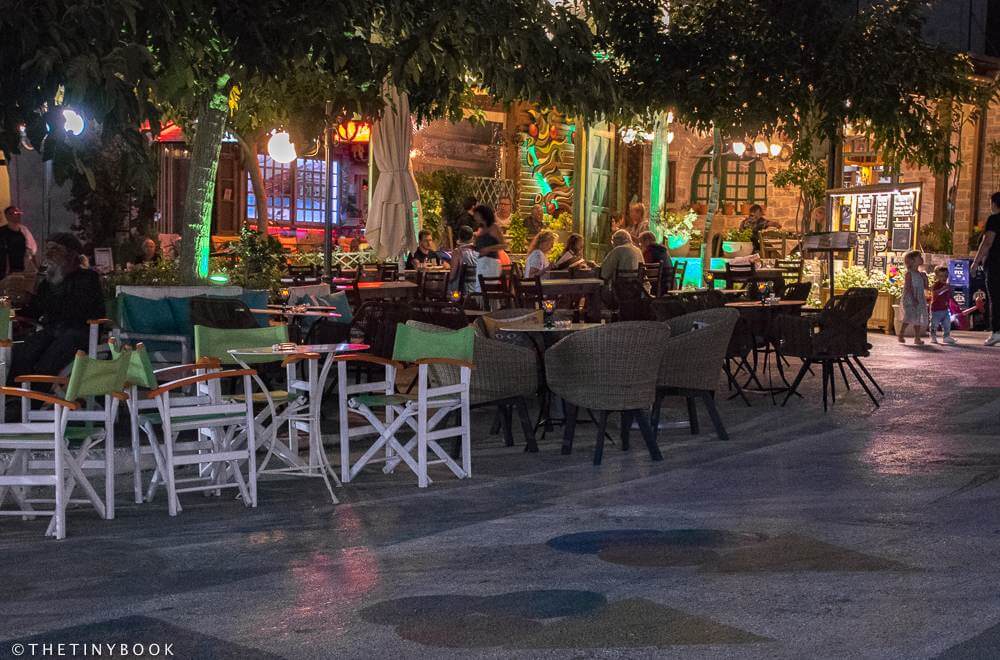 Hippies all over the World overtook Matala in the '60s and '70s, a place and time when they could live a simple and natural life, made of love, peace… and probably other ingredients too!
Today, the village is small and easy to visit, full of small bars, pubs, taverns, and tons of souvenir shops.
There are colors and music everywhere, street artists, and a fun, entertaining atmosphere at all hours.
Most cafeterias surround a small central square with trees and flowers.
The best places to hang out are on the eastern side of the beach, where a long promenade extends all the way until the end of the bay. Here you will find lots of bars playing cool music until almost the morning after.
Other interesting places to visit in Matala are the bookstores, most of which sell curious books about the island as well as about Matala's glorious past and famous residents. Some also sell old records and classic CDs.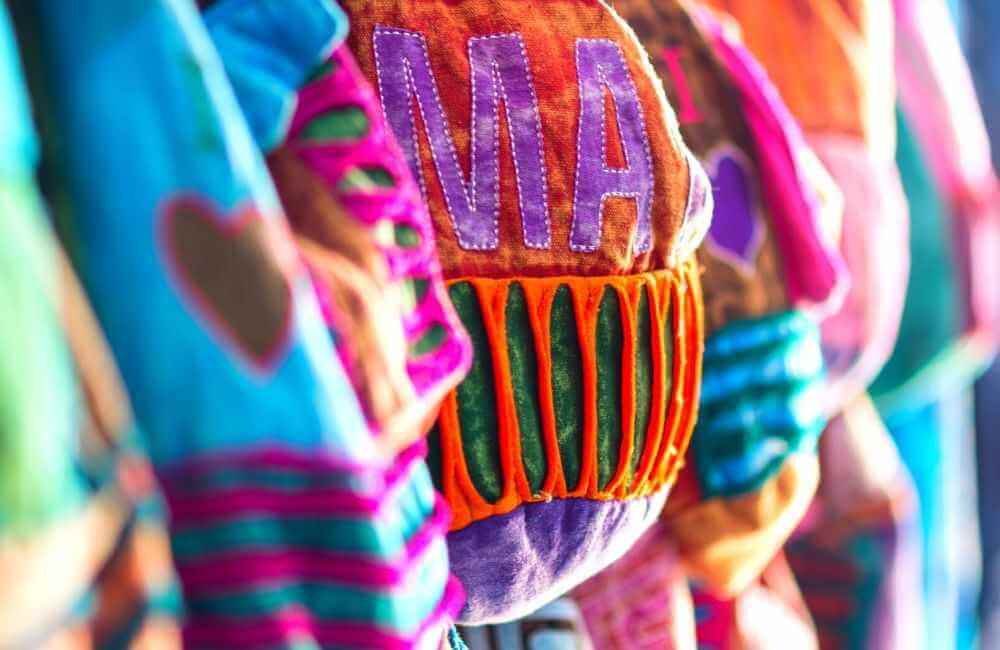 If you – just like me – enjoy curious bookshops, music from the 70s, elephant pants, colorful sarongs, hippie outfits, handmade leather sandals, crochet bags, and handmade ceramics, this will be heaven!
Finally, and for families with kids – but also the child still living in you – the colorful roads painted by visitors who especially gather for the occasion are really fun.
Every year, street artists from different corners of the world come to Matala to paint and leave their messages on the streets.
Shopping for Souvenirs in the Village and Market of Matala
The streets of the village seem to be a huge souvenir market whit dozens of colorful stalls and shops selling handcrafted souvenirs.
However, there is an actual traditional market (Paradosiako Agora Matalon) that was established back in 1973.
Stalls mostly sell hippie memorabilia and flower-power garments including leather sandals, t-shirts, hippie bags (like the one I bought for myself, see the picture above inside the cave!), beachwear, sarongs, and elephant pants.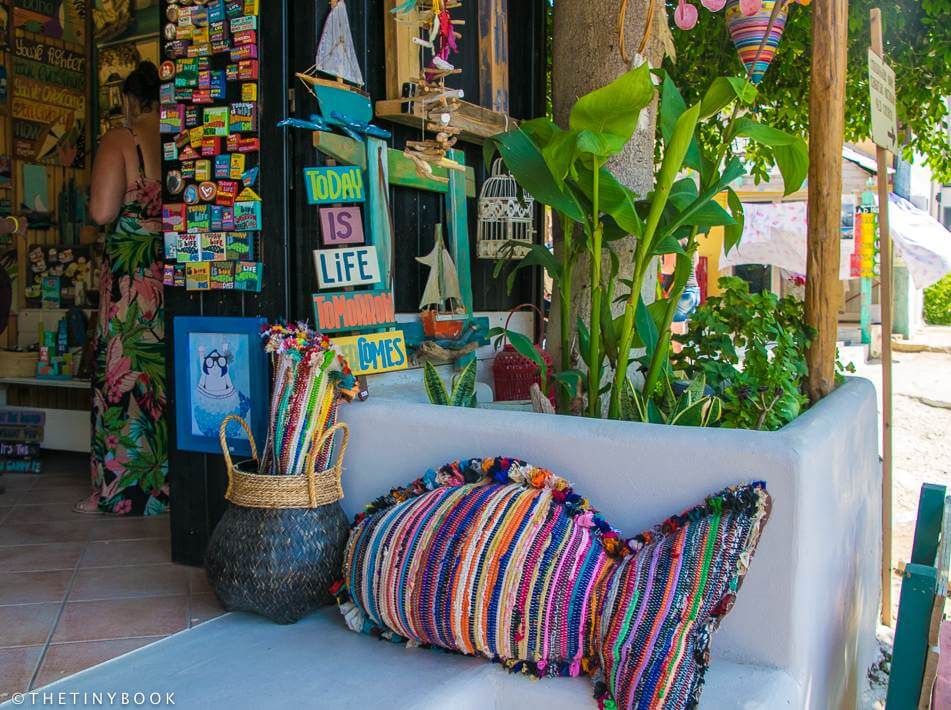 The shops that are not inside the market sell ceramics, home decor, cups, paintings, music, books, and much more.
Prices can sometimes look a bit high. If you're on a budget and still want to buy your Matala set of souvenirs, I suggest you buy your beach sarong at the nearby village of Kalamaki to save a few euros.
Matala Street Art
Matala is the place to visit in Crete if you enjoy street art and graffiti. Everything is lively and colorful everywhere you look.
At the entrance of the village, you will be greeted by a legendary black Beetle painted in Matala style that has made its way to all photos of Matala during the last decades.
It belongs to a shop that sells the same stickers which you can also get for your own house as a Matala souvenir (we got our sticker flower for our car too!).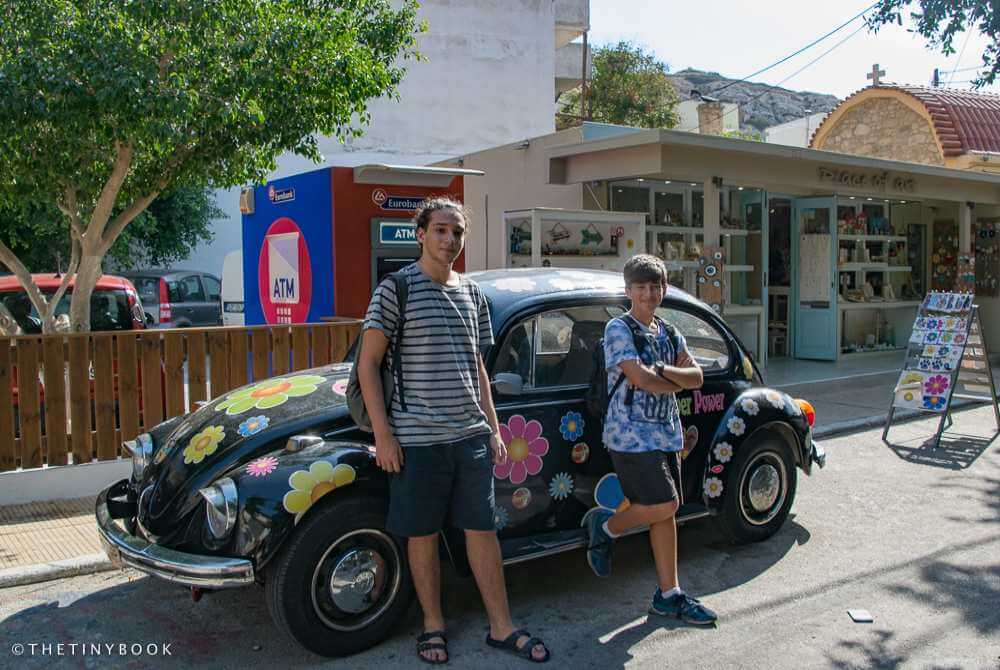 Here are some photos of Matala's best colors…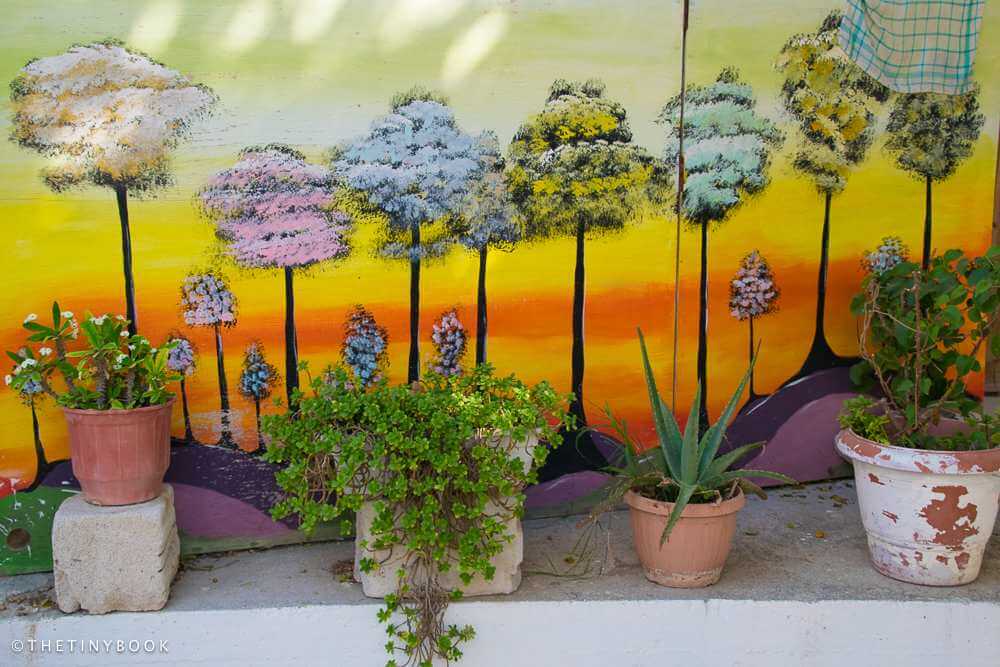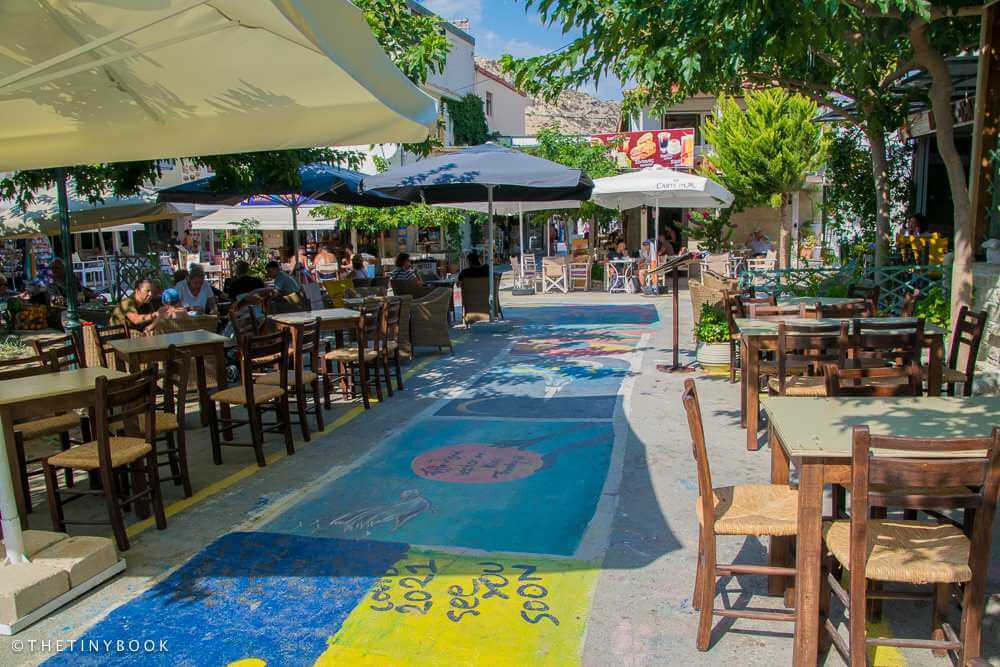 Where to Eat in Matala Beach
The beachside tavernas are colorful, picturesque, and many of them very convenient. In general, not all of them are heavily priced (nor truly memorable) but the food quality is good.
If you're on a budget, avoid eating by the sea or choosing fish as a main course. Instead, head to the center of the village, the main square, or the clothes market.
Here, there are a few small grills serving regular gyro wraps, you will eat great food and your pocket will be happy.
There are also a few pubs in the central square, they are great for an afternoon drink, an ice cream, or a sweet, but a whole meal at a Matala pub can be expensive.
We often ate at the market at midday when we wanted something quick and light. We also had a fairly informal lunch by the sea once (grilled octopus and dolmades – grape leaves, stuffed with a rice mix, shaped into little rolls, and boiled-) at Taverna Eleni, right on the beach.
The food was pretty good and the kids eat without making any fuss… and that's saying something. For dessert, the usual shot of tsikoudia came with delicious warm loukoumades with tons of local honey.
The prices were affordable.
Another good place to eat is Gianni's Family (you must book as it is always full). We had rabbit stifado and delicious grilled meat.
The place is almost at the end of the main road, heading to the sea.
Boho Beach Bar is perfect for pancakes with all kinds of delicious chocolate sauces on top and really affordable at a fantastic location.
Sunset Taverna is another simple and traditional tavern by the sea, while you need to visit Scala, also by the sea, for premium seafood.
And for a drink, don't doubt it and head to Marinero, right next to the sea, the cocktails are good!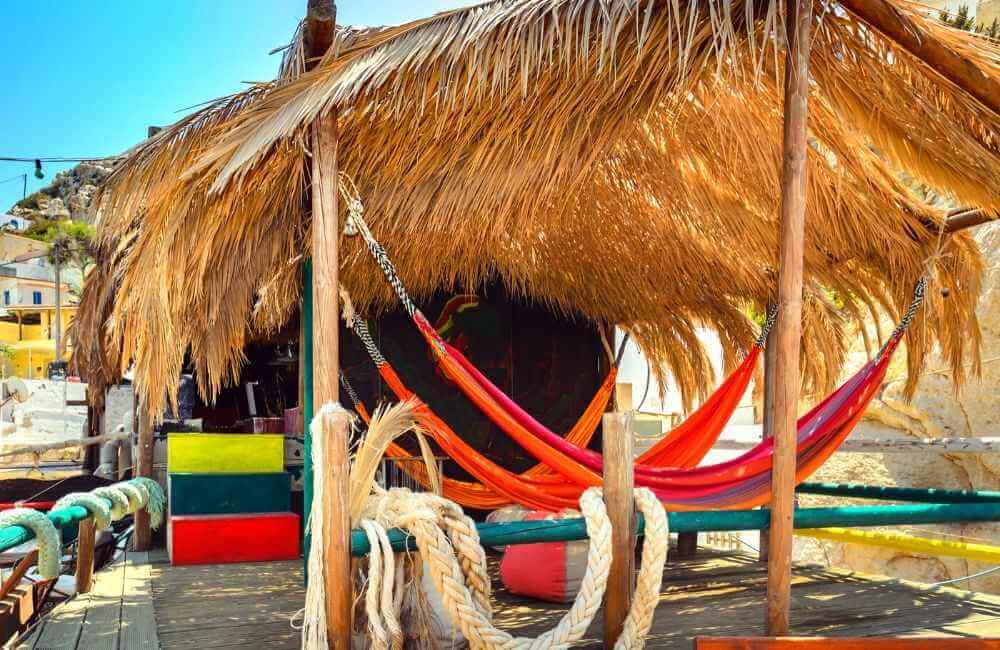 All in all, I always enjoy visiting Matala, the atmosphere, and the beach.
Shops and bars have a bohemian touch, there are bookstores and pubs everywhere. Everything is colorful, cheerful, and stimulating to the senses.
It's a little fishing village where to spend a day, or many, that's up to you!
Matala in Greek Mythology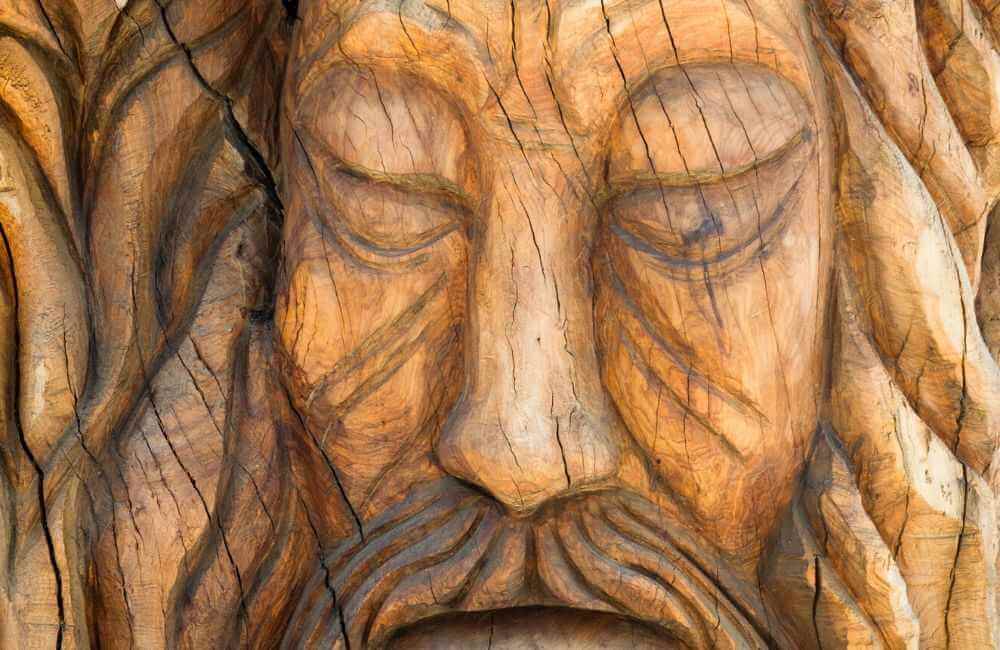 According to Greek mythology, Matala played a key role in the development of Crete's history. The myth reveals that Zeus seduced princess Europa by taking the form of a white bull and that, later on, he crossed the sea bringing her to the beach of Matala.
Once there, he changed his shape from a white bull into an eagle and flew her to Gortys where he had sex with her.
Europa and Zeus had three sons, Minos, Rhadamanthus, and Sarpedon.
Later on, she married Asterios turning into the stepmother of his daughter, Crete.
You might also want to read Top Amazing Things to Do in Heraklion, Crete.
Archaeological Sites Near Matala
There's more to Heraklion than Knossos the region is a great place to explore if you love archaeological sites, near Matala you can visit a few of them, take a look
The Archaeological Site of Phaistos (Φαιστός)
One of the best things you can do near Matala is to pay a visit to the Minoan Site of Phaistos (also Faistos and Festos).
The archaeological site of Phaistos is located in the Messara plain, roughly in the south-central portion of the island, and a little more than 50 kilometers from the capital Heraklion.
It's also quite close to another spectacular archaeological site, Gortys, and just minutes from Matala too.
Phaistos is one of the most important archaeological sites in Crete, receiving many thousands of visitors annually, so get ready to queue also here (and not just in Knossos).
Phaistos is "Φαιστός" in Greek and you may find it also written as Festos, Phaestos, or Faistos, but you pronounce it Festòs.
The Minoan Palace of Phaistos corresponds to a flourishing city that arose in the fertile Messara Plain in prehistoric times, from 6000 BC to the 1st century BC, as archaeological studies have confirmed.
The history of the palace is made of turbulent ingredients and legendary stories. The first Palace of Phaistos dates its construction to about 2000 BC.
King Minos is described as its mythical founder while his brother, Radamanthys, was the first king in the Palace.
You might also want to read: Remarkable archaeological sites in Crete
The palace suffered from the consequences of a strong earthquake in 1700 but it was rebuilt immediately.
The site has been the main religious and cult center of south Crete for ages and a visit to the ruins confirms the magnificence that the place still displays.
A few hundred years later, when the neighboring Gortys took over and dominated the region decadence took place in Festos, which started its slow decline.
Best Places to Visit Near Matala
Spend the Night in the Area: Matala and Other Villages
It's pretty difficult to find accommodation in Matala if you show up without a reservation, especially during the high season. For that reason, I've written a special guide to the best hotels and rental homes in Matala.
But if you plan to book in advance, some of the best places are the Matala Caves apartments located right opposite the legendary caves of Matala with a great view of the sea and the bay.
Another good option is Elektra, a great apartment with pretty decorations in the Greek style, and superb views.
Please, help us protect the beaches in Crete. Respect the environment and don't leave any trash on the beach.
---
Pin it Now! Pin This Guide About All The Things to Do in Matala For Your Crete Travels!
---
COMING TO CRETE SOON?
Get in touch and let me know!