culture. There are at least ten important museums and it is also home to the Palace of Knossos (controversial, yes, but helpful to get the general picture) as well as a vivid lifestyle to sample. Not far from town, you can visit the vineyards of Peza or Archanes and the centennial green olive groves. Another must-see is the pottery village of Thrapsano. Here, ceramic factories produce vases that are very faithful to the Minoan tradition of the island.
This article may have affiliate links to products and services that I use. If you make a purchase through these links, it might earn me a small commission at no extra cost to you.
Heraklion, capital of Crete
Heraklion, also known as Candia, is the capital city of Crete, a gate to the most beautiful island of the Aegean.
Yes, Santorini is stunning and Mykonos is mesmerizing; still, no place can beat the effect Crete will have on you. I've written about it so many times (and I'll keep going)…
So either you like to inflict some Crete upon you, or you love it as much as I do… whatever applies to you, you're always welcome.
Visit the Museums
Archaeological Museum of Heraklion: One of the most important museums in Greece. With exhibits that go from the Neolithic until the Roman times, pieces from the Minoan civilization found in Knossos, Phaestos, Malia and other excavations. Among them some Minoan statues from Knossos and the well-known Disc of Phaestos.
Historical and Folklore Museum of Heraklion: It exhibits objects from the early Christian times until the Second World War. There is a collection of ceramics and sculptures, personal items that belonged to the Cretan author Nikos Kazantzakis and paintings by the famous Cretan artist, El Greco.
Museum of Natural History: A museum with collections for different interests. Particularly appealing for kids as it exhibits an impressive Deinotherium giganteum, found near Sitia. Another thing that fascinates children and adults is the earthquake simulator. It lets you experience a real earthquake situation in a safe environment.
Museum of Nikos Kazantzakis: This museum preserves the works of Nikos Kazantzakis (author of the famous Zorba). There are personal letters, manuscripts, photographs, and first editions of his books. A valuable presentation of the life and ideas of the brilliant writer and his impact on modern literature.
Archanes, Peza and the wine valleys
Most of the economy in the areas of Peza and Archanes revolves around the production of olives and grapes.
About seventy percent of the wine produced in Crete comes from these areas, both in the prefecture of Heraklion. Grapes have been harvested in Crete since the Minoan times.
The varieties used for wine production are Vilana (white), Kotsifali and Mandilari (red) and Liatiko (dry and sweet red). Other varieties abandoned in the past (as the Malvasia di Candia, among some French varieties) are returning into production little by little.
Wines of Crete is a network of Cretan Winemakers devoted to promoting the recognition of Cretan wine, both inside and outside Greece, as well as the development of wine-tourist mainstream on the island. Through this association, we were lucky to schedule a visit to Gavalas Winery, a family winery in the village of Vorias.
Gavalas believe that organic products protect the environment from the pesticides' contamination as well as the consumers. So, their vineyards are part of an organic cultivation system. We are really eager to tell you about this visit because we are sure it will be one very interesting and authentic experience!
Explore Thrapsano
Not far from Peza, about 30 kilometers from Heraklion, lies the traditional village of Thrapsano, known as the pottery village of Heraklion.
Thrapsano has long been related to the manufacture of traditional Cretan ceramics, in particular with the type known as pithoi, which you can still buy and even learn to produce pottery during a visit to one of the many factories.
Many of them will put your work in a kiln and send it to your hotel a few days later.
Where to stay
Within walking distance from the center of Heraklion, my place of choice is the Galaxy Hotel Heraklion. I get a high standard of services, upscale comfort, elegance, and healthful amenities… in fact, they are one of the few hotels I know able to offer allergy-free rooms to the guest.
But all this, even if outstanding, are not the only reasons why we choose the Galaxy, there's one thing that makes us go for this kind of hotel from time to time, an oddity families that travel deserve from time to time: family rooms!
If you are a family and you travel you know the blessing of having a Family Connecting Room…
Here, simplicity goes hand in hand with comfort! These rooms are ideal for families, allowing everyone to be together but leaving some desired privacy at the same time. We all like the traditional Greek studio, but sophistication comes in handy at the end of the road!
Well, I love the Galaxy, it guarantees a smooth stay, views over the city, a yummy breakfast… and kids are treated like kings!
Plus… two amazing restaurants, the largest fresh-water swimming pool in the city, a hammam, beauty therapists, fantastic service. Here I really switch off! …Aren't you booking yet? I might be backpacking Crete as usual, I might be getting on the road as I always do, but I also know where I'll be relaxing at the end of the road!
Would you like to visit Heraklion?
Let me know in the comments below!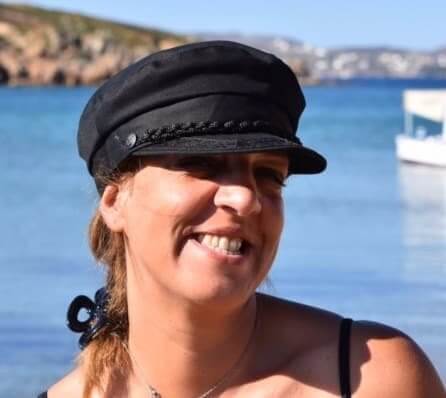 About the Author
Hola! I'm Gabi. Welcome to The Tiny Book – Crete Travel Blog! I moved to Crete to explore the island all year round. I love taking pictures and driving on the mountain roads of Crete. I'm a beach freak and on this island I've found heaven on earth!
Last updated on