You've probably heard many times already, that southern Crete is the best area to visit on the island. And that's true. What's also true is that the south remains quite wild and uninhabited and that finding suitable accommodation facing the Libyan Sea can be challenging. In this article, I bring you a complete guide to where to stay in South Crete, including areas that, other than great beaches, also offer essential services, a few shops, and reasonably good roads to access. The guide also includes some of the best hotels in South Crete too.
---
Disclaimer: Posts include affiliate links to products or services. I might earn a commission if you make a purchase, at no extra cost.
---
Where to Stay in South Crete
Divided in half by three important mountain ranges, the island of Crete features an over-developed northern coast with plenty of hotels and activities geared to tourists, and a more tranquil southern coast with just a few villages and some of the most spectacular and solitary beaches in the Mediterranean.
Best Areas to Stay in South Crete
If you're planning to enjoy a holiday off-the-beaten-track in Crete, then check out these villages facing the Libyan Sea to find the best places where to stay in South Crete.
From the westernmost region of Chania to the easternmost region of Lasithi, these are the top places to stay in South Crete!
One of the most visited beaches in Elafonisi, this excellent beach is a must-see when spending time in the region of Chania.
Even when the visit can be perfectly organized as a day trip, every summer, more and more travelers choose to spend one or two nights in Elafonisi to enjoy fewer crowds and stunning sunsets.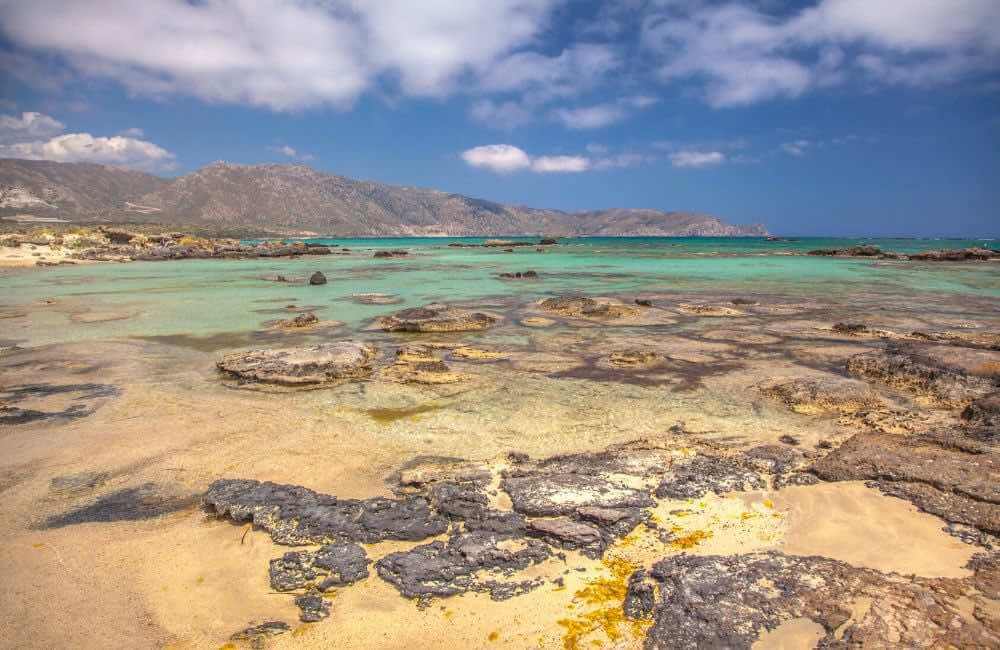 Although the area is very isolated, there are a few convenience stores and supermarkets in the area. There are just a few houses, a couple of tavernas, and not much more. Keep in mind that the closest village is Elos (about 30 minutes – 19.1 km) where you can find other facilities, including a pharmacy and more restaurants.
That's the main reason for travelers to choose Paleochora: despite being remote and solitary, ideal for a quiet vacation, there are also several shops, convenience stores, markets, restaurants, hotels, and vacation homes to rent. The place is lively and you can visit a few interesting nearby places with easy day trips.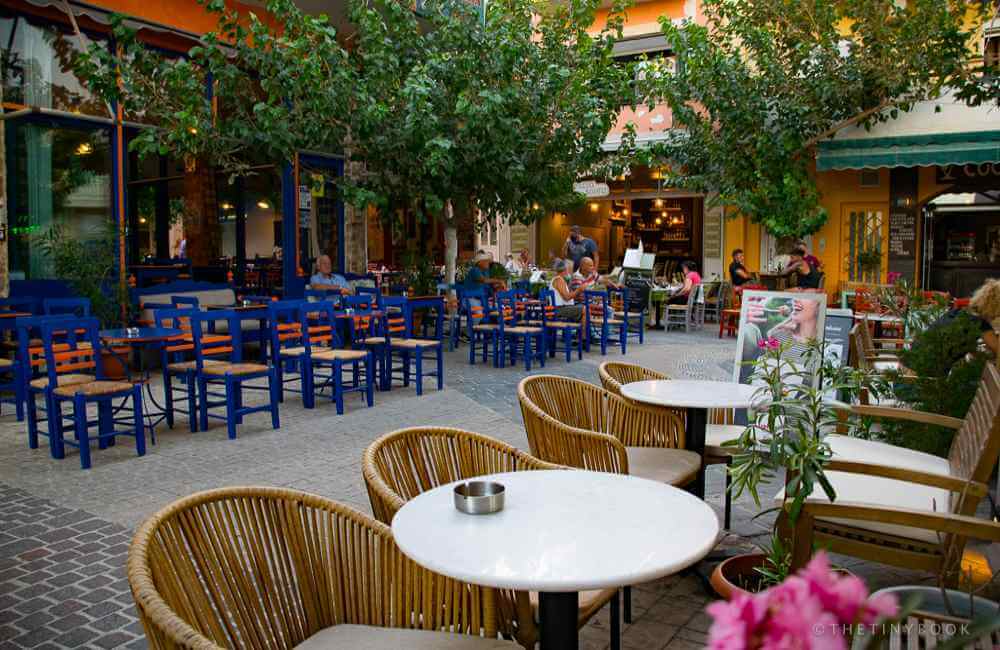 There is much to do in Paleochora, making it perfect for couples of all ages and families with kids. Besides, there are dozens of beaches to choose from, you will find sandy and pebbled beaches, some of them with organized structures and other beaches completely lonely.
And if you enjoy outdoor adventures, Paleochora is perfect for snorkeling, scuba diving, hiking, safari rides, and fishing trips.
Quiet and relaxing, the small seaside village of Sougia is a popular place to spend a weekend (or more!) in South Crete.
The village of Sougia features a gorgeous beach (included in our list of Crete's naturist beaches) with very basic structures. There is also another beach just opposite the village with facilities including a bar, umbrellas, and toilets.
Although the village is not as big as Paleochora, it is still a convenient place to stay, with a few restaurants, and shops as well as hotels and rooms to rent. The town can be accessed by car from Chania or by boat from Chora Sfakion.
Most travelers reaching Agia Roumeli arrive here after hiking through Samaria Gorge, the most important canyon on the island. However, it is also possible to spend a few days in Agia Roumeli getting there by boat (daily ferries depart from Paleochora, Sougia, and Chora Sfakion) even if you have no intention to hike through Samaria.
Especially in that case, keep in mind that booking in advance is particularly important!
INSIDER'S TIP: Many hikers think that they will pass Samaria and head back to Chania on the same day, not counting on the extreme exhaustion that walking through Samaria might imply and, by the time they reach Agia Roumeli, they are desperate to find accommodation to spend the night and rest their sore feet! So booking a hotel in Agia Roumeli in advance is key!
The village is small but traditional and with a unique familiar atmosphere. Services are basic but convenient, prices are usually affordable, and it also hosts some of the best taverns in South Crete!
Loutro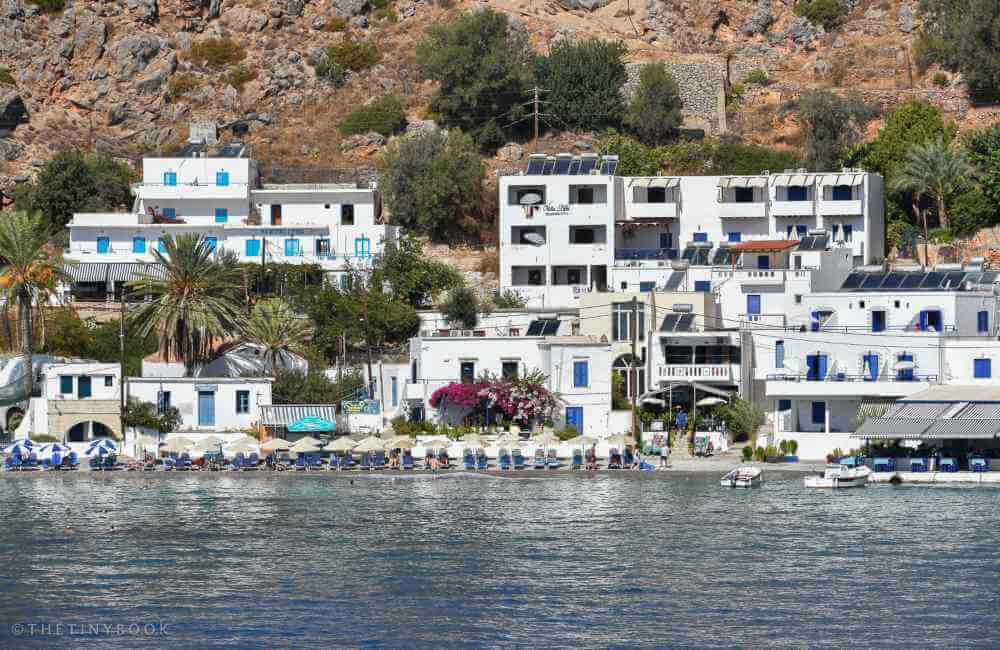 One of the best southern places to visit in Crete is Loutro, a charming fishing village close to the impressive Aradena Gorge, a few hours on foot from Chora Sfakion.
In fact, the charm of Loutro is also given by the fact that it's only possible to get there on foot or by boat since there are no cars or roads leading to the village!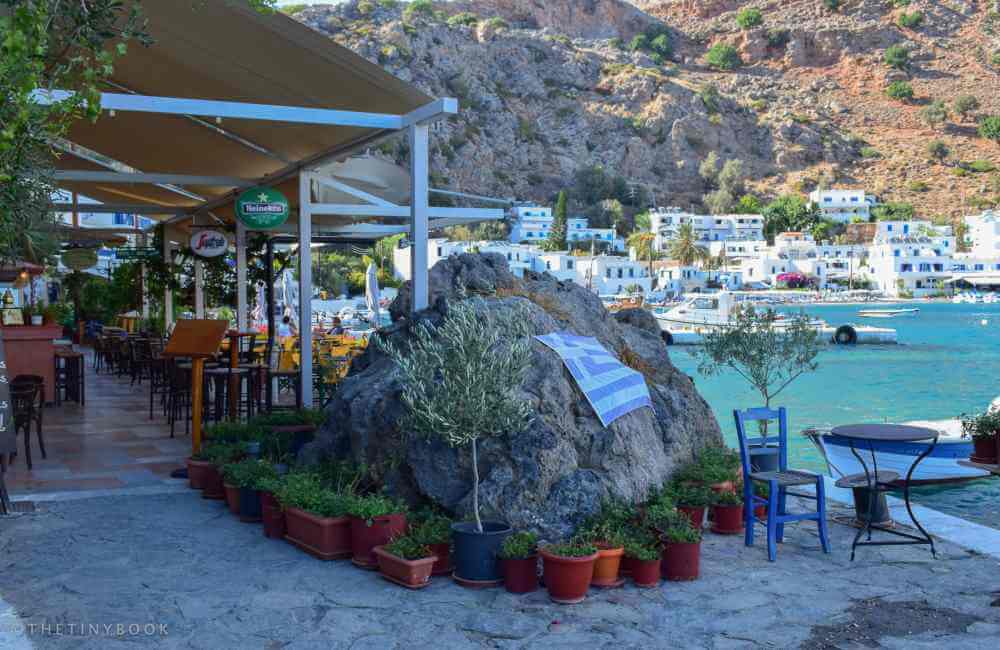 The place is relaxing and offers just a few souvenir shops and restaurants, an ATM, and no pharmacies. Since many restaurants and hotels only accept cash, it's always better to withdraw some money before getting there.
Most ferries to Loutro leave from the port of Chora Sfakion. You can read more about this unique southern village in this complete guide to Loutro.
Chora Sfakion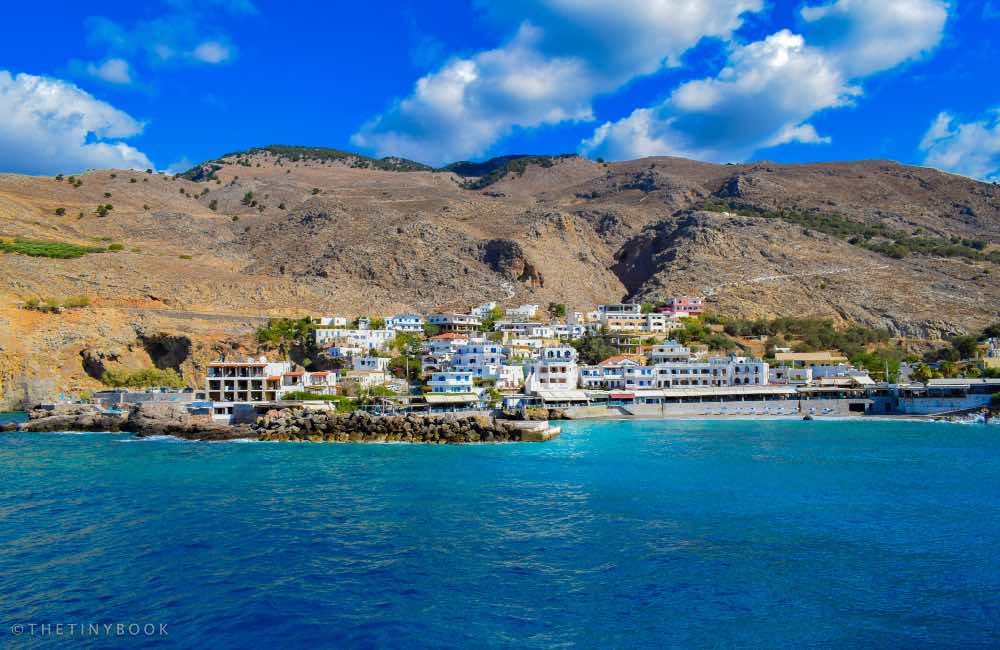 One of the best places to stay in southern Crete is Chora Sfaklion since the place is really convenient to explore the Libyan coast of the Chania region.
The place features dozens of restaurants and other shops, several hotels and flats to rent, and… the most important thing is its port, with boats and ferries that will take you to all the beaches in the south of Chania that cannot be easily accessed by car, including Loutro, Agia Roumeli, Marmara Beach and Illingas.
From here, there are also regular ferries to the southernmost island of Gavdos (another incredible place to stay in South Crete!)
Frangokastello
Frangokastello is another favorite place of mine when looking for an area in Crete that feels authentic and far from everything.
The small village is located a good 20-minute drive east of Chora Sfakion and it features a few hotels and studios for rent, some small taverns (mostly in the hotels), a couple of convenience stores, and one or two minimarkets. That's all!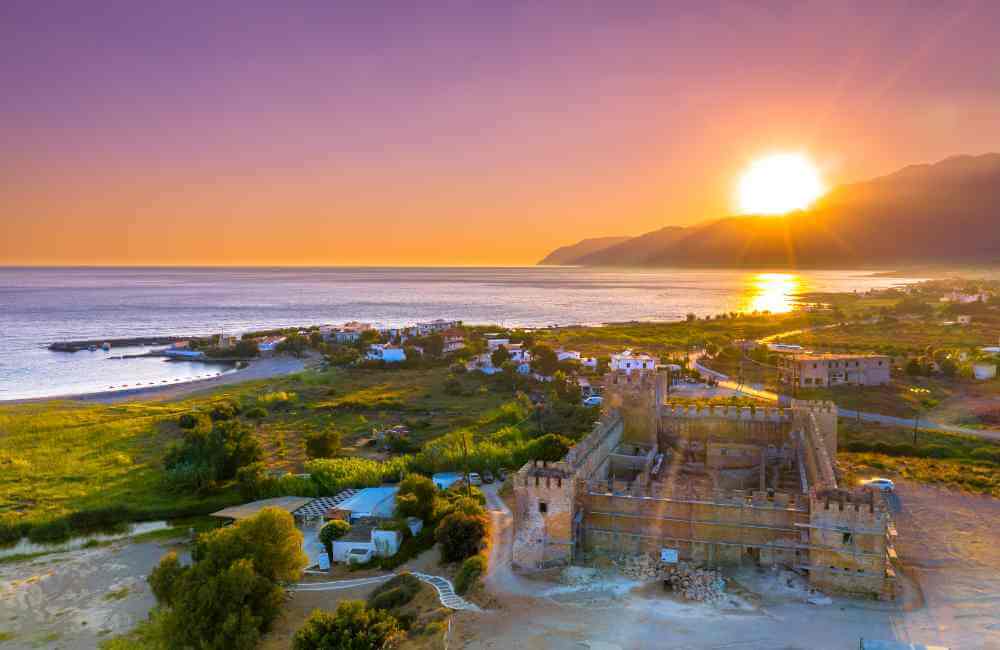 The village is known for its great sandy beach adorned with the ruins of an ancient Venetian Fortress facing the sea which, of course, gives name to the small town.
Plakias is also famous for scuba diving, snorkeling, and other underwater activities since it is home to a unique seabed that attracts diving aficionados year after year. In the area, there are some unique nudist beaches too.
The village has several shops, restaurants, and hotels making it a good destination either for a short or a long stay in Rethymnon.
Plakias is easy to reach from Rethymnon town going through the mountains (the road is in very good condition even if the trip can be long and tiring).
Plakias is an ideal base to explore the south of Crete, although a car is necessary to move around since the area is quite isolated. Plakias is also close to the neighboring region of Chania, and the coastal trip from Plakias to Frangokastello is among the most beautiful road trips you can take in Crete.
Visiting Preveli in a day can be quite exhausting, especially if you choose to hike to the beach after exploring the historic monastery. In that case, it can be a good idea to find accommodation in the area for the night.
Although there are just a few rooms to rent in the surrounding area, once most tourists have left, the place is a calm oasis where to rest and enjoy silent walks and amazing sunsets. The small, nearby village of Kerames is the most convenient place to stay around Preveli.
Triopetra
One of the nicest beaches in the south, Triopetra is a gorgeous shore to visit either as a day trip from Rethymnon or as a quiet destination for a holiday.
Although most structures and services are located in nearby Plakias, the place is perfect if you're looking for a very isolated area to stay in Crete.
Nearby, it's possible to visit the small beaches of Katsounas and Ligres, as well as the impressive dunes of Agios Pavlos beach, three incredible gems in the Rethymnon area.
Probably the most popular place to stay in the south of Rethymnon, Ahia Galini is a popular destination that receives hundreds of visitors year after year.
The lively seaside resort, is quite a favorite destination among tourists from the Balkan countries, with a nice center with shops and tavernas, plenty of accommodation, nice beaches, and a tourist port.
There are also several good beaches within a short drive from the village. Agia Galini is about 60 km from the city of Rethymnon and it attracts tourists from April to October.
Matala
One of the most famous villages on the southern coast of Crete, the small town of Matala is a gorgeous hippie settlement with an impressive bay famous for its ancient caves once home to several ancient civilizations that dwelled on the island.
The village is an active summer destination with plenty of places to see nearby and interesting things to do. There are dozens of hotels and restaurants, a lot of shops, markets, and ATM points as well as pharmacies and basic medical services nearby.
Kamilari
A traditional village just minutes from the busier Matala, this is an excellent place to stay that allows you to explore the southern coast of Heraklion.
The village is quite active during the winter and there are a few nice souvenir shops with prices far more convenient than you might find in Matala.
The smell beach of Kalamaki, just a few minutes from the center of Kamilari, is a tranquil alternative to Matala and a safe, shallow shore for families with children.
Pitsidia
Also close to Matala, this place can be more affordable than the popular hippie village. There are some good restaurants in the area, basic services including kiosks, convenience stores, and minimarkets, while it won't be difficult to find a pharmacy and an ATM.
Nearby beaches include Matala, Kokkini Ammos, Kommos, and Kalamaki.
Located on the southern coast of Heraklion, right under the shadows of the Asterousia Mountains, this is one of the most laid-back places you can choose to stay in Crete.
The area around Kaloi Limenes is ideal for a very quiet holiday, for those who have spent a stressful year at work and only long for an area where to disconnect and relax, without noise, or chaos.
There is not much to do, but that is the charm of the village. Kaloi Limenes features just some basic shops, convenience stores, and a couple of very good traditional tavernas.
Tsoutsouros
Also known as Tsoutsouras, this amazing area in the south of Heraklion is quite off the beaten path in order to guarantee extremely relaxing holidays in an utterly isolated environment.
The small village has a partly organized sandy beach, with calm and crystalline waters, shallow enough to make it a perfect destination for a family vacation.
Tsoutsouros is the name of the village as well as the main beach in the area, however, there are several other small shores you can visit.
The little settlement offers basic services, a few restaurants, and some convenience stores, but for more shops, banks, supermarkets, and pharmacies, it is necessary to reach the inner village of Mesochori.
Although the village lacks pharmacies, banks, or ATM points, these facilities can be easily found in nearby Ierapetra which can be reached by car or local bus.
The agricultural center is very quiet in winter and the shoulder seasons, while it gets quite busy in summer. You will find all you need, including rooms for rent, hotels, restaurants, taverns, and cafeterias, as well as a gas station and a few convenience stores and minimarkets.
The city, which is a must-place to stay for all those interested in visiting Chrissi Island, is a lively center with plenty of things to do, accommodations, restaurants, supermarkets, schools, and some interesting sights to explore.
Ierapetra is only 30 km from Agios Nikolaos, making it a perfect day trip destination, as well as a great place to spend a few days when looking for a quiet vacation in Crete.
Located between the isolated Xerokampos and the more lively Ierapetra, this small village offers a quiet and relaxing environment but also several seaside restaurants, a picturesque port (from where it's possible to reach Chrissi Island), as well as ATMs, small convenience stores, a few seaside bars, and a pharmacy.
It is a great destination for families because the beaches are safe and shallow too.
Although there are just a few convenience stores and minimarkets in the area to purchase just a few essentials, the place is ideal for a relaxing holiday in complete solitude.
Just a couple of traditional, very simple taverns, incredible beaches with no organized structures, and a good access road to reach the coast are some of the highlights of a stay in Xerokampos.
---
---
Pin this Guide to Where to Stay in South Crete!
COMING TO CRETE SOON?
Get in touch and let me know!