Greece is a favorite holiday destination for many people across the world. Whether you want to spend a holiday relaxing at the beach, have exciting adventures, join wild parties, or explore incredible archaeological sites, Greece has it all. Similarly, Greece is a fantastic destination for relaxing family holidays. But if you want to combine everything within one destination, Corfu is an excellent choice for a family-friendly atmosphere. In this article, we bring you a selected collection of great family hotels in Corfu for your kids to enjoy the best of the island!
---
Disclaimer: Posts include affiliate links to products or services. I might earn a commission if you make a purchase at no extra cost.
---
Top Hotels in Corfu for Families
Although there are many Greek islands you can enjoy relaxing and exciting family holidays, some of the best are within the Ionian Sea. However, when it comes to trips with the children, the best Greek island is undoubtedly Corfu.
Corfu is Greece's greenest and most attractive island. Due to the Italians' influence, the island has beautiful, colorful, and charming Venetian mansions, squares, and alleyways. Furthermore, the island has many fantastic restaurants serving Greek and Italian cuisine. The island also has lush green landscapes, charming villages, and incredible historical sites to explore among many (really many) other things to do with the family.
So, let's see the best kid-friendly and family hotels for an unforgettable holiday in Corfu.
Corfu Palace Hotel
Just a short walk from Old Town's center, Corfu Palace Hotel is an old-time classic hotel with cozy rooms, panoramic bay vistas, and cityscapes.
The rooms have marble bathrooms and mini-bars, while the 2-bedroom suites have a lounge and balconies with fantastic sea views. The hotel also features restaurants, bars, and a casino.
Therefore, Corfu Palace Hotel is an ideal accommodation for families with up to four children. Also, it is fantastic for its location since it's close to most restaurants, shops, and tourist attractions.
The hotel also offers family rooms as well as babysitting services.
Click here to book a family room at Corfu Palace Hotel
Corfu Holiday Palace
Corfu Holiday Palace is a lovely 4-star hotel with mesmerizing gardens and excellent accommodations. It features modern villas with private pools as well as 2-bedroom suites that accommodate a total of six people.
Furthermore, all the rooms have complimentary breakfast and balconies with picturesque sea views, while the villas feature fully equipped kitchenettes, traditional fireplaces, sun terraces, and great views of Mouse Island.
Additionally, the hotel has saltwater pools, a private beach, a beach bar, multiple dining options, a games room, and a bowling alley, making it perfect for fun family holidays.
The hotel also features a children's playground, family rooms, and several outdoor activities for every member of the family.
Click here to book a family room at Corfu Holiday Palace.
Sidari Water Park Hotel
As its name implies, Sidari has a water park with pools and water slides, something that makes it one of the top-chosen family hotels in Corfu!
So, along with its kids' playground, entertainment programs, and beautiful green gardens, this hotel is an excellent choice for a family vacation.
Sidari Water Park Hotel also features family-friendly, spacious rooms, maisonettes, and suites with modern lounges and balconies with spectacular views, and it's within walking distance from the beach and popular restaurants and shops.
Family rooms and facilities for disabled guests are also available. There is a Kid-friendly buffet at lunch and dinner to keep picky eaters happy!
Click here to book a family room at Sidari Water Park Hotel.
Hotel Yannis Corfu
Hotel Yannis Corfu is a family-owned and operated hotel perched on a steep hill with minimal and cozy apartments.
The apartments accommodate up to five people and are equipped with sofa beds, bunk beds, a mini-bar, complimentary breakfast and dinner, and a balcony with stunning scenery. Comfy family rooms can be enjoyed during your stay, just book them in advance.
The hotel has a pleasant ambiance and friendly staff, making it an excellent family holiday spot. Furthermore, it has a fancy restaurant serving local delicacies and a pool with a bar serving snacks and refreshing drinks. Also, it is near a beautiful organized beach, shops, and restaurants.
Click here to book a family room at Hotel Yannis Corfu.
Pegasus Hotel
Pegasus Hotel is a 3-star hotel in the beautiful area of Sidar, with excellent services and rooms at affordable prices. Its superior family rooms feature a modern yet simple style, and all its amenities and leisure facilities are of the highest quality.
Also, the hotel is known for its laid-back ambiance and friendly hospitality, making it a favorite among families.
Similarly, the hotel's large pool, water slide, pool bar, kids' playground, and games room create the perfect atmosphere for families with young children.
Click here to book a family room at Pegasus Hotel.
Mediterranean Blue
Mediterranean Blue is another family-run hotel with spacious family apartments and even a bungalow with incredible sea views. The apartments feature pool views from the balcony or patio.
Apart from excellent rooms, the hotel has live entertainment in the evenings, beautiful gardens, a kids' pool and play area, and a free breakfast buffet with local delicacies. Also, the hotel is only 50 meters away from the organized Asprokavos beach, which features water sports facilities.
The hotel offers an organized beach area, an airport shuttle, and special facilities for disabled guests.
Click here to book a family room at the Mediterranean Blue.
Molfetta Beach Hotel
Molfetta Beach Hotel is a relaxed family-run hotel set in lush tropical gardens overlooking the pretty bay of Gouvia. It features quadruple rooms and a two-bedroom apartment for larger families.
The rooms have a refrigerator, coffee, and tea facilities, bunk beds, and sea views, while the apartment features a private jacuzzi and a huge balcony overlooking the bay.
Molfetta Beach Hotel offers a traditional snack restaurant serving a variety of Greek and international specialties. Also, there are two open-air bars, a café, and a disco with ample evening entertainment.
And although the hotel lacks a pool, there is an organized beach right in front of the hotel, while the marina and an old Venetian shipyard are about 500 meters away.
Click here to book a family room at Molfetta Beach Hotel.
Generally, Corfu has many modern, laid-back, and excellent family-run hotels although many travelers would prefer to stay in a rental home. If that's the case with you and your family, you can also check out my favorite Airbnbs and rental homes in Corfu for families here.
As you can see, the choice of family-friendly hotels and properties to stay in Corfu is really wide, which makes it one of the best places to visit as a family in Greece.
Choose one of the above exceptional hotels and enjoy an unforgettable family holiday this summer in Corfu.
---
Which of these Corful hotels for families did you like the most?
Let me know in the comments below!
You might also want to read these posts to prepare for a great holiday in Greece with the family!
---
Pin this Guide to the Best Family Hotels in Corfu for Your Adventures in Greece with Kids!
About my blog: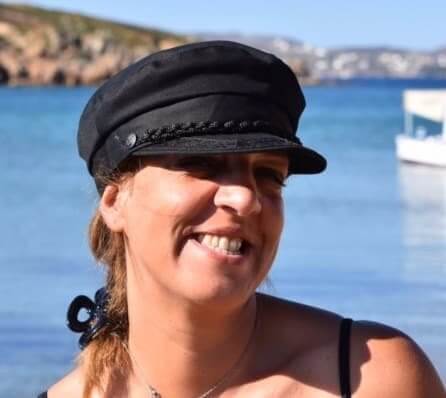 I moved to Crete in 2016. During these years, I learned much about the island.
In Crete, I juggle being a solo mom, hosting culinary tours, and writing for several travel blogs.
I've written for Greek Reporter, published travel guides about Greece, and had more glasses of frappe than any regular person could ever handle.