Have you arrived in town and are already eager to find your morning cuppa? Worry not! In this post, I bring you a complete list of the best breakfast in Rethymnon, where to get it, what to order, and a lot more.
Whether you wish for just a simple cup of coffee or you'd rather taste our unique Cretan breakfast, be certain that Rethymnon has just what you need. So, read on to discover some of the best places to have breakfast in Rethymnon!
---
Disclaimer: Posts include affiliate links to products or services. I might earn a commission if you make a purchase at no extra cost.
---
Breakfast in Rethymnon: Best Spots in Town
If you're here just for a cup of coffee, then don't miss this post with the best coffee shops in Rethymnon!
I personally think that breakfast during our holidays tastes different. Better.
Maybe because we do not have to rush that cup of coffee or because we already know that we're just steps from the beach.
Or maybe because our holidays are one of the few times in the year when we actually have time to enjoy this moment with the family.
And plan our day taking into account what we really want to do and not what our boss expects us to do… who knows? In any case, I've always loved breakfast when on vacation.
When on the island, you can easily book a hotel that also offers breakfast, and that's always a good idea, however, devote one or two mornings in town to discover the way locals have breakfast, enjoy the same dishes, and soak in the views of Rethymnon town.
About Breakfast in Crete
As I have already mentioned here, I learned a lot about Breakfast in Crete while translating the menus of several restaurants… (You might not know this, but translation has been my lifetime profession, and I've worked with many local restaurants).
And it was precisely in Rethymnon where I learned the most! In fact, one of the people that taught me a lot about this unique meal on the island was the owner of a fantastic restaurant in Rethymnon that specializes in the authentic type of breakfast that was once common in small villages on the island…
I discuss their food here, or you can head to this link to check out this restaurant's Breakfast menu.
For many years, breakfast was the main meal on the island. It was the food men would eat before heading to the fields for a long day's work and it would include eggs cooked the Cretan way, olives and olive oil, cold cuts and meat, potatoes, and fresh cheese.
And in very poor households, a thick slice of bread, some grated tomato, salt, and olive oil would be all you could get… but trust me, it was extremely tasty!
Or it could also be the leftovers of the previous dinner. While having a glass of wine was not odd either.
Today, some very old taverns still serve stews, soup, and bread for breakfast (and some traditional places might even offer you a glass of wine), but the trend has slowly changed to keep up with today's faster pace of life.
There's a common joke that says that the Greeks have a cold coffee, a koulouri (a bread ring), and a cigarette for breakfast. And even when not exactly healthy, this is quite true!
However, especially during the weekends, it's not uncommon to see Cretans sitting at a nice cafeteria to enjoy a late breakfast with the family.
Top Places to Have Breakfast in Rethymnon
There are many places for breakfast in Rethymnon, check out the ones below for the top options!
Avli
Location: Xanthoudidou 22 & Radamanthios Streets – website.
No matter where you're staying, what you do, or how long you're in town, don't miss the chance to enjoy breakfast in a place like Avli.
Respecting the old-time tradition of Cretan breakfast, their extensive early morning menu has offers for all palates and all ages, and all dishes are made with fresh local produce.
Head to this link to check out their Breakfast menu.
Barrio, The Neighborhood Cafe
Location: 1, Dimitrakaki Street & 34, Portaliou Street – website.
Although the place it's not located in the old town, it's just a few steps from Porta Guora, one of the main access gates to the pedestrian area. And it is a famous spot where locals love to meet for coffee and conversation.
The place is quite big, so finding a table won't be a problem. They serve a variety of different coffee styles (Greek, French, and cold), as well as delicious croissants and savory pies, but also eggs, juice, and a selection of cold cuts and cheeses.
The place is right opposite the main parking spot in Rethymnon, just meters from the municipal garden… so you cannot miss it!
Vivliothiki Café
Location: 127, Kountouriotou Street, Rethymnon – website.
If waffles are your thing, then don't miss this place! Serving super-rich breakfasts, excellent coffee, and delicious sweet treats, including amazing donuts, Vivliothiki is another popular stop for breakfast in Rethymnon.
They also have great cakes, and some more healthy options, including fruit salad, juices, and Greek yogurt.
They're also open for brunch, and serve hamburgers, as well as other quick snacks and dishes.
Drop All Day Bar
Location: 8, Dimokratias Street – website.
Both locals and travelers agree that this is one of the best places for breakfast in Rethymnon. And I agree.
They serve everything you might want, from traditional sweet pastries to savory breakfasts, healthy treats, yogurt with fruit and cereals, and a lot more.
Their coffee is also really good and it is included in the price of any breakfast option you choose… and as their name suggests, you can also come here for lunch, brunch, afternoon coffee, or dinner. Don't miss it!
Le Jardin
Location: 15, Iliakaki Street, Rethymnon – website.
Located in the heart of Rethymnon's municipal garden, this is a great place for homemade breakfast surrounded by a green, relaxing environment.
They serve a variety of eggs, good coffee, and fresh orange juice, but also special sweet and savory pies, fruit, and waffles topped with ice cream.
And if you want something truly traditional, order a Sfakian pie with myzithra cheese drizzled with local thyme honey! The place is excellent for families since kids can play and run around the park risk-free.
Cul de Sac
Location: Titou Petixaki Square, Rethymnon – website.
Another local favorite at breakfast time, I've also included Cul de Sac in my list of the best coffee shops in Rethymnon (that you can read here). As they say at this place… coffee is a hug in a mug, so do expect great coffee over here!
For breakfast, you will find virtually anything, from eggs Benedict to Croque Madame and Monsieur. Other specialties include omelets, pancakes, sweets, yogurt, and Sfakian pita with local honey.
Their fixed Breakfast menus include:
Cretan Breakfast
European Breakfast
Fitness Breakfast
Breakfast for Two
If you're curious about them, check out their breakfast menu online before heading to Cul de Sac.
Bankery
Location: 2, Dimitrakaki Street, Rethymnon – website.
Serving lavish pancakes, fresh orange juice, fruits, yogurt, and a variety of coffees, this is another great bet for breakfast in Rethymnon.
Besides, other than serving great breakfasts, the place is modern and bright, ideal to spend the morning checking the news or reading a book with your cup of coffee before heading to Rethymnon's municipal beach -which is only a few minutes away!
Cafe Galero
Location: 2, Mesologiou Street, Rethymnon – website.
Locals love to hang out in this coffee place in the early morning hours, breakfast options are simple and include coffee, fresh juice, croissant and other pastries, savory pies, and tea. However, the atmosphere is lively and friendly… and believe me, you might not want to leave!
The place is in the heart of the old town, only steps from the legendary Rimondi Fountain, and perfect to sit and people-watch for hours. Cafe Galero is also the place where I often go each February to celebrate Carnival!
The Macedonian – Το Μακεδονικό
Location: 4, Dimitrakaki Street, Rethymnon – website.
Looking for a place to grab some pastries and head to the beach, then look no further this is where to go in Rethymnonon for breakfast on the go.
Of course, you can also sit and enjoy your coffee with a top selection of pastries and other baked delicacies that, chances are, have just been taken out of the oven!
Their must-try? Bougatsa, of course! Made respecting the authentic Macedonian style and truly delicious!
Meli Melo
Location: 38, K. Paleologou Street, Rerthymnon – website.
Meli Melo is a fantastic traditional kafeteria where you can soak in the Cretan tradition of coffee time. They not only serve great Greek coffee, but the highlight of the shop is the freshly cooked loukoumades (Greek donuts).
The place is on the Old Town and it's a great stop to enjoy your coffee with the view of the picturesque narrow streets. Not to mention the friendly staff and perfect traditional design, all these ingredients make the place worth a visit.
… So, which one will be your first stop for breakfast in Rethymnon? Please also remember that there are more places for coffee and snacks in this other Rethymnon post too! Where are you planning to enjoy your breakfast when visiting Rethymnon?
🛌 Suggested Accommodation in Rethymnon:
🗺️ More resources to book your trip to Crete
Pin This Guide to the Best Spots for Breakfast in Rethymnon for Your Next Crete Adventures!
---
You might also want to find out about other places to have good coffee in Crete:
---
About my blog: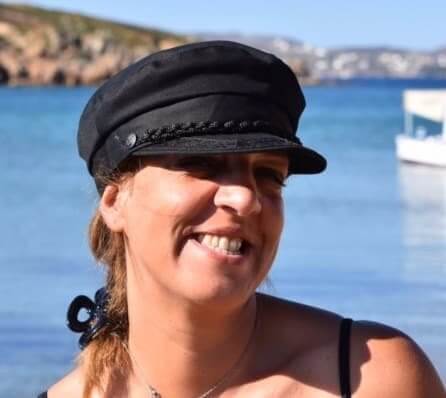 I moved to Crete in 2016. During these years, I learned much about the island.
In Crete, I juggle being a solo mom, hosting culinary tours, and writing for several travel blogs.
I've written for Greek Reporter, published travel guides about Greece, and had more glasses of frappe than any regular person could ever handle.