Crete is fantastic if you're into sports and adventures. The offer of activities keeps growing as seasons go by. You can explore canyons and gorges or choose to go horseback riding.
You can also face more extreme challenges, climbing the high peaks of Crete's mountains. In this guide, I will tell you about some of these thrilling experiences and recommend the best places in Crete for outdoor activities!
---
Disclaimer: Posts include affiliate links to products or services. I might earn a commission if you make a purchase, at no extra cost to you.
---
Best Places to Stay on Crete for Outdoor Activities
Let's Start by Getting Ready for Crete!
RESOURCES TO BOOK YOUR TRIP:
Book your flight: I use Skyscanner to compare prices before booking a plane ticket.
Book your ferry: When ferries are more convenient than air travel, I use Ferryhopper.
Book your accommodation: I've tried many different platforms for accommodation, but none of them beats the advantages of Booking.com.
Book your car: The best way to find an affordable car to rent is to use a powerful search engine that compares all the rental companies in the market. I use Discover Cars.
Book your tours: Live unforgettable adventures and cultural experiences with Get Your Guide. For instance, you can Visit Elafonisi, discover Balos Beach, hike Samaria, or explore Knossos.
Don't forget travel insurance: Things can go wrong at times, but travel insurance will protect you against illness, injury, theft, and cancellations. I recommend Safety Wing for peace of mind.
Crete is fantastic if you're into sports and adventure. The offer of activities keeps growing as seasons go by.
You can explore canyons and gorges or choose, to go horseback riding, and face more extreme experiences, climbing the high peaks of our mountains.
Gorges & Mountains
Chania Region
The mother of all hikes is the impressive Samaria gorge. Thousands visit it every year to walk 5-7 hours (13 km + extra) to go from the north to the south of Crete.
You can do it on your own or with an organized tour. But that's not the only one!
More Samaria Gorge hikes to check out before choosing a tour:
Best place to stay for Samaria: It is a good idea to stay in the village of Agia Episkopi, near Omalos Plateau and the entrance to the gorge. If you prefer to stay near the sea, in that case, the village of Platanias offers easy access to Omalos and Samaria.
Recommended place to stay in Agia Episkopi: Villa Enny with private pool
Recommended place to stay in Platanias: Porto Platanias – Casa Di Porto
There are gorge hikes that take less time and effort. Agia Irini and Imbros (both about a 3-hour walk) or Topolia (less than 2 hours) on the way to Elafonisi, are just a few.
The best area for extreme adventures is Sfakia where you can also do bungee jumping, go hiking, and explore other gorges, such as the impressive Aradena.
Recommend place to stay to hike Imbros and discover Sfakia: Panorama New Generation
Recommended place to stay to hike Topolia: Topolia House 4-bedroom
Rethymnon Region
If you choose to stay in Rethymnon, you can explore the gorge of Kourtaliotiko (a 3-hour hike), which ends in the amazing Preveli Beach.
Recommend place to stay near Preveli: Dionysos Tavern & Rooms
Patsos Gorge is an easy walk, the gorge is green and there are refreshing water sources all around. Patsos is close to the Amari Valley and the stunning views of the Psiloritis, Crete's highest pick which many tourists climb.
Recommend place to stay in Amari: Amari Villas
Heraklion Region
In Heraklion, Rouvas Gorge is lush and green, with plenty of water along the way. Another magnificent gorge in Heraklion is Agiofarago, (the hike is shorter than an hour).
Recommend place to stay near Agiofarago, in Kali Limenes: Sfinias Apartments
Agiofarago is one of my favorite hikes on the island because of the stunning solitary beach at the end of the walk.
Lasithi Region
Lasithi has the spectacular Valley of the Dead (Zakros), which also ends on a fantastic beach. My favorite is the small Richtis gorge because of the pretty waterfall you encounter on the trail.
Lasithi has the spectacular Valley of the Dead (Zakros), also ending in a fantastic beach, solitary and completely off the beaten track.
My favorite hike in Lasithi is the simple but beautiful Richtis gorge. During our walks along the gorge, a few months ago, we managed to pick and eat wild berries as well as grapes!
Besides, at the end of the gorge, you're rewarded with a refreshing beach and a magnificent waterfall.
Recommended place to stay in Zakros: Sofia's House
Recommended place to stay near Richtis: Anemomylos House
Watersports in Crete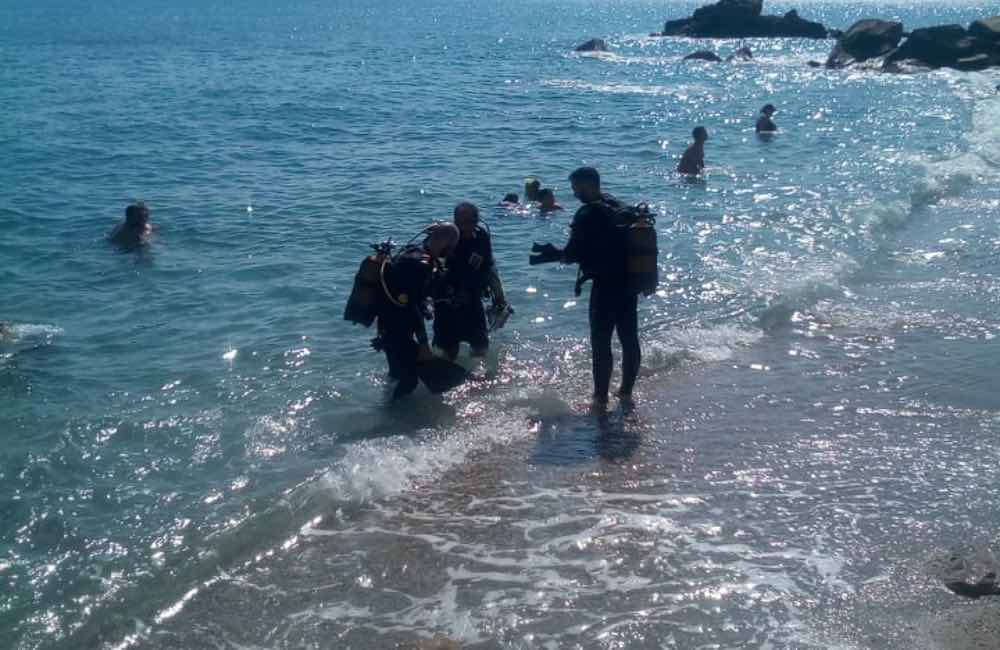 Windsurfing and motor-ski are popular in Falasarna. In Elafonisi, you can practice canoeing and kitesurf.
Read this post to find accommodation in Falasarna. In this article, you will find the best places to stay in Elafonisi.
In the last couple of years, SUP (stand-up paddle) is growing everywhere, and there're endless places where to do it. I can recommend Marathi beach (Chania) as well as Agia Pelagia (Heraklion).
For scuba diving, one of the best places to choose in Crete is Plakias Beach in Rethymnon (see below).
Recommended place to stay in Marathi: Cap Bleu Seafront Holiday Home
Recommended place to stay in Agia Pelagia: Blue Hills Villas
Water sports are also popular in Kouremenos Beach (Lasithi). In some locations, you can also hire boats without the need for a sailing license.
Recommended place to stay near Kouremenos: Glaro Kouremenos
Let's now see some of the most popular water sports on the island:
Scuba Diving
Although we have a whole article devoted to the best scuba diving spots in Crete, which I recommend you bookmark and read later, this is one of the most popular water activities on the island.
Plakias is a village on the island that shines when it comes to scuba diving, with several schools in the village for those who want to be PADI certified or for people just looking to have fun under the sea!
Recommended place to stay in Plakias, Rethymnon: Lamon Hotel
Sea Kayaking
Kayaking of the many popular water sports in Crete which sees hundreds of fans year after year. It can be practiced in every corner of the island! So, it is a good idea to book a hotel right by the sea.
Snorkeling
Nothing says summer holidays in Crete more than snorkeling! This is probably the easiest activity on the waters around the island, perfect for all ages, and guarantees hours of fun and entertainment. Also in this case, snorkeling is spread all over Crete and any place by the sea on any shore can be the right spot for your stay!
SUP – Stand-Up Paddle
One of the most popular activities in Crete in recent years, ok for almost any age as long as you are able to swim, SUP (stand-up paddle) is the perfect thing to do to have some fun time on the beach. The gorgeous Kalathas beach, also part of the Akrotiri Peninsula, is another popular place for SUP fun!
Recommended place to stay in Kalathas: Villa Jamila
Choosing the right sport and – also – the right place to stay in Crete can be overwhelming, however, it is not impossible if you look for the right location in advance!
---
Are you planning to enjoy some of these outdoor adventures in Crete soon?
Let me know in the comments below!
You might also want to read these posts:
---
Pin this Outdoor Adventures Guide for Your Next Trip to Crete!
About the author of this blog: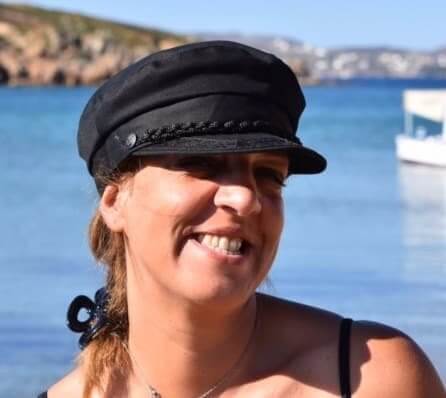 Gabi has been living in Crete for the last five years. On the island, she juggles being a solo mom, hosting culinary tours in summer, translating, and freelance writing.
She's written for Greek Reporter, published several travel guides about Greece, and had more glasses of frappe than any regular person would be able to handle.
COMING TO CRETE SOON?
Get in touch and let me know!