Solo Female Travel in Crete: There are thousands of places around the globe that many of us would like to travel solo. However, the reality for many women is that many of those places simply don't feel safe enough to go completely solo. Thankfully, Crete gives you the best of both worlds as an ideal island to spend time alone, no matter what gender you are.
With its safe environment, friendly locals, and solid public transport, you will feel safe exploring every majestic destination Crete offers. Sounds like a bargain, right? Here is everything you need to know about solo female travel in Crete.
---
Disclaimer: Posts include affiliate links to products or services. I might earn a commission if you make a purchase at no extra cost.
---
Is Crete Safe for Solo Female Travelers?
Let's take a close look at all the questions you might have and all the things you should know if you're a solo female traveler planning to spend time in Crete.
Safety Matters
Let's address the elephant in the room. As far as criminality goes, is Crete safe for solo female travelers? The answer is a resounding yes! Like other islands in Greece, Crete faces low levels of crime.
That being said, when you venture off to bigger cities such as Heraklion or Chania, there are more chances something unpleasant will find your way.
So, wherever you go, you must be aware of your belongings. Pickpocketing, although less frequent in Crete, can occur.
Thankfully, the island is blessed with an adequate presence of the Greek police force.
So whenever you see something suspicious, you'll have the chance to quickly find a policeman patrolling, report the incident, and continue your adventure.
When it comes to walking alone in empty streets or remote places, you are generally safe. The locals are always respectful towards women.
For example, it's much more likely that tourists (not locals) would inappropriately hit on you, and that's the worst thing that can happen.
Just to be clear, there are no incidents of physical violence in Crete. Light verbal abuse might be the most serious thing to worry about.
Fortunately, if you're in an uncomfortable situation, all you have to do is politely go away, and you'll be left in peace.
Things to Do in Crete as a Solo Female Traveler
If I were you, I would split my time in Crete between doing things independently and joining tours. Depending on your preferences, you may do more of one than the other.
However, I'd say there is always time for a little bit of everything!
Traveling solo and exploring at your own pace gives you an incomparable sense of freedom while presenting opportunities for personal growth.
At the same time, joining tours will help you open up and make new acquaintances or even friends.
You should experience both states, so plan your itinerary accordingly. You won't regret it.
As for places to see and things to do, you will be spoiled with choices. Crete is such a big island that you will always have something to do, no matter your holiday style and how long you stay.
Walk the streets of cute cities and villages, swim in exotic beaches second to none, hike through scenic gorges and spectacular landscapes, taste traditional dishes and Cretan specialties, or explore ancient ruins of unparalleled importance.
As for going out, you might not feel entirely comfortable dressing up and drinking on your own but don't worry. Many women travel solo in Crete, and most want a company to go out. And that's your chance.
You have three main ways to meet such other female travelers. The easiest approach is to sign up for a tour, and if you're lucky, you'll meet similar-minded women in your area.
If you want my advice, try a wine-tasting tour and ask the travel agent if more single women have signed up.
Another way is to try Facebook forums for travelers. For example, if you're in Chania, search for Facebook travel forums specific to Chania (or you can join my Facebook Group).
Chances are, some other female solo travelers want to go out. And if not, feel free to ask a question; I am sure someone will want to join.
The third and most reliable way to meet other female travelers is your accommodation choice. If you're staying in a high-end hostel or reputable hotel for solo travelers, you'll soon come across other female travelers!
Best Areas to Find Accommodation in Crete for Women Traveling Solo
Without second thoughts, Chania ticks every point in the checklist for destinations friendly to female solo travelers.
It is a safe environment, a beautiful city to explore in its own right, and a great hub with many group tours available.
At the same time, the accommodation options in the area range from low-cost hostels to luxury resorts. So, no matter your taste and budget, you will find the right fit for you.
Another outstanding location for female solo traveling is the charming town of Rethymno, home to long beaches and scenic landscapes.
You could even get from Chania to Rethymno by public bus in under two hours, so feel free to include both destinations in your bucket list.
Finally, you will love quieter towns like Agios Nikolaos, low-key villages such as Agia Roumeli, or resort complexes like Elounda.
The latter destination belongs to the remote region of Lasithi, an ideal area to discover the authentic side of the island.
Remember, the most popular destinations have several accommodation options you can find online and easily compare.
But if you want to go off the beaten path, finding a suitable place to stay might prove more challenging. Plus, you won't be as often near other female solo travelers.
Other Tips for Female Solo Traveling in Crete
No matter whether you're traveling to Crete or any other destination, these are some common sense suggestions you should also keep in mind for a seamless experience.
Always Protect Your Belongings
In general, Greece is a safe destination for women to visit alone. However, always remember to keep an eye on your belongings and have them close. You can never predict what will happen, so act responsibly.
Avoid Walking Alone on Empty Streets After Midnight
Crete is known for its hospitality, but things can always go astray, especially with some alcohol involved. So, avoid walking alone after midnight; if you do, stick to well-lit, busy streets.
Buses are Your Best Friends
If you want to move places while you travel, the public transport system in Crete should be your go-to option.
Visit Any Time of the Year
The good news about female solo traveling in Crete is that you can visit the island almost all year round.
The season may be from May to October, but you can still explore the island in the winter if you don't mind doing it without swimming. I'm sure you'll love the extra attention from the locals.
All in all, if you are a woman traveling solo in Crete, you will love every second of your visit. The island is a heavenly destination with majestic locations, friendly locals, and a fantastic culture, not to mention the wild food scene.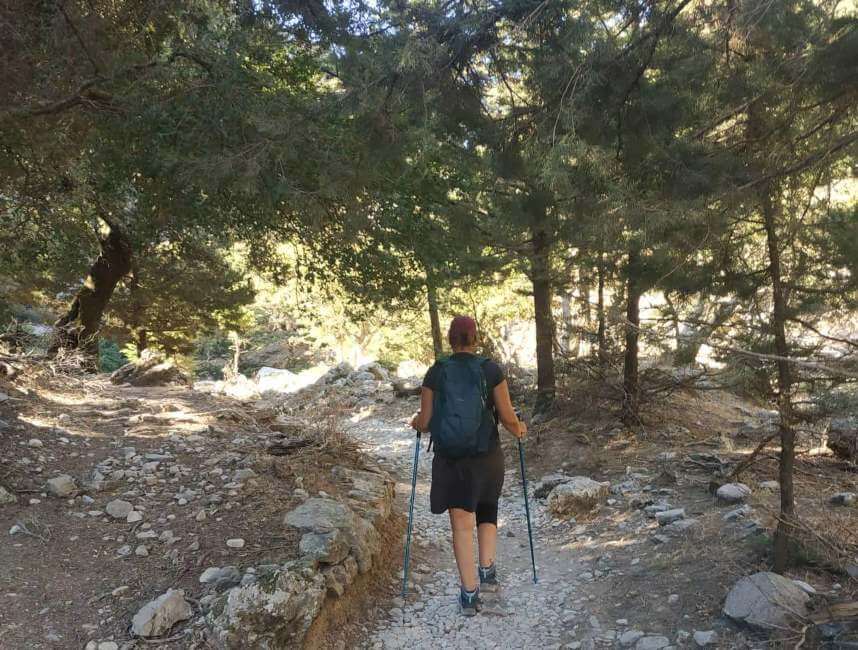 As long as you follow common sense and general safety rules, traveling around Crete alone will be a piece of cake.
Are you a woman traveling solo in Crete?
Read more about Crete
🛌 Suggested Accommodation in Crete:
🗺️ More resources to book your trip to Crete
Written by Dimitrios Tsevremes
Passionate about travel, spirituality, and sports, I have lived in 5 countries and traveled to more places than I have counted. Writing, for me, is a way to express myself and my creativity. Whether I write for my blog or a freelancing gig, I always fall in love with the process and often lose my sense of time. If you want, you can check out more about me and my work here.
Pin This Guide to Solo Female Travel in Crete For Your Next Solo Adventure!
---
You might also want to read these posts about Crete's regions:
---
About my blog: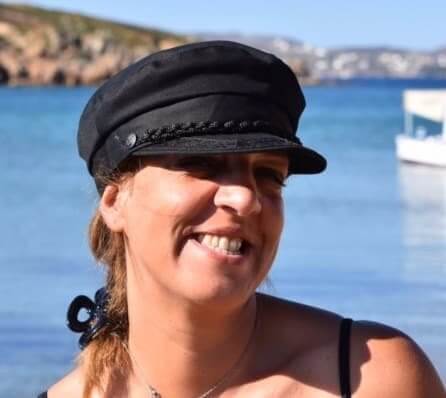 I moved to Crete in 2016. During these years, I learned much about the island.
In Crete, I juggle being a solo mom, hosting culinary tours, and writing for several travel blogs.
I've written for Greek Reporter, published travel guides about Greece, and had more glasses of frappe than any regular person could ever handle.