Your way to Crete will pass through either Heraklion or Chania, the two main hubs of the island. Yet, those cities are a lot more than your port to Crete. They can be the very reason you visit the island. If you're still not certain whether to Chania or Heraklion, I bet this post will help you make up your mind!
---
Disclaimer: Posts include affiliate links to products or services. I might earn a commission if you make a purchase, at no extra cost.
---
Chania or in Heraklion?
Which is Best for Your Holidays?
If you are wondering where to go, this article can help you choose the best city for you. Although there is no such thing as one answer for everyone, there is an ideal place to be for you. Keep reading and see for yourself.
RESOURCES TO BOOK YOUR TRIP TO CRETE:
FLIGHTS: Use Skyscanner to compare prices before booking a plane ticket.
FERRIES: Check out Ferryhopper for convenient ferry tickets.
ACCOMMODATION: Look for hotels and rental homes on Booking.com.
PRIVATE TRANSFER: Welcome Pickups offers local English-speaking drivers, flight monitoring, and a very convenient (flat) pre-paid fee
CAR RENTAL: Use Discover Cars to find an affordable car to rent.
TOURS: Live unforgettable adventures and cultural experiences with Get Your Guide.
INSURANCE: If things go wrong, you'll get coverage against illness, injury, theft, and cancellations. I recommend Safety Wing for peace of mind.
The First Impression is Different for Each City
It is not easy to compare two cities, especially when they are as different as Heraklion and Chania.
Preferences and expectations matter. But so does the first impression.
And when you get to Heraklion, you first see a typical Greek town with its fair share of concrete and congestion.
Yet, its incredible architecture and many impressive buildings make it one of the most beautiful cities in the country.
When it comes to Chania, the atmosphere is quite charming and unique. To begin with, it has two distinct sections, the modern one, on the slope of the hills, and the old one, on the coast.
Best Hotels in Chania
Affordable: Aelia Apartments or Polixeny's Suites in the old town.
Mid-range: Elia Estia in the old town and Civitel Akali Hotel in the new town.
Luxury: Casa Delfino in the old town or Domes Noruz by the sea.
Check also Chania Accommodation Guide and Boutique Hotels in Chania.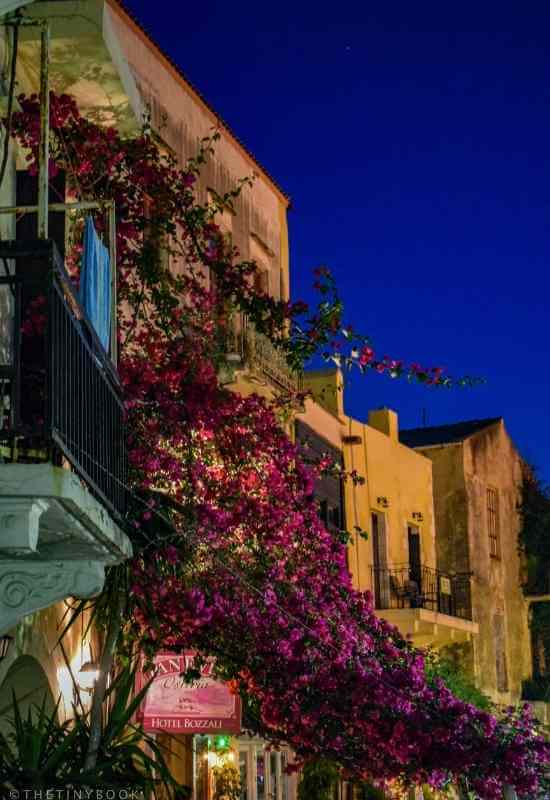 No matter where you go, you will love its stunning architecture and cheerful vibe. Not to mention the lovely coffee houses, taverns, and restaurants on almost every corner.
In short, Chania can feel a bit more alive and authentic, although also more touristic.
With just one-third of the population and size of Heraklion, Chania is more walkable and fun to walk around.
But this does not mean Heraklion is not worth a visit. The opposite. Do not forget this is only about the first impression. There is a lot more behind the scenes.
You might also want to read: Chania vs. Rethymnon: Which Cretan City You Should Visit?
Exploring Heraklion or Chania?
Both Cities Have Many Sites Worth Visiting
Scattered around Heraklion, outstanding architectural buildings decorate the city. To the east of the port, admire the Venetian city walls and the Castle.
Alternatively, walk to the impressive Saint Titus Church or the fantastic Minas Cathedral to the west.
The town is also home to picturesque fountains like the Bembo and the Morosini Lions Fountain.
Not to mention the street art evident in every neighborhood.
Best Hotels in Heraklion
Affordable: Candia Studios & Rooms or Rea Hotel in the city center.
Mid-range: Capsis Astoria and Veneziano Boutique Hotel in town.
Luxury: GDM Megaron H. M. Hotel or Galaxy Iraklio in the center.
Check also Heraklion Accommodation Guide and Best Places to Stay in Crete.
Just like Heraklion, Chania boasts a unique selection of sights worth exploring. This time, however, everything is almost next to each other.
Start your stroll at the old Venetian Port and explore the Ottoman Mosque of Hassan Pasha built in the 17th century.
Then, as you head to the lighthouse of Chania at the tip of the port, make sure to embrace the beauty of the Venetian Fortress in the distance.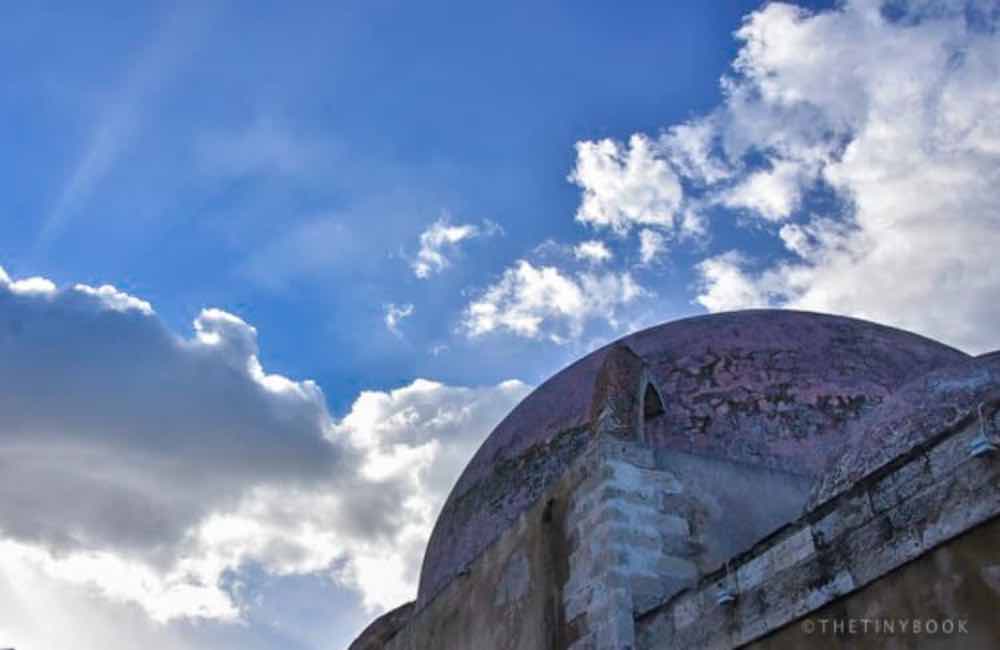 A block from the port, look for the Orthodox Cathedral on the central plaza. From there, walk searching for Saint Nikolaos Church, a Venetian church with an Ottoman minaret.
As you do, you will fall in love with the vibe of the city. In short, Chania has a few more touristic sights than Heraklion, although this does not necessarily mean they are better, nor worse.
SMART STAY IN CHANIA: For business or a holiday, seasonal, or throughout the year, Dimitris City Break Apts is a cozy, peaceful, and sun-drenched place to stay in town. Get in touch with the code TinyBook for a 10% discount!
The Old Town of Chania is Second to None
As you may already know, what stands out in Chania is its Old Town. It is difficult to find another city in Greece with such a vibrant and picturesque old town.
Although you can walk from one end to another in less than 15 minutes, you can spend days exploring it all. Every corner hides a surprise that is worth finding out.
Although not as colorful, the Old Town of Heraklion certainly deserves a visit. Most of it is pedestrian, so you will enjoy its beauty in peace.
Begin your walk at the Venetian Port and climb a small hill that offers fantastic views. Then, take your lunch at a traditional tavern, or enjoy your cocktail in a lively bar in the Old Town.
No matter which Old Town you are exploring, remember to turn off your GPS and allow yourself to be lost. Literally! There is no better feeling than discovering beautiful buildings and neighborhoods you never expected to see.
Most importantly, do not worry about finding your way back. Relax, search for incredible architecture and enjoy the cheerful vibe. And remember.
The locals are always more than welcome to guide you to your destination whenever you need any help. But before you ask, explore and have fun.
Heraklion Carries a Richer History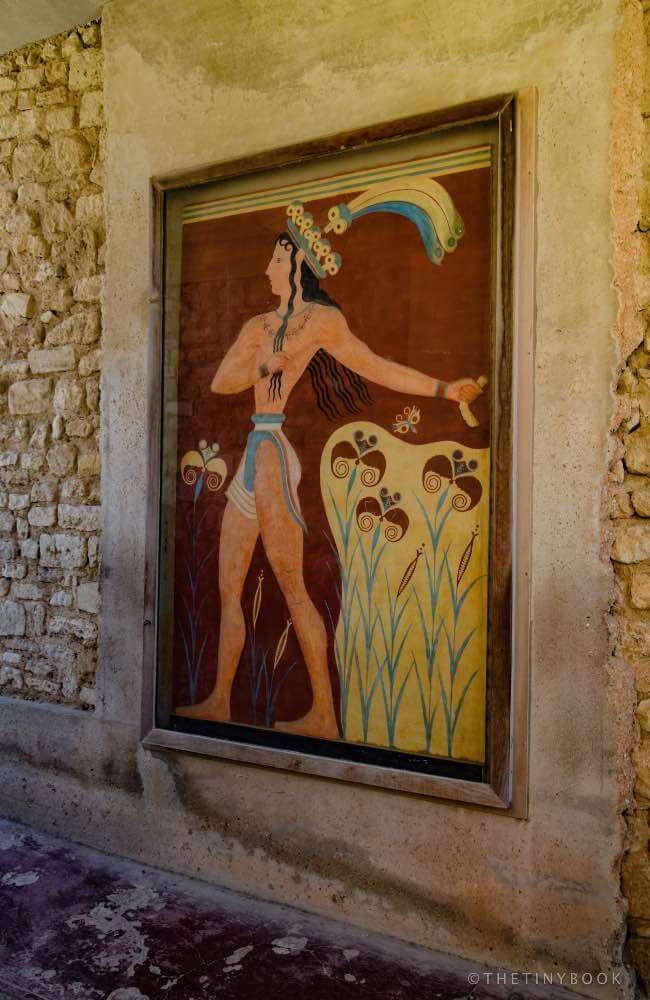 Although both cities have a rich history that dates thousands of years ago, Heraklion has the upper hand in that area.
The island's capital was once home to one of the most magnificent and ancient human civilizations: the Minoans. No matter what, you need to visit the Minoan Palace of Knossos when you are in Heraklion.
For a deeper dive into prehistoric history, make sure to spend a few hours, if not an entire day, exploring the artifacts and other historical exhibits in the Archaeological Museum of Heraklion.
If that is not enough, you can see traces of Venetian and Byzantine influence all over the city.
And there is no better way to discover everything than wandering around the Historical Museum of Crete.
Although lesser in glamour, the history of Chania is still impressive. Byzantines, Venetians, and Turks have all left their marks on the city.
Visit the Cathedral of Trimartiti to see Venetian architecture and paintings. Or take a tour through Etz Hayyim Synagogue to learn about the former Jewish community in Crete.
Above all, stop by the city's new Archaeological museum to discover every bit of its rich history.
As the Bigger City, Heraklion has More Things to Do
If history does not fascinate you (yet), worry not. You can do more activities on the island than you can fit on your holidays. Even if you spend three months or more in Crete.
And this is true for both Heraklion and Chania. However, as the capital of the island, Heraklion has more things to do.
Whether you want to relax on the beach, have a romantic evening, take a lesson on horse riding, try rock climbing, or have fun at a water park, Heraklion has you covered.
You do not need to search for long to find the best activity for you. Just visit a travel agency or ask your hotel receptionist, and your next adventure will be a few phone calls away.
Chania also has a variety of activities if you want a break from sightseeing. Choose one of the many coffee houses overlooking the Venetian Port and enjoy your drink with an unparalleled view.
Or just order a takeaway coffee and get to the Botanical Park of Crete for a change of scenery. If you are looking for shopping therapy, Chania will feel like heaven for you. Its many boutiques and specialty streets will leave you in awe.
Heraklion or Chania for Food? You Will Adore the Cuisine in Both Cities
As you stroll around either city, you cannot but notice the myriad smells from the many taverns and restaurants you pass by.
There is no doubt you will be craving a Greek meal sooner than later.
Thankfully, both cities offer all of the traditional and modern cuisines that you expect from any typical Greek getaway.
Whether you are after fast food and gyros or want to get a complete fine dining experience, Heraklion has the perfect match for you.
Hundreds of traditional taverns, takeaway eateries, and luxurious restaurants are ready to cater to your every need. Get ready to treat yourself to fresh seafood, modern plates, and organic produce.
Similarly, Chania boasts a rich selection of establishments to taste both Cretan and international dishes. Alternatively, you can head to the street markers and try any of the typical Greek snacks.
Spoiler alert: snacks may often look like proper meals size-wise.
No matter your taste, you will not regret visiting the restaurant the Well Of The Turk.
More of an experience than a plain tavern, this establishment is praised for its ethnic food and laid-back atmosphere.
Do not forget to order and try one of the many local or international wine varieties.
Prepare to Walk or Drive to Reach a Peaceful Beach
Once your appetite is satisfied, you will be looking for a beach in no time. Although the city beaches are around the corner, you would do yourself a favor if you head a few kilometers toward the outskirts.
However, if everything you want is a quick swim to cool off, you won't have to walk far.
On the eastern part of Heraklion, Karteros Beach is a clean and sandy beach. However, it is also next to the airport, so it can get a bit noisy. For a more peaceful location, drive six kilometers west of the city and reach Amoudara Beach.
Popular with the locals, this long and sandy beach is full of fancy resorts, big hotels, and all sorts of eateries. You will love this change of scenery only a few kilometers away from the bustle of the city.
Just like in Heraklion, you cannot bathe in the heart of the Old Town. However, there is a long stretch of sand with organized facilities, less than a kilometer away.
Although often crowded, Nea Chora beach is the place to go if you are looking for an escape from the Cretan heat without leaving the heart of Chania.
If you want to avoid the crowds, walk a bit further toward the north and reach the quieter beaches of Crissi Akti and Agii Apostoli.
You Will Love the Road Trips From Both Cities
Although you will fall in love with the cities, arranging a day trip could be one of the best ways to explore Crete. Fortunately, both towns can be the starting points for road trips you are bound to remember.
If the Knossos Palace fascinated you, as is usually the case, consider visiting the Phaistos Archaeological Site in the south.
And you can combine your trip with a stop at Gortyna, one of the oldest cities on the island during the Hellenistic period.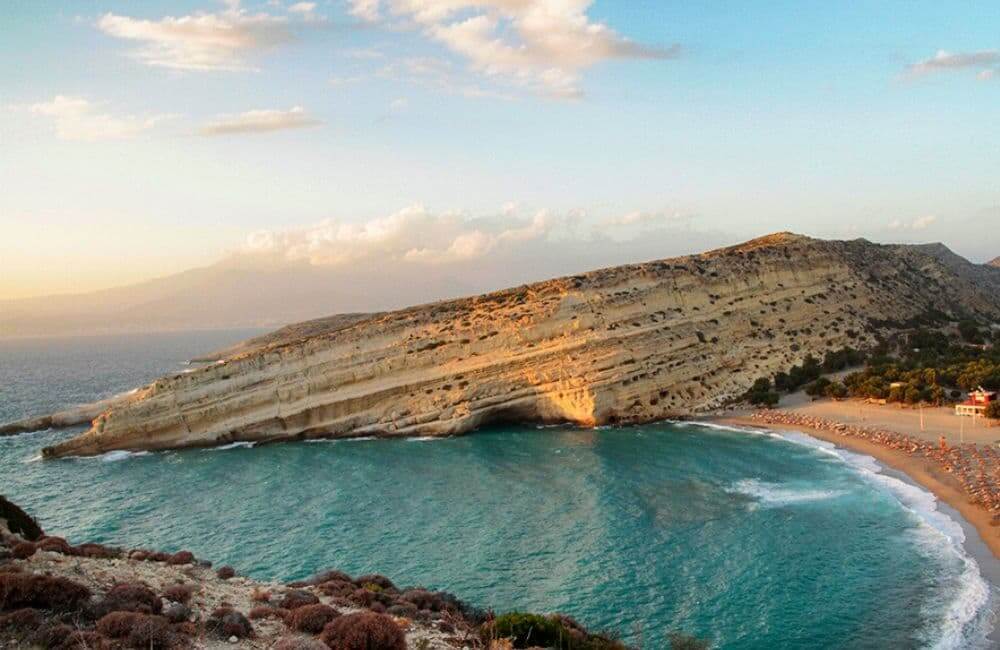 If you drive further south, you can reach Matala, one of the most famous beaches in southern Crete.
The journey there will take you through exotic landscapes and will be as rewarding as the destination.
Alternatively, head around 30 kilometers east of Heraklion and embrace the party vibe on the beaches of Hersonissos and Malia.
Apart from eastern Crete, the west is also home to postcard-like beaches you never thought existed. Everyone has talked about or seen pictures of the pink sand from Elafonisi and Balos Beach.
If you prefer something off the beaten path, attempt a descent to the idyllic beach of Seitan Limania, only 10 kilometers east of Chania.
For the nature lovers out there, make sure to spend an entire day hiking Samaria Gorge, the longest canyon in Europe.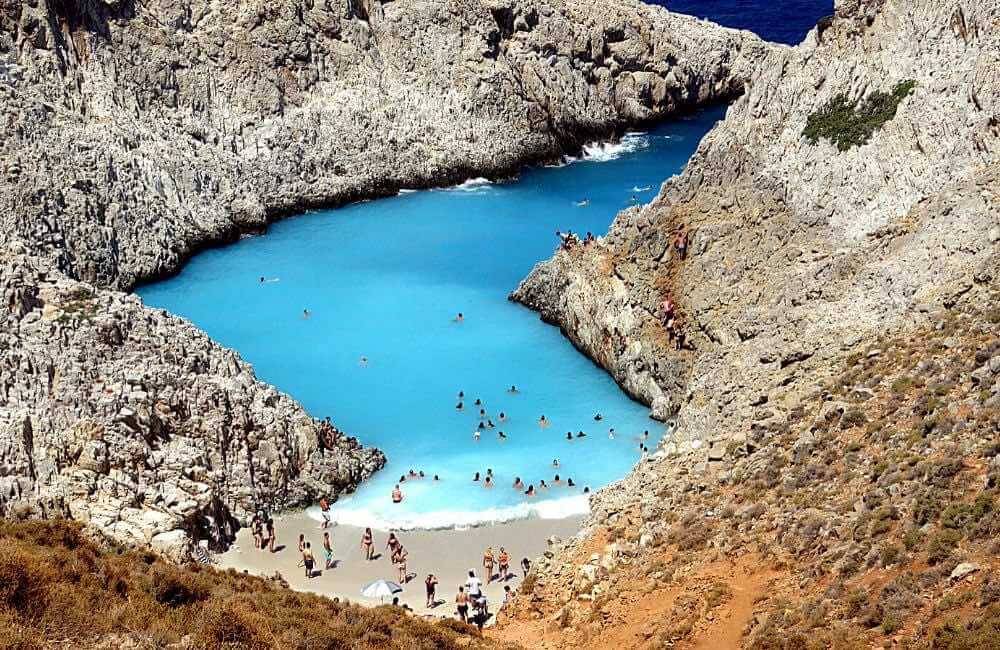 And if you are up for an adventure, rent a car and go exploring the White Mountains, known for their majestic landscape and breathtaking hiking routes.
You might also want to read: What to Pack for a Road Trip in Crete: Genius and Practical Packing List!
Getting to Crete is Slightly Easier Through Heraklion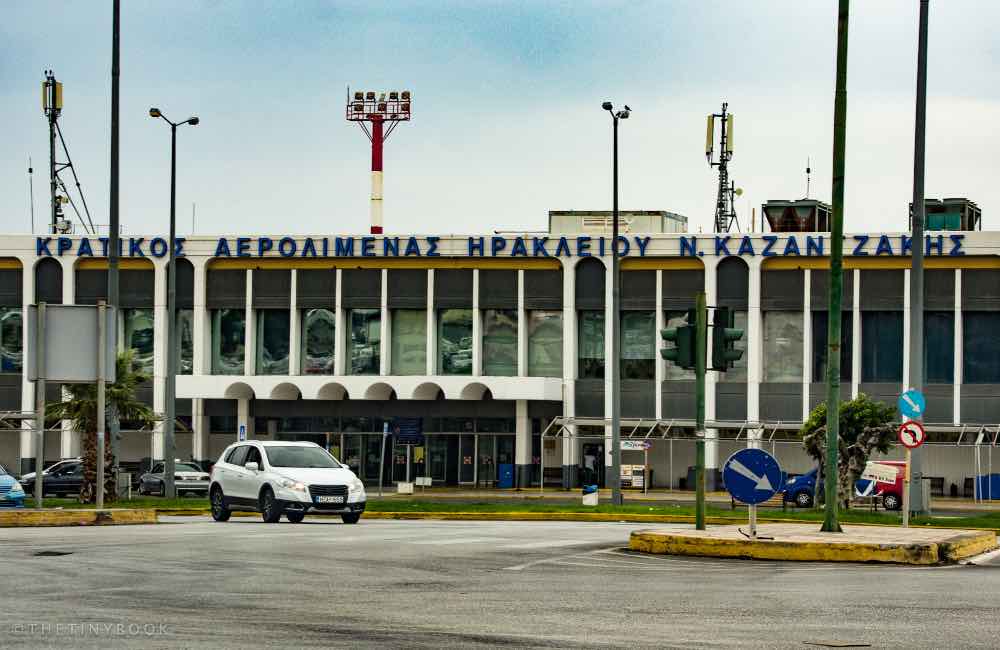 If all that matters to you is getting fast to your destination, you will love both cities for their international airport. Several flights connect many countries around the world to Crete through those airports.
And if your flight gets to Athens, note that there is usually more than one connection per day with either Heraklion or Chania.
If getting to Crete by flight is easy, using the ferry can be much more convenient and straightforward.
Either you get the ferry from Athens or any of the Greek islands in the Cyclades, it won't take long till you reach Crete. And your destination can be both Heraklion and Cyclades.
You might also want to read: Best Greek islands to visit near Crete.
As the capital of the island and the bigger city, Heraklion has a few more flights and ferry connections around the year.
Only for that reason, Heraklion may be a bit easier to reach.
Yet, the ideal scenario would be to land in one city and leave through the other. You will get the most out of both worlds!
The Verdict: Heraklion or Chania?
As you can see, there is no clear answer as to whether Heraklion or Chania is a better destination.
To be honest, the only reason to have this dilemma is time constraints.
If you have enough time, you would do yourself a favor and go to both places. But this is not always possible.
All in all, you would prefer Heraklion if you are interested in archaeology and Minoan history. On the other hand, an architect would fall in love with the Old Town of Chania.

n the end, the choice is yours. No matter which city you visit, you will remember your holidays for a long time. And you will soon make plans to come back.
---
Are you planning to visit Heraklion or Chania… Or both?
Let me know in the comments below!
You might also want to read these articles:
– Dreamy Boat Trips in Crete: Discover Crete by Sea! – Best day trips by boat in Crete.
– The Most Delicious Seaside Restaurants That You Should Visit in Crete! – Best restaurants to try in Crete to eat by the sea.
– How to Get from Heraklion to Matala, Crete without Getting Lost! – A guide to visiting Matala.
– Discover + 45 Most Gorgeous Beaches in Crete (A guide by an insider!) – A guide with the best beaches in Crete.
This Belongs to a Board! Pin This Guide to Decide whether to Visit Heraklion or Chania During Your Next Crete Adventure!
Written by Dimitrios Tsevremes
Passionate about travel, spirituality, and sports, I have lived in 5 countries and traveled to more places than I have counted. Writing for me is a way to express myself and my creativity. Whether I write for my blog or a freelancing gig, I always fall in love with the process and often lose my sense of time. If you want, you can check out more about me and my work here.
About the author of this blog: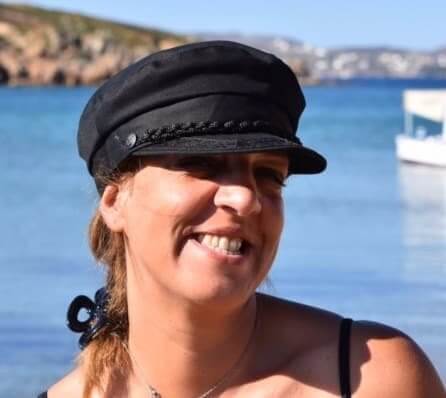 Gabi has been living in Crete for the last six years. On the island, she juggles being a solo mom, hosting culinary tours in summer, translating, and freelance writing for several travel blogs.
She's written for Greek Reporter, published several travel guides about Greece, and had more glasses of frappe than any regular person could ever handle.
COMING TO CRETE SOON?
Get in touch and let me know!