Are you in Chania and want to explore the rich history and culture of the area? If yes, you are in luck. Chania is one of the most historical cities of Crete and an ideal destination for culture lovers. As a result, the city is full of incredible museums. Of course, a select few of them stand out. Keep reading to discover the best museums in Chania.
---
Disclaimer: Posts include affiliate links to products or services. I might earn a commission if you make a purchase.
---
Museums in Chania, Crete
What Museums to Check When Visiting Chania
These are some of my favorite museums that I suggest you check when spending your vacations in Chania, Crete.
Archaeological Museum of Chania
Did you know Chania is older than 3000 years? Previously known as Kydonia, the region of Chania was first inhabited around 1100 BC by Dorian Greeks.
However, some signs hint at the presence of local populations in the area already from the Neolithic era. Want to learn more?
All you have to do is visit the new Archaeological Museum of Chania, and you will find answers to all your queries. The museum has a rich collection of Minoan and Roman artifacts from the nearby area.
The museum has been recently relocated to a new building in Halepa. If you can, do not miss the chance to be one of the first visitors to the new site.
Location: 15, Skra Street, Chalepa district. Check the website.
Maritime Museum of Crete
If oceans and ships excite you, you have to visit the Maritime Museum of Crete. Located in the old Venetian Firka Fortress near the harbor of Chania, this museum depicts the naval tradition and history of Cretans. Here, you will explore the maritime history of the island.
The museum covers everything from prehistoric times and the Minoan era to the Greek revolution and modern times.
Next to the main collections, the museum is also home to a shell exhibition that shows the unique beauty and diversity of the sea life in Crete.
There is even a fully-equipped library on site. Finally, apart from all the exhibits, this building signifies the unification of Crete with Greece because it is here that Cretans first raised the Greek flag after unification in 1913.
All in all, your visit to the Maritime Museum of Crete will take you on a journey through history. This time, however, the voyage will be by sea rather than land.
So, prepare to discover the rich maritime history of Crete, sailor
Location: Akti Kountourioti, Chania (Inside Firkas Fortress).
Folklore Museum of Chania
If you would like to learn more about a specific time in Cretan history, you can visit the Folklore Museum of Chania.
Located in the heart of the old town, this small museum features a rich collection of traditional items that represent how Cretan lived during the 18th and 19th centuries.
The exhibits include everything from old cooking utensils, old furniture, and agricultural tools to even wax dolls with traditional clothing.
All displays are either hand-made or collected from traditional Cretan villages. The two owners of the museum spent years creating and gathering all the exhibits.
They have even created separate theme rooms to represent different activities and life areas.
For example, think of a cellar where Cretans used to make wine. Or think of the traditional bridal bedroom, where the couple could legally sleep together for the first time.
Yes, 19th-century Cretans were not allowed to sleep with their partners before marriage.
Just imagine how significant this bedroom was back then.
Location: 46, Chalidon Street.
Byzantine and Postbyzantine Collection of Chania
For the lovers of Byzantine history out there, you don't want to miss a visit to the Byzantine Museum of Chania.
Housed in the church of San Salvatore in the old town, this museum presents the historical and artistic background of Chania during the Byzantine and post-Byzantine periods.
Your visit here will remind you of Crete's long and much-disputed past.
Although small, the museum hosts a rich collection of local Byzantine artifacts, including statues, Venetian coins, jewelry, and even tomb inscriptions.
What you will love the most, however, is the ambiance of the place.
As a deconsecrated 15-century Catholic church, the building features floor mosaic and wall frescoes that will make you travel back in time.
Location: Theotokopoulou 78, Chania.
Greek National Football Museum
Apart from its rich history and culture, Greece is also proud of its national football team. Back in 2004, a so-called miracle took place in football history: Greece beat the 1 to 150 chances against them and unexpectedly won the European Cup.
The museum depicts this story, along with the history of Greek football.
Here, you can see jerseys of world-famous players, original balls of popular games, pennants, tickets, and much more.
Admission is free, and the owner of the museum will proudly guide you through his collections.
He will also ask you for your favorite team worldwide and then show you everything he has about the country and the club in his collection.
In short, you have to visit this museum if you are a football fan spending your holidays in Crete.
Location: Tsouderon 40, Chania.
Historical Archive Of Crete
If you prefer text over visual stimulus, then the Historical archive museum is just for you. Founded in 1920, this museum has the largest regional historical archive of Greece.
The place offers a more in-depth look at modern Cretan history. However, you have to read and understand Greek if you want to make the most of your visit.
The museum hosts more than a million historical documents and other rare scripts.
Here, you can find archival collections as well as public and private documents from 1821 to date.
In addition, there are some rare original photographs and artifacts of the era leading to unification.
Every room is dedicated to a specific era of modern history. You can learn everything about the Cretan fight for independence, the Battle of Crete, or the local resistance against the Ottoman occupation.
There are even some exhibits scattered throughout the museum. All in all, this is a museum dedicated to history lovers and enthusiasts.
Truth to be said, this is not a place to bring your kids or expect multilingual translations.
However, if you have a smattering of Greek or a Greek friend to come with you, this museum can offer you a detailed glimpse into the life and history of Crete and Greece.
The entrance costs €5. If you're interested in an organized interactive tour, the price for the ticket is €10, and the minimum size of the group is 4 participants.
Location: Ioannou Sfakianaki 20, Chania.
Museum of Typography
One of the best museums about printing and typography in Europe, the Chania Museum of Typography will surprise you with its rich displays and interactive exhibits.
The museum facilities include demonstrations, speakers, and multimedia presentations. In addition, you will find rare printing presses and other machines from the 19th century.
Most importantly, you will have the chance to do some hands-on printing on-site. If that is not enough, the museum also houses a library full of Cretan books and magazines from the 16th century onwards.
All in all, visiting the museum will equip you with interesting information and knowledge about typography, from the days of Gutenberg to our days.
Location: 03, Park of Local Industries Building 13, Souda, Chania.
Museum-Residence of Eleftherios Venizelos
Have you heard of Eleftherios Venizelos, the so-called "Maker of Modern Greece"?
Thanks to him, Crete managed to get autonomous status from the Ottoman Empire and later unified with Greece.
If you want to learn more about this important historical figure, do not miss the chance to visit his family home in Elena Venizelou Square.
His house is now a modern museum that presents his life in detail. Apart from the original furniture, each room features information boards in both Greek and English.
You can even visit the garage and see the damaged car Venizelos drove during a failed assassination attempt in 1923.
There is so much to learn about Greece and its greatest statesman from this museum.
Location: Pl. Elenas Venizelou, Chania.
School Life Museum
Education is one of the most important reasons our civilization developed since when we lived in caves. Yet, there are not as many museums about it as it should be.
Fortunately, Chania is home to the School Life Museum, which presents the educational and pedagogical practices of the past, present, and future.
Established by the municipality in 2006, the museum features various old educational materials, including books and blackboards to typewriters and traditional school bells.
Often, there are educational activities designed for current students to understand past education techniques and compare them to current teaching methods.
Especially if you have kids, your visit here will be more than worth it.
Location: Nerokourou, Nerokouro Village, Chania.
War Museum Askyfou
If visiting a city museum on a hot summer day is not your thing, worry not. The area of Chania is full of small but unique museums.
Hence, not only can you visit a museum in the countryside, but you will also explore the surroundings on your day trip there.
One museum that offers this possibility is the War Museum in Askyfou, about an hour's drive from Chania.
This war museum is a dream come true and the creation of one man, George Harzidakis.
Since 1944, 14-year-old George has been collecting army material, mostly from Cretan fields, which were at the time full of war equipment after the Battle of Crete in 1941.
Once you are at the premises, he will give you a short explanation of all the exhibits, which you are welcome to explore yourself as long as you want.
Finally, admission is free, but you are encouraged to leave a donation to help the owner run the museum. In short, if you have a car, you will love this day trip to the village of Askyfou, and the visit to its War Museum.
Location: Askyfou Village, Chania region.
Museum of Ancient Shipbuilding
Ships and oceans are indispensable parts of Cretan history. Hence, it is no wonder Chania is home to a museum dedicated to ancient shipbuilding.
Located at the shipyards of the old Venetian harbor, the Museum of Ancient and Traditional Shipbuilding will take you on a journey through history.
This time, the focus will be on models of ships, fishing tools, and commercial ports.
Apart from all the machinery and ship replicas in the museum, you will also find a rich collection of paintings and sculptures related to the sea.
However, the highlight of your visit will be no other than the replica of a Minoan ship dating back to the 16th century BC.
Built in 2003, this functional and well-maintained ship has participated in several boating events and other celebrations.
Despite its relatively small size, it has even made the trip to Athens and back, to move the Olympic Flame in the 2004 Olympics.
Location: Neorio Moro, Arsenals, Chania Port.
Minoan's World 3D Museum & 9D Cinema
If you are not fond of strolling around a museum, looking for exhibits that all look similar, consider a visit to the Minoan's World 3D museum.
Here, history means entertainment. A 9D cinema will take you back in time with fully immersive special effects.
And if you are wondering what 9D cinema means, think of wind, bubbles, lightning, rain, fog, snow, and even earthquakes.
Next to the thrilling 9D cinema, the premises also feature a 3D Museum with life-like statues made from silicon.
Using your smartphone's camera, you will bring to life 3D art that will mesmerize you. In short, you will love all the interactive exhibits and cinema. Especially if you have kids, this museum is a must-go.
Location: Ipsilanton 10, Chania.
>> You can purchase the tickets in advance before the visit.
Verekinthos Arts and Crafts Village
If you are into pottery, or you are looking for authentic Cretan souvenirs, then consider a road trip to Verekinthos Arts and Crafts Village.
A 10-minute drive from Chania, this small community of artists and artisans aspire to keep the rich history of Cretan pottery alive.
Often, you will have the chance to witness a live workshop and see how locals used to create ceramics, sculptures, paintings, fabrics, and other traditional items.
Note that the Verekinthos Arts and Crafts Village is not a "village" per se, but a complex of creative workshops dedicated to promoting local culture and tradition.
When you visit it, you should consider seeing the nearby Museum of Typography too.
Location: Nerokourou, Nerokouro Village, Chania.
Have you been to any of these museums in Chania?
Read more about Crete
🛌 Suggested Accommodation in Chania
🗺️ More resources to book your trip to Crete
Pin this Guide to the Best Museums in Chania for Your Next Adventures in Crete
---
You might also want to read these posts about Crete's regions:
---
About my blog: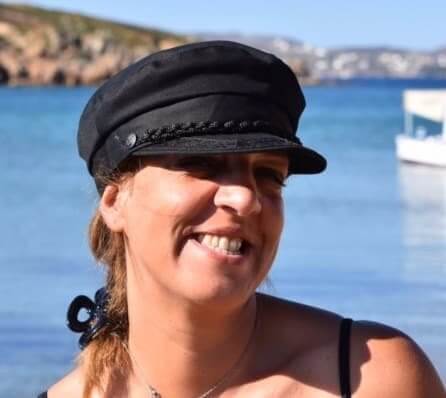 I moved to Crete in 2016. During these years, I learned much about the island.
In Crete, I juggle being a solo mom, hosting culinary tours, and writing for several travel media.
I've written for Greek Reporter, published travel guides about Greece, co-authored DK Eyewitness Top 10 Crete, and had more glasses of frappe than any regular person could ever handle.