Ready to discover Greece taking the time to marvel at the landscapes, get to know the locals, and live one-of-a-kind experience? Then join author Edward Enfield on Greece on My Wheels cycling his way through the Peloponnese to explore some unique trails quite off the beaten track.
---
Disclaimer: Posts include affiliate links to products or services and I might earn a commission if you make a purchase, at no extra cost to you. This allows me to continue writing helpful articles for your travels. I only recommend things I use myself or that I believe will deliver value to you. 
---
Last-minute plans for Greece?
Get there: Use Ferryhopper to book your tickets.
Stay: Find great accommodation deals on Booking.com.
Move around: Compare car rental prices with Discover Cars.
Tours: Check the most popular places with GetYourGuide.
Read more: Pack the Lonely Planet Guide to Greece.
Greece on My Wheels: A Book by Edward Enfield
Ye Olde Greece
Greece On My Wheels is far more than an interesting book; it's a funny, intelligent, and pleasant read that perfectly follows the model of old-school travel journals. It will make your mind ramble around a rough picture of Greece, quite unexpected, to say the least.
With the author, you will visit a less crowded area of the country, not as touristic nor as popular as the islands or the big cities. And you will do it with a fancy travel book.
You will ride the roads of a forgotten country, at the pace of the author. Sometimes regretting having skipped a few places, other times rejoicing with him at the sight of a hotel. You will make a few insightful stops to taste genuine Greek dishes or to visit unusual castles, monasteries, and archaeological sites.
Routes within Greece On My Wheels
The book presents two distinctive itineraries; the first one is a cycling trip in the Peloponnese, the second – shorter, yet always on wheels – in Epidaurus. The dialogues are funny and the descriptions are thought-provoking.
I particularly enjoyed Suli (also spelled Souli) and the trip to its castle which was built by Ali Pasha to prevent the returning of the Souliotes after their fight against the Turks.
The passage describing the trip to the summit is humorous and perfectly depicts the Greek landscape. It also portrays those peculiar travel conditions in the mountains that all grecophiles know far too well.
On the last note, the rich language of Enfield's prose is even more enjoyable thanks to the inclusion of passages by classic authors. Some might find this unappealing. Yet, I take delight in travel books with quotes fitting in the proper place.
The author shows an excellent knowledge of literature and he chooses his "extras" wisely. If you have a weakness for Byron, you will adore this book.
I recommend you to read Greece On My Wheels if you are planning to visit mainland Greece or if you want to see Greece off-season, or just if you are passionate about it.
Greece On My Wheels
Author: Edward Enfield
Published: 2003
Publisher: Summersdale
Thanks to Lizzie Curtin from Summersdale Publishers Ltd, for offering me a complimentary copy of Greece on my Wheels for a Review. I was not compensated for this post, I received a sample for my review. All opinions are my own and not influenced in any way.
Have you read Greece On My Wheels?
Let me know in the comments below!
Find cheap flights with Skyscanner.
About the author of this blog: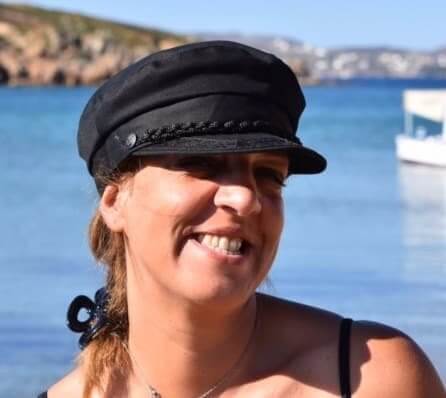 Gabi has been living in Crete for the last five years. Here, she juggles being a solo mom, hosting culinary tours in the summer, translating, and writing for The Tiny Book and her other blogs.
She's written for Greek Reporter, published three travel guides about Greece, and had more glasses of frappe than any regular person would be able to handle.
COMING TO CRETE SOON?
Get in touch and let me know!