It's difficult times, maybe your trip to Crete has been canceled or maybe you still don't know whether you'll be able to visit the island this summer. We've been all put on hold as far as our travel plans are concerned for this 2020 season. Yet… that doesn't mean we cannot travel from home! Why not read a book about Crete?
---
This site contains affiliate links to products and services. I may receive a commission for purchases made through these links.
---
Books About Crete That You Should Read Before Your Trip
Most of us are confined in our houses waiting for news. It's a distressing situation and there are moments when we have no clue what to do with our time… why not read a book that puts our busy minds to rest for a while? Here, you can find a great selection of the best destination books about Crete.
Whether you decide to use your time to plan a new holiday for the next season, or to discover new stories about the island. Whether it is to explore the tastes of the local cuisine or to learn about the past of Crete, these are the best books about Crete that can help you cope until you finally make it to the island.
Best Crete Travel Guides
If you're left wanting more after reading my own Crete Travel Guide, or if you want a deeper insight into places that I've still not written about, you can check the following top-selling travel guides to plan an itinerary… you'll be ready to use it once it's finally time to visit the island!
Lonely Planet
Crete
(Regional Guide)
(Publishing date: Feb 2020)
320 pages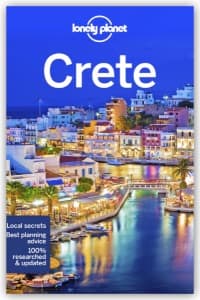 Lonely Planet guides are among my favorite travel guides. They include the needed information without excessive detail. It's probably the most useful travel guide out there. Real value for money!
The itineraries by Lonely Planet are really sensible, doable, and well-thought.
The Rough Guide to
Crete
(Travel guide + ebook)
(Publishing date: Jul 2019)
384 pages
I have bought several Rough Guides, and although I find them overpacked with details, they sometimes cover things that you aren't able to find anywhere else.
This guide is the perfect travel mate if you are a fan of the island, mostly for those who really want to know it all about Crete!
DK Eye Witness
Top 10 Crete
(Pocket travel guide)
(Publishing date: June 2020)
144 pages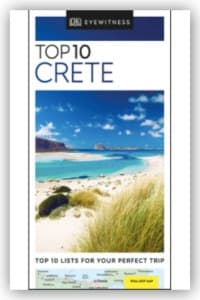 This guide does not go about everything you need to do and see on Crete. It just lists (with fairly accurate detail) the top 10 things about Crete.
It's a brief travel guide for those who want a quick review of what they shouldn't miss on Crete. Pocket size and easy to carry.
A Classic About Crete
Looking back at all the books I've read ever, and not just thinking about Crete, this is among the ones I've loved the most. Kazantzakis offers a magnificent, round, and thick portrait of life.
Zorba the Greek is a classic, a book as much alive and relevant in the times we live as it was when it was first published. A book that teaches more than a lesson about life, simplicity, and the true essence of ourselves.
Zorba the Greek
Nikos Kazantzakis (1946)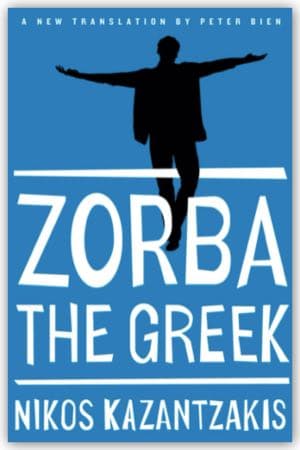 First published in 1946, Zorba the Greek, is, on one hand, the story of a Greek working man named Zorba, a passionate lover of life, the unnamed narrator who he accompanies to Crete to work in a lignite mine, and the men and women of the town where they settle. On the other hand, it is the story of God and man, The Devil and the Saints; the struggle of men to find their souls and purpose in life and it is about love, courage, and faith.
Zorba has been acclaimed as one of the truly memorable creations of literature (…) Zorba's life is rich with all the joys and sorrows that living brings and his example awakens in the narrator an understanding of the true meaning of humanity. This is one of the greatest life-affirming novels of our time.

Editor's words – Amazon
>> Check all the books by Nikos Kazantzakis <<
---
Fiction Books About Crete
Some of the following titles are among my favorite reads about Crete, some of them have often helped me decide on a place or area to visit, others have put a frame or a face, or a soul to a well-known part of the local history.
Despite being mostly fictional, even though some are based on real events, each of them has the ability to take you on an imaginary trip to the island.
The Riddle of the Labyrinth
(Margalit Fox)
Publishing date: May 2013
385 pages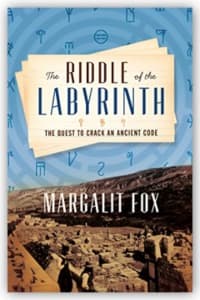 The Riddle of the Labyrinth, The Quest to Crack an Ancient Code is one of the most fascinating books I've read so far, entertaining and very hard to put down.
A detective story that will have you glued to the pages from beginning to end.
Reader's tip: The ancient code is key to understanding the story, for this reason, the paperback is much better than the Kindle edition.
Kritsotopoula: Girl of Kritsa
(Yvonne Payne)
Publishing date: Dec 2018
221 pages
Yvonne Payne's books is a perfect companion for those who want to intimately explore the eastern region of Crete.
With Kritsotopoula, Girl of Kritsa, she explores one of the saddest chapters in the history of Crete through the life of a young girl Rodanthe during the Ottoman occupation of Crete in the early 19th century. A historic novel that depicts vivid scenes of Cretan life with raw but vivid colors.
The Lost Lyra
(Richard Clark)
Publishing date: Feb 2019
228 pages
A debut fiction book by Richard Clark, a well-known writer about everything Greek (see down his non-fiction notebook about Crete).
The Lost Lyra is set in the unique landscape of the White Mountains of Crete.
The stunning region of Chania puts a frame and a soul to a modern story that takes you back to the magnificent past of Crete.
Rodanthe's Gift
(Yvonne PaYne)
Publishing date: Oct 2018
292 pages
They often say that sequels don't live up to the expectations… this is absolutely not the case with Yvonne Payne's second historical novel, Rodanthe's Gift.
This historic novel is about people and stories that have made Crete's resilience one of the most distinctive traits in the character of the locals.
The Crete Connection
(John Manuel)
Publishing date: Feb 2020
254 pages
A story full of intrigue and surprises that connects life in Englands with life in a village in southeast Crete.
John Manuel has written several books about life and other stories in Greece. Some of them accounting for his own personal experience in the country and and manage to depict a faithful snapshot of the life on the islands.
Return to Turtle Beach
(Richard Clark)
Publishing date:
pages
Publishing date: March 2020
Return to Turtle Beach is a book so fresh from print that I still haven't had the time to grab it and therefore there's little for me to say about it.
All I can tell you is that Richard Clark has never disappointed me with his books about Greece. His Notes about Crete are brilliant, I don't expect anything less from this book.
Books About the Ancient History of Crete
Some of these books have been my company during those times I was not able to be on the island, way before moving here. I would read them at night in bed while dreaming about visiting in the next holidays. I've even taken some of them with me during my trips.
They've been valuable to better understand and appreciate the past of the Cretan people and the origin of their traditions, cultures, and lifestyle.
A History of Crete
(Chris Moorey)
Publishing date: Sep 2019
312 pages
One of my favorite books about the island which covers the history of Crete from the very beginning, since the Stone Age until today.
If you want to learn about what was going on Minoan Crete but also under the rule of the Mycenaeans, Dorians, Romans, Byzantines, Arabs, Venetians, Ottoman Turks and, the Third Reich, but also about Crete's contemporary history, this is a fantastic book I've read more than once.
Art and History of Crete
(Mario Iozzi)
Publishing date: Dec 2003
128 pages
A fantastic visual guide with accurate information about Crete that tells you all about the history of the island and its beautiful art and monuments. Texts are detailed and maps help you create a better idea of what to see in Crete and where.
An illustrated book that brings fond memories of your last trip or inspires you to plan your next vacation.
A Short Popular History of Crete
(John Henry Freese)
Publishing date: Nov 1897
186 pages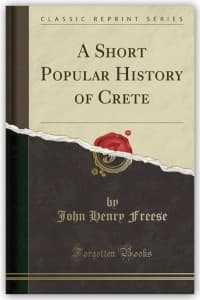 A hidden gem among books about Crete. The author gives an account of the Cretan geography and social life from the earliest times till now.
A wonderful glance back over their stormy past of Crete which helps understand the present position and character of the island in the context of the country.
Tip: The Kindle edition is not so good, get the paperback if you can.
Crete (Directions)
(BARRY UNSWORTH)
Publishing date: Jun 2011
192 pages
Written as a personal travel diary, Barry Unsworth's visit to Crete in 2004 gives a personal insight about the things people should see on the island, and most importantly, what to expect there.
The book thoroughly describes the history of several sites, that's why I've included among the books about the history of Crete.
Crete Early History and Culture
(Ranchowwy Nicholson)
Publishing date: Nov 2017
180 pages
Another unknown excellent book if you're interested in Crete's past.
The book offers good insight and detailed information on the island since the 8.000 BCE, with special emphasis on the different civilizations that lived and ruled on the island, from the Minoans until the Ottoman Empire.
The Sea-Kings of Crete
(James BaIkie)
Re-publishing date: Jan 2015
210 pages
Although this book is a bit dated, (originally published in early 1900) it has a didactic approach to the Minoan civilization and the early excavations in the Minoan Palace of Knossos.
It describes the role of he legendary King Minos in Greek mythology while it also uses archaeologic findings to describe the traits of the Minoan Culture.
Books About the Modern History of Crete
Some of these books have recently turned into best-sellers due to their accuracy and perfect description of the history of the island in recent times.
Some of them, which could be read as fiction, are indeed a magnificent account of Crete's role and participation in WWII.
The Cretan Runner
(George Psychoundakis)
Publishing date: Sep 2009
352 pages
The Cretan Runner is one of my favorite books about Crete and the Nazi occupation of the island.
Psychoundakis was a young shepherd who joined the resistance when the Nazis invaded in 1941. He undertook journeys carrying vital messages, smuggling arms, and guiding Allied soldiers through Crete. "A gripping story of bravery against impossible odds."
Crete, the Battle and the Resistance
(Antony Beevor)
Publishing date: Sep 2005
400 pages
You don't need to be a fan of WWII to adore this book! This is one of those amazing readings you only find once in a while and that it's hard to put down.
The author, a well-known WWII historian, puts the Battle of Crete in a larger context while it also manages to paint an accurate picture of the life on the island during the Nazi occupation.
The Battle For Heraklion Crete 1941
(Yannis Prekatsounakis)
Publishing date: Feb 2017
287 pages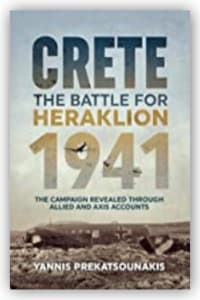 Many books describe the more famous battles of Chania and Maleme, but this rare book focuses on the importance of the battle of Heraklion and the city's desperate fight against the Nazis.
The book puts the stress on the historical facts without disregarding personal stories and accounts of the lesser-known Battle of Heraklion.
The Fall of Crete
(Alan Clark)
Publishing date: Oct 2001
224 pages
Hard to find but worth the research, The Fall of Crete tells about the moments that lead to the invasion, as well as the different battles taking place on the island.
Not the best account of the facts, but pretty easy to read if you already have some background about the events.
The Lost Battle
Crete 1941
(Callum MacDonald)
Publishing date: Jan 1995
368 pages
A book that becomes key to learning about the German decision to invade the island and provides great and wide background information that lead to the terrible events in the areas of Platanias, Rethymnon, Heraklion, Maleme, and Chania.
Personal tip: Combined this book with any of the ones above.
Battle for Crete
(John Hall Spencer)
Publishing date: Sep 2008
320 pages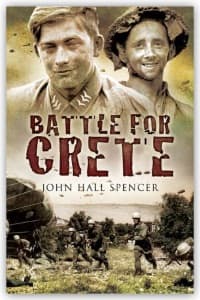 This book offers a different look upon the facts taken place during the Nazi invasion. Many of the accounts are given by actual soldiers, which puts a new voice to the history of Crete.
Worth reading if you have visited or are about to visit the island.
My Favorite Books About Crete
Crete: A Notebook
(Richard Clark)
Publishing date: 2012
305 pages
Crete a Notebook was the first book I've ever ready by Richard Clark and after it, I became addicted to his different notebooks about Crete as well as other Greek islands.
This book, together with his Hidden Crete and his More Hidden Crete are great travel companions to any trip to the island, both real or virtual. Either it's the first time you visit or not!
The Island
(Victoria Hislop)
Publishing date: April 2006
480 pages
You might be wondering why this book does not come up higher in the list.. well, you probably know about this book and the story behind its immense success.
If you've read my guide to visit the island of Spinalonga, you probably know what this book is about. If not, simply buy it and read it. It's a great picture of Crete.
Creepy-Crawlies
(Steve Daniels)
Publishing date: Nov 2019
82 pages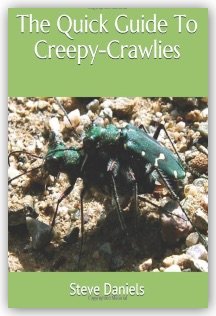 What I find fascinating about this book is that most of the pictures were take on the island!
Beetles, butterflies, spiders, scorpions, woodlice, worms… But also bee flies, dragonflies, crane flies. Steve tells you all about them in this fascinating book on the often-overlooked part of nature.
Cretan Cooking
(Maria & Nikos Psilakis)
Publishing date: 203
208 pages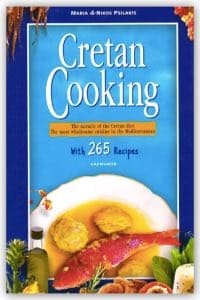 I've published a complete list of recipe books about the healthy and tasty Cretan diet, but this one is one of my top favorites, and the one I always use at home when trying a new Cretan recipe since they are all tasty and super simple to prepare!
Uncaptured Crete
(Diana Conveyrs)
Publishing date: Sep 2015
238 pages
I held this book close to my heart, not only for the experience of the writer, which in many ways remind me of my own, but also because it showed me a different side of East Crete. I used to plan my itinerary of Lasithi and I loved it!
Eastern Crete, A Notebook
(Richard Clark)
Publishing date: Jun2 2018
117 pages
I guess you've already noticed I like the books by Richard Clark…!
This is another must-read if you're planning to visit the Lasithi region. His notes are really accurate!
Best Books About Crete for Kids
Children love all the things they can discover and do on the island, Crete's mysterious legends and archaeological sites, the myths, and the stories that make any trip to Crete an adventure and a journey into discovery. These are the ones my own kids have read before and after traveling to the island.
Travels in Time: Minoan Crete
(Mary Black)
Crete My Travel Diary
(Stylesyndikat Greece Books)
Travels in Time: Venetian Crete
(Mary Black)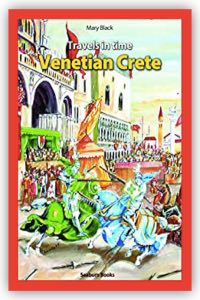 More Books About Crete That You Should Check
The Golden Step
A Walk Through the Heart of Crete
(Christopher Sommerville)
The Village
A Novel of Wartime Crete
(Philip Duke)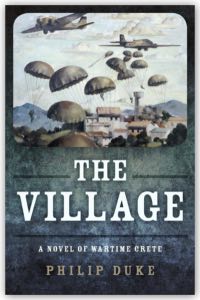 A Small House in Crete
The Story of Finding and Renovating a Small Stone House in Crete
(Geoff Dendle)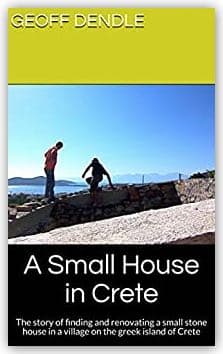 Travel Maps of Crete
You might be wondering why am I suggesting a map with all the wonderful online resources out there! And even more now that you're confined home! Well, I am a fan of maps and they've been my most faithful travel mates when traveling around remote places. But also once back home, I've opened my maps a hundred times, they bring as many memories as photos and stories do.
Not just because your Internet connection might not be available. But because there's nothing more fascinating than stopping by the side of the road, opening your map over the hood of your car, and putting everything into a new perspective.
Michelin Map Crete
I've bought this map twice, the first one for my first trip to Crete, the last time just some months ago, after I lost the first one. Although I use a navigation device, I can't leave my maps back home wen I drive in Crete!
Insight Guides Flexi Map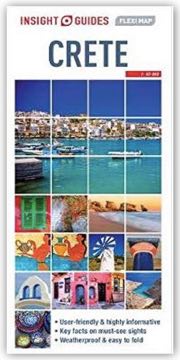 I've already told you which one I prefer, however, this is a valid alternative. A bit limited in detail, it also includes top landmarks and places to see. The laminate makes it waterproof and really practical.
Crete Marco Polo Map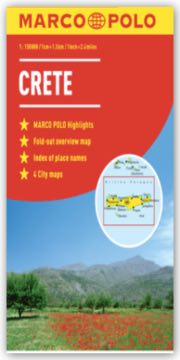 I have mixed feelings about this map. On one side I find that its mini plans for the different important cities of Crete are very useful. However, letters are really small and it falls apart after a couple of times you fold and unfold it…
Chania, West Crete
This is my small but well-researched travel guide to West Crete. With it, you can build your customized itinerary including Chania's best beaches, the Gorge of Samaria, the less-explored Akrotiri Peninsula, Sfakia, and the area of Apokoronas. You can read it before preparing your next trip to Crete, or you can simply dream about your next holidays on the island. E-book only.
---
Have you read any of these books?
Let me know in the comments below!
---
Travel Plans for Crete?
More Resources to Organize Your Trip!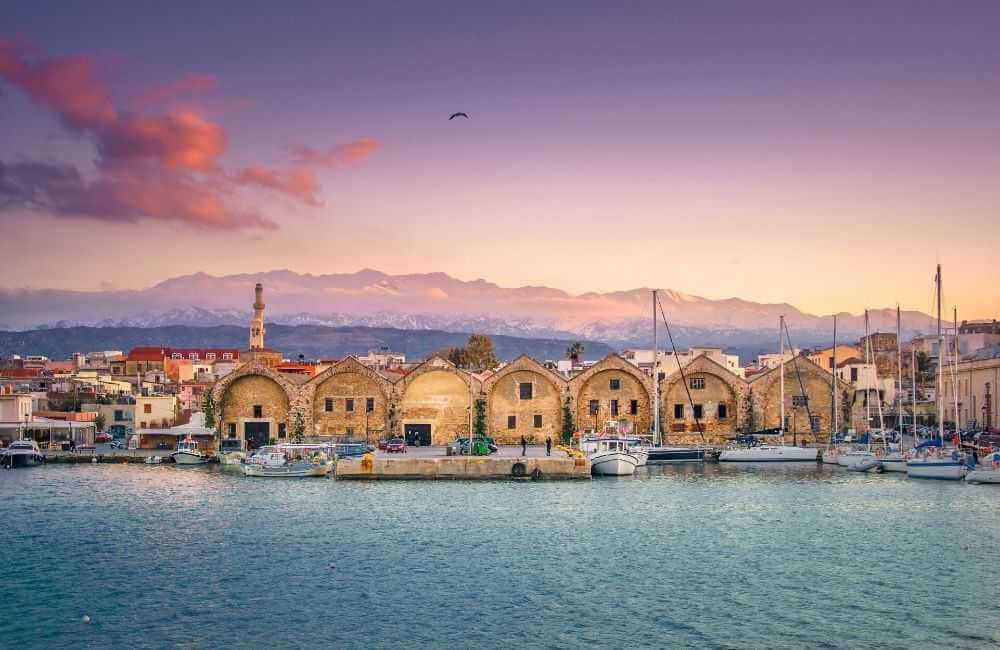 Start by heading right to my tips to plan a trip to Crete for in-depth details you need to know about Greece. You can also check my post to better know what to pack for a trip to the island or read this info to visit Crete with children!
Get in touch if you need extra help to plan your trip. If you want to tour West Crete, check my guide. Want more? Join my Private Facebook Group to connect with like-minded travelers who love Crete as much as you do!
Make Sure You've Got Everything For a Hassle-Free Vacation!
I never move around the islands without my Osprey backpack, a sturdy but light travel partner I just love. For short trips, I carry this little crossbody bag. If I drive, I pack my Nikon D7200 and a good travel guide: Lonely Planet's Best of Greece & the Greek Islands.
When it comes to plane tickets, compare prices with a powerful search engine. However, nothing beats traveling by sea in Greece. With Ferry Hopper, you can book in advance at the lowest price.
For accommodation, I use Booking.com. Traveling to remote places is easier with Discover Cars. Other times, I join organized tours with GetYourGuide, which features anything from cooking lessons to airport transfer!
Are you coming to Crete any time soon?
Get in touch and let me know!
Read more:
Trip to Crete in October: Top Things to Do in Crete in Fall
How to Get from Heraklion to Chania: Practical Guide by a Local
Unique Villas and Airbnbs to Rent in Gavdos Island, Crete
A Sommelier's Guide to Cretan Wines for Wine Lovers
How to Travel to Crete: Best Air and Sea Routes to Reach the Greek Island
Pin This Guide to the Best Books Set on Crete and Start Planning Your Holidays!
About the author of this blog: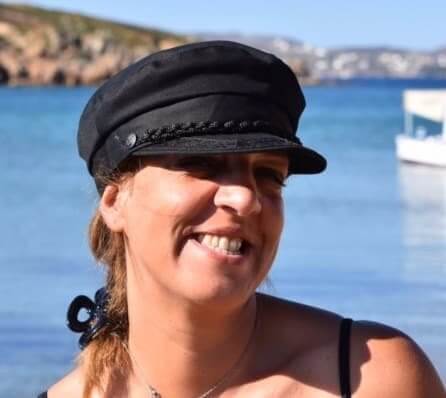 Gabi has been living in Crete for the last five years. Here, she juggles being a solo mom, hosting culinary tours in the summer, translating, and working as a tech advisor.
She's written for Greek Reporter, published two travel guides about Greece, and had more glasses of frappe than any regular person would be able to handle.
---
You might also want to read:
---