Mykonos is one of the most popular islands in Greece. A whitewashed paradise made of stunning Cycladic views, breathtaking beaches, and endless things to do. If this is your first time on the island, check this guide for first-time visitors to discover what to do in Mykonos.
Collaboration post
---
Disclaimer: Posts include affiliate links to products or services. I might earn a commission if you make a purchase, at no extra cost to you.
---
First Time in Mykonos
Things to Do in Mykonos during your First Trip to the Island
Mykonos: First Impressions
We were ecstatic to set off on our very first visit to Greece, a trip that would include island hopping between some of the most stunning Cyclades isles, including gorgeous Mykonos.
If I'm completely honest, we were a tad bit apprehensive to include an island known for its party atmosphere and for drawing in streams of tourists annually due to its popularity.
But we were pleasantly surprised. Not only is the island absolutely beautiful, both in its architecture and natural beauty, but it also offered up so much to see, do and explore, meaning we were busy for the full four days we spent on Mykonos.
As such, I've decided to share with you all my experiences, tips, and tricks to help you plan the perfect visit to this quintessential Greek Island. This is not even to mention the food as well as the incredible hospitality, the latter of which was the best we came across throughout our trip.
How to Get to Mykonos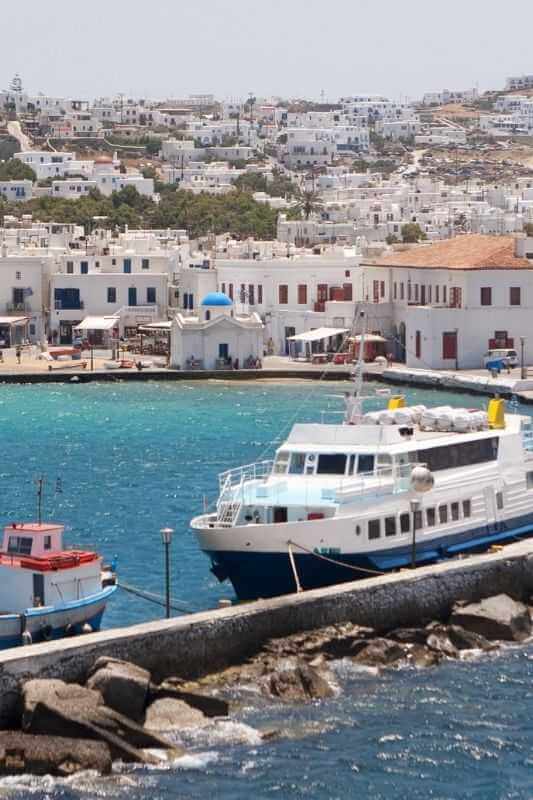 Getting to Mykonos from Athens and many of the other larger islands shouldn't be a hassle at all.
Although you can catch a flight from Athens to Mykonos on Aegean Air, with a flight time of around 40 minutes, we opted to travel by ferry from the Piraeus port in Athens.
Depending on the ferry you book, the trip could last anywhere between 2.5 hours to just over 5 hours on the much slower services.
Especially during the busier summer months, ferry operators do offer more regular, scheduled departures compared to the quieter "non-touristy" months.
Tip: Consider making use of a comparative site such as Direct Ferries. These sites will show you the various ferry operators, their departure times, and prices based on your search criteria.
You are then also able to book your ferry ticket directly through these sites too, saving you the time and hassle of jumping between the individual operator websites.
When to Visit Mykonos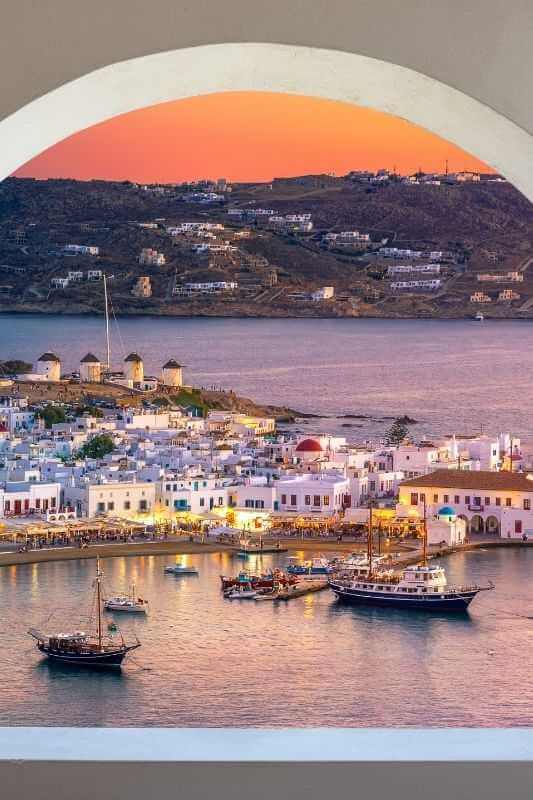 It is safe to say that the absolute peak season in Greece, especially the islands, is during the much warmer summer months of July and August.
Usually, during these periods the islands may be overcrowded and for this reason, I would steer clear of these months.
We visited at the end of May into early June and found this time of year perfect. The weather was warm and the island wasn't too overrun with visitors. Similarly, the months of September and October are also great times to visit too.
Where to Stay in Mykonos
If you prefer to be based in the heart of all the action, then the Old Town of Mykonos is the place to be. But, if you don't mind being located a little way out of the town, then I'll let you in on the best-kept secret in Mykonos.
A short 20-minute walk from the Old Town is the incredible boutique guest house, Aether Boutique Stay, that we checked into for our stay in Mykonos and undoubtedly the best hospitality we have ever experienced.
>> Check the best Airbnbs in Mykonos <<
Athena and her husband were incredibly attentive and spent time at check-in to explain and walk us through all the island has to offer.
Together with all the other personal touches and recommendations, it is still one of the best places we've stayed at.
Conveniently located right next to the guest house you will also find a bus stop, with regular bus services also running into town as well as to the beaches too.
>> Check the best fees and reviews and book your stay on Booking.com <<
How to Get Around in Mykonos
Since it was our first time in Mykonos, we decided to stay quite central, we were able to easily get around on foot or by making use of the bus service as mentioned.
To get to and from the most popular beaches we also opted to make use of a water taxi, which was a fun experience in itself.
Of course, if you want to explore more far-flung areas of the island then renting a car would be the best option. There are also plenty of ATV rental stations in the old, which is yet another very popular mode of transport on the island.
SUPER SMART TIP: It's a great idea to hire transfer services in advance when visiting Mykonos, this way you'll avoid waiting in line for the bus or a taxi at the port (or airport) during the peak hours, or when a cruise arrives at the island!
Top Things to Do in Mykonos when you Visit for the First Time
With so much to see and do on the Island, here are my top 5 things to do whilst enjoying your first time in Mykonos.
Visit the Beaches of Mykonos
The beaches in Mykonos are simply out of this world and any beach-lovers dream! As such, lazing on the golden sandy beaches and admiring the stunning crystal-clear waters of the Aegean Sea, is one of my top recommendations for Mykonos.
Some of the most popular beaches include Psarou Beach as well as Platis Gialos beach, both of which are easy to reach by bus. We, however, opted for the stunning beaches of Paraga beach, Paradise Beach, Super Paradise, or even Elia Beach.
You can reach these by ATV if you prefer but we took the bus to Platis Gialos beach and then hopped on a water taxi that travels along the coast, making stops along each of these beaches that offer regularly scheduled departures throughout the day.
Most of these beaches also offer sun-loungers that you can rent for the day as well as beach bars and other facilities you'd expect to find.
>> Are you visiting Mykonos with the family? Check all you need to know about staying in Platys Gialos and the best things to do in Mykonos with kids.
Discover Chora, the Old Town
The Mykonos Old Town, or Chora, is the capital of Mykonos and a picturesque maze of whitewashed houses and narrow alleyways and is exquisite.
Around every corner, you stumble upon a new hidden gem, unusual and brightly colored doors, or flowers that pop out against the white buildings.
Here you'll also find a good selection of boutique stores as well as great restaurants and bars from which to enjoy the best of Greek cuisine.
Spending time and strolling through the Old Town is a must-do! Whilst there, be sure to visit the famous Mykonos windmills (also known as Kato Mili), situated just on the edge of the Old Town, as well as the beautiful Paraportiani Orthodox church.
DID YOU KNOW…? Panagia Paraportiani is not just one church, but it's a complex of different churches built one next to each other. The fifth church of the group sits on top of the other four!
Note: During the busier months, many cruise ships stop along with Mykonos for a few hours. During this time, most cruise ship tourists do descend upon the Old Town and it's not unusual for the narrow streets and alleyways to suddenly feel crowded and overwhelming.
Thankfully though, it only lasts for a short time and early morning or later in the afternoon or early evening should be a much better time to visit.
Tip: On the recommendation of Athena from our guest house, we decided to splurge on a meal at Avra Restaurant set in a gorgeous courtyard with colorful bougainvillea in the Old Town.
Albeit a bit expensive, it was incredibly romantic and the food delicious. It was undoubtedly one of our most memorable dining experiences on the island and one I would gladly recommend.
Explore Little Venice
Another one of our favorite experiences on the Island was visiting the neighborhood of Little Venice. Set on the water's edge, this area boasts several smaller boutique bars and restaurants where you can enjoy a drink or grab a bite to eat.
This spot was also perfect for enjoying the breathtakingly beautiful sunsets on the island… Trust me, if this is your first time in Mykonos, you won't forget the experience!
Do be warned though, if the waters are too choppy, many restaurants will close off the seating areas on the water's edge as the splashes of waves will no doubt have you drenched in no time!
Sail to the Nearby Island of Delos
If you plan on visiting Mykonos for a couple of days, then you have to take advantage of your time on the island to visit the nearby island of Delos on a day trip from Mykonos.
Delos is home to one of the largest and most important archaeological sites in the Greek Islands, believed to be the birthplace of Artemis and Apollo.
Most visitors who plan a trip to Delos prefer to do so as part of a half-day or full-day, guided tour from Mykonos which normally also includes an entrance to the ruins, today a UNESCO site too.
Discover Mykonos with Tours & Experiences
Whenever we visit a new destination, we always love to plan and book a handful of unique tours or experiences we would likely not get to enjoy on our own, thus getting to grips with the local culture and offerings.
And Mykonos is perfect for that. With a wide selection of experiences on offer that ranges from Catamaran sailing trips to an original evening guided tour to Delos Island to Traditional Cooking Classes, there are a tour and experiences to suit all preferences and budgets too.
So, why not book a sightseeing tour, a sunset cruise, or any of the above tours and make your visit to this Greek gem that much more unforgettable?
All in all, we loved our stay in Mykonos and could have happily stayed an extra night or two. From the labyrinth of whitewashed buildings in the Old Town to the sunset from Little Venice, through to the beaches, the hospitality, and the food, I can confidently say that Mykonos was and still is one of my favorite Greek Islands to visit.
Have you ever been to the island or will this be your first time in Mykonos?
Let me know in the comments below!
Read more travel guides to some stunning Greek destinations:
Greece Travel Guide: All the Resources you Need for Your Trip to Greece
The Most Amazing Greek Destinations to Visit All Year Round
Medieval Greece: Fortresses and Castles on the Greek Islands
Best Things to Do in Athens at Night
Things to Do in Mykonos: Visit the Windmills
About the Author
Born and raised in South Africa, Marco Santos from Travel-Boo, together with his partner moved to sunny Lisbon over 2 years ago. With an absolute love for Europe, he is on a mission to rediscover his Portuguese heritage along the way. Marco has set out to blog and share his passion for traveling through and exploring both Portugal, Spain, and throughout Europe, through his blog Travel-Boo. You can follow him on Facebook, Pinterest, and Twitter.
---
You might also want to read:
---
About the author of this blog: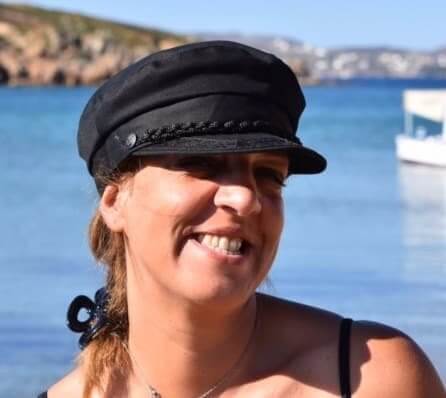 Gabi has been living in Crete for the last five years. On the island, she juggles being a solo mom, hosting culinary tours in summer, translating, and freelance writing.
She's written for Greek Reporter, published several travel guides about Greece, and had more glasses of frappe than any regular person would be able to handle.
COMING TO CRETE SOON?
Get in touch and let me know!