Modern, transgressive, cosmopolitan, Mykonos is probably the most famous party island in Greece. It's a must-go destination for couples or adults traveling solo, but families might be reluctant to book a flight. Well… think it over! Home to pristine, shallow coasts, Mykonos is a child-friendly destination. Besides, there're more things you can do in Mykonos with kids than you probably thought. Let's talk about going to Mykonos with children!
What to do in Mykonos – Greece with kids
Great things to do in Mykonos with kids
Mykonos is one of Greece's most famous islands. It belongs to the Cycladic cluster of islands, and it's in the center of the Aegean.
Traditionally, Mykonos is known for its laid-back atmosphere, parties, discos, and fun. However, there's a lot to do on the island even for those who don't go clubbing… such as kids, and parents!
We chose Mykonos as a family holiday destination and we had an awesome time. We found stunning beaches and plenty of other things to see and discover.
>>Check the best Airbnbs in Mykonos<<
Best beaches in Mykonos for families
Mykonos needs no introduction. It's a gorgeous island and its coast is dotted with fantastic beaches. The island also offers all kinds of touristic attractions even for those who simply don't go clubbing anymore. There are some interesting museums, and Greek food is delicious.
As far as natural landscapes, the island has a wonderful rugged coast that contrasts with shallow bays and turquoise shores your kids will certainly enjoy. Let's check which are Mykonos' best beaches if you're visiting with kids.
Platys Gialos Beach for kids
Platys Gialos is a wide-open bay with a small harbor from where you can board a boat and visit some stunning and more isolated beaches. The boats depart every hour to different parts on the island.
A great feature of Platys Gialos is that thanks to the natural shape of the bay, there was no Meltemi wind hitting on us all the time.
The Meltemi is usually a blessing (and on the days the temperature was over 40°C, it would have helped), but we were happy to avoid it because it can be a pain for the kids to leave the beach just because it's windy (Yes, the Meltemi is that strong at times).
Agia Anna Beach for children
There are two beaches by the name of Agia Anna in Mykonos. In this article, I refer to the Agia Anna located a few meters away from Platys Gialos, which you can reach on foot with a short walk.
Agia Anna is a small sandy bay, sometimes affected by the winds, but shallow and great for kids. It can be quite crowded at times, so my suggestion is to arrive early.
The beach is fairly well organized and there's a very good restaurant by the sea (Nikolas Taverna) serving great fish dishes.
Psarou Beach
Cavo Psarou is quite an exclusive, secluded beach, surrounded by luxurious hotels and a favorite of yacht owners. But you can perfectly access the organized beach and have a good lunch in the local restaurant with great views of the shallow bay.
Cavo Psarou is quite an exclusive, secluded beach, surrounded by luxurious hotels and, as the picture shows, lots of private yachts drop their anchors in this water. However, you can perfectly access the organized beach or have a traditional Greek lunch at the terrace of the restaurant with great views of the shallow bay.
The secluded shore has crystal clear waters and white sand mixed with tiny, colorful pebbles Stunningly beautiful. You can spend your day just relaxing on a sunbed because the beach is really safe and protected.
Agios Stefanos Beach
Agios Stefanos Beach is not close to the area we were staying (Platys Gialos), but if you rent a car it's a good place where to spend the day. The beach is near the new port of Mykonos, about 15 minutes by car from the chora (Mykonos Town).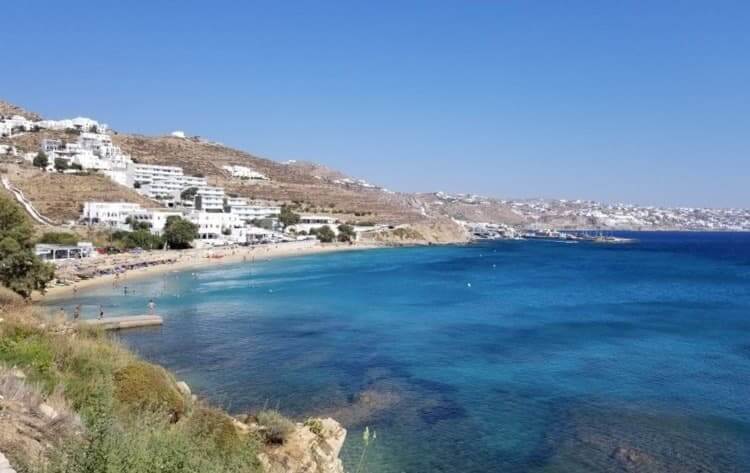 The shore is quite popular both among residents and tourists, so crowds are common. However, it's such a nice point from where to enjoy the sunset, that putting up with the crowds is not that hard after all.
The bay is narrow and shallow, so winds don't really bother you. Kids love it for its shallow shore, fine sand, and clear water. The beach is well organized and it's also possible to practice sports. You can choose among different restaurants, or opt for a picnic on the beach, taking advantage of the local convenience store and markets.
Agios Ioannis Beach
The romantic comedy Shirley Valentine made Agios Ioannis famous. Some tourists even call it Shirley Valentine Beach. However, it takes its name from the small chapel of Saint John (Agios Ioannis) that overlooks the bay.
The beach is well-organized and there're watersports available. Despite some rocky areas, the spot has crystal turquoise waters that make it a favorite place for snorkeling. The beach has fine sand which makes it good for kids.
The beach is within walking distance from Ornos Beach, and there are buses departing from the area of Fabrika that will take you to Agios Ioannis.
Ornos Beach
I will add a few words about Ornos Beach here, as I've often seen this beach included on lists of family-friendly beaches on Mykonos. Ornos is, in fact, a very noisy beach, dotted with expensive restaurants, and loud music all day.
Young crowds gather here all day (and all night) leaving it often in rather a bad shape (litter and empty bottles are common). Not the most relaxing, and I certainly won't recommend Ornos for families, but it's perfect for those who want to been seen.
Elia Beach… for kids!
Maybe not everyone will agree with me, in fact, Elia Beach has long been gay-friendly. However, the atmosphere of Elia Beach is completely relaxing. Besides, the beach is wide enough to allow for different isolated areas.
Elia Beach might be gay-friendly, but it's also truly family-friendly. This heavenly beach is located about 50 minutes from Platys Gialos by boat. To reach Elia Beach, you can catch the boat in Platys Gialos port as well as in Ornos Beach, or you can jump on a bus in Mykonos Town.
This is one of the many southern beaches on Mykonos. Naturism is allowed in some areas. Personally, it's one of my favorite beaches of all the Cyclades.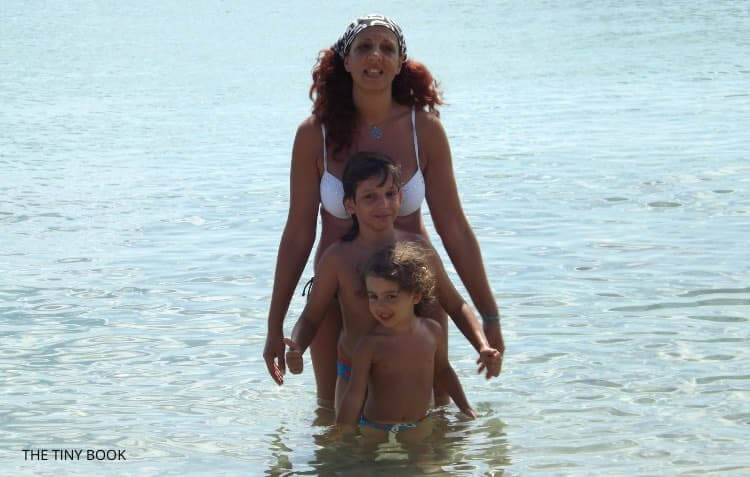 Things to do in Mykonos Town with kids
>>The activities described below are good both for kids and adults<<
Little Venice
The quarter of Alefkandra, or Little Venice, was born back in the 18th century as the island started to develop its commerce and sailing activities. The three-story houses that face the sea were the most expensive in town and used to belong to rich merchants and ship captains.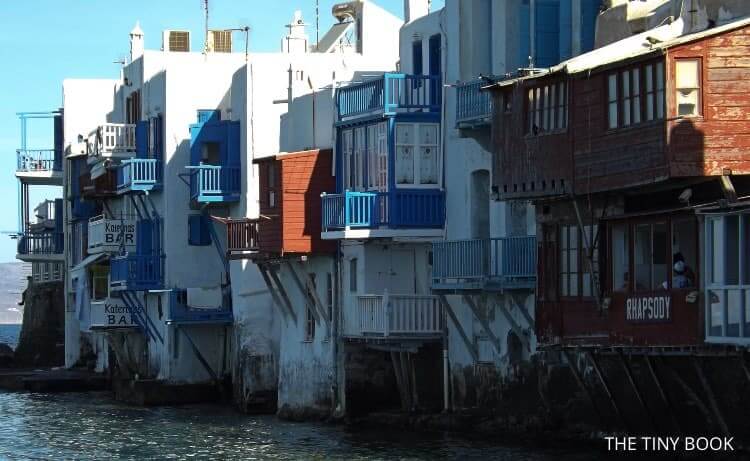 The windmills by the sea
Every house has a main entrance on the street while there is also a back door as well as a balcony facing the sea, a source of infinite legends about pirates and hidden treasures. Kids love to hear that mysterious side of Mykonos.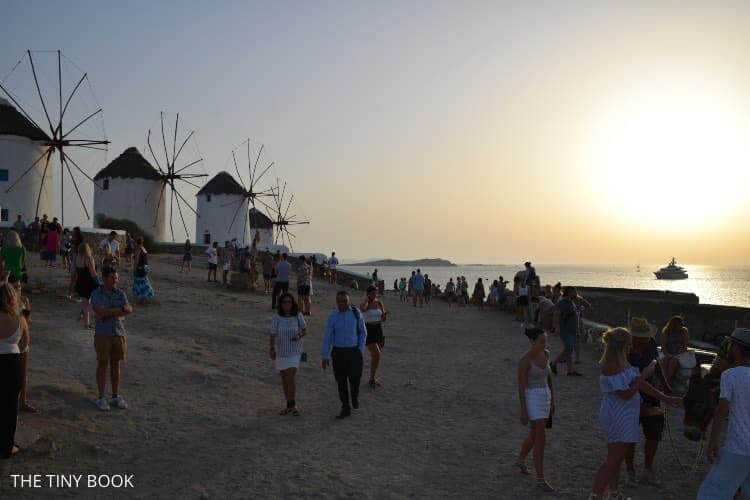 Being years and years old, Mykonos windmills have been fully renovated, some are even museums now and your kids will love to visit them
>>You can check out the article about Mykonos and the Windmills<<
The windmills are a commons sight in the Aegean Sea: For instance, you can find this typically Greek landmark on the islands of Paros, Santorini, and even on Crete!
On Mykonos they are no longer in use, however, they represent a vivid memory of the island's agricultural past as well as a continuous reminder of the Meltemi.
The chora and the museums
Talking a walk in the center of Mykonos Town, the chora, will be certainly fun for kids. And parents! First of all, every alley is pedestrian, so there are no risks, and everyone can relax. It's crowded at times but never dangerous.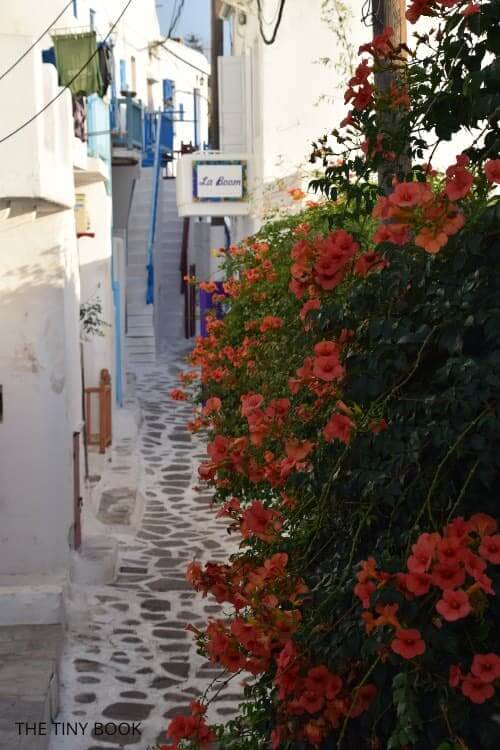 Children like the colors of the doors and windows, the cobblestone streets, and the pretty views created by bougainvillea, souvenirs on sale, and colorful paintings. Besides, there'are squares and museums they can also enjoy.
Nautical Museum of the Aegean
The Nautical Museum of the Aegean is in the center of town, in the trendy quarter of Matogianni. It is hosted in what used to be the house of a former ship captain. On display, there are ancient coins and objects related to the maritime past of the country.
Address: Enoplon Dynamenon street. The museum opens from 6 pm to 9.30 pm. On Sundays, it closes at 9.00 pm. The entrance fee is 4 €.
Lena's House, the folklore museum of Mykonos
The folklore museum of Mykonos, Lena's House, is located right next to the Nautical Museum, and the entrance is free. It's in a beautiful house built back in the 19th century. Inside, kids will be able to learn about houses on the Greek islands in the past.
The can see how rooms used to be, which were the main tasks men would do in the fields and women in their homes, and which tools they would use.
A few meters fro the two buildings, your children can also check the Tria Pigiada, three wells that would provide water for the inhabitants of the chora.
The young women who stop to fill in their buckets would also drink water directly from the weel since the legend said that this was the fastest way to get a husband!
Panagia Paraportiani
You will easily find the church of Panagia Paraportiani (well, five churches, in fact) walking past the art galleries and shops in Little Venice.
I clearly remember wanting to get the best possible pictures of the area, so I got up early, left the kids with daddy and visited the neighborhood of Kastro. However, and at their request after seeing the results, we went back all together in the afternoon.
It was a sunny day, very early in the morning, before cruise ships arrived on the island. Its dazzling white walls seemed to dance against the blue skies, shimmering along with the blaze of the sun.
The strong scent of incense invading the streets, mixed with the litany of Mass, and the smell of salt from the sea. All of them an authentic snapshot of Mykonos.
Not the regularly portrayed one, not just an island for all-night-long parties, not publicity for fun. You can get that too if you want. But there is also so much more.
Mykonos for families: Where to stay
We chose to stay out of the old town and near a family beach. Kids are still small, so the basic organization needs had to be covered.
Just a few minutes away from the capital, Mykonos Town, we had a great time on a fairly quiet beach, Platys Gialos (meaning "Big Beach" in Greek). The bay was really shallow and the area was perfect for kids.
We stayed at Hotel Akrogiali, and it was right on the beach. The rooms were in individual bungalows surrounded by a tranquil Cycladic garden.
It was a perfect location that made it easy to just go down for breakfast by the sea and then spend the rest of the morning playing with the kids on the sand. Our umbrella was already waiting for us!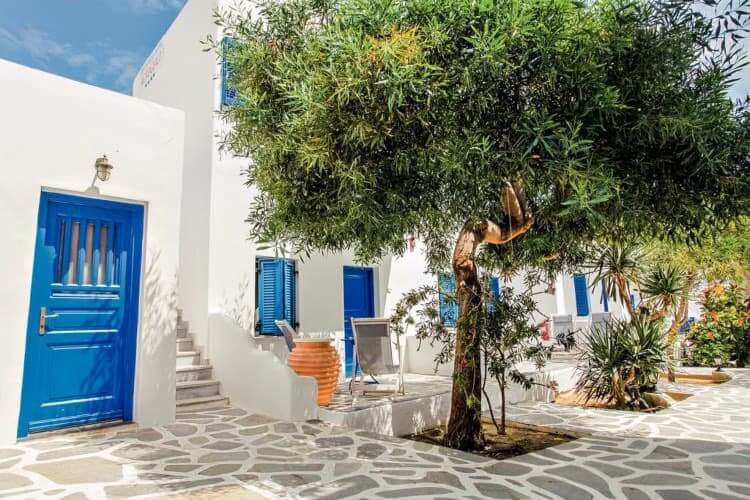 The hotel was recently renovated. The quality of the service and the friendly staff really make this hotel stand out on the island.
They were extremely helpful and provided a free-of-charge airport shuttle which was super convenient traveling with kids. They were waiting for us upon arrival, and a few minutes after, every one of us was on the beach.
I eagerly recommend Akrogiali Hotel for your holiday in Mykonos. The quality of service is flawless and it has a very fair price on a very expensive island.
You can check more photos and reviews on this link, and if you find availability, don't hesitate to book, you will adore it!
Mykonos: Gay-friendly Island
Mykonos, the cosmopolitan pearl of the Aegean, has been a gay-tourism destination since the 60s. It's a touristic sector in continuous expansion on the island which currently counts with exclusive beaches, events, and cruise ships. On the island, there're gay-friendly hotels for every budget pleasing a public that's happy to find themselves in a joyful, safe environment, without being judged.
Despite Greece being a deeply traditional country, where the values of religion are pretty much alive, Mykonos is quite an exception. The gay community accounts for a good part of Mykonos' striving economy and prosperity and that's acknowledged by the local community.
Elia Beach is one of the most famous gay-friendly beaches on Mykonos, still remaining rather low-key. We personally support beaches for everyone, our family has always felt comfortable with sunbathing naked or couples of the same sex. But I'm aware that not all families are created equally.
It's all up to you, of course. According to us, gay is ok. We simply think diversity can only enrich our lives. We understand there's nothing wrong if our sons play with children with two dads or two moms.
Since this is an article for families planning a holiday on Mykonos, parents should exercise their own judgment on deciding whether to take their kids to beaches such as Paraga or Super Paradise.
---
What's your favorite Greek island for holidays with kids?
Let me know in the comments below!
---
Travel Plans for Greece?
More Resources to Organize Your Trip!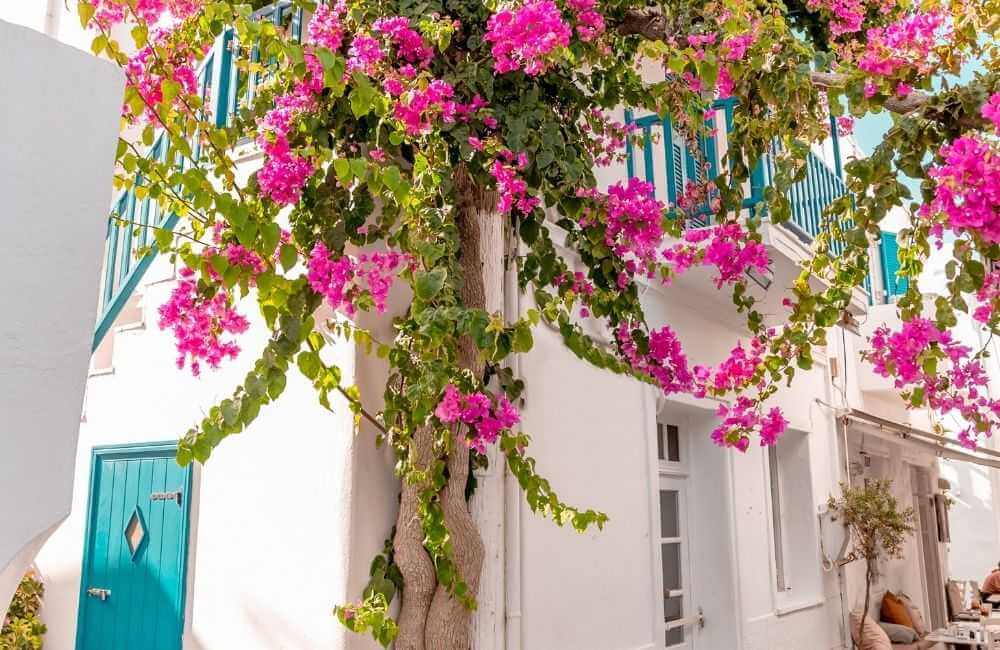 Start by heading right to my Greece travel guide for in-depth details you need to know about Greece. You can also check my post to plan a trip to Greece with children!
Get in touch if you need extra help to plan your trip. If you want to tour West Crete, check my guide. Want more? Join my Private Facebook Group to connect with like-minded travelers who love Crete as much as you do!
Make Sure You've Got Everything For a Hassle-Free Vacation!
Without my Osprey backpack, I never move around the islands…it's a sturdy but light travel partner I just love. For short trips, I carry this crossbody bag. If I drive, I pack my Nikon D7200 and a good travel guide! Lonely Planet's Best of Greece & the Greek Islands.
When it comes to plane tickets, compare prices with a powerful search engine. However, nothing beats traveling by sea in Greece. With Ferry Hopper, you can book in advance at the lowest price.
For accommodation, I use Booking.com.
Traveling to remote places is easier with Discover Cars. Other times, I join organized tours with GetYourGuide, which features anything from cooking lessons to airport transfer!
Are you coming to Crete any time soon?
Get in touch and let me know!
Read more:
How to Get to Mykonos: Best Ways to Travel to the Greek Island
Coolest Airbnbs in Mykonos That You Will Want to Book
Greek Islands: Travel Guide for Your First Time in Mykonos
Things to Do in Mykonos: Visit the Windmills
Where to Stay in Naxos, Greece: Best Areas & Hotels on the Island
This is a pin-pin situation!
---
You might also want to read:
---