The wind blows all around the year on the Greek island of Mykonos. So it's only logical that on Mykonos you can find one of the most famous landmarks of Greece… So, if you don't know what things you can visit in Mykonos, the windmills are the answer. What more iconic postcard from Greece than these windmills? However, did you know that there are traditional windmills on several Greek islands? Many of them were still active and functioning until the early 20th century.
---
Disclaimer: Posts include affiliate links leading you to products or services, I might earn a small commission if you make a purchase. This has no extra cost to you but allows me to continue writing articles that are helpful for your travels. I only recommend things I use myself or that I believe will deliver value to you. 
---
This article was originally written by Gabi Ancarola and it has also been published by Greek Reporter in  January 2018.
Last-minute plans for Greece?
Get there: Use Ferryhopper to book your tickets.
Stay: Find great accommodation deals on Booking.com.
Move around: Compare car rental prices with Discover Cars.
Tours: Check the most popular places with GetYourGuide.
Read more: Pack the Lonely Planet Guide to Greece or get a copy of my digital guide to Santorini.
Top-rated tours in Mykonos:
The Original Morning Delos Guided Tour
Yacht Cruise to Rhenia Island & Guided Tour of Delos
Discover Authentic Mykonos Tour
Evening Visit to a Traditional Mykonian Farm
Where to Stay in Mykonos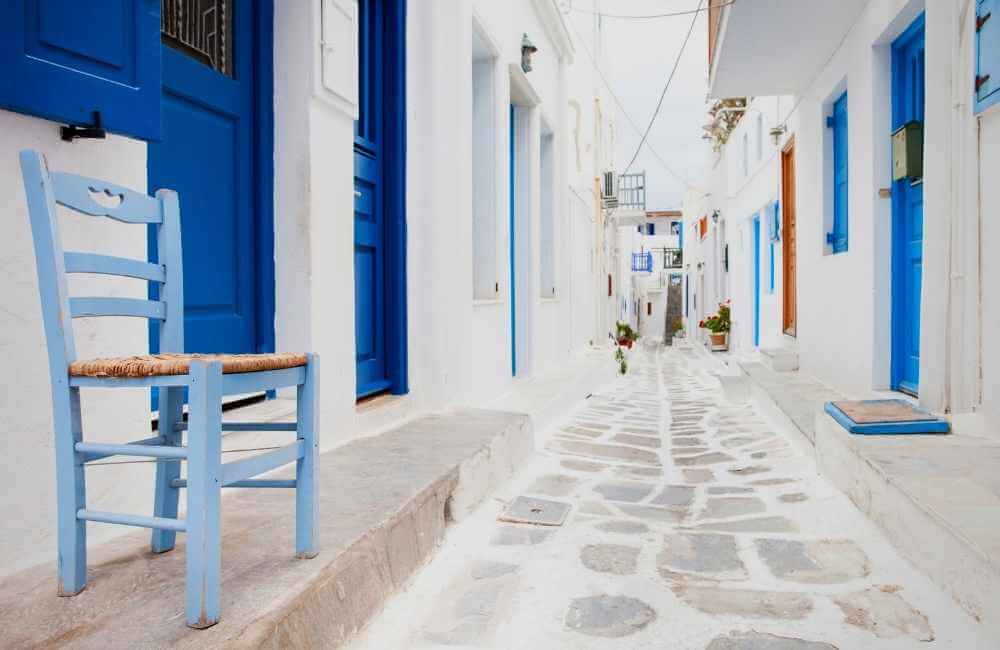 There are plenty of amazing places to stay on the island, no matter whether you prefer a B&B, a top hotel, or a vacation home in Mykonos.
Some of the places I recommend you to check include La Maison Blanche, with perfect views, or a family place like Acrogiali Beach Hotel in Platis Gialos. If you're looking to compare prices and availability, click on the map below to discover more accommodation opportunities.
The Anatomy of the Greek Windmill
According to the tradition, windmills on the Greek islands are normally solid buildings, with three floors, shaped in a cylindrical way and made of stone. Some of them also include small windows and a pointed roof, commonly made of wood.
Other than that, there are about twelve wooden fan blades on top of the structure. Each of them has a triangular wing of a very sturdy kind of fabric (the cotton used for sails in boats).
Following the logic of physics, whenever the wind blows (and the Aegean sees some strong gusts), the windmill will carry the movement to a central axis inside the building itself. This will force the grind stones into a rotational movement.
The top floor housed the grinding mechanism to take advantage of the force that the movement would imply.
The flour that each mill produces was stored on the second floor. Finally, on the ground floor, locals kept the raw grain and the resulting flour.
Building a windmill was not cheap, and the construction site needed to be picked carefully. Factors such as exposure to the right winds (usually northern) and the ease for the workers and the donkeys.
The need for strong winds was a key factor, for that reason windmills are often on hillsides or on the edge of capes, but still always close to the main villages.
The windmills are not exclusive from Mykonos, there are windmills in several Greek islands. The ones below, for instance, are on the Greek island of Patmos, in the Dodecanese.
Mykonian Icons
The northern wind of the Aegean, the Meltemi, helped the windmills with the process of grinding cereals.
Particularly in Mykonos, the resulting flour was either given back to the farmers for them to bake their bread. But also local bakers used to buy that flour for their own business.
Much of that flour, however, was often sold and shipped to other areas of Greece or to other Mediterranean countries.
There used to be more than twenty-five windmills on Mykonos. Ten of them were part of Kato Mili, a complex of mills in the lower area of the island, across from the harbor of Alefkandra. This was such a strategic position that the area was key to the economy and growth of the island.
Once Upon a Time…
Almost every ship sailing nearby used to stop. Therefore, the flour resulting from those windmills by the sea was the main ingredient to bake the famous Greek rusk, paximadia.
This type of bread has a double baking process which results in a very dry rusk easy to preserve for months.
These were an ideal source of carbohydrates for sailors who didn't reach the mainland for months.
>> Check the best Rental Homes in Mykonos <<
The Mills on the Hills
High on the island, there were the Pano Mili or windmills from above. Not so easy to reach, the product resulting from the mills on the hills was mostly for local consumption.
As time went by, electricity brought new advances to several islands. As a result, this traditional method to produce flour gradually came to an end.
Nevertheless, the windmills stand as a memory of the agricultural past of Mykonos and the Greek islands.
The Windmills Today
There are still sixteen old windmills standing proud on Mykonos' landscape. Some of them, however, have become exclusive lodges and residences.
The most famous windmills are near the old town, by the sea. Every year, thousands of tourists visit them at the sunset hour, the best moment to shoot one of the many iconic Greek images to take back home.
Visit the Windmills
Unfortunately, travelers can only visit two of the still-standing windmills of Mykonos. The first of them is Geronimo's Mill.
This structure dates back to the 1700s and it' the most ancient mill on the island. Active until 1960, there have been recent renovations on the structure while maintaining most of the original machinery for grinding.
Also open to the public Bonis Mill, a windmill that is an integral part of the Agricultural Museum of Mykonos. This mill has been restored in full respect of its original features.
Visitors that choose to visit this structure can access every one of the floors. They can also learn about the process of flour making, from grinding the grains to weighing and storing the flour.
Bonis Mill is open daily to the public during summer afternoons (from July until September), from 16:00 to 20:00.
To contact the structure dial +30 22890 26246.
---
Would you like to visit a windmill in Greece?
Let me know in the comments below!
---
Travel Plans for Greece?
More Resources to Organize Your Trip!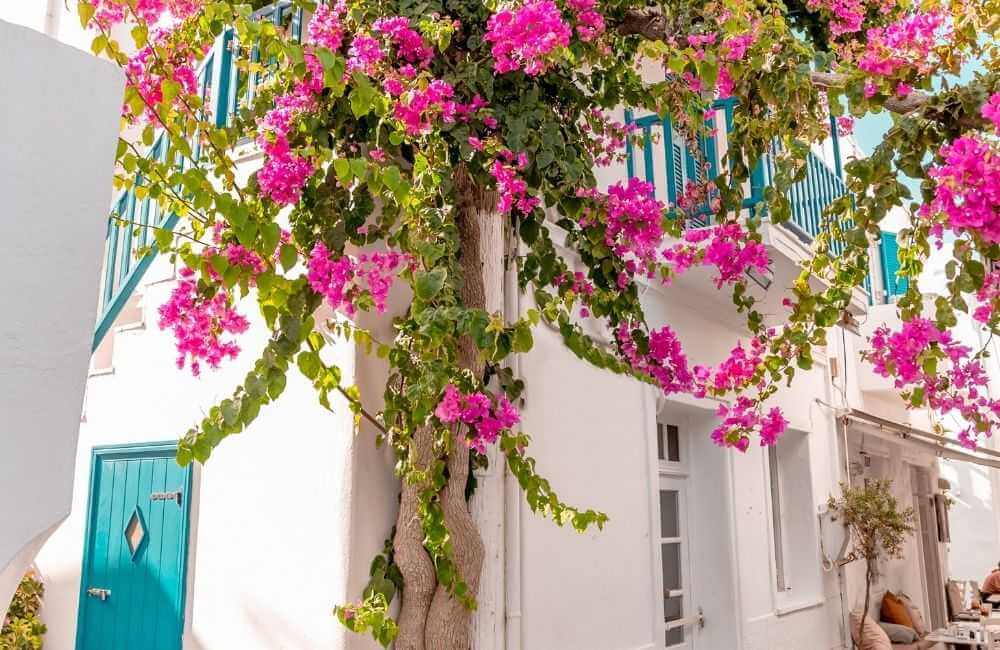 Start by heading right to my Greece travel guide for in-depth details you need to know about Greece. You can also check my post to plan a trip to Greece with children!
Get in touch if you need extra help to plan your trip. If you want to tour West Crete, check my guide. Want more? Join my Private Facebook Group to connect with like-minded travelers who love Crete as much as you do!
Make Sure You've Got Everything For a Hassle-Free Vacation!
Without my Osprey backpack, I never move around the islands…it's a sturdy but light travel partner I just love. For short trips, I carry this crossbody bag. If I drive, I pack my Nikon D7200 and a good travel guide! Lonely Planet's Best of Greece & the Greek Islands.
When it comes to plane tickets, compare prices with a powerful search engine. However, nothing beats traveling by sea in Greece. With Ferry Hopper, you can book in advance at the lowest price.
For accommodation, I use Booking.com.
Traveling to remote places is easier with Discover Cars. Other times, I join organized tours with GetYourGuide, which features anything from cooking lessons to airport transfer!
COMING TO CRETE SOON?
Get in touch and let me know!
Read more:
Coolest Airbnbs in Mykonos That You Will Want to Book
How to Get to Mykonos: Best Ways to Travel to the Greek Island
Greek Islands: Travel Guide for Your First Time in Mykonos
Mykonos for Families: Great Things to Do in Mykonos with Kids
Beyond Stunning Airbnbs in Santorini to Check Before your Trip
Pin it Now for your Next Adventures! Windmills of Greece!
About the author of this blog: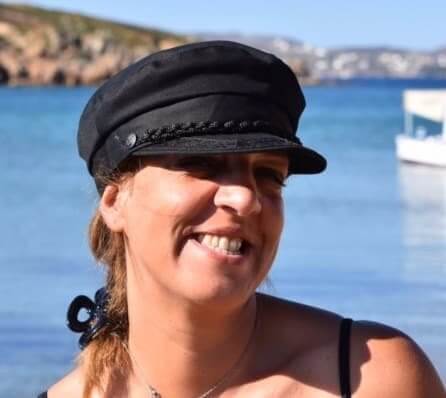 Gabi has been living in Crete for the last five years. Here, she juggles being a solo mom, hosting culinary tours in the summer, translating, and writing for The Tiny Book and her other blogs.
She's written for Greek Reporter, published three travel guides about Greece, and had more glasses of frappe than any regular person would be able to handle.
---
You might also want to read:
---