This is one of the (many) reasons why this blog has been suffering my absence… I've been a bit busy with a project that took me months to complete. A project that I've loved ever since it started and which – I guess – marks the beginning of a different kind of blogging: I've written a book about Greece!
---
Disclaimer: Posts include affiliate links leading you to products or services, I might earn a small commission if you make a purchase. This has no extra cost to you but allows me to continue writing articles that are helpful for your travels. I only recommend things I use myself or that I believe will deliver value to you. 
---
Two Weeks in Greece
I've lived in Italy for over sixteen years. My ties with the country remain strong and alive since my husband and kids were born there. We speak Italian at home and, despite living in Greece (and loving it), their roots are still there… a few of my roots too. This is the reason why this book was thought in Italian and written for Italians. But, of course, it's a book about Greece!
The Project: ViaggiAutori
The book is, in fact, a travel guide. A friendly travel guide I'd say. And not just for the fact it's a pocketbook, very easy to carry and with essential information. But also because among the first instructions I received to prepare it, the one that I cherished the most was: Write it for a friend, tell your best friend what places to go. Places you would go too. That made me fall in love with the idea behind ViaggiAutori.
In Italian, ViaggiAutori literally means Author Travelers or Traveling Authors. And this is how the idea was born, from a group of travelers with a passion for writing. But also with a passion for their own destination.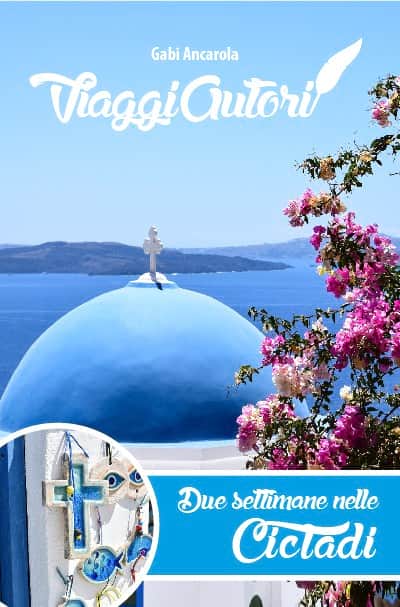 This means we now count guides with itineraries designed by people who truly know the place they write about. Some of them even live in those places: They are real insiders.
It also means that there are ViaggiAutori guides for Thailand, Japan, Bretagne, Portugal, California, Mexico, Ireland, Colombia, Jordan, Scotland, Vietnam, Iceland, Argentina, and… and Greece. We're fifteen destinations already and more will come out!
Getting Involved
The project was born thanks to the initiative of a couple of travelers (if I call them bloggers, this might be the last book I write for them!) who also happen to write extremely good pieces.
I've been following Cabiria and her blog (one of the ViaggiAutori) for a long while, secretly admiring her writing skills since the beginning. I still didn't know the other half of ViaggiAutori, Raffaele, but when we first talked I felt completely confident and in good hands.
When we got in touch for a collaboration about Greece I was in ecstasy (I believe I am still like that) and soon after, the Cycladic Islands' project was born.
Writing in Italian was hard. Over ten years have gone by since I finish my studies at the University of Milan. My continuous writing in other languages has made my Italian pretty rusty.
There were doubts, fears, and a continuous sense of inadequacy for the task. If the result is anywhere near good, I can only thank the editors, who might have hated me during the correction process, and some maybe still do… I can't blame you!
>Discover my travel guide for West Crete, in English!<
Collaborations
One of the things that most fascinated me about the idea of ViaggiAutori is that stardom does not belong there.
It's all about a job done collaborating with writers and, in my humble opinion, I got some of the best ones. Patrick Colgan (who also authored – with his wife – a guide about Japan), wrote a piece about Amorgos for the guide. His experience as a writer and journalist adds a touch of elegance to my book.
Another pen part of the book is the one belonging to a favorite writer of mine, Daphne Kapsali. I have read many of her books and I admire the way she masters the language.
She handcrafted a chapter about the gastronomic traditions of Sifnos which I'm proud to count among the collaborations.
A favorite couple of Greek bloggers, Maria Kladi and Christos Vasilopolous helped to bring Paros and Serifos alive. They run not one but two blogs about adventure travel and have provided the book with plenty of suggestions for snorkeling and scuba diving in the Cyclades.
Finally, Claudia Moreschi, travel content writer as well as a traveler, gave me a hand with a piece about street art in Athens. Because yes. the book also includes a chapter about the Greek capital.
Some other friends also helped with photographic material and then my family provided the patience, lots of patience to live by my side during the writing time!
The Book
The book is called Two Weeks in the Cycladic Islands, and it contains a fortnight itinerary that readers can follow according to their tastes and needs. They can choose to visit all of them, just some, or one island only, but they will always find the best advice I could offer, learned from the experience my own trips gave me.
Two Weeks in the Cycladic Islands (Due Settimane Nelle Cicladi) talks about Santorini, Naxos, Paros, Antiparos, Mykonos, Serifos, Sifnos, and Amorgos. As a bonus, and for those with some extra time to spend in Greece, there's a chapter about Athens as well as some tips to visit the nearby island of Hydra.
There is a good emphasis on the gastronomic side of the islands, but there are also tips and directions, lists of museums and archaeological sites, as well as secret spots to take the most iconic pictures. A great map, routes for ferries, and even a glossary.
I believe I have done a rather fair job. It should be your task to say so. I am happy, proud, and thankful to a bunch of great people. And already thinking about other places to take you with a new book about Greece… make a guess!
Want to read about Santorini in English? Check this guide:
keep the island in your pocket!
The Tiny Book of Santorini
Villages & Iconic Landmarks - Things to Do - Places to See
Where to Stay - Where to Eat - Beaches
Gastronomy & Wines
Get The Tiny Book of Santorini
Buy it now!
---
You can get the guide Due Settimane Nelle Cicladi here
---
Travel Plans for Greece?
More Resources to Organize Your Trip!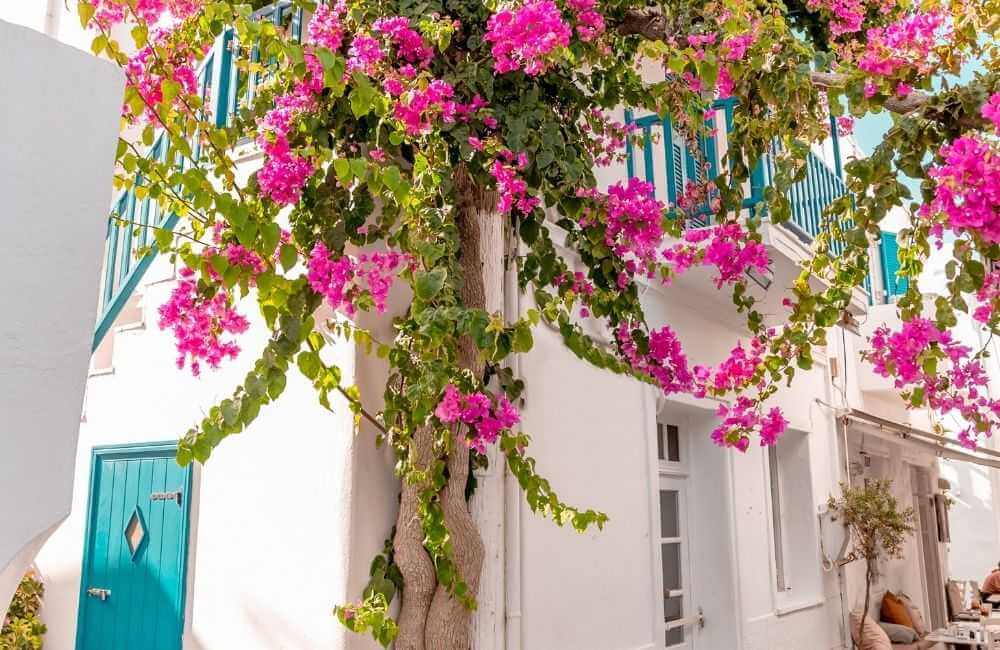 Start by heading right to my Greece travel guide for in-depth details you need to know about Greece. You can also check my post to plan a trip to Greece with children!
Get in touch if you need extra help to plan your trip. If you want to tour West Crete, check my guide. Want more? Join my Private Facebook Group to connect with like-minded travelers who love Crete as much as you do!
Make Sure You've Got Everything For a Hassle-Free Vacation!
Without my Osprey backpack, I never move around the islands…it's a sturdy but light travel partner I just love. For short trips, I carry this crossbody bag. If I drive, I pack my Nikon D7200 and a good travel guide! Lonely Planet's Best of Greece & the Greek Islands.
When it comes to plane tickets, compare prices with a powerful search engine. However, nothing beats traveling by sea in Greece. With Ferry Hopper, you can book in advance at the lowest price.
For accommodation, I use Booking.com.
Traveling to remote places is easier with Discover Cars. Other times, I join organized tours with GetYourGuide, which features anything from cooking lessons to airport transfer!
COMING TO CRETE SOON?
Get in touch and let me know!
Read more:
Sublime Things to Do in Patmos, Greece
Perfect Things to Do in Aegina, Greece
The Most Picturesque Airbnbs in Sifnos, Greece
Magical Holidays: Best Things to Do in Corfu!
Travel the Greek Islands: How to Get to Paros
Pin This Article Now! Travel Guide (in Italian) for the Greek Islands!
About the author of this blog: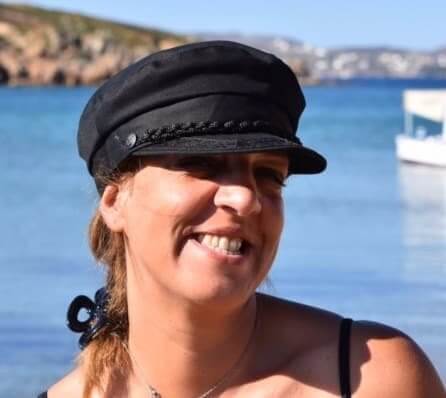 Gabi has been living in Crete for the last five years. Here, she juggles being a solo mom, hosting culinary tours in the summer, translating, and writing for The Tiny Book and her other blogs.
She's written for Greek Reporter, published three travel guides about Greece, and had more glasses of frappe than any regular person would be able to handle.
---
You might also want to read:
---