Sifnos is a typical Cycladic island with a magnetic atmosphere that attracts visitors every summer. Despite not being considered as part of the traditional circuit of the most popular Greek islands, Sifnos is a true gem on the Aegean Sea. Pristine beaches and whitewashed Cycladic homes in a superb Greek scenario. How would you like to experience life in a traditional home on the island? Grab a cup of coffee, sit back, and start planning your vacation on Sifnos… Let's begin by choosing among the best Airbnbs in Sifnos.
---
Disclaimer: Posts include affiliate links to products or services. I might earn a commission if you make a purchase, at no extra cost to you.
---
Airbnbs in Sifnos, Greece
Last-minute plans for Greece?
Get there: Use Ferryhopper to book your tickets.
Stay: Find accommodation deals on Booking.com.
Move around: Compare car rental prices with Discover Cars.
Tours: Visit popular places with GetYourGuide.
Read more: Pack the Lonely Planet Guide to Greece.
Where to Stay in Sifnos
If you're thinking about spending your summer on Sifnos island, it's a great idea to plan where you'll be staying in advance. However, if you don't have the time to read this list, or if you prefer to stay in a hotel, check these options below.
Go for a stay at Nymfes Hotel in Kamari. Geronti Moscha is a romantic apartment in Apollonia. How about staying on a windmill? Check Windmill Bella Vista in Artemonas. Worried about your budget? The following options have been divided according to the fee per night:
Budget accommodation: Aerides Boutique Rooms is located in Vathi, one of the most gorgeous corners of the island. Check fees on Booking.com.
Mid-range hotel: A more flexible budget? Enjoy a stay in Ammos Sifnos Village. Check offers on Booking.com.
Luxury hotel: Have an unforgettable stay in Apollonia, check the spectacular swimming pool and the gorgeous suites in Gerofinikas Boutique Hotel. Check availability and book on Booking.com.
Rental Type? There are stunning villas to choose from on the island. One of the properties I prefer is Eutixia Sea House, check availability here.
The Most Picturesque Holiday Homes in Sifnos, Greece
Elegant, timeless, perfectly Cycladic, the island of Sifnos, in the Aegean Sea, is certainly not the typical destination that would come to your mind when thinking about an island-hopping vacation in Greece. And it's a shame!
Beautiful beyond measure, Sifnos is an inspiring place for those seeking a relaxing holiday, in a tranquil atmosphere. A place where to enjoy life at a different pace and where to taste the authentic flavors of the country.
If you've already discovered this gem and are thinking of visiting, then this Airbnb guide is the perfect instrument you need to find accommodation on the island.
Do you want to experience life as locals do? No better place than Sifnos! Let's start checking the best holiday homes in Sifnos now… you can thank me later!
Visiting Sifnos soon?
>>Discover what things you can eat on the island<<
Xenia's Beach House, Vathi
Why you should stay: To wake up every morning and just needing literally two steps to set foot on the war sand!.
This beachfront property is located right on the sandy beach of Vathi, one of the prettiest sandy beaches on the island.
The place features a beautiful seaside terrace, air conditioning, and free parking as well. There are 2 bedrooms, a comfy kitchen, and for even more comfort, a washing machine. There's also a gorgeous garden and the location allows guests total privacy and relaxation.
CHECK AVAILABILITY AND BOOK HERE
Sifanto Mare, Faros
Why you should stay: Because Faro is a great, quiet place where you can enjoy the best of Sifnos island… and because this home has a 10/10 reviews rating on Booking.com!
Check this comfortable home by the sea, just one minute from the beach of Faros. The apartment can host up to 4 people. It features a spacious living room as well as a fantastic kitchen fully equipped with everything you need to cook your own meals.
There's a garden, which faces the nearby beach, which is a great place to soak in the beautiful vistas. This yard makes the place perfect for families, an ideal place for a delicious meal while the children play safely in the yard.
READ THE REVIEWS AND BOOK HERE
Heading to Sifnos soon?
>>Check the best beaches in Sifnos here<<
Aggelis Villa Sifnos, Artemonas
Why you should stay: Because the place, the views, the service… everything in this apartment is simply magnificent.
Discover this cottage house on the northeast side of the island. It features an amazing veranda with stunning views of the Aegean Sea, for total relaxation. The house is surrounded by a small olive grove, and there's a possibility to park your car nearby. From the stunning veranda, you can get lost in the endless blue landscape o
There is one master bedroom with a queen bed, two single beds in the resting area shared with the kitchen and a cozy fireplace.
The hosts offers a self-service breakfast and it includes marmalade, butter, honey, milk, coffee, homemade cake, orange juice, and wheat rusks.
READ REVIEWS AND BOOK YOUR STAY HERE
Blue Paradise Villa with Pool
Why you should stay: To splurge in style, to completely relax, and to enjoy the best views of the island, near Vroulidia Beach.
Yes, it might be a bit off your budget, but that doesn't mean you cannot admire this luminous and beautiful villa with an infinity pool overlooking the magnificent Aegean Sea.
The house is fully equipped for you to feel in a comfy and elegant environment. The highlight of the place is the stunning outside terrace with a pool and barbecue facilities where you can also enjoy your morning coffee.
Inside the traditional Sifnian villa, enjoy complete privacy and serenity. Three comfortable bedrooms can lodge up to eight guests. There are three bathrooms, a kitchen, and a living room
area of Maggana near Vroulidia beach. It is a traditional Villa constructed with the ultimate Sifnian architectural style and offers total privacy and serenity to all its guests.
The panoramic view in accordance with the magnificent view in general both, the Aegean Sea and the sunset at that specific location, render it an ideal destination for all. Two (2) of the bedrooms are separated from the rest of the residence, which makes the place perfect for two families or a group of friends.
CHECK AVAILABILITY AND BOOK HERE
Family Home in a Picturesque Village
Why you should stay: Because Anemonas is one of the nicest and most comfortable places to stay on the island.
Located in a quiet, architecturally beautiful and traditional community of Artemonas. It is accessible by pedestrian footpath or scooter only as there are no roads for cars in the old villages. The restaurants, shops and bus terminal in Artemonas are 300 m. away, while it is only 1km from the center of Apollonia and 6km from the nearest sandy beach.
This is a beautiful traditional house, built on two levels and suitable for up to 6 persons, there is also a separate Guest House.
The place elegantly blends modern and antique furniture with a comfy and traditional design. The main house is a two-story building with a large living room with a fireplace and dining area, one bathroom, and a fully equipped kitchen. There are also two separate bedrooms with private verandas.
Outside the house, there's a terrace with a dining table and chairs, offering beautiful views. The guest house, a renewed 230-year-old building, has a separate entrance to a one-bedroom area with two single beds, dining corner and a bathroom.
The house is not air-conditioned but there are ceiling fans available, however, due to its thick stone walls, it preserves coolness throughout the summer.
Family Home is a gorgeous vacation home in Sifnos that you shouldn't miss.
CHECK AVAILABILITY AND BOOK HERE
Erifili House in Faros
Why you should stay: To rest and recharge in this white, relaxing home in Faros.
Why not treat yourself to an unforgettable present? You can do so by booking a stay in Erifili House, in Faros. This small is located near the small port while there are plenty of beaches to check around. The view fro the terrace is simply stunnin.
The home is well equipped and it has been completely renovated still maintaining the original style and character of the local architecture. There's free parking available and several tavernas in the area too if you're not in the mood to cook!
The house has top reviews on Booking.com. It features a modern kitchen with an oven and dishwasher, a room with a comfortable bed, and a sofa bed in the living room. Towels and bed linen are provided while a complimentary welcome drink is offered upon arrival. The home is 12 km from the port of Kamares and 7 km from the capital, Apollonia.
CHECK AVAILABILITY AND BOOK HERE
Margarita and Chara, Faros
Why you should stay: If you're not up to luxuries, but looking for a simple and comfortable place to stay in one of Sifnos's most beautiful corners, then this is the perfect place for you.
There are 7 different hoes to choose from, a few of them ideal for families. The other ones, smaller, perfect for couples. The comfortable homes are very close to Vlycho Beach and boast great views of the sea. Guests have awarded these homes top reviews on Booking.com too!
Guests can also enjoy the garden and take advantage of free private parking and a terrace. All houses have a well-equipped kitchen, comfortable beds, and sofa beds, as well as air conditioning.
Sleeps: from 2 to 4 guests, depending on the home. Family homes available.
CHECK AVAILABILITY AND BOOK HERE
Kastro Gate, Kastro
Why you should stay: Because it offers a great opportunity to experience life in a traditional home on Sifnos island.
Discover the thrill of staying inside the Kastro of Sifnos! Kastro Gate is a unique and traditional studio, inside the Central Loggia of the Castle.
The studio belongs to the archeological settlement of Kastro and was completely renovated in 2017. It is suitable to accommodate 2 guests and it has all the elements you need for a comfortable and pleasant stay.
The new studio has been built in a part of a large traditional mansion house, built back in 1436 and still superbly well-kept. Located by the gate of the ancient medieval castle of extreme beauty, perfectly balancing comfort with a traditional character.
CHECK AVAILABILITY AND BOOK HERE
Patriarca, Apollonia
Why you should stay: To soak in the views of the Cycladic settlement and the sea, while enjoying a perfect spot and a beautiful holiday home on the island.
The Cycladic House has been recently renovated and it's centrally located in Apollonia, the capital of the island, not far from the heart of the nightlife in Sifnos.
The property combines the amazing view of the surrounding villages, with the calmness of the neighborhood, and the close access to Apollonia downtown.
Patriarca is a very small aparthotel with two units for couples and a family apartment, so it doesn't matter whether you're on a romantic escape or a family vacation. There's also a gorgeous swimming pool and a patio, ideal for dining at night. The units are comfortable and offer all the privacy you need for a marvelous stay.
Sleeps: from 2 to 4 guests, depending on the unit.
CHECK AVAILABILITY AND BOOK YOUR STAY HERE
Spilia Retreat, Kamares
Why you should stay: To enjoy the beautiful sunset from the veranda and discover the real peaceful environment of the island.
Couples adore the one-bedroom villa while the beachfront villa is perfect to cater to families or a group of up to 6 friends.
The homes are only 200 meters from the beach of Kamares and offer a beautiful garden, a terrace with a breathtaking view, and air-conditioned units.
The villas have a comfortable kitchen with a microwave, ironing facilities, a desk and, a seating area with a cozy sofa.
The place gives guests the feeling that you're sailing on a ship with the sea at your feet, and thanks to the ideal location, it's a perfect place to stay if you're not renting a car. You can reach the best spots on Sifnos taking the bus at the port or you can enjoy the different tavernas and restaurants that line up the port of Kamares.
Sleeps: from 2 to 6 guests.
CHECK AVAILABILITY AND READ REVIEWS HERE
---
Are you planning a trip to Sifnos?
Let me know in the comments below!
---
Read more:
Magical Things to Do in Paleochora, Crete
Over 30 Beautiful Travel Coffee Table Books About Crete, Greece, and the World!
Travel the Greek Islands: How to Get to Paros
Beyond Stunning Airbnbs in Santorini to Check Before your Trip
The Most Original Things to Do in Crete When it Rains
Hey! Don't Leave Before you Pin this Guide to the Best Holiday Home in Sifnos For Your Greek Adventure!
About the author of this blog: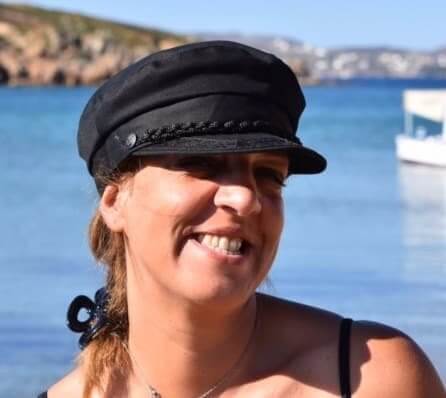 Gabi has been living in Crete for the last five years. On the island, she juggles being a solo mom, hosting culinary tours in summer, translating, and freelance writing.
She's written for Greek Reporter, published several travel guides about Greece, and had more glasses of frappe than any regular person would be able to handle.
---
You might also want to read:
---