Sifnos, a typical Cycladic island with a magnetic atmosphere that attracts visitors every summer. Despite not being considered as part of the traditional circuit of the most popular Greek islands, Sifnos is a true gem on the Aegean Sea. Pristine beaches and whitewashed Cycladic homes in a tipically Greek scenario. How would you like to experience life in a traditional home on the island? Grab a cup of coffee, sit back, and start planning your vacation on Sifnos… Let's begin by choosing among the best Airbnbs in Sifnos.
This article may have affiliate links to products and services that I use. If you make a purchase through these links, it might earn me a small commission at no extra cost to you.
This article has affiliate links to properties and services provided by Airbnb. As an Airbnb Associate I might earn a small commission – at no extra cost to you – if you book your place to stay though one of these links.
The most picturesque Airbnbs in Sifnos, Greece
Elegant, timeless, perfectly Cycladic, the island of Sifnos, in the Aegean Sea, is certainly not the typical destination that would come to your mind when thinking about an island-hopping vacation in Greece. And it's a shame! Beautiful beyond measure, Sifnos is an inspiring place for those seeking a relaxing holiday, in a tranquil atmosphere. A place where to enjoy life at a different pace and where to taste the authentic flavors of the country.
If you've already discovered this gem and are thinking of visiting, then this Airbnb guide is the perfect instrument you need to find accommodation on the island. Do you want to experience life like locals do? No better place than Sifnos! Let's start checking the best Airbnbs in Sifnos now… you can thank me later!
Visiting Sifnos soon?
>>Discover what things you can eat on the island<<
Katerina's Home, Kastro
Why you should stay: Wake up every morning surrounded by the medieval atmosphere of the Kastro.
Sleeps: 3
Minimum stay: 3 Nights
Pets allowed: No
Katerina's House is located in the magical medieval Kastro area of Sifnos. The gorgeous, small loft house is located close to a convenience store and several souvenir shops in the area.
The place is close to Eftamartyros, a beautiful rocky beach right underneath the house, not far from another beach, Seralia.
The small but comfortable home can accommodate 3 adults or 2 adults and a child! The place is perfect if you're also looking to learn some Greek since the host also offers Greek lessons. If you're traveling with a kid but want to enjoy a romantic evening with your couple, check with the host for babysitting services!
Sifanto Mare, Faros
Why you should stay: Because Faro is a great, quiet place where you can enjoy the best of Sifnos island
Sleeps: 4
Minimum stay: 3 Nights
Pets allowed: No
Check this comfortable home by the sea, just one minute from the beach of Faros. The apartment can host up to 4 people. It features a spacious living room as well as a fantastic kitchen fully equipped with everything you need to cook your own meals.
There's a garden, which faces the nearby beach, is a great place to soak in the beautiful vistas. This yard makes the place perfect families, an ideal place for a delicious meal while the children play safely in the yard.

Heading to Sifnos soon?
>>Check the best beaches in Sifnos here<<
Aggelis Villa Sifnos, Artemonas
Why you should stay: Because the place, the views, the service… everything in this Airbnb is simply magnificent.
Sleeps: 4
Minimum stay: 2 Nights
Pets allowed: Yes
Discover this cottage house on the northeast side of the island. It features an amazing veranda with stunning views of the Aegean Sea, for total relaxation. The house is surrounded by a small olive grove, and there's a possibility to park your car nearby. From the stunning veranda you can get lost in the endless blue landscape o
There is one master bedroom with a queen bed, two single beds in the resting area shared with the kitchen and a cozy fireplace.
The hosts offers a self-service breakfast and it includes marmalade, butter, honey, milk, coffee, homemade cake, orange juice, and wheat rusks.
Villa Anna, Kamares
Why you should stay: Relax and enjoy the best views of the island.
Sleeps:
Minimum stay: Nights
Pets allowed:
Villa Anna is luminous and bright, brand new Cycladic home in the heart of the beautiful bay and port of Kamares. The house is fully equipped for you to feel truly at home. It can host up to 4 persons. The soft colors and the simple but tasteful decoration will make you relax completely.
Have your morning coffee on the terrace or in the living room overlooking the sea while in the afternoon you can marvel at the wonderful colors of the the sunset. Get in touch with the host for a free transfer from the port to the property.
Ploris Apartment, Kamares
Why you should stay: Because Kamares is one of the nicest and most comfortable places to stay on the island.
Sleeps: 5
Minimum stay: 1 Nights
Pets allowed: No
This property, known as Pappoulis, is one of the several apartments inside the complex Ploris, right on by the sea in Kamares.
Pappoulis apartment features a bedroom with 3 single beds as well as a double sofa bed in the dining room. The kitchen is comfortable and fully equipped and there's also a yard with stunning views. Do you sail? Great! There's even a small jetty for your boat!
The apartment is right on the beach, in the quiet area of Agia Marina in Kamares.
>> Ploris Apartments features some of the nicest apartment Airbnbs in Kamares, Sifnos.
Dream Cycladic House, Kastro
Why you should stay: To travel in time to the glorious past of Sifnos.
Sleeps: 4
Minimum stay: 2 Nights
Pets allowed: No
Why not treating yourself with an unforgettable a present? You can do so by booking a stay in this gorgeous traditional house located in the heart of the medieval village of Kastro, one of the most picturesque areas of Sifnos. Completely renovated, the house managed to maintain the character and original style of the building.
Thick walls made of stone provide natural heat isolation and great comfort especially during summer time without need of conditioning. In the house, enjoy the beautiful living room with a comfortable sofa bed for up to two guests. The house also features a main double bedroom. In the kitchen you will find every amenity you need, including coffee machine, toaster, electric kettle and microwave.
Kalokeraki Home, Vathy
Why you should stay: If you're not up to luxuries, but looking for a simple and comfortable place to stay in one of Sifnos's most beautiful corners, then this is the perfect place for you.
Sleeps: 2
Minimum stay: 6 Nights
Pets allowed: No
This property is a simple but super comfortable summer house just 10 meters from the idyllic beach of Vathi, a place where no cars or motorbikes are allowed. The apartment features a unique view from the veranda. In the area, there are different tavernas, and a convenience store for all your needs.
Discover the magnificent blue sea in Vathy and the fantastic sandy beach staying in this comfortable apartment. Ideal for a romantic vacation, just perfect for a solo traveler seeking a tranquil holiday in a quiet environment. Guests particularly love the atmosphere of the area and the sparkling clean facilities.
Kastro Gate, Kastro
Why you should stay: Because it offers a great opportunity to experience life in a traditional home.
Sleeps: 2
Minimum stay: 2 Nights
Pets allowed: No
Discover the thrill of staying inside the Kastro of Sifnos! Kastro Gate is a unique and traditional studio, inside the Central Loggia of the Castle. The studio belongs to the archeological settlement of Kastro and was completely renovated in 2017. It is suitable to accommodate 2 guest and it has all the elements you need for a comfortable and pleasant stay.
The new studio has been built in a part of a large traditional mansion house, built back in 1436 and still superbly well-kept. Located by the gate of the ancient medieval castle of extreme beauty, perfectly balancing comfort with a traditional character.
Cycladic View, Apollonia
Why you should stay: To soak in the views of the Cycladic settlement and the sea.
Sleeps: 3
Minimum stay: 3 Nights
Pets allowed: No
The Cycladic House has been recently renovated. It's centrally located in Apollonia, the capital of the island, not far from the heart of the nightlife in Sifnos. The property combines the amazing view to the surrounding villages of Apollonia, Katavati, Ano Petali, Agios Loukas, and Artemonas with the calmness of the neighborhood and the close access to Apollonia downtown.
The house features a sitting room with dining table, a sofa and a single bed, a bedroom with a double bed, a kitchen and a roomy entrance hall. The terrace is the point of strength of the apartment with amazing views of the villages. The house also has a picturesque backyard.
Studio Maro Anto, Kamares
Why you should stay: To enjoy the beautiful sunset from the veranda and discover the real peaceful environment of the island.
Sleeps: 3
Minimum stay: 1 Night
Pets allowed: No
Studio Maro Anto is located inside the complex Plori Apartments, facing the beautiful bay of Kamares. Literally on the beach, this family run structure is a traditional fishermen's house which offers every comfort you need for a dreamy vacation in Sifnos.
As the owners explain, the place gives guests the feeling that you're sailing on a ship with the sea at your feet. The small apartment can accommodate up to three guests and it's a perfect place to stay if you're not renting a car on the island. You can reach the best spots on Sifnos taking the bus at the port or you can enjoy the different tavernas and restaurants that line up the port of Kamares.
Are you ready to explore Greece? It can be the trip of your lifetime. Get in touch if you need extra help to plan your itinerary. If you happen to also tour West Crete, check this guide. You'll find detailed info about where to go, what to see, where to eat, and more!
Want more? Join my Private Facebook Group to connect with like-minded travelers who love Crete as much as you do!
Coming to Greece any time soon? These resources will help you organize the trip!
Start by heading right to my Greece travel guide for in-depth details you need to know about Greece. You can also check my post to plan a trip to Greece with children!
Probably, you're planning to experience the thrilling island-hopping experience. Head to this article and read about the best cruise ports in Greece.
To have updated information about the island of Crete, as well as about the rest of Greece, join my private group on Facebook about Crete and download a copy of my West Crete Travel Guide to have it always with you if you visit Crete!
Finally, make sure you've got everything you for a hassle-free trip!
I never move around the islands without my Osprey backpack, a sturdy, light, roomy, and super comfortable travel partner I just love. To visit villages, sites, and museums instead, I carry this little crossbody bag.
When driving around, I pack my Nikon D7200. In Summer I also carry good sunscreen lotion, the sun on the island can be pretty aggressive. Always bring with you a good travel guide! Lonely Planet's Best of Greece & the Greek Islands.
Airfares to Greece can change from one airline to the other, make sure to compare prices with a powerful search engine. Planes are fast, but nothing like the romantic experience of traveling by sea in Greece, book your ferry tickets in advance at the lowest price, with no hidden fees or extra costs.
If I need to book accommodation, I personally use different search engines. Booking.com and Hotels.com are my go-to options.
Sometimes, the best way to get to know a place and make the most of your time is to join an organized tour. GetYourGuide has top-rated tours to save time and money. From cooking lessons to archaeological site tours, skip-the-line attractions, and even airport transfer!
Do you have everything you need? Then you just have to get ready to discover Greece!
These articles about Greece have been thought just for you!
If you're curious about traveling the Greek islands, check the most amazing places to visit in Greece. Crete is my favorite island of all, and these 50 unmissable things to do in Crete is a great article from where to start planning a visit. Greece is also an ideal place for scuba diving, here you can discover where to do it on the islands.
Head to this article to check the best ports for cruises in Greece. This guide, instead, shows you the best things you can do in Athens if you visit for three days. If you have less time in the capital of Greece, find inspiration in this article describing all you can do if you have one day to spend in Athens.
Are you planning a trip to Sifnos?
Let me know in the comments below!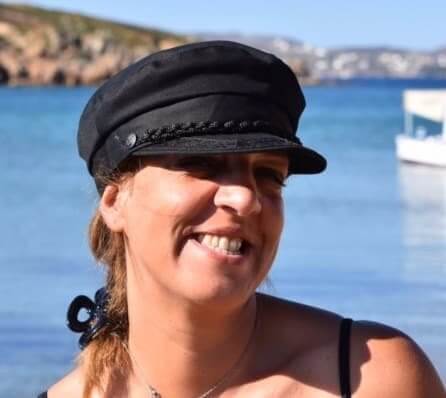 About the Author
Hola! I'm Gabi. Welcome to The Tiny Book – Crete Travel Blog! I moved to Crete to explore the island all year round. I love taking pictures and driving on the mountain roads of Crete. I'm a beach freak and on this island I've found heaven on earth!
---
You might also want to read:
---