Greece has the reputation of being one of the most family-friendly destinations in Europe. The Greek mainland is popular with families from all over the world who enjoy the relaxing environment. On the other hand, the Greek Islands hold their own magic as each has its own character.
Wherever you decide to go for your family holidays in Greece, there will be many interesting places to visit and fun-filled activities for all the family to enjoy. An added bonus is that the weather in Greece is warm and sunny for much of the year and its summer season stretches for five months, from May to October.
---
Disclaimer: Posts include affiliate links to products or services. I might earn a commission if you make a purchase.
---
Holidays in Greece with Kids: Best Places to Visit
Where to Go in Greece with Kids
Greece is a fascinating country and a truly family-friendly destination.
Offering a little bit of everything for every member of the family, in Greece, you will find amazing islands with unique, kid-friendly beaches, fantastic outdoors, fascinating archaeological sites and interactive museums, and tons of other activities geared for the whole family, so join me in this adventure to show you the best places in Greece for families with children.
Here are our suggestions for the top ten places for the most stunning holidays in Greece for families!
Athens, the Capital of Greece with the Kids
Athens is an amazing city and being 3,400 years old, is one of the oldest in the world. It is easy to get around the city on foot and hop on the metro.
Ancient Greece for kids? Yes, of course! Athenns' amazing Acropolis is the main ancient attraction, and one of the places to see in town, so don't hesitate and take your children to admire the Parthenon and the other temples.
If you have older children who are history buffs, they will enjoy visiting the Archaeological Museum as there are many activities for them too.
There's even a reproduction of the Acropolis made from Lego bricks that kids simply adore.
There are numerous other archaeological sites to visit including Hadrian's Library, the amazing stone Odeon of Herodes Atticus, and the Ancient Agora.
It is interesting to visit Syntagma Square to watch the Changing of the Guard Ceremony performed by the Evzones – the Presidential Guard – wearing their famous white uniforms with heavy, hand-made shoes topped with pom-poms.
Shopping on Ermou Street is fun while the oldest and more picturesque shops are those closest to the Acropolis.
If you are free in the morning, the Varvakeios Central Market is a colorful place to visit and the ideal place to buy some fresh herbs. The little tavernas in the market serve really excellent traditional food that both kids and parents will enjoy!
Not convinced that Athens can be a great place for a family holiday?
>>> Check this article with tons of things to do in Athens with kids!
Top family-friendly tours in Athens
The Peloponnese with Children
Located in the south of Greece, the Peloponnese is a large peninsula with four smaller peninsulas, connected to the mainland by the Isthmus of Corinth land bridge.
But, most importantly, the Peloponnese is one of the best places to visit in Greece with kids. It is a region with amazing archaeological sites and unique Byzantine and Venetian castles, walled cities, and some lovely kid-friendly beaches.
Spending time discovering the six kilometers Corinth Canal is a fascinating thing to do for the whole family. The canal is surprisingly narrow (24.6 meters in width) so only one ship can use it at a time.
Besides, there is a submersible bridge at each end that must be lowered for each ship to pass. As 11,000 ships use the canal every year, this is an amazing view!
The amazing UNESCO World Heritage archaeological sites of Mycenae, Epidaurus, and Mystras are all well worth exploring. In contrast, Nafplio is a lovely seaside town that was once the capital of Greece.
It has pretty alleyways and good shops and restaurants. For an amazing panoramic view of the coast, climb up to Palamidi Fortress which overlooks Nafplio – there are 800 steps leading up from the town!
The medieval city of Monemvasia is another fascinating place to visit with children. The ancient city is located on a small island on the east coast of Laconia and is connected to the mainland by a dike.
Peloponnese Tours for Families
# Mycenae Epidaurus and Nafplio Small Group Tour from Athens: The tour includes hotel pick up, a visit to the Corinth Canal and the region of Argolis, where you check the archaeological site of Mycenae, the next stop is picturesque Nafplion, ending with a visit to Epidaurus and visit the breathtaking ancient theatre and a final drop off in Athens (at your accommodation).
>>> Click here to book this tour.
# Self-Guided Virtual Reality Tour of Olympia: Discover the history of ancient Olympia on a self-guided tour wearing virtual reality glasses. Navigate yourself through famous sites with a virtual map checking monuments and history coming back to life.
>>> Click here to book this tour.
Halkidiki with Kids
Also known as Chalkidiki, this top beach destination is situated in northern Greece and it is a great place to visit if you're also visiting Thessaloniki with kids. The region is formed by a peninsula that comprises three smaller peninsulas which are referred to as 'legs'.
Inland, Halkidiki is covered with forests and has sandy beaches and sheltered bays along its coastline.
There are archaeological sites to explore including Stageira, the birthplace of Aristotle and Olynthos with its beautifully preserved mosaic floors.
Kassandra is the western peninsula and is also the best known of the three thanks to the numerous cosmopolitan beach resorts.
Siviri on its west coast has really gorgeous beaches as well, while Sithonia, the middle leg, is popular with those who enjoy sailing and snorkeling.
Why? Well, because there is the chance to swim amongst ancient stone columns that lie on the sea bed and also to watch dolphins playing in the water.
The beachfront tavernas are perfect to share a traditional Greek meze, small dishes with delicious dishes to share.
The eastern leg of the peninsula hosts Mount Athos – sometimes called the Holy Mountain. Known worldwide for its 20 monasteries.
Access is difficult (and impossible for women) but worry not, there are various boat trips that sail past this leg.
Where to Stay in Halkidiki with Kids
# Sani Beach (Kassandra): This property is 2 minute's walk from the beach, overlooking the azure waters of Cape Sani, Sani Beach offers a lagoon-style swimming pool, a spa center, and restaurants with international flavors and Greek cuisine with a kid's menu.
>>> Read more here.
# Miraggio Thermal Spa Resort (Paliuri): One of the best hotels in Halkidiki for the whole family, it offers an outdoor pool and luxurious spa facilities, several on-site restaurants, and a plethora of kid-focused activities.
>>> Read more here.
Thessaloniki, Another Kid-Friendly Greek Destination
Sitting on the Thermaic Gulf in the Aegean is Thessaloniki, Greece's second-largest city which is known for its stunning scenery, rich culture, and excellent food!
The city is a year-round destination as there is always plenty to do, offering excellent entertainment to make the most of your Greece vacation with kids.
There are archaeological sites, contemporary art exhibitions, and festivals. Much of the city center was destroyed in the huge fire of 1917 and the modern city has a European feel and design.
The best way to get to know the city is to join a walking tour. For instance, a good culinary walking tour like this one features the best staple foods in town while it shows the highlights of Thessaloniki.
The city's National Park is well worth a visit as it has flamingos, wild horses, and water buffalo plus hundreds of reptiles and insects that will interest kids of all ages.
Harbor cruises are a great way to get a good view of the city or you can also catch a ferry to visit one of the Greek Islands that sit close by. Climbing up to Eptapyrgio Castle is a great way to get a panoramic view and is fantastic as the sun sets.
The White Tower is another good vantage point to check the city and the sea – with hundreds of steps to climb and a majestic appearance, kids will love to visit!
Top Family Hotels in Thessaloniki
# Hotel Nikopolis: One of the best places to stay in Thessaloniki for families with children. There are two on-site restaurants and a pool bar too. They serve both American buffet breakfast and Greek breakfast, both with kid-friendly meals.
>>> Read more about this hotel here.
# Trademark Collection By Wyndham Lazart: The hotel has a kid-friendly shallow-ended pool, and baby safety gates are available for rooms too. In the property, it is possible to spend time playing board games and for parents who want to have a romantic night out, there are babysitting and child services upon request (paid service).
>>> Book your stay here.
The Pelion Peninsula
The Pelion Peninsula is a lush and green hook of land that juts out from the mainland at Volos, curving around to create the very sheltered Pagasetic Gulf.
It is not the easiest part of Greece to reach as it is three hours from the nearest international airport in Thessaloniki so some families opt to fly to the island of Skiathos which lies close by and can be the next exciting stop of a Greek island tour that you can easily and efficiently plan on your own!
The beaches of the Pagasetic Gulf have large rounded pebbles and lovely calm, clear water. The eastern coastline of the peninsula is rocky with small sandy bays and sea coves which are great for snorkeling.
There are water sports to enjoy here, including kayaking and stand-up paddle boarding (SUP).
Inland, there are mountains with pretty villages dotted with stone houses and old chapels. There's also the possibility to go goof trekking along old mule tracks.
For younger kids, it is always fun to make a journey on the small steam train that travels through the forest and links several villages.
Best Accommodation for Families in Pelion
# Hotel Petradi (Kalamaki): A kid-friendly accommodation with a fireplace, an outdoor pool, and a spacious terrace with a panoramic Aegean Sea view, this Pelion Guesthouse is set in a charming stone-built mansion in Kalamaki.
>>> Read more here.
# Mikro Βeach Ηote (Mikro): A budget place to stay in Pelion, this is a family-friendly property, right on the sandy beach of Mikro.
>>> Check further details here.
Epirus, Northwestern Greece for Families
This part of Greece is little known but has plenty to offer families. It is the most mountainous area in Greece, with the densely-forested Pindus range. It is situated in the northwest corner of the country, where Greece borders Albania.
Although Epirus might not be the first thing that comes to your mind when thinking of Greece for kids, the destination is ideal for those families who love to explore natural paths and off-the-beaten-track destinations. In fact,
Epirus has stunning scenery including the Vikos Gorge which is the world's deepest canyon with Oxia being its impressive vantage point.
In the Pindus Mountains, there are two national parks and 48 villages (many of them built by wealthy merchants).
There is so much wildlife to enjoy including eagles soaring above the peaks and the best way to do so is to follow some of the hiking routes.
There is plenty to see and do in Epirus; history to learn, hidden monasteries to discover, and quiet sandy beaches to relax on. The town of Ioannina is well worth visiting as it is built on the shores of a lake and there are boat trips out to the island.
If you want to relax on a beach, you can choose Parga with its vibrant seafront with brightly-colored buildings, or Perdika, another lovely seaside town.
It is fun to hire a boat and head out to the islets that lie just offshore as they have plenty of beaches too, Piscina is the favorite one.
Alternatively, you can enjoy some of the many water sports in Sivota.
Best Hotels in Epirus for Families
# Sivota Diamon Spa Resort (Sivota): A 4-minute walk from the beach, this hotel offers family-friendly accommodation, including kid's activities, only 750 m from Gallikos Molos Beach.
>>> Check it here.
# Parga Beach Resort (Parga): Perfect for families, featuring kid-friendly rooms, the hotel is located amongst olive trees and flowers, right on the seafront.
>>> Check the hotel here.
Meteora with Children
If you are looking for somewhere very different to explore or alternative things to do in Greece with kids, then Meteora will certainly fit the bill. It is a good destination if you have older children and are considering a twin-center holiday.
Meteora is a UNESCO World Heritage Site situated on the Plain of Thessaly in the heart of mainland Greece.
The region boasts an amazing group of strangely shaped vertical rocks that reach up to 300 meters in some places. Clinging to the top of many of these rocks are old monasteries.
Back in the past, there used to be 24 monasteries, but today just six remain occupied and open to the public.
There is accommodation available in the guest houses and small hotels in the neighboring villages, such as Kalambaka and Kastraki.
The best way to explore the monasteries is on foot, hiking between them. The monasteries are places of prayer and meditation, and respect for this is of paramount importance.
Kid-Friendly Meteora Tours
# Meteora Easy Hiking Adventure: This kid-friendly tour takes you hiking through ancient paths among the giant rocks to discover historical places and enjoy a hike that is suitable for the whole family.
>>> Click here to book this tour.
# Panoramic Meteora and Monasteries Tour from Kalampaka: perfect for those who don't want to walk much, this half-day small group takes you to visit Meteora, including 3 of the monasteries with a guide and traveling by VIP limo minibus.
>>> Click here to book this tour.
Corfu for Families
Situated in the Ionian group of islands in western Greece, the green island of Corfu is one of the most beautiful and popular holiday resorts in Greece.
The island is a great destination for families as it has 57 stunning sandy beaches including Benitses, Kavos, Gouvia, and Ipsos.
For older children, many of the beaches have water sports including snorkeling, diving, windsurfing, and waterskiing. Besides, in most of them, lessons are usually available.
The island also has the Aqualand Water Park in Agios Ioannis and the Hydropolis Waterpark in Acharavi, which are both great fun for all ages.
Inland, there are pretty mountain villages, forested areas, and vineyards. All of them can be explored either by renting a bike or on horseback, a great way to spend a fun day in the open.
Corfu Aquarium is ideal for children who enjoy seeing lizards and iguanas as well as countless fish. Moreover, at the Corfu Donkey Rescue, visitors can take donkeys for a walk, feed the animals, and have fun too.
Tours in Corfu for the Whole Family
# Corfu Town: Guided Walking Tour and Local Food Tastings: Get to know Corfu Town on a walking tour with an English-speaking guide. Stroll the charming alleyways and interact with the locals as you stop to taste their food.
>>> Click here to book this tour.
# Paxos and Antipaxos Full-Day Island Hopping Tour: Explore the islands of Paxos, and Antipaxos on an island hopping tour where you can snorkel and swim in the crystal clear Ionian waters. A pickup service from Corfu is available.
>>> Click here to book this tour.
Crete, a Perfect Greek Destination for Families
The beautiful island of Crete is the largest of the Greek Islands and has so much to offer to children of all ages, from tots to teens. There are sheltered bays and beaches for younger children and larger beaches with good water sports facilities for older kids and teens.
On the island, there are also various boat trips to enjoy including the cruise to Balos Beach or the glass-bottomed boat in Chania, a super popular attraction in the westernmost region of the island.
Amongst the greatest things to do in Crete with kids, you should take some time to discover the ancient history of the Minoan Palace in Knossos (just minutes from the center of the island's capital, Heraklion).
It's also a good idea to walk the 14 km Samaria Gorge. Samaria is among the longest gorges in Europe and can be a great activity for older kids, however, smaller kids can enjoy shorter gorges or other outdoor exploring adventures.
As an alternative, you can also venture underground and explore the Dikteon Cave. If you want to get out exploring the fun way, there are cycles to rent and horse riding opportunities too in every Cretan region.
>>> Click here to find all articles about family travel in Crete!
Where to Stay in Crete with Kids
# The Village Resort and Waterpark (Heraklion): The hotel is located in the lively seaside village of Herssonisos, it features a waterpark with super-fun slides, a unique composition of garden and trees creating an authentic Cretan village atmosphere, mini soccer, ping-pong, and more family activities. The area is also popular for biking.
>>> Check details here.
# Grecotel Marine Palace & Aqua Park (Rethymnon): Featuring family rooms and bungalows, this Cretan-village-style hotel has an amazing waterpark with slides and a splash park, as well as direct access to the beach. Family rooms and bungalows are available.
>>> Check details here.
Rhodes for Kids
This island has long been a favorite with families because there are plenty of fun things to see and do.
Rhodes Town is medieval with narrow cobbled streets and the impressive Palace of the Grand Master of the Knights as it was once the headquarters of the Crusader knights.
Close by, Mandraki Harbour is delightful, with its scores of luxury yachts and line of old windmills. Just further on, the Rhodes Aquarium reveals the marine treasures that can be seen under the waves.
Inland, there is the Valley of the Butterflies to visit and the Ostrich Farm at Farma, featuring so many different animals!
There are countless beaches to enjoy and many of them offer water sports including windsurfing and kite surfing. There is plenty of fun awaiting families at the Aqua Park in Faliraki too.
Best Tours in Rhodes with Kids
# Rhodes Off-Road Adventure: Go on a fun off-roading experience on beautiful hidden tracks throughout the island. Experience the amazing viewpoints on the island, and taste local honey and other treats, all while driving in the ultimate off-road vehicle.
>>> Click here to book this tour.
# Bus Trip to Lindos Village & Seven Springs: On this day trip you will visit 2 places in Rhodes, first, you visit 7 different springs and then spend about 3 hours discovering Lindos.
>>> Click here to book this tour.
There are as many kid-friendly destinations as you can imagine all over. And the best part of it? Children are always warmly welcome in the country, no matter where you decide to spend your vacation, Greece is a fantastic vacation spot for children…
Looking for more places to visit in Greece for kids? These are some great alternatives:
---
Are you visiting Greece with your kids soon?
Let me know in the comments below!
You might also want to read these posts to prepare for a great holiday in Greece with the family!
---
Pin this Guide to the Best Places to Visit in Greece with Kids for Your Upcoming Family Holidays!
About my blog: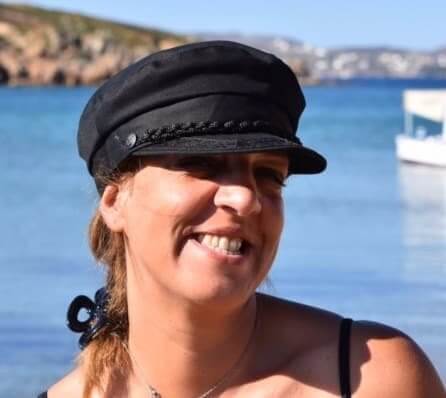 I moved to Crete in 2016. During these years, I learned much about the island.
In Crete, I juggle being a solo mom, hosting culinary tours, and writing for several travel blogs.
I've written for Greek Reporter, published travel guides about Greece, and had more glasses of frappe than any regular person could ever handle.