Kos is one of the largest Greek islands and, as such, it has plenty of interesting things for children of all ages to do. However, it is also small enough to explore comfortably during your holiday! If this is a Greek island that you'd like to visit, then read on to check out the best things to do in Kos with kids.
---
Disclaimer: Posts include affiliate links to products or services. I might earn a commission if you make a purchase.
---
Best Things to Do in Kos with Kids
General Information about Kos
How to Get to Kos
Kos is located in the Dodecanese, and getting to Kos from Athens is quite simple. There are available ferries departing from the port of Piraeus (the main port in Athens) with routes connecting with Kos at least 4 times each week.
However, keep in mind that the journey is about 11 hours, so maybe flying to Kos is a better (and much faster) solution, the flight is less than an hour.
Kos is also connected by ferry to other Greek islands, including the biggest island in the Dodecanese, Rhodes, but also smaller islands such as Kalymnos, Patmos, Leros, and other smaller islands in the area.
How to Move Around in Kos
If you're wondering how to move around once you reach the island, then remember that it's quite easy to travel around Kos as there is a good bus service.
On the other hand, many families with older children opt to rent bicycles. Since the island is relatively flat, bikes are a great opportunity for adventures and exploring unique landscapes.
Driving in Kos is not a problem either, so renting a car can be a great alternative for families with small kids so you can pack all the things you need for your toddler or baby in total peace of mind!
Driving in Kos
Moving around with a car is the best way to explore the Greek islands, and this is very much like that in Kos, where you can easily drive from one beach or small town to another, drive along the coast, and enjoy being free from bus schedules.
Kos for Families: Best Things to Do!
In no particular order, these are some of our favorite things to do in Kos with kids, take a look!
Check Out Kos' Great Family Beaches
Kos has some really good beaches for families and many of them have amenities that kids enjoy.
The best beaches in Kos for kids, featuring soft white sand are mainly on the southern coast of the island. As some of the beaches are pebbled rather than sandy, it's always best to pack a pair of plastic beach shoes for each family member.
Paradise Beach is situated between Kardemena and Kefalos and is one of the best-known shores on the island. It is ideal for younger children as the water is clear and warm and the sandy seabed slopes very gently.
It is a fun beach and is also called Bubbles Beach as volcanic gas escapes from cracks in the seabed- put on your goggles for a better view!
The gas is thought to come from the volcano on the nearby volcanic island of Nisyros. Paradise Beach also has an inflatable assault course in the water for younger children.
Discover the Incredible History of Kos
Kos Town is a pretty settlement quite fun to explore. The ruins of the Castle of the Knights (also called Neratzia Castle) are situated on a small islet.
The castle was built in the fifteenth century by the Knights of St John to protect the island from Ottoman pirates. For older children, there are information boards for the castle's history.
As you leave and walk over the small wooden bridge to the main island, you will pass the famous plane tree of Hippocrates. There are all kinds of legends relating to the famous tree.
It is said that the plane tree was planted by Hippocrates himself during his stay in Kos. You can find this plane tree right next to Gazi Hassan Pasha Mosque, where Hippocrates used to teach people about medicine. However, all the official info can be found here.
In Kos, you can also check out the two surviving mosques from the times when the Ottoman Empire dominated the island. Located in Eleftherias Square, Defterdar Ibrahim Pasha Mosque (also Nefterdar Mosque) dates from the end of the eighteenth century and it's a typical sample of Islamic architecture.
Not far, you can also admire Gazi Hassan Pasha Mosque (also known as Lotzia Mosque), a two-story building with an impressive minaret. The building stands behind Hippocrates's plane tree, at Lotzia Square.
Other interesting places to visit in the main town include the Archaeological Museum. It is a small venue, easy to visit in a short time, but it is really interesting. It features some impressive statues and a huge mosaic floor relocated from Casa Romana.
Casa Romana is located in the south of the town and is an amazing restoration of a 2,000-year-old villa that gives an insight into how the rich in Kos lived in Roman times.
Visit the Ancient Hospital of Asklepion
Hippocrates, the Greek physician, was born in Kos and is considered to be the father of modern medicine. He wrote more than 70 books and in them, he describes many diseases and advises on their treatment.
When he was training, Hippocrates worked at the Asklepion, which was an ancient hospital and center of healing situated on a small hill, four kilometers east of Kos Town. Today, the Asklepion is the most important attraction on the island.
The Asklepion was run by priests and had treatment areas, baths, temples, a library, and latrines. Patients would sleep in the temple and pray for their treatment plan to be made known to the priests.
Payment for treatment was made through the sacrifice of different animals.
Admire the Last Working Windmill
Standing with its ten white triangular sails contrasting against the bright blue sky, the Antimachia windmill is the last working windmill on the island.
The windmill is called 'Mylos tou Papa' and has milled grain for bread for 250 years. Visitors can watch flour being milled and visit the small folk art museum.
Today the flour is still used to make bread and also some tasty spicy biscuits which can be bought on the site.
Enjoy the Island's Water Parks
There are two good water parks on the island. The first is Aquatica Waterpark which is situated in Kardamena, about 40 minutes from Kos Town.
The activities at this water park are perfect for older children and for those who like a rush of adrenaline, for instance, venturing to experience Kamikaze and Free Fall slides. For those seeking relaxing moments, you can grab a tube and enjoy bobbing down the Lazy River.
>>> You can find more details on the Aquatica Waterpark site.
The Lido Waterpark is located about 25 minutes from Kos Town in Mastichari. For older children, there are multi-slides and wave pools. For younger children, Lido has a designated area with a mini water park and an indoor pool with plenty of inflatables.
>>> You can find more details on the Lido Waterpark site.
Discover Some Natural Water Features
The Thermal Springs at Agios Fokas is a bit of a trek to reach but is well worth the effort!
The sulfurous springs were first discovered in 1914. Stones have been formed into a natural wall to enclose the hot spring water in an oval pool. The hot water is forced through fissures in the rock and is the result of volcanic activity deep in the earth's crust.
The water is credited for easing aching joints, sore muscles, and arthritis. This spot is a great place to visit just before sunset if you have a buddy photographer in the family as the sunsets are amazing.
Take a Boat Trip or Two
Everyone is fascinated by volcanoes and the boat trip out to the small island of Nisyros just off the south coast of Kos is great.
Nisyros is an island just eight kilometers in diameter and its volcano hasn't erupted for thousands of years. As you walk over the island's rough terrain you can hear steam hissing as it pushes up through fissures in the rock.
>>> Check out this fantastic Nisyros Island Volcano and Panagia Spiliani trip from Kos.
Click here for more details and to book this tour.
Another popular boat trip is the one that sails around Kos and for younger children, there are trips on pirate ships available too that take you to fantastic islands such as Kalymnos, Pserimos, and Plati!
A boat trip to nearby Kalymnos is interesting. This island is quite mountainous so is better suited to older children who enjoy hiking.
Another popular boat trip is the one to the Turkish coastal town of Bodrum. Kos lies four kilometers from the Turkish mainland so the journey takes just 50 minutes.
Bodrum, in Turkey, has lovely beaches and a bustling market and Old Town too.
>>> This customized day trip from Kos to Bodrum gives you all the free time you need to explore and it's super affordable. Click here to find out more and book this tour.
Enjoy the Coolness of a Pine Forest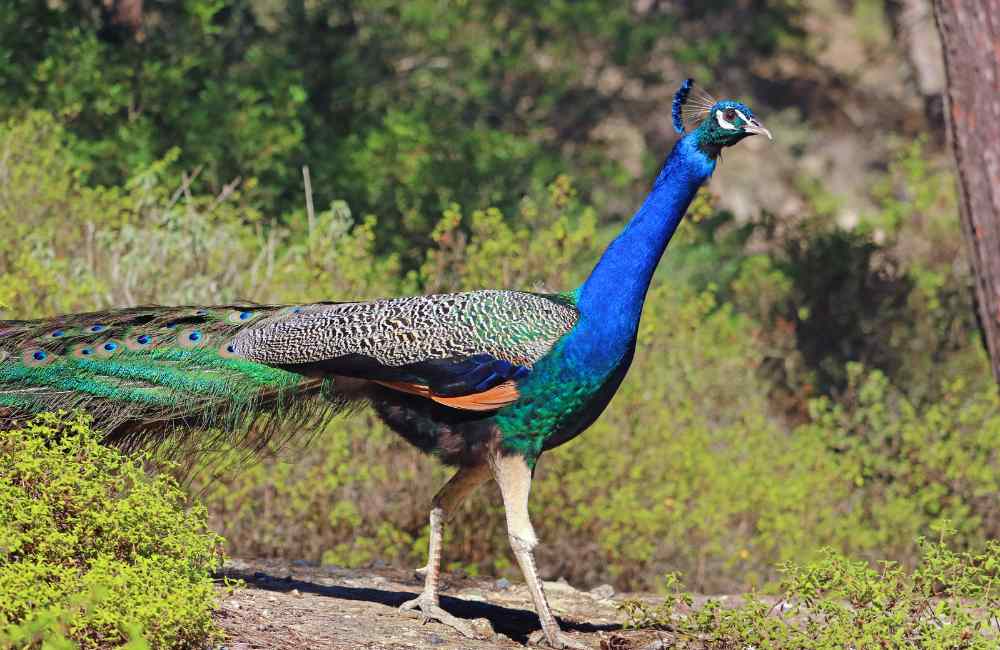 Plaka is a beautiful forest of pine trees that has peacocks strolling under the trees and many different species of butterflies to spot.
There is a large pool surrounded by rhododendron bushes where terrapins can be seen swimming in the water and several walking trails to follow.
In the heart of the forest there is a picnic area and natural water spring, so take a bottle along to fill!
Taste Some Really Good Honey
Melissa Honey Workshop and Factory with its good reputation for its delicious thyme honey and many other flavored kinds of honey is a good place to visit.
This is a family-run factory that has been producing its own, very aromatic honey for more than a century, by combining traditional methods of production.
They make top-quality Coan honey. Besides, at their honey workshop, they have created a range of products which include thyme honey, pine honey, and heather honey.
The factory is family-run and is fun to visit with a tour and informative talk that teaches how the honey is produced and with the chance to sample plenty too!
>>> You can get in touch with the honey factory at this number: +302242072260
Relax at Kos'Zia National Park
This beautiful park is situated in Zia, at the foothills of Mt Dikeos, and is ideal for families as it has stone pathways surrounded by pretty flowerbeds where peacocks wander freely.
There is a lovely children's playground and to encourage everyone to relax, there are hammocks strung between the trees. There is also a petting zoo where younger children can meet all types of animals!
>>> Check out the official website of the park for further info, opening hours, and beautiful photos.
Riding a Bike
As we have already mentioned, the island is quite flat, which makes it an ideal destination to enjoy long family bike rides along the coast or through the several green areas that Kos features.
There are mountain bikes, children's bikes, and even tandems available, and several cycling routes on the island to try out!
Kos with Teenagers in Mind…
Many of the things to do on the island of Kos are perfect for teenagers, but there are a couple of activities that they may find particularly appealing.
There are several riding stables on the island offering one- and two-hour escorted hacks; exceptional ones are the sunset hacks with the horses walking along the shoreline.
Kos is a great place to learn how to dive and tuition is available for teenagers (the minimum age is 8 years). Lessons are given by qualified divers using oxygen tanks and participants are kitted out with wet suits, fins, and masks. For those who prefer snorkeling, the best beaches are Kefalos, Kamari, and Paralia.
For older teenagers, flyboarding is a new extreme sport using a prototype racing jet ski. Psalidi Beach on the island's east coast is the home of flyboarding.
This exhilarating new sport uses a platform attached to special boots, which are connected to the turbine of a jet ski which rises in the air allowing the fly boarder to perform different freestyle tricks.
Take a look at all the activities offered by Fly Board Watersports Kos here.
Check out more kid-friendly adventures in Kos… in and out of the sea!
Kos is certainly a great choice for a family holiday as it can be comfortably explored and still with time to enjoy the beaches and a refreshing swim and to enjoy leisurely meals of delicious local dishes too.
Where to Stay in Kos with Kids
These are some of the best accommodation options on the island, check them out to find the right place for your family escapes in Kos!
Best Aquapark Hotel in Kos
Labranda Marine Aquapark
Location: Tigaki, about 5 km from the center of Kos.
The hotel is located on the beachfront of Tigaki, overlooking the Aegean Sea. It has an extensive pool complex and activities for family members of all ages.
The rooms feature garden or sea views and are modern and comfortable.
There are 4 pools in the center of the resort, right in front of the beach, and are supervised by a lifeguard.
For kids, there is also a themed pool with 5 different giant slides, a children's pool, and a wave pool. Children can also enjoy the playground.
Best Boutique Hotel in Kos Town
Triton Boutique Hotel
Location: Located right across the main beach in the center of Kos Town.
This hotel is perfect for families with older kids who want to stay near the center of town. This hotel features beautiful rooms and suites with cable TV and a minibar and soundproofed windows. Most rooms offer views of the Aegean Sea.
Buffet breakfast can be enjoyed at the on-site restaurant which also serves kid-friendly Italian cuisine during lunch and dinner.
Families enjoy free parking available near the hotel.
Best Rental Home in Kos for Families
Grand View Villa
Location: Kardamena, about 8 km from the Mill of Antimachia and only 11 km from Kos Airport.
Featuring a gorgeous open space and super comfortable family rooms, this villa also offers free bikes, a garden, and a terrace. All units have a flat-screen TV and a kitchen with an oven, a dishwasher, and a microwave. Car rental services are also available
Kids and dads love that the holiday home offers a barbecue!
You can find many more hotels, resorts and villas in Kos here.
---
Would you like to visit Kos with your kids this summer?
Let me know in the comments below!
You might also want to read these posts to prepare for a great holiday in Greece with the family!
---
Pin this Guide to the Best Things You Can Do in Kos with the Family for a Unique Vacation in Greece!
About my blog: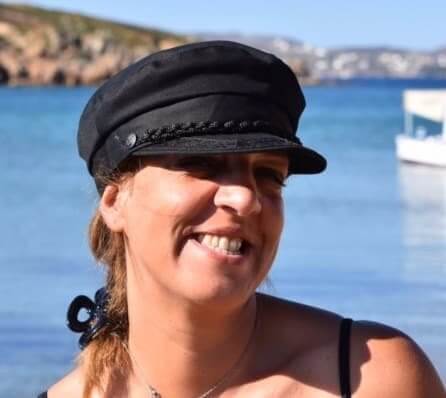 I moved to Crete in 2016. During these years, I learned much about the island.
In Crete, I juggle being a solo mom, hosting culinary tours, and writing for several travel media.
I've written for Greek Reporter, published travel guides about Greece, co-authored DK Eyewitness Top 10 Crete, and had more glasses of frappe than any regular person could ever handle.