Greece is one of the most popular destinations for summer holidays for all ages and budgets. It is a country offering various experiences and adventures, creating unforgettable holidays for young adults, couples, teenagers, parents, children, and seniors. In this post, I tell you which are the best Greek islands for kids near Athens that the whole family will love!
---
Disclaimer: Posts include affiliate links to products or services. I might earn a commission if you make a purchase.
---
Incredible Kid-Friendly Greek Islands Near Athens
Family-Friendly Greek Islands in the Saronic Gulf: Best Greek Islands For Kids Close to Athens!
The most charming and popular destinations in Greece are the thousands of small islands in the Aegean Sea. But due to their massive popularity, most Greek islands are always crowded and more than often target young travelers or couples.
So, if you are traveling with kids, you might feel hesitant to visit these spectacular islands. However, it is a crime to visit Greece and not travel to at least one of its beautiful islands.
Therefore, below, you will find a list of the top islands to visit with your kids near Athens for an unforgettable summer holiday. Specifically, the Saronic islands which are between the Attica and the eastern coasts of the Peloponnese. Let's see them!
Interested in Saronic Gulf Day Cruises?
These are some of the best you will find, click on the link to compare them all!
Hydra
Located in the heart of the Saronic island group Hydra is one and a half hours by ferry from Piraeus port. Therefore, it is ideal for a short trip with kids.
Hydra is a picturesque island known for its naval tradition and features a cosmopolitan and lavish ambiance. Its narrow, colorful streets feature elegant mansions, which inspired many artists and were used in movie sets.
To preserve the island's unique character, no cars are allowed on the island. So, undoubtedly this is an excellent reason for Hydra to be a top choice for family holidays.
Kids can check out the donkeys and mules waiting for ferry passengers at the port, go horseback riding, or enjoy long walks along the seaside without any risk at all since there are no cars, motorbikes, or bikes around the island!
Some of the top things to do while in Hydra are visiting one of the island's stunning beaches like Avlaki, one of my favorite beaches in Hydra for kids and families.
But there are also other great small beaches, just Vlichos, Kamini, Bisti, and Agios Nikolaos. Kids will also love hiking through old footpaths to discover monasteries and hilltops with breathtaking views.
For kids that don't enjoy walking or hiking, there are water taxis available in every port of the island, however, what kid wouldn't enjoy a tiny island where they can walk freely everywhere?
>>> Although Hydra is a destination that's perfect on its own, it is also possible to combine the visit with the islands of Poros and Aegina for a unique day trip experience departing daily from the port of Piraeus. Click here to find out more and book this day trip.
Where to Stay in Hydra
Mandraki Beach Resort
Located 2.8 km from Avlaki Beach and offering exclusive access to a private beach area, this family-friendly resort on the island offers comfy units with great sea views plus a desk, a coffee machine, and a minibar.
Click here for more information and to get the latest prices.
⛴️ Check out ferry ticket fees and schedules
Poros
Just an hour away from Piraeus, the main port in Athens, Poros is a little haven perfect for a day trip or a weekend escapade to explore beautiful and pristine nature.
The island features green, lush hills, pine forests, and gorgeous beaches with azure waters.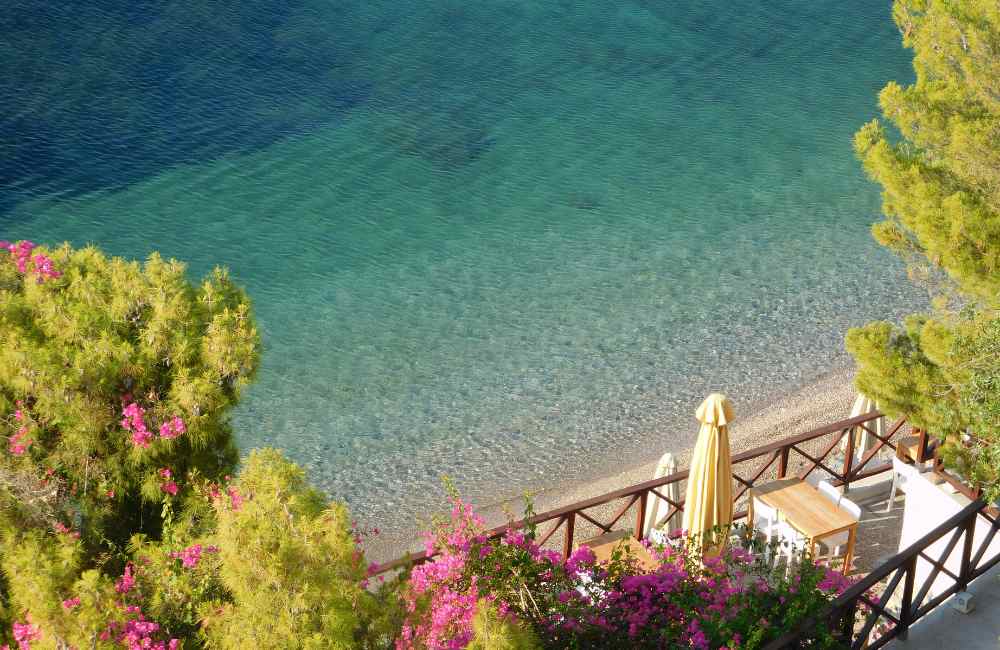 Poros is a group of two islands called Sferia and Kalavria, and a small bridge connects them. Kalavria is a green island with freshwater springs and streams, while Sferia is home to the picturesque Poros town.
The town is surrounded by the Poros Strait, pine, olive, and lemon groves, and features beautiful neoclassical buildings. And it might be small, but it is perfect for a relaxing weekend with family.
While in Poros, find your inner child by trying water activities and sports offered at the island's many gorgeous bays. Two of the most popular beaches are Askeli Beach and Love Bay.
Where to Stay in Poros
Kostis Villas
Great place for families, this accommodation in Askeli is just 150 meters from the beach and surrounded by a lush area with lemon and orange trees. Rooms and suites are self-catered and come with a balcony overlooking the mountain, the pool, or the Saronic Gulf.
The rooms also come with a well-equipped kitchenette where guests can prepare their own meals, perfect if you have small kids or toddlers! Besides, the pool has a lifeguard too. Near the property, there are supermarkets and seaside restaurants, and everything is within 2 km from the port of Poros.
Click here for more information and to get the latest prices.
Spetses
Just a couple of hours away from Athens by ferry, Spetses is a picturesque, car-free island favored both by travelers and locals for short escapades. It is an island with unique architecture, naval history, and culture.
Specifically, in the 18th century, the island flourished, gaining significant naval power.
Until today you can admire the 200-year-old captains' mansions gazing at the sea and marvel at the island's once-upon-a-time vast wealth and grandeur.
Also, an excellent activity to do with your kids is to visit Bouboulina's Museum.
Laskarina Bouboulina is the only female admiral in world naval history who played a major role in the Greek War of Independence. Her story is inspiring and should be learned by adults and children.
Apart from must-visit historical and cultural sites, Spetses has incredible hiking trails, some of them perfect for families as well as stunning beaches. Some of these are Xilokeriza, Vrellos, Agia Paraskevi, and Agia Marina.
Traveling with teens? They will love to see the island on a safari tour! Check out this 4X4 Tour in Spetses Safari here.
Where to Stay in Spetses
Yayaki Spetses
Features family rooms and a seasonal outdoor swimming pool, this is a great family-friendly hotel in Spetses. It also includes a gorgeous terrace and a fitness center.
The non-smoking hotel is a 5-minute walk from Spetses Museum and a short ride from the best beaches on the island. An à la carte, continental or vegetarian breakfast is available daily at the property.
Click here for more information and to get the latest prices.
Aegina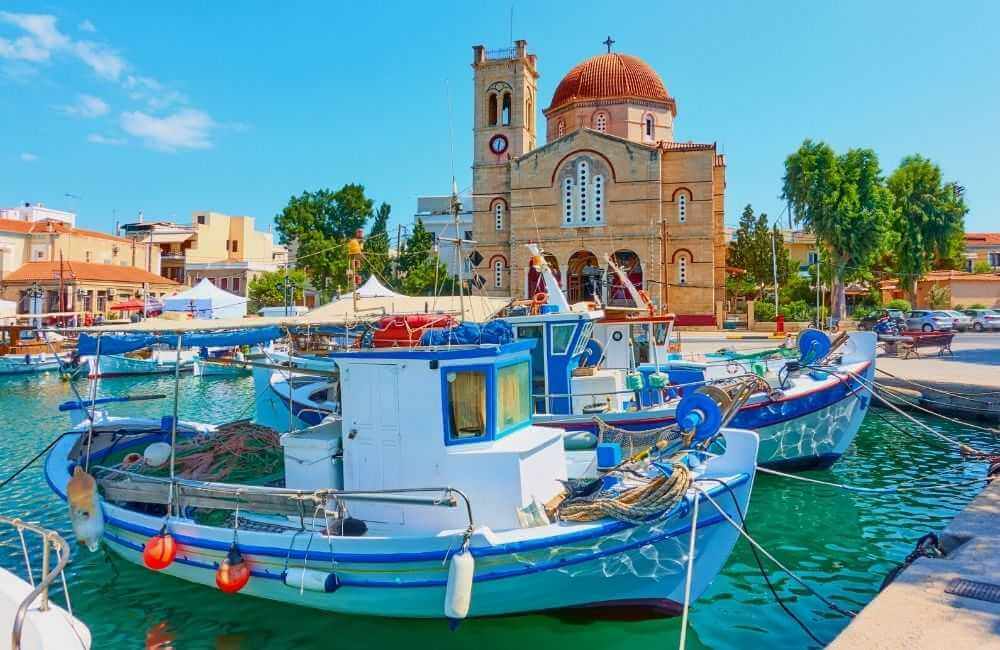 Aegina is an ideal destination if you are looking for a small day trip to an island close to Athens.
It is only forty-five minutes away by ferry and offers everything you might be looking for on a Greek island. And there is a lot to do if you want to stay for more than just a weekend!
Aegina features many archaeological monuments, picturesque folk villages, and gorgeous beaches, bays, and coves to discover.
On the island, kids will be able to explore the magnificent Temple of Aphaea, arguably the best-preserved monument from the Classic times in Greece.
Furthermore, its coastal capital town has stunning neoclassical architecture.
In fact, Aegina was Greece's capital until when it first gained its independence. Therefore, Aegina is a fantastic destination to explore Greece's history along with family through beautiful narrow streets, neoclassical houses, and educational museums.
Aegina also has beautiful, well-organized beaches to relax, swim, and sunbathe for a more relaxing holiday. The two most popular are Souvala and Agia Marina which feature hotels, taverns, and watersports centers.
Where to Stay in Aegina
Stone Sunset Villa
Ideal if you rather stay in the comfort of a villa, this place features accommodation for groups of up to 6 people. The villa with a garden is located in Sfendoúrion, 21 km from the Temple of Aphaea and about 10 minutes from Klima Beach.
There are 4 bedrooms, 2 bathrooms, flat-screen TV, a fully equipped kitchen, and a terrace with garden views. Car rental services are also available at the property
Click here for more information and to get the latest prices.
Agistri
Agistri is a small island less than an hour by ferry from Athens, making it a perfect destination for a relaxing trip away from the bustling Greek capital city.
The island is a forestry paradise with pristine nature and stunning beaches with crystal-clear waters.
So, if you want to have a fun and exciting adventurous holiday with your family, Agistri has plenty of outdoor activities to indulge in and participate in. Some of these activities include hiking, cycling, sailing, kayaking, or horse riding.
Also, this island is ideal for some family time outside of daily routines. You can enjoy peace and quiet, long walks in the countryside, great food, and lovely beaches.
The best beaches for a day of relaxing and enjoying Greece's beautiful beach culture are Megalochori and Skala. But be sure to also walk around the island to discover other hidden coves and small pebbled beaches.
The Greek islands are undoubtedly an ideal choice for a summer vacation. And thankfully, there are plenty of islands to fit everyone's taste and preference.
The Saronic islands are not too far from Athens' coast, making them perfect for short trips with family.
You can either choose one for a day trip or go island hopping. Whatever you choose, I'm sure you will have an unforgettable time!
Where to Stay in Agistri
Summer View
Located in Skala, very close to Megalochori Beach, this holiday home offers accommodation for five guests featuring a balcony and a terrace.
In the villa, you will find 2 bedrooms, a living room, a flat-screen TV, and an equipped kitchen with a fridge and an oven. In the surrounding area, kids can go hiking and cycling, while a bicycle rental service is available at the holiday home.
Click here for more information and to get the latest prices.
---
Would you like to visit any of these islands with your kids this summer?
Let me know in the comments below!
You might also want to read these posts to prepare for a great holiday in Greece with the family!
---
Pin this Guide to the Best Greek Islands for Kids Close to Athens for a Unique Vacation in Greece!
About my blog: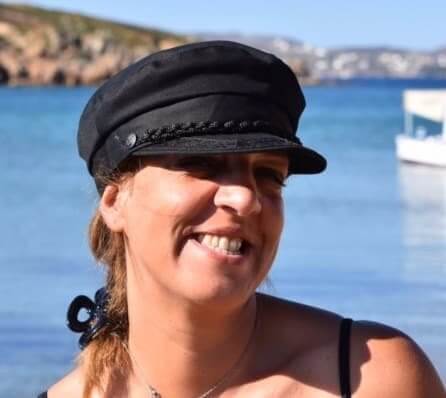 I moved to Crete in 2016. During these years, I learned much about the island.
In Crete, I juggle being a solo mom, hosting culinary tours, and writing for several travel blogs.
I've written for Greek Reporter, published travel guides about Greece, and had more glasses of frappe than any regular person could ever handle.