Due to the island's diverse geography, beautiful towns and villages, as well as pristine beaches, Andros is the perfect spot for a family vacation. But perhaps you might wonder what activities are best to do with kids. So, here is a list of great child-friendly activities and things to do in Andros with kids for your next summer vacation.
---
Disclaimer: Posts include affiliate links to products or services. I might earn a commission if you make a purchase at no extra cost.
---
Best Things to Do in Andros with Kids 
Andros is part of the most famous Greek island group, the Cyclades. It is the northernmost within the group, and although it's not as popular as other Cycladic islands, it features fascinating landscapes, important historical and cultural sites, beautiful island architecture, and stunning beaches.
What makes Andros interesting is its rocky coastline and rich nature. Specifically, most Aegean islands are known for their dry, rocky, and harsh terrain. But Andros has lush green spaces with springs and waterfalls.
Also, Andros has three unique towns with medieval castles, ancient monuments, and a cosmopolitan, classy, and sophisticated ambiance.
Lastly, Andros features local taverns with delicious, authentic seafood dishes that can satisfy everyone's tastes and preferences. 
⛴️  Check out ferry ticket fees and schedules
Getting to Andros
Andros is easily accessible by a direct ferry boat from the port of Rafina, in Athens, the island can even be an excellent destination for a weekend away with kids or even an easy trip (less than 2 hours!)
Keep in mind that there are no ferry connections between the main port of Athens, Piraeus, and Gavrios, the main port in Andros, so all departures are from Rafina.
Rafina is a port located about 35 minutes from Athens International Airport and there are frequent bus connections from the terminal to the port.
Andros doesn't have an airport, so ferries remain the only way to get there. Depending on the weather conditions (and the type of vessel you choose for the journey), the ride lasts from 1 to 2 hours. So it's pretty close to the capital.
Are you interested in learning more about spending time in Andros with kids? Read on and discover everything about the island and the best things you can enjoy doing with your children…
Swimming at St. Peter's Beach 
St. Peter's Beach, or Agios Petros, is located in the village of the same name, just 3km away from the port town Gavrio.
This is a well-organized beach with sunbeds and umbrellas, a lifeguard, water sports, a pleasant bar with music, beach service, and a baby changing area.
Furthermore, St. Peter's features soft golden sand and pristine turquoise waters, reminding of a tropical Caribbean beach. Also, since this is a blue-flag beach, it is an ideal and safe spot for kids to swim and explore the area.
Venture to Tis Grias To Pidima Beach
Pidima is Andros' most visited and photographed beach. Located on a sandy cove in the island's southeastern part, it's within unspoiled nature and towering cliffs.
Also, as it is about 23 km away from the island's capital, access to it is either by boat or taxi.
The beach doesn't have tourist amenities or umbrellas and sunbeds. So if you plan to lounge on the golden, soft sand and swim in the emerald waters, be sure to go prepared.
…And expect to experience a fun and exciting adventure that your kids will surely love.
Explore Andros' Capital, Chora
Andros's capital Chora is one of the most sophisticated and classy in the Cyclades. It features well-preserved neoclassical buildings, vibrant and colorful squares, green open spaces, and spectacular sea views.
Also, Chora has many elegant cafes and restaurants to try delicious and refreshing local dishes and drinks.
A must-visit spot at Chora is the Riva square which features an enormous bronze statue honoring the sailors who lost their lives to the sea.
Furthermore, a stone bridge connects the peninsula with a tiny islet at the square's edge.
On top of the tiny islet island, you will find an ancient medieval fort, also known as Kato Kastro, offering breathtaking views of the sea and the famous Tourlitis lighthouse, another spot that kids love to explore.
Check Out Andros' Kato Kastro
Locally known as Kato Kastro or Lower Castle, the ruins of this ancient fortress stand on the tip of a small peninsula and an islet on the eastern coast of the island, near Andros' Chora.
Considered a strategic position, the site would offer natural protection as it was surrounded by the sea on three sides with only its western side facing the island.
The castle got its name in contrast with the other major castle on the island, the Castle of Faneromeni, also called Upper Castle (or Ano Kastro in Greek).
Just like many other Greek islands, Andros fell under Venetian domination back in the 1200s. The Republic of Venice captured the island in 1207 and the conquerors built three different fortresses to protect the island, the Lower Castle, the Upper Castle, and Makrotantalo, a fortified outpost.
The Lower Castle or Kato Kastro is the most impressive of all due to its dramatic and scenic position by the sea which makes it a place that kids love to explore in Andros!
Discover Andros' Natural Springs
On the way from Chora to the Stavropeda area, you will find the picturesque village of Menites, which is home to the Springs of Dionysus.
This region in Andros is associated with the Greek god Dionysus, and recently not too far from the springs, excavations have unearthed the remains of an ancient temple.
In ancient times, people believed that the lion head statues of the springs used to flow wine from the temple. Of course, that is only a legend, but today the mineral water is fresh and has therapeutic properties.
Trek the Achla River
One more fun thing to do in Andros with the children (kids love this activity) is to go trekking up the Achla River, cross the bridge over it, and then, slowly make your way up the river.
Along the way, you will discover small streamlets and a huge variety of green vegetation, bushes, and trees. At the end of the trail, you will be rewarded with the beautiful Gerolimni Waterfall where you can enjoy a refreshing swim or even a picnic! >>> This is a perfect tour to enjoy a similar activity in the same area!
If you'd like to discover more of Andros through adventurous activities, then check out these tours:
Achla River Trekking to the Waterfall: This tour takes you to explore the Gerolimni Waterfall, a fascinating natural place in Andros, you and the kids will spend the day in an oasis full of trees and small rivers.
Click here for more details and to book the tour.
Guided 5-Hour Off-Road Trip to Vitali Beach: The tour takes you to discover one of the most beautiful beaches on the island, Vitali, where you and the family can enjoy the crystal-clear waters and vast white shores of this pristine summer holiday location.
Click here for more details and to book the tour.
Achla Beach and Gria Lighthouse Off-Road Tour: This is a fantastic family-friendly activity in Andros. It takes you on a half-day road trip to Achla Beach, including a hike to the Gria lighthouse for breathtaking views, a swim in the turquoise waters of Achla Beach, and a visit to a nearby forest. Click here for more details and to book the tour.
Hike at Andros' Beautiful Trails
As already mentioned, Andros has diverse terrain landscapes, beautiful nature, and exciting cultural and historical sites.
A great way to explore all these features is by hiking. Of course, hiking with younger kids might be a challenge, but if you are traveling with your teens, then it is an excellent family activity. 
Andros has a well-organized network of paths throughout the island, from medium difficulty to easy.
The paths can lead you to natural springs, waterfalls, ancient ruins like Agios Petros Tower, and the Geometric Settlement at Zagora.
>>> You can find plenty of updated hikes on the website created by the locals related to Andros' routes
Visit the Cyclades Olive Museum
Olives and olive oil are what distinguish Greece's cuisine. So, visiting the Cycladic Olive Museum is an excellent way to understand the country's culture and history.
Located in the mountainous village of Ano Pitrofos, very close to Menites, the museum is private and housed in a 19th-century olive extraction facility.
The museum is an excellent spot to discover the island's traditional architectural elements like arches and domes, as well as learn about the locals' lifestyle in the old days by experiencing the traditional oil production method of Andros.
Besides, the museum also features a pretty guesthouse, making it a great place to stay in Andros.
>>> Check out the museum's website for more information.
Stroll at Batsi's Promenade
Until the 1960s, Batsi was a picturesque fishing village used as a set for many famous classic Greek movies. But today, it transformed into a cosmopolitan harbor with everything you might need, including hotels, restaurants, shops, bars, and cafes.
Although it is a relatively small town, it offers exquisite scenery and is safe for strolling around with kids.
The place also has lovely beaches to lounge on all day long or sit by the marina to enjoy a refreshing drink or ice cream.
Andros is undoubtedly an excellent choice for family vacations offering various kid-friendly activities while experiencing Greece's beauty, historical and cultural importance, and carefree and relaxing island lifestyle.
Since Andros is easily accessible by a direct ferry boat from the port of Rafina, in Athens, the island can even be an excellent destination for a weekend away with kids or even an easy trip!
Family-Friendly Tours in Andros:
Andros Full-Day Guided Tour: Including winetasting for parents, this tour takes you to the most interesting corners of the island with a local guide to fall in love with the beauty of the landscape, learn about the culture, and discover the various villages scattered on the hills.
Click here for more details and to book this tour.
Farm to Table Experience: One of the best tours in Andros for small children interested in experiencing rural life on the island! The local cooking experience includes a visit to a local garden, picking up seasonal vegetables, and preparing your own lunch for the day!
Click here for more details and to book this tour.
Best Places to Stay in Andros with Kids
These are some of the best accommodation options on the island, check them out to find the right place for your family escapes in Andros!
Top Family-Friendly Hotel in Batsi
Mare Vista Hotel – Epaminondas
Location: The hotel offers a wonderful view over the bay and port, only 200 meters from Batsi's main beach and 400 meters from the small beach of Colona.
Ideal for families with kids, this pet-friendly hotel has a swimming pool and a poolside terrace with a snack bar that all the family can enjoy. It is very close to the beach and only 600 meters from the center of Batsi. The suites and apartments offer comfortable accommodations and a beautiful veranda with sea views.
Best Family-Friendly Hotel in Gavrio
Location: The hotel is in Gavrio, minutes from the center and the port, and a few steps from the beach. It's 1.3 km from Agios Petros Beach and 2km from Pachia Ammos.
Affordable and comfortable for families, this is a three-star property with friendly staff and a welcoming atmosphere. It offers a nice swimming pool and a private beach area. Reviews praise the breakfast and… of course, the views!
Best Rental Villa in Andros for Families
SuiteHome Villas with Private Pools
Location: Andros Chora
Probably one of the best accommodation solutions on the island, perfect if you love to stay in the comfort of a house, these villas can accommodate families of up to 4 people. It's within walking distance of Chora's best restaurants, shops, and taverns, still offering privacy and intimacy. The complex of villas features four swimming pools and sun loungers. There are also free parking spaces for guests.
For children, there are cots available upon request and babysitting services can be hired in advance at the villas.
---
Would you like to visit Andros with your kids this summer?
Let me know in the comments below!
You might also want to read these posts to prepare for a great holiday in Greece with the family!
---
Pin this Guide to the Best Things to Do in Andros with the Family for a Unique Vacation in Greece!
About my blog: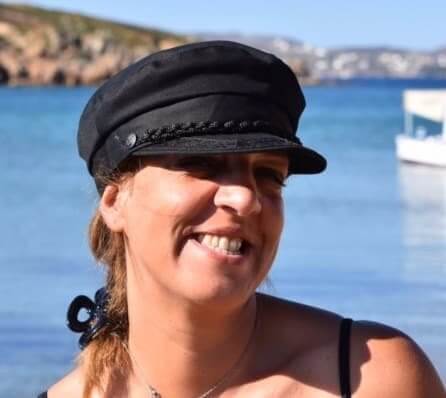 I moved to Crete in 2016. During these years, I learned much about the island.
In Crete, I juggle being a solo mom, hosting culinary tours, and writing for several travel blogs.
I've written for Greek Reporter, published travel guides about Greece, and had more glasses of frappe than any regular person could ever handle.