Are you looking for accommodation in Thassos, but you are overwhelmed by all the choices? Indeed, finding a hotel to stay in Thassos may be challenging, especially if you want to go through all options. Don't worry, though. Let me give you a local's insight into the best hotels in Thassos! And prepare for the holidays of your dreams!
---
Disclaimer: Posts include affiliate links to products or services. I might earn a commission if you make a purchase, at no extra cost to you.
---
The Best Hotels in Thassos Island
Luxury Hotels in Thassos
Alexandra Beach Spa Resort
Alexandra Resort – If you want to spend your Thassos nights in a resort, expect to treat yourself like a king. Alexandra Beach Spa Resort is a seafront 4-star hotel between the cosmopolitan village of Potos and the famous Pefkari Beach.
In other words, you won't even need a car to get around and have fun. Not only are those two tourist destinations next door, but you will find the amenities inside the resort too appealing to miss, even for a single day.
Imagine relaxing at the on-site spa center and then head to the beachfront for a refreshing swim! And if you have children, you can let them play in the playground or the mini club while enjoying yourself.
If you need to let the steam off and be a bit more active, head to the sports center and find anything from a gym to tennis and basketball courts. Even billiard is a thing at Alexandra Resort!
– Click here for more information and the latest prices.
You might also want to read: How to Easily Get to Thassos Island, Greece.
Makryammos Bungalows
Makryammos Bungalows – You can find this 4-star hotel in one of the most picturesque bays in Thassos. Its beach is as beautiful as the renowned Saliara Bay a few hundred meters to the north.
But there is a twist: here, you have the entire beach for yourself since only guests, and hotel visitors can access it!
And did we mention the pine-covered hillside surrounding the resort, which looks like it comes from a movie? Honestly, staying here is nothing short of a postcard-like holiday.
You will love your stay in Makryammos Bungalows so much that you will try to make excuses to stay on the property as long as you can. For example, why search for a restaurant elsewhere when you can dine at one of the hotel's taverns?
You even have two bar choices for a drink by the sea! In short, it will often feel like staying in a glorious village rather than a hotel.
But in case you feel like exploring Thassos, the capital Limenas is just around the corner and behind the hillside.
– Click here for more information and the latest prices.
Thassos Grand Resort
Thassos Grand Resort – Why choose a 4-star hotel when you can upgrade to five stars? Imagine having exclusive access to a beach in a picturesque bay covered by pine trees. You are thinking of Thassos Grand Resort in the Agios Ioannis beach.
Although you will find the hotel in one of the most isolated parts of the island, you won't miss a thing here. It is about a luxury destination like no other.
You will be staying in one of the 161 rooms, suites, or villas which all stand amphitheatrically with a view of the bay.
When it comes to on-site facilities, prepare to be amazed. Not only will you find exquisite restaurants for every taste, but you can also relax in the wellness and spa center.
You can even join one of the many activities and performances that the hotel organizes in the evening.
Of course, the resort's highlight is no other than its private beach protected from the wind from three sides. If you visit the resort in May or September, you can also enjoy access to a heated pool right next to the beach.
Who could wish for more?
– Click here for more information and the latest prices.
You might also want to read: The Best Beaches in Thassos, Greece.
Sentido Thassos Imperial
Sentido Thassos Imperial – As you can notice already, there are more than a few ways to make your Thassos stay memorable. Yet another one is to spend a few nights, or more, in the Sentido Thassos Imperial hotel in Skala Rachoni.
You will find the resort to have direct access to the Pachis beach, one of the most loved attractions in Thassos.
And it could not be otherwise as it carries a reputation of a calm and shallow beach, ideal for kids.
Once you enter your modern and comfortable room, you cannot but notice the majestic balcony with views over the Aegean.
That's a lovely spot to enjoy the sunset or gaze at the beach below.
Although you can find one restaurant below your rooms, you won't be short of choices. Pachis is full of taverns and bars for every taste.
Everything is packed together next to each other along the beachfront.
So, feel free to try each of them during your stay here! You'll love them all!
– Click here for more information and the latest prices.
Mid-range Hotels in Thassos
Ocean Beach Hotel
Ocean Beach Hotel – One of the most popular places to stay in Thassos is Skala Potamia, mainly thanks to its 2-kilometer-long Golden Beach.
There may be many accommodation options you can find, but none is as unique and breathtaking as Ocean Beach Hotel.
We are talking about a cozy hotel with a comfy swimming pool and spectacular views over the bay, beach, and even the olive groves in between. Although not right in front of the beach, the hotel is close enough to walk, but far enough to enjoy peace and quiet during the late hours.
And whenever you feel like finding a place to dine, you are just five minutes walk from the main village center. There, you will find various taverns and restaurants by the water, sitting next to each other.
If there is one activity you will love the most about your stay in the Ocean Blue Hotel would be an evening drink by the pool.
The low-light settings and the romantic vibe of the hotel will make your night!
– Click here for more information and the latest prices.
You might also want to read: Best restaurants in Thassos.
Miramare
Miramare – Another Skala Potamia hotel worth checking out is Miramare. It is about a 3-star classic hotel surrounded by lush vegetation.
Although only a hundred meters from Golden beach, it feels like you are inside a forest, with all the pine trees surrounding the establishment.
Upon entering the hotel, you will notice how shady and cool the place is, especially if you compare it with the temperature on the beach right next door.
The pine trees ensure you will have a refreshing and pleasant night's sleep!
When you wake up, you will love the tasty breakfast, after which you can head right into the pool or, even better, walk to the beach! You can spend an entire day there while leaving all your stuff in your room since it is so close.
Apart from the pool, the hotel also houses a restaurant and a bar with comfy lounges and refreshing cocktails.
And whenever you feel like exercising a bit, head to the on-site fitness gym, play table tennis, or enjoy a fun pool billiard session!
– Click here for more information and the latest prices.
A for Art Hotel
A for Art Hotel – Are you fed up with all the conventional and modern hotels? Are you in the mood for something different? Either way, you are in luck. A for Art Design Hotel is an artistic retreat in the heart of Thassos Town.
You will be staying in stylish rooms with a peculiar, if not interesting, decoration and design.
But hey, that's what it is all about!
The very form of building with its cube-style formation and funny windows is just a hint of what you will see inside.
But you don't even need to enter the Hotel to glimpse its vibe. Its open garden is also a popular little cafe. So, as long as it is not too hot, you can even visit the Hotel to drink a coffee or two.
And the best part? You are right in the center of Limenas.
You couldn't be closer to either the port or the main square! In fact, if you walk around the main market street in Thassos, you will see the hotel sitting right there.
– Click here for more information and the latest prices.
You might also want to read: Unmissable Things to Do in Thassos, Greece.
Value-for-Money Accommodation in Thassos
Studios Plaka
Studios Plaka – If you are looking for a quiet and scenic stay in a hotel-like environment, Studios Plaka may be your best bet. You can choose to stay in anything from an on-the-beach villa, apartments, studios, or modern rooms that will leave you in awe of their beauty.
And we did not even mention the best thing. You will be sleeping in a bed less than three meters from where the waves hit the shore.
It is so close that if you leave the window open, the sound of the sea will relax you, turning your night into an experience you will long remember.
When you wake up, jump straight into the sea for a quick swim before enjoying the a-la-carte breakfast on the property. And the best thing: you can have your breakfast in any of the six different common sitting areas, all enjoying unparalleled views over the Aegean.
Although the nearest village of Skala Kallirachi is 2 kilometers away, you only have to walk seven minutes to reach two of the most renowned fish taverns of Thasos: the Klisma taverns where you can dine on the pebble beach!
And if you want a tip, come here during sunset; you will love it even more!
– Click here for more information and the latest prices.
Anassa Blue Boutique Hotel
Anassa Blue Boutique Hotel – If you are looking for value-for-money high-end accommodation in the capital of Thassos, you are in for a treat.
The options may be many, but some hotels stand out. One of them is Anassa Blue Boutique Hotel right outside the main residential area.
Here, you will have the chance to sleep in elegant and comfortable rooms with private balconies or terraces. The modern pool in the center makes for the hotel's highlight since all rooms surround it from three sides.
One of the many things you will love in Anassa Hotel is its breakfast buffet. Its variety and quality are unprecedented.
It is no wonder we are talking about a 4-star hotel.
Although you will be staying near the heart of Limenas, the neighborhood is exceptionally quiet. So grab that opportunity to spend some peaceful and romantic nights by the pool.
Or just head to the center; it is around the corner, after all.
– Click here for more information and the latest prices.
Reverie
Reverie – This is a beachfront apartment complex in the picturesque village of Limenaria.
Not only will you have an entire apartment of your own, but you will also enjoy direct access to both the sandy beach and the private pool.
There is nothing like waking up with that panoramic view of Limenaria beach right in your footsteps. You can enjoy your breakfast and jump straight into the sea to start your day in the best way.
Apart from the on-site restaurant, the property also features an open-to-all-guests barbecue. So grab that chance and make the perfect picnic next to the beach.
And if you feel like exploring local life, the village market and center is only a five-minute walk.
In Limenaria, you can find anything from traditional taverns to modern bars and places to buy some of the best souvenirs in Thasos!
– Click here for more information and the latest prices.
So here you are. That's ten of the finest hotels and accommodation options in Thassos! No matter your choice, you will have every reason to fall in love with the island. So don't overthink it, and book your next holidays in Thassos! You can thank me later.
Which of the best hotels in Thassos that we brought you here was your favorite?
Let me know in the comments below!
You might also want to read these Thassos travel blogs:
– The Best Areas to Stay in Thassos
– When is the Best Time to Visit Thassos Island, Greece
– Unbeatable Reasons Why Thassos Island Should Be Your Next Destination in Greece!
– The Best Things to Do in Thassos in Winter
– What to Eat in Thassos: The Most Delicious Tastes from the Greek Island!
Pin this Guide to the Best Hotels in Thassos, Greece for your Next Trip to Greece!
Last-minute plans for Greece?
Get there: Use Ferryhopper to book your tickets.
Stay: Find accommodation deals on Booking.com.
Move around: Compare car rental prices with Discover Cars.
Tours: Visit popular places with GetYourGuide.
Read more: Pack the Lonely Planet Guide to Greece.
Written by Dimitrios Tsevremes
Passionate about travel, spirituality, and sports, I have lived in 5 countries and traveled to more places than I have counted. Writing for me is a way to express myself and my creativity. Whether I write for my blog or a freelancing gig, I always fall in love with the process and often lose my sense of time. If you want, you can check out more about me and my work here.
About the author of this blog: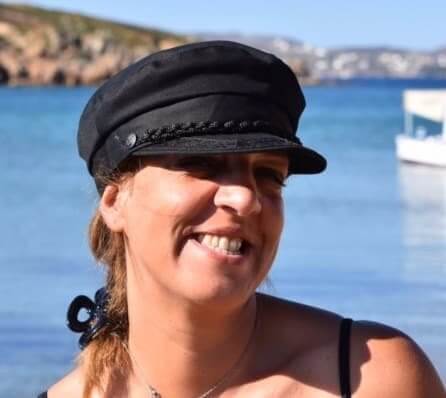 Gabi has been living in Crete for the last five years. On the island, she juggles being a solo mom, hosting culinary tours in summer, translating, and freelance writing.
She's written for Greek Reporter, published several travel guides about Greece, and had more glasses of frappe than any regular person would be able to handle.
COMING TO CRETE SOON?
Get in touch and let me know!