Syros, the beautiful capital island of the Cyclades, is a hidden gem boasting stunning natural beauty, rich history, and immersive cultural experiences.
However, getting to this idyllic island might seem challenging, especially for those traveling from abroad. But don't worry! In this article, you'll find all the various transportation options and other valuable tips on how to get to Syros, Greece.
---
Disclaimer: Posts include affiliate links to products or services. I might earn a commission if you make a purchase.
---
How to Get to Syros, Greece
ARE YOU PLANNING YOUR TRIP TO SYROS LAST MINUTE?
Be sure to book accommodation in Syros ahead of time to ensure availability!
🛌 Top picks for places to stay in Syros:
– Grammata Suites (this is the place where I stayed in Syros. I thoroughly recommend it for its comfort and super convenient location in the heart of Ermoupoli.)
– Ventoura Studios & Apartments (in the center of Galissas with a hot tub, family-friendly, and supper affordable!)
🚗 Looking for the best way to get around Syros? Check rental car rates for Syros now or discover convenient rates at a local car rental company!
💳 Use WISE as a digital card and top-up from the app no matter where you are. Wise is one of the best cards for overseas travel!
Let's begin by checking out some important details you need to know about the island:
General Information about Syros
Syros is also known as the "Queen of the Cyclades" due to its central location within the group and for acting as the region's capital.
While it may not be as well-known as other Cycladic islands like Mykonos and Santorini, Syros is a picturesque place with a unique charm that sets it apart.
Specifically, Syros' diverse history can be seen in the island's impressive mix of Venetian, Neoclassical, and Cycladic architecture… and if you open your eyes, you might even find some Ottoman architecture too!
In fact, its capital, Ermoupoli, is like a living museum with its elegant mansions, churches, and grand squares.
Additionally, Syros is known for its vibrant cultural scene, hosting various festivals, art exhibitions, and theatrical performances throughout the year and showcasing authentic warm Greek hospitality.
Getting to Syros by Ferry
Getting to Syros by ferry is definitely the most convenient and popular way to reach the island.
Generally, Greece is famous for its well-established ferry network. Therefore, it's no wonder that Syros can be easily reached by ferry from several significant Greek ports, including Athens, Mykonos, Santorini, and Crete.
In fact, I traveled from Heraklion to Syros, and the route was pretty straightforward, with stops in Santorini, Ios, Paros, and Mykonos before reaching the final destination. The total traveling time was about 6.5 hours.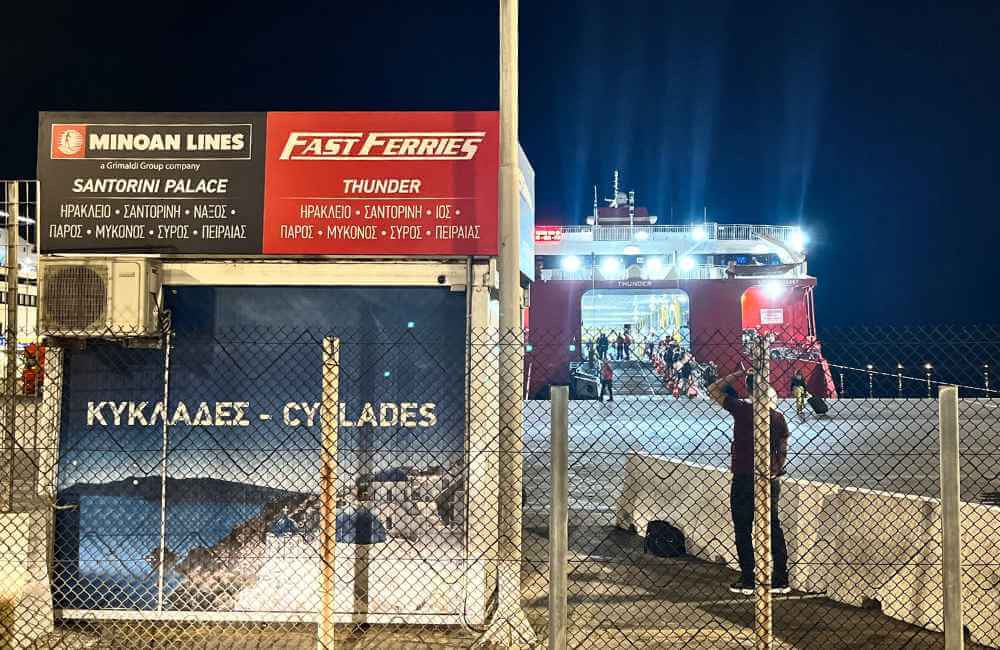 Furthermore, you can choose between regular ferries, high-speed ferries, or catamarans, depending on your preferences and the time of year.
However, booking your ferry tickets in advance, especially during peak travel seasons, is advisable to secure your spot and avoid any last-minute inconveniences.
⛴️ Check out ferry ticket fees and schedules
Getting to Syros by Plane
Syros boasts its own airport, the Dimitrios Vikelas National Airport, at a very short distance from Ermoupoli (less than a 10-minute drive).
However, there are almost no direct international flights to Syros. Therefore, to reach Syros by plane, you must fly to Athens International Airport or other nearby airports such as Mykonos or Santorini. Once there, you can then take a connecting flight to Syros.
But remember always to check the flight schedules in advance because they may vary depending on the season.
Traveling to Syros from Athens
Athens – Syros by Ferry
Various ferry services connect Syros to Athens. But one of the best options is Fast Ferries, which offers comfortable vessels and convenient schedules.
To get to Syros, you must catch the ferry from the port of Piraeus in Athens to Syros.
The duration of the ferry ride with Fast Ferries (another option is Blue Star Ferries) is around 3 to 4 hours, allowing you to relax and enjoy the scenic views of the Aegean Sea along the way.
Furthermore, with spacious seating areas, onboard amenities, and various food and beverage options, you'll indeed have a pleasant travel experience.
As mentioned, book your tickets in advance, especially during peak travel seasons, to avoid inconveniences and miss the chance to visit the stunning Syros Island.
Athens- Syros by Plane
If you prefer to travel by plane, the best option is to fly to Syros via Athens International Airport, Eleftherios Venizelos.
Several domestic airlines operate regular flights from Athens to Syros, with a flight duration of around 30 minutes.
Specifically, domestic airlines such as Olympic Air and Sky Express offer scheduled flights from Athens to Syros Island National Airport.
So, although international flights to Syros may not be available yet, the island's gorgeous beauty and charming ambiance make it worth the extra effort to reach this hidden gem in the Cyclades.
Traveling to Syros from Other Greek Islands
As already implied above, traveling to Syros Island from other Greek islands can easily be achieved thanks to the well-connected ferry network.
Specifically, Syros Island can be directly reached from other Cycladic islands such as Mykonos, Santorini, Paros, and Naxos due to the frequent ferry services operating between these destinations and Syros.
The duration of the ferry ride varies depending on the starting point. But it generally ranges from one to three hours.
For example, ferries from Mykonos to Syros take about one hour, while the journey from Santorini to Syros can take around three hours. If you depart from Crete, the traveling time will be around 6 hours
Other major islands with direct ferry connections to Syros are Ikaria, Tinos, Rhodes, Lesbos, and Kos.
Therefore, with these ferry connections, you can have a fantastic opportunity to explore multiple Greek islands during your trip and enjoy the beauty and charm of the Aegean Sea as you venture towards Syros.
Boat Tours to Syros
If you prefer to visit Syros hassle-free without worrying over logistics and research, you can choose an organized boat tour.
Generally, boat tours offer a unique and immersive experience. Thankfully, several tour companies organize boat excursions allowing you to explore multiple islands in the Cyclades, including Syros.
Usually, these tours depart from popular destinations like Mykonos or Santorini and include stops at various islands to explore beautiful attractions, archaeological sites, and folk villages and swim in the Aegean Sea's azure waters.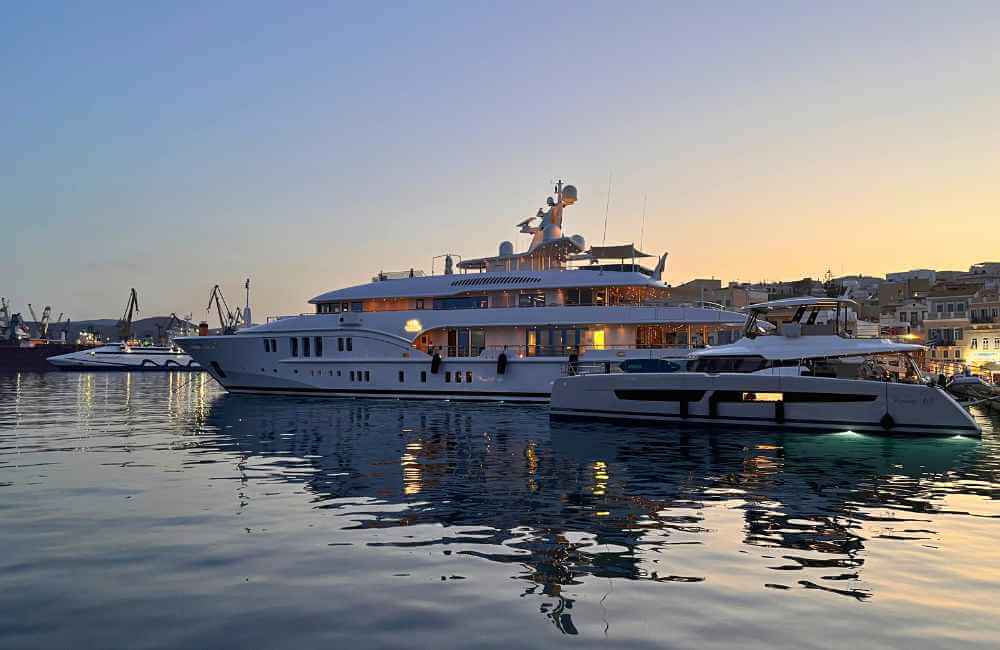 Therefore, a boat tour not only gives you the opportunity to visit Syros but also allows you to marvel at the breathtaking beauty of the Aegean Sea and discover other enchanting islands in the region.
Furthermore, since these tours often come with knowledgeable guides who provide insights into each destination's history, culture, and natural wonders, you can fully immerse in Syros' beauty.
Traveling to Syros from Major Greek Cities
Apart from traveling to Syros Island from other islands, it is also easy to reach the island from major Greek cities.
As already mentioned, you can take a ferry or plane from Athens. But there are also direct ferry links between Syros and mainland cities like Thessaloniki and Kavala.
✈️ Search for cheap flights with CheapOAir.
Additionally, these cities have their own airports, allowing travelers to fly there and then continue their journey to Syros either by ferry or domestic flight.
Therefore, with multiple transportation options available, reaching Syros from major Greek cities is both convenient and exciting, setting the stage for an unforgettable island adventure.
Moving around Syros: Car Rental vs. Bus
Once you have arrived at Syros Island, getting around is relatively easy, thanks to the island's efficient transportation options.
The main town of Ermoupoli is very walkable, meaning you can explore its narrow streets, picturesque squares, and historic landmarks at your own pace.
If you wish to explore other parts of the island, renting a car or a scooter is preferable. Syros has well-maintained roads that connect its various villages, beautiful beaches, and attractions.
I especially enjoyed driving in Syros; the roads are well-maintained, and there's not much traffic.
Driving along the coastal road to visit beaches such as Vari, Achladi, Poseidonia, and Finikas – all on the same day – is easy and enjoyable, and the views from the road are simply spectacular, so I thoroughly recommend this panoramic drive.
Another convenient option is to use the local bus service, which operates frequent routes throughout the island, linking Ermoupoli with other towns and popular destinations like Galissas, Posidonia, and Megas Gialos.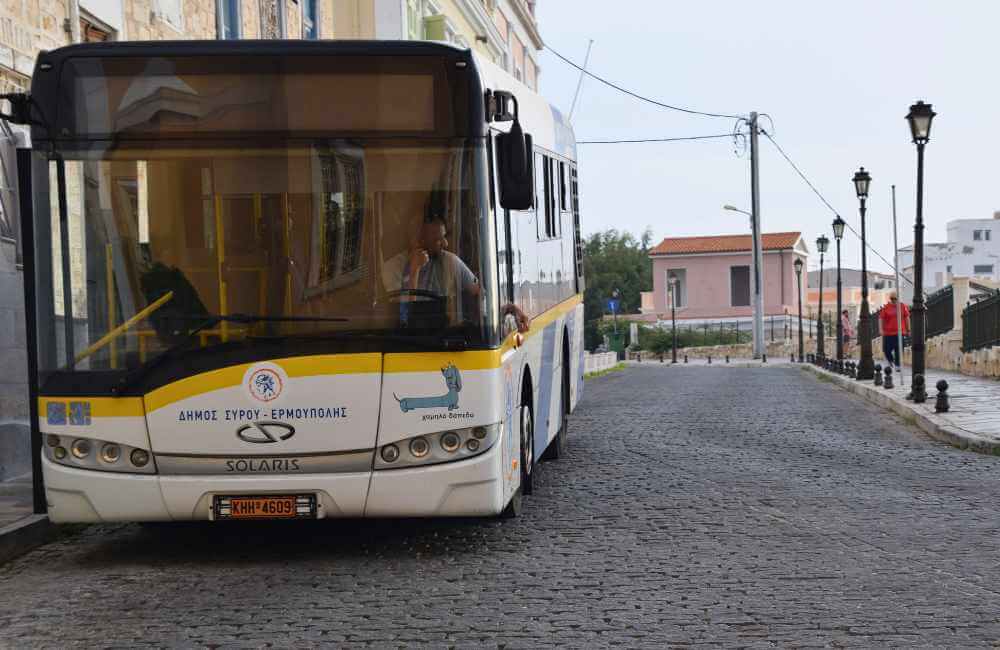 The local bus to move around within the city of Ermoupoli is free of charge and very efficient. Besides, some parts of Ermoupolis are pedestrian-only, while many alleys are steep or feature stairs.
There is also a bus service to reach other towns on the island; for instance, the bus to get to Galissas or Ano Syros from Ermoupoli costs between €1,60 and €2.
Taxis are also another option for those who wish for a comfortable and efficient means of transportation, especially for short distances or when traveling with heavy luggage.
For instance, if you don't feel like driving up to Ano Syros (the road can be pretty steep), a taxi from the port is around €5-€7.
But be sure that no matter which mode of transportation you choose, moving around Syros is convenient and enjoyable, making it easy to fully discover and appreciate all the treasures this beautiful island offers.
Renting a Car in Syros
Renting a car in Syros is probably the most popular and convenient option for exploring the island. That's why several car rental companies in Syros offer various vehicles to suit different preferences and budgets.
Generally, a car provides the freedom and flexibility to create a personalized itinerary and explore at your own pace.
So, renting a car in Syros allows the flexibility to visit the various villages, stunning beaches, and cultural sites scattered across the island.
Furthermore, Syros has a well-maintained road network, making navigating and exploring its hidden gems easy.
Remember that renting a car in Syros requires a valid driver's license and a credit card. Additionally, booking your rental car in advance, especially during the peak travel season, is best to secure the vehicle of your choice.
I often use the car rental services of Discover Cars when moving around the Greek islands; however, this time, I trusted the services of a local car rental company, and I was pleasantly surprised with the modern models they offer and the ease of communication.
However, remember that parking might be an issue, especially during the peak season. If you're staying in Ermoupolis, free parking spots are pretty limited (and paid ones, too, to be honest).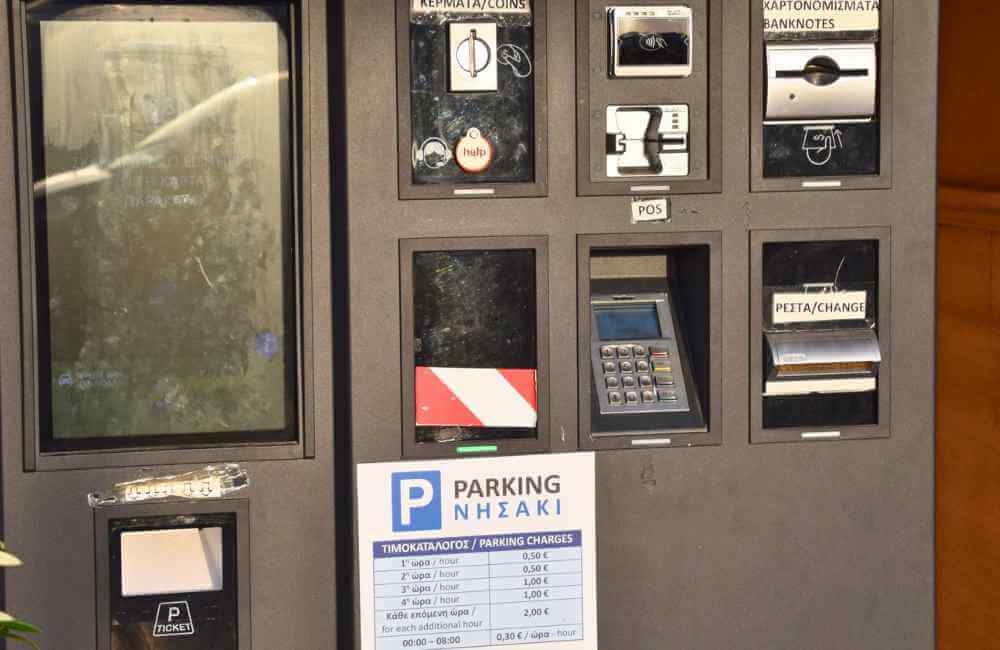 Parking near the port costs about 0,50 per hour, but that number adds up pretty fast if you park in the area for several nights in a row.
Are You Coming to Syros Soon? You Should!
Getting to Syros Island, Greece, is both an exciting and easy journey due to the various transportation options available.
Specifically, you can reach Syros from various Greek destinations, such as Athens or other Greek islands, making Syros convenient and accessible.
Furthermore, the island's rich history, stunning architecture, and vibrant cultural scene offer an authentic and immersive Greek experience.
Its small size, on the other hand, makes it easy to explore in just a couple of days, making it a great port of call for island hopping in Greece.
So, whether you choose to soak up the sun on pristine beaches, delve into the island's fascinating history, or simply enjoy its authentic charm, Syros promises an enchanting and captivating journey.
My Syros experience was kindly sponsored by Syros Municipality. All opinions are my own and remain unbiased.
Read more about Greece
🛌 Suggested Accommodation in Syros:
🗺️ More resources to book your trip to Syros:
Pin it! How to Travel to Syros Island, Greece
About my blog: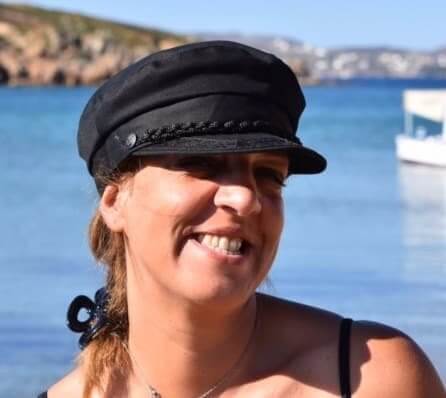 I moved to Crete in 2016. During these years, I learned much about the island.
In Crete, I juggle being a solo mom, hosting culinary tours, and writing for several travel media.
I've written for Greek Reporter, published travel guides about Greece, co-authored DK Eyewitness Top 10 Crete, and had more glasses of frappe than any regular person could ever handle.