Naxos is the biggest of all the Cycladic Islands, and there are a plethora of things to do for a fun holiday. The island receives dozens of visitors during the summer season — between June and September—who mostly reach the island by ferry.
If you're planning to visit Naxos during your next Greek holiday, start by learning how to get to Naxos from Athens or from anywhere else.
---
Disclaimer: Posts include affiliate links to products or services. I might earn a commission if you make a purchase.
---
How to Get to Naxos
General Information About Naxos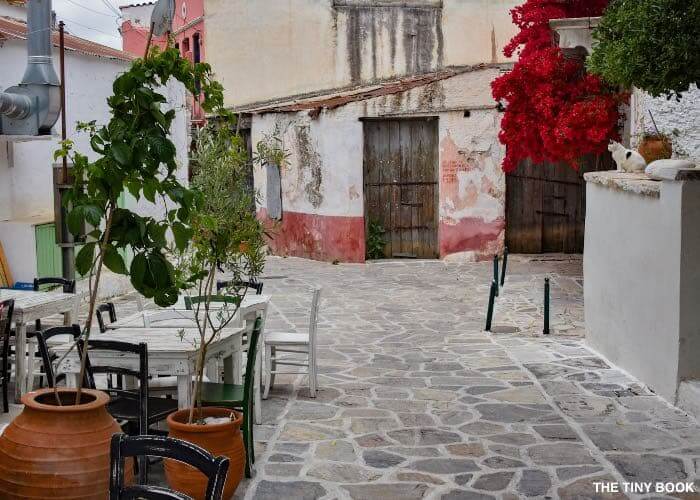 The biggest of the Cyclades, Naxos Island, is located in a somewhat central position in the Aegean Sea.
It can be reached from mainland Greece or from some of the other islands mostly by ferry, although some flights also land at the local airport, especially during the high season.
Naxos is located quite close to the popular island of Paros and just a few miles away from a group of smaller islands known as the Lesser Cyclades or the Small Cyclades.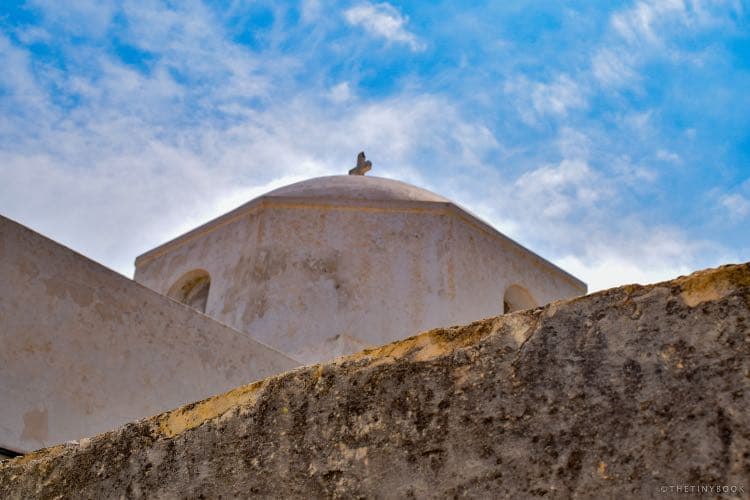 The local landscape is dominated by the green mountains and valleys in the hinterland, as well as by some of the most pristine beaches in the Mediterranean along its coastline.
The highest point in Naxos is Mount Zas, 1004 meters above sea level.
Check this great Naxos itinerary
Best Ways to Reach Naxos Island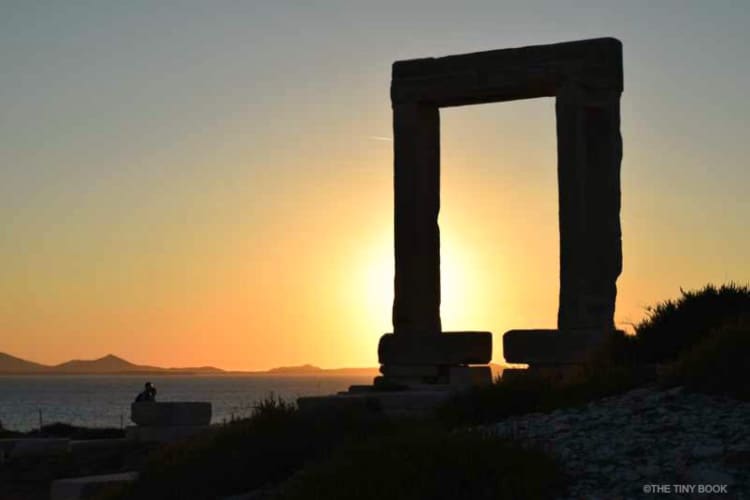 Plane? Ferry? How will you get to Naxos? If you have no idea which is the most efficient way but also want to know which is the most cost-effective solution, read on to learn more…
How to Get to Naxos by Plane
Can you fly to Naxos? Of course, you can! There are regular Olympic Air flights departing from Athens one to three times a day. The flight time from Athens to Naxos is only 45 minutes (honestly, it's usually less).
Naxos Airport is located about 10 minutes from the center of Naxos Town (locally known as Chora). There's a bus that reaches the city from the airport, the ride is about €12 (including the luggage).
A taxi from the airport to the center of town is about the same price.
If you rent a car (which is the best way to move around on such a big island), you can arrange with the rental company to have your car delivered to the airport upon arrival.
When we visited Naxos, we had a great experience with a local rental company, but we got in touch with them through a car rental search engine.
Getting to Naxos by Ferry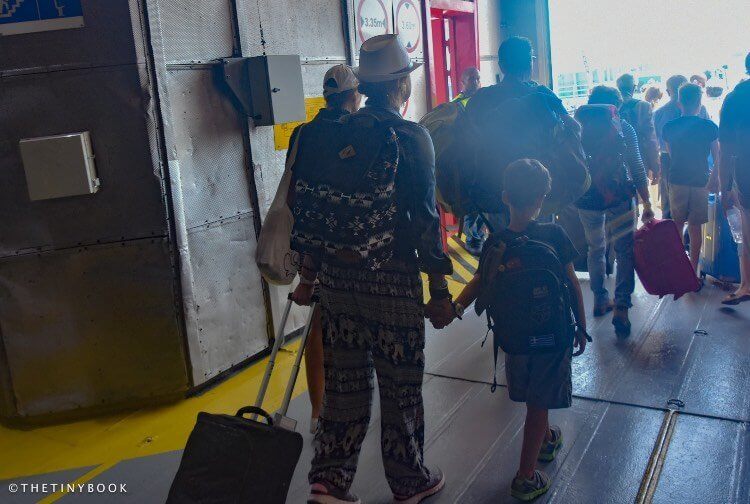 Naxos Port is located right opposite the old town. The famous Portara is one of the first things you will see when you dock.
⛴️ Check out ferry ticket fees and schedules
How to Get to Naxos from Athens
There are up to five daily ferries departing every day from the Port of Piraeus, this trip can last from 4 to 6 hours, depending on the type of ferry (high speed or regular) you choose.
There are also ferries departing from the Port of Rafina, up to four daily departures, with a travel time that ranges from 3 to 5 hours.
Weekly ferry services depart from the Port of Lavrio and it reaches Naxos via the islands of Kea and Kythnos.
Especially during the high season, it's always better to book your ticket in advance. I personally use Direct Ferries to find the most convenient tickets and fees in Greece.
Going From Naxos to Other Greek Islands
Quite close to a ferry hub in the Aegean Sea for departures, many ferry lines include Naxos in their routes, allowing travelers to reach several other destinations in the Aegean and in other islands.
There are ferry connections between Naxos to the following islands:
Crete – Naxos
There are 4-5 ferries that cover the route Naxos-Heraklion (the capital of Crete). In summer, two weekly ferries connect Naxos to the city of Rethymnon.
There's also a daily ferry from Chania to the main Cyclades in the high season.
Santorini – Naxos
There are daily ferries (up to 6 per day in summer) to reach the island of Santorini, so it can be a good idea to visit from Naxos or to plan a 1-day itinerary in Naxos if you're spending your holiday in Santorini.
Mykonos – Naxos
There are 2-5 daily ferries connecting Naxos to Mykonos. The trip can last between 1 and 3 hours, depending on the kind of ferry you choose, fast or regular.
Paros – Naxos
Two to three ferries cover the short route between these two islands.
The sailing time is less than an hour. Planning a day trip to Paros or to Antiparos can be a winning idea for those spending their holidays in Naxos.
Amorgos – Naxos
Amorgos is located quite close to Naxos when compared to other islands. There are ferries directed to the two main ports in Amorgos.
Three weekly services cover the route Naxos – Amorgos Aegiali, while there's a daily ferry that connects Naxos to the port of Katapola.
Ferry Routes from Naxos to Other Greek Islands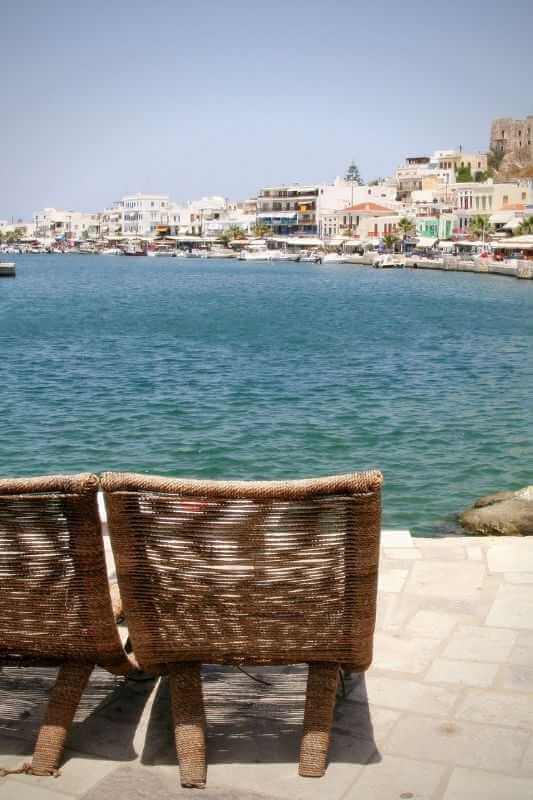 Anafi: 1 ferry a week
Astypaleia: 1-3 weekly ferries
Folegandros: 1-2 daily ferries, the sailing time is 3.5 hours
Kalymnos: 1 ferry per week
Milos: 2-4 ferries per week
Serifos: 1 weekly connection
Sifnos: 1-3 weekly connections
Ios: 1 daily ferry connection
Rhodes: 1 weekly ferry
⛴️ Check out ferry ticket fees and schedules
Finally, you can also reach the Small Cyclades with this ferry schedule:
Ano Koufonisi: 1-2 daily boats, two and a half hours sailing time.
Donoussa: 3-5 daily boats, with a sailing time of a bit more than 60 minutes long.
Iraklia: 1-2 daily boats, one and a half hours sailing time.
Skinoussa: 1-2 daily connections, 2-hour sailing time.
Curious about the past? Check Naxos's Archeological Sites
Moving Around in Naxos
The bust station is located opposite the main dock of Naxos's harbor. Schedules can be requested at the ticket office and it's a good idea to get one upon arrival as the schedule is subject to constant change.
With the public bus, it's possible to reach the villages of Apollonas, on the northern coast of the island, Apeiranthos, Halki, Filoti, and Kastraki.
To reach Apollonas by bus you can choose the coastal (and breathtaking panoramic road (2 hours), or the faster, less panoramic ride that only takes one hour.
There are buses to get to the beaches of Agios Prokopios, Agia Anna, and Plaka (in summer there are at least 10 daily buses to these beaches from Chora).
Moving Around with Your Vehicle
Renting a car or a motorcycle can be a great idea on such a big island. You'll be able to forget everything about timetables and rigid schedules and enjoy Naxos at your own pace.
Here you can compare car rental fees.
It's a great idea to hire a motorcycle if you plan to stay in the coastal area. However, this might not be the best or more comfortable way to explore the mountains.
If you prefer, you can also ride a taxi. Prices are more affordable than on other popular islands. To hire a taxi in Naxos, dial 22850 22444.
Now that you know how to get to Naxos, when are you heading there?
🛌 Suggested Accommodation in Naxos
📍 Top-rated tours in Naxos
Before You Leave, Pin This Guide to Easy Ways to Travel to Naxos without Going Crazy!
About my blog: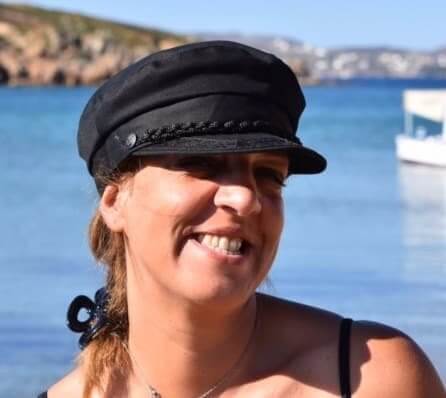 I moved to Crete in 2016. During these years, I learned much about the island.
In Crete, I juggle being a solo mom, hosting culinary tours, and writing for several travel blogs.
I've written for Greek Reporter, published travel guides about Greece, and had more glasses of frappe than any regular person could ever handle.
---
You might also want to read:
---