Paros is one of the most popular islands in the Cyclades and is the fourth largest in this popular island group. And of course, there are plenty of things to do in Paros with kids as the island is truly an ideal family destination.
Paros is the perfect place for the family to relax with clear blue skies and fresh clear air, enjoying beautiful coasts, some of them very safe and perfect for small children. 
It's also home to a fantastic nightlife scenario, ideal for families with older teens.
---
Disclaimer: Posts include affiliate links to products or services. I might earn a commission if you make a purchase at no extra cost.
---
Best Things to Do in Paros with Kids
Family Holidays in Paros: General Details About the Island
Located in a central position in the Aegean Sea, Paros is the fourth Cycladic island.
It can be easily defined as an ideal destination in Greece for families for different reasons, but mainly because it's more affordable than other islands still maintaining that unique Cycladic flair that you've probably seen in so many pictures.
Besides, the island offers beautiful beaches, interesting museums, archaeological sites, a wide choice of outdoor activities, and some of the most delicious dishes in Greek gastronomy.
In the main town of Parikia and the smaller villages, especially Naoussa (next to the sea) and Lefkes (in the mountains), there are picturesque narrow alleys with white stone walls reflecting the sunlight and bright blue doors and windows in typical Cycladic style.
The traditional Greek tavernas warmly welcome families and will invite you to taste the simplest but most delicious Mediterranean dishes that you will love and never forget.
Paros is an ideal place to visit for a family vacation, as it is kid-friendly and has great activities for children of all ages including more unusual ones such as stargazing and cookery lessons. Getting around the island is easy and fun using the local bus service.
Getting to Paros from Athens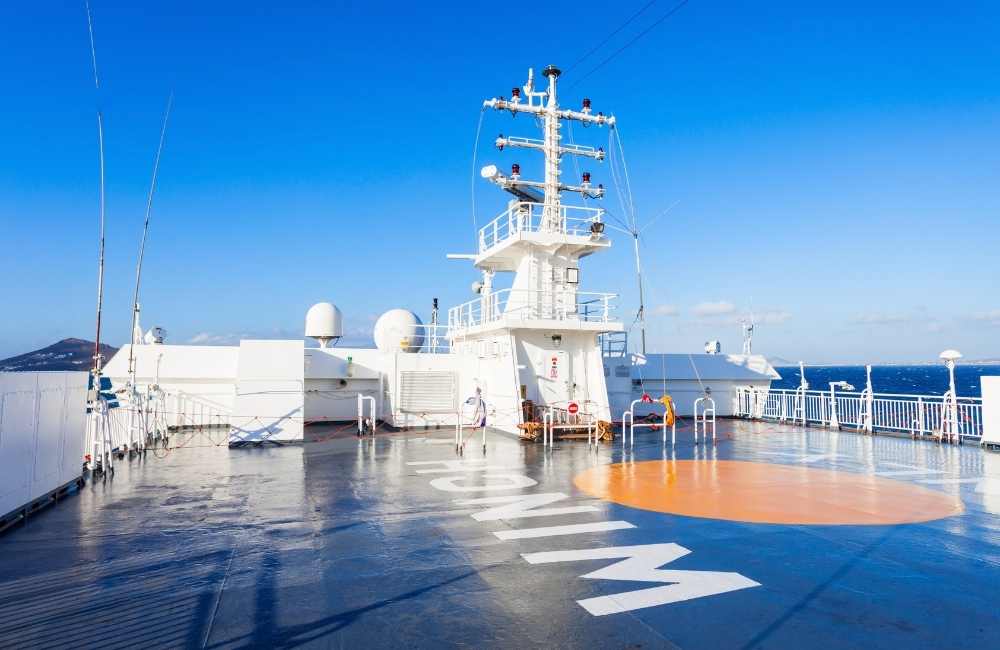 Since Paros is one of the most popular and important of the Cycladic islands, it's very easy to get to Paros from Athens, you can do it either by traveling by sea or by plane.
Getting to Paros with the ferry: Most ferries depart from the Port of Piraeus, but it is also possible to depart from the Port of Rafina, which is located quite close to Athens International Airport.
It takes from 3 to 5 hours to reach Paros from Athens depending on the vessel of choice, for instance, if you choose to travel with an Athens-Paros high-speed ferry the journey will only last 3 hours.
It is also possible to travel from Crete to Paros and from the islands of the Dodecanese, such as Rhodes. Among the ferry companies you can check are Blue Star Ferries, Hellenic Seaways, Sea Jets, and Golden Star Ferries.
⛴️  Check out ferry ticket fees and schedules
Getting to Paros by plane: The local airport is near the capital, the flying time from Athens is about 40 minutes, and the companies that travel to Paros are Olympic Air (sometimes operated by Aegean Airlines), Sky Express (a Cretan company), and Astra Airlines.
✈️ Search for cheap flights with CheapOAir.
Here we bring you fun family activities to enjoy in Paros!
Exploring Paros with Kids: Villages, Hikes, and Museums
Parikia is the main town and harbor on the island and has a string of tavernas along its waterfront and narrow alleyways with white-washed houses to explore.
Naoussa is another very picturesque village, it's situated about 15 minutes bus ride from the capital and is still a working fishing harbor.
Piso Livadi is a pretty fishing village and is the ideal place to visit if you enjoy seafood.
Island museums include the Sculpture Museum, the Archaeological Museum, the Byzantine Museum, and the Folklore Museum.
There are churches to visit including Ekantotapiliani Church – the name means the church of 100 doors – and the Venetian Castle, for a breathtaking view over Parikia.
On the northern part of the island, you can enjoy the Environmental and Cultural Park of Paros, which has a network of walking paths.
There are caves to visit too with Archilochos being the most important of them.
Both Paros and Antiparos have numerous hiking routes to enjoy including the valley and village of Lefkes, the Ancient Marble Quarries, and the Valley of the Butterflies.
Family-Friendly Beaches in Paros
One of the most popular features of the Cycladic islands is the crystal-clear waters and Paros has this and gorgeous sandy beaches too.
The beaches in Paros are unique, and – of course – going to the beach is one of the most popular things to do in Paros with kids.
Home to a flat landscape, the island has quiet and secluded beaches with calm, crystal-clear waters that are perfect for young children. However, many other beaches are ideal for older children or to practice water sports.
The most child-friendly beaches are located on the south side of the island and include Kolymbithres Beach, Faragas Beach, and Marcello Beach.
Kolymbithres is the island's best-known beach as it is surrounded by huge sand-smoothed boulders and has shallow and crystal clear water the beach of Monastiri is equally good and is situated at the other end of the same bay.
Marcello in Parikia is known for its smooth golden sand and calm waters. The water is shallow for a long way out making it ideal for small children and inexperienced swimmers.
Lolantonis Beach is situated just south of the village of Drios on the island's south coast and is particularly nice as it has clear turquoise waters and plenty of shade.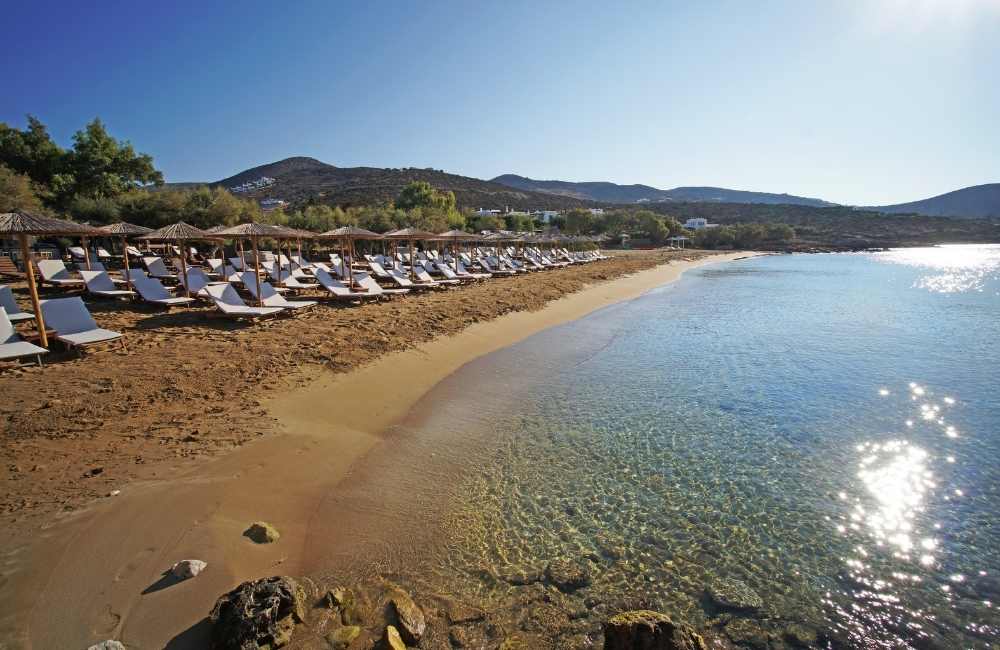 Ampelas is another beach that's great for young children because it has calm waters every day and there are a couple of tavernas right on the beach serving simple but delicious Greek food that kids love!
Watery Fun at Paros' Water Rark!
Aqua Paros Water Park is located near Naoussa, near both Monastiri Beach and Kolymbithres, and is one of the largest water parks in Greece.
The park is inside the premises of a hotel, and it has its private beach, pool with sea water that gets auto-recycled, 13 water slides of all shapes and sizes, and many other fun activities including a lazy river.
The on-site amenities include a bar, a self-service restaurant, sunbeds, umbrellas, changing rooms, a medical center, and more. There are also places for resting and for buying snacks as well as souvenirs.
Getting to the park: You can reach the park from the port of Naoussa by boat and by bus from Parikia. Prices to access the park, including water slides, range from €4 to €10. You can find more details on this page.
Enjoy Paros on Horseback… Something Original to Do in Paros with Children!
This is the perfect family activity if you have older children. There are a couple of centers on the island.
Kokou Horse Riding Center in Naoussa offers morning and afternoon hacks. The morning hack is 2.5 hours and includes riding along a couple of beaches and the afternoon one is about 1.5 hours.
Thanassis' Farm is also in Naussa and it offers a variety of riding options including lessons and hacks in the local vicinity.
Have a Go at Tennis
This idea is fun! There are mini-courses available at Paros Tennis Club in Agia Irini. They offer courses for young children aged 4-6 to learn the basics of tennis through fun games.
For older children, there are courses with up to six children participating. In this link, you will find all the activities that the club organizes in Paros (and other Greek destinations).
Take a Boat Trip to Other Greek Islands Nearby
There are several different boat excursions that visit the neighboring islands of Antiparos (a 15-minute trip) and Naxos and these are fun to do as there is the opportunity to enjoy time on beaches that are only accessible by boat.
Another option is to enjoy a boat trip to some of the small Cyclades. You can easily visit the islands of Iraklia and Schinoussa with a group boat trip or discover Koufonisia, another small Cycladic island with truly dreamy landscapes and picture-perfect landscapes.
If this is something that you're interested in, it's a good idea to join a Koufonisia tour that also includes lunch and extra activities during the day.
Let Kids Learn About Birds in Paros
Alkioni Aegean Wildlife Hospital in Paros is located in Kamares and it's the only wild bird hospital on the island. The place is responsible for rehabilitating all the wild birds and other animals that need help all over Greece.
The hospital also provides shelter to animals victims of illegal hunting, illnesses, and accidents.
During a visit to Alkioni, the children will learn many things about nature and animals and also about the value of volunteering. Visit this website for details.
Create Your Pottery
Paros has two excellent pottery studios that you can book to visit.
The first is Yria in Parikia, run by artist Stelios Gikas. The other one is the Atelier Noe in the village of Aspro Chorio.
A visit to any of these two ceramic and pottery shops will let kids learn how to create their own pieces of pottery.
Fur further fun, at Atelier Noe, you can paint your handwork and return to collect it a few days later.
Go Stargazing, One of the Top Things to Do in Paros with Kids!
You can enjoy an amazing night of stargazing either on a hill near the harbor at Parikia (or also on Antiparos Island).
These evenings are really interesting as you learn the history of astronomy, about the constellations, and hear many amazing astronomical facts often related to Greek mythology, something that kids usually love.
Children will also learn how to use a Newtonian reflector telescope turning the whole experience into one of the most fascinating things to do in Paros.
All in all, the experience will prove to be great fun and perfect for amateurs of all ages. Check their Facebook page for further details.
And a Few Things to Do in Paros with Teens…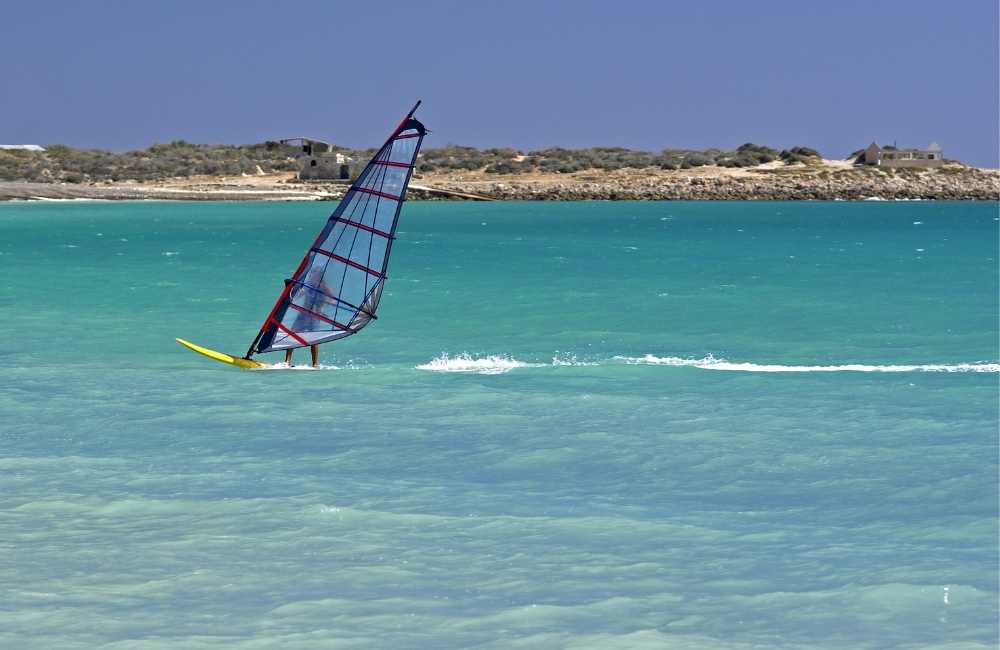 Part of the fun of a holiday in Paros is enjoying great water sports.
Paros is particularly well known for windsurfing and attracts many keen windsurfers each year and holds an important windsurfing race every August. Among the most popular windsurfing clubs and centers in Paros are:
Paros Windsurf Club (New Golden Beach) – Website.
Force 7 Windsurfing (Golden Beach) – Website.
Paros Blue Dolphin (New Golden Beach) – Website.
The beach of Chrysi Akti (or Golden Beach), is well known for its beautiful golden-colored sand.
This beach is usually windy with good waves (so it is not the ideal beach for small children but is a good choice if you have older children that are keen on sports, they will love it.
There are stand-up paddle boards (SUP), wakeboards, windsurfers, and kayaks for rent.
If your children are interested in sailing, check out the Nautical Group of Paros situated in Livadia, Parikia.
There are experienced instructors who will teach your teenager how to sail and the first lesson starts with all the important safety rules. For younger children, swimming lessons are available. Check more details here.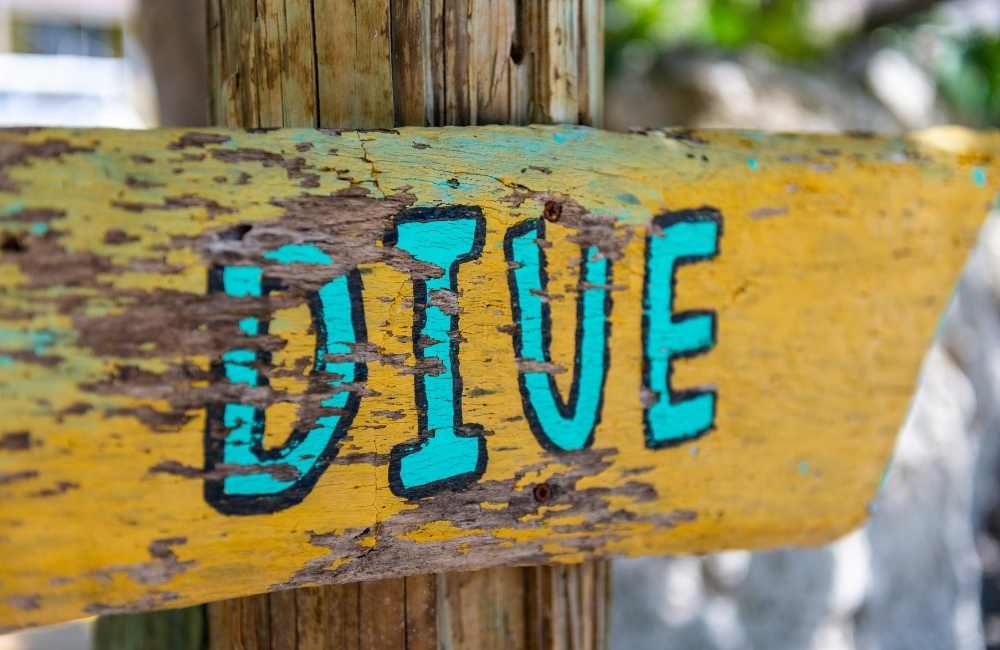 If your teenager prefers learning to dive, there is the opportunity on the island to learn and plenty to see under the waves with corals and colorful fish.
Kayaking is another fun option and instruction is available, Sea Kayak Paros is one of the best-rated places offering single and multi-day trips and kayak packages.
Diving in Paros: Check these diving schools and diving centers for diving opportunities in Paros…
Paros Diving Center (Golden Beach) – Website.
X-ta-sea Divers (Santa Maria Beach) – Website.
Cycladic Diving (Aliki Beach) – Website.
Prodives Paros (Santa Maia Beach) – Website.
Paros Divers (Golden Beach) – Website.
There are diving schools and centers also in Pounda, Molos Beach (also kitesurfing), and Livadia.
Paros is certainly a fun family destination as it is large enough to offer plenty of different activities and small enough to be able to explore comfortably.
Useful Resources to Spend a Great Time in Paros with the Family
These are some of the top family-friendly tours that Paros has to offer:
# Santorini Full-Day Boat Trip From Paros: Add one more Greek island to your itinerary spending a whole day visiting Santorini island with an affordable tour like this one.
Check out the tour and book it here.
# Delos and Mykonos Full-Day Boat Trip departing from Paros: Enjoy a 1-day cruise that combines Delos, one of the most significant archaeological sights in Greece, and Mykonos, one of the most famous and cosmopolitan islands in the world.
Check out the tour and book it here.
Where to Stay in Paros with Kids: Top Family Hotels in Paros
Best Paros budget hotel for families
Dahlia Apartments And Studios
3 Stars
Location: Aliki, only 400 meters from Agios Nikolaos Beach and about 9 km from Golden Beach.
This is a well-rated property in Paros offering family rooms at very affordable prices. Among the amenities that the whole family can enjoy, there's free WiFi, BBQ facilities, a seasonal outdoor swimming pool, and free private parking.
The hotel is well-known for serving a superb homemade breakfast with plenty of options for the whole family. The rooms are fitted with air conditioning and a convenient fully equipped kitchenette with coffee and tea maker. Some units have a patio or a balcony with pool views.
For families: Cots are available for free upon request while extra beds for children are also available at an affordable fee.
Best family-friendly rental home in Paros
S & K Maisonettes
4 Stars
Location: Pounda, although this is not a central location, it is quite convenient to visit the island of Antiparos. Renting a car is a must if you plan to stay here and also want to visit Paroikia (located about 5 km from the home) or Naoussa daily. Otherwise, consider that taking the bus will be necessary.
This is the perfect place to stay in Paros with the family if you want a quiet place. Located about 10 minutes from the beach in the village of Pounda, the property features a refreshing Cycladic style.
This is a split-level villa opening to a furnished balcony and patio enjoying Antiparos views, it is surrounded by greenery and offers simple but tasteful living spaces, including a cozy fireplace area, WiFi in all areas, a flat-screen, satellite TV with CD/DVD player. The kitchen is perfect to accommodate a family, featuring also a microwave and a comfortable dining table.
Kids will love biking since the property offers bikes free of charge. Besides, the house is a stone's throw from Pounda Beach and its kite-surfing center. The butterfly park is only minutes from the maisonettes.
For the whole family: The bus station providing links to the rest of Paros lies within 600 meters of the property. Free private parking is provided too.
Best Paros luxury resort for families
Archipelagos Resort Hotel & Villas
5 Stars
Location: Just outside the capital, close to the sea, and not far from the port of Parikia and the local airport.
This fantastic 5-star resort with top ratings when it comes to services and accommodation for families visiting Paros offers a magnificent view of the Aegean Sea. On the premises, there is an outdoor swimming pool with deck chairs while moms taking a holiday from everyday cooking and routine will certainly enjoy the on-site gourmet restaurant serving Mediterranean and Greek dishes. A lighter fare is also available at the pool bar.
In the property, you can book family rooms, all of them furnished with minimal Cycladic style and most of them featuring a beautiful sea-view balcony. Among the convenient features in each room, guests will find air conditioning, satellite TV, free Wi-Fi, and a kitchenette with a minibar.
Older kids will like the place because there is also a tennis court, as well as a 3-in-one court for basketball, and for volleyball.
For parents: The resort also offers a mini gym with a sauna room and hot tub.
Traveling to other Greek destinations? Discover the Best Family Beaches in Greece for an Unforgettable Vacation!
Would you like to visit Paros with your kids this summer?
🛌 Suggested Accommodation in Paros:
Pin this Guide to the Best Things You Can Do in Paros with the Family for a Unique Vacation in Greece!
---
You might also want to read these posts about Crete's regions:
---
About my blog: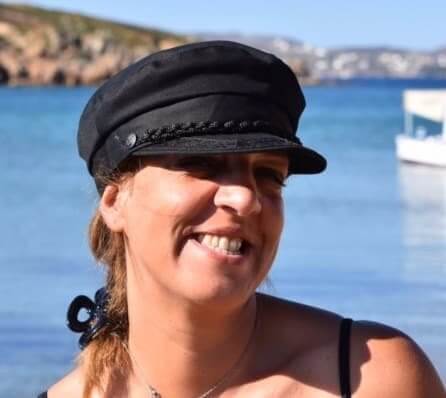 I moved to Crete in 2016. During these years, I learned much about the island.
In Crete, I juggle being a solo mom, hosting culinary tours, and writing for several travel blogs.
I've written for Greek Reporter, published travel guides about Greece, and had more glasses of frappe than any regular person could ever handle.