Some claim it might be the next Santorini, others pray for it to remain the same. The truth is that the Greek island of Paros has become a popular summer destination attracting thousands of visitors each year. With dozens of entertaining things to do, Paros can be an unforgettable place for a vacation. If you're one of those who prefer the cozy atmosphere of a home, why not check this article to discover some of the best rental homes in Paros?
---
Disclaimer: Posts include affiliate links to products or services. I might earn a commission if you make a purchase, at no extra cost.
---
Last-minute plans for Greece?
Get there: Use Ferryhopper to book your tickets.
Stay: Find accommodation deals on Booking.com.
Move around: Compare car rental prices with Discover Cars.
Tours: Visit popular places with GetYourGuide.
Read more: Pack the Lonely Planet Guide to Greece.
Where to stay in Paros: If you don't have time to read this whole list, check the beautiful seaside pool at Pyrgaki Hotel.
Top-rated tours in Paros:
Full-Day Sailing Cruise in the Small Cyclades
Koufonisia Islands Full-Day Boat Trip
Santorini Full-Day Boat Trip From Paros
Super Convenient Holiday Homes in Paros to Check Before Your Trip
Cycladic landscapes, picturesque cobblestone alleys, heavenly shores, and fun nightlife, Paros is a great place for a summer holiday.
The Greek Island of Paros has gained more and more visitors during the last years, with unique attractions and an important offer of hotels, resorts, and studios for holidaymakers. In recent times, lots of beautiful and convenient holiday homes have been added to the list.
There is a lot to see and do in Paros. Starting from the buzzing capital, Paroikia, and moving along the island to visit the famous fishing village of Naousa, the beaches of Santa Maria or the bizarre rocks in Kolymbithres, and the traditional mountain settlements.
Are you island-hopping in Greece soon and want to cut costs to add more islands to your itinerary? Then this guide will be super useful. Read on and discover the best vacation homes in Paros to enjoy a fantastic time in Greece.
Planning a trip to Paros?
>>Check what to do on the island<<
Where to Stay in Paros, Greece
These are some of the places I recommend you to check when looking for a vacation home in Paros…
Cycladic House Naoussa
Why you should stay: To experience the thrill of having a Cycladic house all for yourself!
This property is a little Cycladic gem in Naoussa. The house is in a very relaxing place, quiet and tranquil, ideal for a holiday off the beaten track. Still, the place is not far from the center of the village and every point of the island is easy to reach from the area.
The property is modern, fully equipped, very well maintained, and great for 2 couples, a group of friends, or a small family, featuring 2 bedrooms, a comfy living room, and a practical kitchen.
Nautilus Apartment Suites
Why you should stay: Enjoy the spectacular sunsets of Greece from the beautiful garden in this apartment with an authentic Cycladic style.
Nautilus Apartments Suites in Paroikia feature beautiful surrounding gardens, a private terrace, and air-conditioned accommodation.
The suites also have a patio, a dining area, a well-fitted kitchen with a microwave, a kettle, and a coffee machine. As a plus, guests can rent bikes and cars at the property.
The place is close to important landmarks, including the Archaeological Museum of Paros.
This is one of the Vacation Homes in Paros with the best views you can find!
Michael Zeppos Studios
Why you should stay: Because… how many chances do you have to live in a real Cycladic home?
The newly-built studios boast a fantastic design, in a very convenient spot, not more than a 5-minute walk from the center of Naoussa.
If you're touring Paros by car, you'll love to know that you can also use their private parking. The house offers ample terraces with wonderful panoramic views of the sea, in a very quiet neighborhood.
Houses are perfect for a couple while there is a sofa bed for a third guest too. There's also a patio, a desk, a living room, and a kitchen with every comfort you need. All units have a comfy sitting space and dining area.
Most reviews praise the hospitality of the host who might even welcome you at the port of Paros, take you home, and give you valuable information about the island!
CHECK AVAILABILITY AND BOOK HERE
Villa Adriana, Paroikia
Why you should stay: For its comfortable features and ample spaces, and because it offers a great chance to enjoy the typical Cycladic atmosphere of the island.
Located just meters from the port of Paroikia, Villa Adriana is a fantastic home rental you can rent for your next holidays in Greece. Its position allows you to reach the main places in the capital of the island in just minutes!
Experience the thrill of staying in a traditional stone building dating from the 18th century and completely renovated. The places is in the heart of the Castle area, next to the old market of Paroikia.
Among the main features, the home features a spacious room with a double bed and a single bed, as well as a kitchen and a bathroom in Cycladic style. There is also a shared courtyard for the guests to enjoy.
CHECK AVAILABILITY AND BOOK HERE
Angels Villas Deluxe Concept Houses
Why you should stay: Just check what a pretty, intimate, and elegant place to enjoy a quiet holiday in Paros.
Guests' reviews are top for this unique complex of luxurious villas in Agellocheretisti about 1 km from Naoussa, the praise the hosts for being helpful, flexible, and very accommodating, which is priceless when having a vacation abroad!
The beautiful villas in authentic Cycladic style with pretty interiors offer a romantic setting, ideal for a couple. The villas offer even the possibility to serve you breakfast so you don't really need to worry about a thing,
Amenities included top brand toiletries, slippers, and dressing gowns, as a plus, a maid service will take of changing linen and cleaning the villas. The property features a lovely pool, big gardens, and stunning sea views (the sea is only 150 meters away!).
There are 6 deluxe villas, amphitheatrically built in front of the swimming pool. Each of these 2-story villas has a 60-square-meter veranda and a hot tub. There are 2 bedrooms and a comfortable living area, as well as a spacious kitchen and modern dining area.
The villas offer free luggage storage, while car rental and babysitting services can be provided on request at an extra charge.
Sleeps: depending on the villa, from 2 up to 7 guests.
CHECK AVAILABILITY AND BOOK HERE
Traveling to Greece soon?
>>Discover how to get to Paros<<
Cozy House Next to the Sea in Paros
Why you should stay: To discover what it feels like to stay in a top rated Airbnb, with outstanding reviews.
This super spacious house has a perfect location in the town of Parikia, only minutes away from the beach (just 40 meters!). Cozy House is ideal for families, couples, or groups of friends.
Recently renovated, the place is roomy, features air-conditioned rooms, and brand new, high-quality mattresses for total relaxation. Want more details? There are two bedrooms, 2 bathrooms, 3 balconies, a kitchen, and a living room with a comfortable sofa-bed for two. Τhe house is on the first floor.
Cozy House by the Sea is one of my favorite holiday homes in Paros…
The Hot Pink Bike House
Why you should stay: To live the thrill of this original place in the heart of the old alleys of Paros' main town.
Gracious, modern, and fun, this little house close to the alleys of the old market of Paroikia can be a great place for a couple of friends looking to have real fun as well as to save some money! As its name states, the Hot Pink Bike stands right next to the door of this tiny house so you won't be able to miss it.
The house is small and quiet, and following the old traditions on the islands, the bathroom is located in the private yard of the house. On the other hand, the kitchen is big for the whole family to enjoy their meals together.
Located only 100 meters from the port, right in the old market street, in the city center of Paroikia. The Hot Pink Bike House is close to restaurants, amazing coffee shops, night clubs, shops, buses, taxis, beaches, and the best attractions in Paros.
Amazing Seaview Villa
Why you should stay: Because the views are priceless and the whole villa is an ode to comfort.
Check this private villa with panoramic views of the sea and sunset and the town of Parikia. Surrounded by gardens and terraces, enjoy the lovely porch with a lounge with spectacular views thanks to its position on a hill just a kilometer from the center of Paroikia.
The villa is usually offered at reasonable rates and it features an amazing view of the town and the Aegean sea.
The villa is set in a large garden and all outdoor amenities you need, including a built-in barbecue, oven, fridge & sink, and dining table so you can prepare your meals with ease and enjoy your meals looking out to the sea and the sunset.
As you enter the villa, there is a lounge area with huge windows so you can enjoy the panoramic view when inside. Also a fireplace, a comfortable dining area, and a working space.
The kitchen is fully equipped with many extras, there are two big bedrooms and a fantastic bathroom.
Sleeps: up to 4 guests.
Baby cot & baby chair available.
Saint John Residence
Why you should stay: To enjoy the spectacular swimming pool and the unique views of the Aegean.
The residence is in Parikia, 1.9 km from Parasporos and less than 1 km from the Archaeological Museum of Paros. This spectacular villa features 3 bedrooms, a gorgeous swimming pool, and a patio.
The kitchen is well-equipped, featuring a dishwasher and a microwave. There's also a cozy seating area and 3 bathrooms.
Charming Studio in Paroikia
Why you should stay: Because the place is in an excellent position, it's convenient, smartly decorated, ideal for a vacation on the island.
This charming studio is close to the main port of Paros. It features a room with a sleeping area, including a King Size bed (or even 2 single beds upon request). There's a small but comfortable kitchen, and a pleasant balcony to enjoy your breakfast in the morning.
The place is nestled at the end of a dead end street, in a quiet area filled with those spectacular bougainvilleas so typical of the Greek islands, surrounded by the true atmosphere of a Greek vacation. The studio is in a renovated Cycladic house with a private entrance.
CHECK AVAILABILITY AND BOOK HERE
These are just some of the many rental homes you can find in Paros to spend your dreamy vacation in the Greek islands, if you'd like to see more, check this link.
---
Traveling to Paros? Where would you like to stay?
Let me know in the comments below!
---
Travel Plans for Greece?
More Resources to Organize Your Trip!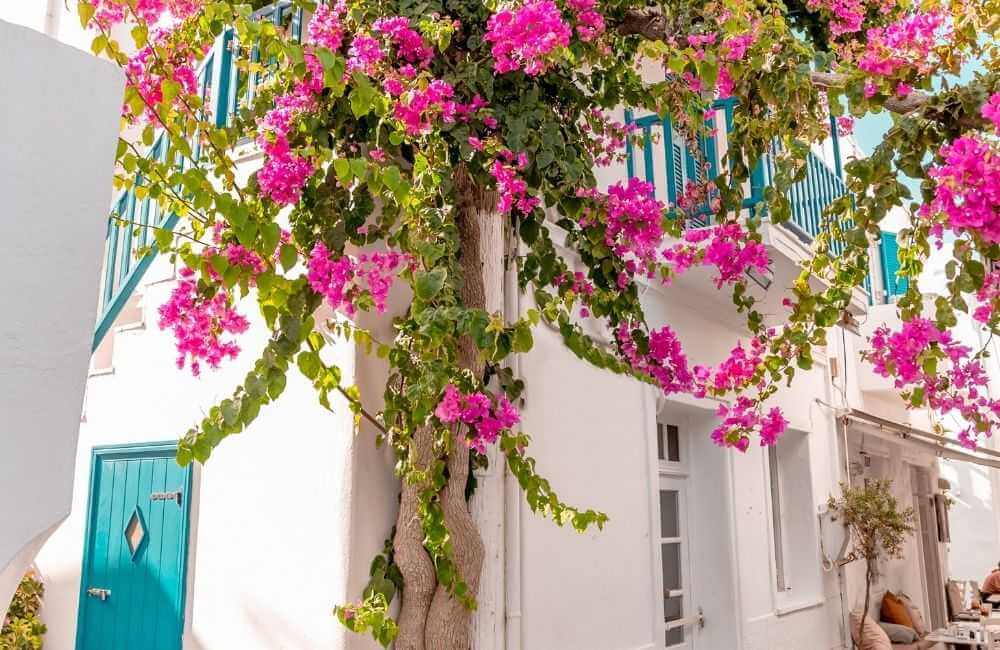 Start by heading right to my Greece travel guide for in-depth details you need to know about Greece. You can also check my post to plan a trip to Greece with children!
Get in touch if you need extra help to plan your trip. If you want to tour West Crete, check my guide. Want more? Join my Private Facebook Group to connect with like-minded travelers who love Crete as much as you do!
Make Sure You've Got Everything For a Hassle-Free Vacation!
Without my Osprey backpack, I never move around the islands…it's a sturdy but light travel partner I just love. For short trips, I carry this crossbody bag. If I drive, I pack my Nikon D7200 and a good travel guide! Lonely Planet's Best of Greece & the Greek Islands.
When it comes to plane tickets, compare prices with a powerful search engine. However, nothing beats traveling by sea in Greece. With Ferry Hopper, you can book in advance at the lowest price.
For accommodation, I use Booking.com.
Traveling to remote places is easier with Discover Cars. Other times, I join organized tours with GetYourGuide, which features anything from cooking lessons to airport transfer!
COMING TO CRETE SOON?
Get in touch and let me know!
Read more:
Discover the Beautiful Hidden Gems in Greece You Can Visit Right Now
Where to Stay in Naxos, Greece: Best Areas & Hotels on the Island
How to Travel to Crete: Best Air and Sea Routes to Reach the Greek Island
Travel the Greek Islands: How to Get to Paros
Kids Love Antiparos, the Perfect Island for Families
Don't Leave Before You Pin This Guide to the Prettiest Vacation Homes in Paros!
About the author of this blog: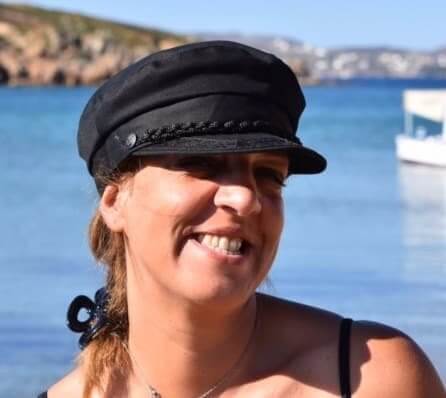 Gabi has been living in Crete for the last five years. On the island, she juggles being a solo mom, hosting culinary tours in summer, translating, and freelance writing.
She's written for Greek Reporter, published several travel guides about Greece, and had more glasses of frappe than any regular person would be able to handle.
---
You might also want to read:
---