Maybe the most famous of all the Greek islands, Santorini attracts visitors all year round. Unlike other islands, overcrowded only in summer, Santorini remains a hot and popular destination every month of the year. Together with Mykonos and Crete, Santorini is rightfully considered an iconic place to visit in Greece. No matter if you're reaching the island for a romantic escape or a family holiday, the island can be easily reached any time of the year, either from the rest of Europe as well as from other areas in Greece. In this article, you will be able to check how to get to Santorini.
---
Disclaimer: Posts include affiliate links leading you to products or services, I might earn a small commission if you make a purchase. This has no extra cost to you but allows me to continue writing articles that are helpful for your travels. I only recommend things I use myself or that I believe will deliver value to you. 
---
Last-minute plans for Greece?
Get there: Use Ferryhopper to book your tickets.
Stay: Find great accommodation deals on Booking.com.
Move around: Compare car rental prices with Discover Cars.
Tours: Check the most popular places with GetYourGuide.
Read more: Pack the Lonely Planet Guide to Greece or get a copy of my digital guide to Santorini.
Quick guide to the best Santorini hotels
Budget: Asterolithos is in the center of Fira Town, within walking distance of the Caldera. Check it on Booking.com.
Mid-range: Enjoy the comfort of a Romantic Spa Resort. Check it on Booking.com.
Luxury: Have an unforgettable stay at Andronikos Canaves. Read the reviews on Booking.com.
Rental Home Type? Check villas in Santorini here.
General Information About Santorini
No other place in Greece enchants and conquers the way Santorini does. Home to a unique, idyllic atmosphere, Santorini is the most popular Greek Island you will ever visit… At the end of the day, who doesn't want to visit Santorini?
Comparisons are never smart, but nobody who has visited both Mykonos and Santorini will fail to compare them. While Mykonos is often overly priced, Santorini still offers quite budget-friendly corners where it's possible to spend a pleasant vacation without breaking your bank account. As far as the general atmosphere is concerned, Santorini remains more classic and less extravagant than the party island of the Aegean (aka Mykonos).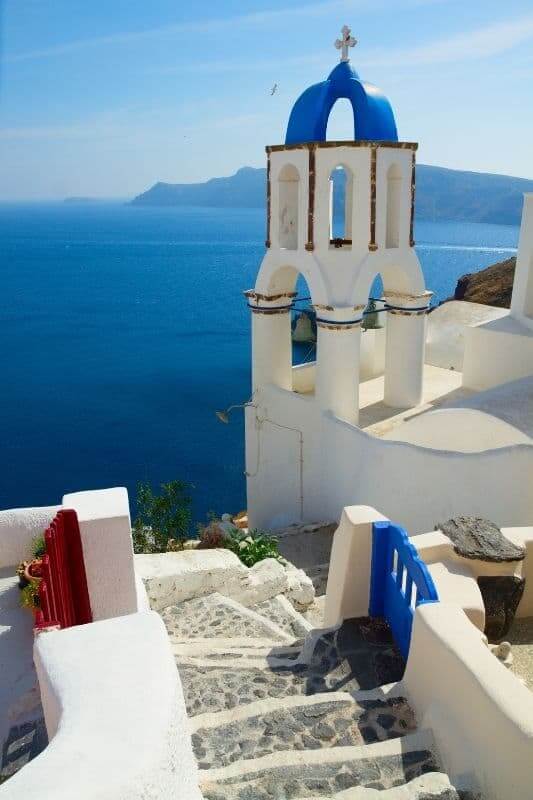 More romantic, sophisticated, and discrete, Santorini happily welcomes solo travelers, couples, and families… of all ages.
And even when it's possible to argue that it does not really shine for its beaches, there are unique charming settlements, imposing sunset spots, and unique archaeological sites that make up for any eventual lack when it comes to those heavenly, pristine beaches that Greece is well known for.
>>Check here for the best things to do in Santorini<<
How to Get to Santorini
There are several different ways to get to this popular Greek island, ferries and planes reach Santorini every day from different other Greek areas, while there are also direct flights from other European cities during the high season, take a look at your travel possibilities to reach Santorini.

Can you Fly to Santorini? Getting to Santorini by Plane
Being one of the most popular destinations in Europe, you can reach the island by plane not just from Athens and Thessaloniki, but from many other European countries, at least during the long season. Flights from Europe usually start during Easter.
There are at least three daily flights from Athens (Aegean Airlines) with a flying time of 45 minutes. There is also a daily flight from Crete (Heraklion, 30 minutes). It's also possible to fly from Rhodes (2 weekly flights) or from Thessaloniki, with two to four daily flights from depending on the season.
In summer, there are direct flights from several European cities, including London, Milan, Rome, and Paris.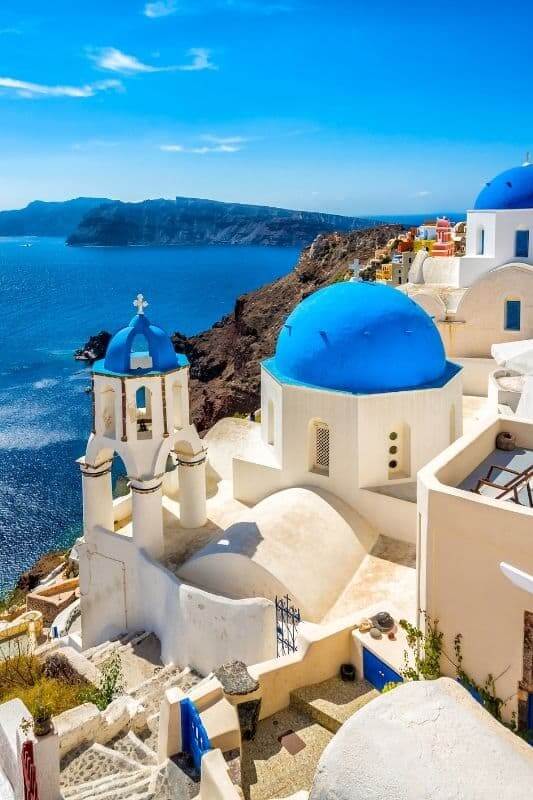 The international airport is located on the eastern part of the island, and it's about 15 minutes from the capital Fira. Here you can pick you rental car (highly recommended when visiting Santorini) or take a bus to Fira, Oia, or Perissa.
Taxis are not as expensive as you might imagine, and it's not uncommon to share the ride with other travelers. Many hotels and resorts offer airport pick-up and drop-offs, sometimes for free, and it's a great thing to consider if you'd rather not drive.
Transfer services are certainly more comfortable if you travel with a lot of luggage, especially because buses are often overcrowded.
keep the island in your pocket!
The Tiny Book of Santorini
Villages & Iconic Landmarks - Things to Do - Places to See
Where to Stay - Where to Eat - Beaches
Gastronomy & Wines
Get The Tiny Book of Santorini
Buy it now!
How to Get to Santorini by Ferry
There's nothing as romantic as traveling to Santorini by sea. And it's probably the most beautiful way to see, at least a tiny bit, of many other Greek Islands.
It's quite common to reach Santorini by ferry if you're traveling from Athens, especially in summer. Always remember to book your ticket in advance to secure a seat on the planned dates.
Ferries dock at the port of Athinios, about 15 minutes away from the capital, Fira. There is also an old port in Fira (Skala Fira) used mostly by cruise ships while the port of Ammoudi, in the village of Oia is the place where you can board small boats to sail around the Caldera.
Those traveling to Santorini by sea should consider booking their tickets quite ahead of time since the island is a popular destination all year round.
How to Get to Santorini From Athens: Ferries
Depending on the season, there are 3 to 5 daily ferries from the Port of Piraeus. The trip can last anything from 4 to 8 hours, depending on the service you use.
Traveling to Santorini From Other Greek Islands
Traveling to Santorini is a popular day trip from several other islands, including the distant Crete, which is not really that far.
Given its immense popularity, it's easy to find daily trips from several nearby islands. Among the several ferry connections, these are some of the most popular routes to Santorini:
Crete – Santorini
Santorini can be reached daily from the port of Sitia, in East Crete, however the trip is quite long, about 10 hours. There's a daily ferry connecting Santorini to Heraklion as well.
During summer, there's a daily boat from Chania as well as two weekly connections from Rethymnon. The trip can take about two hours with a high-speed ferry, and up to five with regular service.
Mykonos – Santorini
Two to four ferries connecting both islands on a daily basis. The trip can last from 2.30 h to 4 hours depending on which kind of ferry you board. Traveling to Mykonos from Santorini can be a great day trip if you travel with a fast ferry.
Paros – Santorini
There are two to four daily ferries connecting Paros to Santorini, the trip lasts from 2.30 to 3.30 hours.
Naxos – Santorini
At least two daily ferries connect Naxos to Santorini every day. You can reach Santorini from Naxos with a fairly short sailing time (less than 2 hours).
More Ferry Routes from Santorini to Other Greek Islands
Amorgos: There are up to six ferries each week connecting Santorini to the port of Katapola, in Amorgos.
Anafi: This tranquil island is really close to Santorini, the trip lasts two and a half hours and there are connections three times a week. As a matter of fact, Anafi is a great, unknown island to visit when island-hopping in the Aegean.
Ios: 1-3 daily ferries connect Ios and Santorini.
There are also ferries that connect Santorini to the Lesser Cyclades, Milos, Kimolos, Syros, and Sifnos, as well as to the island of the Dodecanese, including Rhodes, Kos, Kalymnos and Karpathos.
Ferries to the small Thirassia depart every day from every port in Santorini.
Check ferry tickets to Greece here!
Want to learn about Santorini wines?
>>Check this post<<
Moving Around in Santorini
The main bus station of Santorini is just meters away from the heart of Fira. From here, it's possible to catch buses to the South, including Perissa, Kamari, Akrotiri, Perivolos, and Vlychada. there are also buses connecting Fira to Oia, buses to the airport, and buses to the Port of Athinios.
Even if affordable, buses are often overcrowded, and waiting in line is not odd. For a more convenient experience, share a taxi with other tourists. This is a very common practice that allows travelers to save some money while traveling in a more comfortable way.
The main taxi station is located just meters away from the bus station.
Most hotels have regular transfer services to the port, the airport, and different points of interest, check at the reception of the hotel to ask for availability.
Rent Your Own Vehicle in Santorini
By far, driving is the best way to discover every secret corner of Santorini, the roads are in fairly good condition, and having your own car allows you to explore hidden sports otherwise impossible to reach.
---
Did you already know how to get to Santorini?
Let me know in the comments below!
---
Travel Plans for Greece?
More Resources to Organize Your Trip!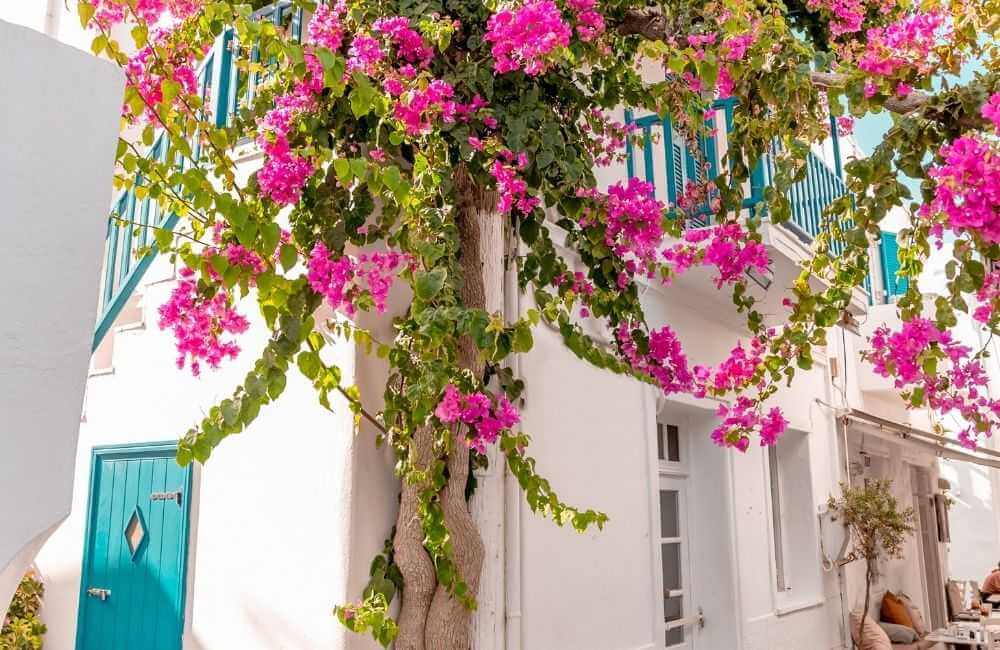 Start by heading right to my Greece travel guide for in-depth details you need to know about Greece. You can also check my post to plan a trip to Greece with children!
Get in touch if you need extra help to plan your trip. If you want to tour West Crete, check my guide. Want more? Join my Private Facebook Group to connect with like-minded travelers who love Crete as much as you do!
Make Sure You've Got Everything For a Hassle-Free Vacation!
Without my Osprey backpack, I never move around the islands…it's a sturdy but light travel partner I just love. For short trips, I carry this crossbody bag. If I drive, I pack my Nikon D7200 and a good travel guide! Lonely Planet's Best of Greece & the Greek Islands.
When it comes to plane tickets, compare prices with a powerful search engine. However, nothing beats traveling by sea in Greece. With Ferry Hopper, you can book in advance at the lowest price.
For accommodation, I use Booking.com.
Traveling to remote places is easier with Discover Cars. Other times, I join organized tours with GetYourGuide, which features anything from cooking lessons to airport transfer!
COMING TO CRETE SOON?
Get in touch and let me know!
Read more:
Where to Stay in Naxos, Greece: Best Areas & Hotels on the Island
How to Get to Mykonos: Best Ways to Travel to the Greek Island
Sublime Things to Do in Patmos, Greece
Perfect Things to Do in Aegina, Greece
Discover the Beautiful Hidden Gems in Greece You Can Visit Right Now
Don't Leave Before you Pin! Pin This Guide With Helpful Tips on How to travel to Santorini For Your Next Greece Trip!
About the author of this blog: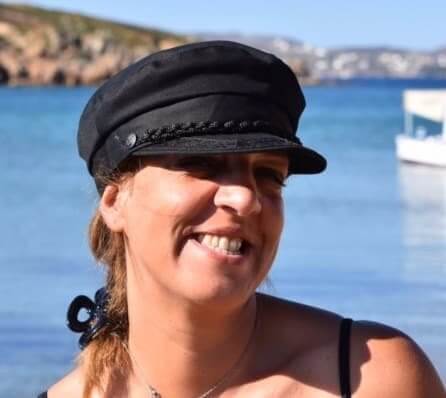 Gabi has been living in Crete for the last five years. Here, she juggles being a solo mom, hosting culinary tours in the summer, translating, and writing for The Tiny Book and her other blogs.
She's written for Greek Reporter, published three travel guides about Greece, and had more glasses of frappe than any regular person would be able to handle.
---
You might also want to read:
---