Captivating like no other, Santorini is one of those Greek destinations you must visit at least once in your lifetime. Alluring vistas, unique landscapes, stunning sunsets, everything perfectly balanced to turn your day in Santorini into an unforgettable experience. If you're planning a short visit or the island is a brief stop on your Greek island-hopping experience, read on to check the most essential things to do in Santorini in one day.
---
Disclaimer: Posts include affiliate links to products or services. I might earn a commission if you make a purchase.
---
One Day in Santorini
PLANNING A LAST-MINUTE TRIP TO GREECE?
Be sure to book accommodation and tours in Greece ahead of time to ensure availability!
🛥️ Book ferry tickets with Ferryhopper.
🛌 Find hotel deals on Booking.com.
🚘 Compare car rental prices with Discover Cars.
💳 In need of money? Use WISE as a digital card and top-up from the app.
One Day in Santorini: Essential Itinerary
Santorini is arguably the most popular Greek island. Spreading its beauty on a fairly small territory, it's a great destination to see in a short time and yet still be able to make the most of it. This guide has been thought for those travelers who are hopping around the islands and have set only one (or two) days to spend in Santorini.
It's also a super useful Santorini itinerary if you're visiting on a day trip from Crete or any other Greek island.
Finally, this guide can be a life-saver if you're cruising the Greek islands, and your boat stops in Santorini for a day.
Bonus: If once in Santorini you decide to stay for some more time, don't forget to check at the bottom of this one-day trip for more incredible things to do in Santorini in 2 (or even 3) days.
🛌 Suggested Accommodation in Santorini
Essential Things to Do in Santorini in One Day
Check some of the essential things that you shouldn't miss in Santorini
Upon Arrival: Head Straight to Akrotiri
Don't waste time and head to the south of the island immediately, and slowly explore your way towards the north to end your day in Oia. But there's still too much to see and do before we get there, so let's start by exploring the unique ancient settlement of Akrotiri. This important archaeological site is better seen during the morning to avoid the crowds and walk at your own pace.
Did you know that Akrotiri was a Minoan settlement dating back to 3000 BC? The Minoans were a bronze-age civilization based in Crete, which stands 115 km (72 mi) south of Santorini. Akrotiri is the best-known Minoan site outside of Crete. This is one of the many outstanding facts about Santorini and the mysterious Minoan civilization.
The advanced civilization that once lived on Santorini left a legacy made of elaborate piping systems, multi-storeyed houses, and wall paintings. After the terrible volcanic explosion that forever modified the landscape of the island, everything remained preserved under a thick layer of ashes for centuries, which preserved the ruins that we can still admire today.
Once you've visited the archaeological site, reach the Red Beach to admire the beautiful rusty rock walls that stand behind the dark sand on the shore. Hiking down might take some time so plan accordingly, you can always just admire the landscape of volcanic rocks from the headland.
Second Stop: Visit a Black Beach
Two are famous black beaches in Santorini, today we're visiting Kamari, closer to Fira and the center of the island. Kamari is a small village not far from the airport where many people opt to stay during their Santorini holidays.
It's indeed more affordable than the hotels facing the Caldera and there are several restaurants, bars, and Greek tavernas along the pleasant seaside promenade
Keep Santorini in your pocket!
The Tiny Book of Santorini
Villages & Iconic Landmarks - Things to Do - Places to See
Where to Stay - Where to Eat - Beaches
Gastronomy & Wines
Get The Tiny Book of Santorini
Buy it now!
Up Next: Wine Tasting
Wine is a serious deal in Santorini. The island is the birthplace of the well-known Vinsanto, a delicious dessert wine that used to be imported all over Europe. Wine has been produced on the island for centuries and paying a visit to a winery is a brilliant idea.
Not far from Kamari, close to the gorgeous village of Vothonas, you can pay a visit to the Wine Museum and Koutsoyannopoulos Winery, where you can not only learn everything about the millennial wine production on the island but also taste some of the best Santorini labels. This is the second most important wine museum in the World.
Gastronomic Break: Lunch & Shopping in Fira
It's time to visit the vibrant capital of Santorini, Fira. And it's also probably lunchtime already!
Fira is the most popular place on the island when it comes to tourists. It's the place where cruises arrive so hundreds of tourists walk along the alleys of the village. In Fira, you'll find dozens of shops, so this might be the perfect time to buy your Santorini souvenirs.
Try to find original memories, not heavy if possible, since you're probably traveling with little luggage. Also, try to support the local economy by getting home with your products that have been originally made on the island.
Once your shopping is done, stroll the paths overlooking the Caldera, discover the art galleries, the colorful churches, and the picture-perfect landscape in this area of Santorini.
Among the churches to see in Fira, don't miss the beautiful bright colors of Santorini's Catholic Church, the Cathedral of Saint John the Baptist. This small but very picturesque building is also close to the Archaeological Museum, totally worth a visit if you're interested in the past of the island.
Lunch break in Fira: Rakadiko MeRaki is a top-rated taverna. Give it a try if you're in the mood to sit and enjoy a typical Greek lunch. For a bite on the go, try Lucky's Souvlakis which serves the top gyro wraps in Fira, no-frills but all taste. Great for a meal if don't want to waste time sitting for lunch.
Last but not Least: Sunset in Oia
I know it is still early for sunset after lunch, but there's a lot to see in Oia, and getting there on time is never a bad idea. To reach the village, you can take the bus departing from Fira's bus station, and it will take you at least a good half an hour to get to Oia, besides, the bus is usually crowded and stops several times before reaching its destination.
As an alternative, you can hire a taxi, also departing from the bus station area. The ride is only 11 km, but prices can be quite high (up to €40). It's quite common to share a taxi on the island. Ask other travelers while you're waiting in line, it might save you a few bucks to share the price for the ride.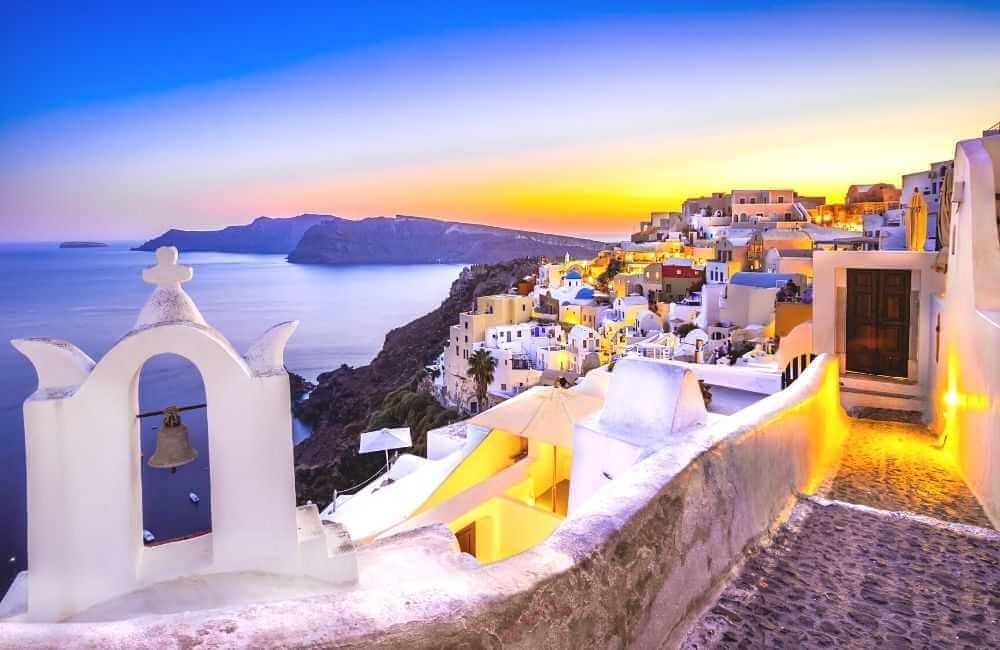 Once in Oia, take some time to stroll along the pretty alleys of the magnificent little village. If you love photography, arriving early might be the best decision you've made today. There's so much to see and discover in Oia that trust me, your shutter won't take a break!
A couple of hours before sunset (yes, a good 2 hours, at least!) start looking for the best place to witness the sunset. Most tourists go to the ruins of Oia's Old Castle and the place gets crowded. The castle of Agios Nikolaos is an old fortress from the 15th century and it's probably the best place to witness the sun setting over Oia.
More Time? Spend the Night in Santorini
Have you desperately fallen in love with Santorini and decided to spend some more time? Well done! Spending 2 or 3 days in Santorini will give you more time to visit some incredible places on the island. First of all, let's check some last minute accommodation
No matter how far your budget might stretch, there's always a good place to spend the night on the island.
Oia, Imerovigli or Fira offer want spectacular views; while Perissa and Kamari are better places for beach life and limited budgets.
Unless you change your mind in the middle of August, the peak of the season, finding a place to stay for just one night or two shouldn't be a big deal. Check these places according to your budget.
Hostel: In the village of Katerados, not far from Fira, Caveland is a beautiful and very convenient hostel.
Budget: Samson's Village is located in Perissa, and it offers quality accommodation for fair prices.
Mid-range: Santorini View Studios is located in Firostefani. It's a great option for families for its relaxed atmosphere and apartments with all the comforts and amenities.
Splurge like never before: Andronis Luxury Suites in Oia is the perfect place to pamper your sense.
>>Alternatively, you can check these rental homes in Santorini<<
Two Days in Santorini
Have you made up your mind and want to spend one more day on the island? Check these activities!
Explore Ancient Thira
An interesting place to explore is the antique settlement of Ancient Thira, located on top of Messa Vouno. The visit is worth your time not just because of the ruins, but for views from the top of the promontory.
The ruins owe the name to the mythical ruler of the island, Theras, and also to the fact that Thera (or Thira) was for ages the name of the island. The ancient village was inhabited from the 9th century BC until the year 726 AD. To get there, you have to travel up the winding road that starts in Kamari.
This road, listed as one of the most stunning roads in the world is known as the Kamari Serpentine. In a bit more than two kilometers, you encounter over 20 hairpin switchbacks and sheer drops.
Since the road closes early in the afternoon, you need to visit early in the morning. If you don't feel like driving the serpentine, check for tour operators in Kamari.
Visit Pyrgos
Located more or less in the central part of the island, Pyrgos is a laid-back settlement that you should visit.
Once an important town in Santorini, it's still possible to check the ruins of an old castle that stood in the area. Since Pyrgos lies on top of a hill, the views of the island are pretty spectacular from here.
Take a Sunset Tour of the Caldera
Sail away in Santorini! This unique experience shows you a different side of Santorini… from the sea! The trip takes us to explore the amazing iron cliffs of Red Beach. You also have free time to swim or try some snorkeling.
Right after, you will have a delicious meal and sail past the ancient city of Akrotiri, the Caldera of the still-active volcano, and the Venetian Lighthouse. Relax and take in the views, under the pink-gold light of the sunset. Check prices in this link.
Three Days in Santorini
More activities for those who decide to stay more time on Santorini island.
Hike from Fira to Oia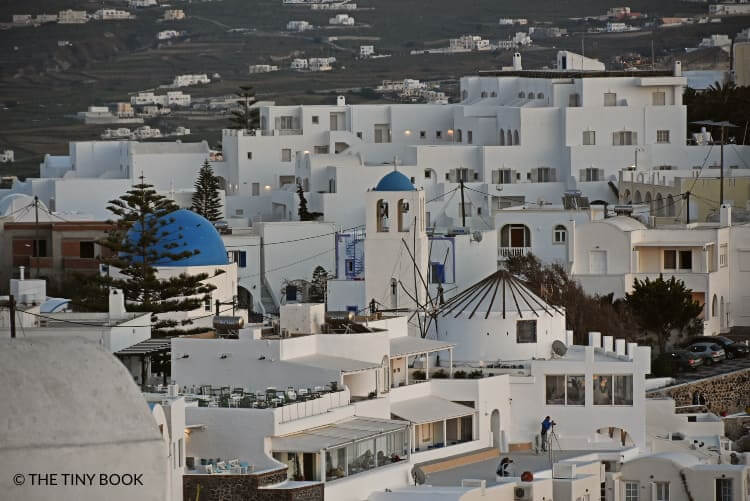 Although this activity might take you most of the day, it's worth the try. If you're fond of walks and awe-inspiring panoramas, check the walking path that connects the villages of Fira and Oia. Depending on your fitness level and pace, the road can take from 3 to 6 hours.
The walk rewards you with stunning views of the sea, the Caldera, and the whitewashed caves on the side of the mountain.
Bear in mind that the trail is made of loose gravel, so comfortable hiking shoes are a must. Do bring a hat, a water bottle, and apply sunscreen even in spring and fall. And do not be discouraged about the walking time, if it gets too hard, you can leave the trail and grab a taxi!
>>Santorini Taxi +30 2286 022555<<
Rent a Car to Explore the South
Vlychada, Agios Giorgos, Perissa, are some of the southern beaches you can check out on the island. Perissa, is another black beach, more quiet and relaxed than Kamari, with great places to eat and spend some lazy time relaxing by the sea.
Further south, Agios Giorgos, an extension of Perissa, is a favorite place on Santorini for water sports.
Vlychada is another beach you can check, here there's a beautiful small marina and quite a few tavernas where you can enjoy lunch. To end the day, reach the Lighthouse of Akrotiri and witness a completely different sunset.
Have Dinner by the Caldera
End your Santorini itinerary by treating yourself to a delicious dinner with a view. It can be anywhere facing the Caldera, either Fira, Imerovigli, or Oia. Choose the village you loved the most and soak in the last lights of the day falling over the island. These are some of the best restaurants with a view:
Dinner in Oia: Ammoudi Fish Tavern serves a legendary sun-dried octopus. Fantastic views but a bit on the expensive side. Vitrin Cafe-Creperie is a more budget place for an early dinner. Arrive early, its amazing views over the Caldera make it a popular place.
Dinner in Fira: Metropolis St is a great place for dinner at sunset, it's located just below the metropolitan temple of Fira.
Diner in Imerovigli: At The Athenian House you can dine overlooking the sunset. Here you will find creative dishes made from regional ingredients.
Looking for More Alternative Things to Do in Santorini?
Check these articles about Santorini:
Where to Eat in Santorini
These are some of the best options for lunch or dinner while exploring. If you want to discover more places for a romantic dinner, head to my Santorini Travel Guide
Taverna Romantica serves a great fava spread in Firostefani.
Corner (in Fira) is the best place in town for breakfast.
Pirouni (also in Fira) stunning views and top Greek food.
To Psaraki in the marina of Vlychada is one of my favorite fish restaurants in Santorini.
To Kafenedaki tou Emboriou is a traditional place in Emporio with a daily menu.
Metaxi Mas Taverna in Exo Gonia (close to Pyrgos) is one of the most popular restaurants in Santorini (Book: +30 228 603 1323).
Moving Around in Santorini
It's fairly easy to move around Santorini with public transport since the island is not so big. For the same reason, hiring a taxi can also be convenient.
Always remember to agree on the price before getting in the car. The island is 18 km long and 12 km wide. Driving is also very simple and renting a car allows exploring off-the-beaten-path areas easily.
Packing Tips for 1-3 Days in Santorini
Pack light, very light if you'll stay for just a day or two.
For fall and spring: comfortable pants, a t-shirt, and a light cardigan.
For summer: a light dress, a pair of shorts, and comfortable walking shoes. For men: 2 pairs of bermudas and a couple of t-shirts.
Flip flops and a swimming suit if you head to the beach.
Choose one color palette to mix and match your pieces easily.
Don't forget your camera, extra SD cards, extra batteries, or a phone with plenty of storage space available.
Always carry sunscreen and a hat.
Wear layers in winter, add a raincoat, and a cozy sweater to your outfit.
Go for a casual style that is comfy for exploring but smart enough for dinner.
For three days in April: My color palette was blue. In this picture, I'm wearing a pair of blue cotton pants, a light top, and a soft blue cardigan, white walking sandals, a small scarf, and a blue tote.
I also packed and a more structured cotton jacket that I combined with a white pair of jeans and a light blue chambray shirt. I took a bikini and a cover-up for the beach, a light dress, a pair of shorts, two white t-shirts, and a second pair of walking shoes.
Everything fitted perfectly in my Osprey backpack, with plenty of spare space for electronics, toiletries, and a few souvenirs.
More Hotels in Santorini
Ambelia Traditional Villas in the Finikia offers 8 cave houses, ideal for families, couples, or friends.
Santorini Secret Suites & Spa combine luxury and simplicity in the unique suites that include either an outdoor jacuzzi or a private pool.
Aliko Luxury Suites is an ideal place for honeymooners or a romantic escape in the peaceful setting of Imerovigli, with unique views and comfort.
Millhouses Santorini Suites offers vaulted ceilings and whitewashed rooms of elegant simplicity and modern comforts.
Romantic Spa Resort offers more affordable prices as it is not located exactly over the caldera, however, it's a good hotel with comfortable premises.
Volcano View by Caldera Collection is probably one of my favorite places in Santorini, very close to the center of Fira, and affordable prices with a unique view of the Caldera. I've stayed here often for its convenience, prices are more affordable than in the center of Fira and every point of the island is easy to reach.
Kalisti Hotel & Suites is an elegant hotel with a wonderful pool right in the center of Fira.
Drossos Hotel offers maisonettes and suites for families and unique suites for couples too.
Aretousa Villas is an affordable option for your holidays on the island, the hotel features a beautiful swimming pool.
---
Have you ever been to Santorini?
Let me know in the comments below!
---
Read more:
The Most Fabulous Things to Do in Santorini
Insanely Useful Travel Guide to Santorini
Beyond Stunning Airbnbs in Santorini to Check Before your Trip
How to Get to Santorini: Discover the Greek Islands
Where to Take the Best Pictures in Santorini: Photography Guide
Pin this Guide to Remember What to do in Santorini, Greece in One Day!
About my blog: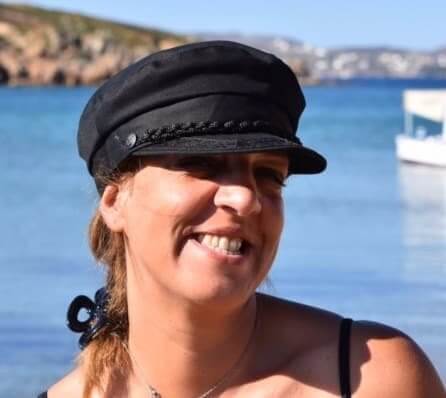 I moved to Crete in 2016. During these years, I learned much about the island.
In Crete, I juggle being a solo mom, hosting culinary tours, and writing for several travel blogs.
I've written for Greek Reporter, published travel guides about Greece, and had more glasses of frappe than any regular person could ever handle.
---
You might also want to read:
---