Collaboration article
If you're looking for an unforgettable holiday experience, then Cyprus and Greece are the perfect places to explore.
These two sunny Mediterranean countries offer a variety of exciting activities and attractions that make them great destinations for travelers of all ages.
Read on and discover which should be your next destination, Cyprus or Greece.
---
Disclaimer: Posts include affiliate links to products or services. I might earn a commission if you make a purchase at no extra cost.
---
Cyprus or Greece?
PLANNING A LAST-MINUTE TRIP TO GREECE?
Be sure to book accommodation and tours in Greece ahead of time to ensure availability!
🛥️ Book ferry tickets with Ferryhopper.
🛌 Find hotel deals on Booking.com.
🚘 Compare car rental prices with Discover Cars.
💳 In need of money? Use WISE as a digital card and top-up from the app.
Whether you're interested in soaking up the sun on pristine beaches or exploring ancient archaeological sites, both Cyprus and Greece will provide you with plenty of incredible experiences.
Cyprus is renowned for its stunning coastline, as it boasts breathtaking bays and coves, as well as some of Europe's most beautiful sandy beaches.
A visit to one of the island's many quaint fishing villages offers a great opportunity to experience Cypriot culture and take part in traditional local festivities such as the annual grape harvest.
In addition, Cyprus is home to several remarkable archaeological sites like the ancient city-kingdoms of Kourion and Tamassos, as well as a range of Byzantine churches and monasteries.
Greece offers an abundance of scenic landscapes, from its dramatic mountains to its stunning Mediterranean beaches.
The country is also home to some of the world's most impressive archaeological sites such as the Acropolis in Athens, the Palace of Knossos in Crete, and Delphi's Temple of Apollo.
You'll find plenty of fascinating museums here too, including the National Archaeological Museum in Athens which houses some of Greece's greatest treasures.
Aside from sightseeing opportunities, visitors can enjoy delicious Greek cuisine, take part in various outdoor activities such as sailing or hiking, or simply relax on one of its many stunning beaches.
How Do Students Prepare for Vacation Travel?
It's become almost a tradition for students to look forward to the holidays and plan trips around the world.
Greece and Cyprus are two of the most popular destinations, and they're definitely worth it – they have incredible landscapes and delicious cuisines!
But planning a trip requires a lot of time, so many students are looking for ways to free up their time. One great way to do this is by using an essay writing service by EduBirdie online.
With a writing service, you can get quality essays written quickly and easily, freeing up more of your time and energy to plan out the perfect holiday. Plus, it's affordable too – so there's no reason not to give it a try!
What to Visit in Greece?
These are some of the best places you can check out in Greece to see the most picturesque sights in the country…
Santorini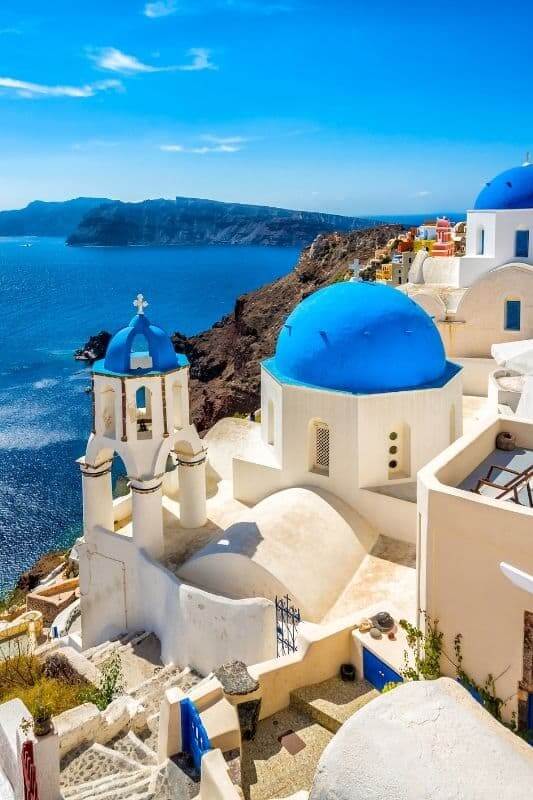 Located along the crystal clear waters of the Aegean Sea, Santorini is Greece's most famous island. With its iconic whitewashed buildings and colorful rooftops, it provides stunning views and romantic sunsets to those who visit.
The city is filled with spectacular churches, ancient ruins, picturesque villages, and quaint cobblestone streets.
Explore the many beaches that this island has to offer or take a boat trip around the caldera for a unique experience!
Find more information and other articles about Santorini here.
Athens
Home to some of the world's most famous ancient monuments such as the Parthenon and Acropolis Hill, Athens is a must-see when on holiday in Greece.
Stroll through its narrow streets and enjoy the lively atmosphere in the Plaka district.
Make sure to visit some renowned museums such as the National Archaeological Museum and get a feel for its vibrant culture!
Mykonos
A favorite among travelers, this lively island is known for its stunning beaches and wild nightlife. From beach bars to traditional tavernas, there's something here to suit everyone's taste.
Sunbathe on one of the many picturesque beaches or take a dip in its crystal clear waters.
Enjoy an array of water activities from jet skiing to sailing!
Crete
No trip to Greece would be complete without visiting Crete. This unique island is full of historical sites, charming villages, and unspoiled landscapes.
Take a hike along the Samaria Gorge, explore the Venetian city of Chania or just lay back and relax on one of its many stunning beaches!
All the guides about Crete, the island where I live, can be found here!
Meteora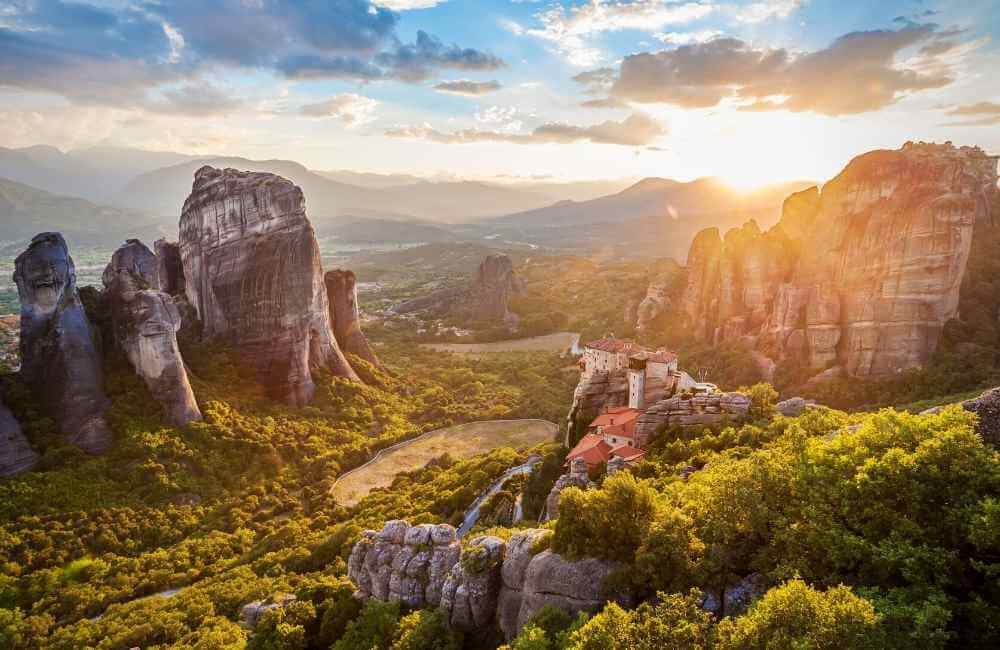 One of Greece's most unique attractions, Meteora is an incredible rock formation that rises from the plain. Here you'll find ancient monasteries perched atop cliff-like pillars.
Visit these spectacular monuments for breathtaking views as well as to get a glimpse into Greece's rich spiritual history. Don't forget to check out nearby Kalabaka town for traditional cuisine and lively nightlife!
Delphi
Home to some of the most important ruins in Greek history, Delphi is a must-visit for history buffs.
Visit the Temple of Apollo and learn about its ancient myths or marvel at the views from Mount Parnassus. Take a scenic drive through the olive tree-dotted countryside and enjoy the views!
Rhodes
Known as the island of Knights, Rhodes has a rich cultural heritage that dates back to ancient times. From Byzantine ruins to medieval castles, there's something here to delight every visitor.
Wander around its cobblestone streets or explore one of its quaint villages for an authentic taste of Greek culture!
Not sure whether to choose Rhodes or Crete? This article will help!
What to Visit in Cyprus?
These are just some of the fantastic destinations that you can visit in Cyprus…
Paphos
The resort town of Paphos on the Mediterranean coast of Cyprus is a great place to start your holiday!
With its stunning beaches and array of ancient historical sites, it's sure to be an unforgettable experience.
Visit the Tombs of Kings, explore the underground chambers at St. Paul's Pillar, or take a boat trip to sea caves such as Aplostoma Cave or Petra tou Romiou. Check out this article for info about the best hotels in Paphos.
Troodos Mountains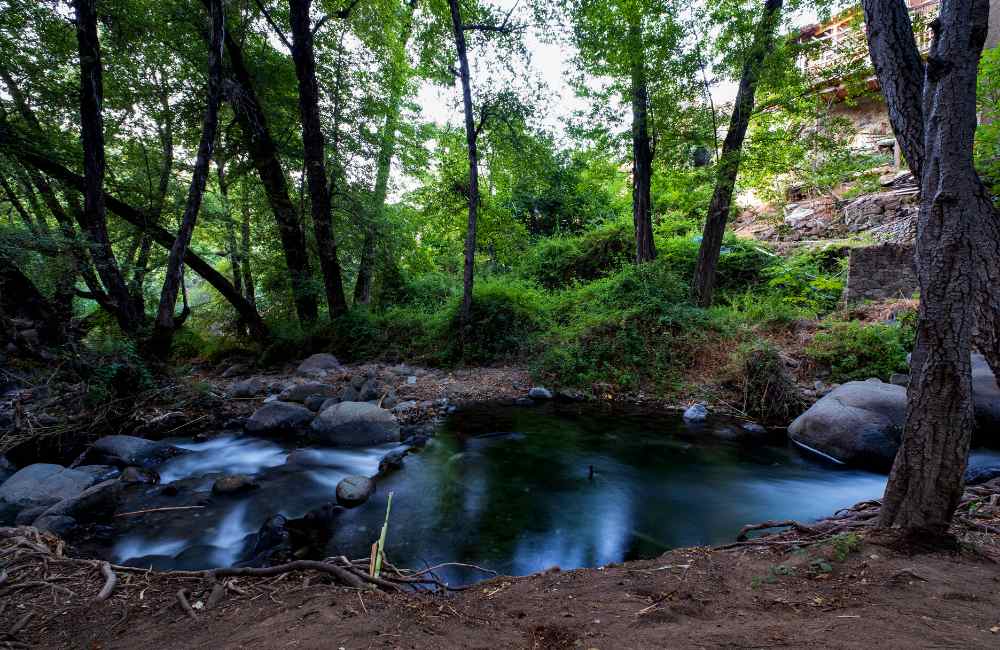 Escape from the hustle and bustle of everyday life with a mountain retreat in Troodos!
Home to some of Cyprus' best hiking trails, this picturesque region offers plenty of opportunities for exploration and adventure — not least visiting Mt. Olympus and its spectacular views over the island.
Limassol
Located on Cyprus' southern coast, Limassol is known for its vibrant nightlife, lively restaurants, and beach bars.
Take a stroll along the seafront promenade or explore some of the surrounding wineries — perfect for those looking for something a little more laid-back during their stay!
Don't forget to check out Kourion Ruins, which provides a fascinating insight into Cypriot history.
Nicosia
The capital city of Cyprus, Nicosia, packs plenty of interesting sights and experiences into an area smaller than most major European cities!
From exploring its well-preserved Venetian walls to visiting the city's art galleries and churches, there's plenty to see — not least its lively restaurants and bars.
Don't forget to check out the iconic Selimiye Mosque too!
Ayia Napa
This bustling resort town on the southeastern coast is a popular destination for those looking for sun-soaked fun!
Stroll along its famous strip of bars and clubs or take a dip in one of the many pristine beaches that line this vibrant area — perfect for families looking to make some beachside memories too. Make sure you check out the incredible Waterworld Park as well!
Protaras
With its stunning golden sand beaches and crystal-clear waters, Protaras is the ideal place to lounge on the beach and enjoy some downtime.
Visit Cape Greco National Park for an afternoon of nature spotting or explore the ancient ruins at Kato Pyrgos — perfect if you're looking for a bit of culture during your stay!
Larnaca
With its cosmopolitan atmosphere, great restaurants, and plenty of attractions, Larnaca is sure to be a highlight of your holiday in Cyprus.
Be sure to check out St. Lazarus Church, which dates back to the 9th century, as well as explore its bustling markets and waterfront promenade.
Don't forget about Kamares Aqueduct too — it's definitely worth a visit!
Whether you're looking for adventure, culture, or relaxation, both Cyprus and Greece have something to offer every traveler.
With their beautiful landscapes, fascinating history, and vibrant cultures, it's easy to see why these two Mediterranean countries make such great holiday destinations. So why not start planning your next getaway today? You won't regret it! 
Are you still uncertain about a visit to Cyprus or Greece?
🛌 Suggested Accommodation in Cyprus:
About the Autor: Mary Spears is a traveler and coach who believes growth and discovery come from pushing yourself outside of your comfort zone. She's seen the world in ways few can imagine, from scaling the peaks of the Himalayas to exploring the depths of the Amazon Rainforest. She's also a passionate coach, helping her clients unlock their potential and reach new heights in their own lives.
Greece or Cyprus? Pin this Guide to Read it Again Later!
---
Other articles you might want to read:
---
About my blog: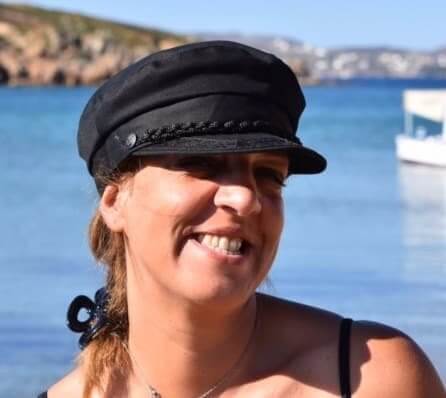 I moved to Crete in 2016. During these years, I learned much about the island.
In Crete, I juggle being a solo mom, hosting culinary tours, and writing for several travel blogs.
I've written for Greek Reporter, published travel guides about Greece, and had more glasses of frappe than any regular person could ever handle.